So happy to be back here with a new cake for you guys this Friday! The last few days have been a little all over the place buuuuut I did make croissants and took a break from the kitchen (and butter) after that. Croissants are SO satisfying to make but I really did need a nap. I'm going to make them again for the blog, stay tuned!
But today there's a basic, very easy yoghurt cake that's moist and tender and wonderfully flavoured with almonds. And because it's the perfect base for toppings, fresh cream and mangoes seemed very obvious.
This is the light summer dessert you didn't know you needed!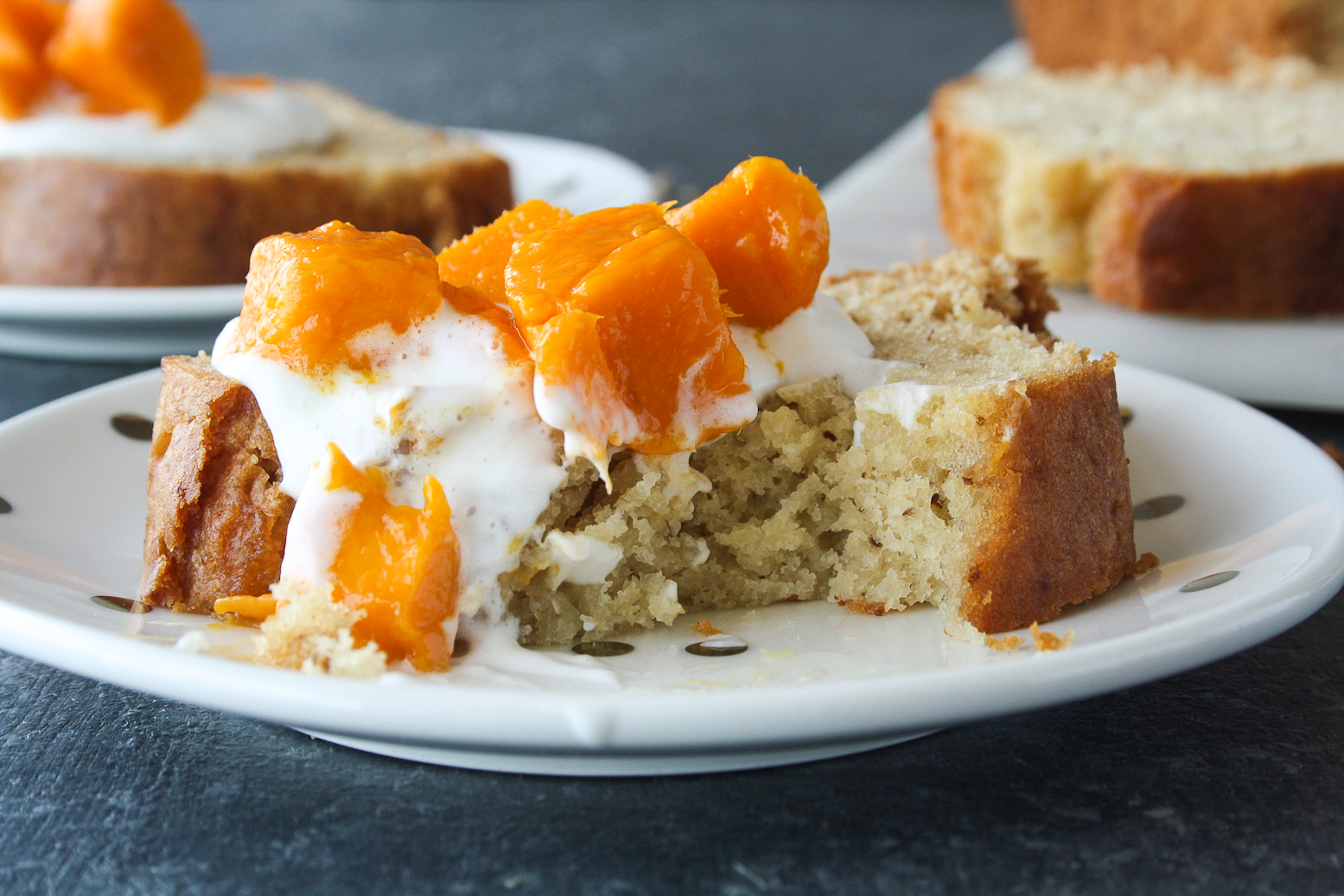 The recipe is adapted from Rachel Allen's book, 'Cake'. Her version uses more baking powder plus self-raising flour. I adjusted all of that to use regular flour, a little baking powder and additionally, baking soda. All of this still gives the cake enough lift, and the yoghurt keeps it super duper moist. While the original recipe adds cinnamon to the batter, I left it out and added vanilla instead for a more classic flavour.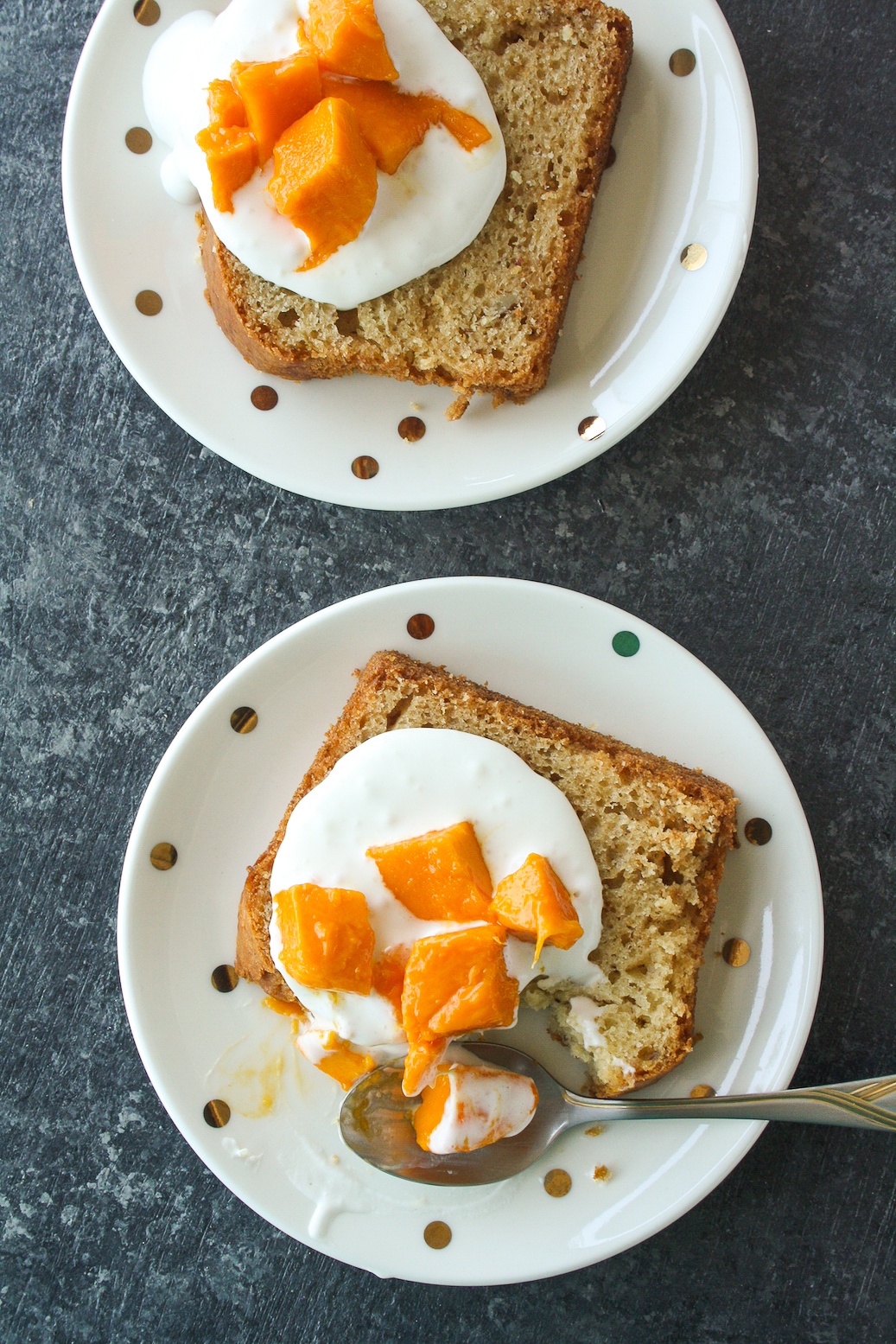 I chose to bake this in a loaf pan, and it rose pretty tall and took a while to cook through, but I didn't mind that. You can bake this in a round tin as well. The cake is oil based, and I decided to use a mix of olive and vegetable oil, but either one is ok. Keep in mind that olive oil has its own distinct flavour, so a mild one is best here.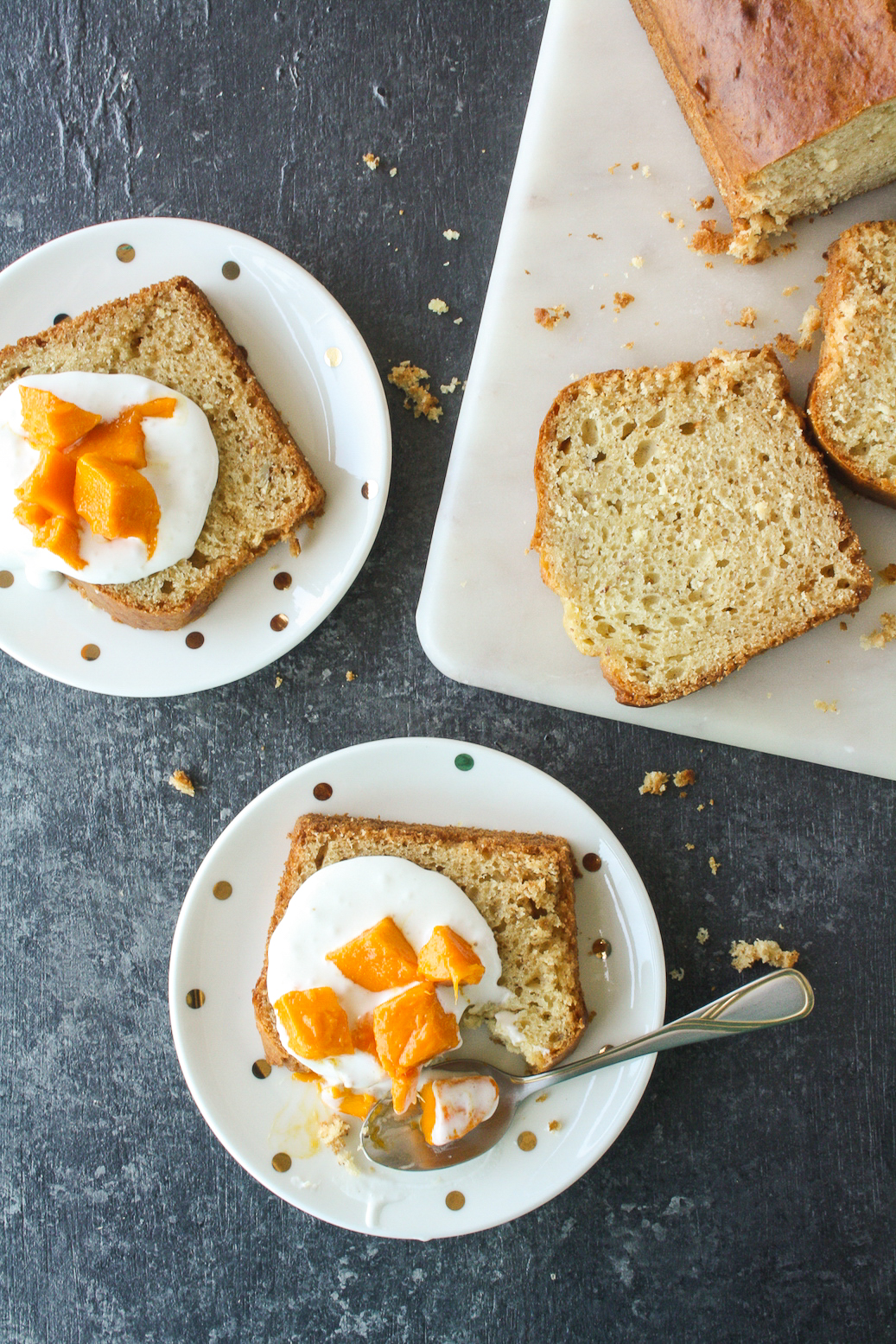 Ground almonds give the cake a nice texture and extra flavour, don't skip them! Like I said, the flavour overall is still neutral enough for any frosting or topping you might want to add. Cream cheese would be soooo good.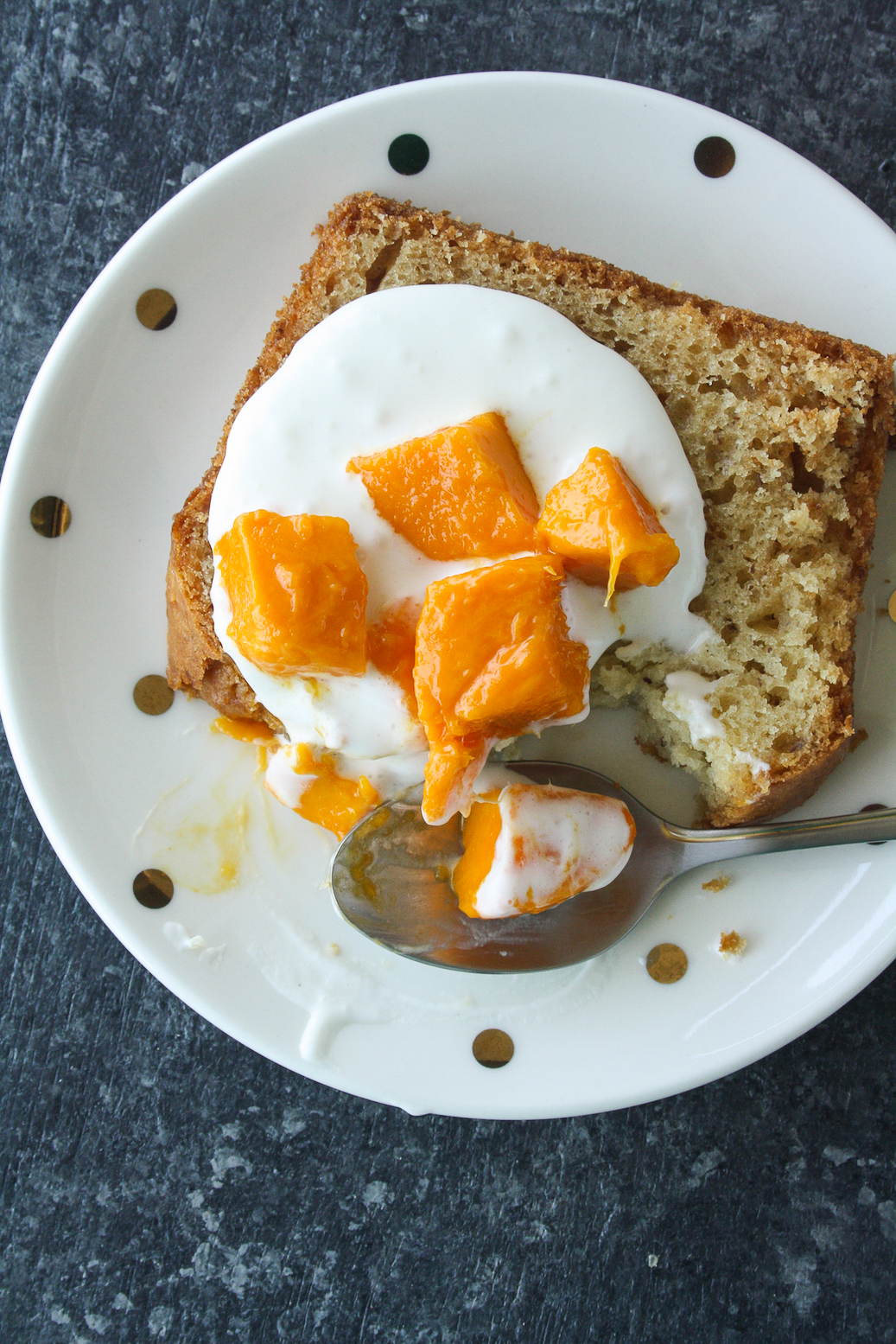 Let me know how you like this cake! Happy weekend 🙂

Yoghurt Cake with Mangoes and Cream
Moist and tender cake with yoghurt and almonds!
Author:
The Desserted Girl
Ingredients
1 and ¾ cup all-purpose flour
1 and ½ tsps baking powder
½ tsp baking soda
⅓ cup ground almonds
½ cup caster sugar
2 eggs
1 tsp vanilla extract
½ cup oil (vegetable oil / mild olive oil or a mix of both)
3 tbsps honey
1 cup plain yoghurt
Instructions
Preheat the oven to 175 C. Lightly grease a 9x5 inch loaf tin, then line with baking paper and leave a little overhang for easy removal. Grease the paper too, then set aside.

In a large bowl, sift the flour, baking powder and baking soda. Stir in the almonds and sugar. Set aside.

In a mixing bowl, combine the eggs, vanilla, oil and honey. Whisk well, then add the yoghurt, stirring till smooth.

Fold in the flour mixture and if the batter feels too lumpy or thick, beat with a hand mixer till smooth.

Pour into the prepared cake tin and bake for 50 mins to 1 hour until a toothpick poked in the center comes out clean. The cake will rise fairly tall and you may need to cover the top loosely with foil to prevent excess browning. Remember to also rotate the tin halfway through the baking time so that it's evenly cooked.

Allow the cake to cool in the tin for 15 minutes, then lift out and place on a wire rack. Peel off the sides of the paper and let the cake cool completely before slicing. Serve with fresh cream and chopped mangoes for a great summer dessert!
Notes
*You can also bake this cake in an 8" round cake tin. The baking time will be lesser, about 45 mins. Start checking for doneness at 35 mins.

*I haven't made this cake without eggs, but you can use about ⅓ cup milk instead or enough to make a thick, but spreadable batter. Let me know if you try it 🙂