I need to begin by saying this cake is terrible for you in every possible way. Really, really terrible. It is 95% butter, 5% awesome. And it is that 5% for which I risk my metabolism and ask you to as well.
This epic 'biscuit cake' is something I grew up eating, but about once a year because thankfully, my Mom knew what was good for us and didn't give in to our incessant demands to make this for breakfast, lunch and dinner. Even with that once-a-year occurrence, whether it was for a birthday or we had guests over, she became faaaaamous. This cake was intensely popular among everyone she knew, I knew, and everyone they knew.
What I love most about it, is it brings together Parle-G glucose biscuits, with Bru instant coffee. Two things I adore (my mornings still begin with a giant frothy mug of Bru) and if you grew up in India, you'd be lying if your kitchen didn't have them. So this cake is memories, it's Indian, it's fabulous.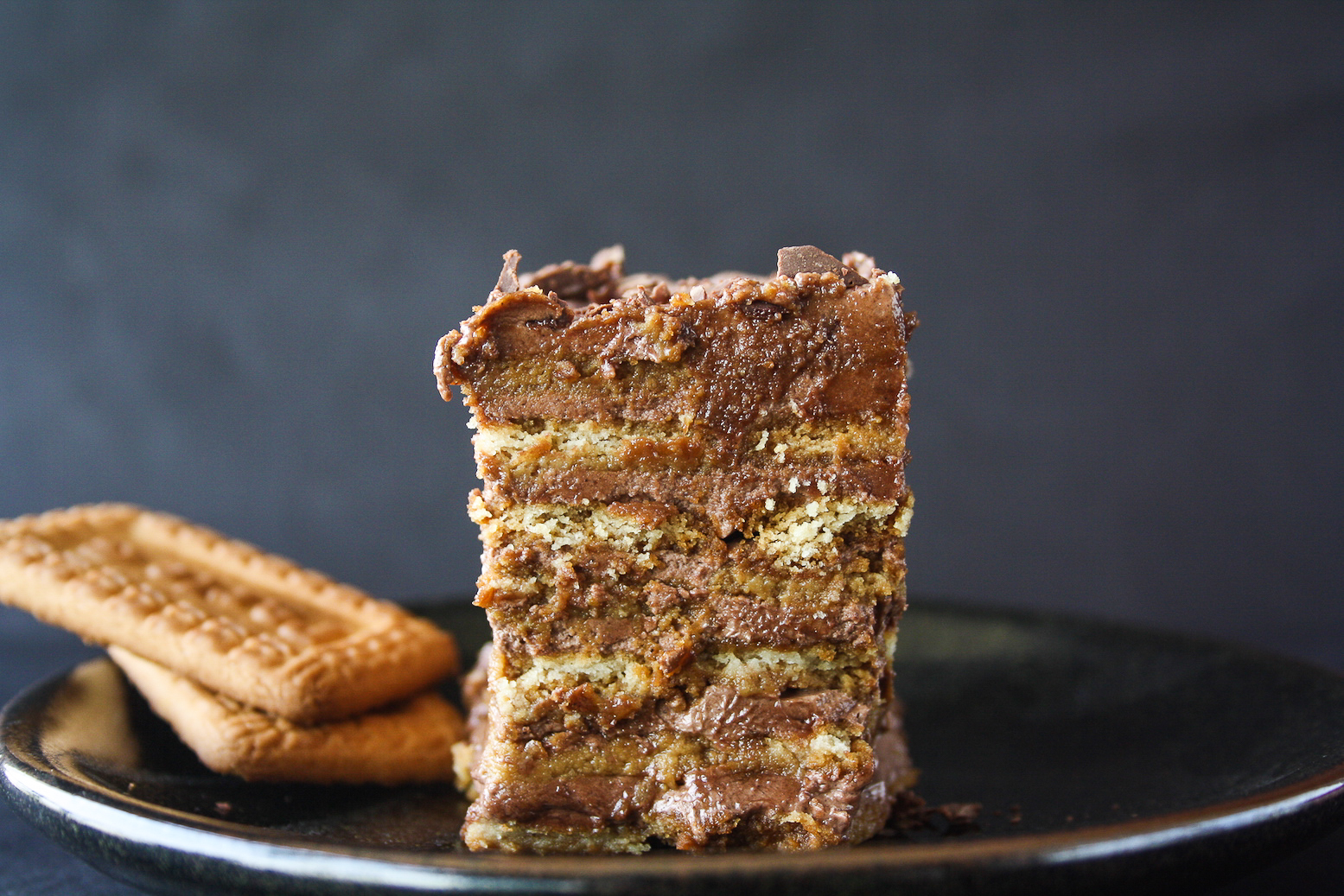 It's super simple to make and is basically an icebox cake, meaning the fridge does all of the work, the oven remains off, and you walk around impatiently waiting till the moment you can cut into it.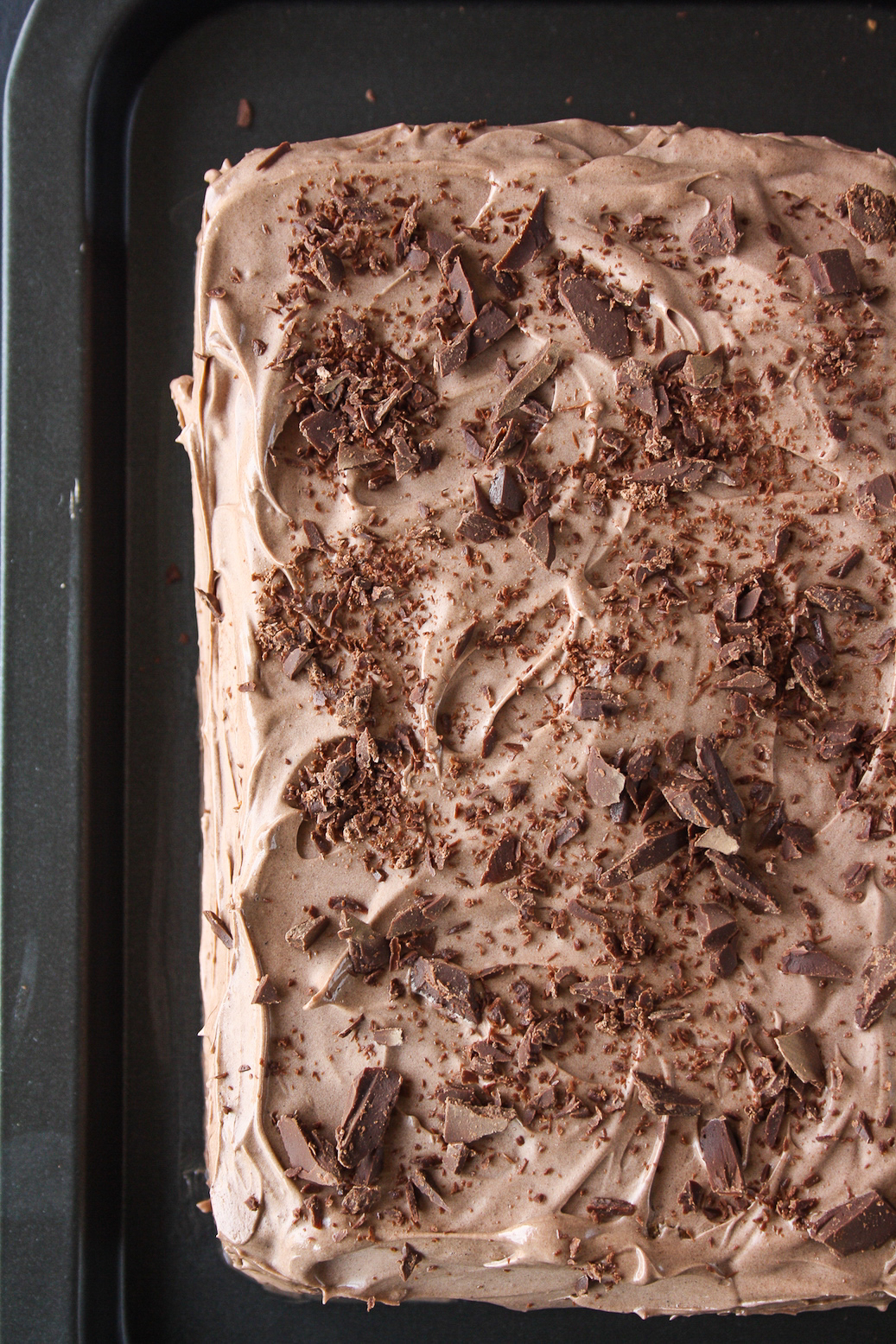 What it really is, is this. The biscuits are soaked in a basic water-coffee solution, and layered with a silky buttercream frosting. There are also no real fixed ingredient amounts for this cake. You can use a little more or less of all of the frosting ingredients as you like, more or less coffee based on how much you love the flavour. And you can make a smaller or larger cake and change the number of biscuits too.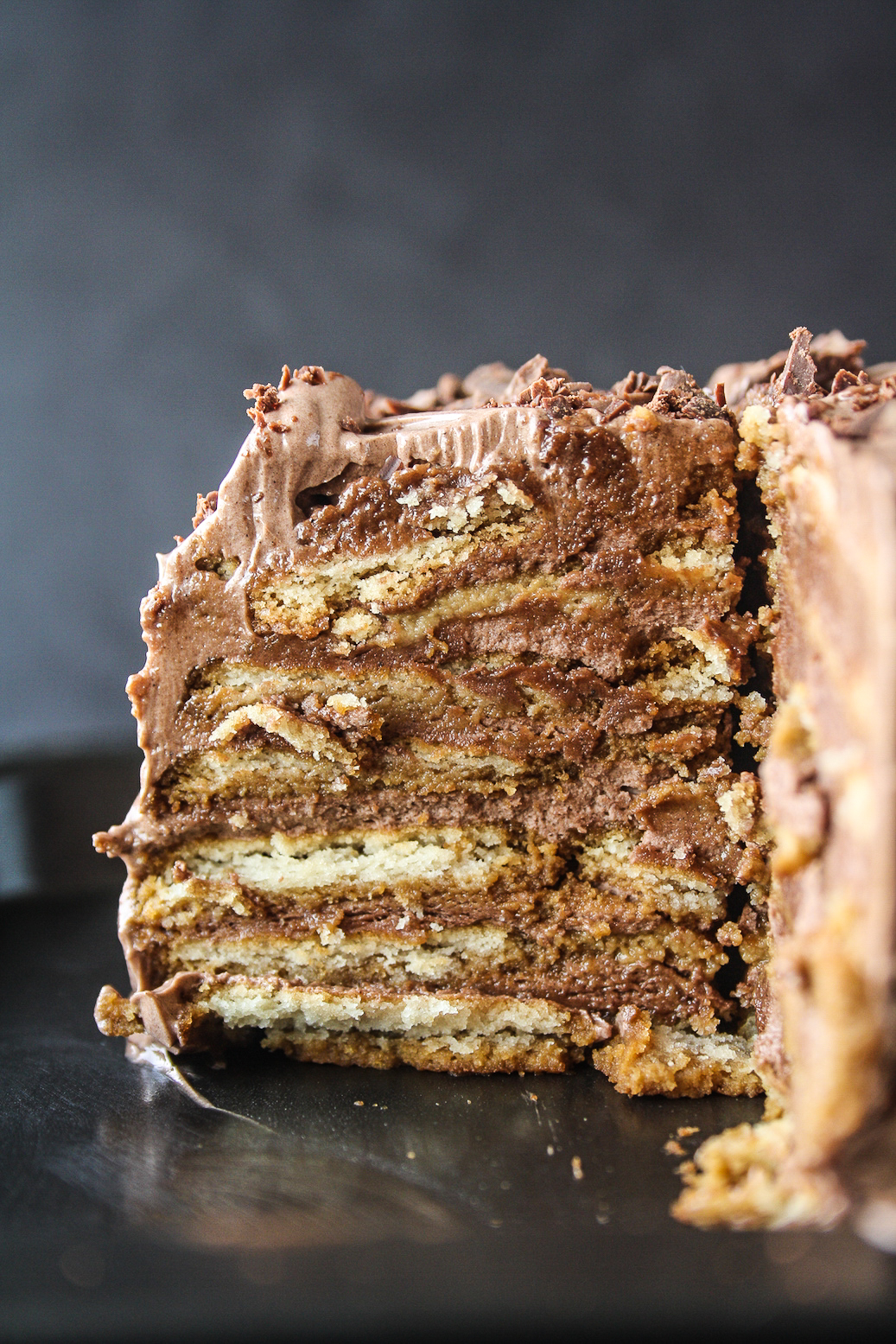 The only small change I made to this was to add a little bit of whipping cream for a lighter, fluffier frosting. It's completely optional of course, but I liked the very slight difference it made. I was tempted to actually use a half butter-half whipping cream combination, but this cake is sort of sacred and should not be messed with. It's tradition after all!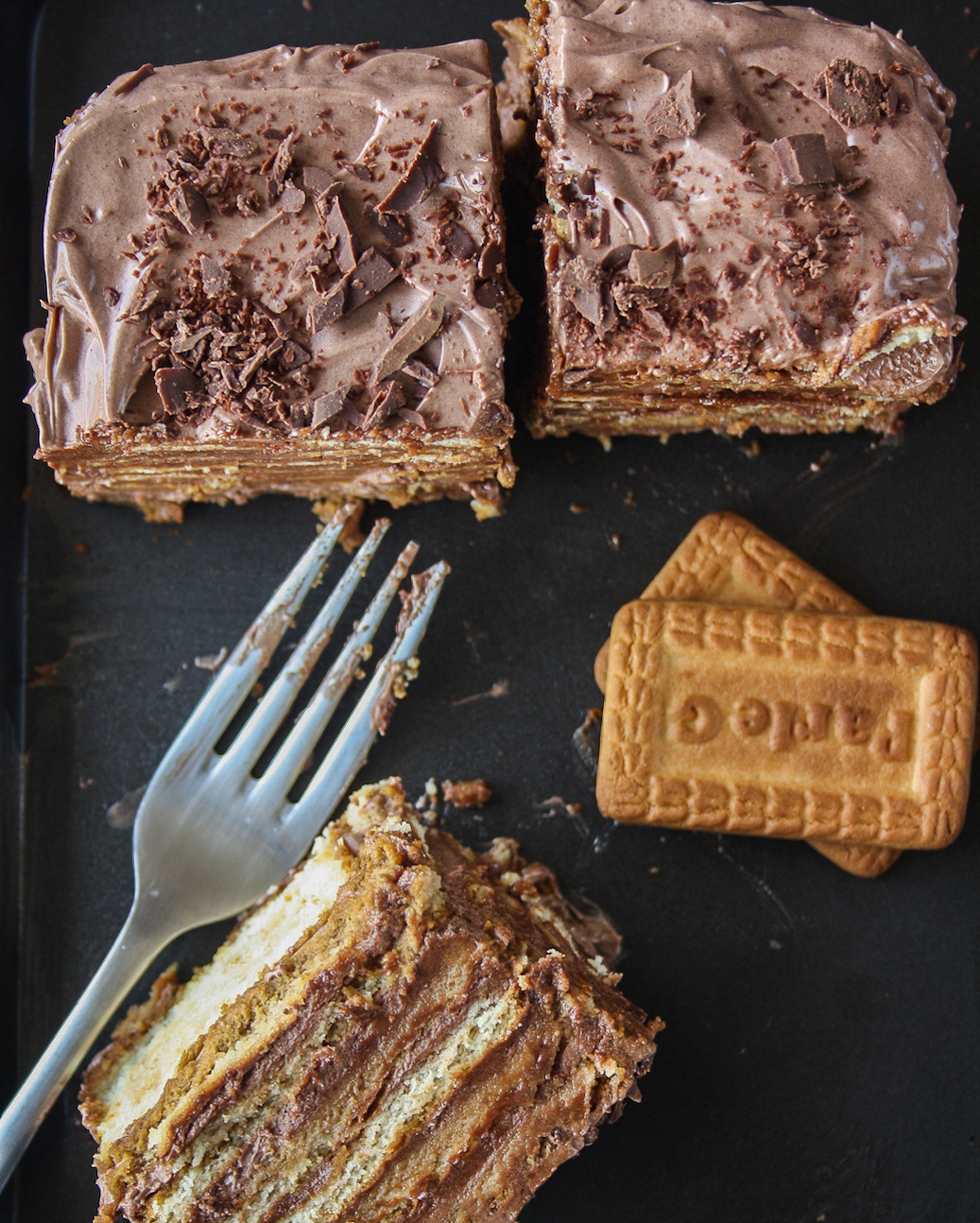 If it's warm where you live, the frosting may need a little bit of chilling before you can spread it on the biscuits and you may need to also chill the cake between layers. Once it's all ready, the biscuits, the coffee and the frosting will have merged into a an amazingly soft, but not soggy 'cake'. It's not too sweet, given that there is cocoa and coffee in there, but it certainly is rich. Because butter.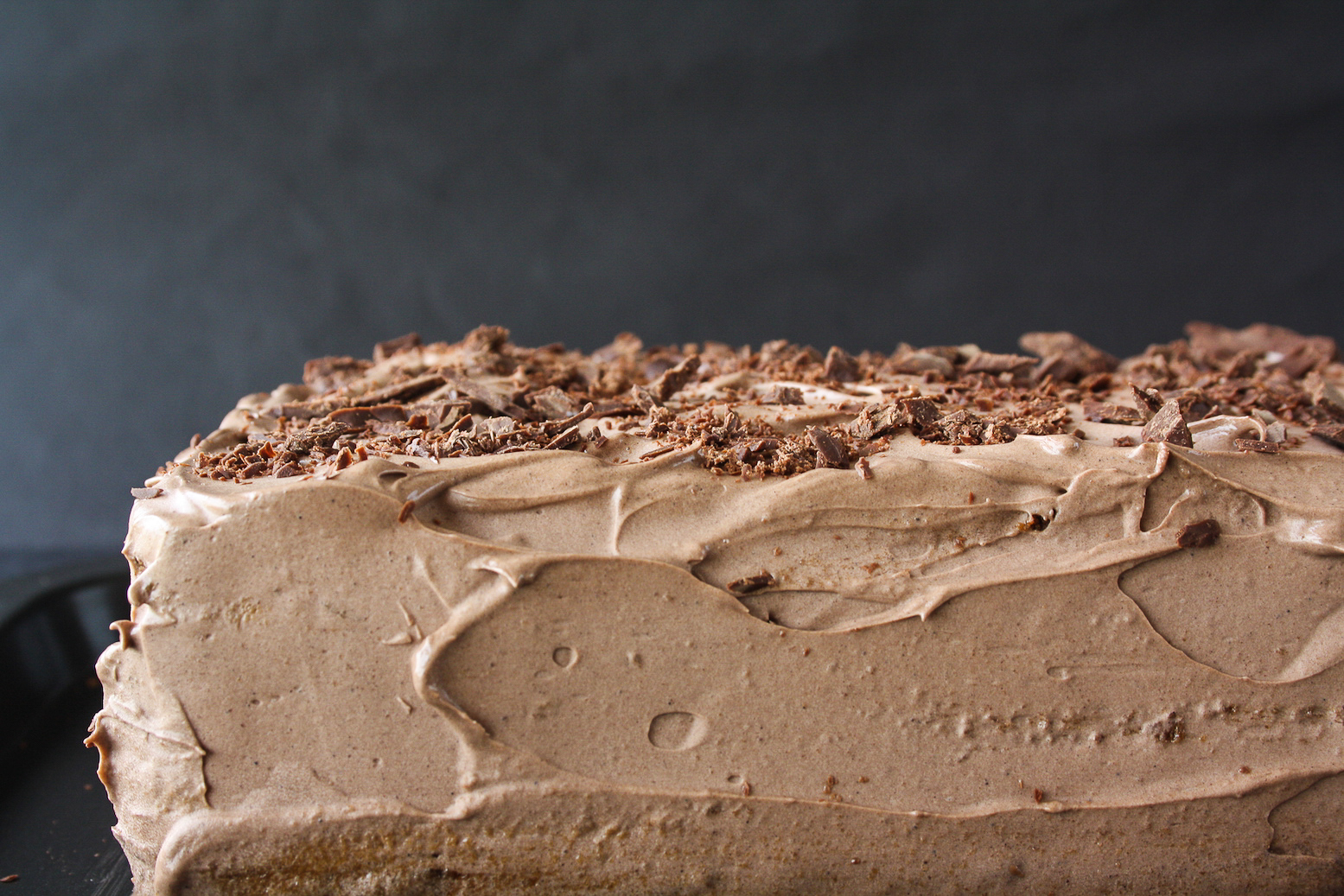 But make this. Make it and also make sure you have A LOT of people to share it with. It does need to be kept refrigerated at all times and doesn't transport too well. But it is the perfect make-ahead dessert if you have friends and family over! I hope you'll try it 🙂

Parle-G Biscuit Cake (no-bake)
A decadent icebox cake with coffee-soaked glucose biscuits and silky chocolate frosting!
Author:
The Desserted Girl
Ingredients
375 gms unsalted butter at room temp
¾ cup powdered sugar, sifted
3 tbsps cocoa powder, sifted (I used a dark cocoa, you may need more if using regular cocoa)
Pinch of salt
2 tbsps cold whipping cream, optional
70 Parle-G biscuits (or other glucose biscuits)
1 cup water at room temp
1 and ½ tbsps instant coffee powder (I like Bru)
Chopped or grated chocolate for topping, optional
Instructions
In a large mixing bowl, beat the butter with a hand mixer until light and creamy.

Add the sugar and cocoa gradually and continue beating. Taste as you go because you may want it more or less sweet, or with more or less cocoa.

Add the salt and whipping cream and beat again until light and fluffy.

If the frosting now seems too soft, keep it in the fridge for 10 minutes.

Keep your biscuits ready and also the plate or tray on which you plan to assemble the cake because it isn't easy to transfer it to another dish.

Mix the coffee and water until smooth.

Working with one biscuit at a time, dip into the coffee solution for just a couple of seconds, without turning it over. Place it on the plate. It will continue to soak and soften as it rests. I made 7 layers of 10 biscuits each, with 5 in each row. Repeat till the first layer of soaked biscuits is ready.

Now spread about ⅓ cup of the frosting in an even layer on the biscuits. Make a second layer of soaked biscuits. Repeat till all the biscuits are used up.

Smoothen the sides with the frosting that would be seeping out through the layers, and spread more on as needed till the cake is completely covered. If you're working in a warm kitchen, you may have to chill the cake in-between layers.

Top with chopped or grated chocolate and chill the cake for at least 4 hours before cutting into pieces. I like it best when it's been at room temperature for about 5 minutes. But at all other times, keep it refrigerated. Happy eating!
Notes
*I had a bit of frosting leftover. If you'd prefer to make a smaller amount, you can also start with 300 gms of butter and eyeball how much more you'll need depending on the number of biscuits. Adjust the cocoa and sugar accordingly. The frosting is very forgiving!

*For a lighter frosting, a half butter-half whipping cream combination can be used too although I haven't tried it. The cake will be a little softer than normal as the biscuits will absorb more moisture from the cream.

*Prep-time does not include chilling time.