Happy new month! I was supposed to have this post up for you last week in time for the Easter long weekend, buuuut I went to Goa and forgot to be productive. Sorry.
But I do have the most amazing macaroons here for you, because Monday is actually the best day for a chocolate fix, correct? They are chewy, rich, bittersweet and pretty amazing! Also, quick to make in case weeknight baking is your thing. Let's do this!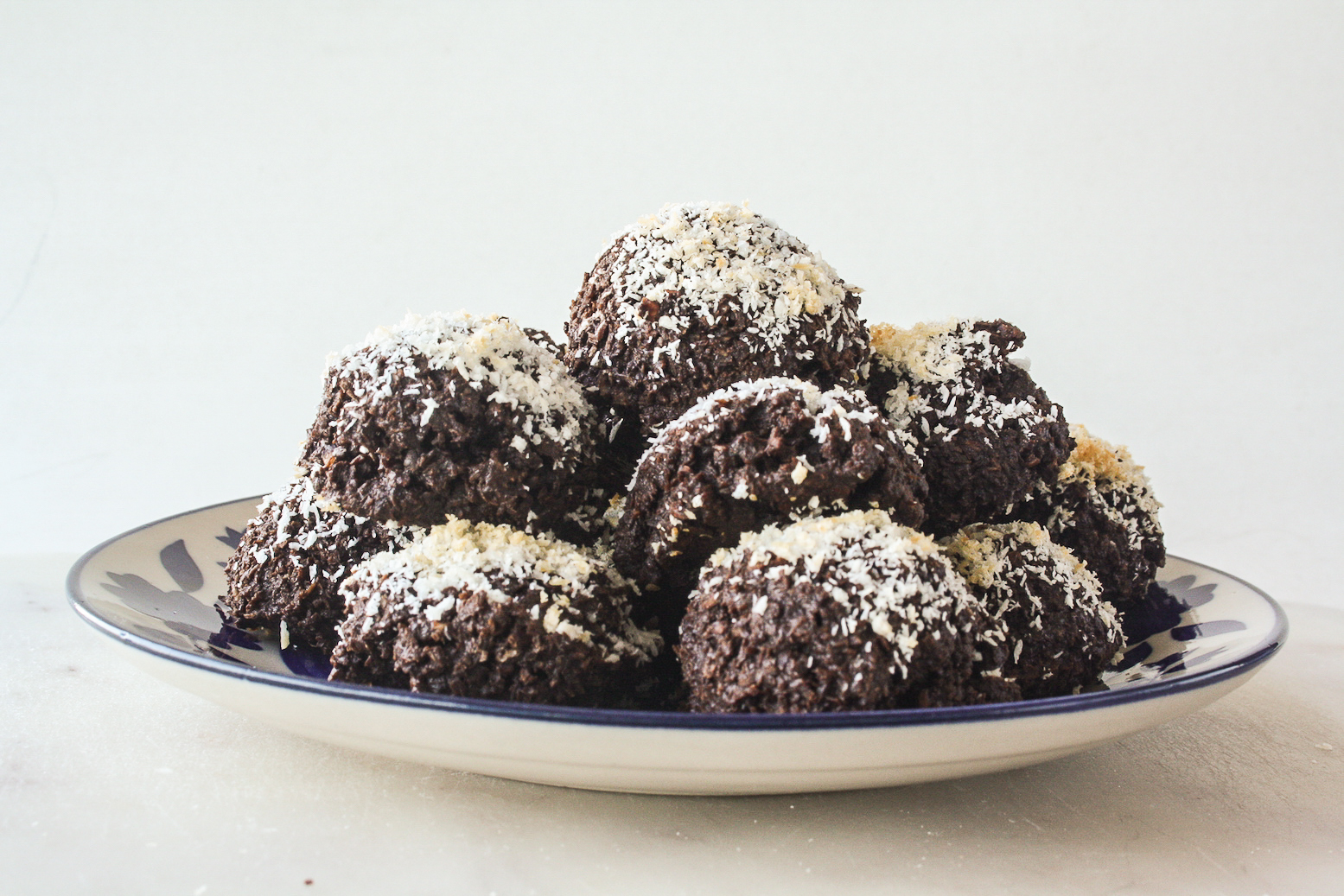 This is a recipe adapted from Smitten Kitchen. I decided to halve it for a smaller batch of macaroons (I still got about 15) but used 2 egg whites instead of 1 and a half because that's just awkward. I used unsweetened coconut and 75% dark chocolate and along with some sugar, these macaroons were just the right amount of sweet for me. You can make them sweeter for sure.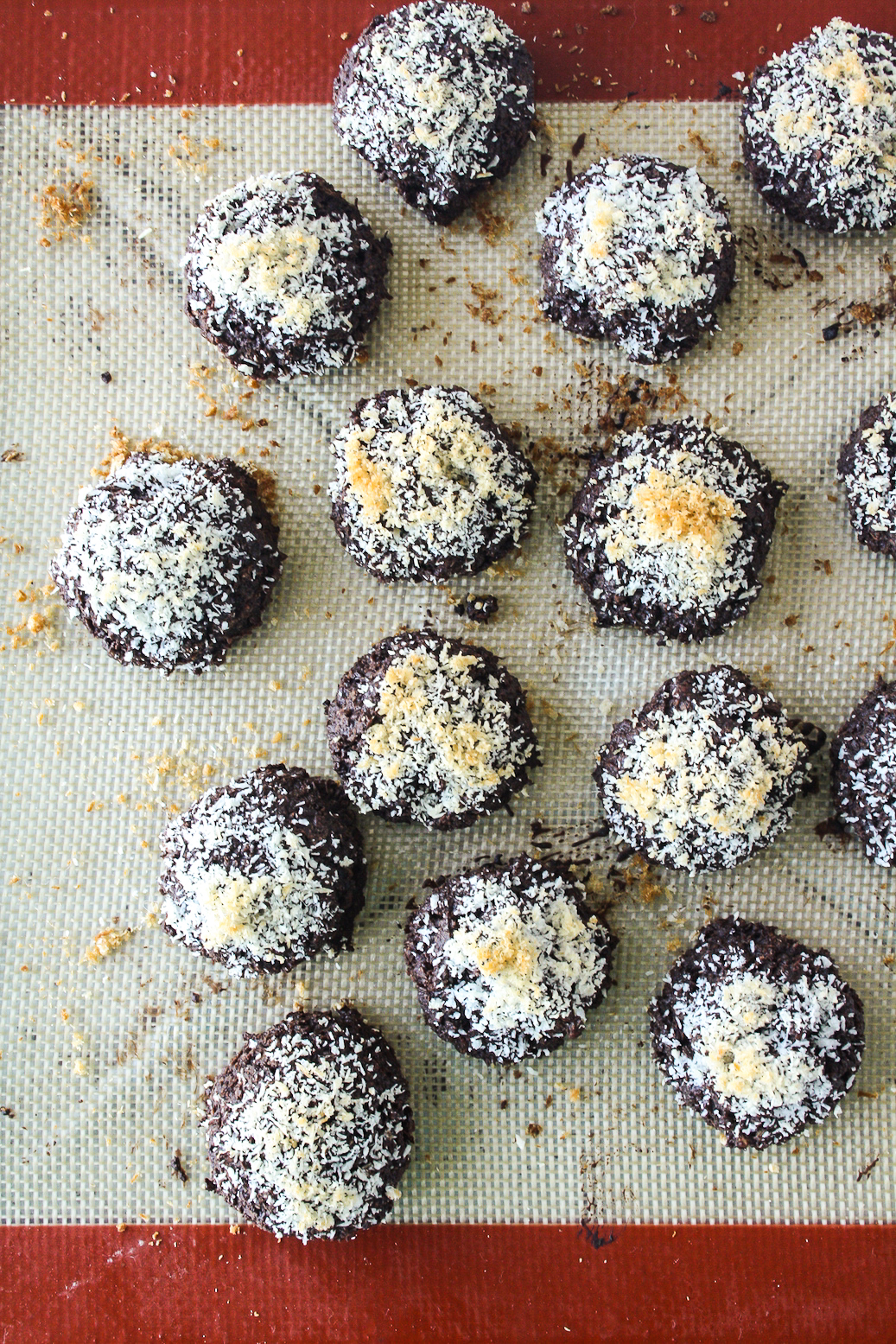 I added a little desiccated coconut to the mixture to compensate for the extra egg white, plus sprinkled a little more on top for some extra crunch and coconut flavour. I think both these add a lot to the macaroons because otherwise, they're more chocolate than coconut. And since traditional macaroons are entirely coconut, I decided to bring some of that magic here.
They taste like little brownie bits crossed with Bounty bars which is of course, perfect. I did need to chill the mixture before baking, and found they shaped better after some fridge-time. They also taste best cold from the fridge! I baked them longer than the original recipe said to, I didn't want them to be too moist on the inside. This extra time didn't dry the macaroons out, but instead, gave them an amazing texture. Win win.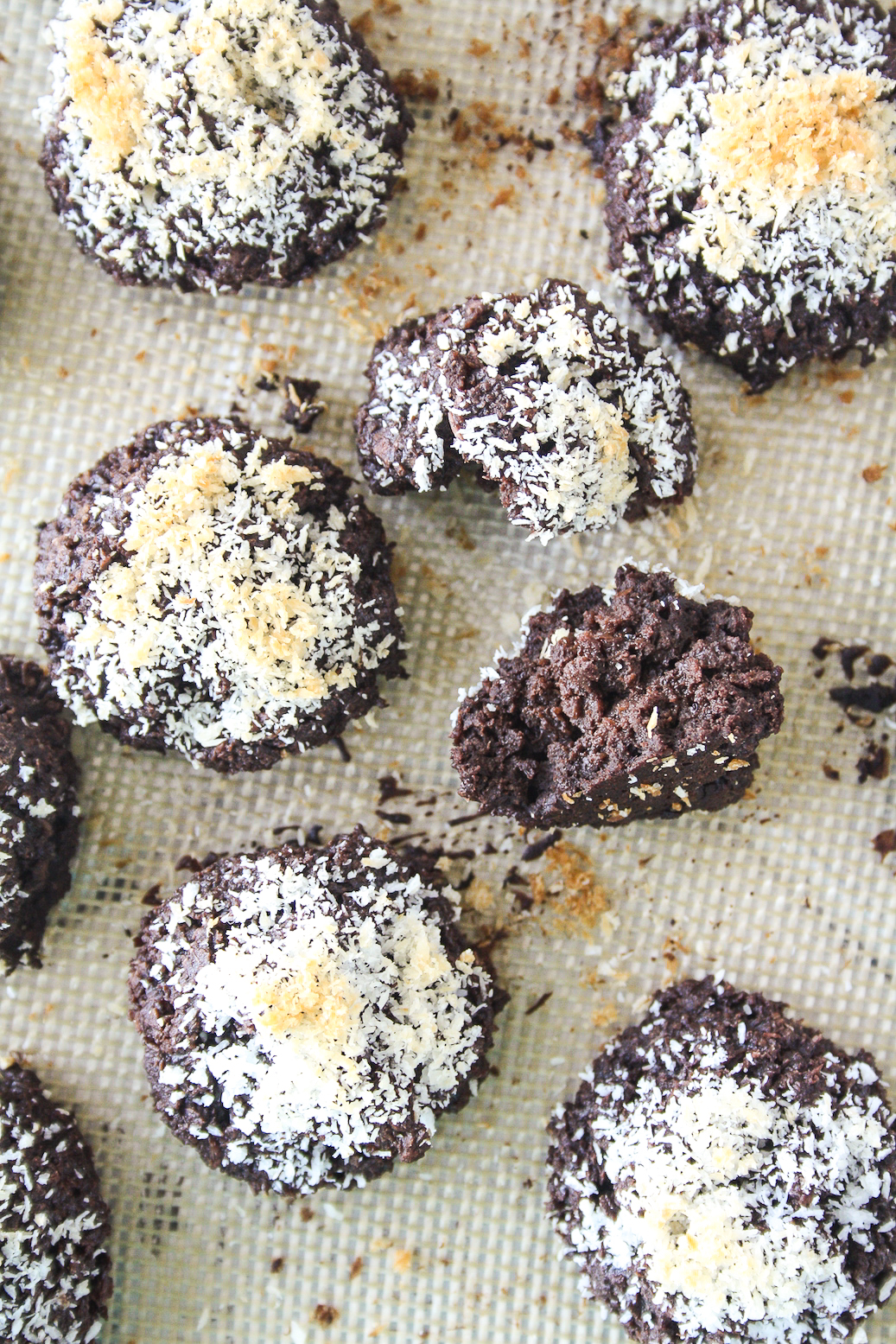 I hope you make these today!

Chocolate Coconut Macaroons
Intensely chocolatey, fudgy, chewy coconut macaroons made with dark chocolate!
Author:
The Desserted Girl
Makes:
About 15 macaroons
Ingredients
60 gms dark chocolate, chopped (I used 75%)
200 gms unsweetened shredded coconut (if frozen, thaw before using)
⅓ cup caster sugar
3 tbsps cocoa powder
3 tbsps desiccated coconut, plus more for sprinkling on top
¼ tsp salt
2 egg whites, at room temperature
½ tsp vanilla extract
Instructions
Put the chocolate in a bowl set over a pan of simmering water, making sure it doesn't touch the water. Stir until smooth and melted through. Set aside.

In the bowl of a food processor, pulse the coconut until finely chopped, since most shredded coconut will have very long pieces. You can continue to use the food processor for the next few steps, or transfer the chopped coconut to a mixing bowl.

Stir in the sugar, cocoa, desiccated coconut and salt into the chopped coconut.

Add the egg whites and vanilla and mix well. If using a mixing bowl, a hand-mixed helps to blend the mixture.

Now pour in the melted chocolate and mix again. Taste and add more sugar if you like, I prefer these macaroons to be bittersweet. The mixture will be wet and sticky, so cover with clingfilm and chill for 30 minutes. This is most helpful in warmer places because the mixture softens too fast to be able to shape the macaroons. In a colder place, you may not need the chilling at all.

Preheat the oven to 160 C and line a baking tray with a silicone mat.

Using a tablespoon measure, scoop out the chilled mixture and drop onto the tray. Use your fingers to smoothen out any oddly shaped ones. You will get about 15 to 18 macaroons.

Sprinkle each one with more desiccated coconut for extra crunch.

Bake for 20 to 25 minutes until browned on top and no longer very moist inside when you cut one in half.

Set aside to cool completely, then dig in! I like them best chilled and straight from the fridge 🙂
Shop this recipe!
This post contains affiliate links.