You guys. I've never been this excited about any sort of bread adventure EVER. Mainly because so many of you sent me sweet messages and lots of 'recipe please!' requests on Instagram. Thank you for being such carb-loving readers 🙂 It got me super enthusiastic about posting this as soon as I could and also, I was over the moon about how easy and how perfect these rolls are. On the first try!
They're buttery, soft and fluffy, beautifully browned on top and of course, melted butter helps make the most flavourful crust ever. Whether you eat these as rolls on the side, or include them in a pav-bhaaji, they will take centerstage. And they absolutely overpower any store-bought rolls.
Let's do this!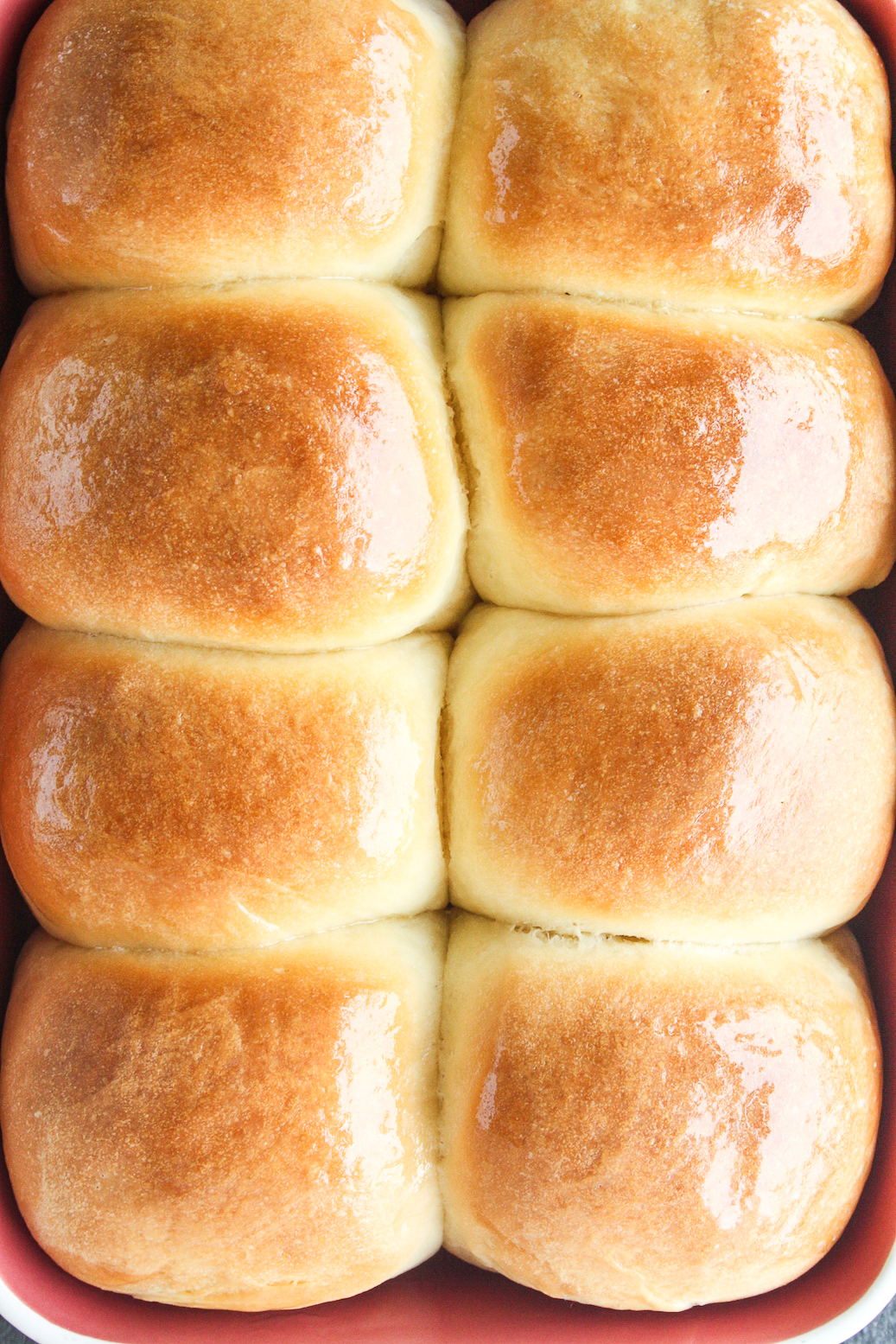 This amaaaaazing recipe from Cafe Delites caught my eye because it has no eggs. While I'm perfectly happy with eggs in other baked goods, in breads I find there's sometimes an eggy aftertaste which I don't enjoy. Plus an egg-free bread means more of you can bake and eat it, so yay! I halved the original recipe to make a smaller batch of 8 rolls (or pav, if you prefer!) because one, I don't trust myself around carbs and two, my oven only takes one batch at a time, so the other batch tends to rise a bit too much in the meantime. The good thing is they're so easy to make, I'm happy to bake a fresh batch every day!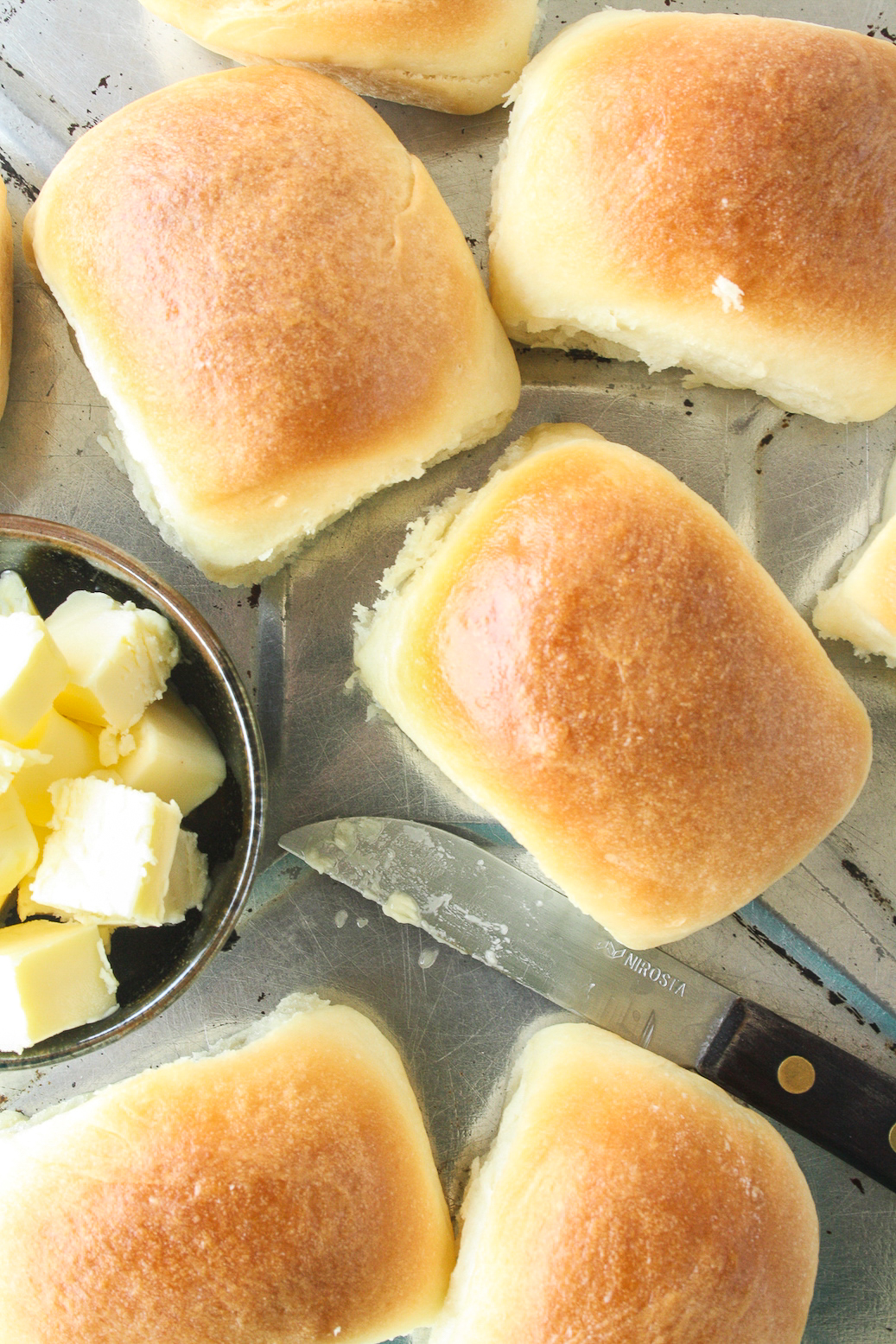 The dough is so super cooperative, I was amazed because bread dough can be sticky and difficult to knead especially in warmer climates like Mumbai has. But this one, whether you knead by hand or in a stand mixer, is soft, pliable, with minimal stickiness. It has more butter than a standard bread loaf which keeps it nice and greased and prevents any messy behaviour.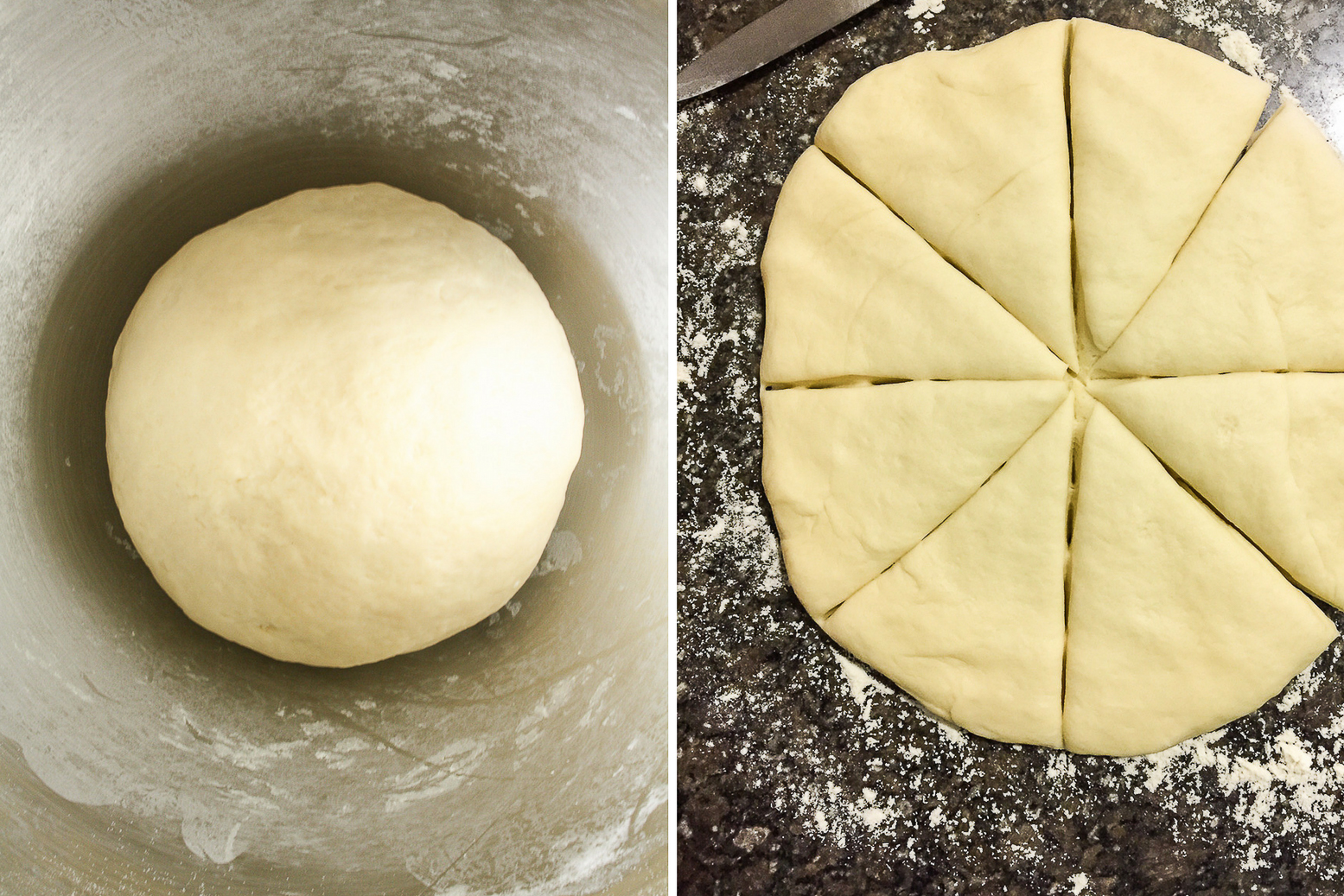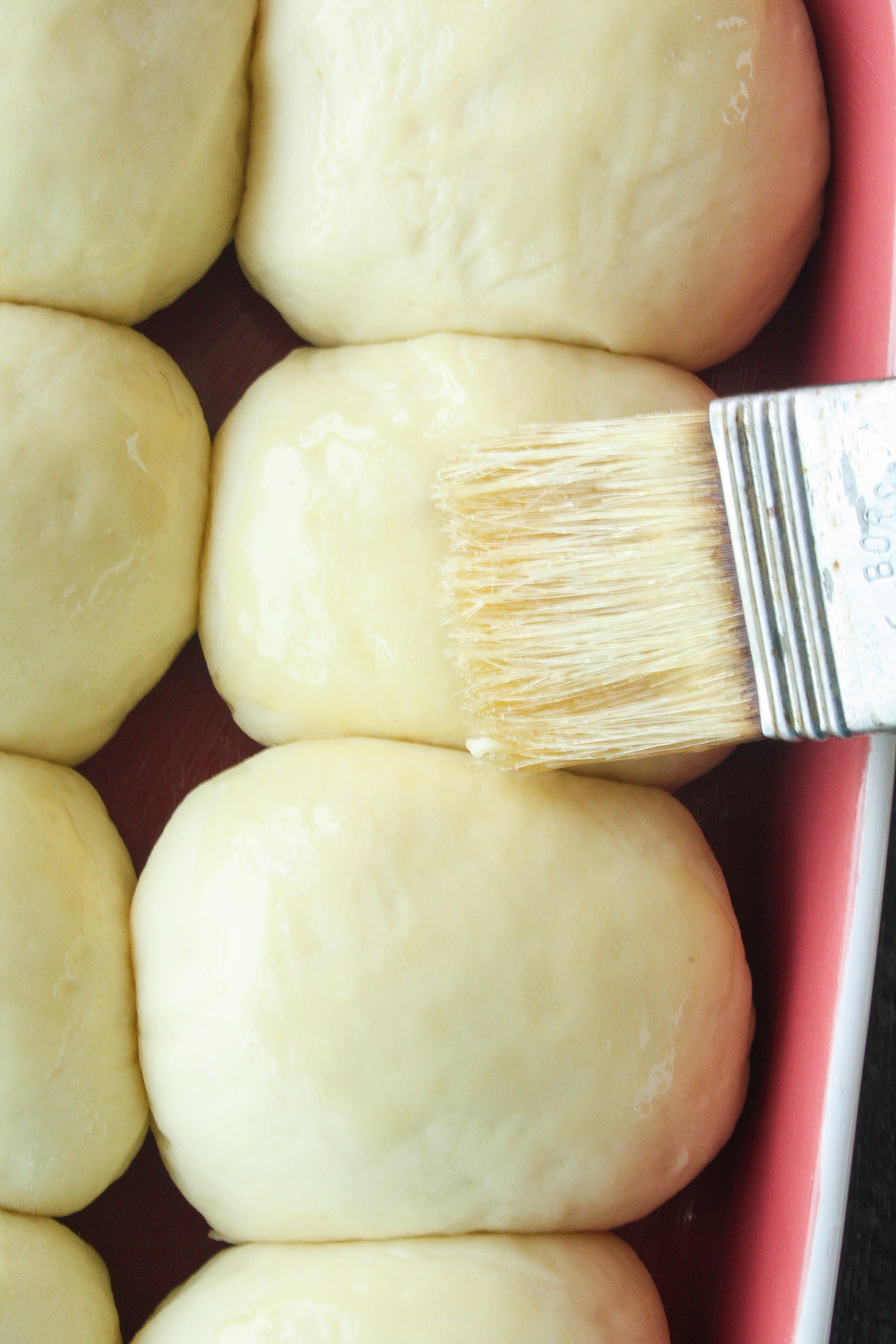 The rolls are brushed with butter before baking but I found they also needed some after baking to help the crust soften. Fresh out the oven, the tops are fairly hard so the butter is essential to keep them crusty, but not tooth breaking-ly so. And plus, who wouldn't like that beautiful sheen!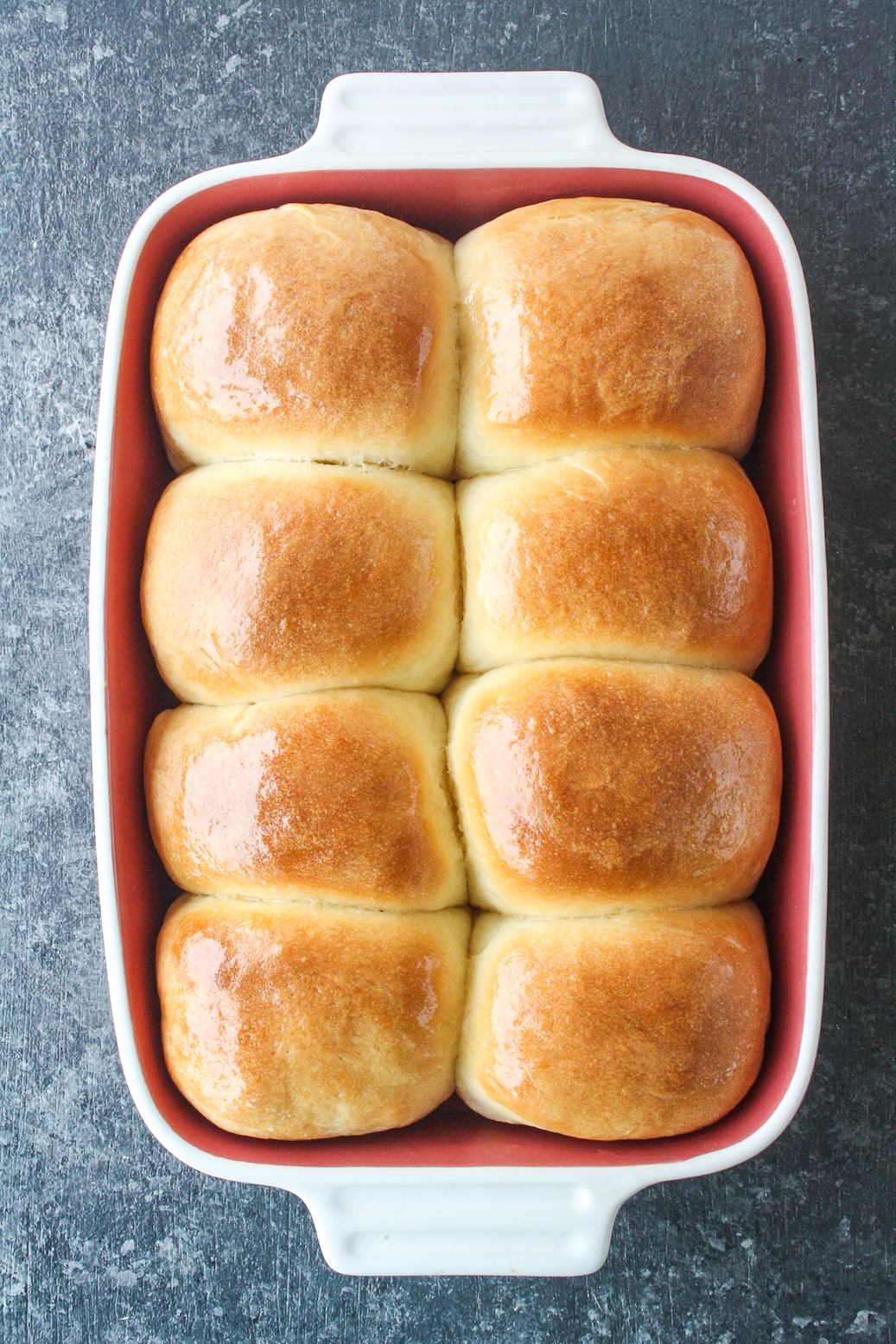 The flavour is wonderfully yeasty in that typical old school bakery way. I find that with the packaged rolls, you can't really ever taste that lovely bready-ness. With this one, you absolutely can. They're softest on day one, but toast beautifully after that. Keep them at room temperature for a couple of days, but transfer to the fridge after that if you live in a warm area.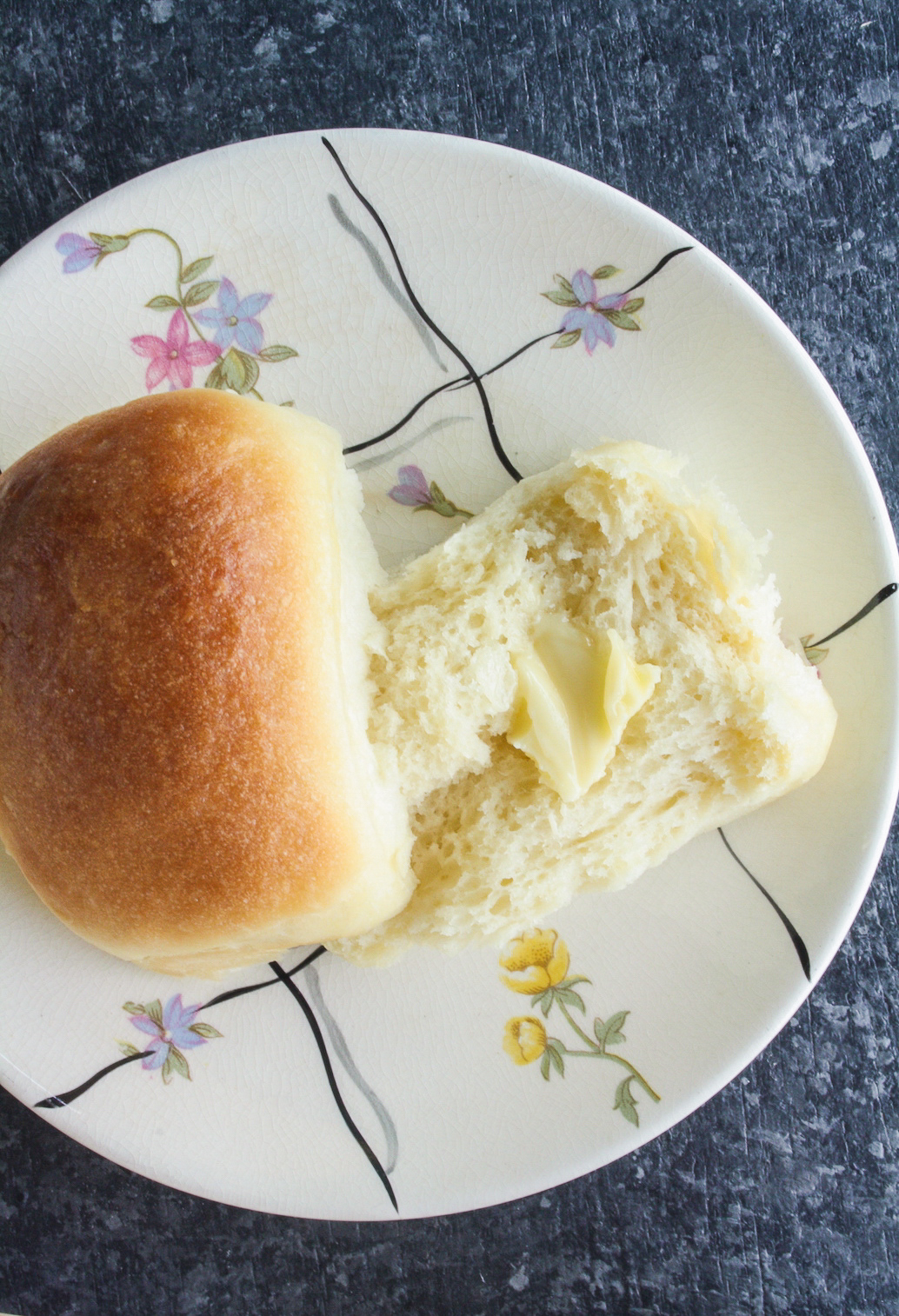 Half the flour can also be subbed with wholewheat flour (see recipe notes). In fact, it produces a more deeply flavoured, darker roll which I really really loved. I'm not sure which I'd choose, let me know what you think!
Till then, get ready to butter your bread.
As always, I will say that baking your own bread (in whatever form) is one of the most satisfying things to make. I hope you'll try this. Let me know how it goes 🙂

Homemade Bread Rolls (Eggless)
Soft, fluffy homemade rolls without eggs!
Author:
The Desserted Girl
Ingredients
¼ cup water
½ tbsp active dry yeast
2 tbsps caster sugar
½ cup whole milk
2 tbsps butter, melted but not hot (salted or unsalted)
2 tsps salt
2 cups all-purpose flour
Extra melted butter for brushing on top, about 3 tbsps
Instructions
Heat the water until warm enough that you can still dip in a finger comfortably (too hot and it will kill the yeast, too cold and the yeast won't activate). Pour the water into the bowl of a stand mixer (or a large mixing bowl if doing this by hand). Stir in the yeast and 1 tbsp sugar, cover the bowl with clingfilm and set aside for 5 to 10 minutes to become frothy.

Next, heat the milk till lukewarm and pour into the bowl along with the melted butter. Add the remaining 1 tbsp sugar and then the salt. Stir.

Add the flour and attach the dough hook to the mixer. Let it run on medium low for 2 to 3 minutes until the dough comes together and begins to look smooth. At this stage I like to knead the dough by hand for another 2 minutes. It should hardly be sticky, and be elastic and smooth by the end of it. Poke a finger lightly on the dough. If it slowly bounces back, you've kneaded it enough. If doing this without the mixer, you will knead for about 5 minutes in total.

Place the dough on a lightly floured surface, then lightly oil the mixing bowl. Pop the dough back in and cover with clingfilm. Leave to rise at room temperature for 1 hour until it doubles.

Lightly grease a shallow 8x4 baking pan and set aside. Preheat the oven to 200 C.

Take the puffed dough out of the bowl and press lightly to release the air. Pat it into a disc roughly 8" wide and divide into 8 equal triangles.

Roll each triangle into a ball, then shape by lightly flattening the ball, then bringing the sides of the ball up and pinching them together. When you turn it over, the top should be smooth.

Place each shaped ball of dough in the pan, leaving a little space between them. Cover with clingfilm and allow them to rise for 20 to 30 minutes until doubled. They will stick to each other, that's absolutely fine.

Brush the tops lightly with melted butter, then bake for 20 minutes, rotating the tray halfway to ensure even browning. The roll are done when they are puffed and browned and feel firm on the top.

As soon as they're out of the oven, brush with more melted butter to soften the crust. Allow to cool for 5 minutes, then remove from the pan and place on a wire rack to cool without them getting soggy.

Rolls are best eaten fresh (with butter!), but can be stored at room temperature for 2 days in an airtight tin and toasted after the first day. Beyond that, they're best stored in the refrigerator. Happy baking!
Notes
*I used Blossom yeast; Bluebird is easily available too.

*Bread flour produces an even softer texture. If you have that, use it instead of all-purpose.

*Prep time does not include rise time.

*If your oven can take two batches at once, the recipe can easily be doubled.

*You can substitute half the all-purpose flour with wholewheat flour. Increase the butter to 3 tbsp to ensure the wholewheat doesn't dry the rolls out. The two photos below show the darker colour that wholewheat flour gives (I was a little hasty with shaping them, therefore the cracks!). The flavour is deeper with wholewheat, and I absolutely loved it. I will get back if I have any luck with a 100% wholewheat recipe.