Buttery chocolate pastry. A creamy chocolate filling infused with orange and rosemary. And lots of cocoa dusted aaalll over this incredible tart which is like a baked chocolate mousse crossed with, um, something divine.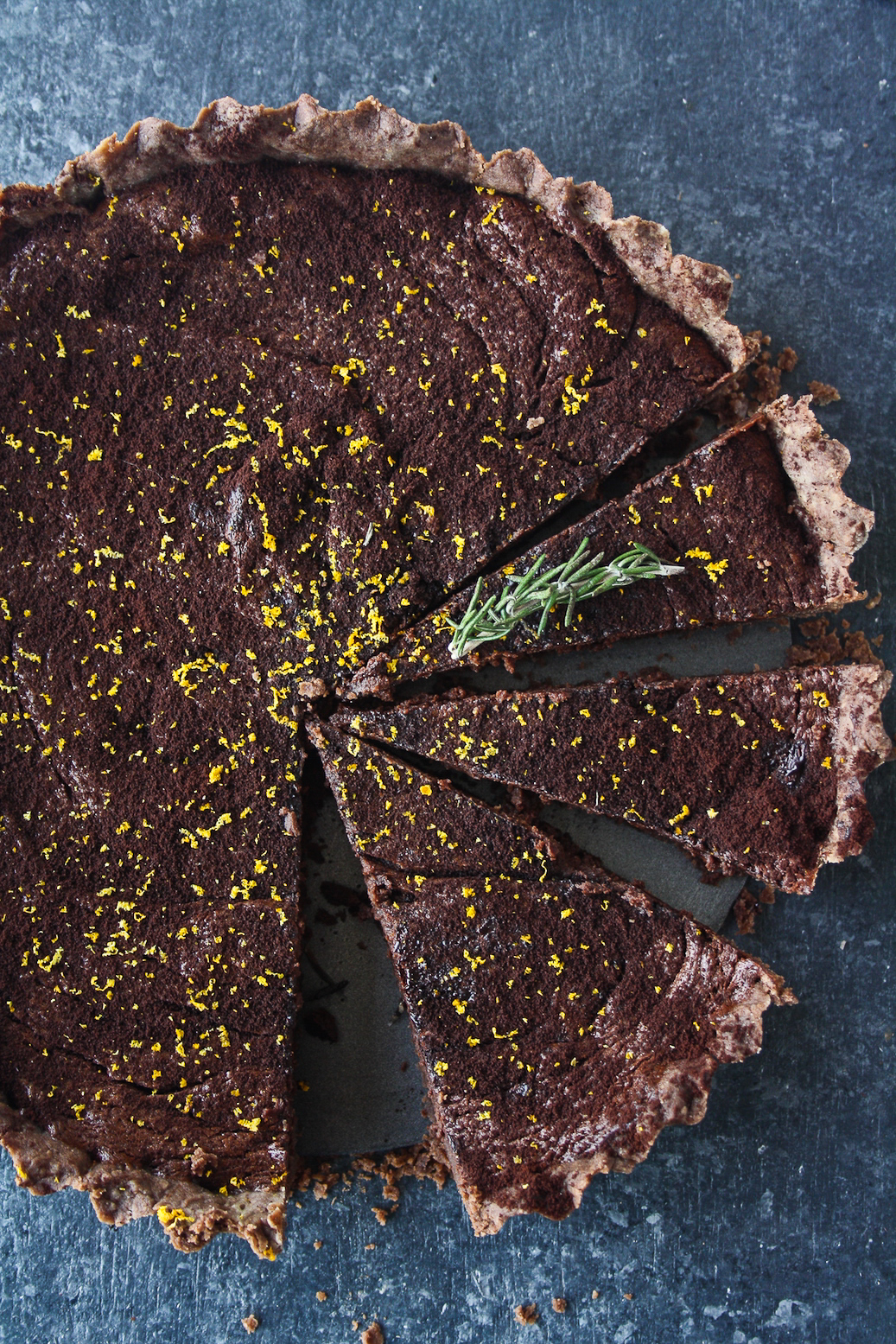 The recipe is adapted from Sweet
and I simplified it a fair bit. I changed up the base to use my tried and tested one, skipped the hazelnut praline layer because I just wanted a basic, not very sweet filling and I used a little less chocolate and fewer eggs.
All this to make a decadent dessert but not one that's rich enough to knock you out. And more than anything, one that had a few steps, but on the whole, wasn't too hard to make.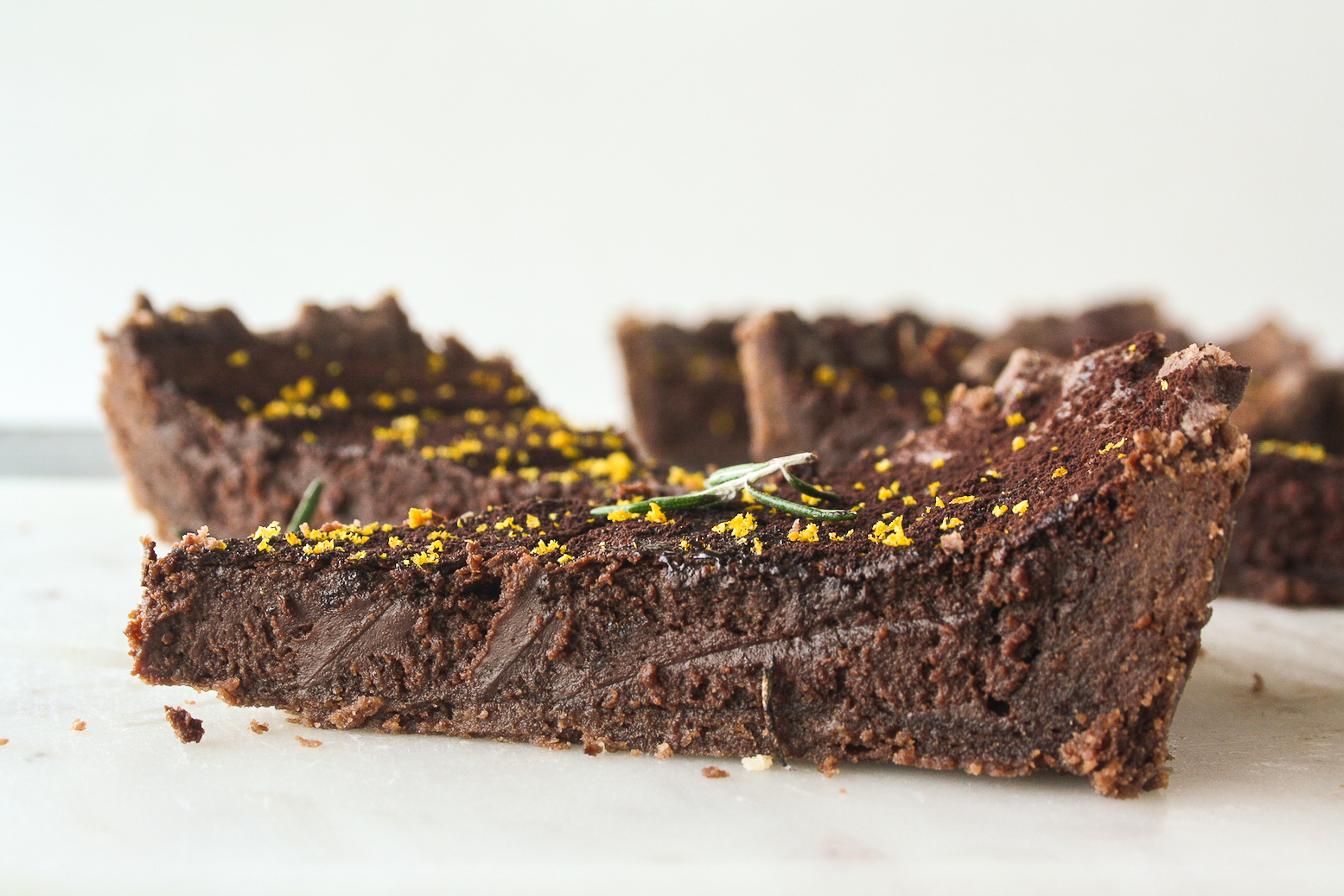 The rosemary and orange are beautiful in there. I chose to make the orange more prominent, the rosemary is sort of floral but not in a weird way I promise. At room temperature, the tart is soft and mousse-y and after refrigeration, it's like a piece of fudge. I have no idea which I liked more!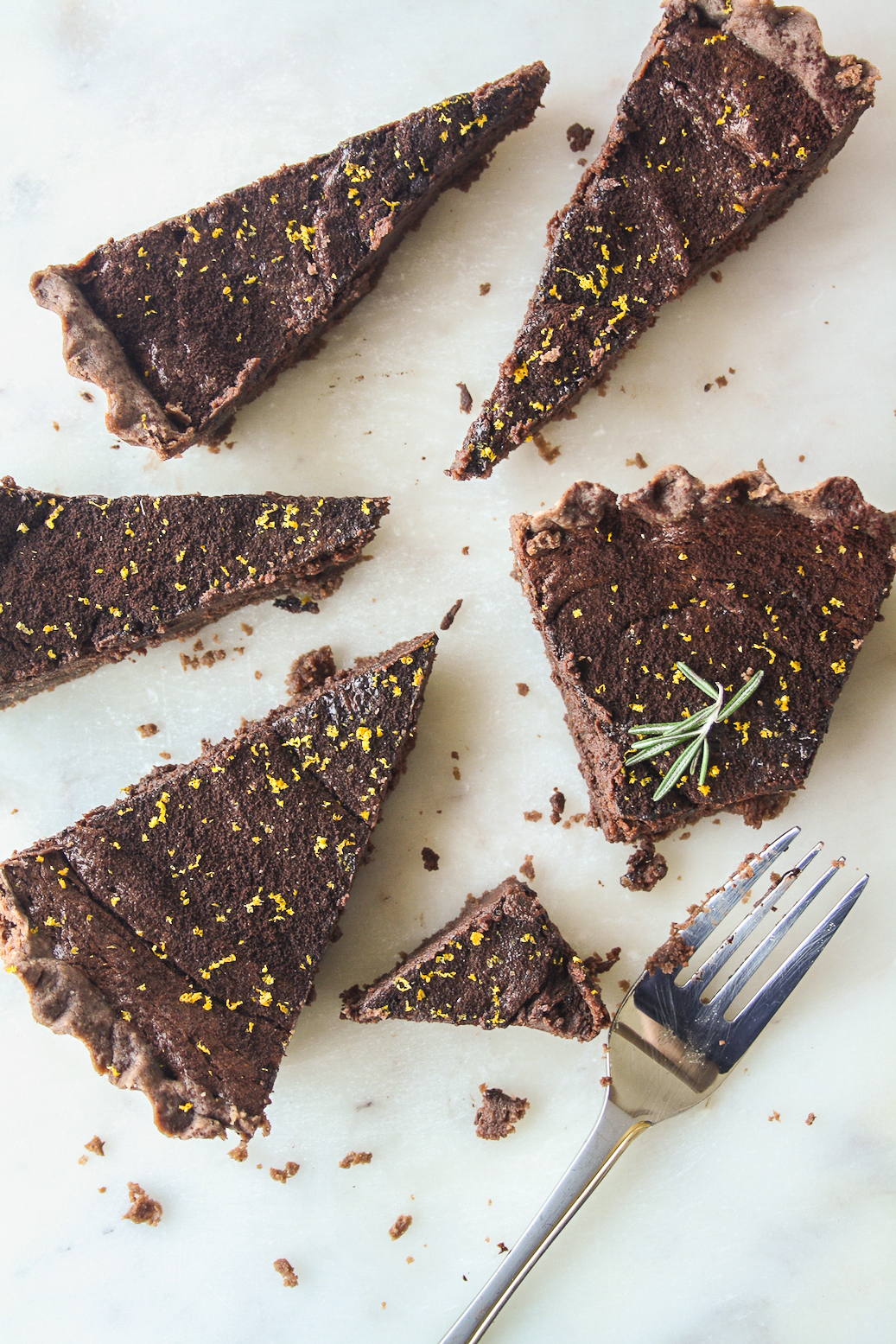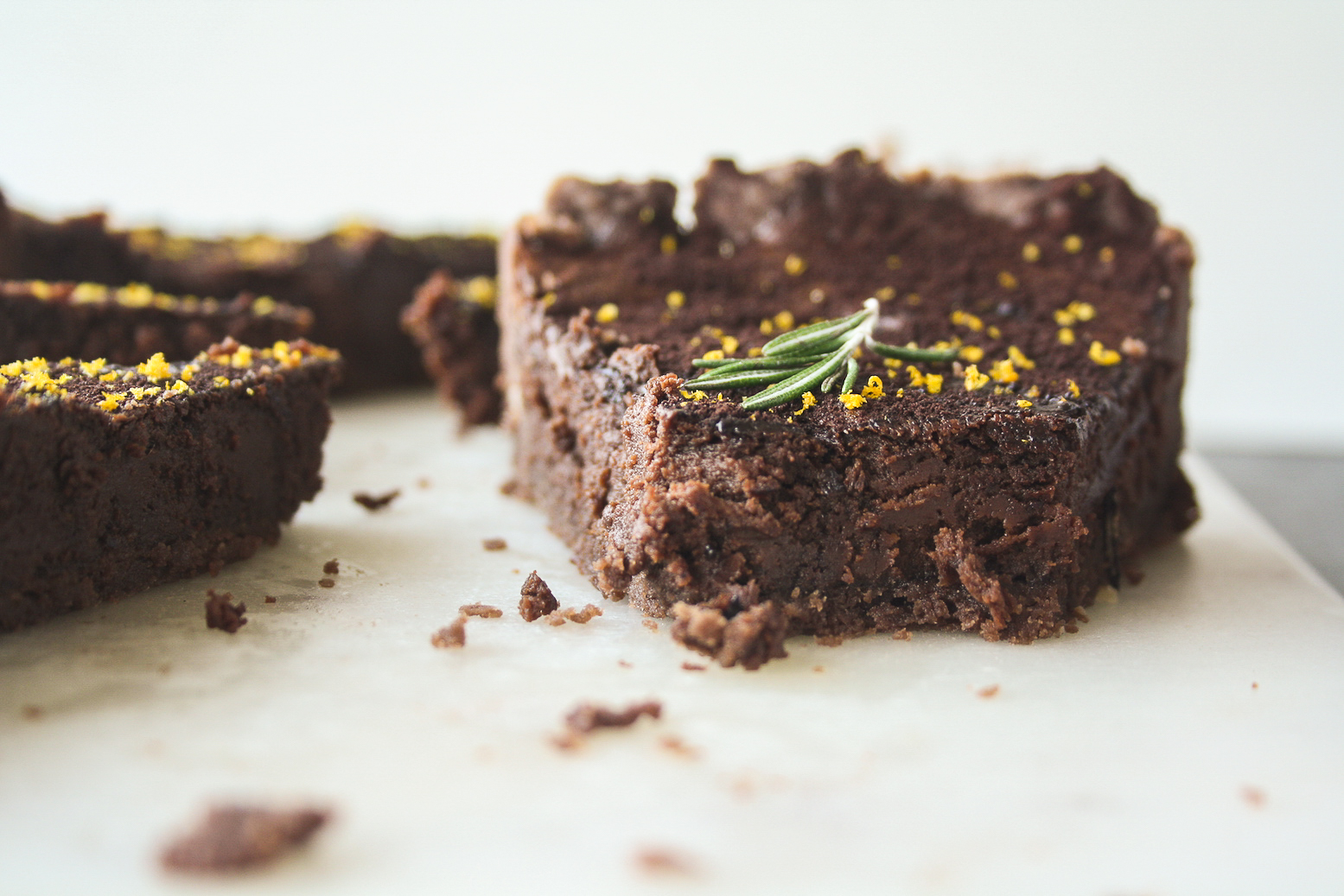 This isn't a very sweet tart though you can increase the sugar in the filling if you like. And if you infuse the cream while the dough is chilling in the fridge, the main steps are out of the way simultaneously. Win win!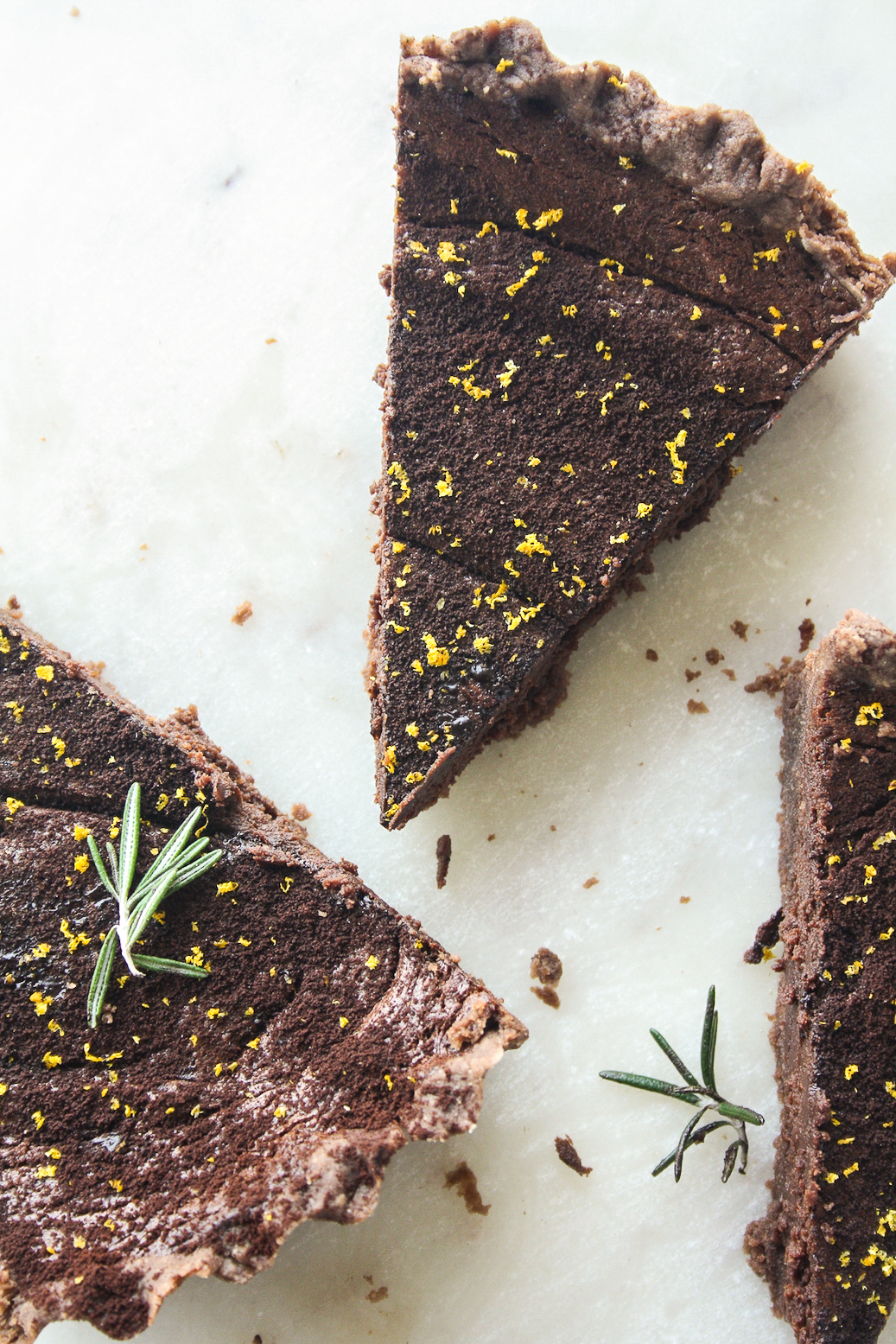 Try this and let me know how you like it!

Chocolate Orange & Rosemary Tart
Rich chocolate tart infused with orange and rosemary, on a buttery flaky crust!
Author:
The Desserted Girl
Ingredients
For the base
1 and ¼ cups all-purpose flour*
2 tbsps caster sugar
1 tbsp cocoa powder
½ tsp salt, if using unsalted butter
½ cup cold butter, cubed (115 gms)
1 to 2 tbsps ice water
Extra flour for sprinkling

For the filling
½ cup cream (120 ml)*
90 gms unsalted butter, at room temperature
1 tsp fresh rosemary leaves
Zest of two oranges
200 gms dark chocolate, chopped and at room temperature
½ cup caster sugar
2 eggs, at room temperature
1 tsp vanilla extract
Cocoa powder for dusting, optional
Instructions
First make the dough for the base. Combine the flour, cocoa powder sugar and salt, if using, in a large bowl. Stir well.

Using your fingertips, rub the cold butter cubes into the flour till the mixture resembles coarse breadcrumbs with a few larger bits of butter scattered throughout. These bits are what create a flaky dough.

Add 1 tbsp of ice water and bring the dough together. If you can clump it between your fingers, it does not need any more water. Add the second tablespoon of water only if absolutely needed.

Form the dough into a rough ball, place on a large piece of clingfilm and pat into a ¾th inch thick disc. Wrap tightly and refrigerate for 1 hour.

In the meantime, combine the cream, butter, rosemary and orange zest in a small saucepan. Place on low heat and bring to a simmer, stirring constantly to ensure the butter melts and doesn't stick to the pan. Cover and set aside to infuse at room temperature while you make the tart base.

At the end of 1 hour, lightly grease an 8" tart tin or pie dish.

Unwrap the cold dough and place on a lightly floured silicone baking mat or on the kitchen counter.

Roll using a lightly floured rolling pin, to an approximately 9" circle, sprinkling more flour to prevent any sticking.

Gently lift the dough and place in the tart tin, patching up any torn bits with scraps of dough. Trim the edges and place the tin in the fridge for 30 minutes.

Preheat the oven to 180 C. Take the tart tin out of the fridge and prick the base all over with a fork to prevent it from puffing up too much. Bake for 15 to 20 minutes until lightly browned and the sides are slightly puffed. Set aside to cool. Leave the oven on.

Now return to the filling. Place the chopped chocolate in a bowl. Bring the infused cream back to a simmer and pour over the chocolate. Stir and set aside for 5 minutes. Then stir again till smooth and combined. If it doesn't look well combined, set the bowl over a pan of simmering water and stir till the chocolate is melted through.

In a mixing bowl,beat the sugar, eggs and vanilla for about 4 minutes until light and thick. Very gently fold in the chocolate cream mixture, taking care not to deflate the eggs as far as possible.

Pour this filling into the baked tart shell and bake again for 15 to 20 minutes until the top is set and a toothpick comes out with just a few moist crumbs, rather like a flourless cake.

Set aside to cool at room temperature for about an hour, then dust with cocoa powder, decorate with more rosemary leaves and orange zest and serve! The tart should be kept refrigerated but tastes great cold too 🙂 Enjoy!
Notes
*You can use regular cream or whipping cream. The difference in richness is not much.

*This tart is bittersweet. Use ¾ cup sugar in the filling if you'd like it to be sweeter.
Shop this recipe!
This post contains affiliate links.