So far, pineapples, oranges and pears have been turned upside-down in my kitchen. I have no idea why the same hasn't been done with bananas sooner. Because hello, bananas and caramel? Meant to be. All sweet and sticky and gooey and so perfect!
This cake is incredible. That upside-down fruit aside, the cake itself is super tender, moist, lightly spiced and basically the perfect base for all of your pan-flipping experiments. I hope you're ready because you're making this right now!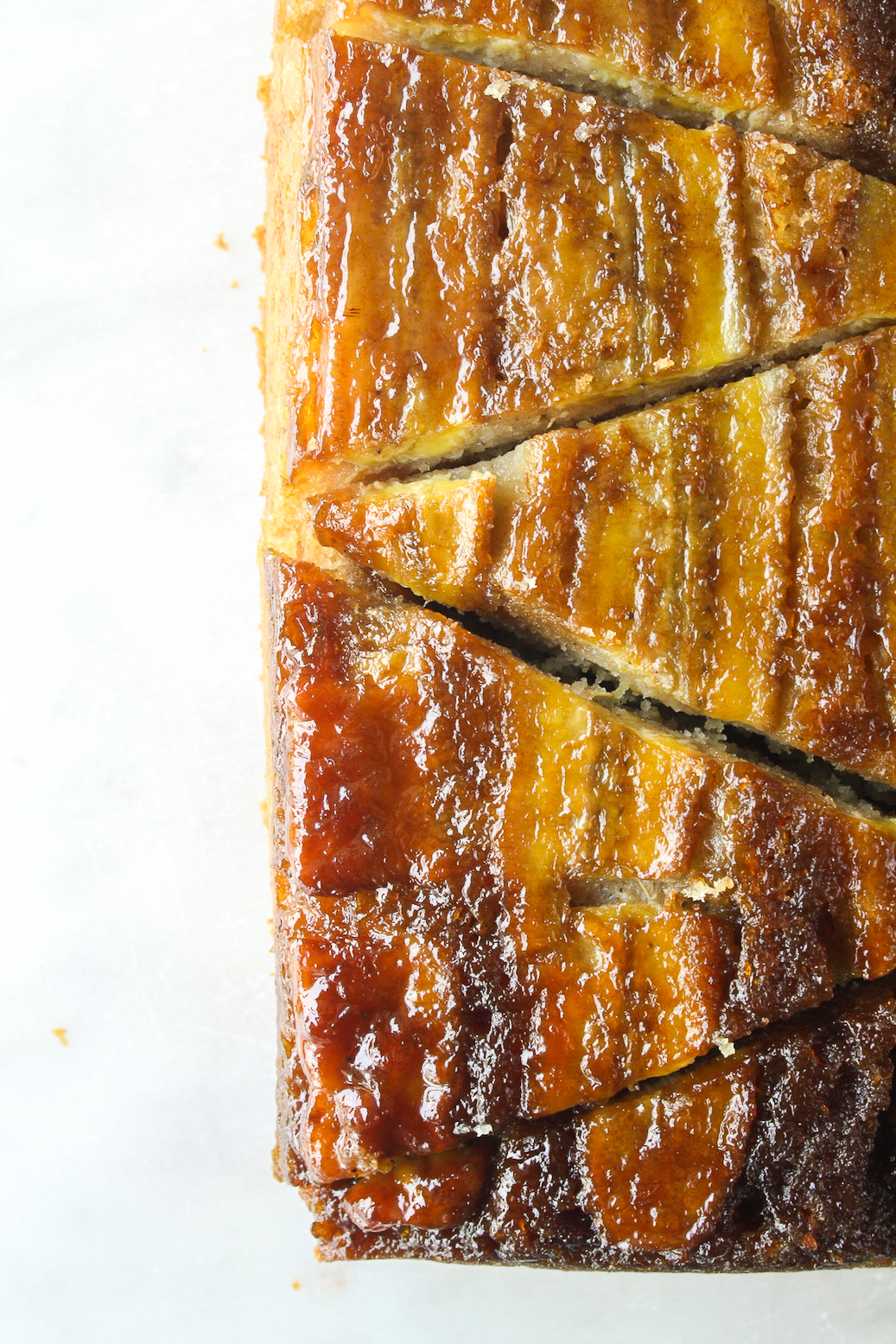 This lovely Linda Lomelino recipe is very straightforward and completely irresistible. I turned this into a loaf cake because I didn't have enough bananas to fit a round 9″ pan. The cake is adaptable and works in a round or loaf tin which is great. I also reduced the caramel a little bit but I found it was still sweet enough and just the right amount for me. You can of course increase it, I'll add that to the recipe notes below.
I didn't cook the butter and sugar together first as the recipe said, I simply did what I normally do with upside-down cakes. Pour the melted butter into the bottom of the pan, sprinkle on brown sugar and place the fruit on top to absorb it all while I make the cake batter. This is still as delicious, but you can definitely do a pre-cooked version if you like.
Speaking of cake, like I said, it's lightly flavoured with spices and made super soft with yoghurt and is actually unbelievable just by itself. Would you look at it!
A little bit of whipped cream is all you need to serve it with, and even that's optional. All that sticky caramel is awesome enough as a topping!
Flipping the cake over is actually quite a painless affair if you do it just 5 minutes after it's out of the oven. Use gloves or pot holders of course, but have no fear, it slides out neatly. As long as you grease the sides (the bottom is full of melted butter anyway) really well, you're all good!
I hope you'll make this todaaaaay! So good 🙂

Banana Upside Down Cake
Caramelised bananas on a soft, tender ginger and cinnamon cake!
Author:
The Desserted Girl
Ingredients
For the bananas
¼ cup butter (salted gives a nice flavour)
¼ cup brown sugar (preferably the soft brown kind)
2 bananas sliced in half lengthwise*

For the cake
1 and ⅓ cup all-purpose flour
1 tsp baking powder
½ tsp baking soda
¼ tsp salt if using unsalted butter
½ tsp ginger powder
½ tsp cinnamon powder
125 gms butter, at room temp (1/2 cup)
¾ cup caster sugar
2 eggs
1 tsp vanilla extract
⅔ cup thick, plain yoghurt at room temp
Instructions
First make the banana layer. Grease the sides of a 9x5 loaf tin (see notes) and pour melted butter into the bottom. Sprinkle the sugar on the butter and spread it around evenly. Place the bananas with the cut side or the inner side, facing downwards (so that they'll be facing up once you flip the cake) in an even layer on the sugar butter mixture. Set aside.

Preheat the oven to 175 C.

In a large bowl, sift the flour, baking powder, baking soda, salt, ginger and cinnamon. Set aside.

In a mixing bowl, beat the butter and sugar with a hand mixer till light and fluffy, about 2 minutes. Add the eggs and vanilla and beat till combined.

Now stir in the yoghurt and flour mixture alternately, starting and ending with the flour so that batter doesn't curdle.

Fold or beat with the hand mixer till you have a smooth batter but do not overmix. The batter is fairly thick.

Spoon the batter on top of the bananas and smoothen the top. Bake for 40 to 45 minutes, covering the top loosely with foil if it's browning too quickly. Bake until the top is golden-brown, and a toothpick comes out clean.

The top may have domed very slightly, you can leave it as is or slice it off with a knife if you prefer. Allow the cake to cool in the tin for 5 minutes.

Now hold the tin with gloves carefully and very gently flip onto a serving plate (I chose a wire rack so that the cake can cool without the bottom getting soggy). Shake the tin slightly to release and then lift it off. It should slide out easily and in one piece, don't panic if it doesn't, it's going to be delicious either way!

Allow the cake to cool for about an hour, then slice and serve with whipped cream while still slightly warm. Store in the refrigerator if it lasts more than a day!
Notes
* It's a good idea to slice any thicker pieces of bananas into half one more time, so they fit better in the pan. If making this cake in a 9" round pan, use 3 to 4 bananas.

*Linda Lomelino's original recipe uses ½ cup of sugar and 125 gms of butter, cooked together to make the caramel at the bottom of the pan, if you'd like to do it that way.

*I tend to be heavy-handed with the spices, but you can use lesser if you like. Or more!

*I haven't tried making this cake without eggs so can't guarantee the same result with a substitute. However, if you want to try, I'm guessing about ⅓ cup to ½ cup of milk should work as a substitute, enough to make a smooth, spreadable batter.
Shop this recipe!
Check out a full list of my baking essentials here!
This post contains affiliate links.