I have just discovered toasted pancakes. And by that I mean, if you make a batch of these today, keep them in the fridge for a couple of days and pop one in the toaster when the hunger strikes, they taste REMARKABLE. I don't know if this is the world's oldest fact, but I now know that toasted pancakes are the bees knees.
Also pancakes with strawberries inside them, not just topped with them? Excellent. Pancakes with a hint of buckwheat and rye flours for some new flavour combinations? Also very good.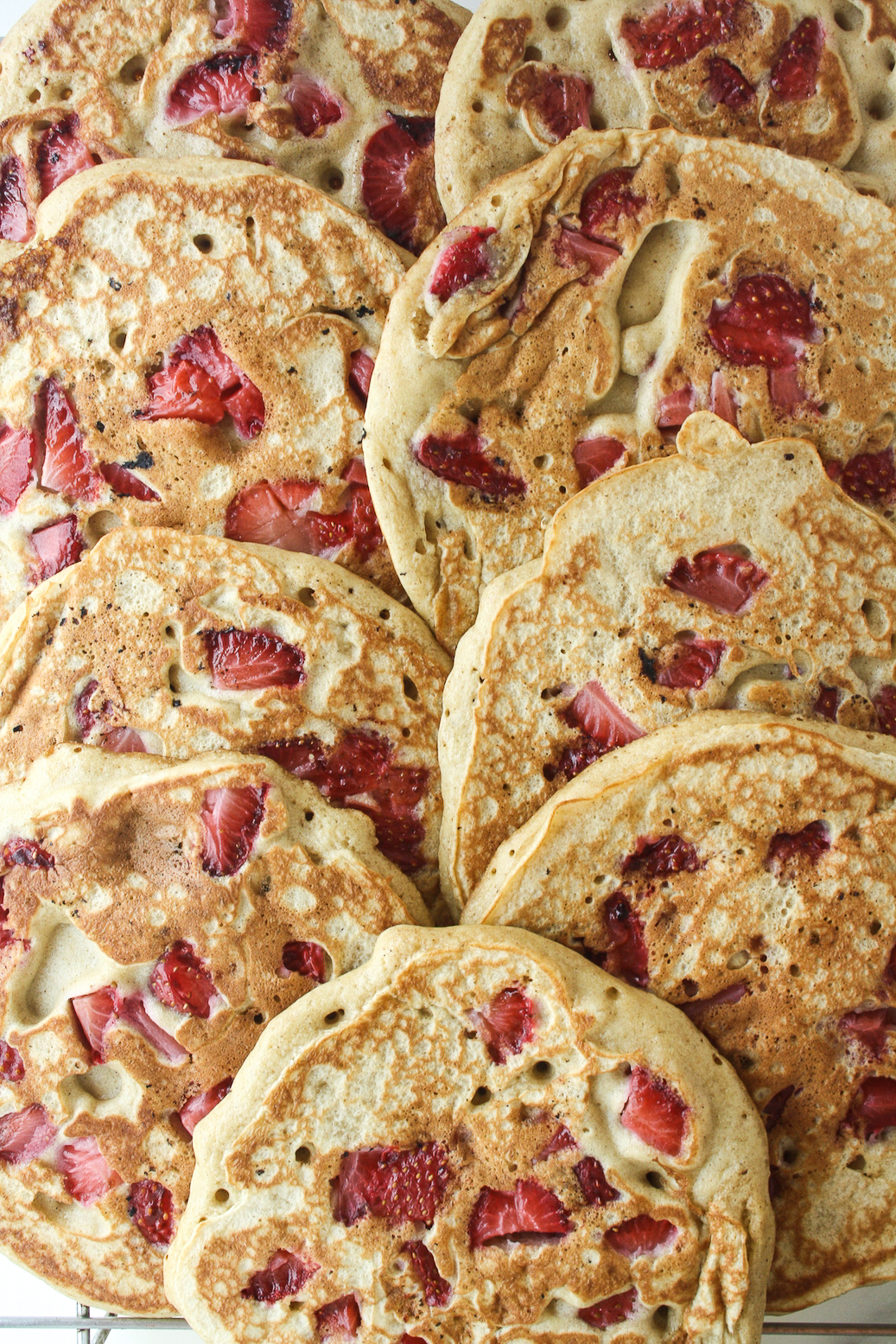 The recipe is adapted from Bon Appetit. I added some honey because I felt they needed more sweetness to counter the slightly bitterness of buckwheat and rye. I threw in some cinnamon and vanilla too and that helps combat any eggy aftertaste. Without these additions, I found the batter too bland, but you can always adjust the amounts as you wish.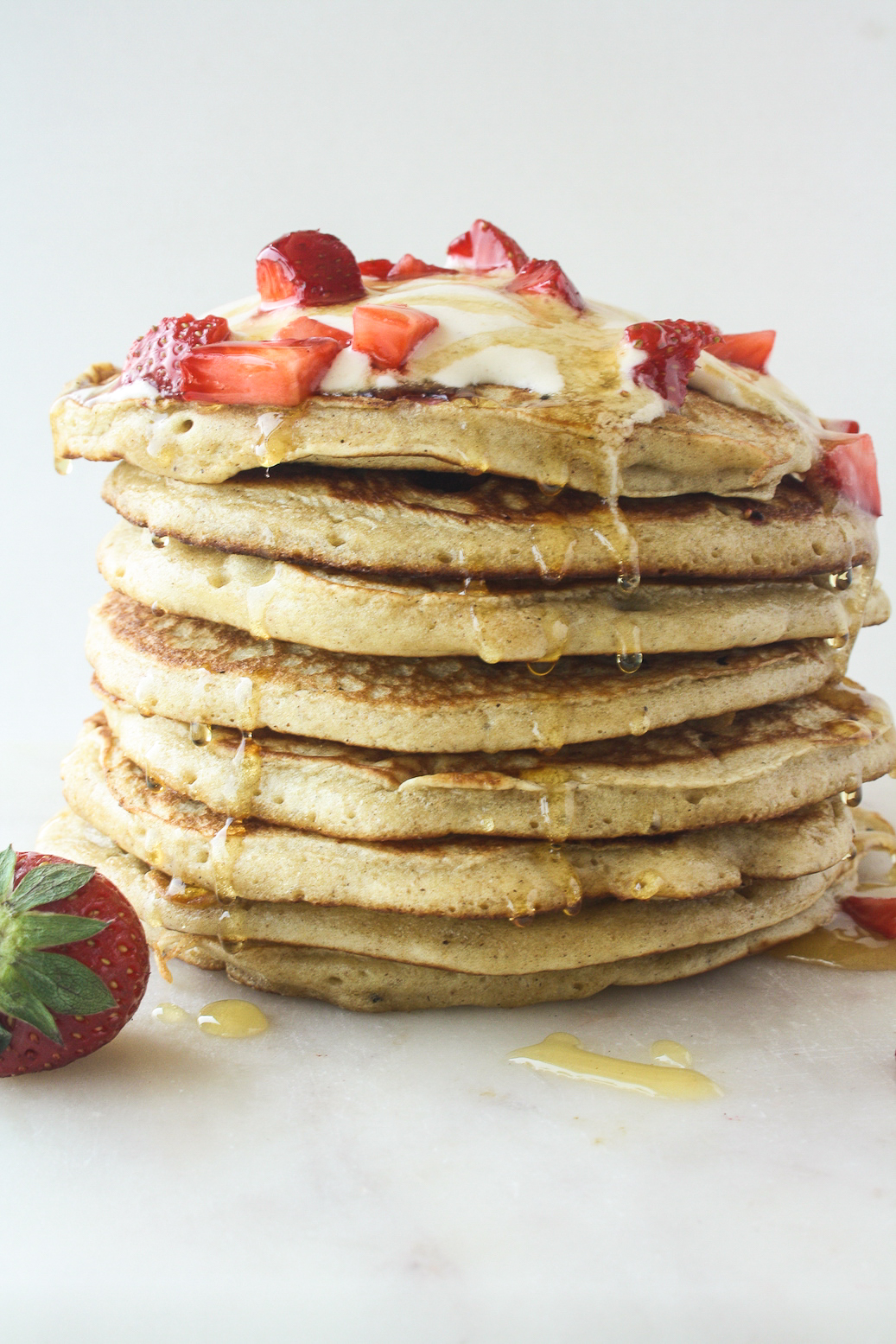 Because they contain some sugar, these aren't the healthiest pancakes out there, but using only honey is also an option. The batter might be a little thinner, but nothing that can't be managed. The strawberries are wonderful, and I recommend not skipping them. Any other berries would work great too! I learned from these blueberry ones that mixing them into the batter often causes sticking, so I like to press them in as each pancake is cooking.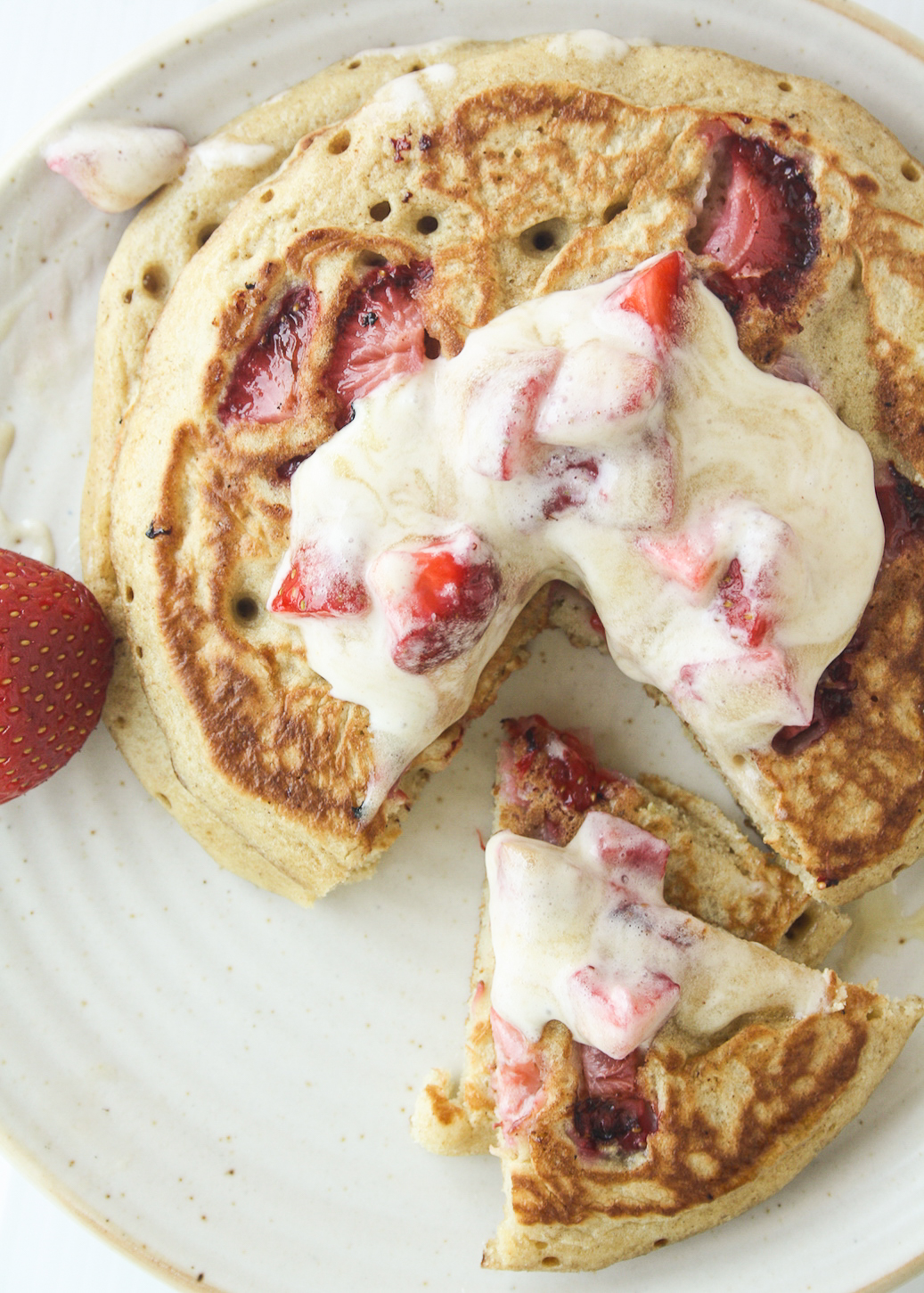 Some leftover peanut butter whipped cream, more fresh strawberries, honey drizzled on top, and this stack of pancakes makes a spectacular breakfast. The batter comes together quickly and makes about 10 pancakes at a time which for me is the perfect amount to last two to three days. Food in the fridge, always a win!

Strawberry Pancakes with Buckwheat & Rye
Tender, fluffy pancakes with strawberries, buckwheat and rye!
Author:
The Desserted Girl
Ingredients
1 cup all-purpose flour
¼ cup rye flour
¼ cup buckwheat flour
⅛ cup caster sugar
½ tsp cinnamon
½ tbsp baking powder
½ tsp baking soda
½ tsp salt
1 and ½ cups milk
2 tsps lemon juice
2 eggs
1 tsp vanilla extract
2 tbsps honey
200 gms strawberries, diced
Butter for frying, if needed
Instructions
In a mixing bowl, combine the flours, sugar, cinnamon, baking powder, baking soda and salt. Mix well and set aside.

Combine the milk and lemon juice in a smaller bowl and set aside to sour for a few minutes. In the meantime whisk the eggs, vanilla and honey in a separate bowl, the pour in the soured milk. Mix well.

Pour the liquid mixture into the flour mixture and fold to combine, breaking up as many lumps as you can, but taking care not to over-mix.

Heat a non-stick frying pan on low heat and melt a teaspoon of butter. The butter is optional, it adds a little colour and flavour.

Pour ⅓ cup of the pancake batter into the pan and allow to cook for a minute. Place a few pieces of strawberries on the surface of the pancake. When the edges of the pancake are no longer glossy and bubbles begin to appear on the surface (about two minutes more), gently flip the pancake over. Cook for another minute or two, then remove from the pan.

Serve the pancakes warm with honey, peanut butter, whipped cream and anything else! Pancakes refrigerate well and can be reheated in the toaster. Happy eating!
Notes
*The sugar can be replaced with more honey if you like. The batter will be a little thinner but still manageable.

*Rye and buckwheat can be replaced with wholewheat flour.

*If you have buttermilk, use that instead of the soured milk.