Weekend breakfasts for me are usually no different from weekday ones as far as the timing goes. So anything that requires too much prep time is definitely out, because I'm pretty much ready to eat within half an hour of waking up.
And then I discovered crepes. Crispy edged crepes that take 5 minutes to make, can be filled with pretty much any fruit under the sun, drizzled with crazy amounts of nut butter and qualify as a very doable breakfast on any day of the week.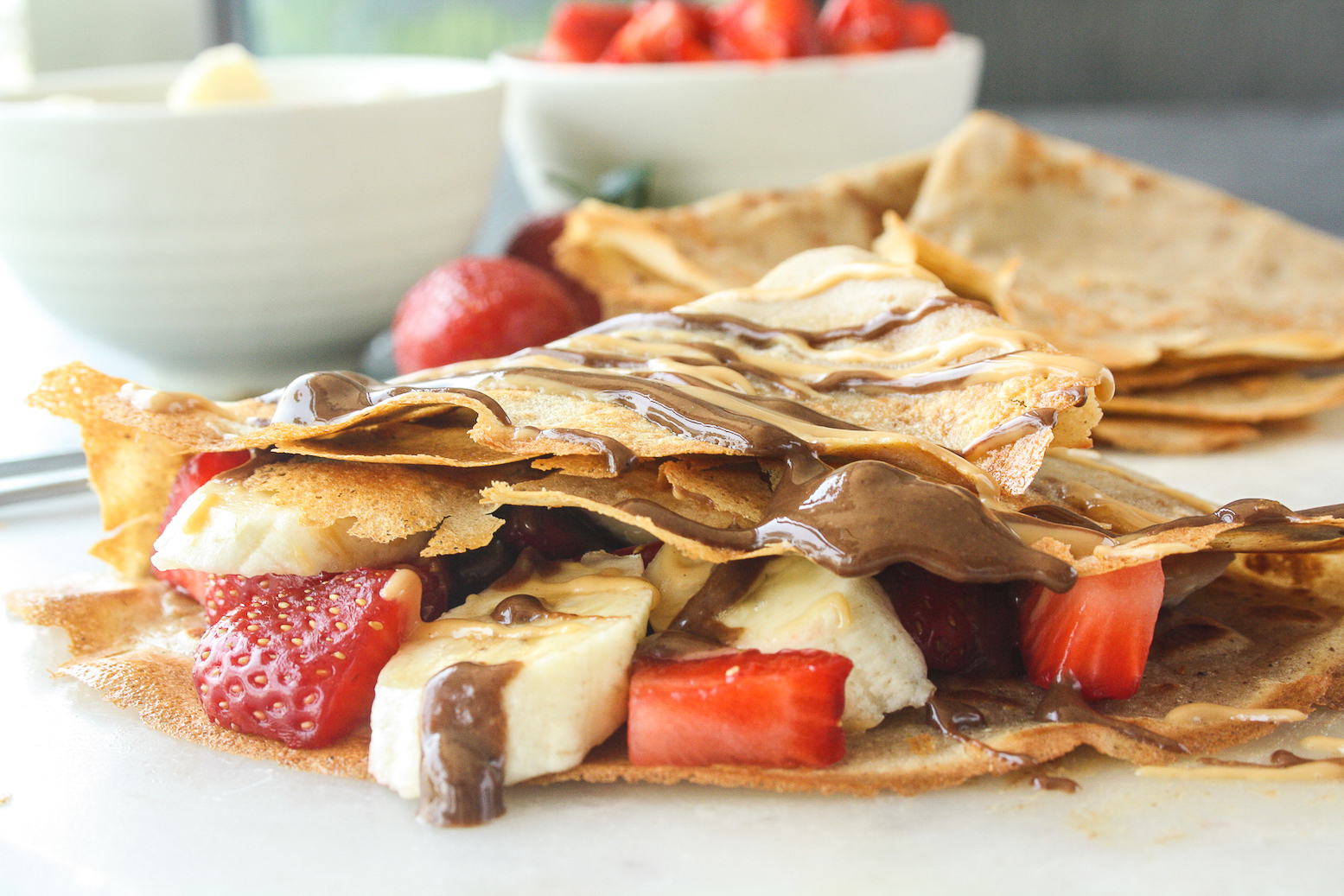 It's weird that crepes always intimidated me, because they're super easy to make! You just need a good non-stick pan and some fun swirling action to get a nice thin crepe. The buckwheat keeps these gluten-free but if you'd like to use all-purpose or wholewheat flour, I'm sure they would both work just fine.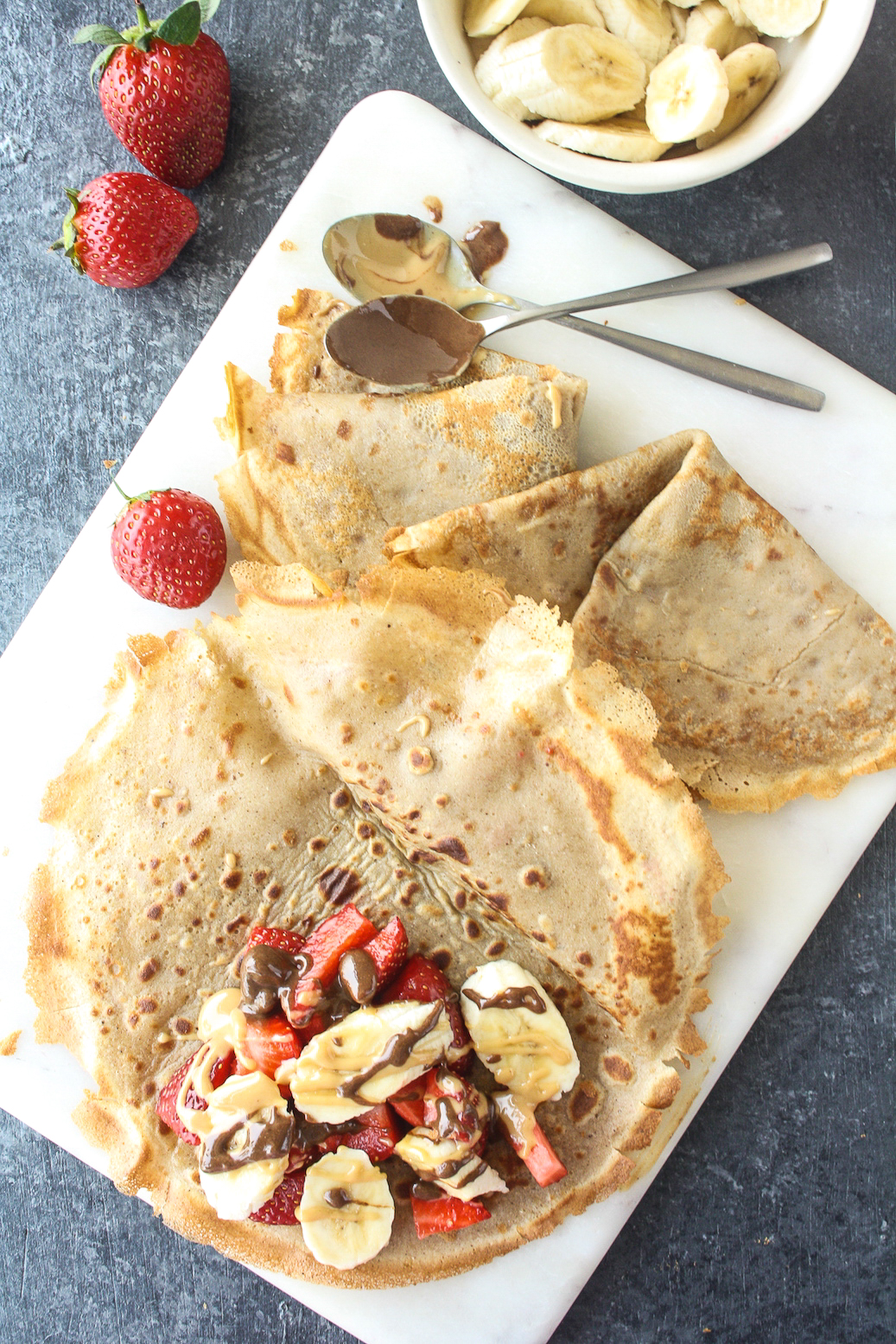 These crepes are adapted from Minimalist Baker and while I chose not to make them vegan, you can absolutely do that with some easy substitutions. I added extra vanilla, honey and cinnamon because buckwheat by itself has a slightly bitter taste that is masked in baked goods, but here, I found I needed to add some extra flavouring. Try and look for a lighter buckwheat flour, the darker one has a stronger flavour.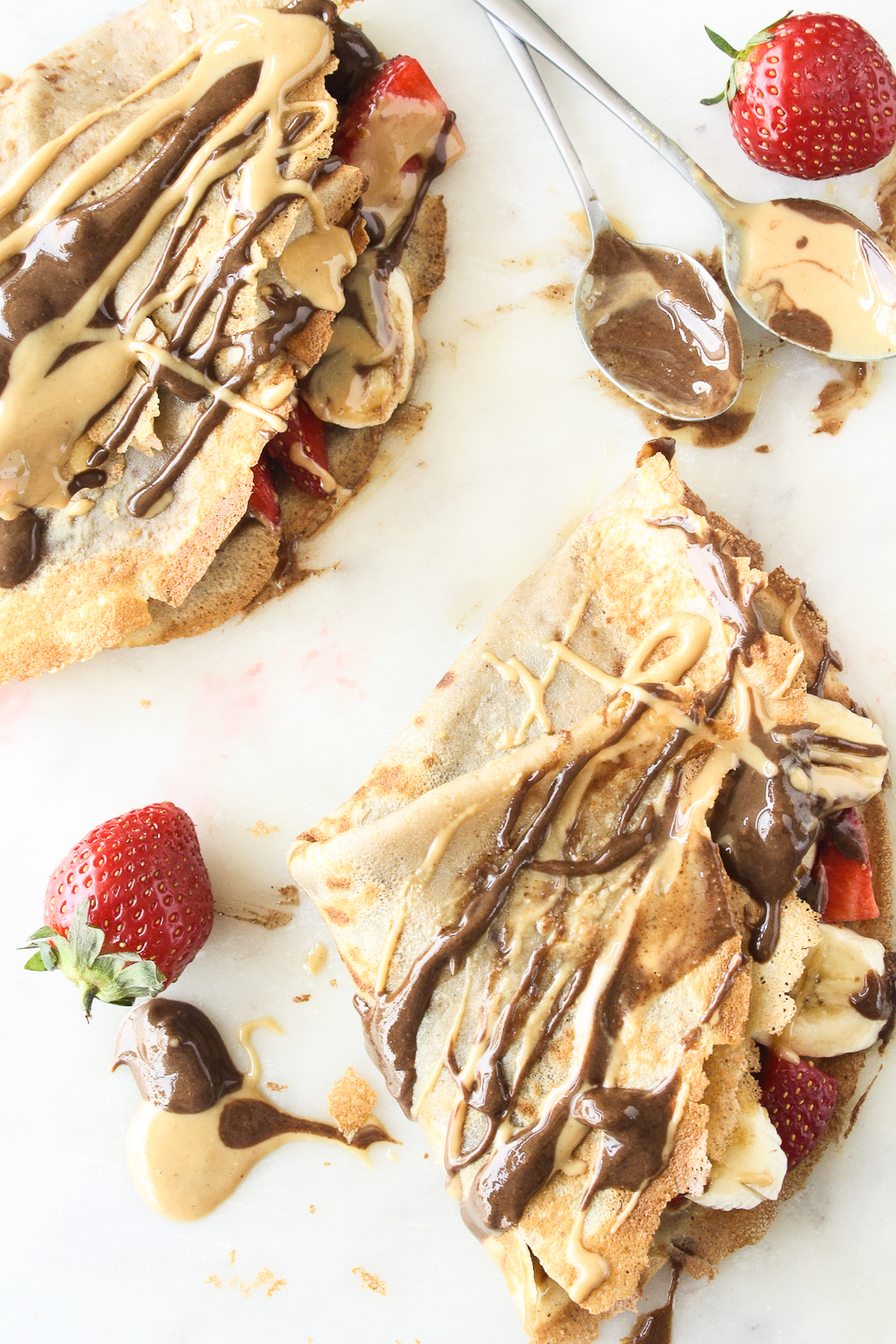 For the fillings, you can actually use any kind of fruit, cooked or raw. Raw is quicker of course, and strawberries and bananas were what I chose. Peanut butter and a cocoa almond butter (both storebought) sealed the deal. So good.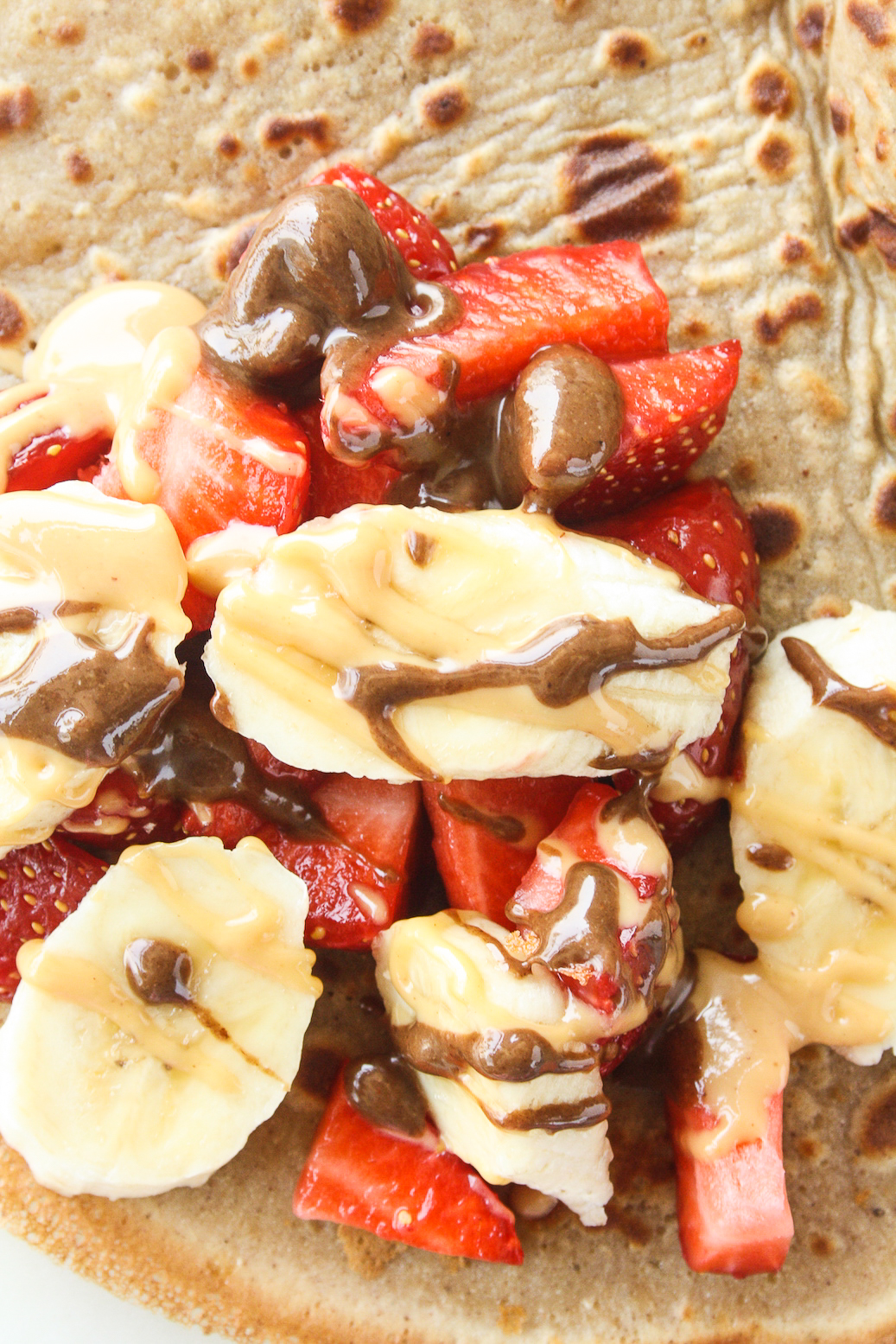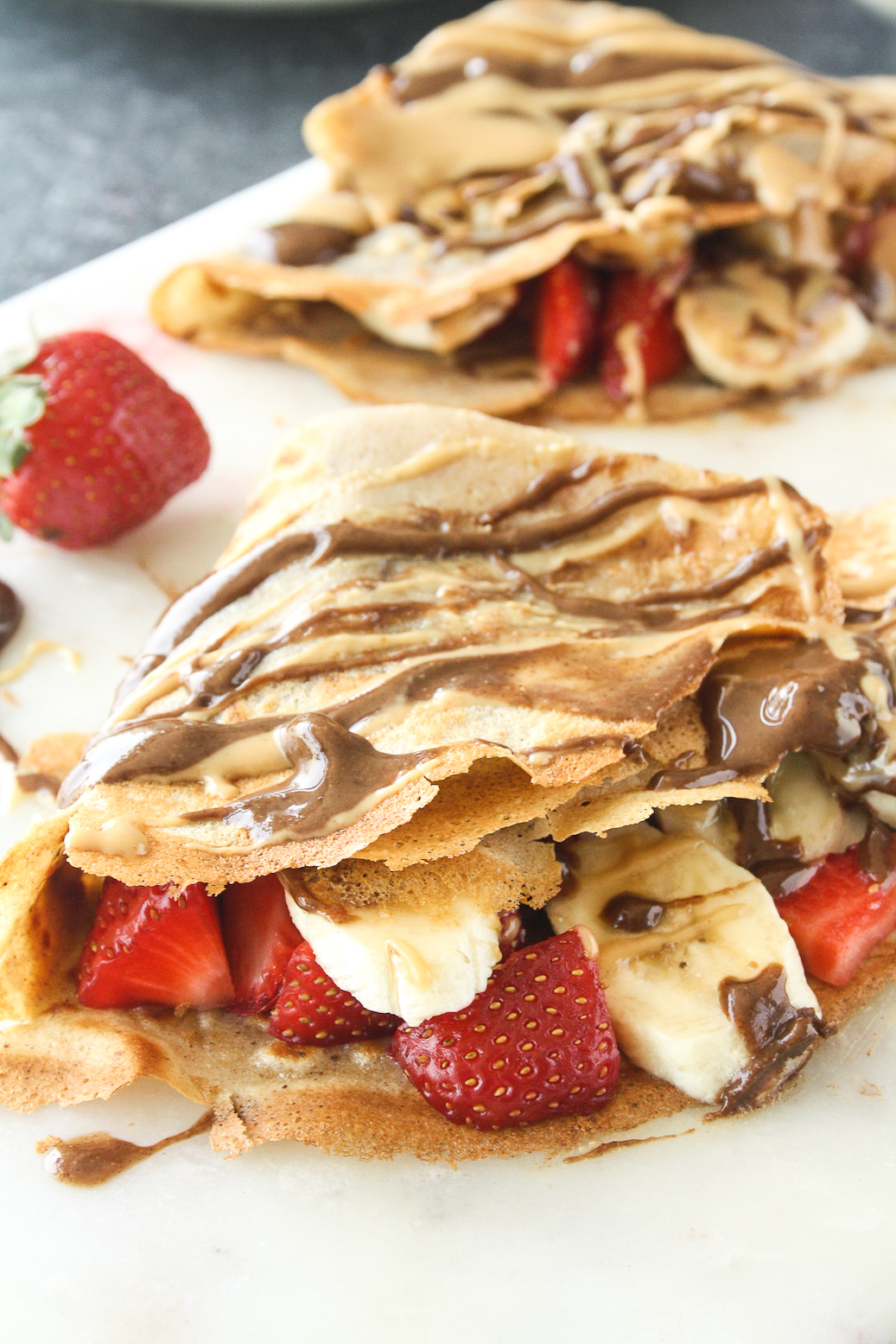 The crepes, once cooked are fairly neutral flavoured, despite the cinnamon, so if you're not into nut butters, more honey or a jam would be great too. But they do need a drizzle of something, so don't skip that 🙂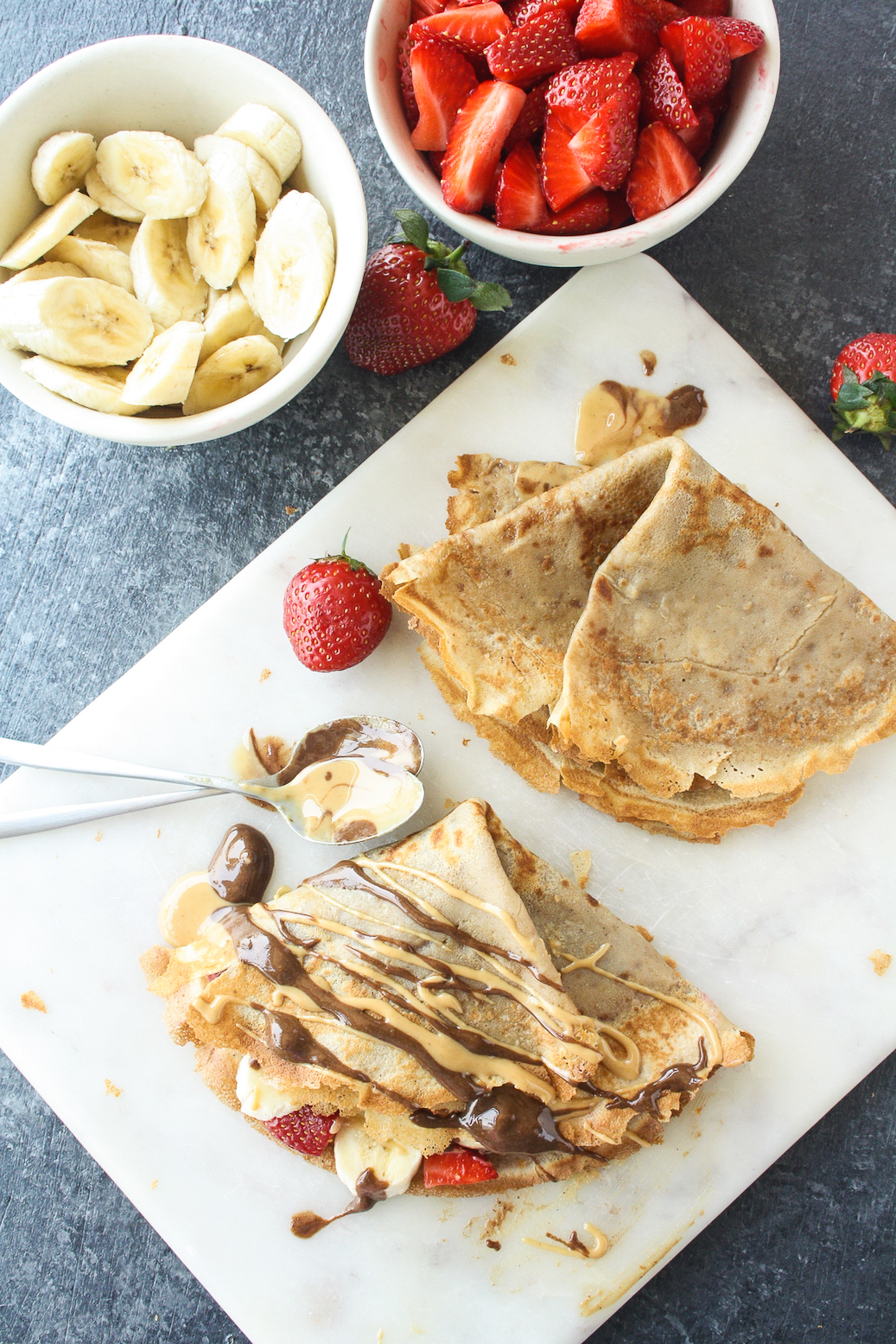 The fact that they're neutral flavoured also means that if you omit the honey and cinnamon, you can make savoury crepes too. Can't wait to try a spinach-mushroom version wheeeee!

Buckwheat Crepes (Gluten-Free)
Super quick buckwheat crepes, easily made vegan, and filled with fresh fruit and nut butters!
Author:
The Desserted Girl
Recipe type:
Dessert/Breakfast
Makes:
8 to 10 large crepes
Ingredients
1 cup buckwheat flour
½ tsp cinnamon powder
1 tbsp melted butter (or a neutral oil)
1 to 2 tsps vanilla extract
3 to 4 tbsps honey (or maple syrup)
1 egg (or ¾ tbsp ground flaxseed)
1 and ¾ cups milk (dairy or non-dairy)
Pinch of salt (omit if using salted butter)
Butter or oil for frying, optional
Fresh strawberries, bananas and nut butter, to serve
Instructions
In a mixing bowl, combine the flour and cinnamon, then add the butter, vanilla and honey. Mix well.

Add the egg and using a whisk, beat it into the flour, then add the milk, whisking continuously to remove any lumps. The batter should be thin and pourable, but not watery. I added an extra spoon of flour to bring it to the right consistency. Taste and add more cinnamon, honey and vanilla if needed.

Heat a non-stick pan and if you'd like some extra flavour and browning, melt a knob of butter or a little oil. Pour ¼ cup of the crepe batter onto the pan and quickly swirl it around into a thin circle.

Allow the crepe to cook and brown for about 2 minutes till the edges are dry and the center has small bubbles, then gently flip and cook on the other side. Repeat with the remaining batter.

Fill a quarter of the crepe with fruit, drizzle on the nut butter, then fold the crepe over the filling. Spread with more nut butter and enjoy! Crepes can be refrigerated for 3 days or frozen for 1 month. I found they reheat well, so weekend breakfast continues!
Notes
*Use a light, not dark buckwheat flour. I used Sattvic Foods brand.

*You can adjust the cinnamon and honey to suit your tastes. Omit if you'd like to make savoury crepes.

*The crepe batter may have some small flour lumps that don't dissolve. You can leave them as is, I found the crepes turned out just fine, or use a hand mixer to break them up.