Why I don't eat scones for breakfast more often is something I've asked myself a hundred times since making these. Because this timeless flavour combination should really feature more often in my life, and in yours!
Buttery, tender, super easy scones bursting with fresh orange zest and crunchy poppy seeds. A pat of butter on them fresh from the oven, and you're good to go.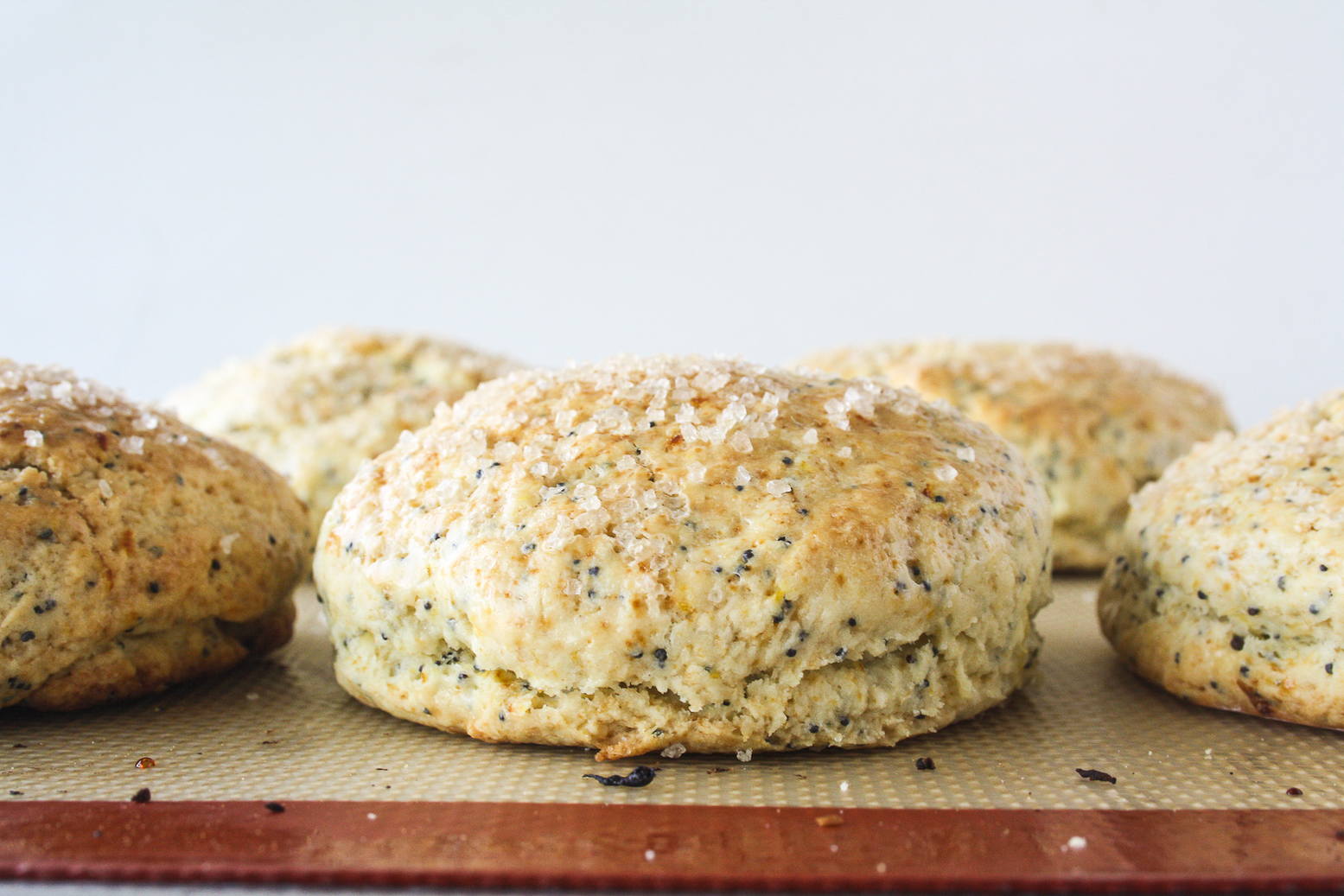 The base recipe is the same as these apple cheddar scones, but the liquid includes fresh orange juice and a smaller amount of whole milk. I found the scones to still be as tender as the ones where I use more milk or even cream.
A little leftover mascarpone with honey drizzled over it made a lovely spread for the citrusy scones! You can of course just use butter or freshly whipped cream, though clotted cream is traditional, if you'd like that.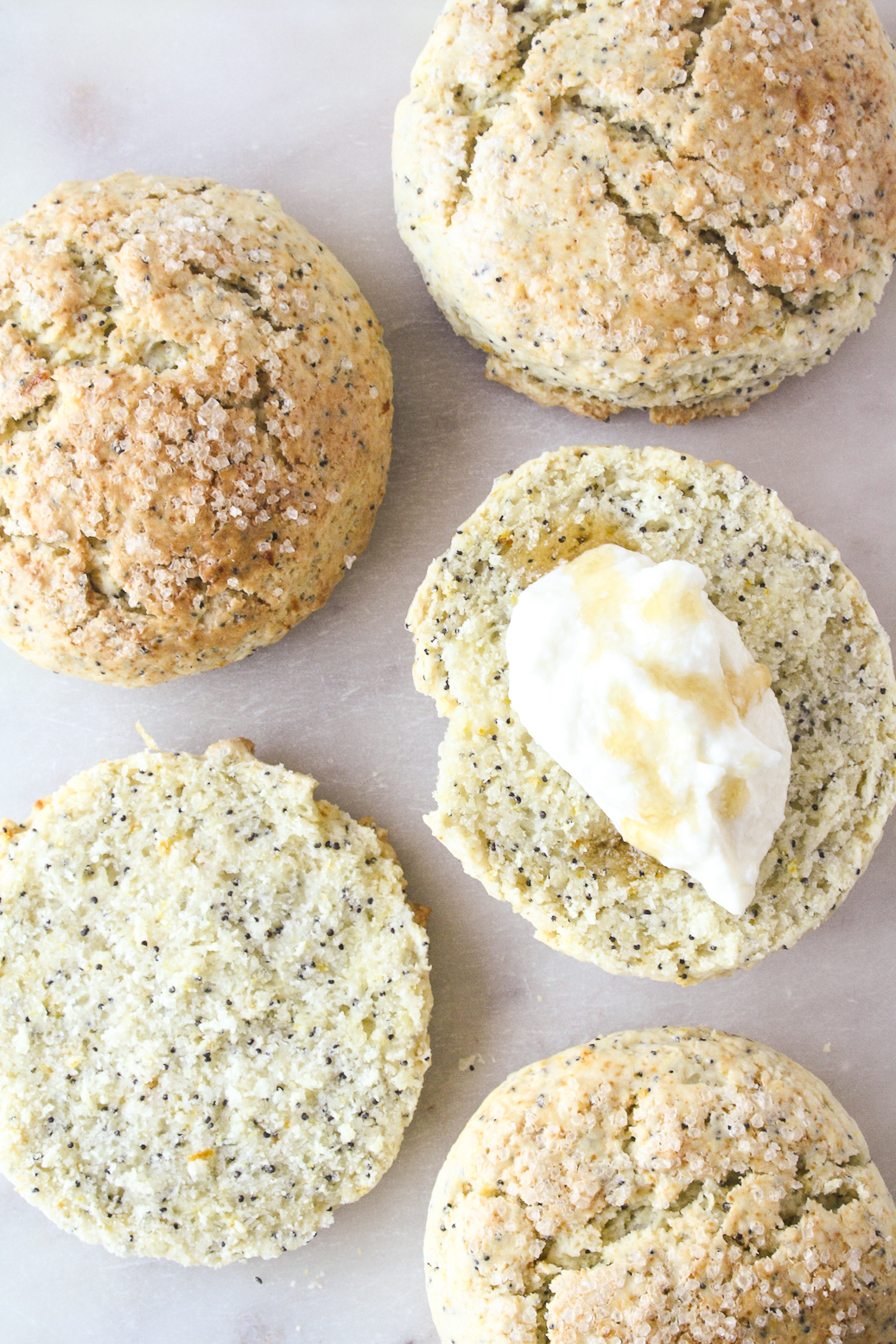 Brushed with a little cream and sugar for flair, the tops are golden-brown and crusty, the insides soft and pillowy. Scones are best eaten on the day made, but I found that slicing them and popping them in the toaster makes them as good as new the day after too!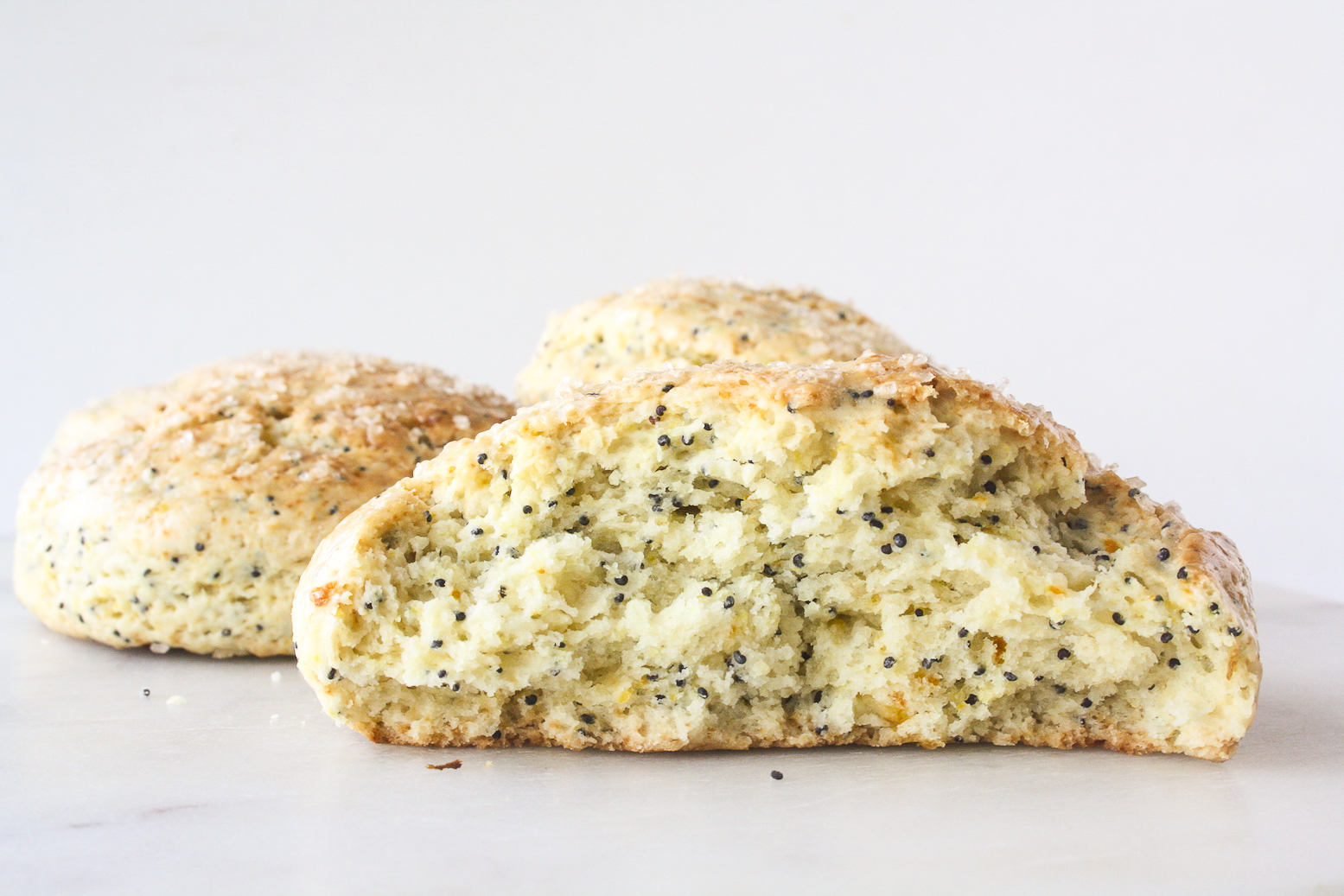 Orange zest shines and shines and shines through and is absolutely the best part of these scones. Make them todaaaaay!

Orange & Poppy Seed Scones (Eggless)
Tender scones bursting with fresh orange zest and poppy seeds!
Author:
The Desserted Girl
Ingredients
2 and ¼ cups flour
1 tbsp baking powder
⅓ cup caster sugar
½ tsp salt, if using unsalted butter
2 tbsps black poppy seeds
Zest of two medium oranges
100 gms cold butter, cut into cubes (just shy of ½ cup)
¼ cup fresh orange juice, chilled
¼ cup whole milk, chilled
Cream and sugar for topping, optional
Instructions
Preheat the oven to 220 C and line a baking tray with a silicone mat.

In a large bowl, sift the flour, baking powder and salt, if using. Stir in the sugar, poppy seeds and orange zest.

Next, add the cold butter cubes and rub them in with your fingers till you have a coarse, breadcrumb-like mixture.

Add the milk and orange juice and slowly bring the dough together with your fingers into one roughly-shaped mass, taking care not to over-mix. If the dough feels too dry, add up to 2 tablespoons more milk.

Tip the dough out onto the silicone lined baking mat, and pat it into a roughly ¾ inch thick circle. Cut out 6 circular scones about 3" in diameter, or simply slice the dough into 8 triangles if that's easier. If the dough has warmed up, stick it in the fridge for a few minutes.

For a little bit of glaze and crunch on top of the scones, mix 1 tablespoon cream with 1 teaspoon water and brush on top of each scone. Sprinkle with granulated sugar.

Bake for 20 to 25 mins until golden-brown on top, rotating the tray halfway for even browning. Allow to cool on a wire rack for 10 minutes, then slice in half, spread with butter or cream and devour with lots of hot coffee!