I can safely say that I've already eaten what is probably my entire year's quota of cookies. And it's only mid-January. Thankfully, my resolution in 2018 had nothing to do with not eating cookies. It has everything to do with trying new things in life which is super vague, but gives me room to figure out what I mean by it. Till then, I'm grabbing some biscotti and you should too!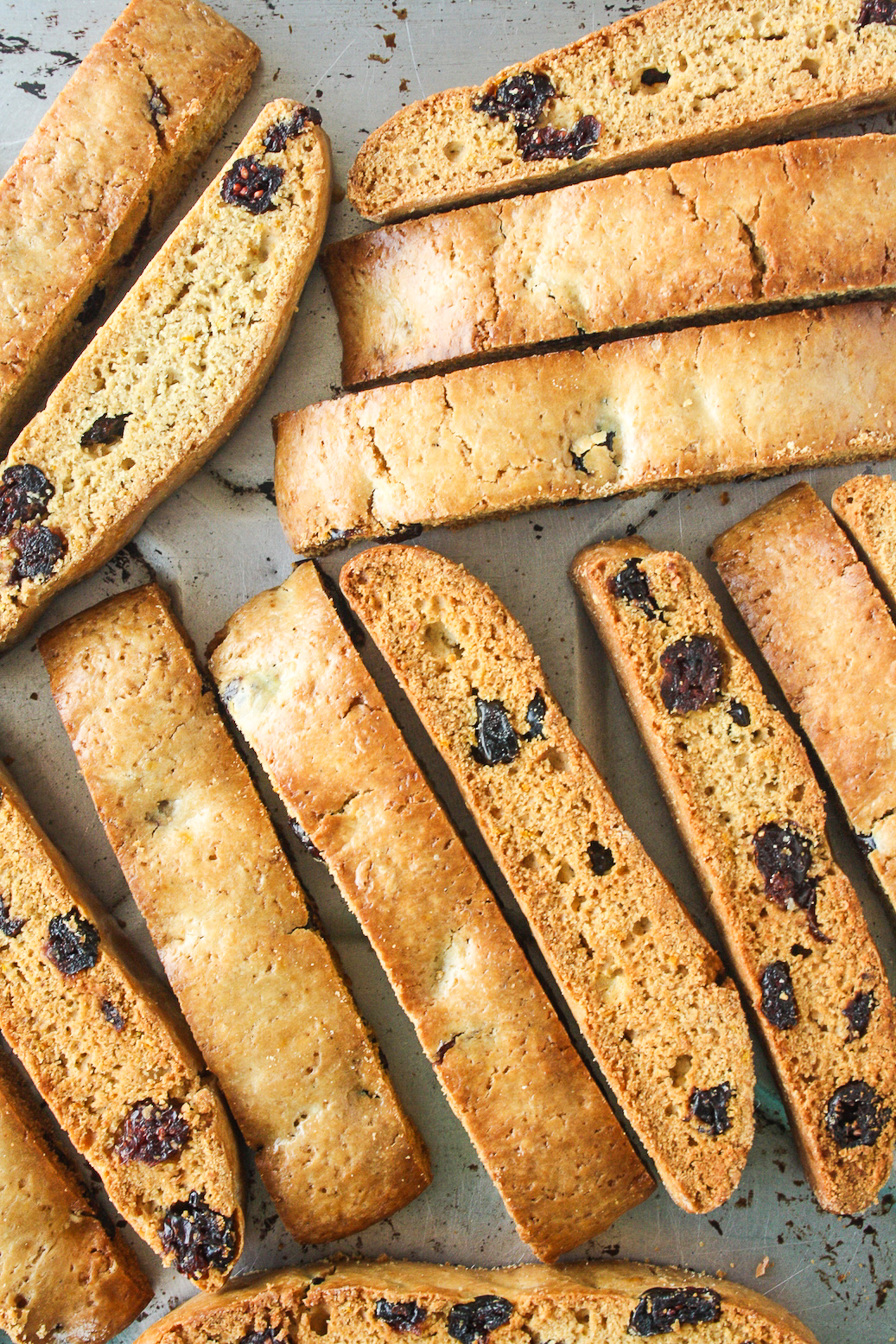 This is actually something I should have decided to make around Christmas, because orange and cranberry is the queen of all holiday flavour combos. But if you feel like pretending the party is still on, this biscotti is for you. Flecked with orange zest and tangy cranberries, crunchy on the outside but not cardboard-y on the inside, this really is incredible!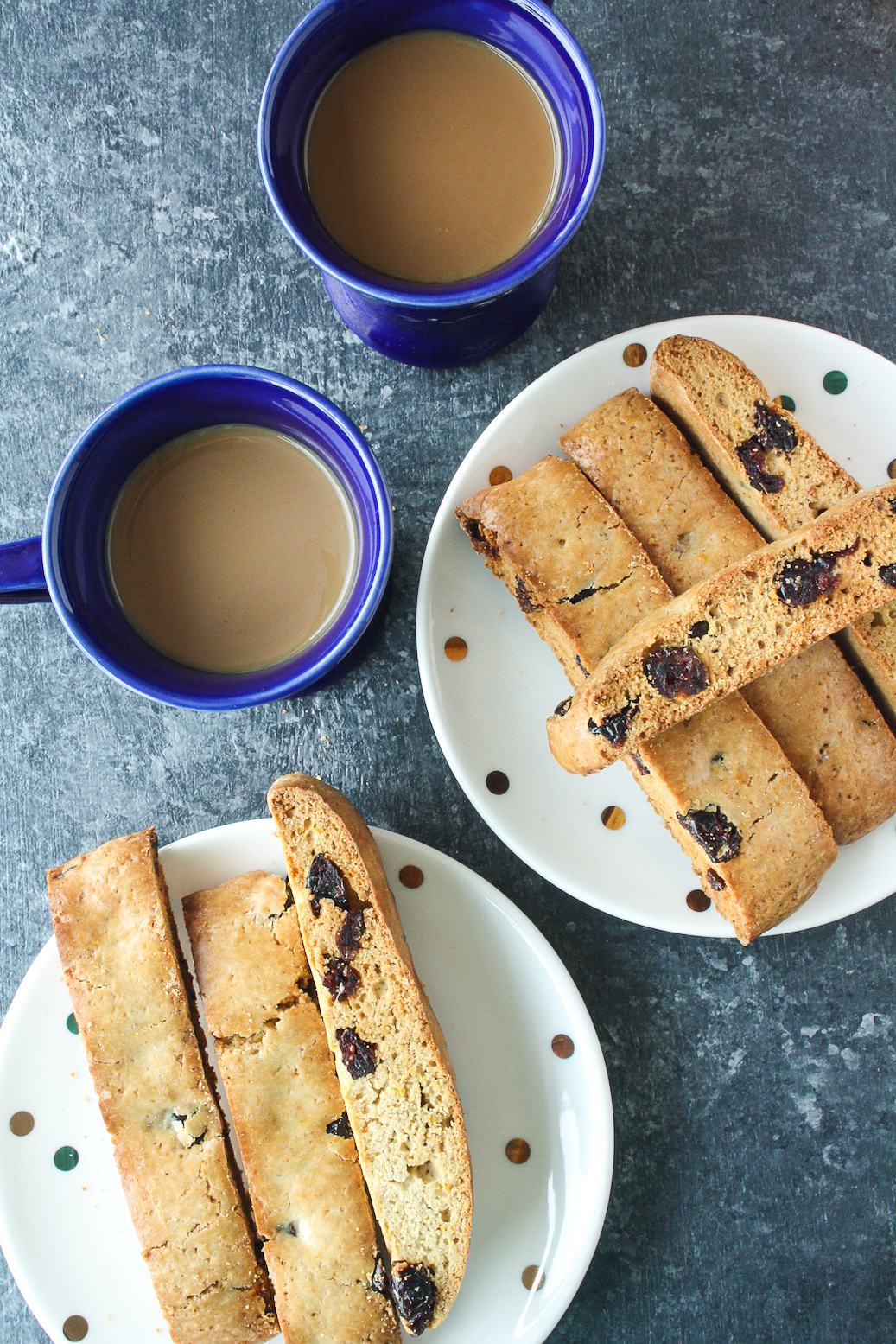 The recipe is adapted from Sally's Baking Addiction, also the inspiration behind this hazelnut biscotti. I didn't feel like dunking the biscotti in melted chocolate though, so I decided to go the cranberry route and I have no regrets. I also added ground ginger to the party, and it's subtle, but definitely there. Which means this is a ginger cookie, so it's acceptable with your morning cup of coffee. Win.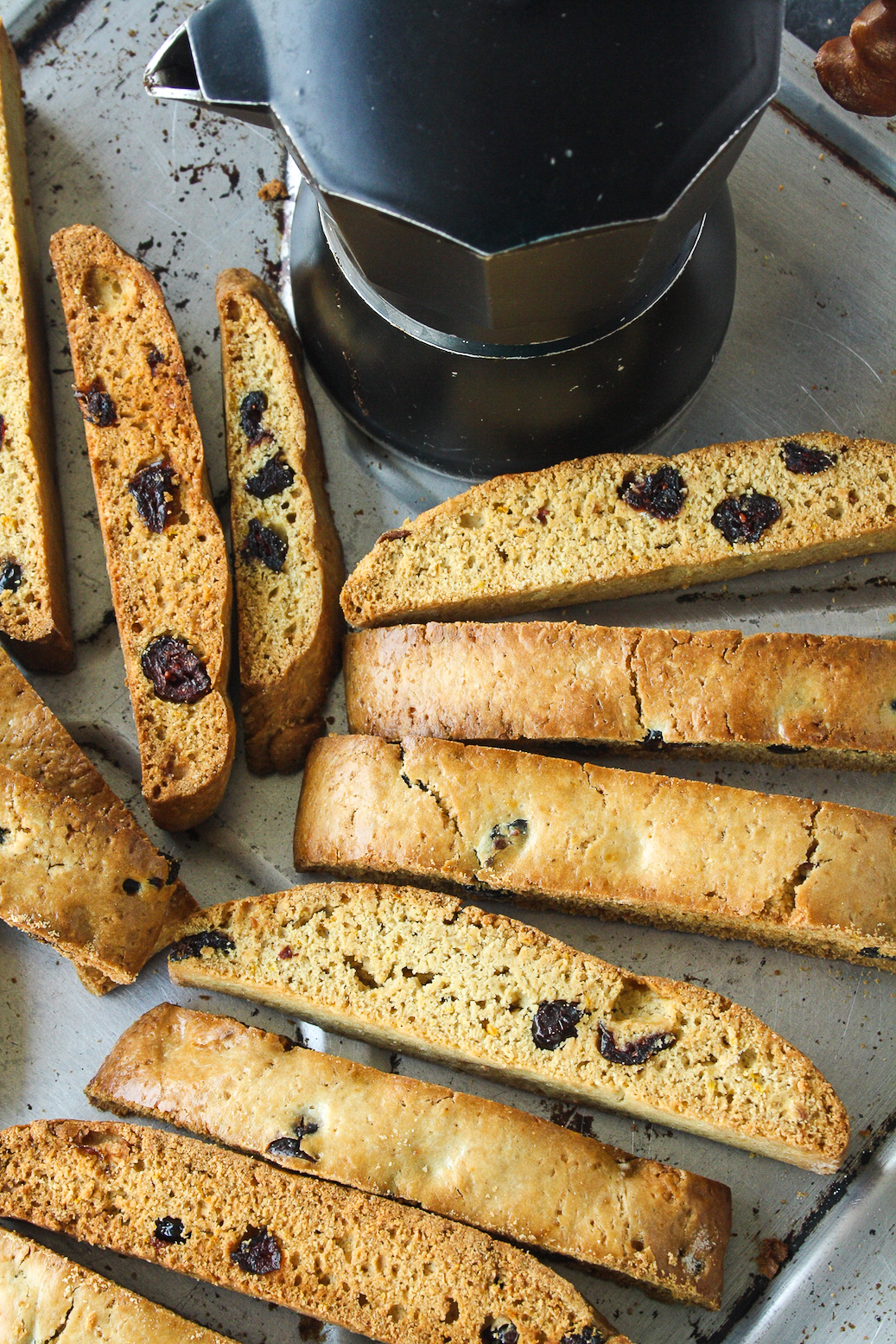 I used cream instead of an egg-wash for a bit of a glaze on top, only because I'm not overly fond of the eggy flavour that it can sometimes leave behind, but feel free to do either. The cookies tend to soften a little on day two if you live in a warm area, but not enough to do any damage. They're really quite irresistible!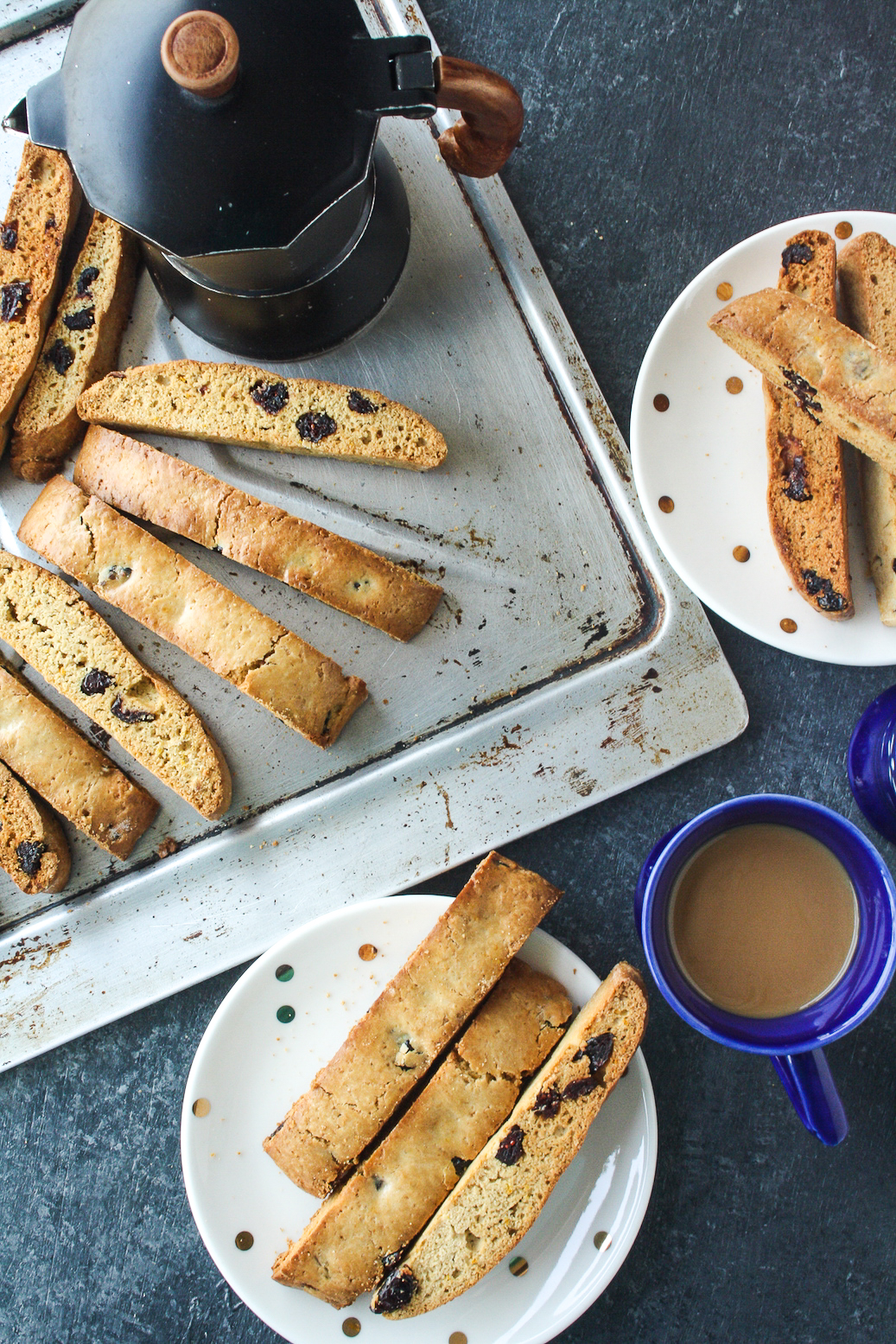 Making biscotti takes a little while, but it's not hard at all. In fact, I actually really enjoy the process and I hope you will too!

Orange Cranberry Biscotti
Classic crunchy biscotti infused with orange zest and lots of cranberries!
Author:
The Desserted Girl
Ingredients
2 and ⅓ cups all-purpose flour
1 tsp baking powder
½ tsp salt if using unsalted butter
½ tsp cinnamon powder
½ tsp ginger powder
1 cup brown sugar (preferably the soft variety)
Zest from two medium oranges
1 cup dried cranberries
¼ cup butter, cold and cubed (60 gms)
3 eggs
2 tbsps fresh orange juice
1 tbsp oil
1 tsp vanilla extract
Extra flour for sprinkling
Instructions
Preheat the oven to 180 C.

Sift the flour, baking powder, salt and spices in a large mixing bowl. Stir in the brown sugar and orange zest. Mix in the cranberries.

Add the cold butter cubes to the flour mixture and rub it in with your fingertips until the mixture is sandy and no dry flour remains.

In a small bowl, combine the eggs, orange juice, oil and vanilla. Whisk well, then pour into the flour mixture.

Mix and bring together, but do not over-mix. Flour a silicone baking mat or your kitchen counter (I prefer the mat for easy clean-up and lesser sticking).

Turn the dough out onto the mat and knead 8 to 10 times. It should be soft, a little sticky, but easy enough to shape into a ball. Cut the dough in half.

Place another silicone mat on the counter and place one half of the dough on it. Using extra flour to sprinkle on, shape each portion of dough into a slab, about 8x5 inches, and about ½ inch thick.

Slide each mat onto a baking tray. It's ok to bake in batches if your oven is small like mine, the second slab of dough can stay out at room temperature.

Bake for 20 to 25 minutes until the top and edges of the slab are lightly browned, rotating the tray halfway through the baking time.

Set aside to cool, and in the meantime, place the second tray in to bake.

Once the slabs have cooled for about 10 minutes, use a long serrated knife to slice each one into 1 inch thick pieces (with the longer side of the slab facing you). This is best done on a chopping board.

Place the pieces back on the silicone mat, with the cut-side facing up (the side where you'll see the cranberries peeking out). You may not be able to do this with the edge pieces, just place them flat on the tray.

Bake the pieces for 8 to 10 minutes on each side, till both sides are browned well. I like to turn my oven to the broil setting for a couple of minutes, just for a nice golden colour. The baked biscotti will feel firm, that's correct!

Set aside on a wire rack to cool completely. Store in an airtight tin at room temperature and enjoy!