So apparently the first weekend binge of the year is going to be filled with superfoods. Stay with me, I promise these are as addictive as cookies. These crunchy quinoa bars have peanut butter, flax seed, chia seeds, almonds, raisins and honey. They're absolutely bursting with good health and good stuff. Don't you just feel yourself glowing already?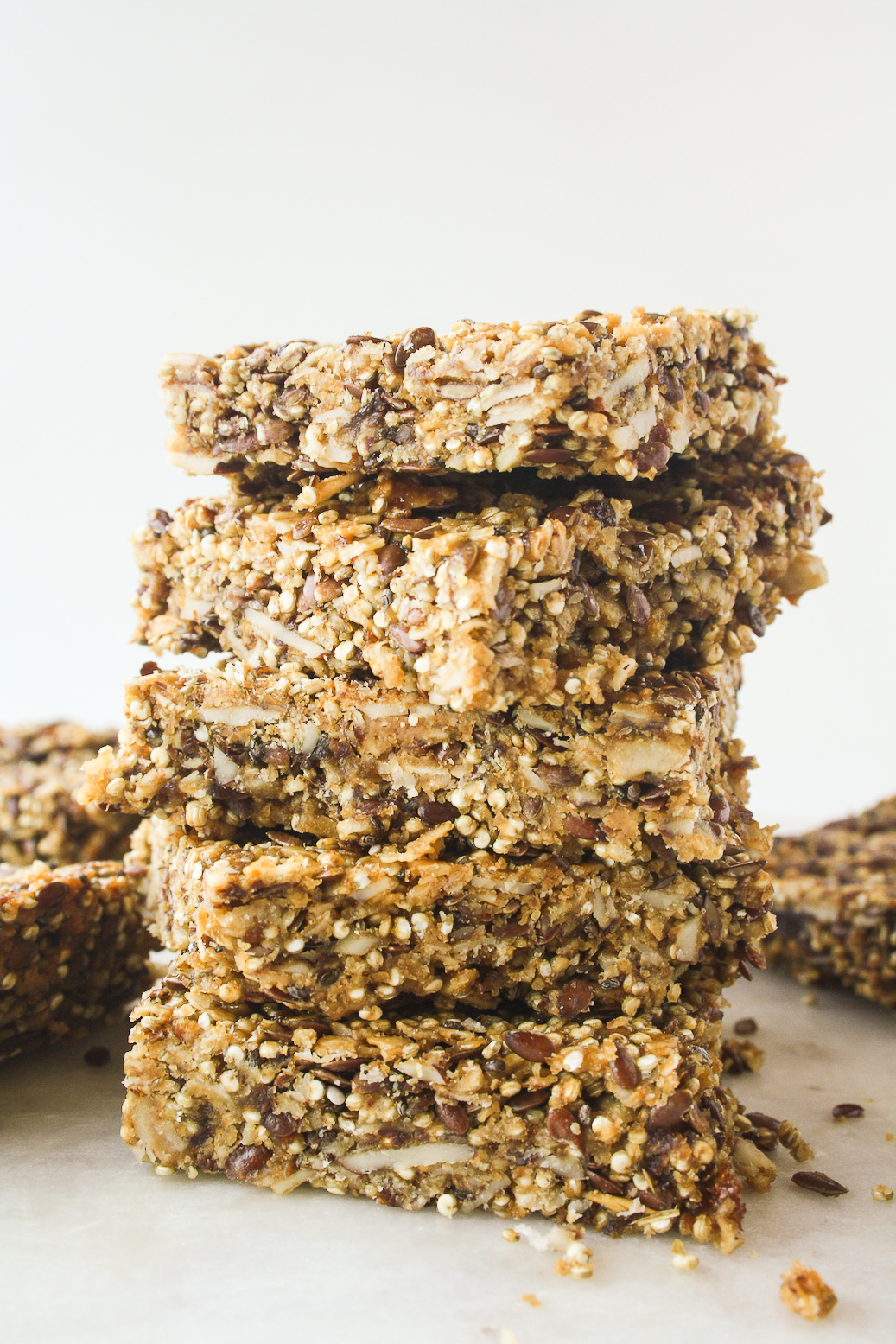 Sweet, nutty, full of texture, these amped up granola bars are what you need on hand every time the munchies hit. I adapted the recipe from Sally's Baking Addiction, swapping out the almond butter for peanut, and the pumpkin seeds for flax. This recipe is super flexible, use what you have lying around, you can't go too wrong. Something tells me desiccated coconut would be yum!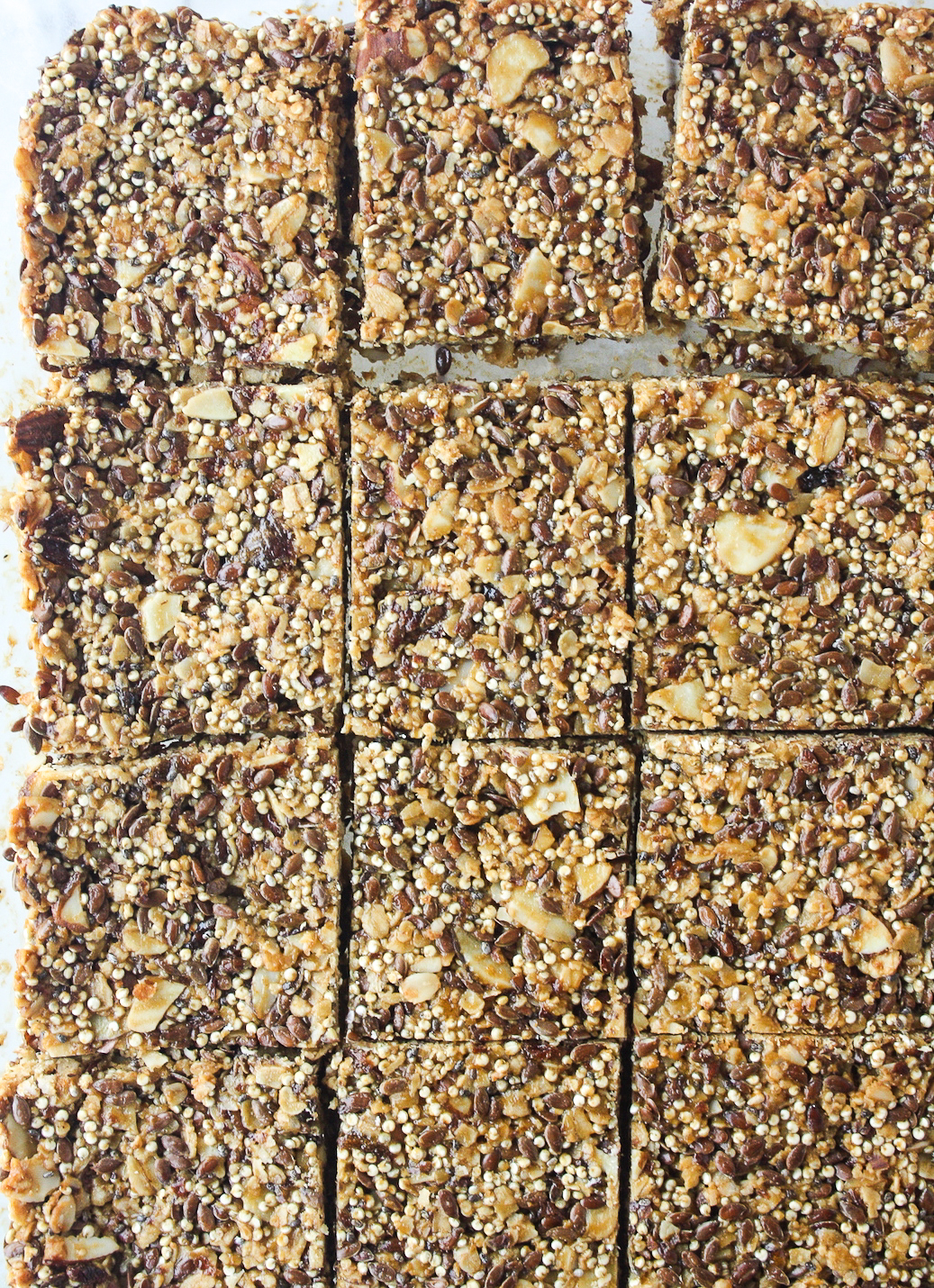 To bind the whole mixture, you need either soaked dates or soaked raisins, both of which work equally well. I used raisins because I realised at the last minute I was out of dates and didn't want to put off making these. As long as whatever you put in is refined-sugar-and-fat-free, you're good to go.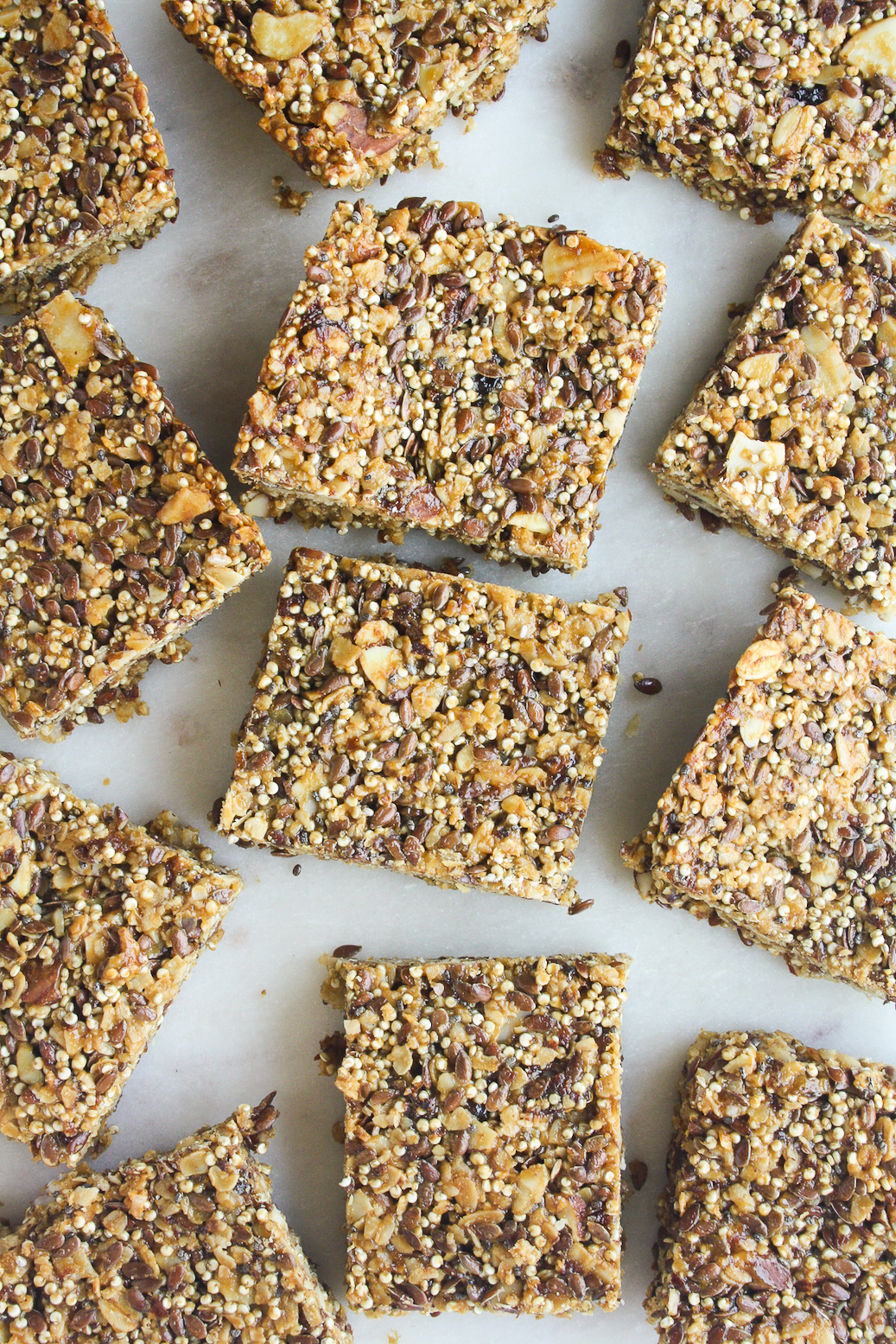 They take ten minutes to whip up and the only time some patience is needed is while they're cooling, so that they don't fall apart as you cut them. Chilling them in the fridge is optional, I liked them a little on the softer side at room temperature. But they're delicious no matter how you like them! Happy snacking 🙂

Quinoa Peanut Butter Bars (Vegan, Gluten-Free)
Chewy, healthy quinoa peanut butter bars with chia and flax seed!
Author:
The Desserted Girl
Cuisine:
Vegan, Gluten-Free
Ingredients
½ cup raisins or 5 dates*
1 cup oats (instant or rolled, both work)
¾ cup quinoa, uncooked
½ cup sliced almonds
½ cup flax seed
1 tbsp chia seeds
¼ tsp salt
½ cup peanut butter
⅓ cup honey (or maple syrup if vegan)
1 tsp vanilla extract
Instructions
In a food processor or grinder, blend the raisins or dates till they form a thick paste. Set aside.

Preheat the oven to 150 C and lightly grease an 8" square baking dish. Line with baking paper, leaving a little overhang and very lightly grease the paper too.

In a mixing bowl, combine the oats, quinoa, almonds, flax, chia and salt. Mix well.

Add the peanut butter (make sure it's at room temperature so it mixes easily), honey and vanilla. Then add the raisin paste. Mix very well till the mixture is thoroughly moistened.

Press into the prepared baking tin and use a silicone spatula to pack the mixture in firmly, especially in the corners.

Bake for 20 to 25 minutes, rotating the dish halfway through baking. The bars are done when the edges are lightly browned. They will firm up further as they cool.

Leave to cool in the dish for 10 minutes, then lift the bars out using the overhang of the paper. Set on a wire rack and let them cool completely before slicing into squares. If you find the bars breaking, chill them in the fridge for 30 minutes before cutting. Store in an airtight container at room temperature and keep snacking!
Notes
*If your dates (Medjool recommended) or raisins are stored in the fridge, soak them in hot water for 10 mins, drain and then make the paste.

*Make sure your oats are certified GF if that's a concern.
Shop this recipe!
Check out a full list of my baking essentials here!
This post contains affiliate links.