Happy new year, everyone! I hope 2018 has gotten off to a great start for you but just in case the post-holiday blues are hitting you hard, have no fear. We shall always have Nutella.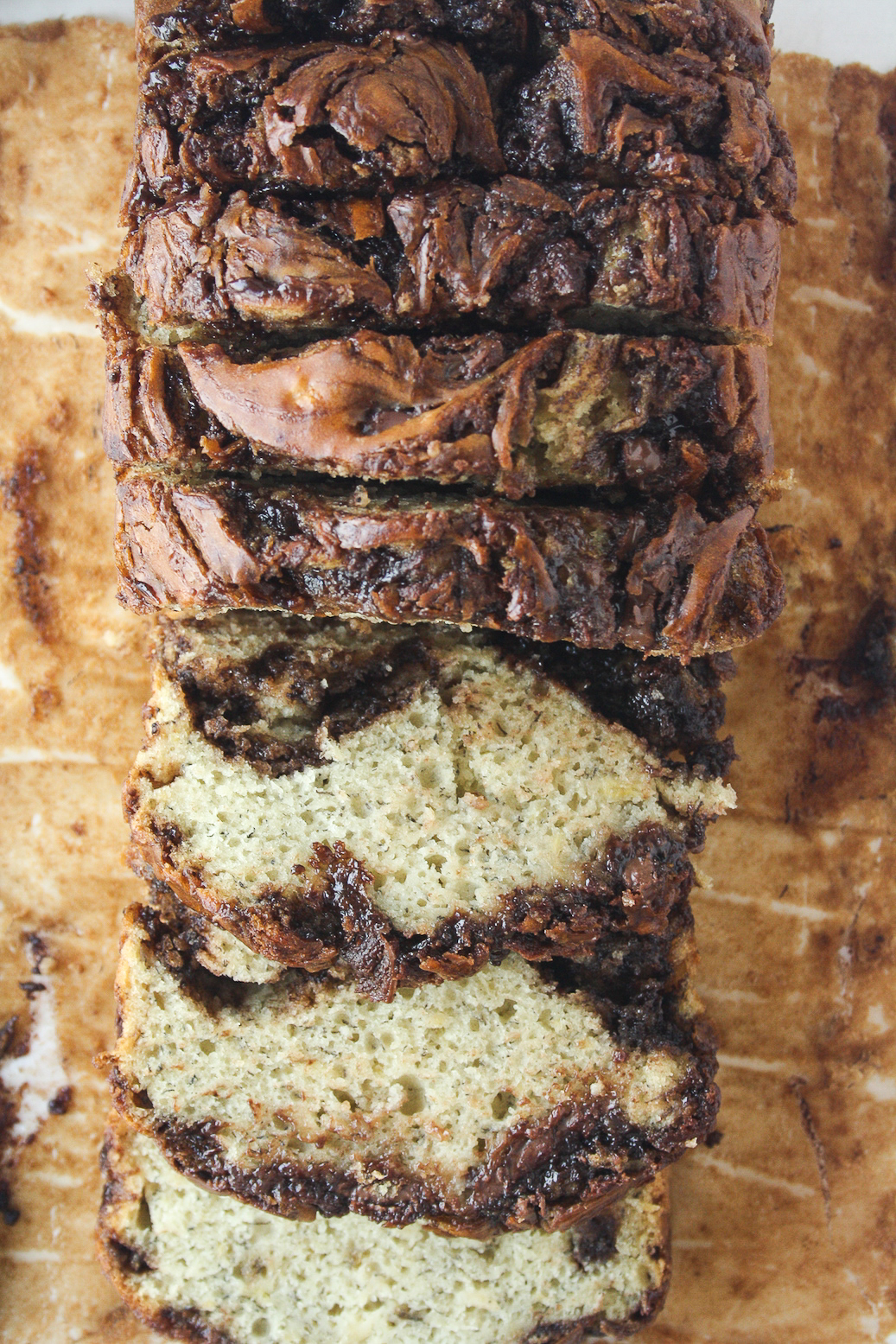 Gooey, sticky banana bread swirled with tons of Nutella all through it. Because if we're making cake, we might as well make one with Nutella. Right? Right.
It turns out that this crazy popular recipe is super forgiving to sudden hazelnut cravings. Enter, a jar of Nutella and a whole lot of inhibitions being shed. I knocked off the spices and decided to make a lighter coloured bread for the Nutella to shine through. Caster sugar replaced the brown sugar, all-purpose flour replaced the wholewheat. To make up for the moisture that brown sugar would have brought to the cake, I swapped the milk out for soured milk, and added a little more of it than normal.
Ta da!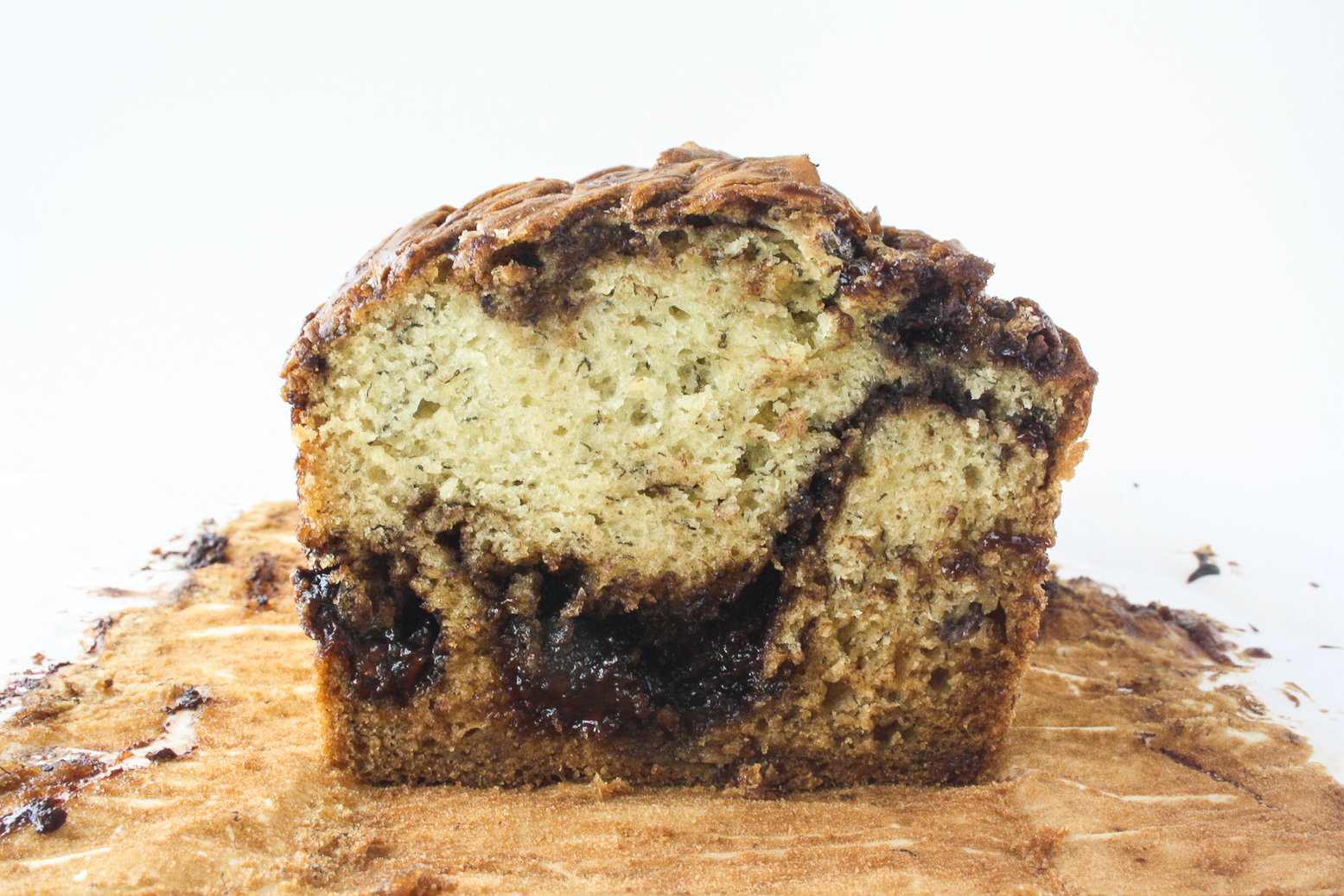 The Nutella is swirled through half the batter, and then again on top after pouring the rest of the batter in. This way, you have gooey bites in every bite. Win win! The cake itself is super soft, and so good with a cup of hot coffee!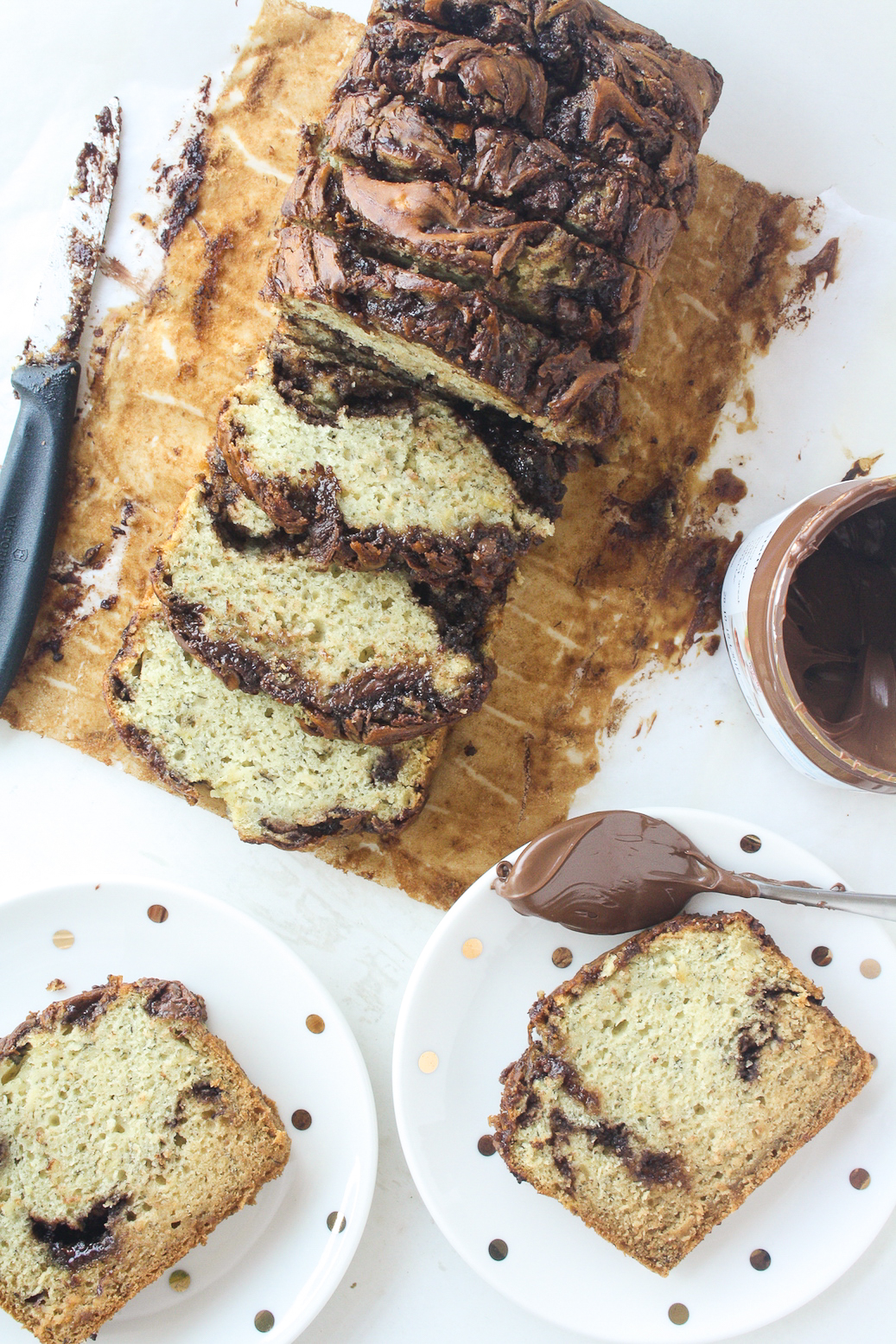 I normally use 4 bananas, but had only 3 when I made this and luckily, the flavour was still as wonderful. Have I mentioned I love how flexible this batter is! It is of course messier than the average banana bread because umm, melty Nutella. Grab a couple of tissues but please eat two entire messy slices in one sitting. Such joy.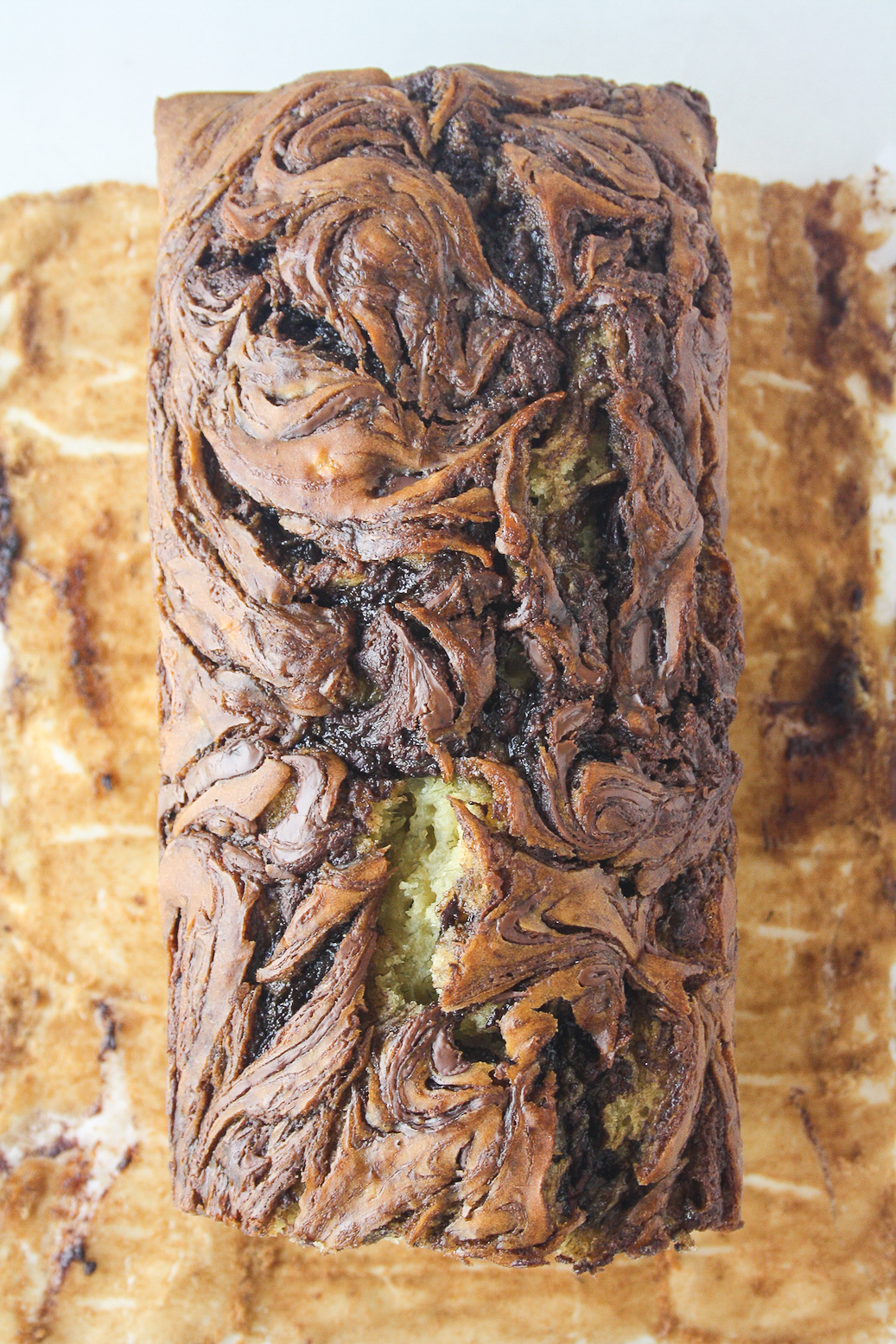 Over the long weekend, we basically demolished this whole thing, it's dangerous to have it lying around. But oh so worth it! Also, banana bread = banana cake for the purpose of this post, in case you're wondering why I'm switching between the two words.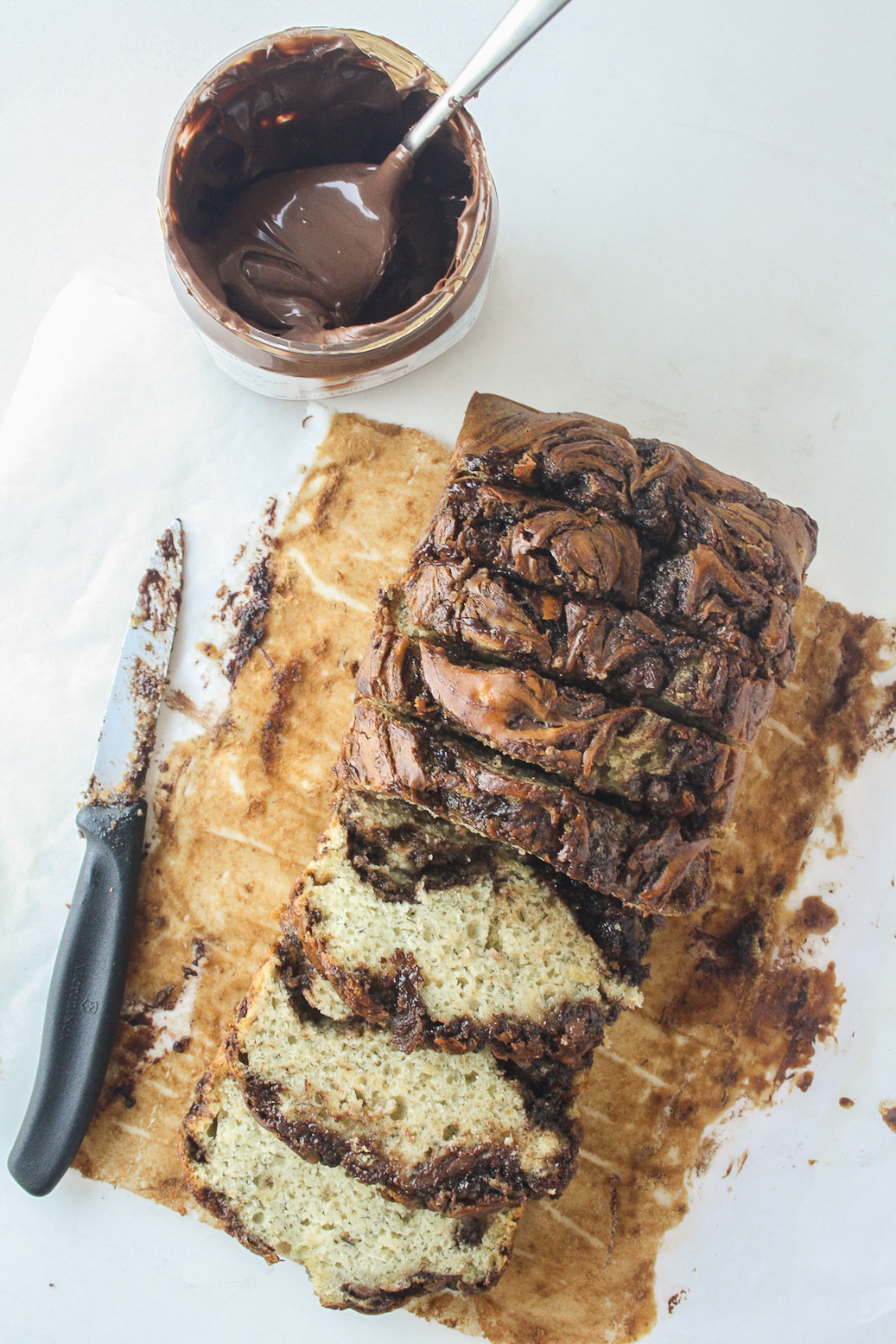 Happy baking and a very happy 2018 to all of you! Thank you for being here 🙂

Nutella Swirled Banana Bread (Eggless)
Moist and tender eggless banana bread with lots of Nutella swirled through it!
Author:
The Desserted Girl
Ingredients
2 cups all-purpose flour
1 tsp baking powder
1 tsp baking soda
½ tsp salt
3 to 4 very ripe bananas
½ cup caster sugar
¼ cup olive oil
¾ milk
1 tsp lemon juice
1 tsp vanilla extract
½ cup Nutella, at room temperature
Instructions
Sift the flour, baking powder, baking soda and salt. Set aside. In a small bowl, combine the milk and lemon juice and set aside to sour.

Grease a 9x5 loaf pan and preheat the oven to 175 C.

In a large mixing bowl, mash the bananas well. Add the sugar and oil and mix well.

Add the soured milk and vanilla and mix till combined.

Fold in the flour mixture until just combined, do not over-mix. The batter will be thick but spreadable. If there are still some stubborn flour lumps, run a hand mixer through the batter for a few seconds.

Spoon half the batter into the loaf tin and smoothen the top. Now drop small spoonfuls of Nutella all over the surface, leaving a little space between each dollop. It doesn't have to be perfect, but remember to save about half the Nutella for the top.

Using a toothpick, gently 'swirl' the Nutella through the batter. Spread the remaining batter on top, smoothen the top and then repeat the swirls with the remaining Nutella.

Bake for 50 mins to 1 hour or until a toothpick inserted in the center comes out clean or with a few moist crumbs, but no wet batter. Cover the top loosely with foil in the last 20 minutes of baking if the top is browning too quickly.

Allow the cake to cool before slicing. It tastes best at room temperature while the Nutella is still a little gooey. Happy eating!