The festive season is usually an unavoidable time of binging and guilt-tripping buuuuut what if I told you that you could have your cake and (happily) eat it  too? I'm a massive endorser of all things butter, in case it wasn't already clear, but every once in a while, combining some different, healthier ingredients to create something equally awesome, is always fun.
Oh also, strawberries are here!!! This is basically the red and white Christmas coloured dessert you didn't know you needed!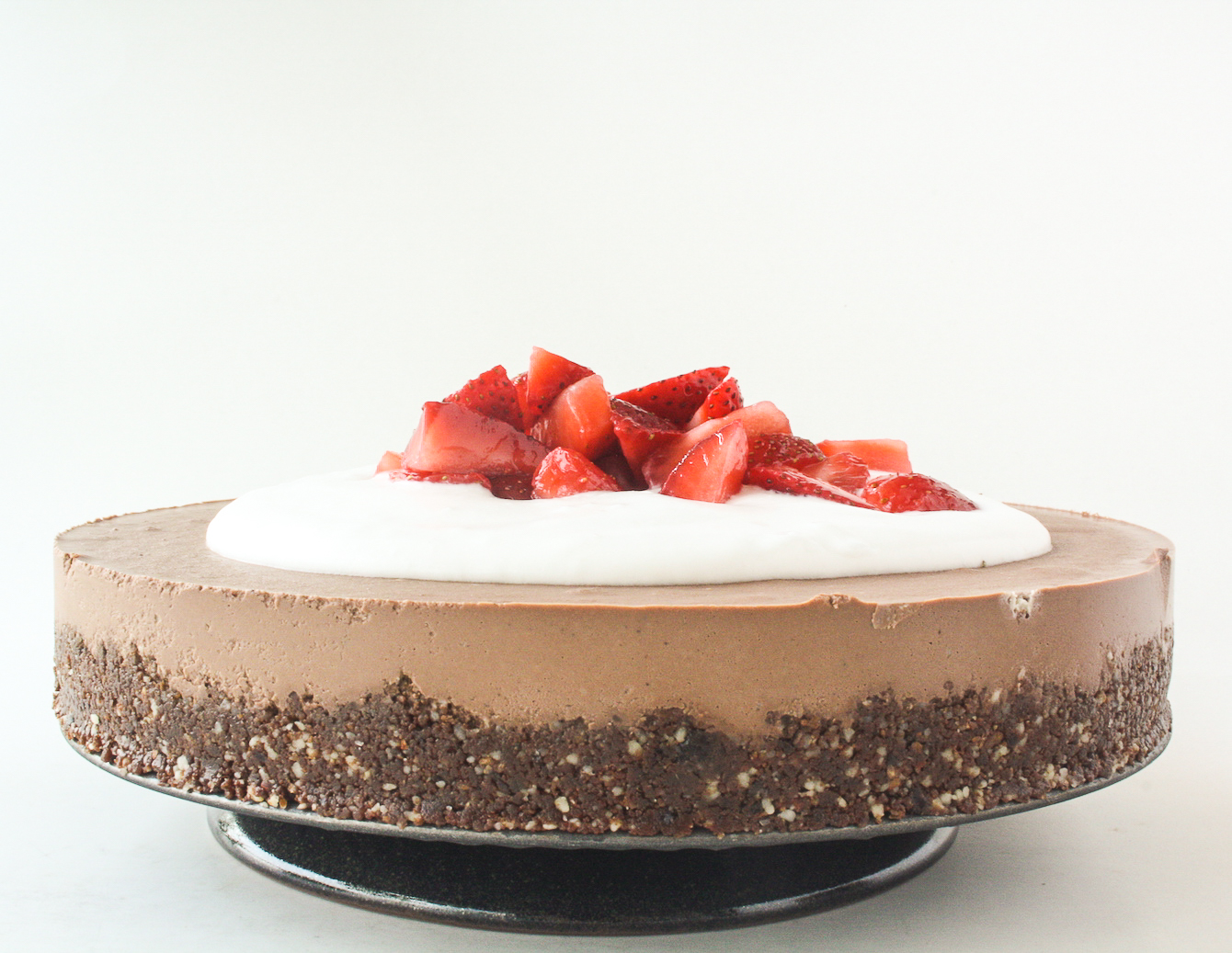 With a crust made of dates and almonds, a filling made with cashews and dark chocolate, all of it sweetened only with honey, then topped with lightly whipped coconut cream and fresh strawberries, this is a divine, rich, but guilt-free cake. We need this.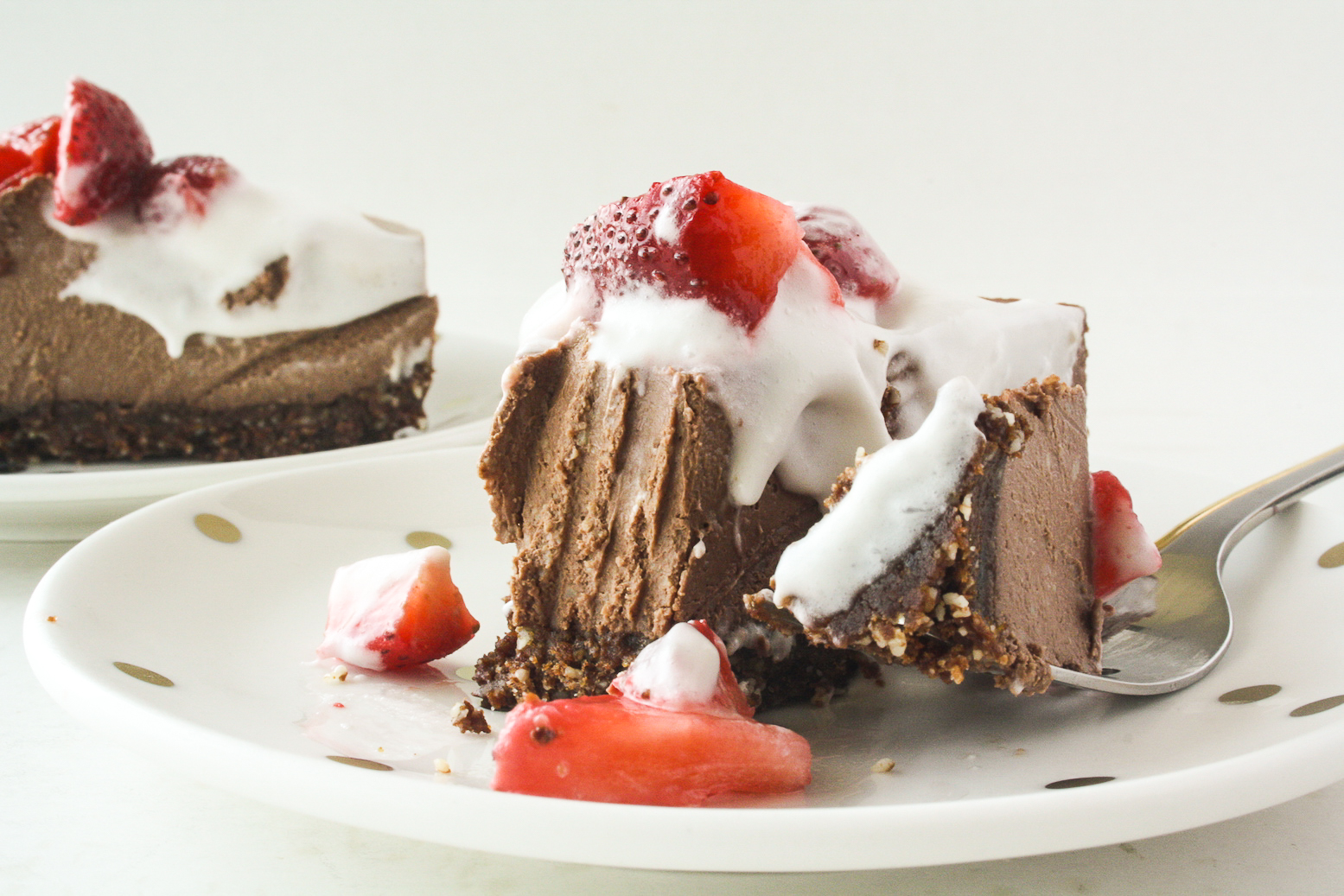 The recipe comes from Minimalist Baker as does this mango cheesecake (so good!) and I didn't change it really, except to add cinnamon and vanilla to the filling for some extra flavour. It all comes together quite quickly, and is the creamiest, most chocolatey treat. The strawberries are the icing on the cake, obviously.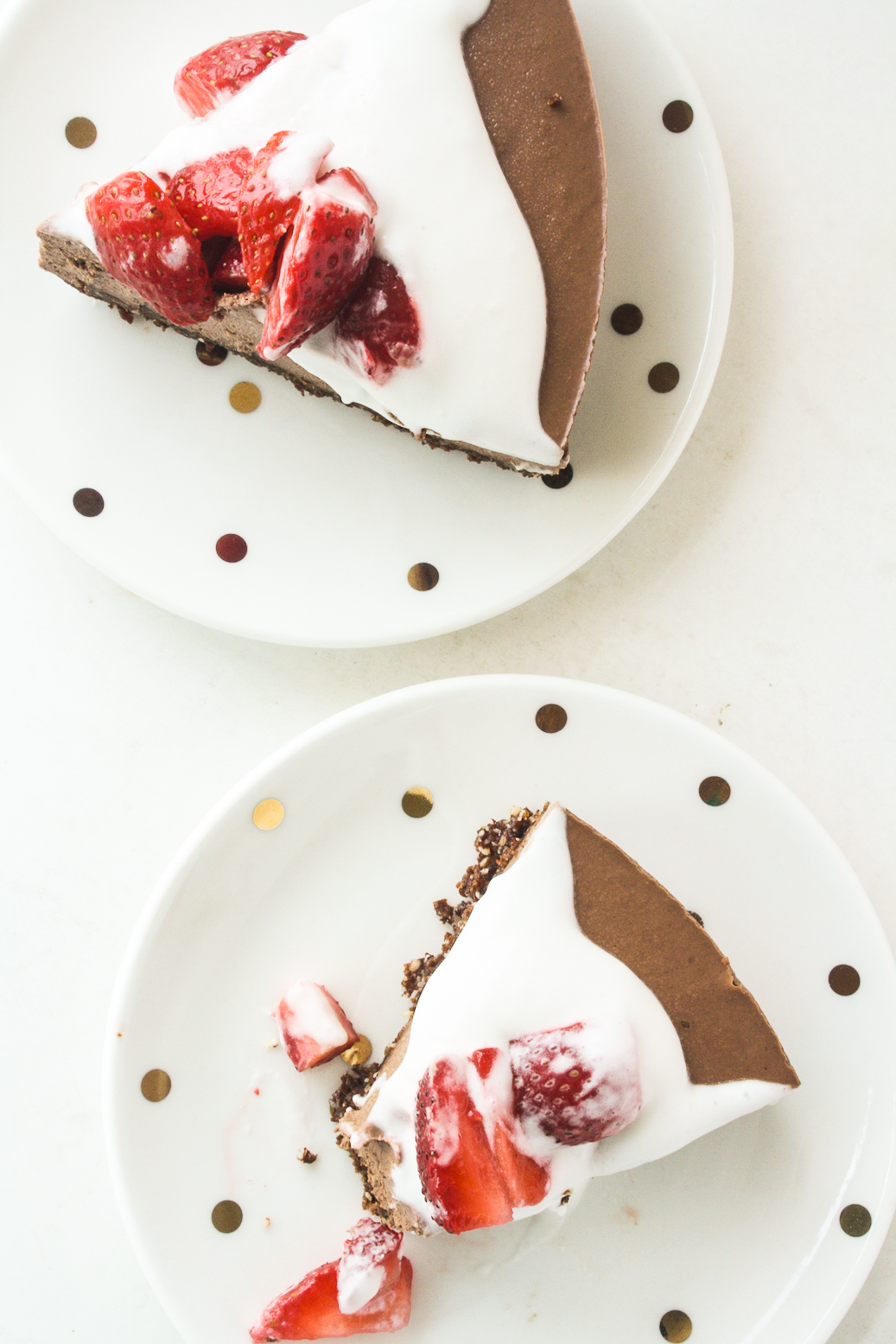 I chilled the cheesecake overnight in the refrigerator, you can also freeze it, if you'd like to store it for longer. It doesn't soften very rapidly even at room temperature so it's really a great dessert to make even in the summer, woot! The base has a little bite from the almonds, and goes wonderfully with the silky chocolate filling, all thanks to the soaked cashews of course. Miracle ingredient, that one.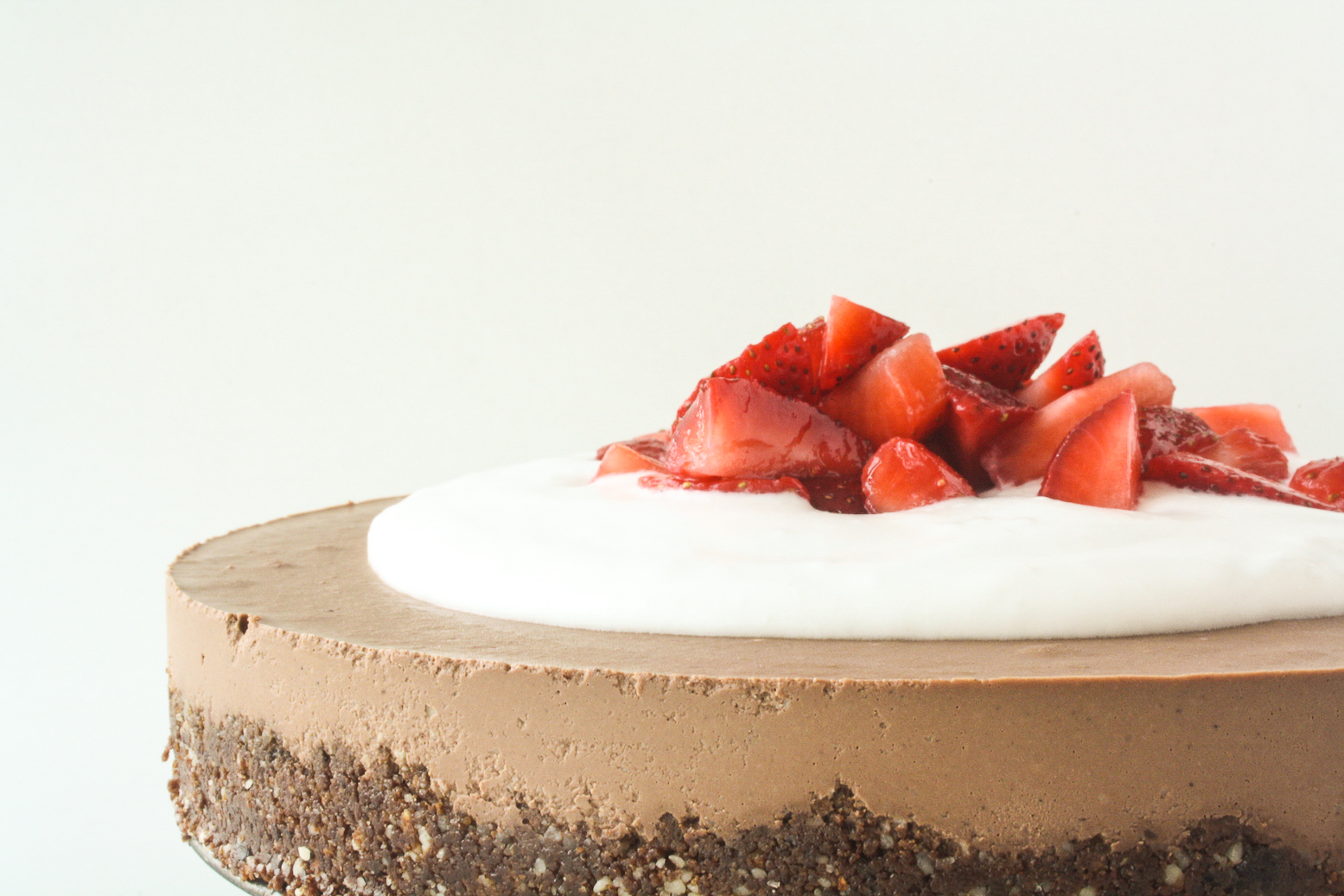 It's full of good fats and so doesn't make you feel like a beached whale even after two pieces (I would know). It tastes mildly of coconut (even without the topping) but we all know what a good combination that and chocolate makes! I hope you guys love this!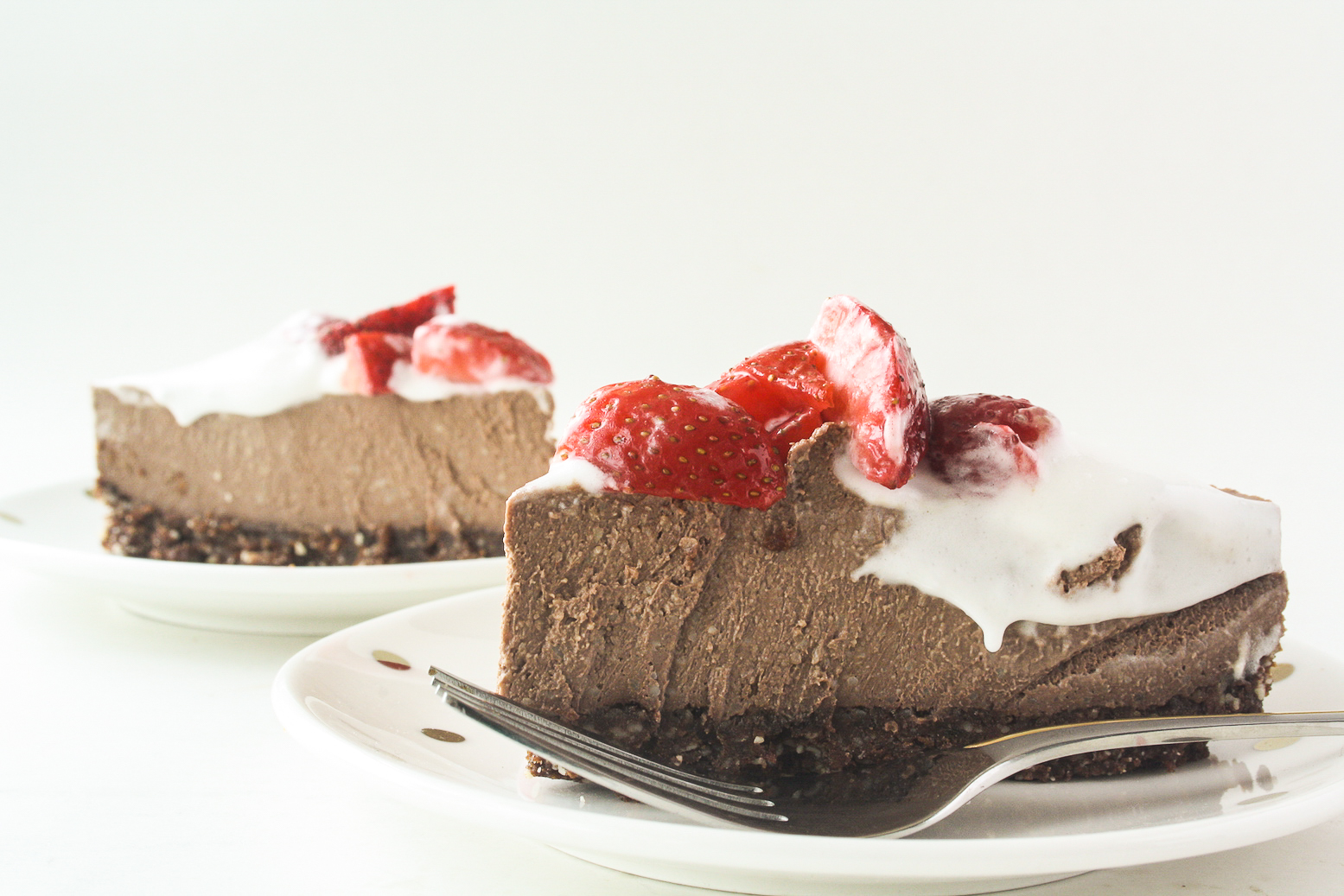 Chocolate Cashew Cheesecake (Vegan, No-Bake)
Creamy, naturally-sweetened chocolate cheesecake made with cashews, dates and almonds!
Author:
The Desserted Girl
Ingredients
For the crust
1 cup pitted dates, tightly packed
1 and ½ cups almonds
3 tbsps cocoa powder
½ tsp salt

For the filling
200 gms dark chocolate*
1 and ½ cups cashews
2 tsps lemon juice
¼ cup coconut oil*
400 ml coconut milk
¼ cup honey (or maple syrup if vegan)
½ tsp cinnamon powder
1 tsp vanilla extract

For the topping
200 ml coconut milk, chilled for at least 48 hours
2 tbsps honey
1 tsp vanilla extract
Fresh strawberries, sliced
Instructions
First, make the crust. In a food processor fitted with a sharp blade, blitz the dates until chopped, and they begin to form a ball. Remove and set aside.

Now add the almonds, cocoa and salt to the processor and blitz till finely crumbed. Add the dates back in and let the processor run till the mixture comes together (it will be a little loose) and clumps together when pressed between your fingers. If it feels too dry, add a few more dates.

Press the mixture into the base of an 8" springform tin, pressing it up against the sides and making sure the bottom is even. You do not need to grease the tin. Place in the fridge for 1 hour.

In the meantime, melt the chocolate in a double boiler and set aside to cool. Pour boiling water over the cashews, cover and let soak for 1 hour. Drain and set aside for the filling.

When ready to make the filling, wipe out any large crumbs from the food processor and pour in the lemon juice, coconut oil, coconut milk and honey. Add the softened cashews, vanilla and cinnamon and blend till creamy. Pour in the melted chocolate and blend again till smooth and completely combined.

Pour the filling over the chilled crust and refrigerate, preferably overnight but at least 6 hours. You can also freeze it for about 2 hours if you'd like to speed up the process.

When ready to make the topping, chill a mixing bowl and beaters for 15 minutes, then pour in the chilled coconut milk, honey and vanilla. Beat till thickened and fluffy (it won't thicken as much as regular dairy whipped cream) then spoon over the chilled cheesecake. Top with the strawberries and use a sharp knife to slice. Store in the refrigerator or in the freezer if you want to enjoy it for a couple of weeks 🙂 Happy eating!
Notes
*If you want to be sure this cheesecake contains no refined sugar, make sure the brand you use is unsweetened or naturally sweetened.

*I prefer coconut oil to olive oil here for a milder flavour, but you can use either.
Shop this recipe!
This post contains affiliate links.