For whatever reason, I've spent my entire life so far without eating hazelnuts mixed in a pool of caramelised sugar. Toasty, nutty, sugary and the kind of candy that unfortunately is so easy to make, you'll have jars of it sitting around in your house before you know it. This my friends, is the wonder of hazelnut praline.
And then, I blitzed it up, mixed it into a buttery, creamy frosting, and slathered unholy amounts of it onto my favourite chocolate cupcakes. Sorry. But you need to try these!!
The cupcake recipe is the one I've used earlier here (also so good!!), tender, rich, moist and just the right amount of intensely chocolatey. For this particular frosting, I tossed in a little bit of leftover cream cheese which really turned the flavours around. The slight tang is just the match for the sweetened hazelnuts and the creaminess of the butter. A little bit of fresh cream keeps things smooth and silky. Bring out the stretchy pants, everybody!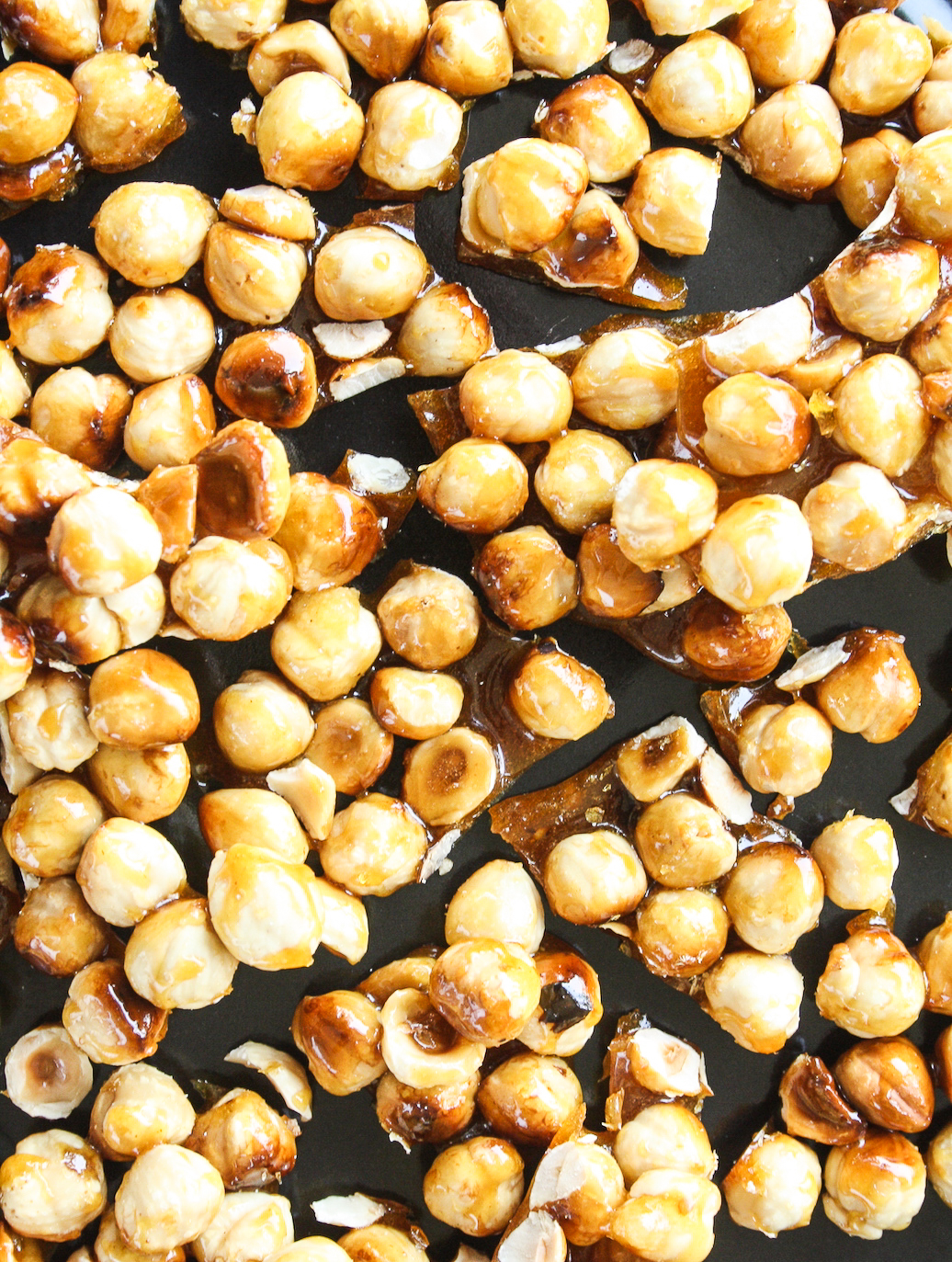 Can we take a minute to admire that praline? It keeps very well in an airtight tin at room temperature and you'll certainly have a lot leftover after blitzing it in a food processor, but that's perfect. Because you can sprinkle it over ice cream, baked fruit, or even just leave it whole and eat it like candy. I just did 🙂
Also they make a pretty fun cupcake topper!
Once frosted, the cupcakes need to be stored in the fridge, but bring them to room temperature before eating, so that the frosting gets nice and soft and creamy. I'll be amazed if you can eat more than one in a sitting, these are RICH. But so worth it, I promise.
Let's bake!

Chocolate Cupcakes with Hazelnut Praline Frosting
Tender chocolate cupcakes topped with a creamy hazelnut praline frosting!
Author:
The Desserted Girl
Ingredients
For the cupcakes
1 and ½ cups all-purpose flour
1 tsp baking soda
200 gms dark cooking chocolate, roughly chopped
1 cup butter, at room temp (230 gms)
1 cup brown sugar
2 eggs at room temperature
1 tsp vanilla extract
1 cup freshly boiled water

For the hazelnut praline
200 gms hazelnuts, peeled and untoasted
½ cup caster sugar

For the frosting
100 gms butter at room temp (just shy of ½ cup)
¼ cup cream cheese, at room temp
¼ cup cream
¼ cup icing sugar
½ cup praline crumbs
Instructions
Sift the flour and baking soda in a large bowl. Set aside.

Preheat the oven to 175 C and line 14 muffin moulds with cupcake liners.

Melt the chocolate till smooth in a double boiler or heatproof bowl set over a pot of simmering water. Set aside to cool.

In a large mixing bowl, beat the butter and sugar till pale and fluffy. Add the eggs and vanilla and beat well. A hand mixer is best here.

Add the melted chocolate, and mix till combined but do not over-mix.

Now add the flour mixture gradually, alternating with the boiled water. Stir gently, avoiding lumps as much as possible. If you do see any lumps, run a hand mixer through the batter. The batter should be smooth and a little runny.

Divide the batter equally among the muffin moulds and bake for 25 to 30 minutes until they have risen a little, developed crackly tops and a toothpick poked in the center comes out clean. Start checking for doneness at 20 mins as all ovens are different.

Allow the cupcakes to cool in the tray for 10 minutes and then place them on a wire rack to cool completely, without peeling the liners off.

In the meantime, make the praline. Add the sugar to a sturdy saucepan (preferably with a light coloured base so you can see the sugar changing colour) and spread the hazelnuts on top in a single layer.

Place the pan on medium heat and let the sugar melt, avoiding stirring excessively. Tilt the pan around a little to make sure the sugar is cooking evenly. It will go from melted to golden-amber quite quickly. Use a silicone spatula to move the hazelnuts around gently if they're getting too dark, and to make sure the sugar is coating all of them evenly.

Tip this mixture onto a silicone mat placed on a baking tray and spread it out quickly so that the hazelnuts don't all clump up. Allow the praline to cool completely, then break into large pieces. At this point, reserve about ¼ to top the cupcakes with. Add the rest to the bowl of a food processor and blitz till finely crumbed. You need only ½ cup of the crumbs for the frosting, so you will have leftovers. If you'd like to blitz a smaller amount and leave more of the praline whole, that's fine too.

To make the frosting, combine the butter, cream cheese and cream in a bowl. Beat with a hand mixer until smooth and creamy, then add the icing sugar and the praline crumbs. Beat till thickened and smooth. You can pipe this frosting onto the cupcakes, or simply slather it on with a blunt knife. Enjoy!
Shop this recipe!
This post contains affiliate links.