Hellooo from Russia! It's cold, cold, cold, but we're having the best time and I can't wait to share more with you guys when I'm back! Follow along on Instagram (@thedessertedgirl) till then 🙂
Before that though, let's talk burgers. Vegetarian burgers to be specific. That are not greasy, not boring, and filled with more than just potato. I've stopped ordering burgers when I eat out because I've still not discovered one that is made without deep-frying it and actually has some substance. So instead, once in a while, I make them at home.
This time, I made one with sweet potatoes, kidney beans, oats aaaand quinoa, which is super super easy to cook. And they're not bland, or boring or any of that. They're hearty, satisfying and so delicious.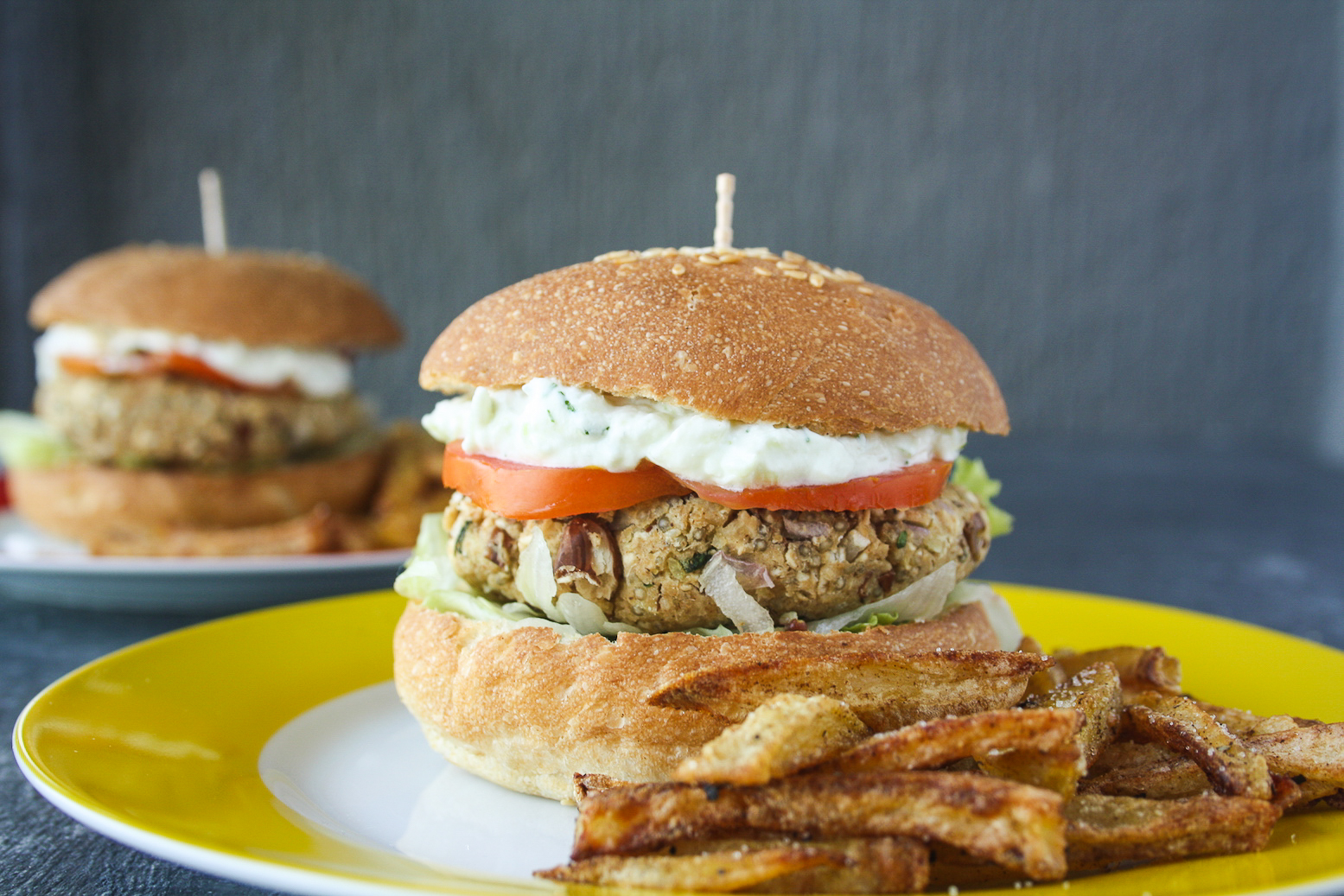 I think the best part though, is the tzatziki. That fabulous tangy cucumber dip that makes Greek cuisine so amazing. I made mine with hung curd and it's got dill and olive oil for some serious flavour game. Light, creamy and so incredible. Plus, oven baked fries all golden and crispy. You guys, best meal ever. In case I haven't already said it.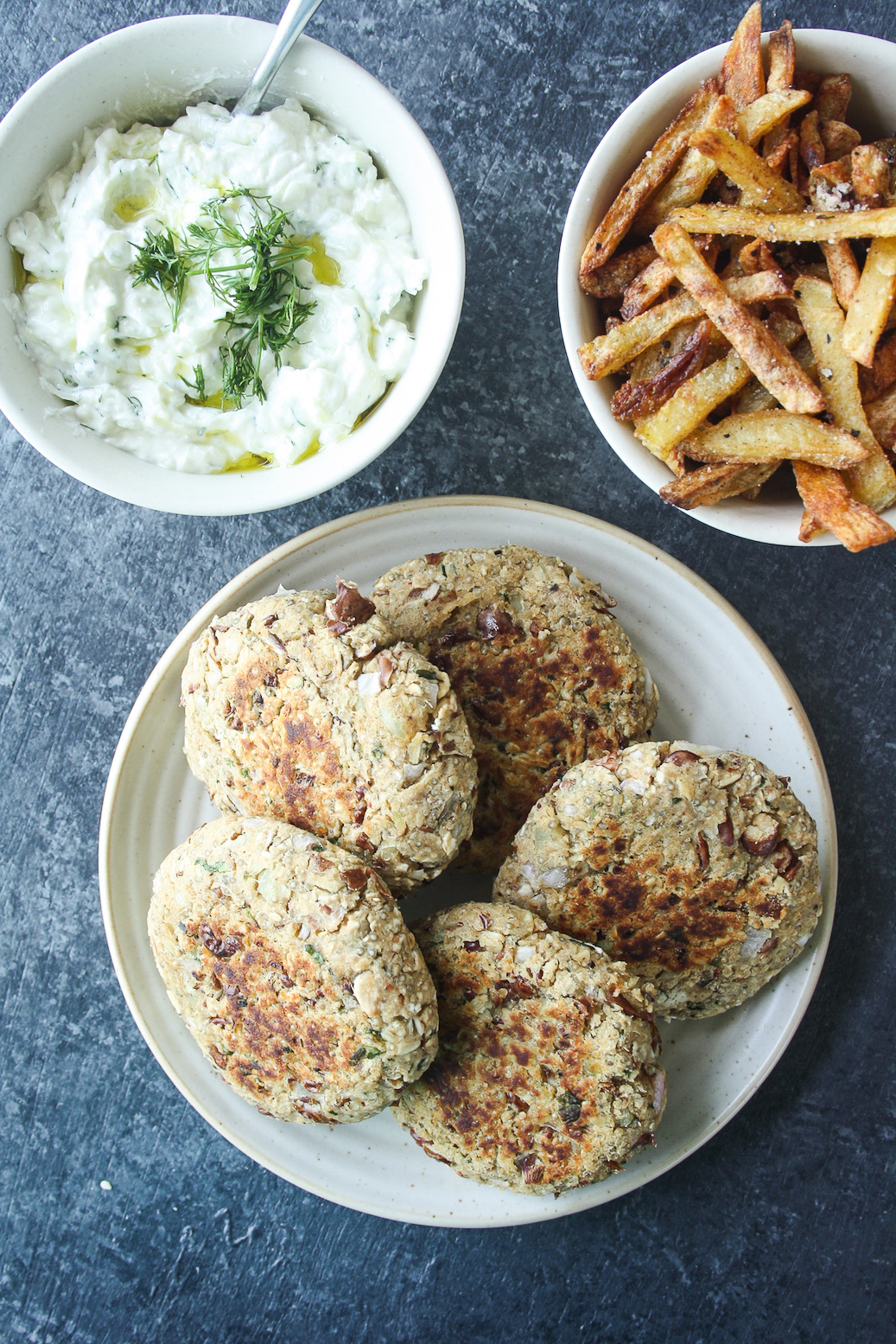 The recipes for the burgers and tzatziki are from Cookie and Kate, with no major differences except that I used kidney beans instead of black beans and hung curd instead of Greek yoghurt because I don't like its stringy texture and it's expensive in India. But if you do want to, by all means use it. Hung curd is a little thicker, but becomes nice and creamy once mixed up with the other tzatziki ingredients. How much fun is it to say TZATZIKI! It's definitely going to be made more often in my house, I don't know why I've waited so long to do so! Remember to squeeze all the excess water out of the cucumber and you're good to go.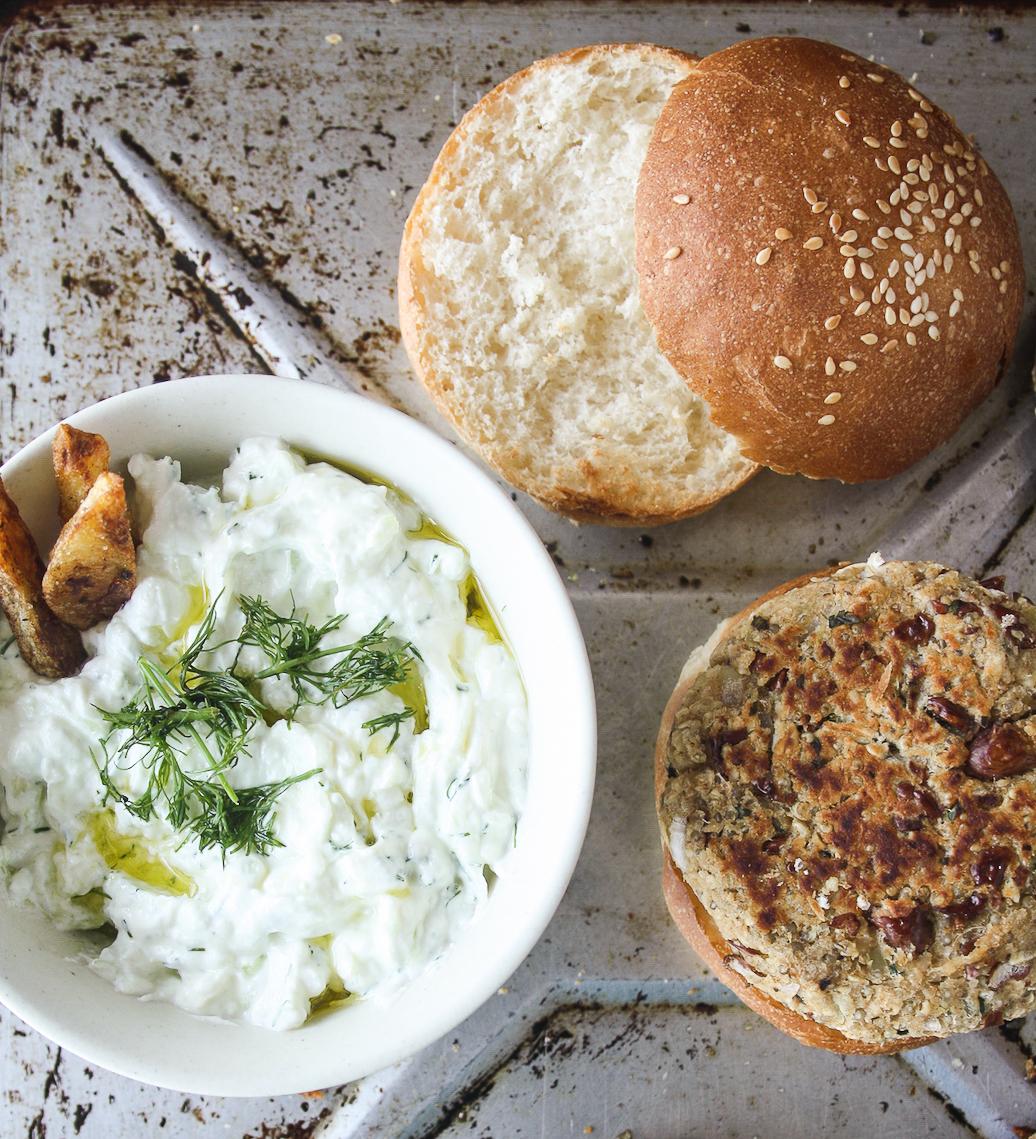 The burgers themselves are super duper versatile. You can change up the beans, change up the spices and if you can't find quinoa, use cooked millet or even just breadcrumbs. The idea is to use something that will soak up the moisture and add structure. The oats do that as well, so these burgers come together very easily. Shaping them is not a problem, but I chilled the mixture a bit to give the flavours a chance to meld.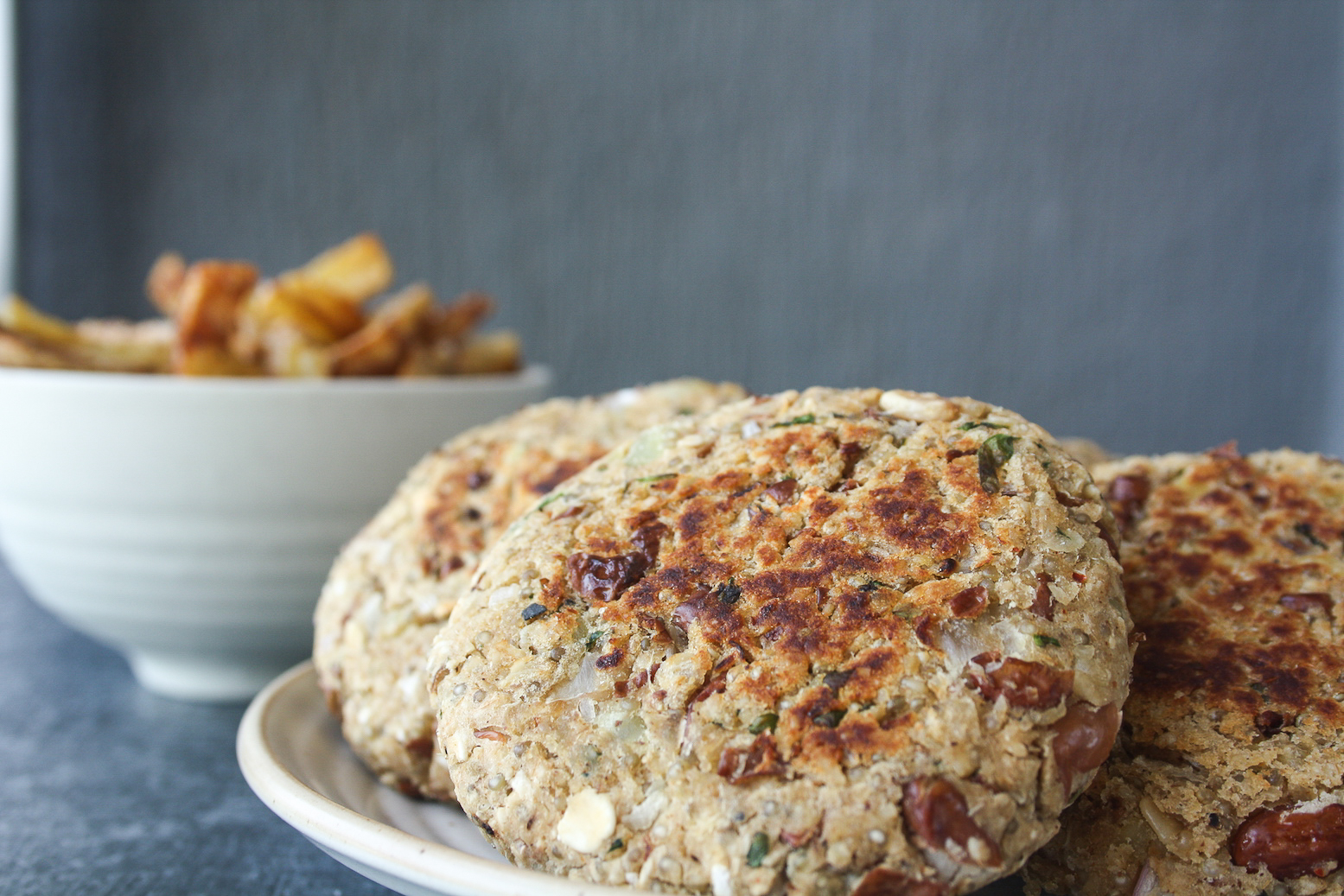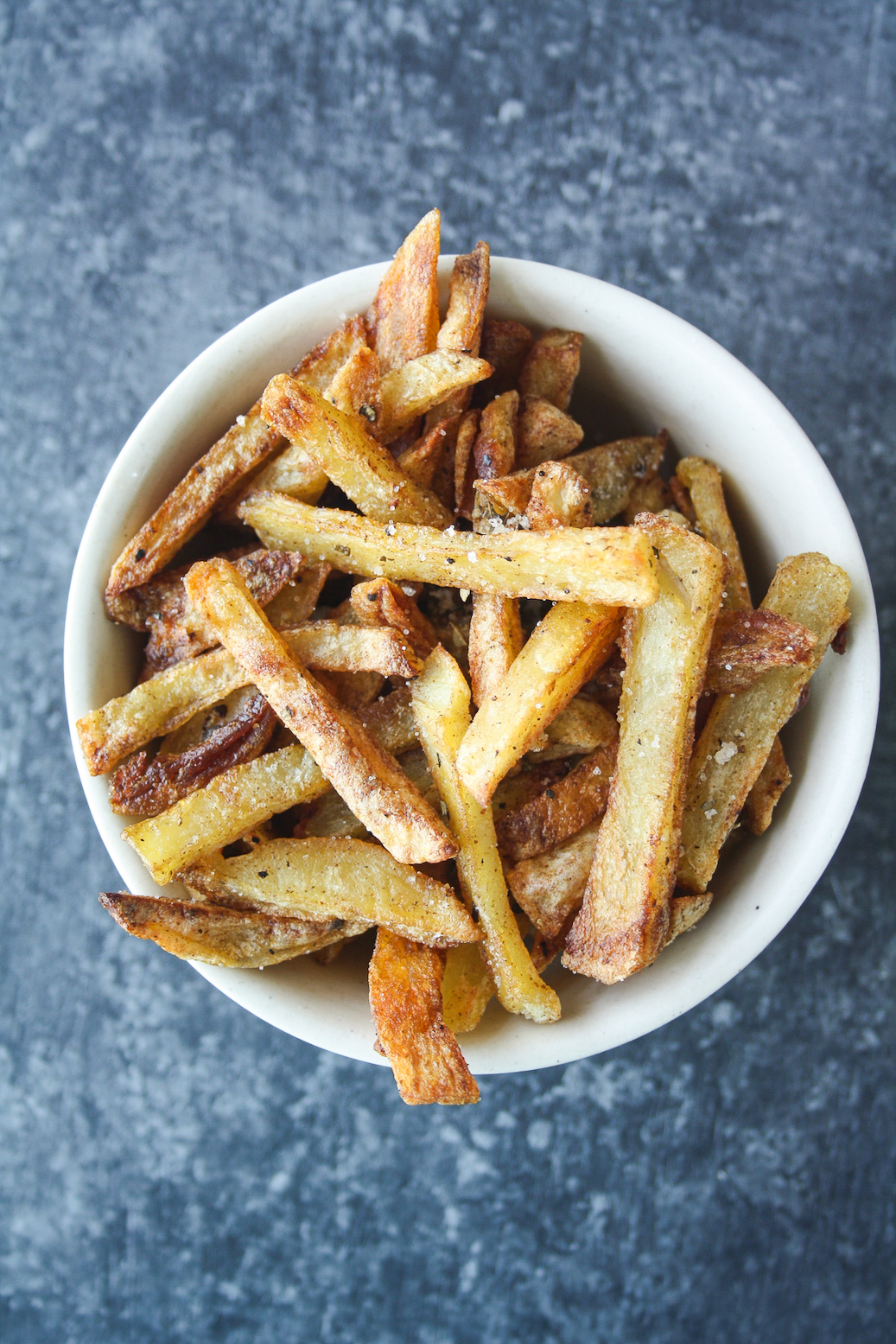 Would you look at those fries!!!!!
The whole combination of flavours is insanely good. The burgers, the tzatziki, the fries. Assemble the burgers as you like, with lettuce and sliced tomatoes, onions, whatever else. Maybe sautéed mushrooms? MMMMM. I spread a little wholegrain mustard on the buns before placing anything else on the bottom half. Adds a ton of zing, you should totally try it!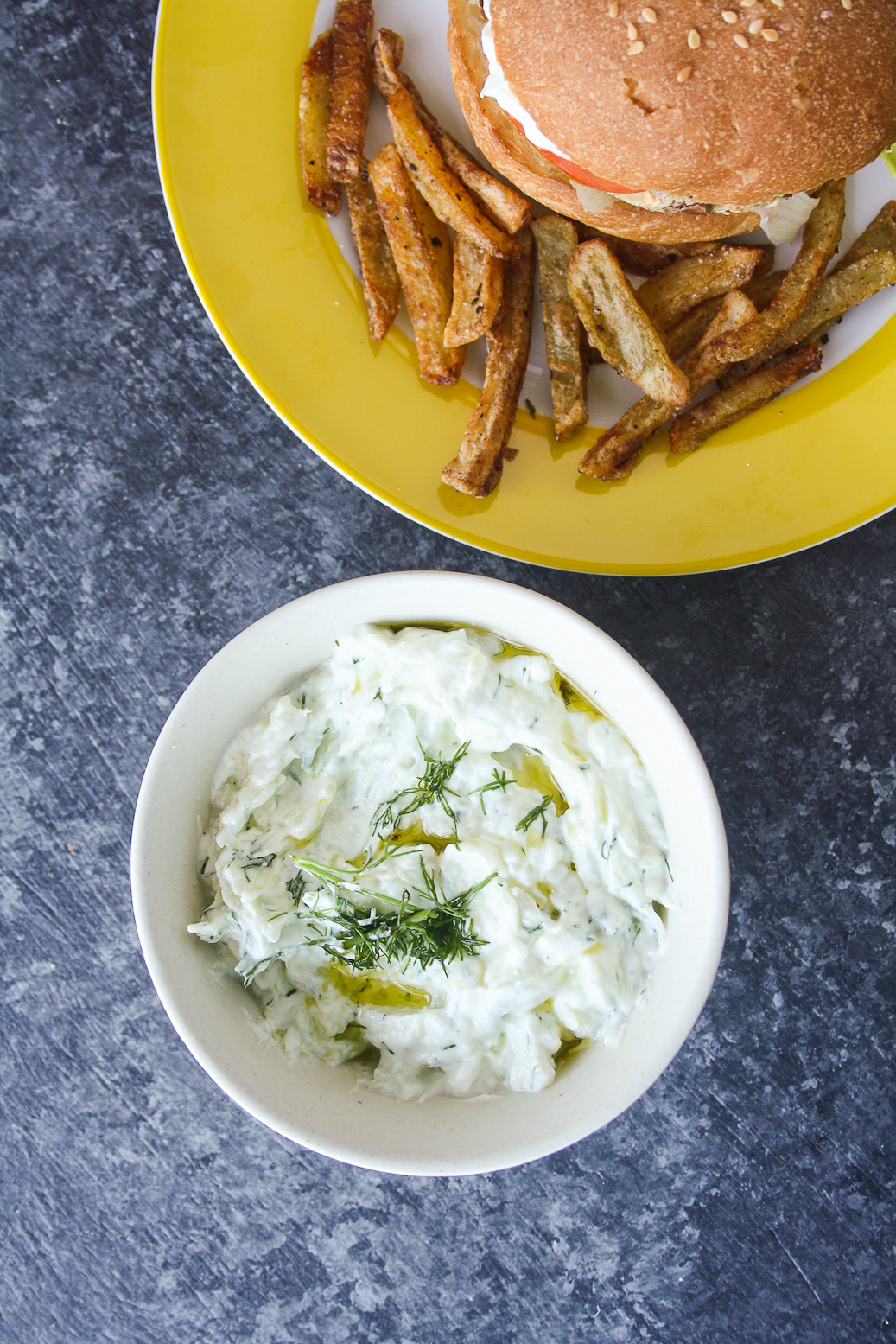 I hope you'll make these burgers really really soon! And in case you missed it up top, the best oven baked fries !!

Sweet Potato Bean Burgers with Hung Curd Tzatziki
Hearty burgers with sweet potato, quinoa and kidney beans, topped with a light and creamy tzatziki
Author:
The Desserted Girl
Makes:
8 burgers and 1 heaped cup tzatziki
Ingredients
For the burgers
⅓ cup kidney beans/rajma, soaked overnight
500 gms sweet potatoes
⅓ cup quinoa
1 cup rolled oats
1 small onion, finely chopped
⅓ cup finely chopped coriander leaves
Seasonings to taste: salt, pepper, smoked paprika, chipotle powder, red chili powder, dried oregano
Olive oil for frying

For the tzatziki
400 gms curd/yoghurt, hung in a cheesecloth for 3 to 4 hours till all the water is drained
1 medium cucumber, peeled and grated
2 tbsps extra-virgin olive oil
1 to 2 tbsps lemon juice
1 to 2 cloves garlic, minced
A few sprigs of fresh dill, finely chopped
Salt, to taste
Instructions
First, prep the burger ingredients. Cook the kidney beans in a pressure cooker till tender. Set aside to cool.

Preheat the oven to 200 C. Slice the potatoes down the middle lengthwise and then cut any large ones horizontally in half. The pieces should be roughly the same size so they cook evenly. Place them cut side-down on a silicon-lined baking sheet. Bake for 30 to 40 minutes until you can easily prick each piece with a fork. Set aside to cool for 10 minutes, then scoop out the insides of each piece and add to a large mixing bowl. Leave to cool completely.

In the meantime, rinse the quinoa, then transfer to a small saucepan with ⅔ cup water. Bring to a boil, then simmer for 15 minutes on low heat. Take off the heat, cover and let steam for 5 minutes. Drain any remaining water and set aside to cool.

Finally, blitz the oats in a grinder or food processor, leaving some larger bits for texture.

In the mixing bowl with the sweet potatoes, add the kidney beans, quinoa, oats, onion, coriander and seasonings. Mash very well with a potato masher or big spoon, letting the beans break up a little. Once the mixture is very well mixed (use your hands if needed), adjust the seasonings, then cover the bowl with clingfilm and chill for 20 to 30 minutes to make it easy to handle and let the flavours meld.

In the meantime, use a fine sieve or your palms to drain the cucumber of all excess water and add to a mixing bowl along the hung curd and all the remaining tzatziki ingredients. Mix well till light and creamy, adjusting seasonings as needed. Keep in the fridge until ready to use.

Finally, fry the burgers by heating 1 to 2 tbsps olive oil in a non-stick pan on medium heat. Shape the mixture into 8 equal sized patties, flatten lightly and place 3 or 4 on the pan at a time. Cook for a few minutes on each side, until golden-brown.

To assemble the burgers, spread a little wholegrain mustard on the lower half of a burger bun, top with lettuce, then the burger patty, sliced tomatoes and a big dollop of tzatziki. Take the biggest bite you can and enjoy!
Notes
*The quinoa acts as a binder and gives the burgers more nutritional value. The original recipe suggests a millet as a substitute but I haven't tried that. In a pinch, breadcrumbs would work too, or even more oats. I got my quinoa from Big Basket's own brand, nothing too expensive.

*Dill (shepu or suva if you're in India) gives the tzatziki it's signature flavour and I would not recommend skipping it. If you can't find it, fresh mint works too.

*If you do not have a pressure cooker to cook the beans a sturdy pot with a lid will work too, but it will take 1 to 2 hours for the beans to soften completely. Or look up TheKitchn website for some tips on how to cook beans faster. Alternatively, use pre-cooked beans.