Ok, if you didn't already know, pizza dough can and should be used to make more than pizza. Make breadsticks. Make breadsticks with garlic and cheese. Then make a marinara sauce and go to town by dunking them all in and spending your weekend the way you should.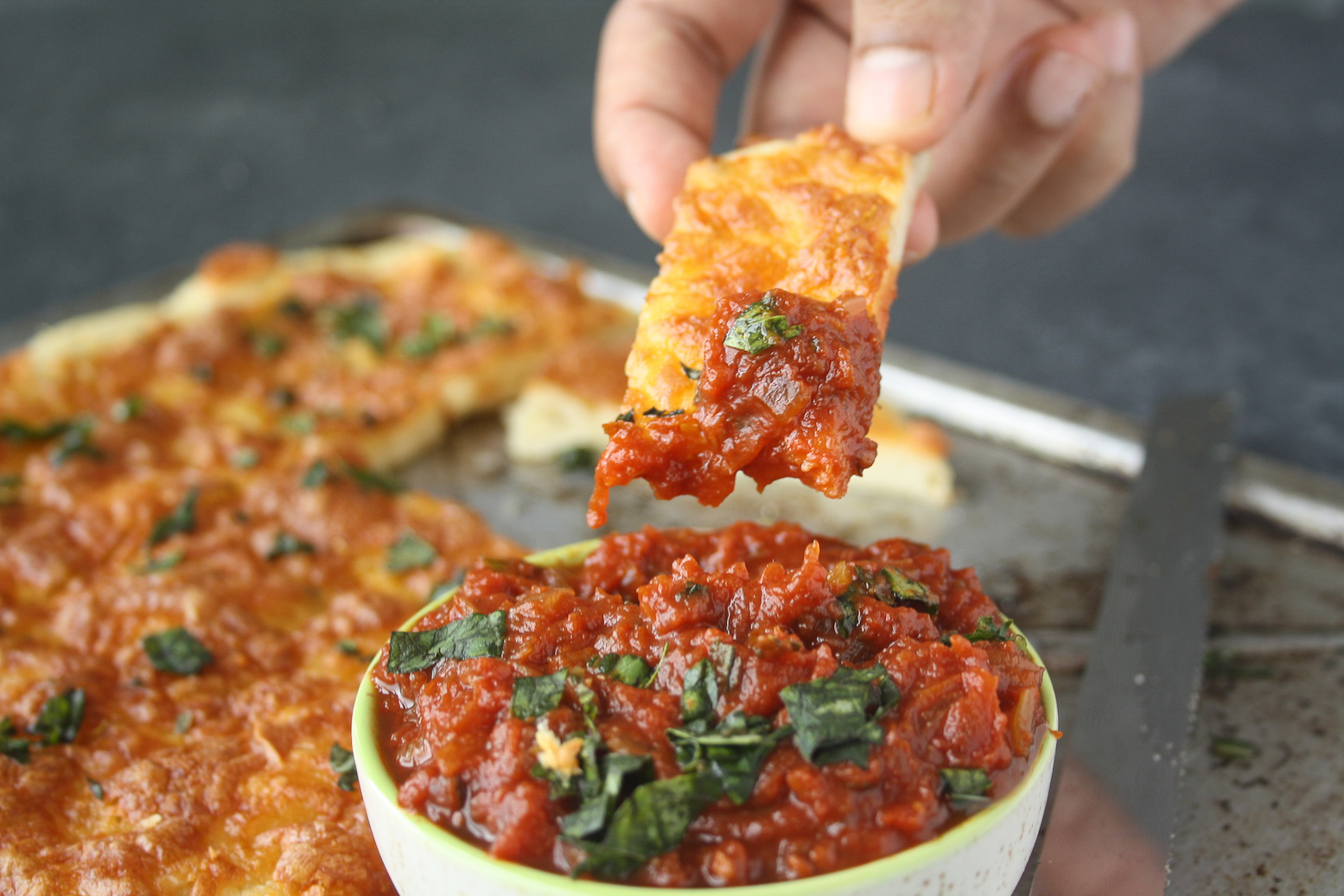 These are delicious beyond belief and I can't believe I waited soooo long to make them!
To start, you'll use my favourite pizza dough and it makes enough for one batch of breadsticks, plus one 10″ pizza, or two batches of breadsticks. The sauce makes enough for the whole dough, whichever way you're making it.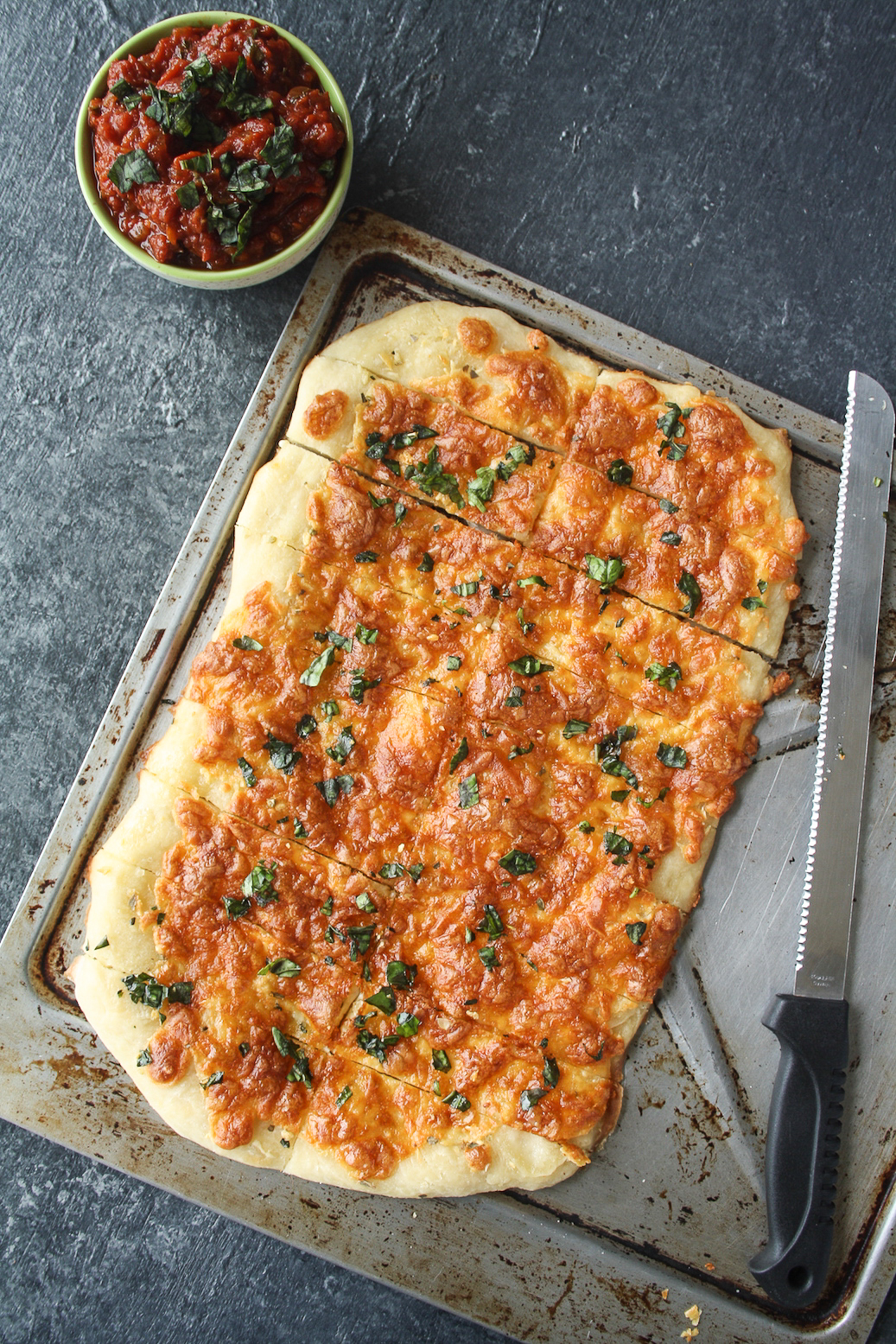 Ok, the marinara. I used a recipe from America's Test Kitchen's vegetarian cookbook, cut it down a lot because I only had one can of tomatoes, added more onion and garlic because I love them, and it made the most deeply flavoured, most delicious tomato sauce I've had in a while. I recommend trying to get canned tomatoes (gourmet food stores like Nature's Basket have them) because the flavour is something else. If you absolutely can't, I do note a fresh tomato substitution below.
The sauce is chunky, a little tangy, a little sweet, a little sour. And basically, insanely good.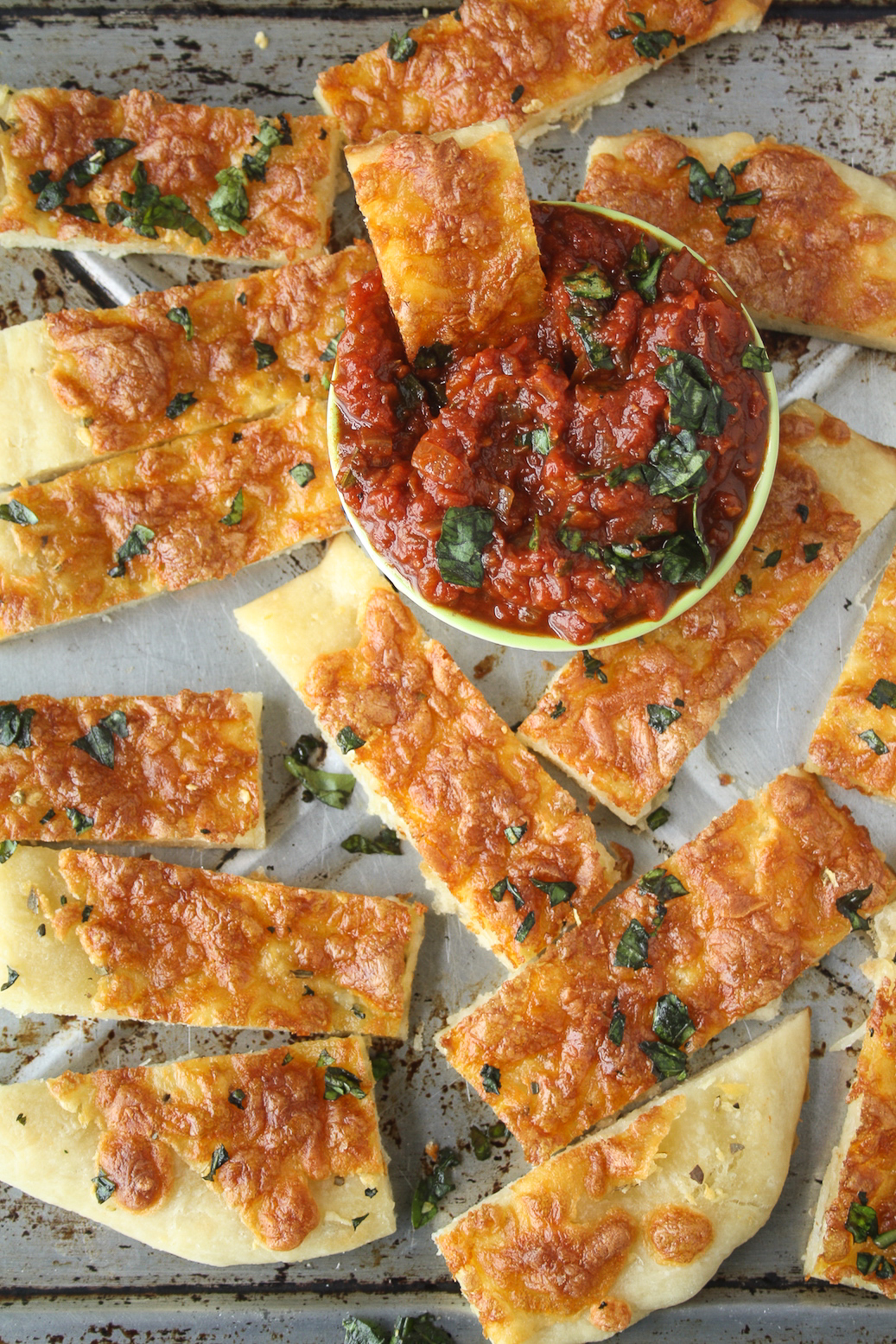 I have a confession about the cheese. I've been buying pre-shredded mozzarella and it turns out, the cheese is usually coated with starch to keep the shreds from sticking. Not only does that sound gross, it also makes the cheese brown waaaayyy faster than the crust itself, so it's a bit hard to get the gooey stretchiness that makes mozzarella what it is. Do yourself a favour, buy mozzarella in a block, and shred it yourself. I'm definitely doing that the next time!
The breadsticks were still amazing though, buttery and garlicky and cheesy, just not super stretchy. Not too many complaints though! They have a slight 'chew', which is the nature of this slow-rise pizza dough and I love it.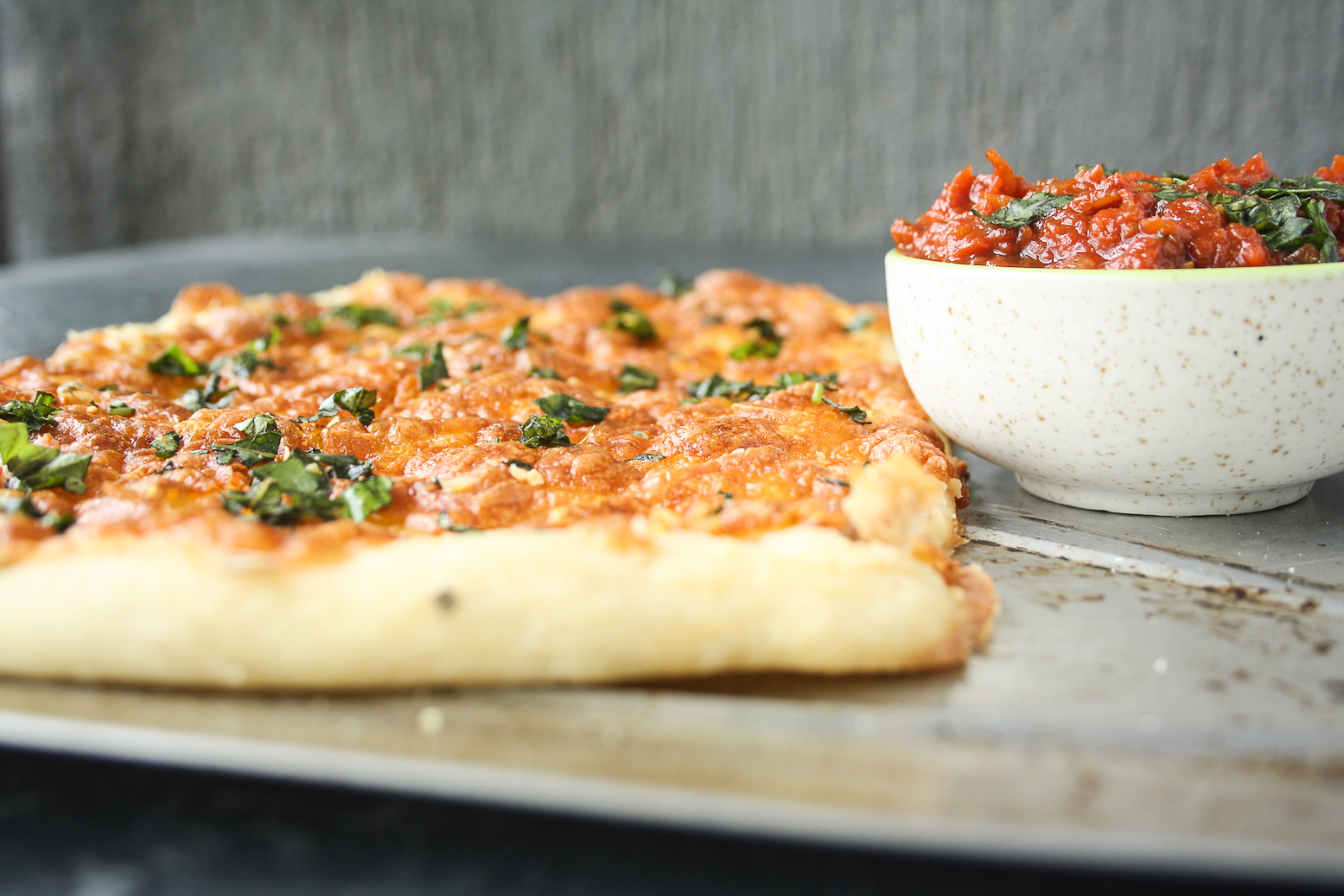 This is a great meal to make on a rainy weekend afternoon (and it looks like Mumbai's getting plenty of those) because the dough is very low-maintenance. Mix the night before, and leave. I made the marinara the night before as well, it gives the flavours a chance to really come together. The next day, you just need to pat out your dough, prepare the toppings and send everything into the oven!
Also, speaking of the oven: I've had a ton of trouble with pizzas sticking to the baking tray (since they're not usually greased while baking pizzas), so this time around, I assembled the breadsticks on a silicone mat, slid it onto the wire rack in the oven, and it baked up perfectly crispy, and no sticking! Slid right off it, making clean up a dream. Such a revelation!
Ok, all done blabbering. Tips and notes in the recipe below, have fun!!

Cheese Garlic Breadsticks with Homemade Marinara
Chewy, buttery, cheesy, garlicky breadsticks with a chunky marinara sauce!
Author:
The Desserted Girl
Ingredients
For the pizza dough
3 cups all-purpose flour (375 gms, weighing is recommended)
¼ tsp active dry yeast, slightly heaped
1 and ½ tsps salt
1 and ¼ cups room temp water, plus more if needed

For the marinara sauce
1 tbsp olive oil
1 small onion, finely chopped
2 cloves garlic, minced
400 gms canned tomatoes / 250 gms fresh tomatoes
1 tbsp red wine
3 to 4 fresh basil leaves, finely chopped.
Salt, pepper and sugar, to taste.

For the garlic topping
3 garlic cloves, minced
2 tbsps salted butter, at room temp
¼ tsp dried oregano
¼ tsp salt if using unsalted butter
½ cup shredded mozzarella cheese (avoid pre-shredded)
Instructions
To make the dough, simply mix all the pizza base ingredients in a large bowl, till you have a wet, shaggy dough. Add two more teaspoons of water only if the dough feels a little dry. You do not need to form a ball of dough, or bother with making it smooth. Simply mix it up, cover with clingfilm and leave to rise at room temperature for 12 to 16 hours. To give it a head-start, preheat the oven to 100 C for a few seconds, turn it off and place the dough inside it. Leave it there for the rest of the rise time.

It's a good idea to make the marinara the night before, so that the actual breadsticks assembly takes very little time the next day. Plus, the sauce needs a little time for the flavours to develop.

To make the sauce, empty the canned tomatoes into a sieve over a large bowl and pull them apart with your fingers to remove the core and seeds as much as you can. Leave for 10 mins to drain and reserve the juice, about 2 cups. If using fresh tomatoes, blitz them in a blender and leave to drain for 15 mins in a sieve. Note that the flavour of canned vs fresh tomatoes is quite different, but your marinara will still be delicious!

Now in a saucepan on medium heat, heat the olive oil, then add the onion, stirring till soft and translucent. Add the garlic and stir till fragrant, then add the tomatoes. Cook till the tomatoes begin to stick to the pan, then add the red wine and stir again till thickened. Pour in the reserved juice or add water as needed, depending on how thick you want the sauce. Scrape up any browned bits, then add the seasonings. Let the sauce boil and thicken for a few minutes, then stir in the basil leaves. Mix, let cool and then refrigerate overnight.

Now go back to the dough. After 12 to 16 hours, the dough should have doubled, look fermented and smell slightly sour. It should also feel very soft and sticky and a little wet. You know it's ready when it stretches easily without breaking immediately.

About 20 mins before the dough is ready, preheat the oven to 220 C.

Make the garlic topping by mixing all the ingredients very well in a small bowl until smooth.

Divide the dough in half (see notes). Place one half on a silicone baking mat and with floured fingertips, stretch and pull it into a 10x5 rectangle, give or take. Spread the garlic butter topping evenly on the surface and top with the cheese. Slide the silicone mat onto a wire rack and bake for 12 to 15 mins, rotating halfway, until the cheese is melted and bubbly, lightly browned and the crust is lightly browned as well. If you do not have a wire rack, use a baking tray. The silicone mat makes clean up easier and prevents sticking, but you can also use baking paper.

Allow the breadsticks to cool for a couple of minutes, then cut into 18 pieces, sprinkle with more freshly chopped basil and serve hot with the marinara sauce! ENJOY!
Notes
*I made 18 breadsticks with half the dough, and used the other half to make a 10" pizza, with about half the marinara and ⅓ cup mozzarella. The dough will also make a double batch of 36 breadsticks, if you double the garlic topping as well.

*Feel free to reduce the onion and garlic in the sauce, I like mine a little chunky.

*Prep-time does not include rise time.

*If the crust is taking too long to brown, increase the oven temp to 250 C.
Shop this recipe!
This post contains affiliate links.