This season's stone fruit is slowly beginning to disappear and so you need to make these shortcakes right now. Plus, why wouldn't you want to? Tender, buttery biscuits filled with peaches soaked in a divine honey thyme syrup, topped off with creamy mascarpone. Literally all I want to eat all day.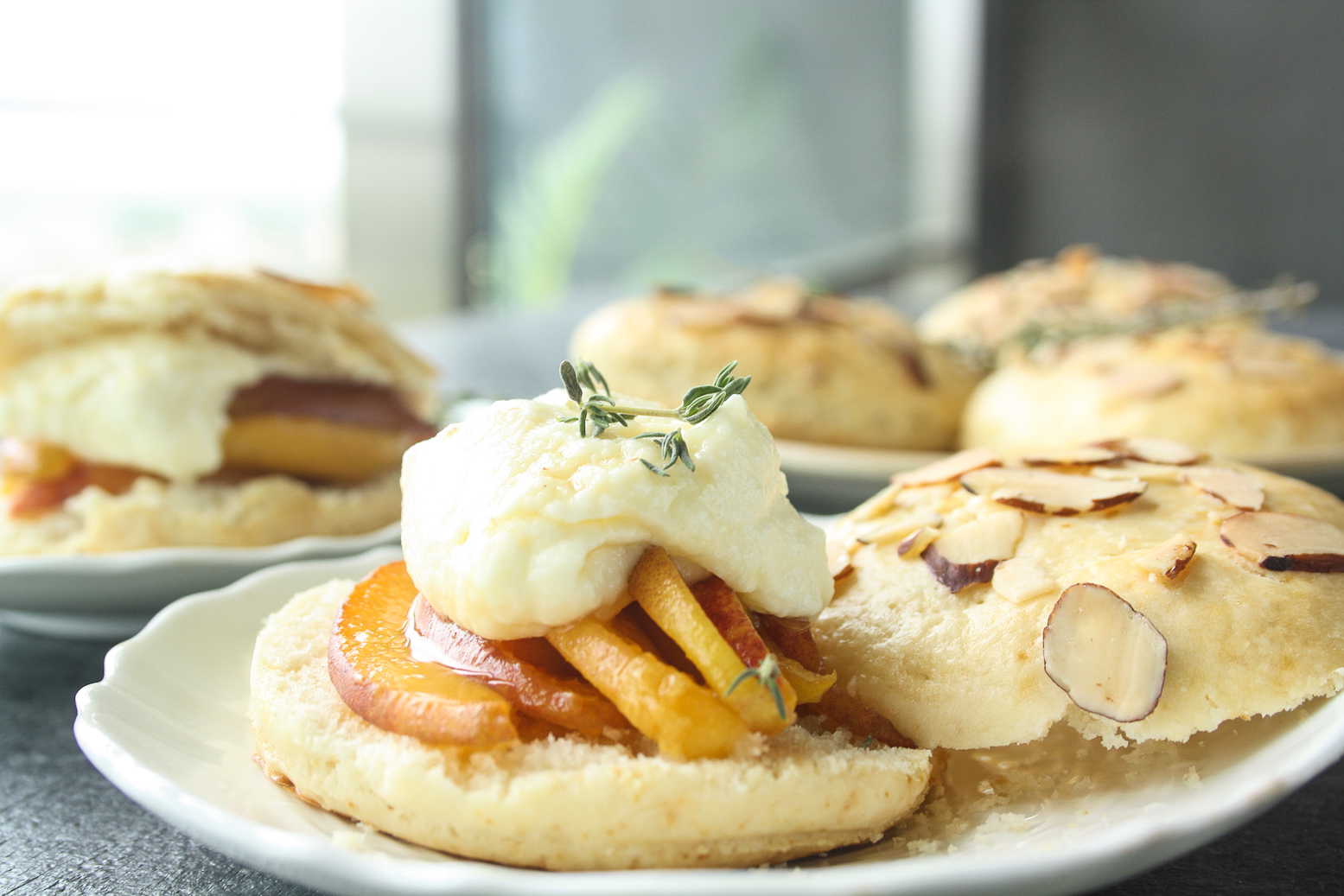 This is such a delightful, fun dessert to make for the season. Fruity, pretty and much easier than it sounds. Let's bake!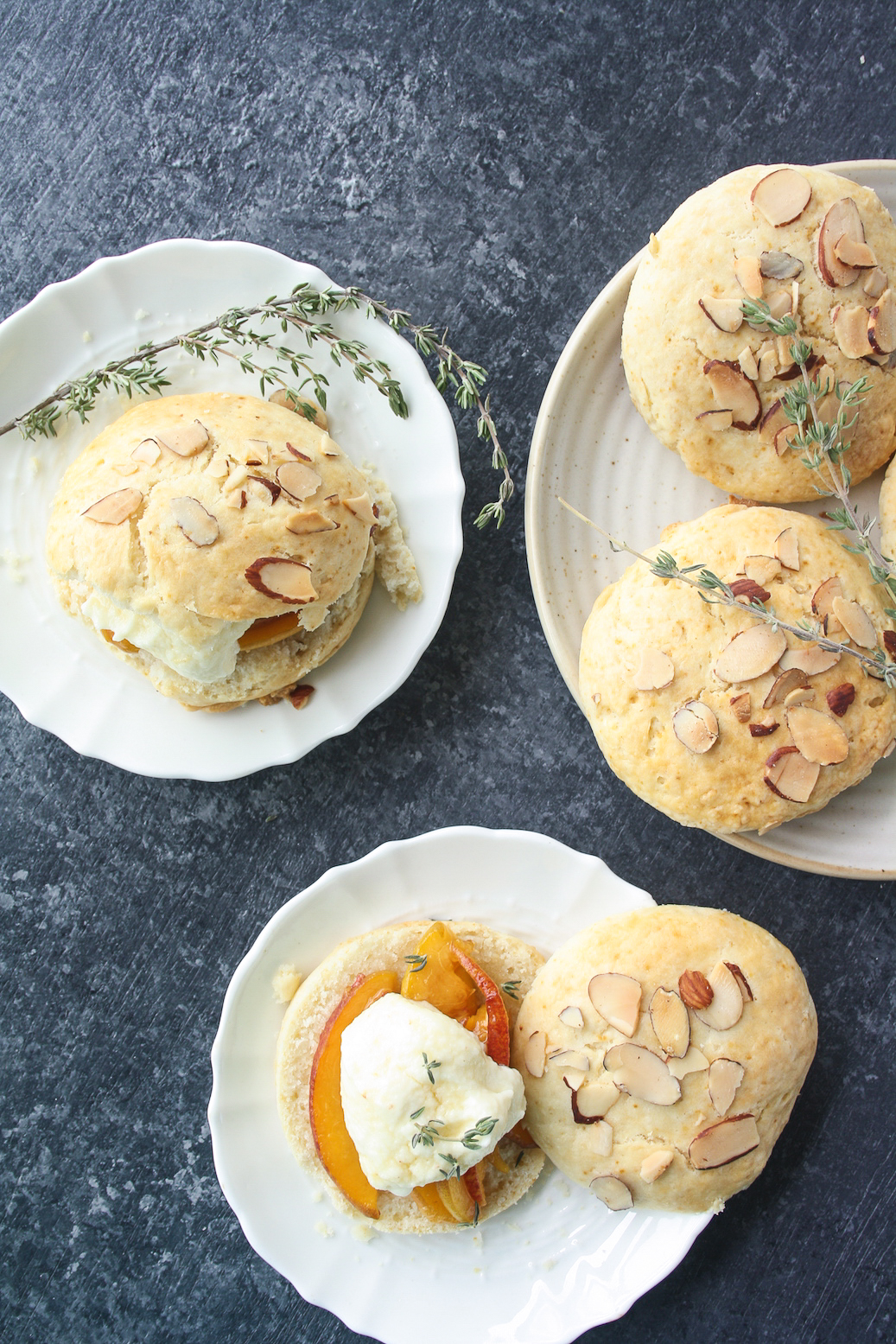 The recipe is adapted just barely from Half Baked Harvest. I made a little more syrup and used more peaches because I got 9 shortcakes, not the original 6. It was a warm day and the dough was difficult to handle so rather than struggle to cut very tall shortcakes, I made slightly flatter ones, and therefore got a few more. They still tasted delicious, with flaky tops and tender centers and sooo buttery!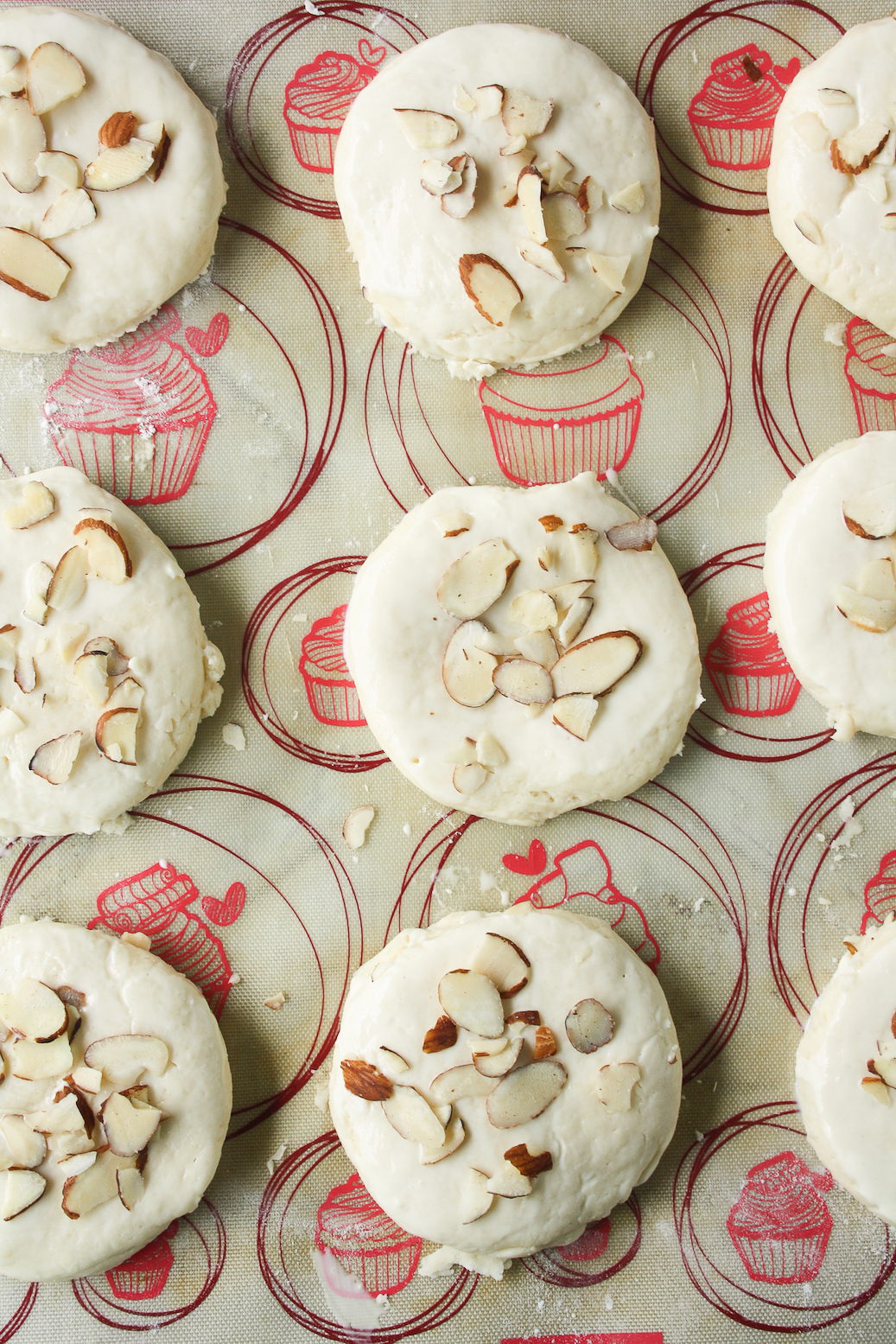 The base of each shortcake is a buttermilk biscuit and it's that soured milk that makes the whole thing so super tender. The star honestly, is that honey thyme syrup. So simple, so flavourful!! It's sweet and salty, with a savoury kick from the thyme that is unbelievable. The shortcake itself is undersweetened and the cream isn't sweetened at all. But with all that honey, everything balances out perfectly.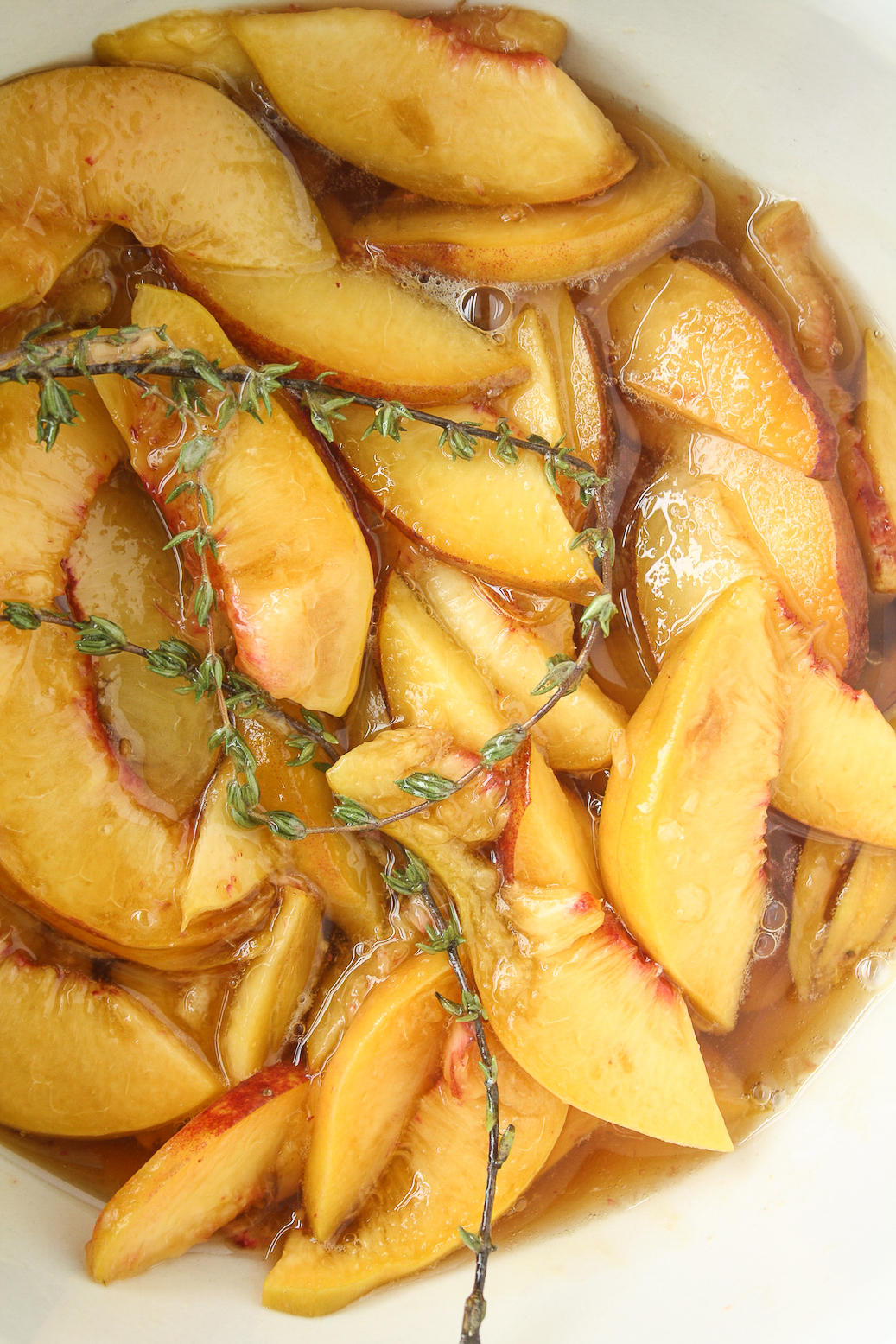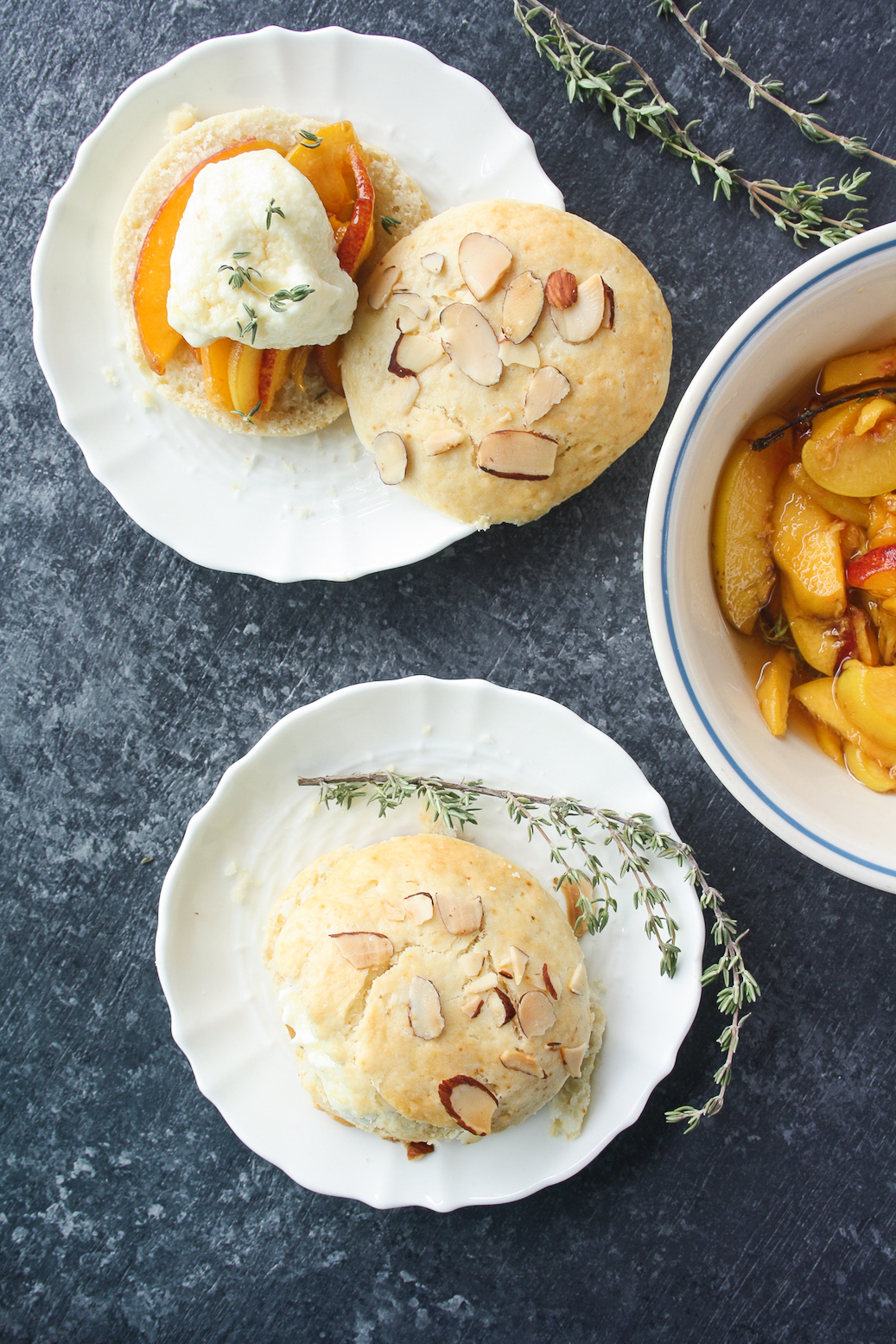 This is a dessert best made and eaten fresh. I found that the peaches got too mushy on day two, so make sure you have people to share them with so that there's no leftovers! The recipe makes a fair bit of cream and syrup as well, but you can use any leftovers to use on something else. I have another mascarpone cream treat coming to you soon 🙂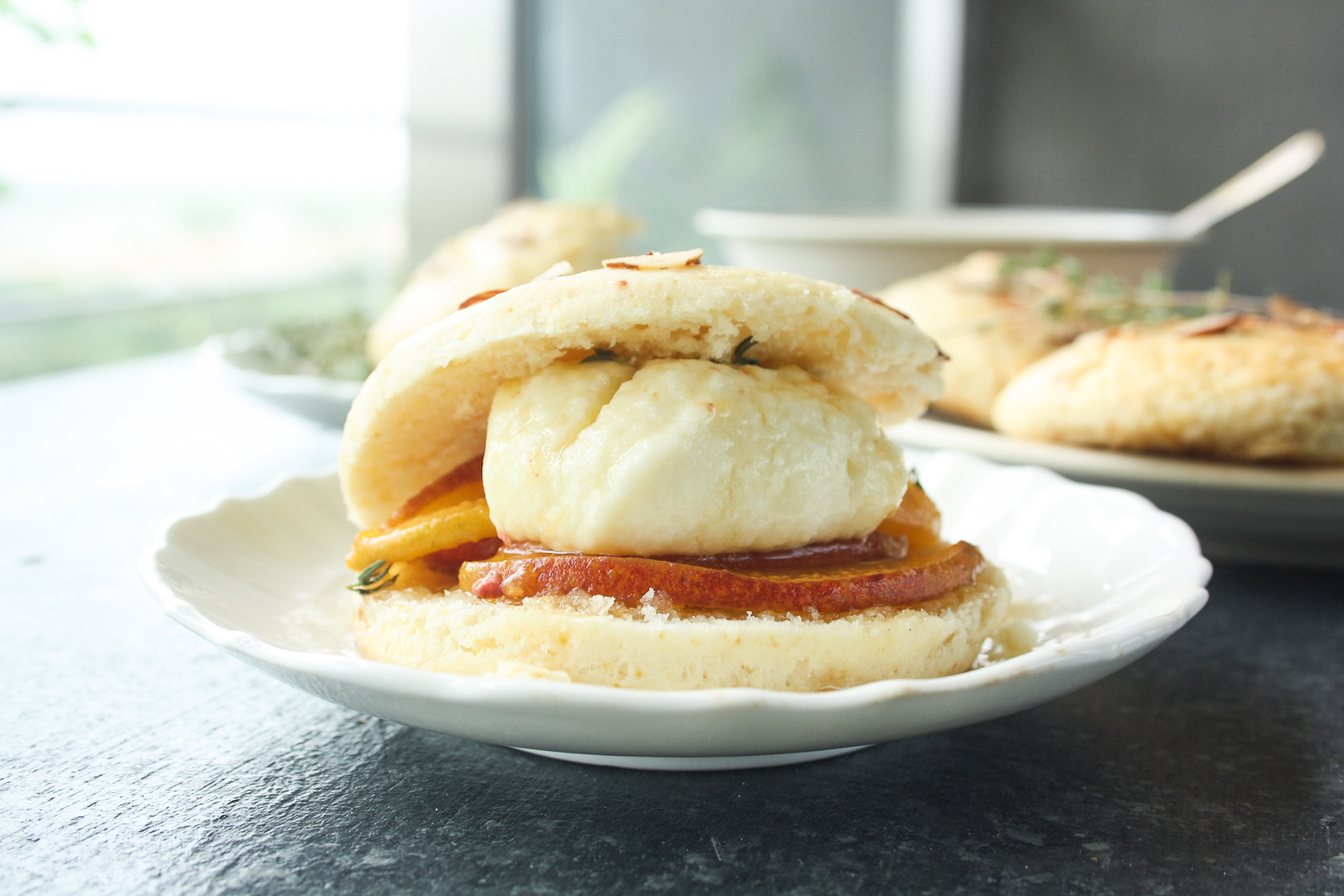 One bite, and you'll be transported to dessert heaven. The peaches absorb all of that wondrous syrup and become sweet and just soft enough, the cream is light and fluffy, the top and bottom biscuit base forming the perfect little case for all it 🙂 Make this todaaayyy!

Peach Mascarpone Shortcakes
Tender, buttery shortcakes with honey thyme peaches and creamy mascarpone!
Author:
The Desserted Girl
Ingredients
For the buttermilk biscuits
2 cups flour
1 tbsp baking powder
2 tbsps caster sugar
¼ tsp salt (if using unsalted butter)
½ cup cold butter, cubed (115 gms)
¾ cup cold buttermilk (or regular cold milk soured with ½ tsp lemon juice)
Flaked almonds and cream for topping

For the peach filling
6 peaches, ripe but firm
½ cup honey
2 to 3 sprigs thyme
¼ tsp salt
1 tsp vanilla

For the mascarpone cream
½ cup mascarpone, room temperature
¼ cup cream
¼ tsp vanilla
Instructions
To make the biscuits, sift the flour and baking powder in a large mixing bowl. Stir in the sugar and salt, if using. Add the cold butter and rub it into the flour with your fingertips until the mixture resembles coarse breadcrumbs with a few bigger bits of butter.

Pour in the cold soured milk and quickly bring the dough together with spatula or your hands. It will be wet but manageable.

On a lightly floured silicone baking mat, pat the dough out into a ½ inch thick disc. If it feels warm or too soft, stick it in the fridge for a few minutes.

Use a cookie cutter or small bowl 2 inches in diameter to cut out the biscuits. Use a metal spatula to help lift them and place them at least two inches apart on the mat. Re-roll the scraps as needed. Check recipe notes if you'd like to make taller shortcakes.

Mix 1 tbsp cream with 1 tsp water in a small bowl. Brush on top of each shortcake, then top with some flaked almonds. Slide the baking mat with the prepared biscuits onto a baking tray, then transfer to the fridge for 10 minutes. Preheat the oven to 200 C.

Bake the biscuits for 20 to 25 minutes until browned on top, and risen. Rotate the baking tray as needed.

Once the biscuits are done, set them on a wire rack to cool while you do the rest.

Slice the peaches thinly and place them in a bowl. Combine the honey, thyme, salt and vanilla in a small saucepan and bring to a boil on low heat.

Pour the honey syrup over the peaches and let them soak for about 10 minutes. Take care not to soak them too long or they get mushy. It is best to scoop them out and set aside while you make the cream.

In a bowl, combine the mascarpone, cream and vanilla. Beat until soft and fluffy. Keep chilled.

To assemble the shortcakes, slice each biscuit in half and spoon the soaked peaches on the bottom half. Top with a generous dollop of the cream, drizzle some of the honey syrup on it, then place the top half on it. Repeat with the rest. Eat immediately! Best made and finished on the same day 🙂 Any leftover cream and sauce will last one or two days in the fridge.
Notes
*If you'd like to make taller shortcakes, pat the dough out to about 1 inch thickness and cut out 6 larger pieces.

*One tablespoon baking powder seems like a lot, but it's needed to help the shortcakes rise and be fluffy. Try and use an aluminium-free one to avoid any bitter after taste.

*Mascarpone tends to separate faster than other cheeses/creams, especially if the vanilla extract has alcohol in it. It doesn't affect the flavour at all, so don't worry about it.