This is summer in a bowl. Or, a-sort-of-monsoon in a bowl, but that doesn't have quite the same ring to it. We have peaches and cherries. So fresh fruit, check. Oats and almonds, so, fibre and stuff, check. Coconut flour and coconut oil, so, good fats, check. A dessert that you can actually binge eat, so relief, check.
I don't think it gets much better than juicy fruit with a crunchy crispy topping that's healthy. You guys, this is reeeeeely good!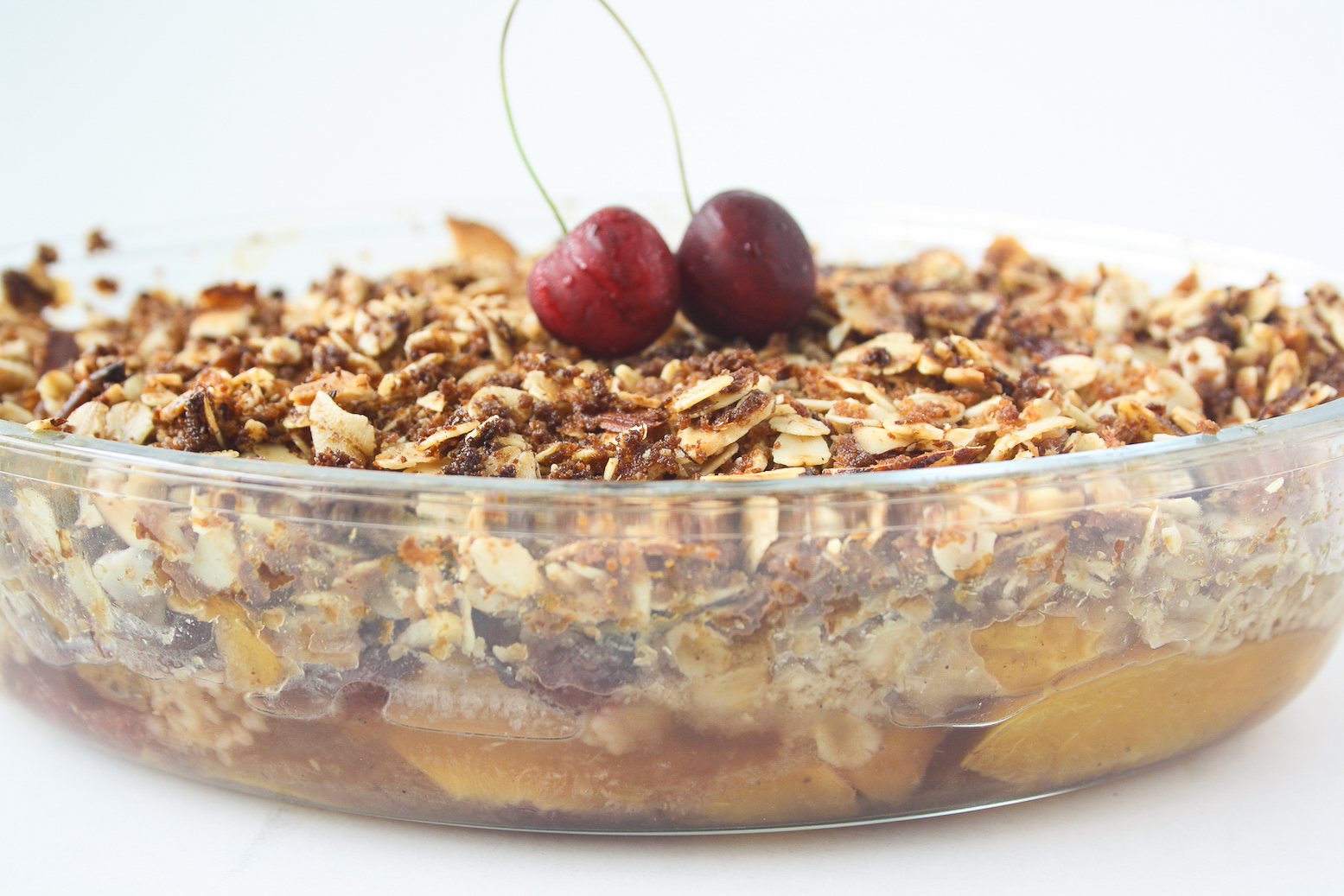 Confession: there is a scoop of extremely not-healthy, not vegan vanilla ice cream that I added to this healthier peach crisp. Totally ok to leave it off, I promise it's just as delicious. Or, consider a coconut whipped cream topping!!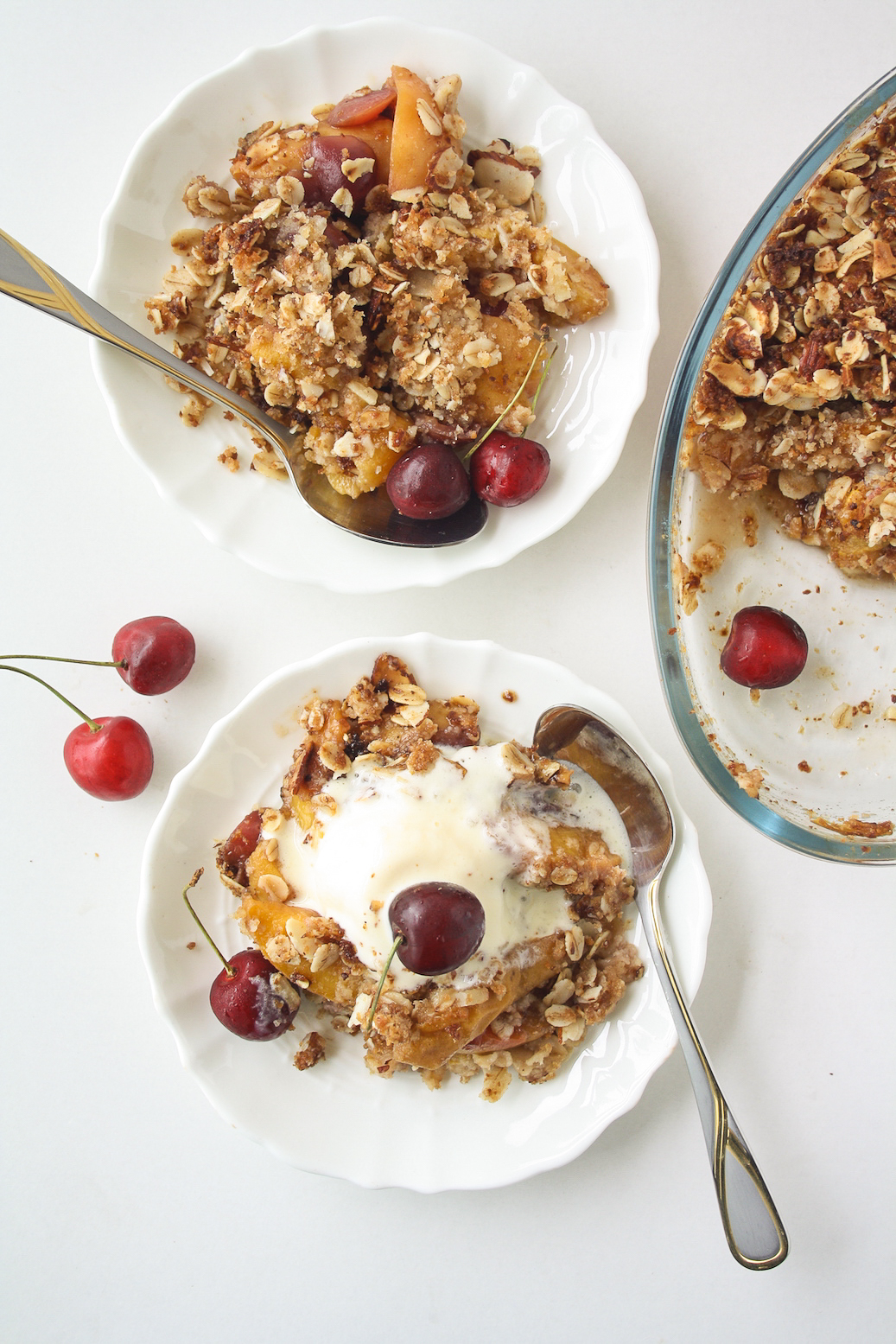 Whichever way you eat it, this is a totally explosively good desserts. One, it's got so many flavours I'd never expected would work together. Two, it's a fuss-free way of getting your favourite summer fruit to become even more fun! And it's as fun as a more sinful, non-vegan version. Win!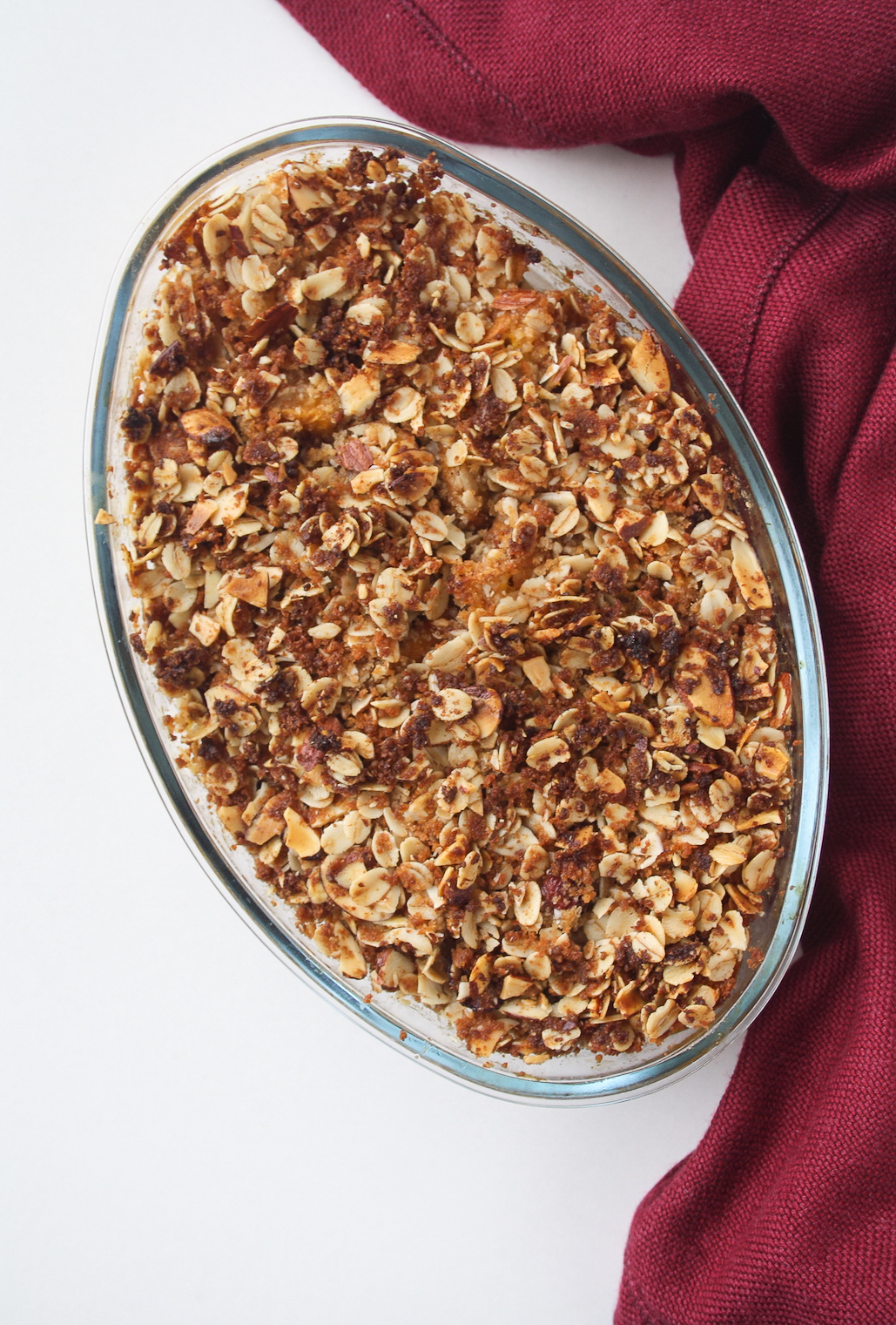 If you don't have or don't want to use things like coconut flour or rolled oats (suggested substitutions in the recipe below), or just like a more traditional crumble topping, go for it. But the reason I'm calling this a 'crisp' is because the topping is actually crispy, not exactly crumbly, given that there are no blobs (ew) of flour and butter. It's juicy and fruity and definitely something you eat in big messy spoonfuls, we're not going to be dainty over here!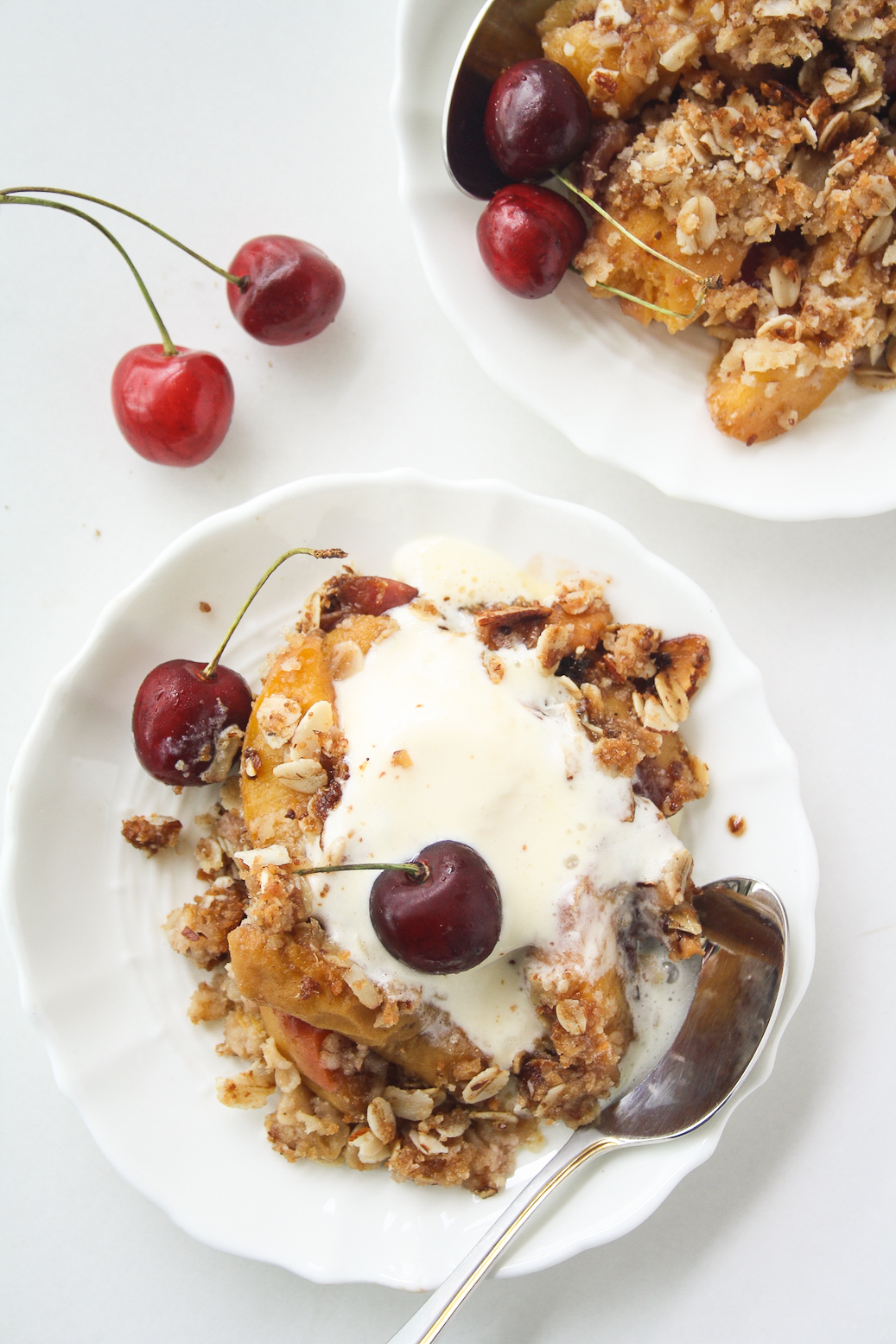 Once you're done with the supremely painful task of pitting the fruit, it's basically a matter of mixing up the topping, sprinkling it on and sticking it in the oven. I like to toss the fruits in sugar and immediately put them in the baking dish, so that they release all the juices as they cook and since we don't need to worry about soggy pie crusts or anything of the sort, it's totally ok to go this way.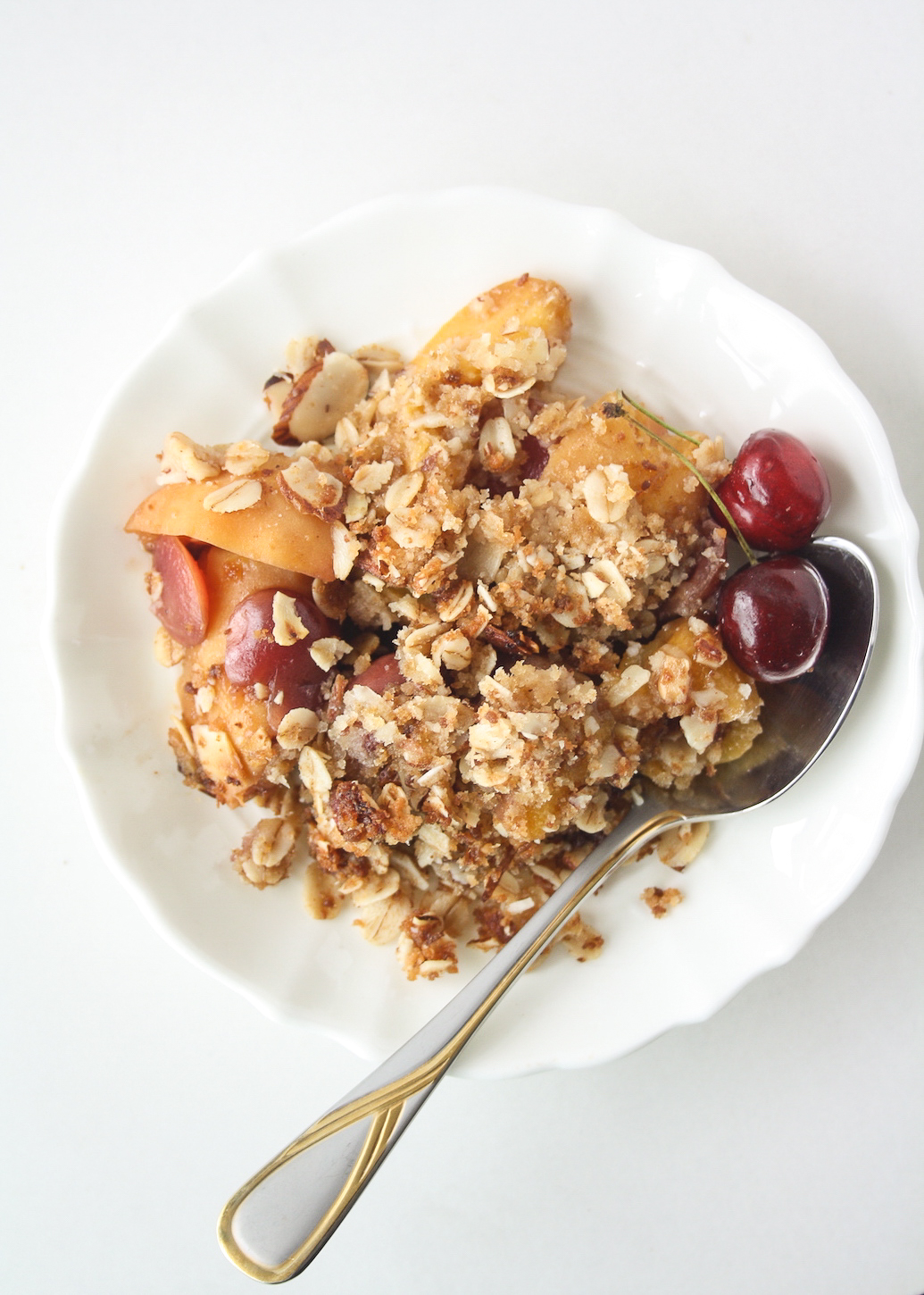 There's all sorts of textures and flavours and colours in this crisp. Does it taste like coconut? Yes, it most certainly does, but it goes so, so well with the peaches that there's really no reason to be sceptical about it. The absolute best part is that you can totally have it for breakfast or dessert, and no one can judge. Let's cook some fruit!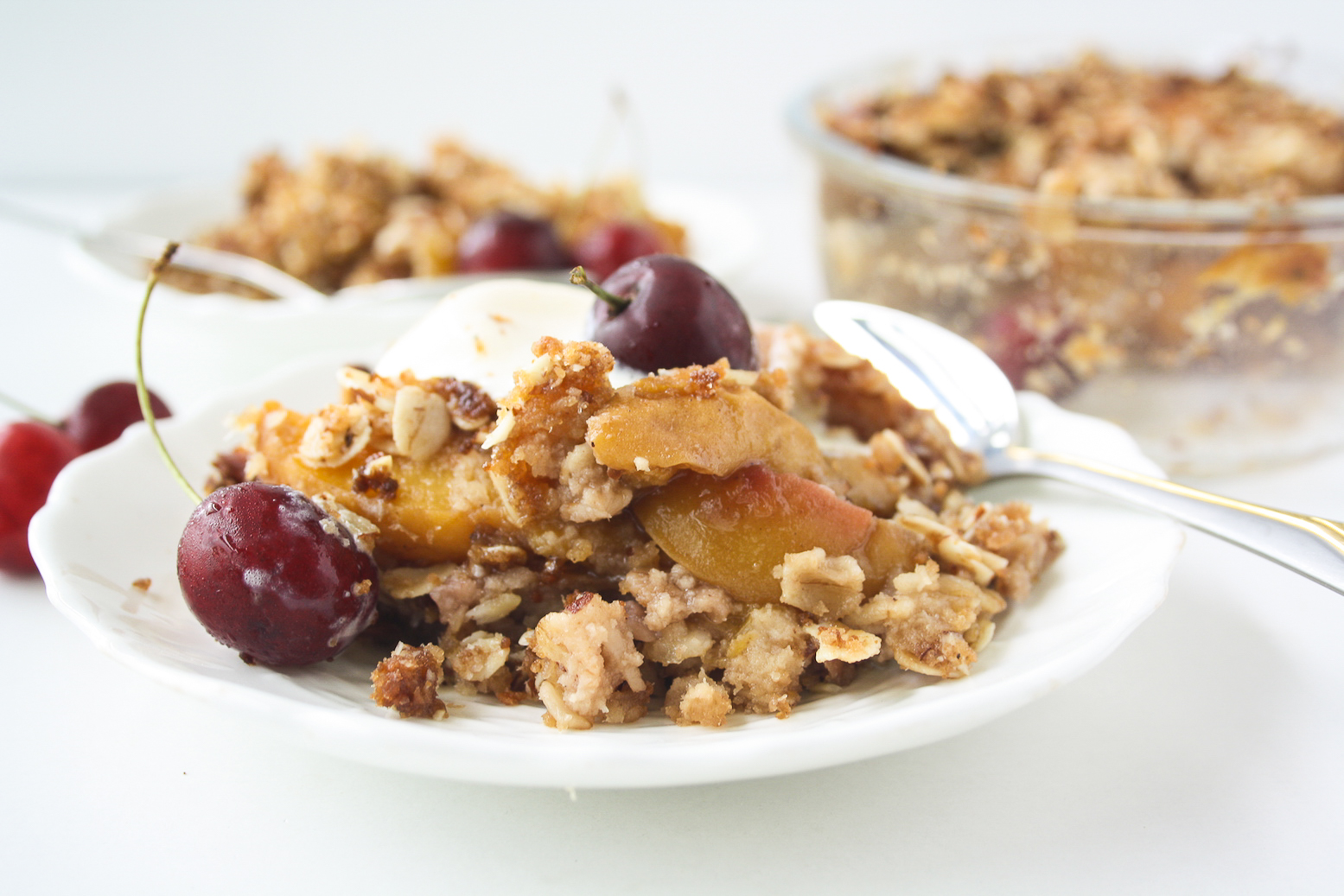 Peach Cherry Crisp (Vegan, GF)
Fresh peaches and cherries with a delicious coconut oat topping make this vegan, gluten-free crisp the perfect summer dessert!
Author:
The Desserted Girl
Cuisine:
Gluten-Free, Vegan
Ingredients
6 to 7 medium peaches
100 gms cherries
1 tsp arrowroot powder (or cornflour if not vegan/gluten free)
3 tbsps coconut sugar
Pinch of cinnamon powder, optional
⅓ cup rolled oats
⅓ cup coconut flour
2 tbsps flaked or thinly sliced almonds
¼ cup coconut oil, chilled till solid
Instructions
First, prep the fruit. Slice the peaches and cherries in half, and remove the pits. Combine in a large mixing bowl with the arrowroot, 2 tbsps coconut sugar and a small pinch of cinnamon. Mix well.

Tip the fruit out into a 6" baking dish and spread them out. Set aside. (I used a medium-sized oval dish, it doesn't have to be an exact size, just something that can hold all of the fruit).

Preheat the oven to 175 C.

In a small bowl, combine the oats, flour, almonds, remaining coconut sugar and another pinch of cinnamon. Add the chilled coconut oil and quickly mix it in.

Spoon this topping over the fruit and spread it out evenly.

Bake for 15 mins, then cover the top with foil if it's browning too quickly. Bake for another 15 to 20 mins until the juices are bubbling and the fruit is tender when poked with a toothpick.

Allow to stand for 15 minutes to let the juices thicken. Serve warm with vanilla ice cream (if not vegan) or coconut whipped cream or a vegan ice-cream of your choice!
Notes
*Desiccated coconut can be used instead of the coconut flour, there might be some difference in texture.

*Brown sugar can be used instead of coconut sugar, though it reduces the guilt-free aspect of the recipe.

*Butter can be used instead of the coconut oil, though the crisp will no longer be vegan. Any other oil might make it greasy.
Shop this recipe!
This post contains affiliate links.