If I could, I'd eat orange infused muffins and cakes, all day, every day. Cookies too. There is something magical about what a fresh orange can do to a fairly basic batter. And I never ever get bored of it.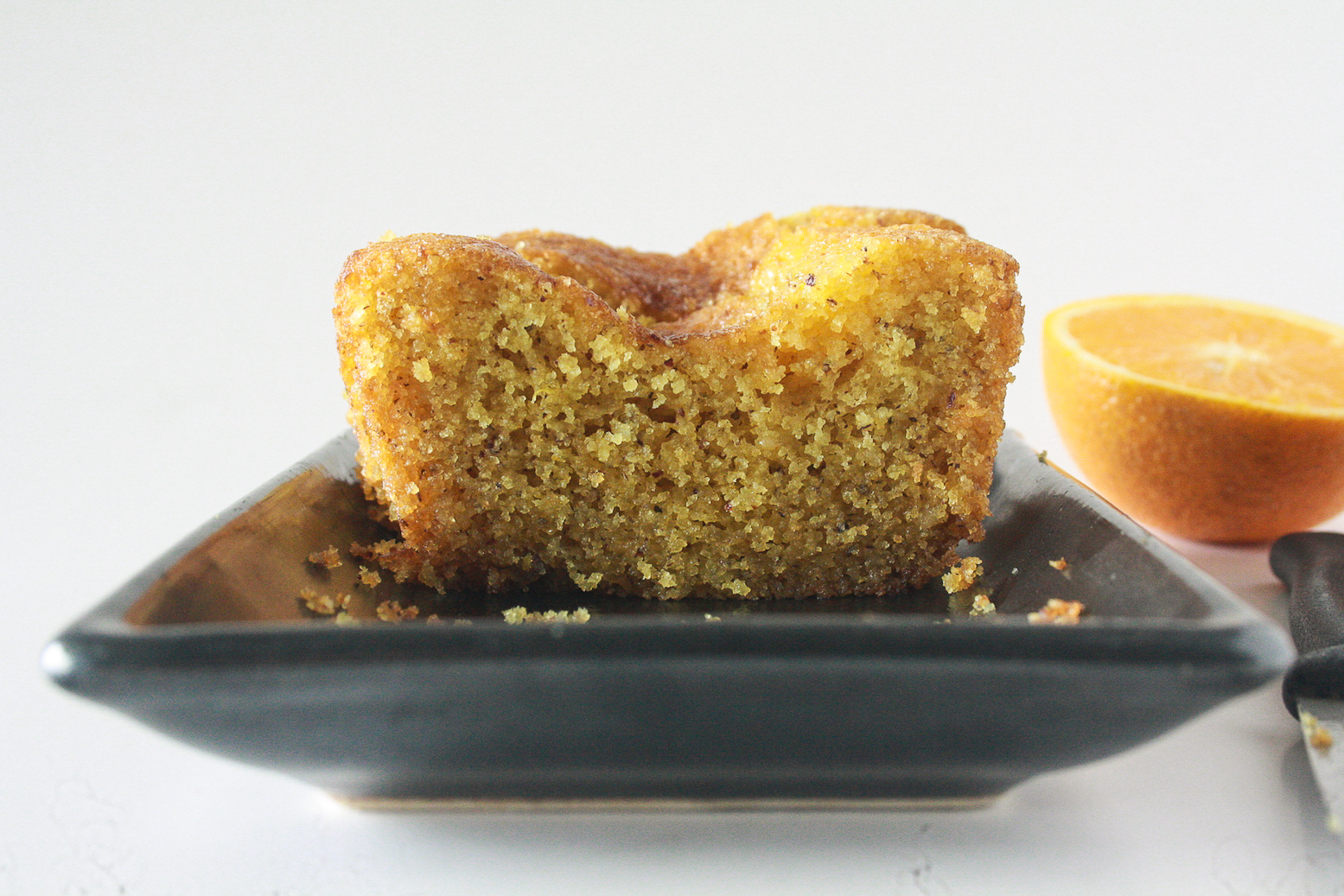 This particular one has semolina in it, which for some reason, I've never baked with before. Time to recify that though, because it creates the most wonderful texture. Aaaaand the whole thing is soaked in a seriously good, citrusy sugar syrup, making this the moistest cake EVER.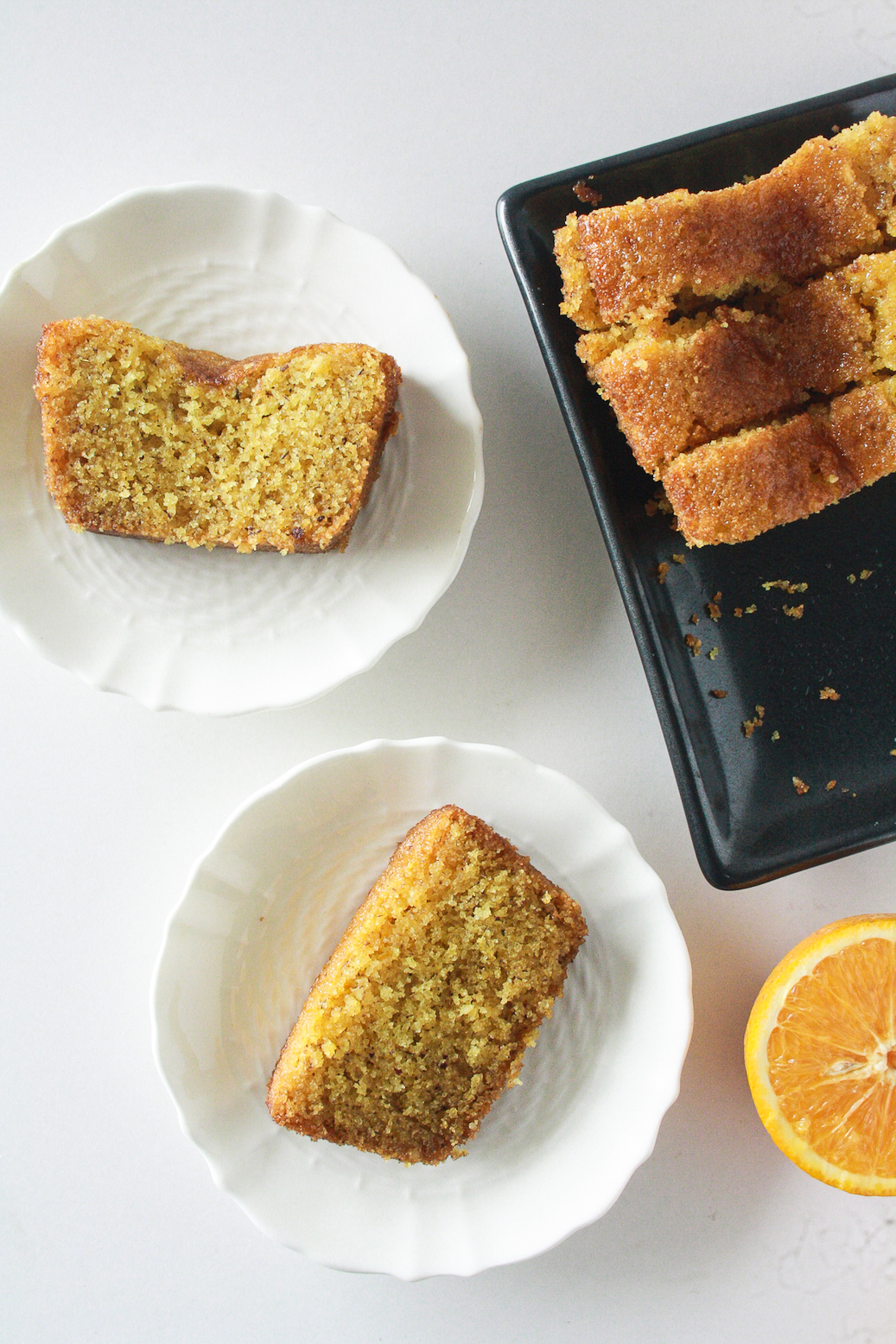 I saw this recipe on Bibby's Kitchen and the semolina intrigued me. It's odd how it's in my kitchen all the time but a 'rawa cake' just didn't sound fun enough. I was so wrong.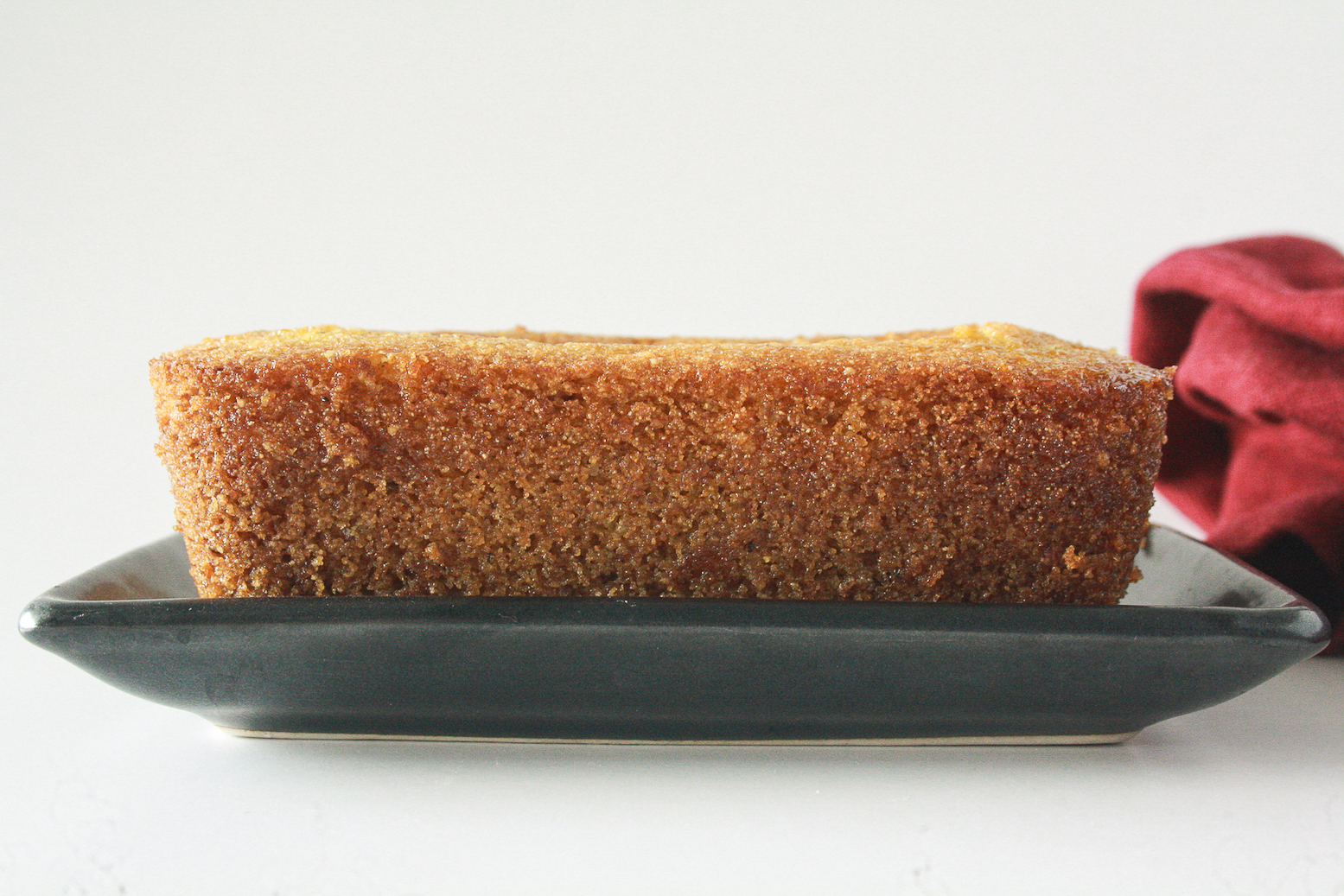 The original recipe requires a bit of time to boil the oranges till they lose their bitterness and makes a much larger amount. I wanted a small, quick cake, so I tinkered around with pretty much everything and used fresh orange juice instead, to recreate it my way. And I'm thrilled with the results!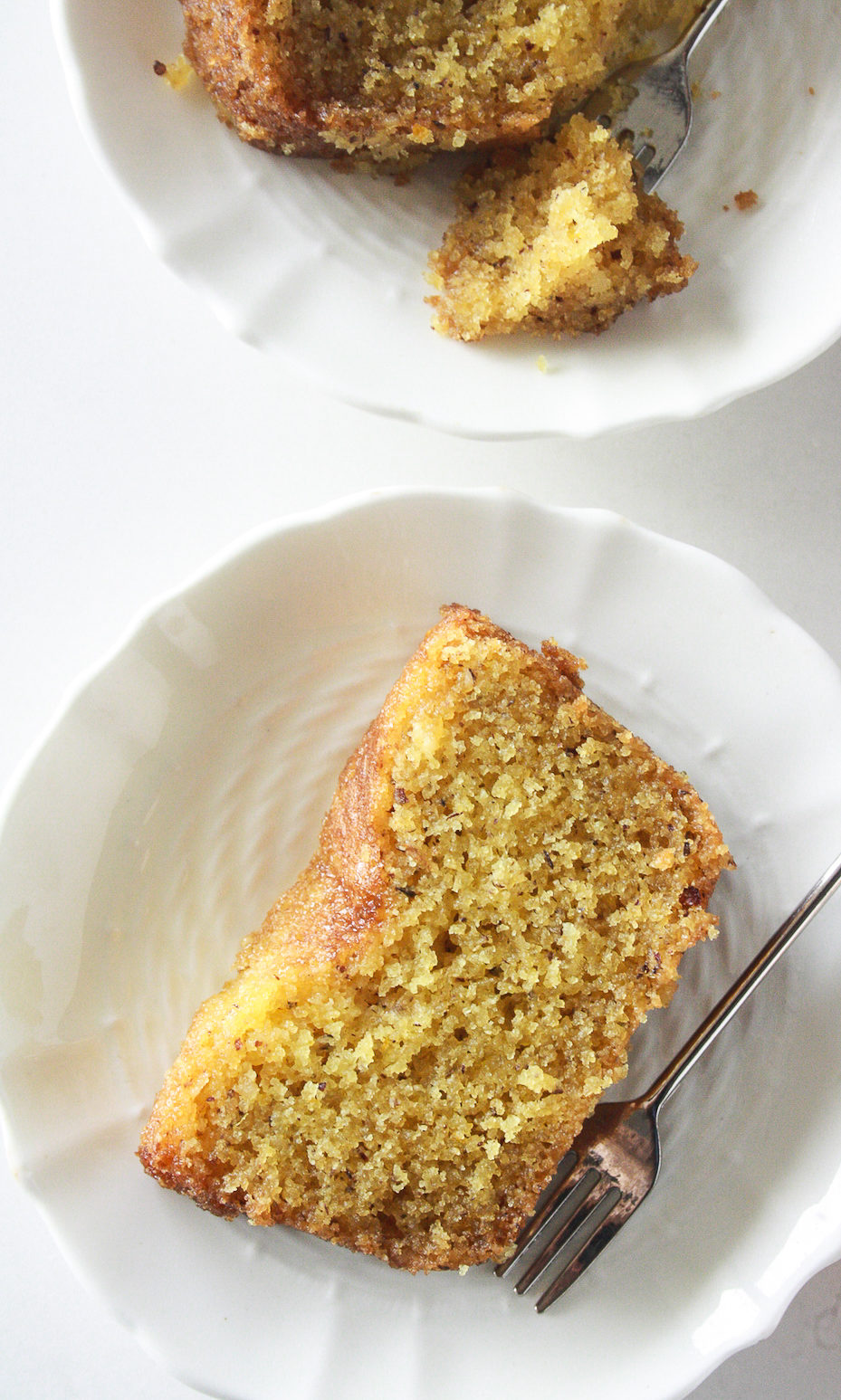 I used regular flour, not cake flour, and added a little baking soda for more lift, and to balance out the citric acid. There is therefore a little more liquid (from the juice) and a little more leavener in this cake, which could also cause it to sink a little in the center, but honestly, I loved the texture too much to worry about it. A lot of moist loaf cakes sink slightly so it's really ok. The option to leave out the soda is always there, if you're worried. Also avoid opening the oven door too suddenly or for too long, because the cold air could cause it to fall flat.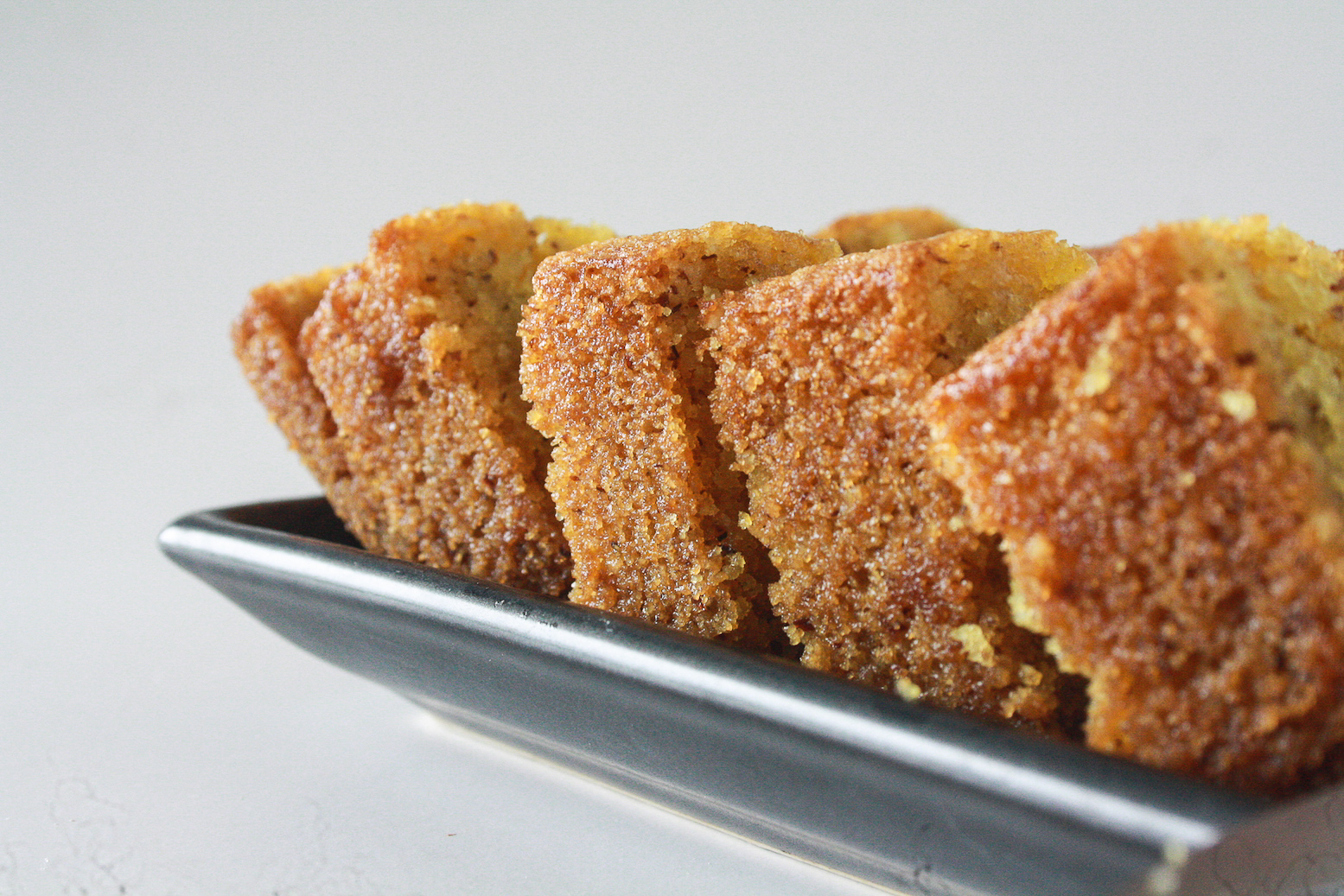 Almonds add a little character and colour, and the semolina adds a slight coarseness that's actually very welcome. All of it works together beautifully with the orange. The syrup though, can we talk about the syrup! It's not agonizingly sweet, I promise. There's bay leaves and lots of fresh juice in there and the whole thing seeps into the cake slowly so that by the time you cut it, you have a slice so tender, you're almost afraid to eat it. It's so good.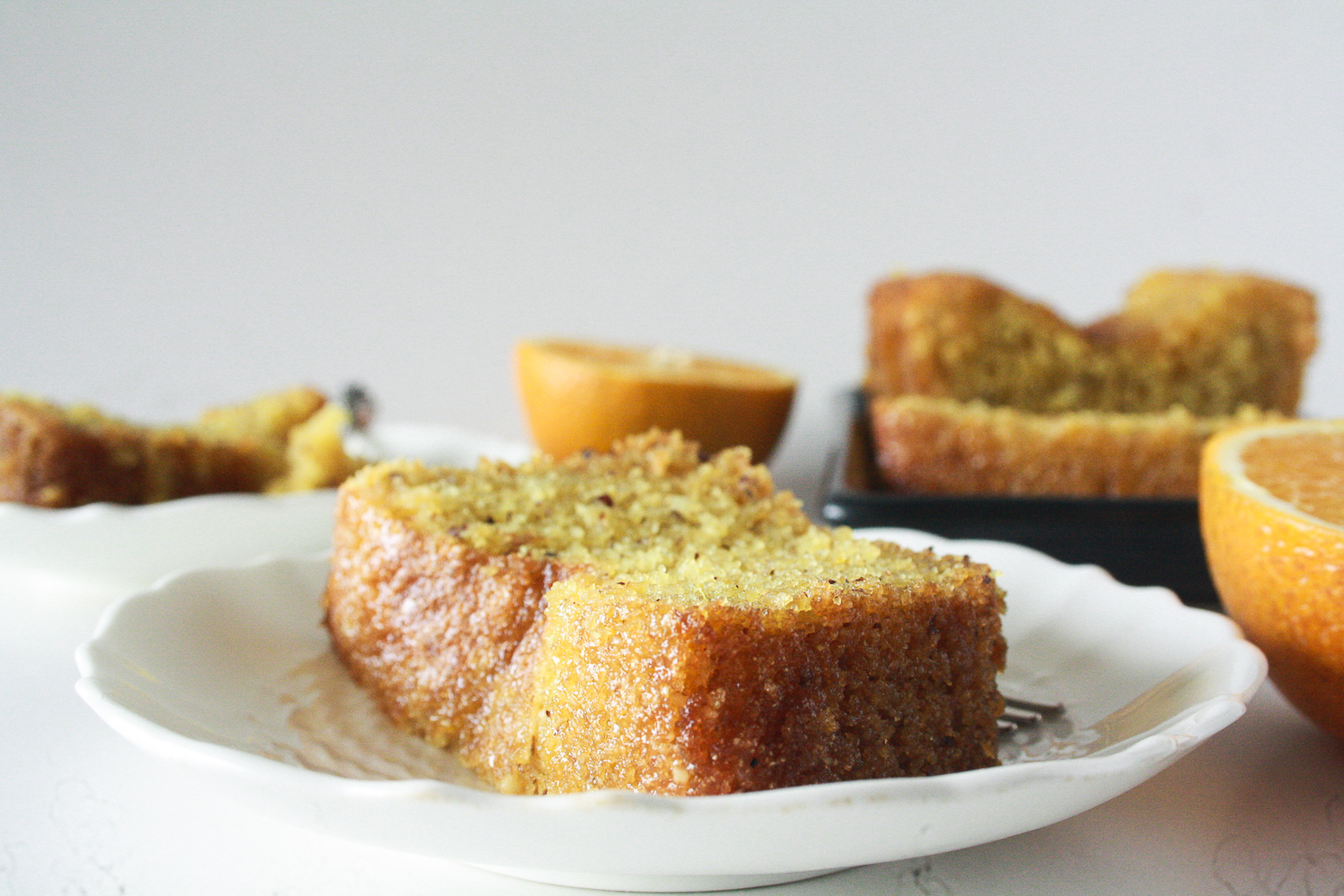 This cake tastes best once it's cooled completely, and even chilled. The flavours need time to come together and somehow this is one of those you pull straight out of the fridge and dive into. Happy eating!

Orange Semolina Syrup Cake
A moist orange cake made with semolina and doused in a simple citrus syrup!
Author:
The Desserted Girl
Ingredients
For the cake
⅓ cup ground almonds
⅓ cup semolina or sooji rawa
⅓ cup all-purpose flour
½ tsp baking powder
¼ tsp baking soda*
1 medium orange
70 gms butter (1/3 cup)
⅓ cup caster sugar
1 egg
½ tsp vanilla extract

For the syrup
1 medium orange, juiced
1 tbsp lemon juice
⅛ cup caster sugar
½ tbsp honey
1 small bay leaf
Instructions
Combine the ground almonds and semolina in a large bowl. Sift in the flour, baking powder and baking soda. Add a pinch of salt if using unsalted butter. Mix well. Set aside.

Grease a 6x4 loaf tin. Preheat the oven to 175 C.

Using a fine grater (or zester, if you have it), zest the orange into a small bowl, making sure you don't grate down to the bitter white pith. Slice the orange in half and squeeze out the juice into the samel bowl. Set aside.

In a large mixing bowl, beat the butter and sugar until pale and fluffy. Add the egg and vanilla and beat till smooth and combined.

Fold in the dry ingredients. Pour the juice and zest mixture in and mix very well. The batter will be thick, but spreadable.

Pour into the loaf tin and bake for 20 minutes. Cover loosely with foil and continue baking till a toothpick poked in the center comes out clean. This is a very moist cake, so it may sink slightly in the middle, but will still be delicious.

In the last ten minutes of baking, combine the syrup ingredients in a small saucepan and bring to a boil for 8 to 10 minutes, until it thickens. Set aside for a few minutes while it thickens further.

Poke holes into the cake (while it's still hot) and pour the slightly cooled syrup all over it, spreading it around as you go. Allow to cool completely in the tin for the syrup to soak right through.

Remove gently from the tin and dig in! Personally, I liked this cake cold from the fridge, when it's firmed up a little and all the flavours have really sunk in. Happy baking!
Notes
*The baking soda is something I added for a little more lift, but if you're worried about the extra leavener causing the cake to sink, you can leave it out.

*I like to use Valencia oranges, not the Indian ones here because the juice and zest is more flavourful, but either would work.