I've come to the decision that whoever invented the phrase 'easier than pie', either didn't have a dictionary or had never in fact, made pie. I continue to tiptoe around pies, but for some reason, love making them so much, that I just keep going. And this time, it's a double-crusted, buttery, flaky one filled with fresh, juicy peaches and it's really, really good.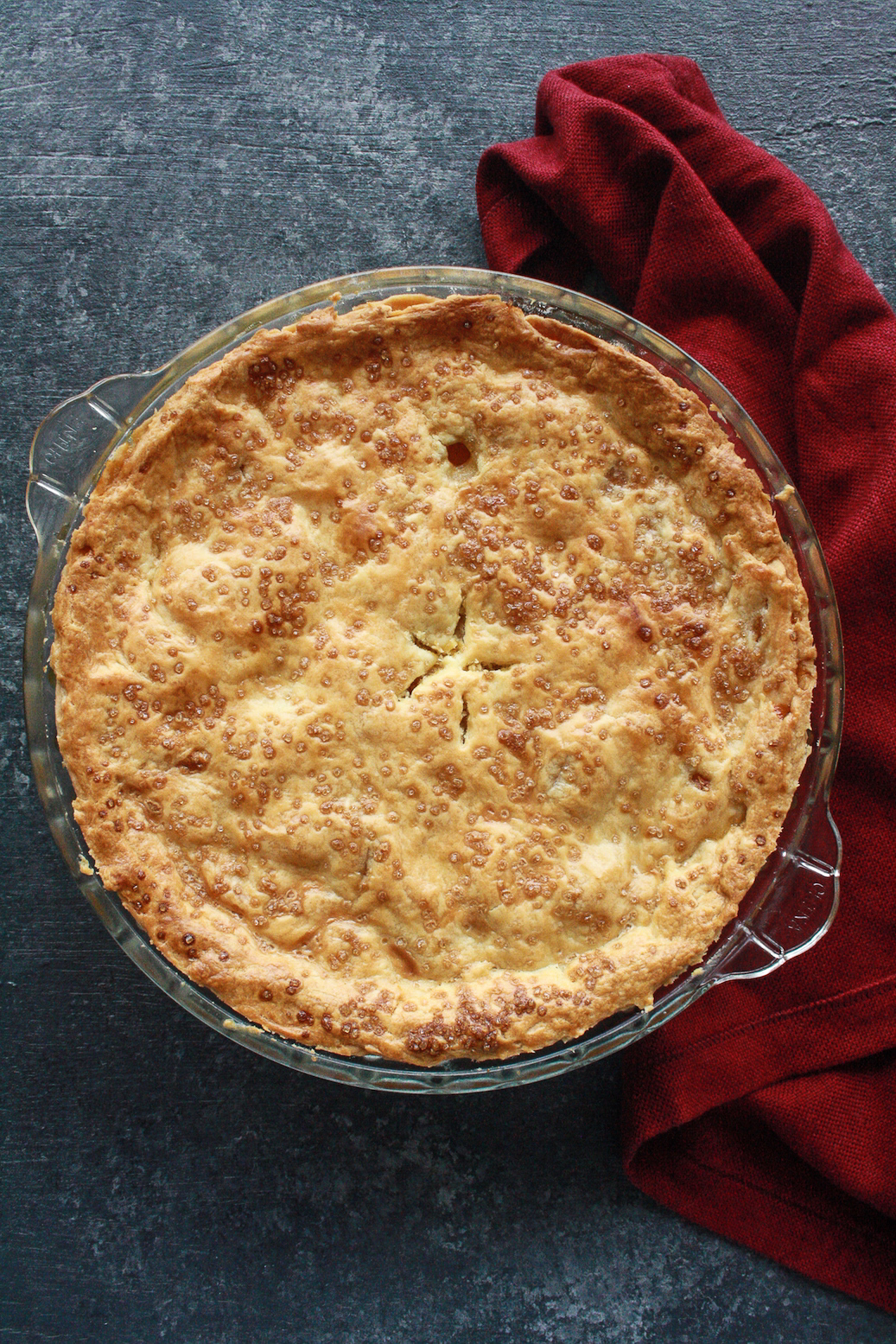 The day I made this, the fridge stopped working (again) and so the dough was much harder to work with, but you know what, if you can deal with warm dough, you can deal with pretty much anything. Let's doooo this! As with any pie crust, this one needs cold, cold, cold ingredients and a bit of patience if you're working in a warm kitchen. But the whole process is straightforward and actually doesn't take that long. If you're new to pie-making, or wind up with 'rustic' pie crusts, just use leftover scraps of dough to patch things up. It doesn't matter if it's not super perfect, there's a mountain of peaches covering everything 😀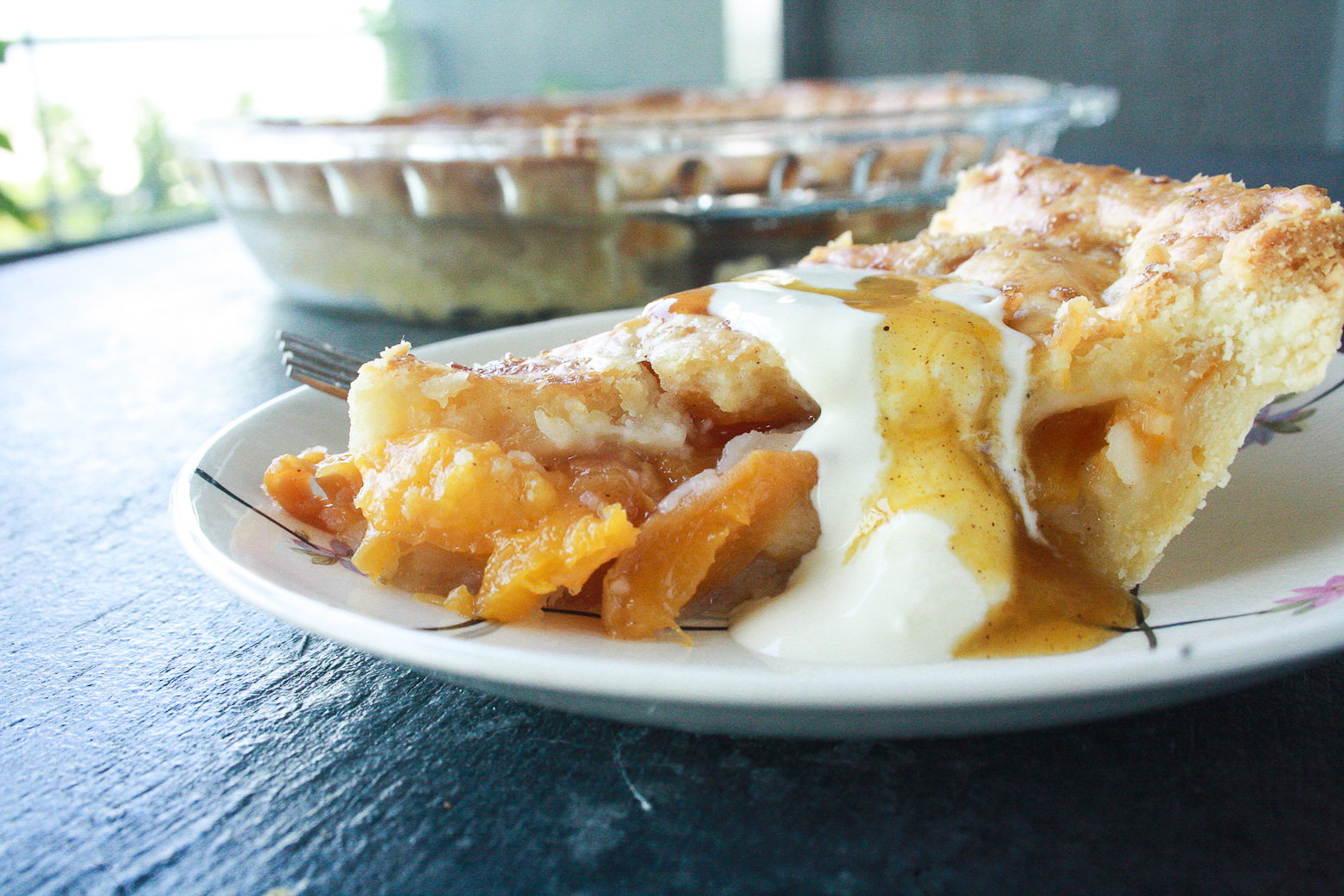 The one thing to remember is to start off with less water and add more as needed, otherwise you'll need more flour to compensate and that gets a little messy. In humid environments, you'll need less moisture in the dough. It also helps to have a silicone mat to roll the dough out on, so that if it sticks, it's easier to lift.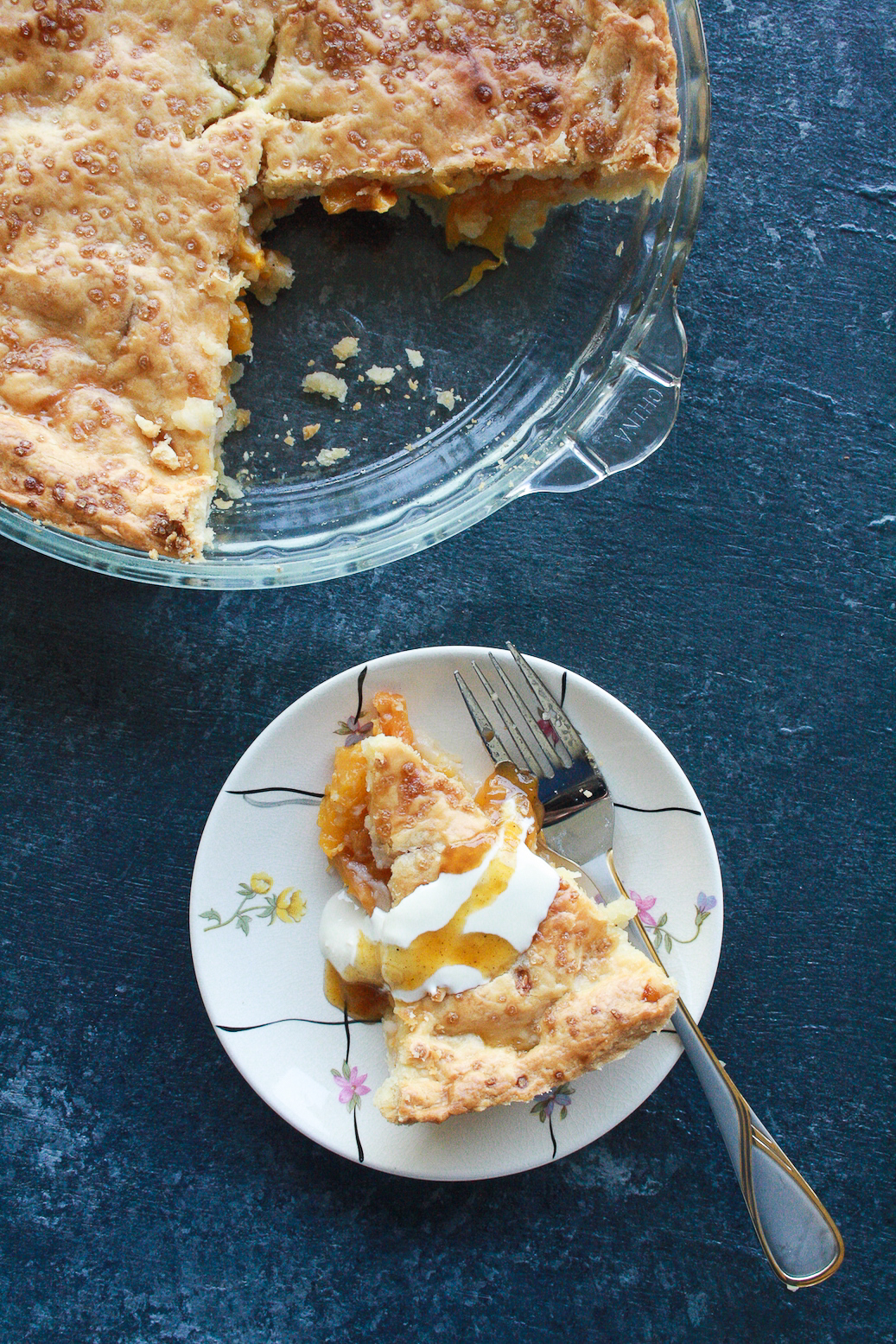 Ok now let's talk peaches!! Fresh, sweet, juicy peaches. Once the peaches are mixed up with the sugar, they will release A LOT of liquid and that needs to be left behind or your pie will be a soggy mess. But it doesn't go waste. The peach mixture has a little bit of cornflour in it, which seeps into the liquid. So when you heat it up, it turns into a thick, sticky glaze that is absolutely amazing drizzled on to each piece with some fresh cream or vanilla ice cream. Yum.
The buttery crust, super flakey even after my fridge disaster and soft, peachy peaches. The combination is unbelievable!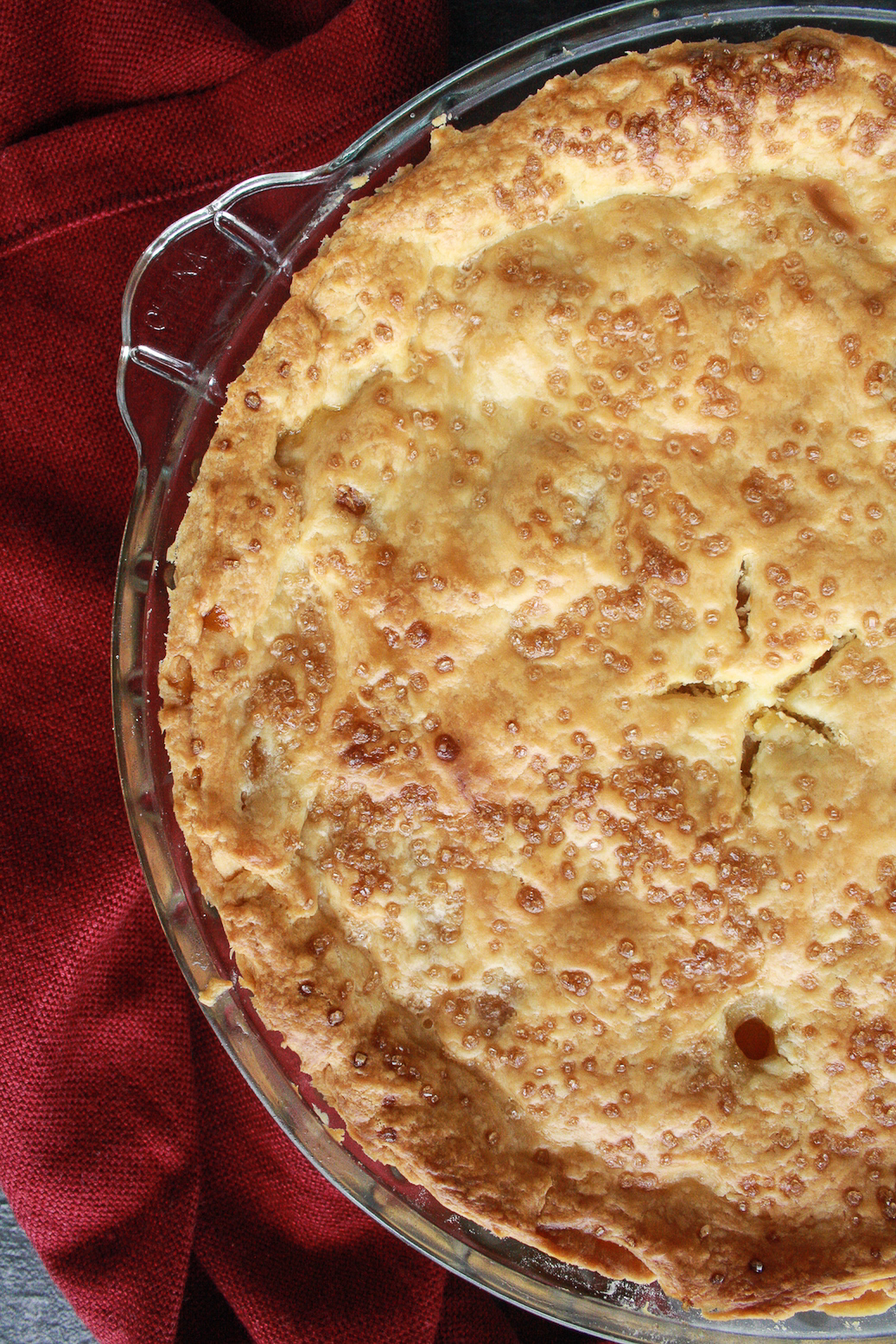 The pie firms up as it cools, and in fact, tastes better on day two, straight from the fridge. By then, it's had a chance to set, so it's easier to cut and the peach pieces aren't as 'oozy' (sorry). The photos you see here were taken while the pie was still a little warm but by the next day, the slices were neat and stable. Worth the wait.
Also, this pie is a little 'damp'. Two reasons. One, peaches are just inherently super juicy and even if you avoid too much liquid in the filling, they're going to release some juice in the oven. Two, I don't use a lot of thickener because it can leave a chalky aftertaste. So just a little works for me, and since most it gets left behind in the liquid, the peach pieces go a little crazy. So baking the pie for longer is the key to firming up the bottom crust. By all means add some more thickener, but personally, I loved it natural!

Double Crusted Peach Pie
Juicy peaches inside a buttery, flaky pie crust made from-scratch!
Author:
The Desserted Girl
Ingredients
For the pie crust
2 and ½ cups all-purpose flour*
2 tbsps caster sugar
½ tsp salt, if using unsalted butter
1 cup cold butter, cubed (230 gms)
½ cup ice water
Extra flour for sprinkling
Cream and brown sugar for the crust, optional

For the filling
12 to 14 small peaches, firm but ripe
3 to 4 tbsps caster sugar, depending on sweetness of peaches
½ tsp cinnamon powder
1 tsp cornflour*
Instructions
To make the crust, combine the flour, sugar and salt, if using, in a large bowl.

Using your fingertips, rub the cold butter cubes into the flour till the mixture resembles coarse breadcrumbs with a few larger bits of butter scattered through. These bits are what create a flaky dough.

Add ⅓ cup of the ice water and bring the dough together with a silicone spatula. Then get your hands into the bowl and knead it very gently into a soft ball. If needed, add the remaining ice water, one tablespoon at a time, till you have a dough that isn't crumbly, but not too wet either. If you feel you added too much water, sprinkle on a little more flour.

Form the dough into a ball, and divide into two parts, one slightly larger than the other because the bottom crust will need to be bigger. Place each piece on a large piece of clingfilm and pat into a ¾th inch thick disc. Wrap tightly and refrigerate for 2 hours. This dough can be chilled or frozen longer, as long as it's thawed before rolling.

When ready to roll, flour your counter or preferably, flour a silicone mat. I like using a mat because it doesn't move around and prevents sticking of the dough.

Unwrap the larger portion of the dough and let it sit at room temperature for a few minutes. Keep a 9" pie dish ready.

Sprinkle a bit of flour on the dough ball, pat it into a disc, and roll it out into large circle, about two inches bigger than the pie dish. Some bits of butter might stick to things and annoy you, but power through, flouring as you go. As much as possible, lift and turn the dough to prevent sticking and to make sure its rolled out evenly.

Now fold the rolled dough in half, then in half over itself, so you have a quarter shape. Lift this up, place it in a 9" pie dish and unfold it to cover the base and sides. Move it around gently as needed to cover the whole dish. Trim off the excess and use it to patch up any torn bits or thinner parts. Remember that the peaches and their juices will be held together by the base, so that's the most important portion to patch up. Don't stress too much about how it looks, it should feel sturdy.

Transfer the pie dish back to the fridge. Doing this keeps the crust as cold as possible while you make the filling.

Slice the peaches in half vertically, twist and pull apart. Prise out the stone and slice the fruit, not thin enough that it turns to mush, but not too thick either. Add the pieces to a large bowl then top with the sugar and cinnamon. Sprinkle on the cornflour. Mix well, cover and set aside.

Preheat the oven to 190 C.

Now unwrap the second portion of the dough and roll it out the same way as you did earlier. This will be your top crust.

Take the chilled pie dish with the bottom crust out of the fridge, and using a fork or slotted spoon, lift out the peaches from the bowl, making sure you leave the liquid behind (don't throw it away!). Spoon the peaches into the pie dish, spreading them evenly.

Now fold the top crust in half, then in half over itself, so you have a quarter shape. Lift this up, place on top of the peaches, unfold and press the edges together to seal both crusts.

In the center of the pie, cut slits to act as steam vents. Mix 2 tsps cream with a splash of water, and brush it all over the crust for a nice golden-brown colour. Sprinkle on a little brown sugar for extra crunch. If you feel the pie has warmed up in this time, stick it back in the fridge for ten minutes.

Bake the pie for 30 to 40 minutes until the top is golden-brown and you can either see or hear the filling bubbling a little under the slits.

Cover the pie with foil and continue to bake for 20 to 25 minutes. This gives the filling time to thicken, and the bottom crust to cook well, so it's not soggy. Remember that the center, where the peaches are, will remain a little damp.

Let the pie cool at room temperature for at least two hours before slicing. Preferably, let it rest overnight in the fridge, for neater slices and a thicker filling.

And finally, pour the reserved liquid from the peaches (see step 13) into a small saucepan and heat on low until it boils and thickens into a sauce. There's cornflour in it, so this will only take a few minutes. Let the sauce cool, then store in the fridge until ready to serve.

Serve slightly warmed up with fresh cream or vanilla ice cream, drizzled with the peach sauce!
Notes
*Make sure you're always measuring your flour with the 'spoon and level' method: fluff up the flour with a spoon in the container itself, then scoop and lightly fill the measuring cup up to the top without shaking or tapping the cup, then using the back of a knife, scrape the top of the cup to remove any excess flour. Repeat for as many cups as the recipe calls for.

*The cornflour helps thicken the filling, but because you will not add all of the liquid that the peaches release, a lot of the thickener gets left behind. If you're concerned about a wet filling, you can use 2 tsps of cornflour. Too much thickener could leave behind a chalky taste.