Yes, I know this doesn't look 'fizzy', I promise I added soda. It just decided to disappear by the time I was done figuring out how I wanted the photos to turn out. There are not enough bubbles in the world.
I also promise, that this is one amazing, super summery drink. (Even without wine).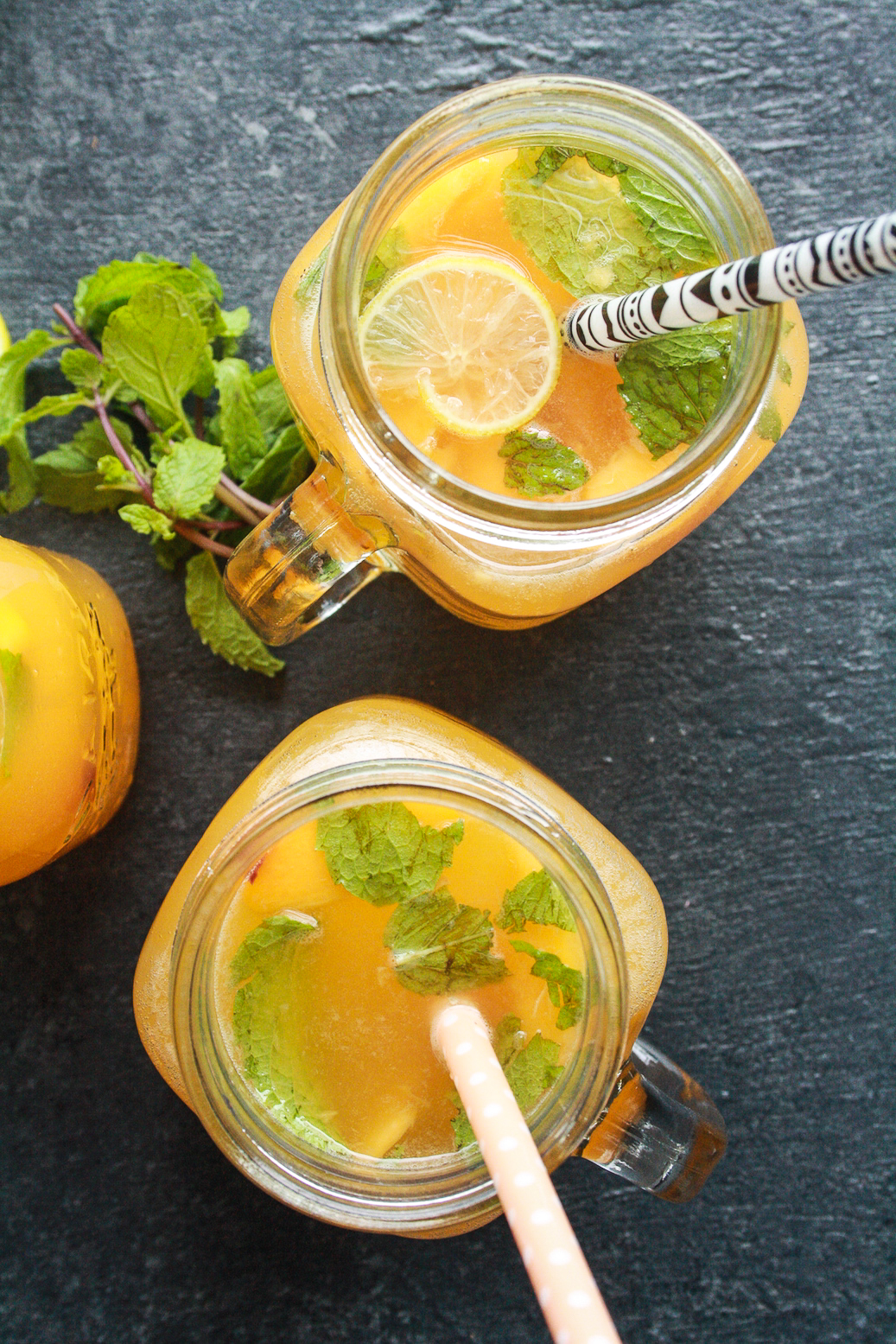 You guys, it turns out that if you put a little effort into making peach mush (yum), you can up your lemonade game by a million times. No wonder I've never been a big fan of just lemonade. I knew it needed peaches, and I just hadn't done it yet.
Plus, this is naturally sweetened with honey and for a little extra zing, there's fresh mint in there. Grab a glass!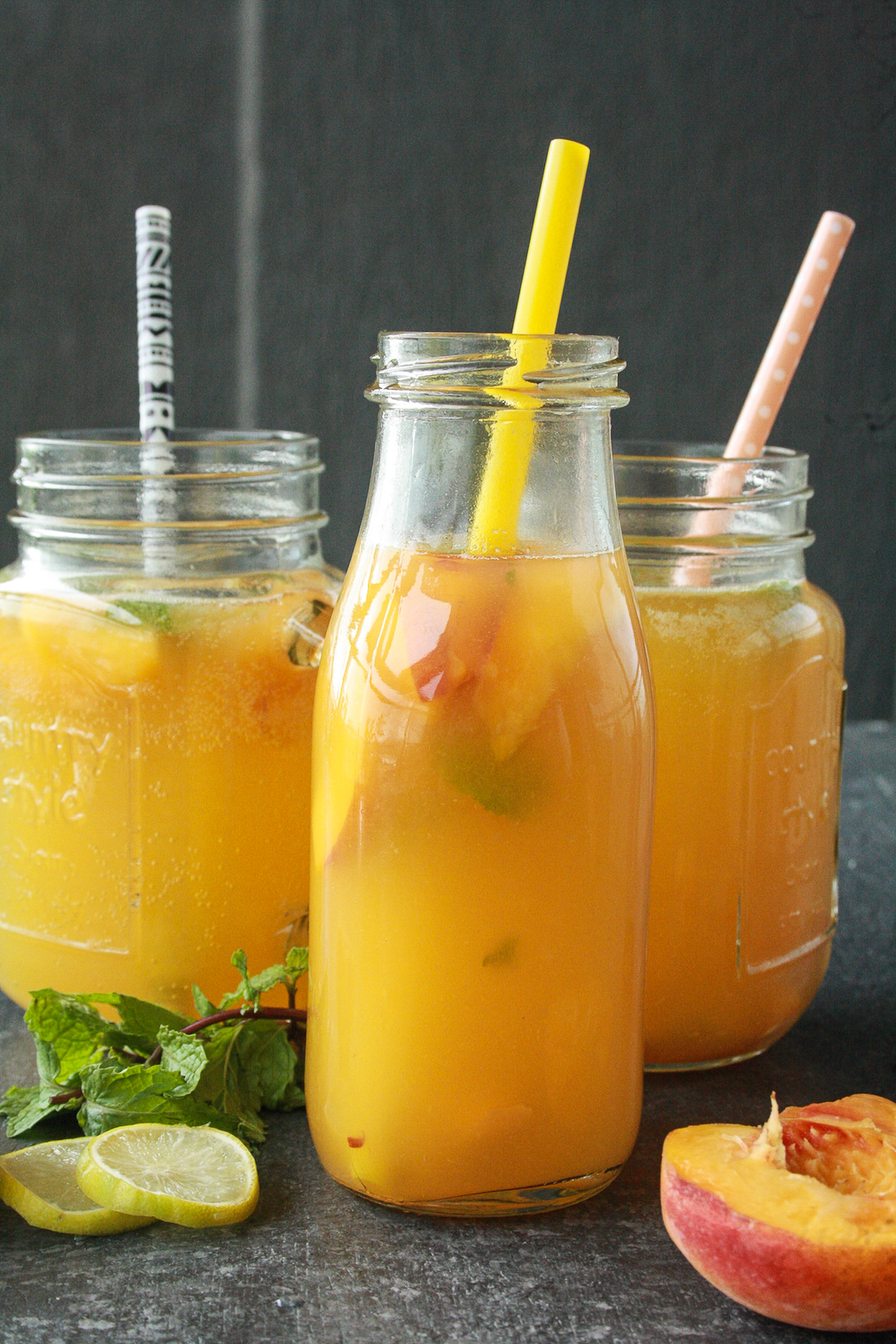 This is of course a slightly more involved lemonade, but it's totally worth it. Most of it is just sitting around waiting for things to get cold honestly. Use that time to do some fun garnishes and dig out the funnest glasses and straws you have.
Feel free to swap the honey with maple syrup or even sugar if you like. I think some fresh berries in here would also be great, like a non-alcoholic sangria if I may. Yum.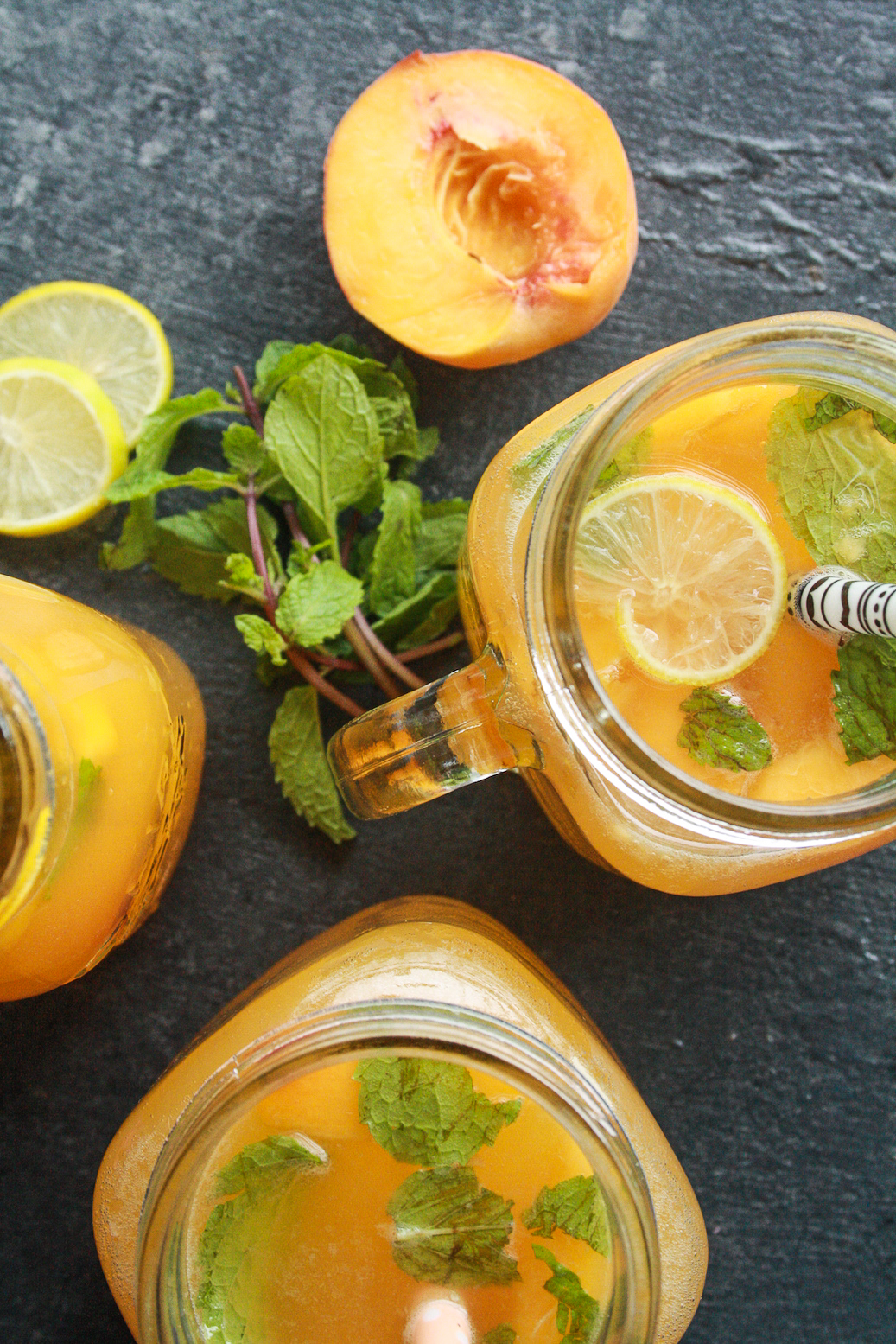 I've added a little more water and a little less ice, because to me the peach puree looked a little thick. But you can adjust the water quantities as you like honestly. Straining the puree is important, and do it multiple times if you have to, so that it's nice and smooth. Other than that, there's really nothing here to distract you from wanting to make it.
Serve super chilled obviously, and it's sweet and sour and fruity and minty all at once. Seriously, all that's missing is suntan solution (on you, not in the lemonade). Happy summer drinking!

Fizzy Peach Lemonade
Refreshing lemonade made with fresh peaches and honey!
Author:
The Desserted Girl
Ingredients
4 small peaches
2 cups water plus more as needed
¼ cup honey
3 small lemons
A few fresh mint leaves
Ice, as needed
¾ cup chilled soda, plus more as needed
To garnish: thinly sliced peaches and lemons plus more mint leaves
Instructions
Rinse the peaches thoroughly. Slice them in half vertically, remove the pits and chop into large pieces. You should have about 1 cup of chopped peaches.

In a small saucepan, combine the peaches, water and honey. Stir and set on medium heat for about 5 minutes till the mixture begins to boil and the peaches start to soften. Lower the heat and simmer for another 5 minutes.

Set aside to cool completely, then transfer to the fridge and chill the peach mixture for an hour.

Drain the peach mixture, reserving the peach liquid and keeping it chilled. In a blender, blitz the cooked peaches into a smooth puree.

Strain the puree through a fine mesh sieve, two or three times if you need to, till there are no fibres or lumps in it.

Tip this puree into the peach liquid and stir, sieving one more time if needed. Slice the lemons and add the juice in, tasting as you go so that it doesn't become too sour.

Now add about 1 cup more water, diluting it to your desired preference. Add in a couple of large ice cubes (I don't add too many since there's already extra water, but feel free to do so). Chop up the mint leaves and add them in. Chill for about 1 hour, then pour into glasses. Add more thinly sliced peaches and lemons, more mint leaves. Top with the soda and serve immediately!