I'm in so much trouble. So so much trouble. There is a cake the size of a PLANET sitting in my fridge and I just want to dive into it headfirst and somehow must tell myself it's a bad idea.
But butter is good for the heart, right? Right. You guys, this is easily one of the most indulgent, most giant, most delicious things I've made yet. There's copious amounts of butter and sugar and cream cheese. All stuff that's guaranteed to make a good cake. But then I added freshly sliced mangoes, and that did it. My world will never be the same again. Neither will yours.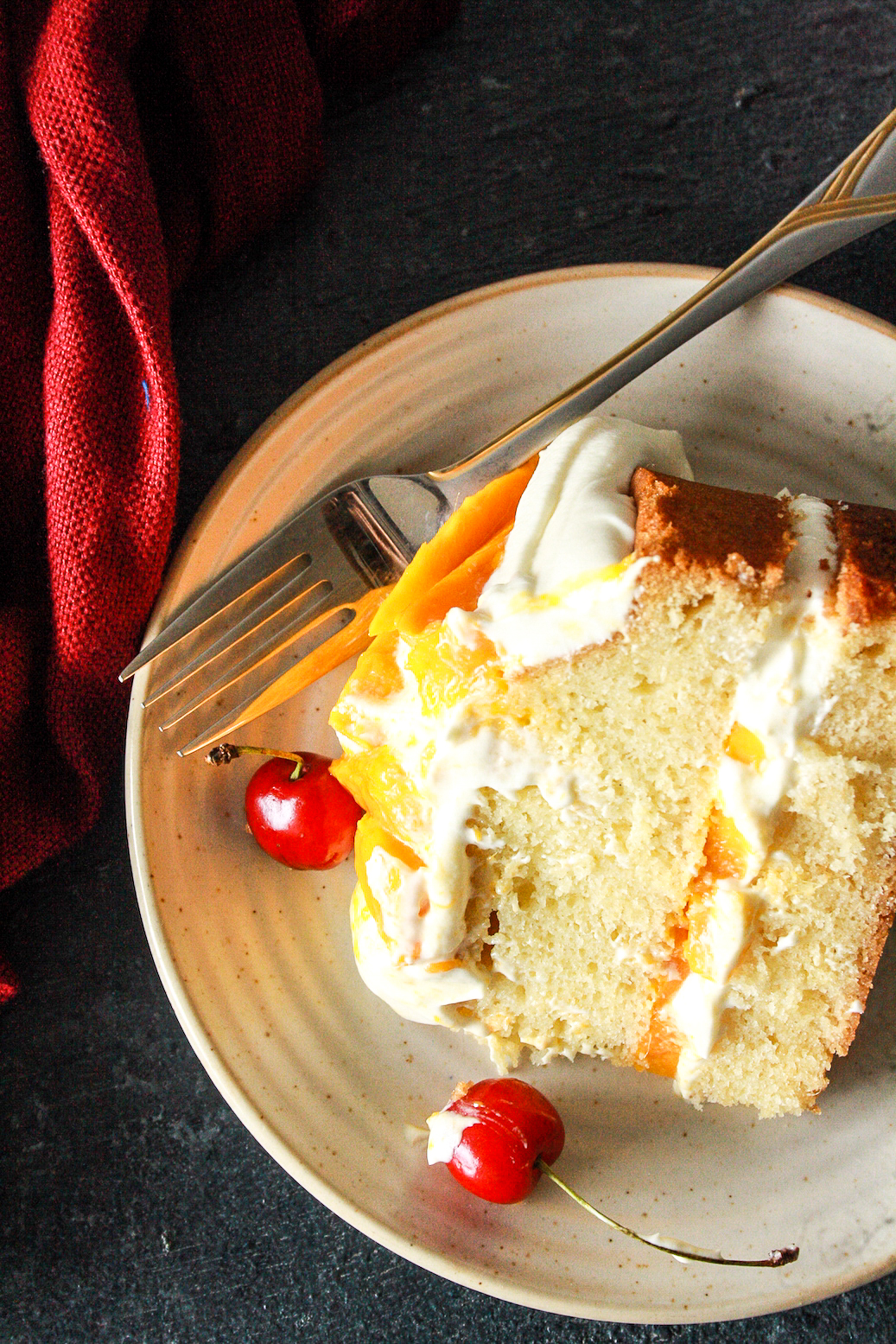 A couple of weeks ago, I made this plum cake, without the plums, and was amazed that I'd forgotten just how good that cake was. Classic, buttery, tender, fluffy. It tastes so much like the one you get at Irani bakeries, and I've no idea how that miracle happened but it did. As good as it is by itself, I decided to top it with whipped cream cheese and mangoes for a party and the combination was so explosively good, I decided to make a layer cake at some point before this glorious fruit disappears. Here you go!
The beauty of that cake recipe is it can be scaled up or down as you like. It doesn't rise very much because all of that butter weighs it down, and that makes it a great surface to frost. This particular version is three times the original recipe (for a taller cake) with adjustments to butter and sugar. This is a gigantic cake and I couldn't get through more than half a slice, so definitely don't make the mistake I did and be stuck alone in a room with it!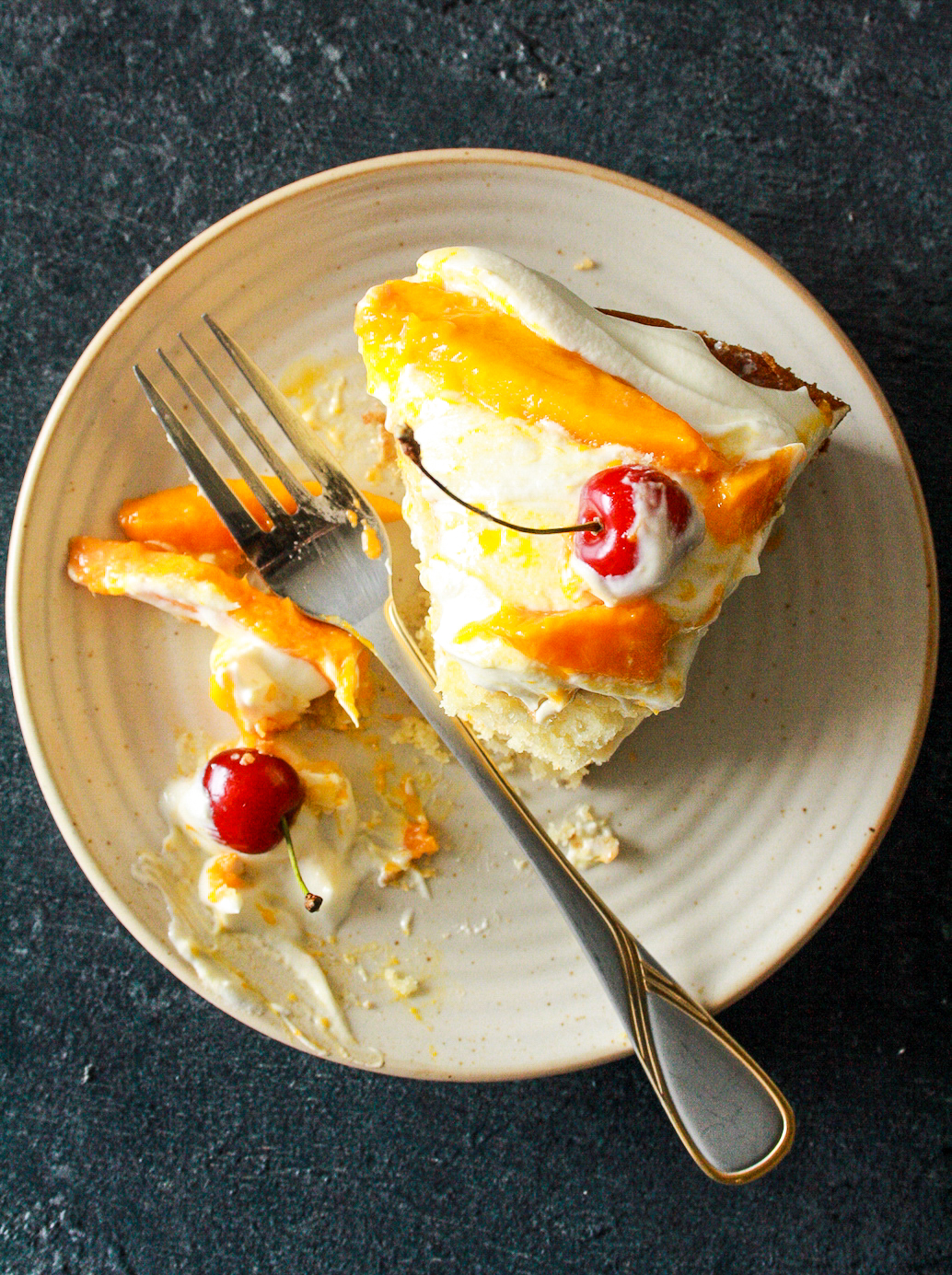 As always, my frosting is under-sweetened and less buttery than the usual. I think the cake needs to shine through and honestly, there's quite enough sweetness and fat going on. Plus there's mangoes! Who needs extra sugar, right? But feel free to add more if you like. The reason I don't have a fixed frosting recipe is that I change the proportions around depending on what it is that I'm frosting. Cloyingly sweet, extra greasy frostings are my worst nightmare.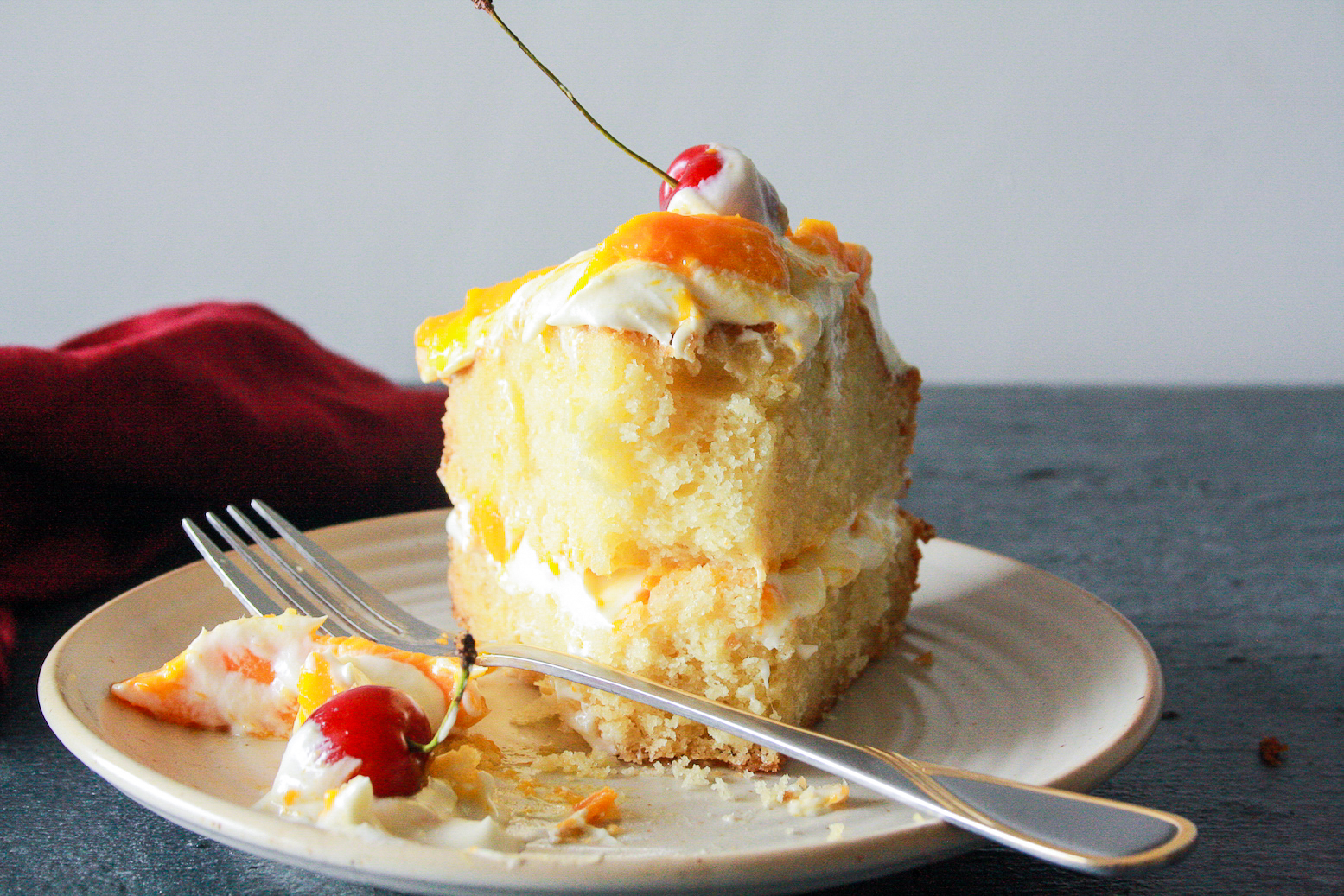 This is not a cake that results in dainty little pieces, in case that's what you were going for. The only way to eat it, is in giant slices that will make a big mess of frosting and mango juice in your plate, and then you use that soft cake to soak it all up. It's completely inelegant and completely divine.
Every flavour works together beautifully and the whole thing is sweet and tangy and buttery and fruity all at once.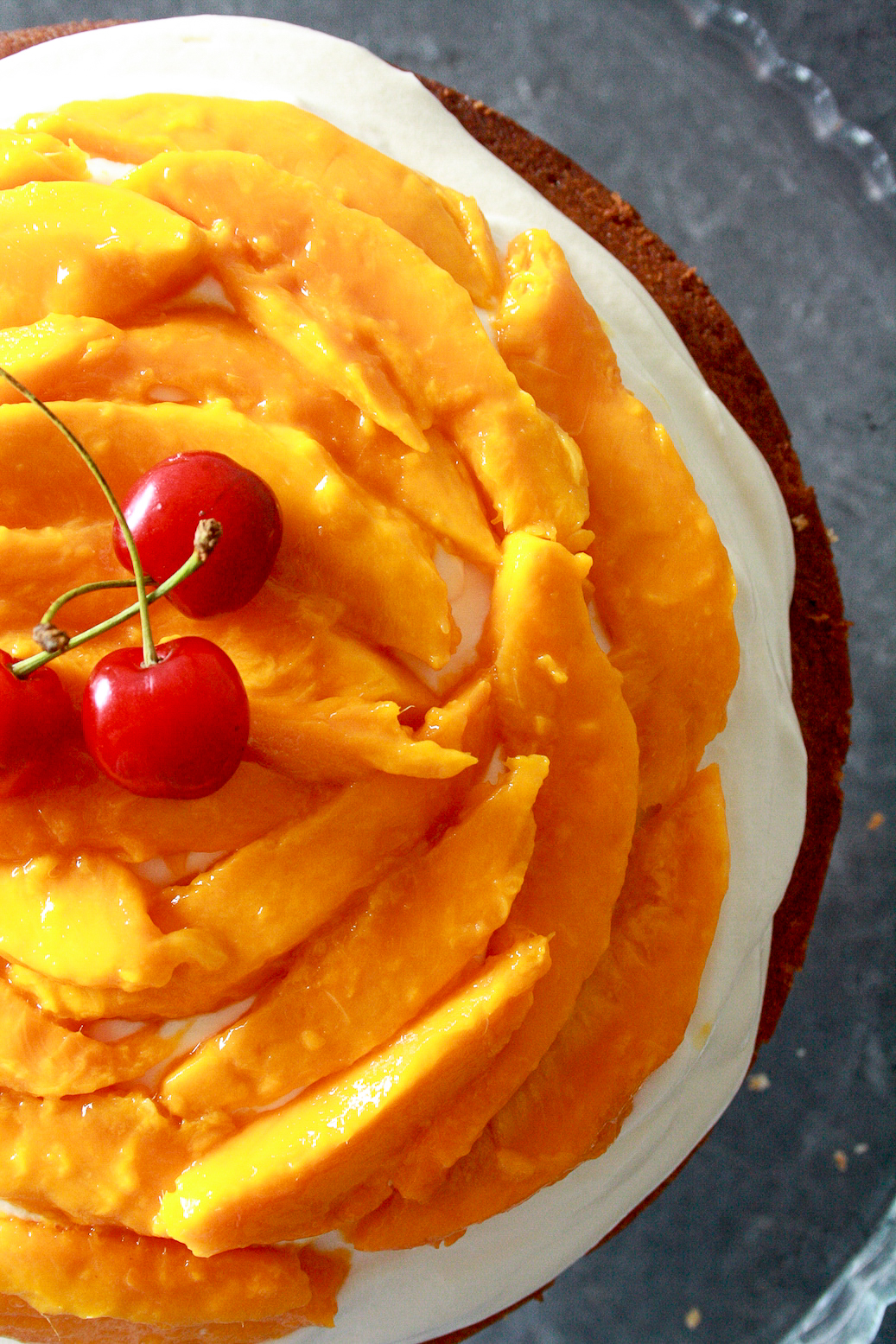 But this is not something you make on a whim. It takes time, because the cake takes over an hour to bake, then it must cool completely, preferably overnight, then ideally chill it so it firms up before slicing and frosting, and then of course let the whole thing sit for a bit before you dive in. It's worth it though. And it's actually fairly straightforward to make, a little patience is all you need. Let's bake!
For an eggless version of this cake, check out this recipe. You will need to at least double, if not triple the quantities for the cake batter.

Mango Layer Cake with Cream Cheese Frosting
A classic, buttery, tender cake layered with tangy cream cheese frosting and lots of fresh mangoes!
Author:
The Desserted Girl
Ingredients
For the cake
3 cups all-purpose flour
3 tsps baking powder
½ tsp salt, if using unsalted butter
1 and ½ cups caster sugar
1 and 1 / 3 cups butter at room temp (300 gms)
6 eggs
2 tsps vanilla extract

For the frosting
400 gms cream cheese, at room temp (about 2 cups)
¼ cup butter, at room temp
¼ cup icing sugar
4 medium mangoes, chilled
Instructions
Preheat the oven to 175 C. Grease an 8" springform pan and set aside.

Sift the flour and baking powder in a large bowl. Mix in the salt if using, then set aside.

Cream the butter and sugar till pale and fluffy, preferably using a hand mixer or stand mixer. Make sure you're using a large mixing bowl.

Add the eggs and vanilla beat well till combined.

Fold in the flour mixture, and beat until smooth and combined. Spoon the batter into the prepared tin and smooth it out. The batter is thick but spreadable.

Bake for 30 mins, then check to see if the top is browning too fast. If so, cover with aluminium foil and continue to bake for another 30 to 45 mins. A toothpick poked in the center must come out clean. Baking times will vary for this cake because it is a large, buttery batter, so keep a close watch on it because it could get done slower or faster than mine did.

Let the cake cool completely at room temperature, the place in the fridge for a couple of hours to firm up. This make it easier to slice and frost.

Peel the chilled mangoes (chilling keeps them firm) and slice as thinly as you can. Keep chilled while you make the frosting.

To make the frosting, beat the cream cheese, butter and sugar till smooth and fluffy. If you'd like it to be more buttery, or sweeter, you can adjust the quantities. Keep the frosting chilled while you slice the cake.

Unmould the cake, and using a sharp, long knife, slice it in half horizontally, turning it with your hands as you go, so that the cut is even. If the top is a little domed, don't worry about it, it makes a good platform for the mangoes! Use a metal spatula to lift the top off and set it aside on a large tray or plate. Transfer the lower half to a serving platter.

Spoon about one-third of the frosting onto the lower half, spreading it evenly, taking care not to let it touch the edge or it'll spill over when you place the top half on it. Arrange the mangoes in concentric circles. They might bleed some of their juices out onto the frosting, it's absolutely ok.

Now gently place the top half on the mangoes and press down lightly to help push the frosting to the edges. Spoon the remaining frosting on top of the cake, smoothen it out and repeat the mango arrangement. Cherries make a fun garnish!

Chill the ready cake for about 30 minutes. Then use your sharpest knife and slice it into big wedges. Eat and take a nap immediately!
Notes
*While this cake doesn't rise enough to spill out of the pan, it could develop a dome, so make sure your pan is at least 3 inches high. If you're concerned about the size of the cake, you can scale down the recipe by ⅓rd or ⅔rd. Even a smaller cake will take 30 to 45 minutes to get done.

*The cake and frosting can be made a day before, but add the mangoes only when you're planning to serve it. The finished cake is best eaten on the day you assemble it, so that the mangoes are fresh.