When I made these double chocolate cookies, I thought making an eggless version of them was going to require a loooot of work. But it only took about 30 minutes through a haze of the strangest stomach flu. And if cookies can be made while you're sick, they can be made any time.
These little guys are chewy, buttery and gluten-free. They even have some yoghurt and honey in there if you're trying to be a responsible adult.
All I did was swap the wholewheat flour in these cookies with buckwheat and voila. All done. I used rolled oats, not instant, but either will work just fine. The whole thing comes together in 15 minutes and in half an hour, you're munching warm, gooey cookies.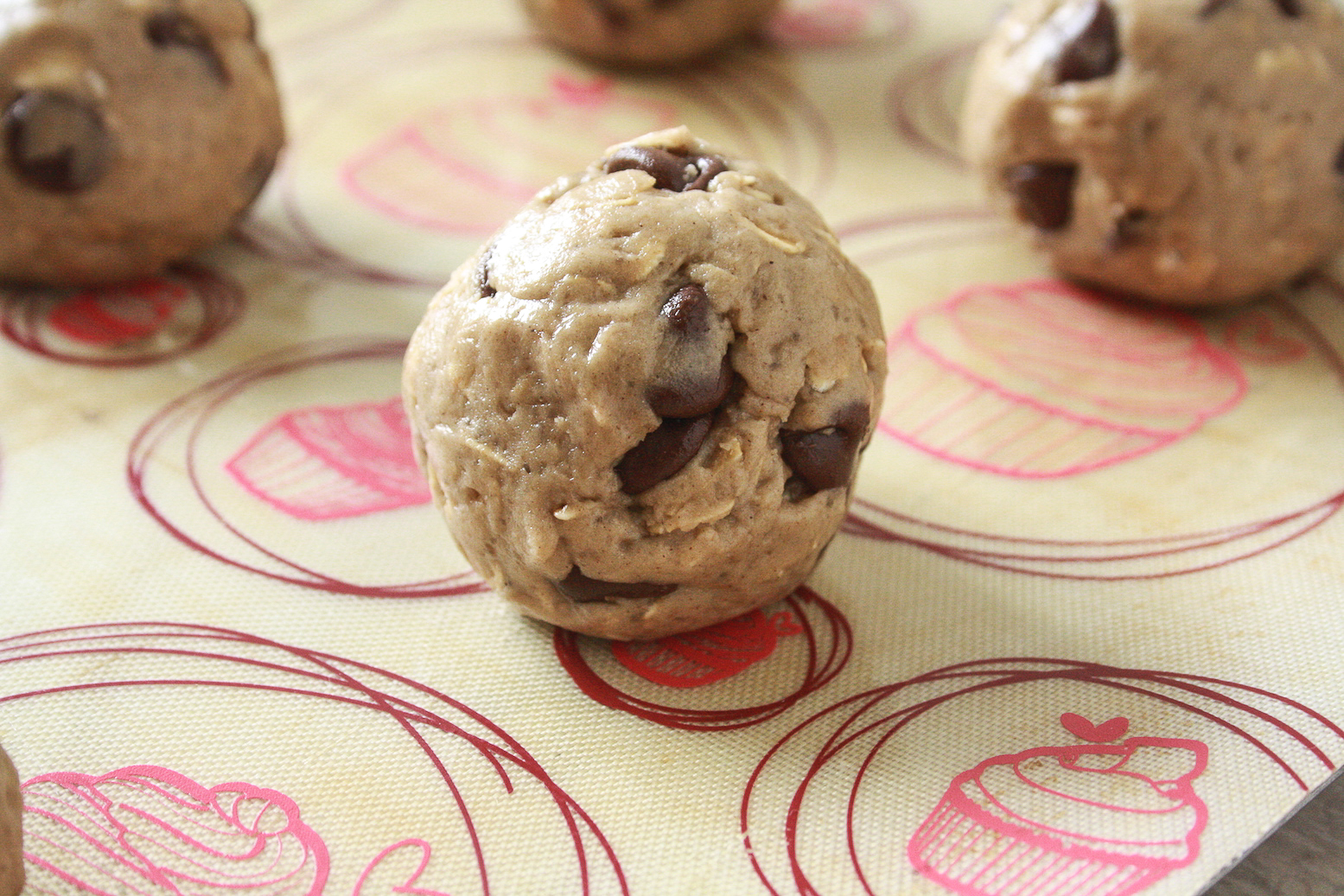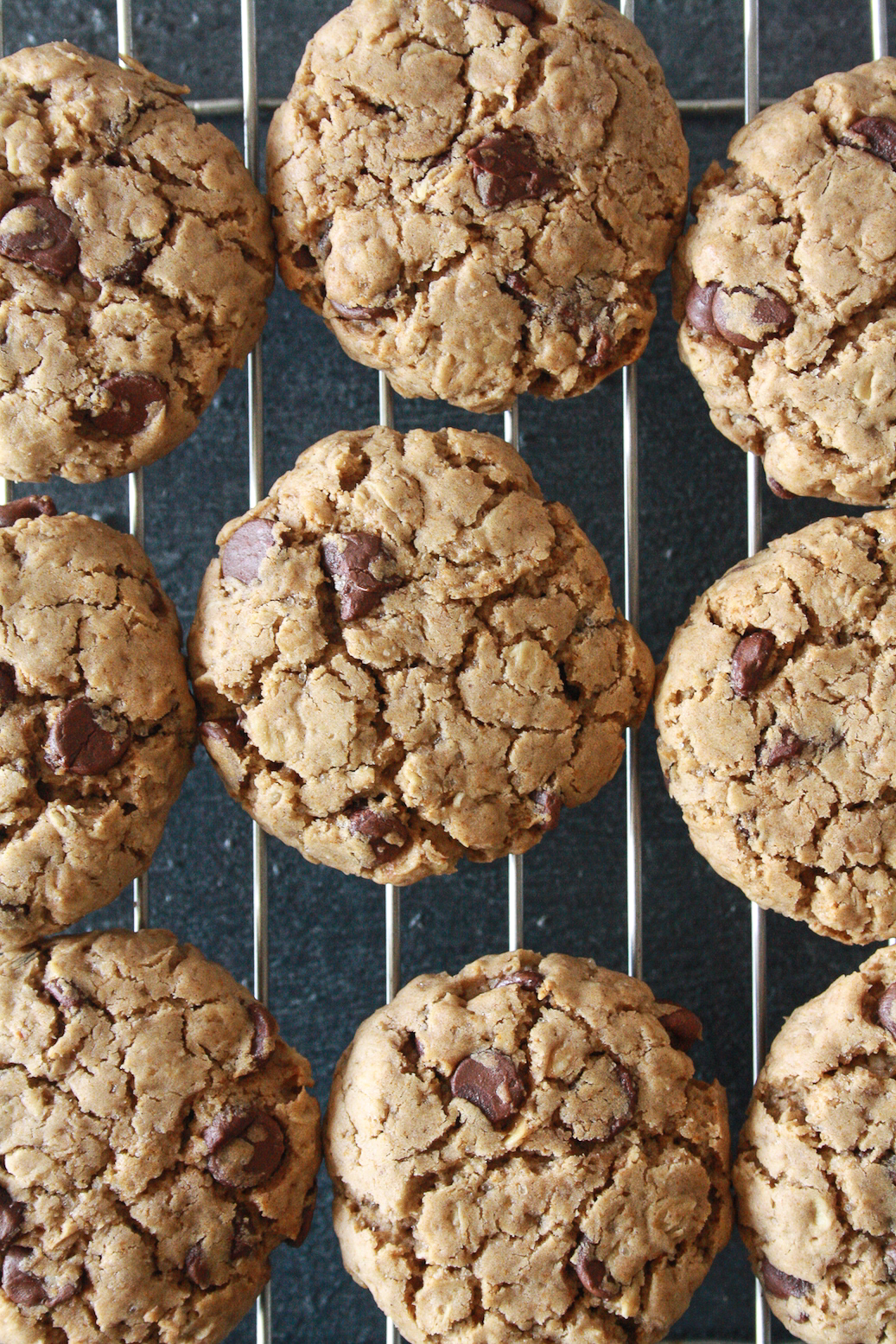 The buckwheat flour gives these cookies a slightly nutty flavour, but otherwise they're indistinguishable from regular flour cookies. I found that because of the extreme humidity in the air, they softened very rapidly after coming out of the oven. Brown sugar contributes to the moisture, so if this is something that concerns you, use white sugar. The cookies will be lighter and a little less molasses-y, but still delicious!
Also can I just say, I'm pretty kicked about having been able to shoot this one-handed, without any shaky camera things going on!
They make a great change from the more sinful variety and if you're making them especially for gluten-free eaters, you'll have a whole load of new friends 🙂 The dough remains a little wetter and greasier than a normal dough, possibly because buckwheat doesn't absorb liquids as fast, but the cookies baked up just fine. They are also a little crumblier, but not enough to require a thickening agent or anything of the sort.
Basically, grab a cup of coffee and go make these!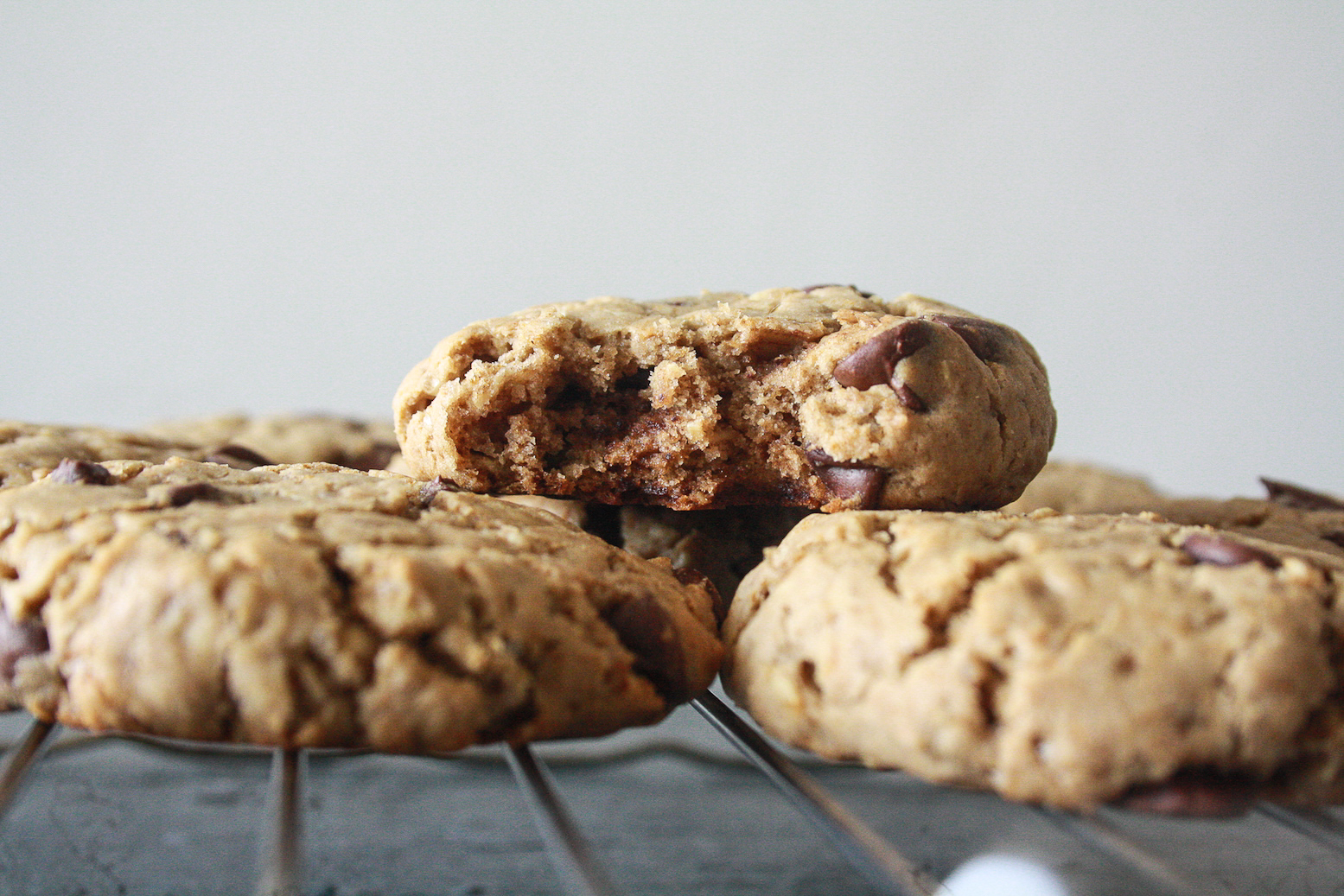 Buckwheat Chocolate Chip Cookies (Eggless & Gluten-Free)
Soft and chewy chocolate chip cookies made with buckwheat flour!
Author:
The Desserted Girl
Cuisine:
Gluten-Free, Eggless
Ingredients
1 cup buckwheat flour
½ cup rolled oats*
½ tsp baking soda
¼ tsp cinnamon
½ tsp salt (omit if using salted butter)
¼ cup yogurt
¼ cup butter at room temp
1 tsp vanilla extract
2 tbsps honey
¼ cup brown sugar*
½ cup chocolate chips
Instructions
Preheat the oven to 175 C and lightly grease a baking tray or line with a silicone mat.

In a mixing bowl, combine the flour, oats, baking soda, cinnamon and salt, if using. Mix well and set aside.

In a smaller bowl, combine the yogurt, butter, vanilla, honey and sugar. Mix well with a spoon until combined. The mixture might appear slightly curdled, but don't worry.

Make a well in the center of the flour mixture, pour the wet ingredients in and fold till you have a slightly wet, sticky dough. Do not over-mix.

Fold in the chocolate chips. Roll the dough into 9 equal sized rounds and place an inch apart on the baking tray.

These cookies do not spread much, so flatten then before putting them in the oven. Bake for 12 to 15 minutes until the edges are lightly browned. If they still remain puffy, flatten them further halfway through baking.

Allow the cookies to cool slightly, then place on a wire-rack to cool completely and firm up. They may soften a little, but will still taste great. Happy eating!
Notes
*Rolled oats provide more texture, but instant oats work just as well. They absorb more moisture so your dough will be a little drier, but that's about it.

*Brown sugar adds moisture to the dough, so if you'd like cookies that don't soften soon, try using white sugar. If stored at room temperature, they may still soften depending on how warm it is where you live.