It's almost the weeeeeekend! And all good weekends begin with cake. In my world, all good days begin (and end) with cake but I'm not sure you've reached my level of crazy yet. You probably shouldn't?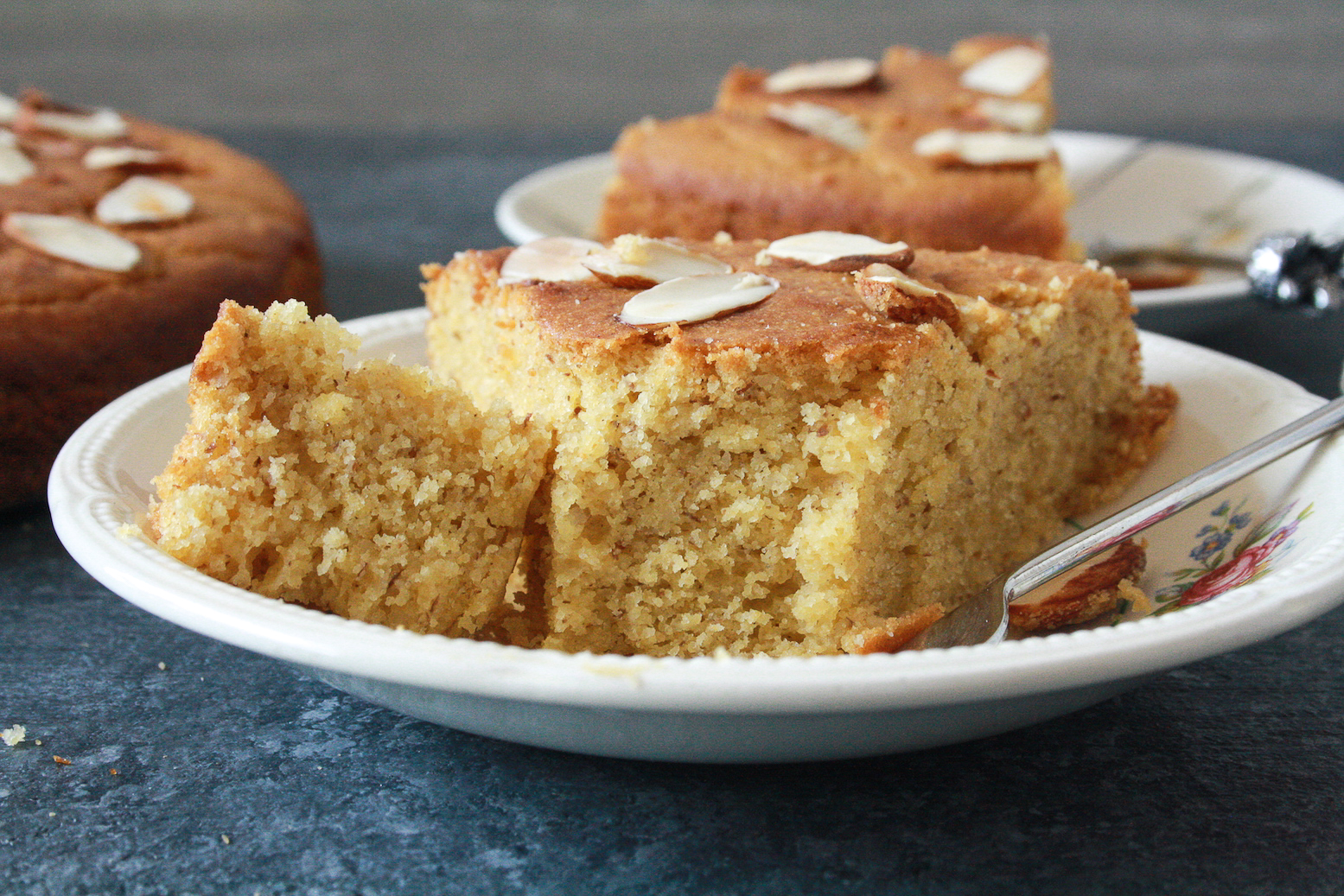 Anyway, this particular cake was inspired by one I ate over the Easter weekend at Bodega in Panjim. I blabbed extensively about the cafe on Instagram because those Turkish poached eggs alone were enough to drive anyone nuts. We ended the meal with an almond polenta cake which was amazingly tender, so flavourful and so unique. I had to recreate it. And I'm pleased to report, this is remarkably like the original.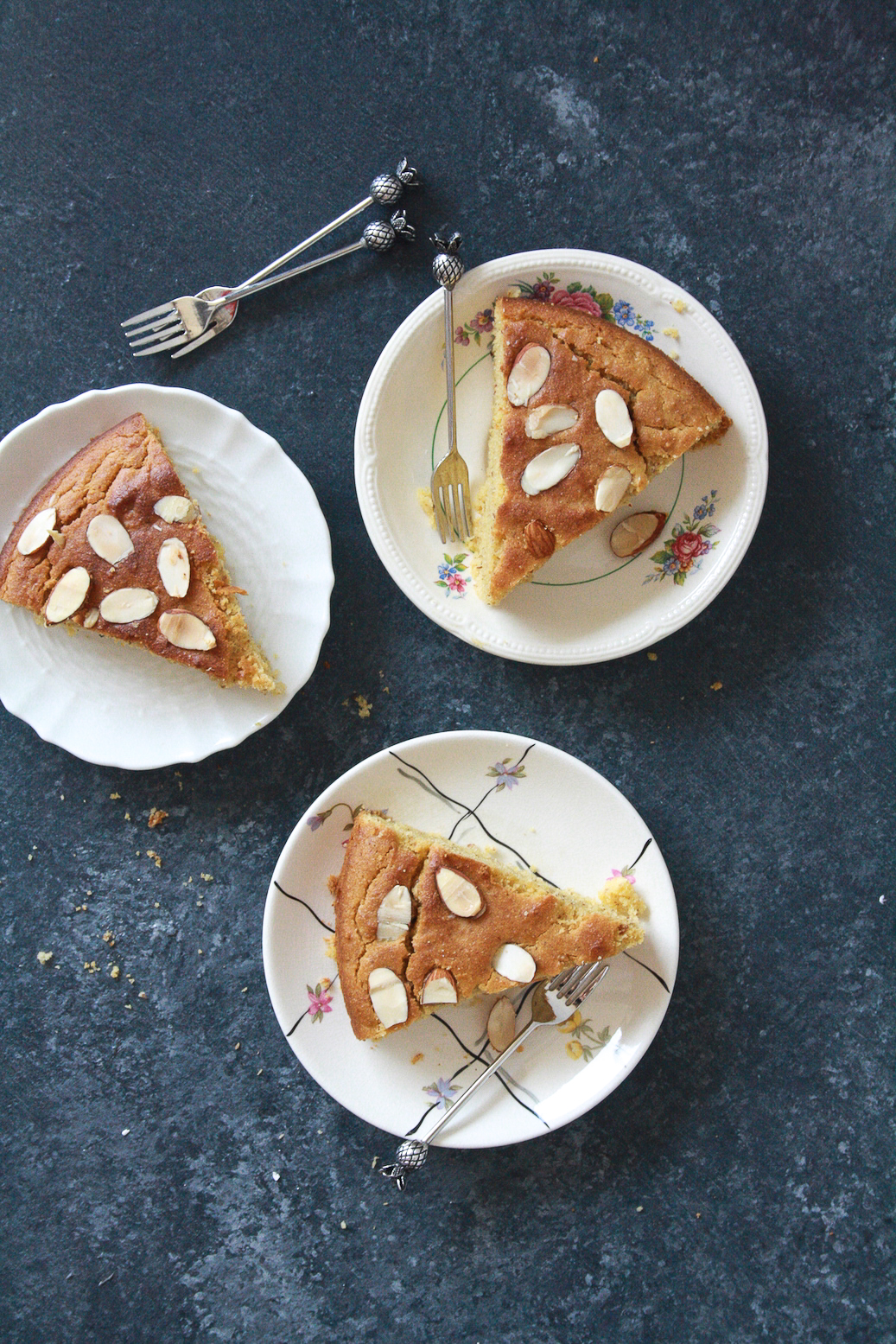 Since polenta is the kind of ingredient I would have to take a loan for, I went with regular, affordable makai atta, or corn flour. Not the same as cornflour, the thickening agent, because a cake made of that would be…odd. To avoid confusion, I've used the word cornmeal in the recipe though there are differences in texture between polenta, corn flour and cornmeal, basically in the level of coarseness. (Polenta is in fact a dish made of cornmeal, not a flour in itself) If you use makai atta, it is super fine and a little stronger in flavour, but it works just as well as the other two. Case in point, this cornbread which was so good!
Basically, if you're in India and trying this recipe, cornmeal = corn flour = makai atta.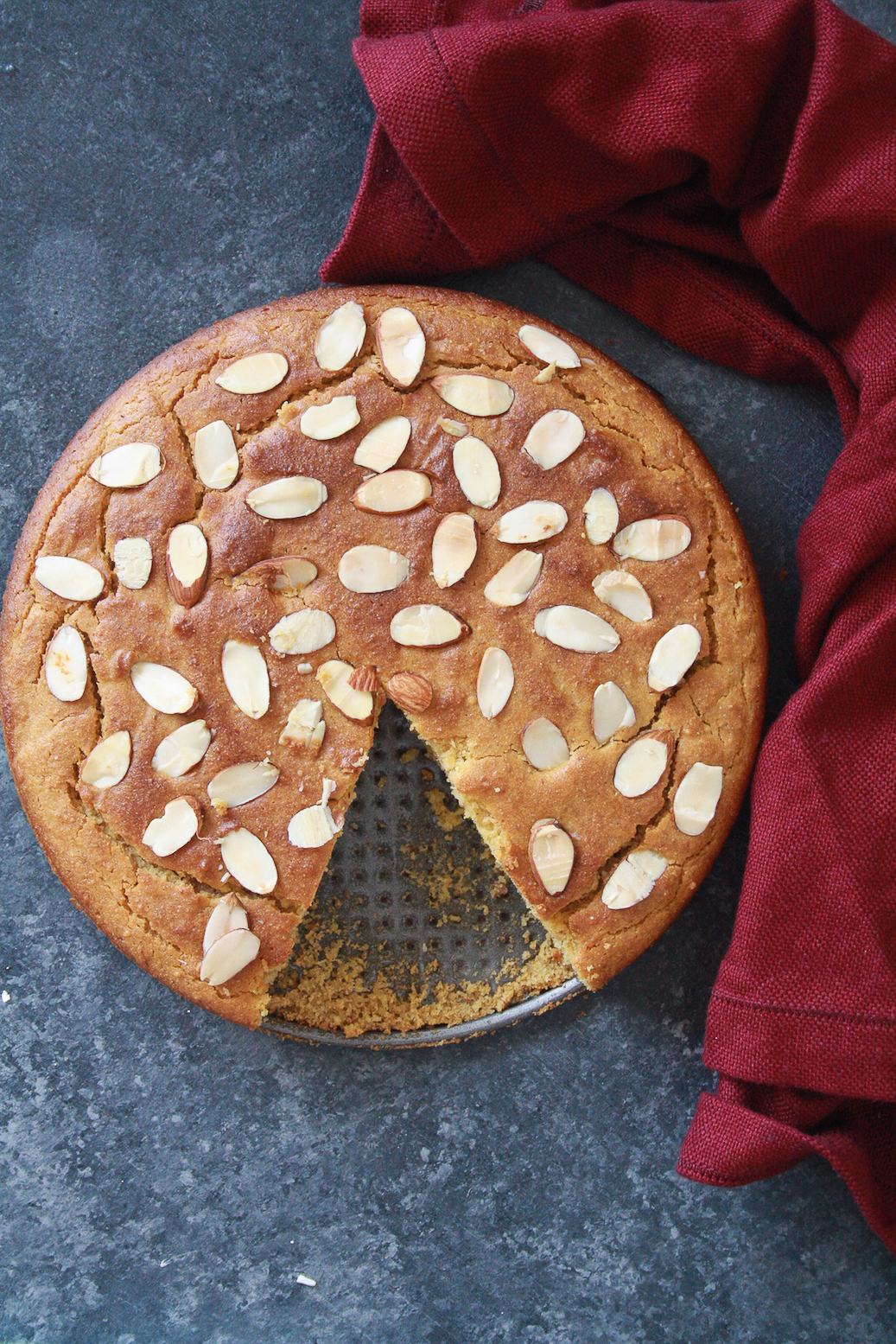 I used this cinnamon almond cake as a foundation, and tweaked the recipe as needed. I read that 1 cup of flour can be substituted with 3/4 cup cornmeal. I decided to use only cornmeal which means this cake is gluten-free. If you don't want a prominent corn flavour, or want the cake to be fluffier, you can use a mixture of both. But even by itself, the texture is fabulous. Slightly dense because of the almonds and corn, but tender and moist. It isn't overwhelmingly sweet either, which I love.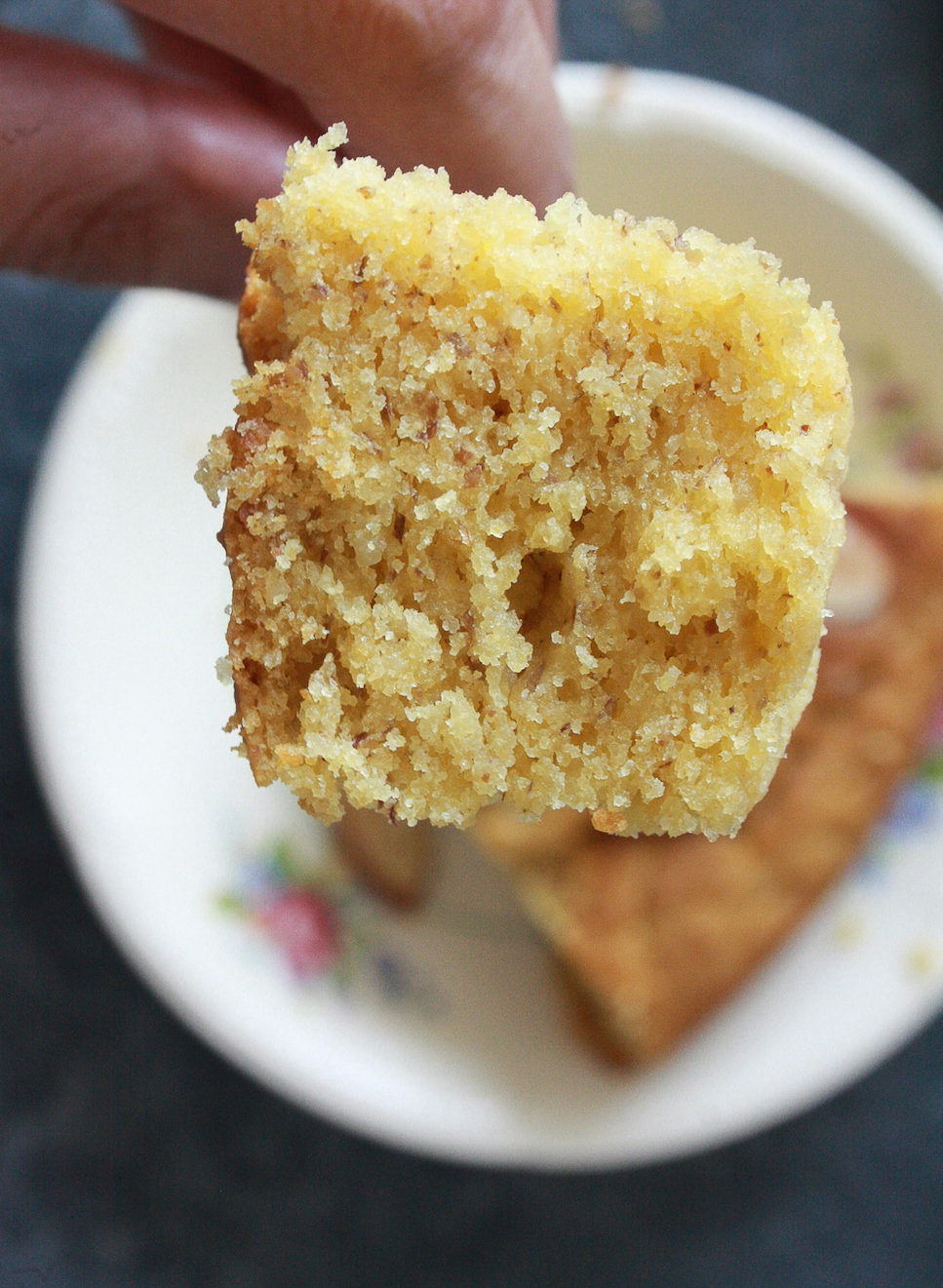 Definitely going to be using cornmeal a lot more in desserts because it has so much more flavour than regular flour. It's certainly 'corny', but like I said, if you use a mix of the two, the flavour will be milder. Either way, try this cake, it will blow you mind 🙂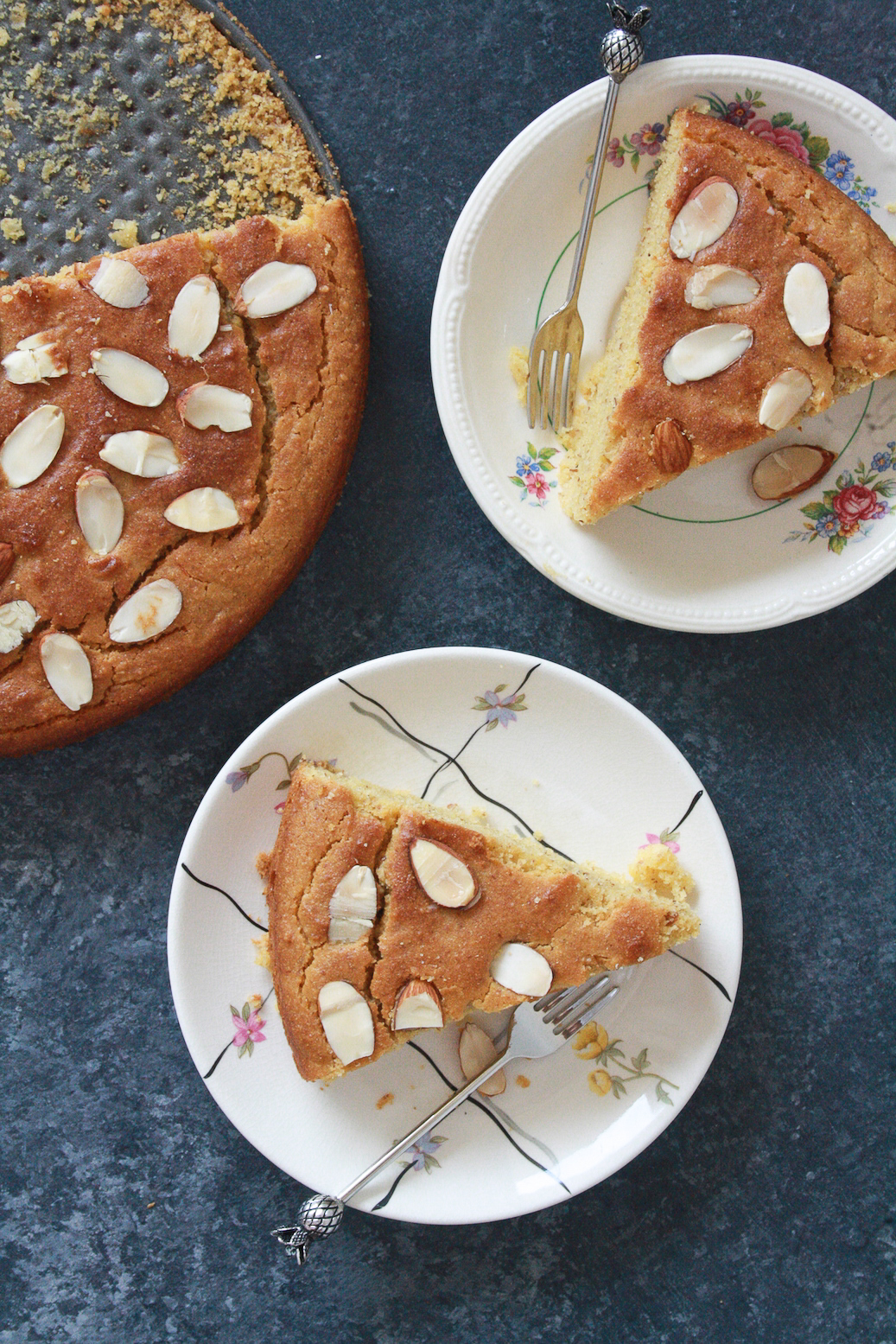 Almond Cornmeal Cake
A gluten-free, super flavourful cake made with ground almonds and cornmeal!
Author:
The Desserted Girl
Ingredients
1 and ½ cups cornmeal or makai atta*
2 tsps baking powder
½ cup castor sugar
½ cup whole almonds
2 eggs*
3 tbsps honey
1 cup plain yoghurt
½ cup vegetable oil
Sliced or flake almonds for garnish, optional
Instructions
Lightly grease an 8" round pan or 9x5" loaf tin and set aside. Preheat the oven to 180 C.

Blitz the almonds in a blender till they become a fine meal. Don't blend long enough for them to turn into almond butter!

In a large bowl, sift the cornmeal and baking powder. Add the sugar and ground almonds, mix and set aside.

In a mixing bowl, lightly beat the eggs, then add the honey, yoghurt, oil and beat till combined. A hand mixer is better here, but not necessary.

Fold in the cornmeal mixture gently, until combined. The batter will be thick but if it seems too thick, add a splash of milk to thin it out.

Pour into the prepared pan, smooth the top and sprinkle with flaked almonds. Bake for 30 to 35 minutes or till the top is golden brown, and a toothpick poked into the center comes out clean. Cover the top loosely with foil if the cake is browning too fast.

Allow the cake to cool before slicing. Happy eating!

Notes
*In India, makai atta is the most affordable form of cornmeal/corn flour. It is finer than any of the others, but can be used in place of any of them.

*The cake has a prominent corn flavour, so if that isn't your thing, use 1 cup cornmeal and ½ cup all-purpose flour.

*I haven't tried making this cake eggless, because the eggs help make it light despite the almonds and cornmeal. If you want to omit the eggs, you could try adding between ½ cup to 1 cup milk while combining the liquid ingredients. There will be some differences in texture though. I don't normally use flax eggs or egg substitutes, but let me know if one of these work for you.