Happy Monday! Not to scare you off, but these cookies are very, very responsible. Delicious, but responsible. So responsible in fact, that I threw chocolate chips in there out of desperation. Even cookies need a night out. And even Mondays need some fun.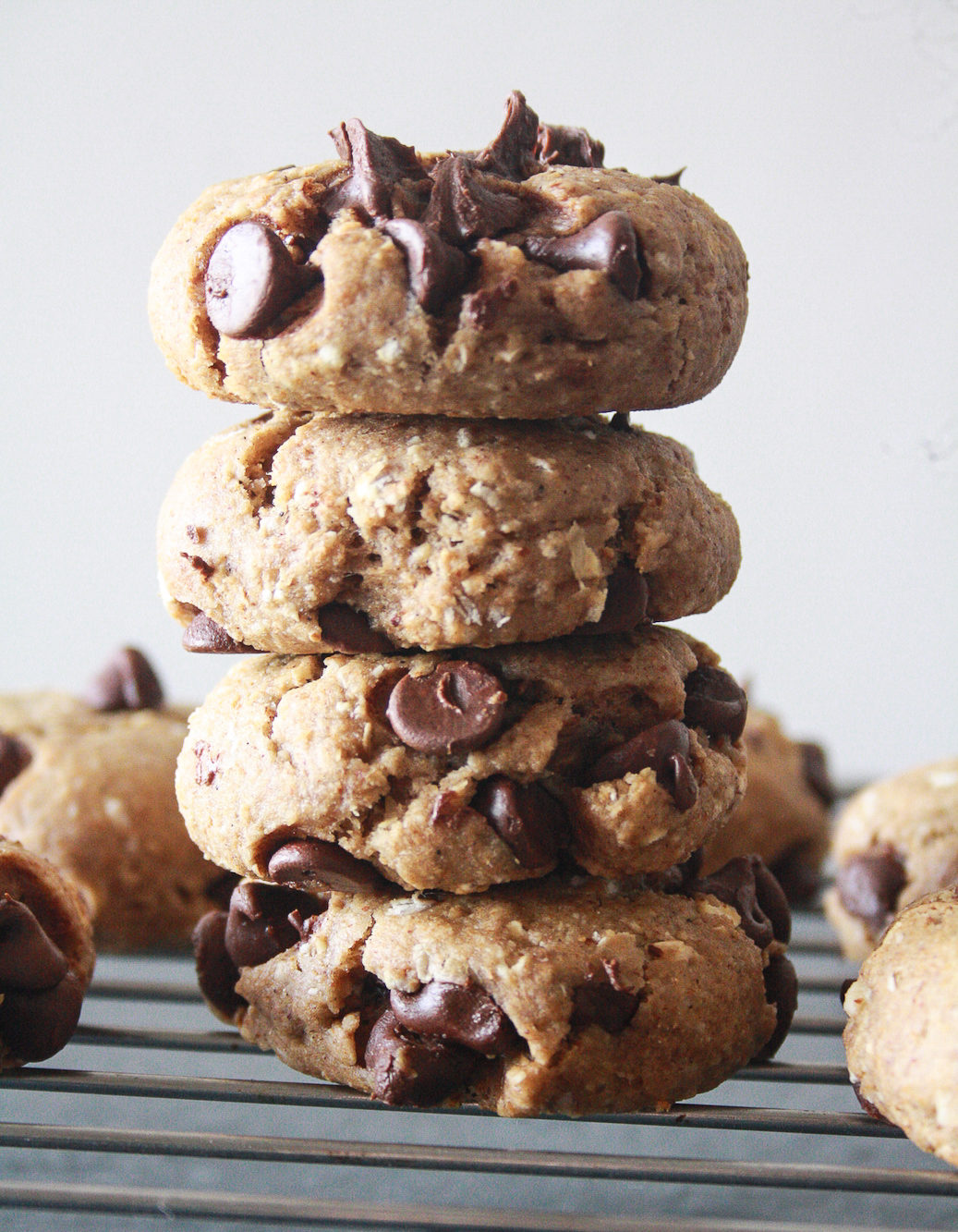 These are almond butter cookies, packed with, well, almonds, but also wholewheat flour, yoghurt and honey. No refined sugar, no added fat, no eggs. You could stop at that, or throw in some gooey melty chocolate chips which will make them just sinful enough to qualify as dessert, or interesting enough for breakfast. Either way, they are easily the most incredible healthy things I've eaten in a while. Mind = blown.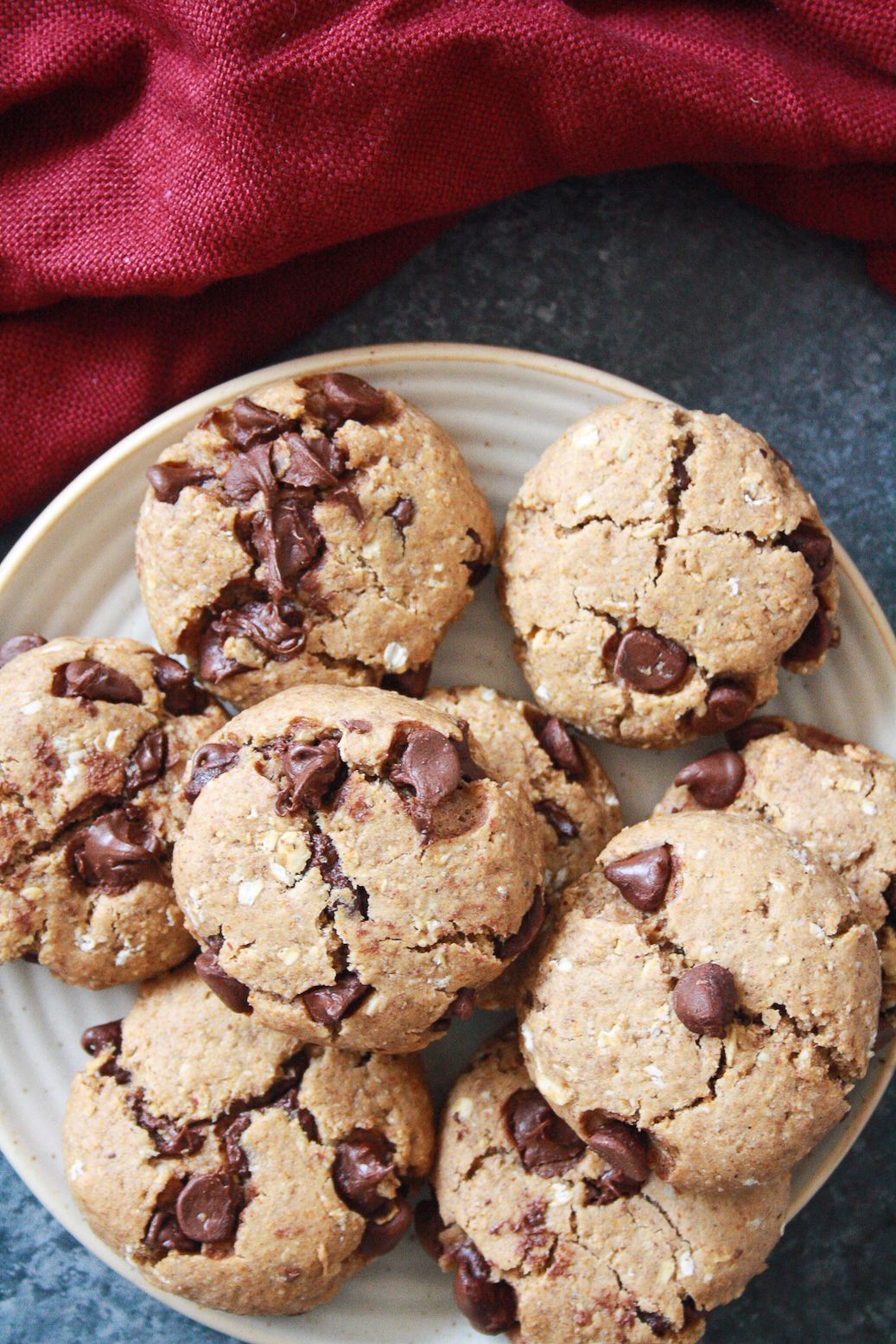 These are a variation of these lovely cookies, minus the butter and brown sugar. I upped the levels of honey and yoghurt to keep them sweet and moist enough, plus stirred in a little milk right at the end to help soften the dough. The oats add crunch, and the ground almonds add a wonderful nuttiness in addition to the almond butter.
The cookies are chewy and soft, great with a cup of hot coffee. They do not crisp up very much, but feel free to bake them longer for more colour and crunch. They do not of course have the buttery decadence of these little guys, but they're a huge change from the bland 'healthy' cookies you buy in stores. There's a ton of flavour from the almonds and the honey and I know I'm making these again!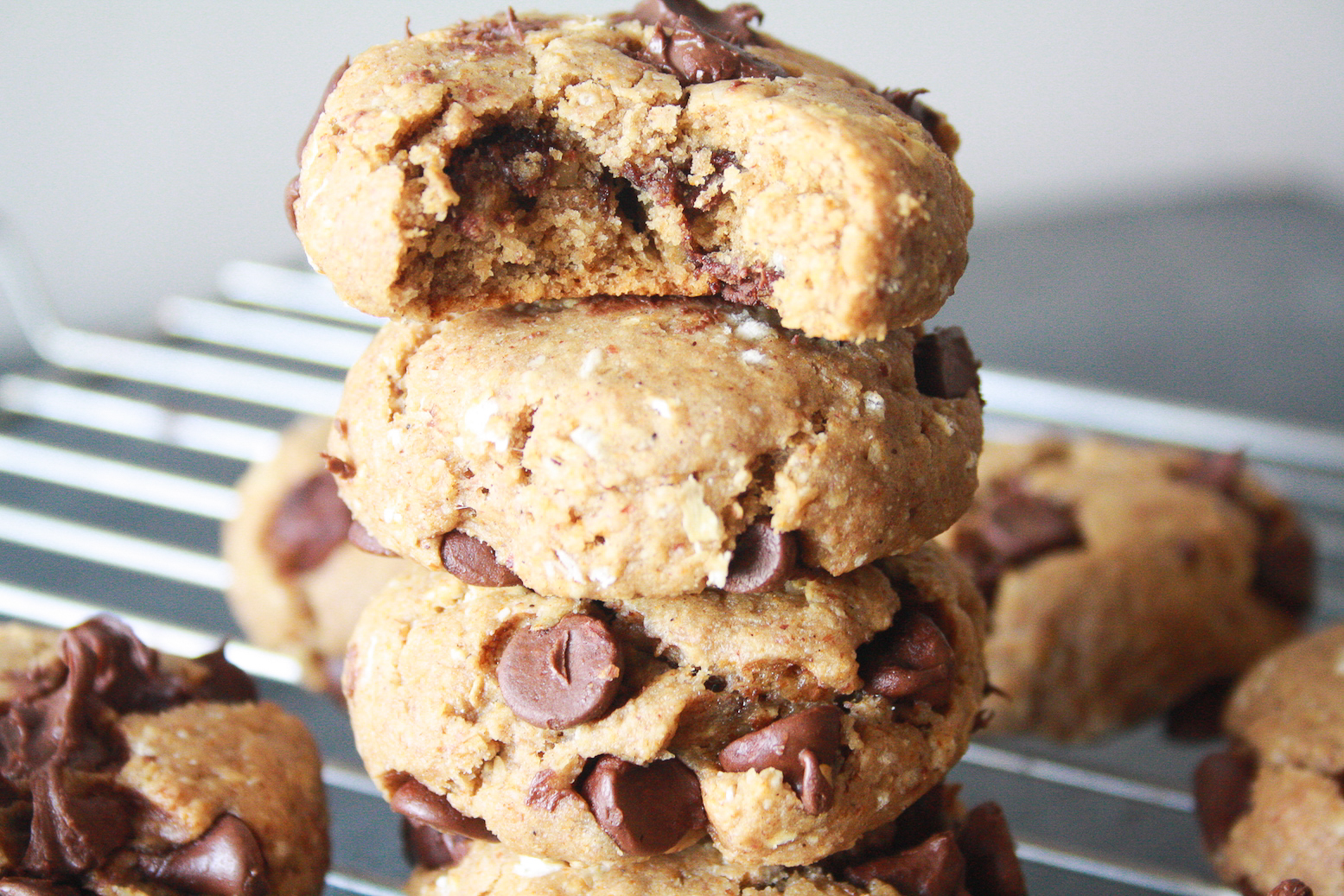 The dough comes together super super fast, no chilling needed, which means you can start now and be eating cookies in about half an hour. Doooo it!
Almond butter is easy to make at home, but feel free to use store-bought, as long as it is unsweetened and natural.

Wholewheat Almond Butter Cookies
Hearty, chewy almond butter cookies made with wholewheat flour. Free of refined fat and sugar if you skip the chocolate chips!
Author:
The Desserted Girl
Ingredients
1 cup wholewheat flour*
½ tsp baking soda
1 tsp cinnamon
½ cup oats*
½ tsp salt
2 tbsps ground almonds*
⅓ cup yogurt
⅓ cup almond butter
⅓ cup honey
1 tsp vanilla essence
2 tbsps milk
½ cup chocolate chips, optional
Instructions
Preheat the oven to 175 C and lightly grease a baking tray or line it with a silicone mat.

Sift the flour, baking soda and cinnamon in a large bowl, then add the oats, salt and ground almonds. Mix well. Set aside.

In a mixing bowl, combine the yoghurt, almond butter and honey. Using a hand mixer, beat for a couple of minutes until smooth, then add the vanilla.

Fold in the flour mixture, using your hands to bring the dough together if needed. Add 1 to 2 tbsps milk to thin it out just enough that you can shape it into cookies. Now fold in the chocolate chips.

Form the dough into equal rounds, you should have between 10 to 12. Place them an inch apart on the baking sheet, then press down lightly with your hands to flatten, because they will not spread very much in the oven. The more you flatten, the thinner they will bake up, though if they're too thin, they'll break so watch out for that.

Bake for 20 to 25 minutes until lightly browned and cooked through. Enjoy warm!

Notes
*It's super important to measure your flour correctly, because with a low-fat dough, it's easy to wind up with extra firm cookies. I always use the 'spoon and level' method: fluff up the flour with a spoon in the container itself, then scoop and lightly fill the measuring cup up to the top without shaking or tapping the cup, then using the back of a knife, scrape the top of the cup to remove any excess flour, then use in your recipe.

*I use instant oats in my baking.

*The ground almonds are optional, but add a lot of texture and flavour. You can skip adding this, but might also need to skip the milk because the dough may not be as stiff then.