I thought that by making just a small batch of anything with butter, sugar and all things bad, I'd be doing myself a favour. It turns out, a small batch just makes you want to eat the whole thing by yourself, even more than a big batch does. Because you're just constantly telling yourself "I mean, there's just one cookie/muffin/brownie/pie left over, I might as well". Basically, if you spend your day baking, there's no way you don't also spend a significant time eating. No way.
So I just want to say, that a tiny amount of these cutesy pies is as dangerous as this. The things I do for this blog, I tell ya.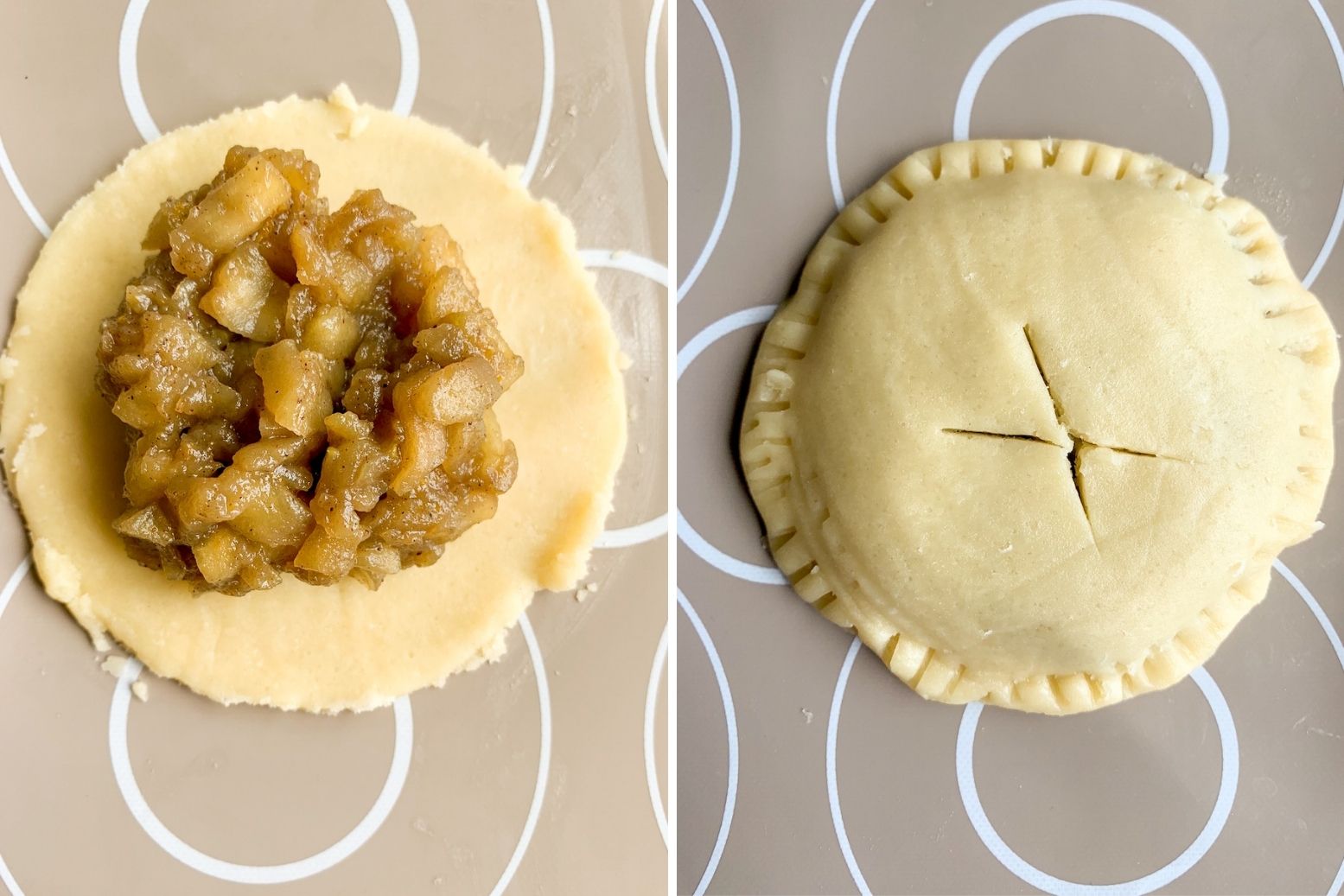 Honestly though, in whatever quantity, this is easily my new favourite apple pie recipe, possibly my new favourite anything pie recipe. You guys, I don't know why I haven't added orange zest to apples before, I really don't. It takes the flavour to astronomical levels. Add to that your usual suspects of cloves, nutmeg and of course, cinnamon and boom. But, but but. If you caramelise this entire concoction in a bit of butter, that's when true enlightenment happens.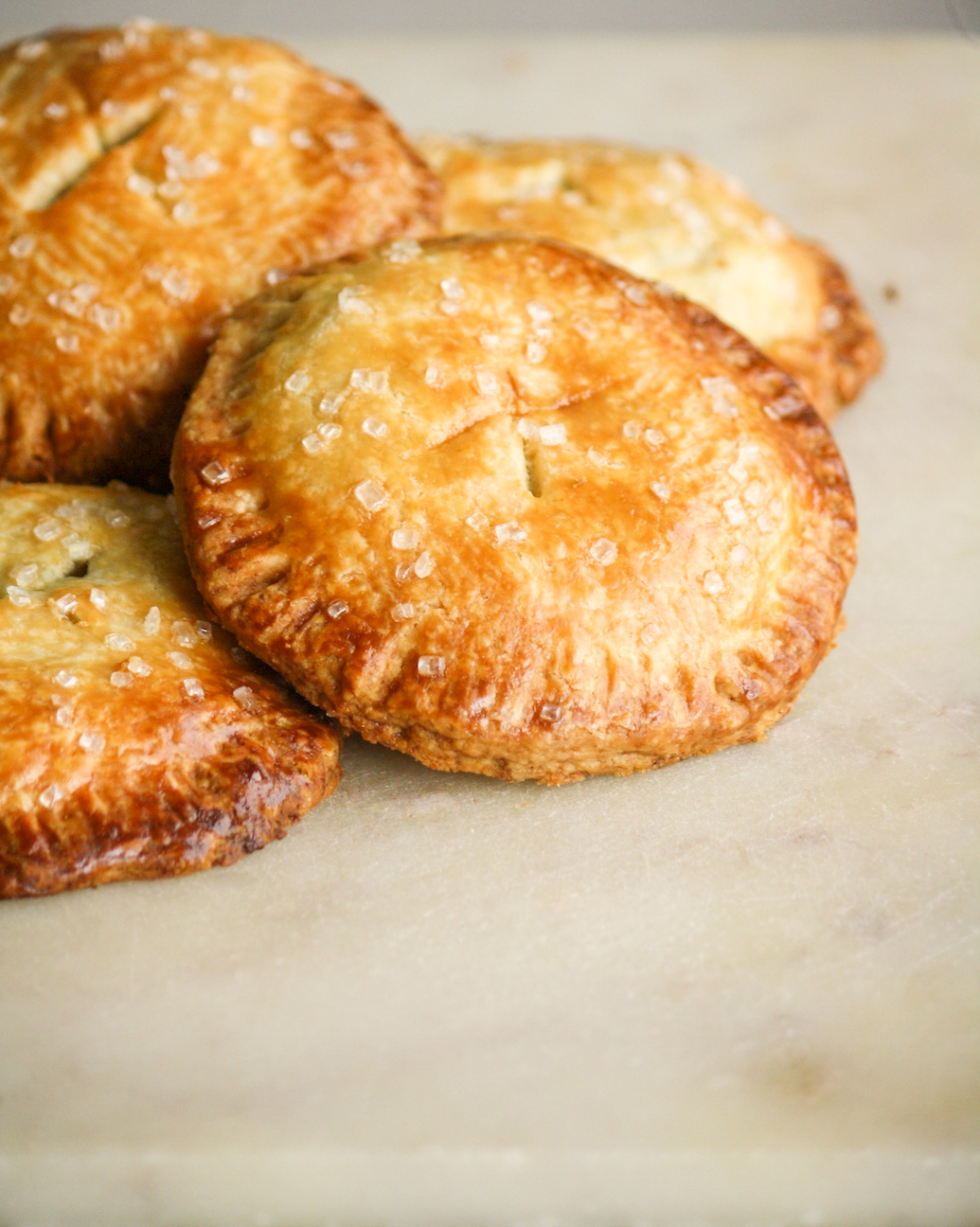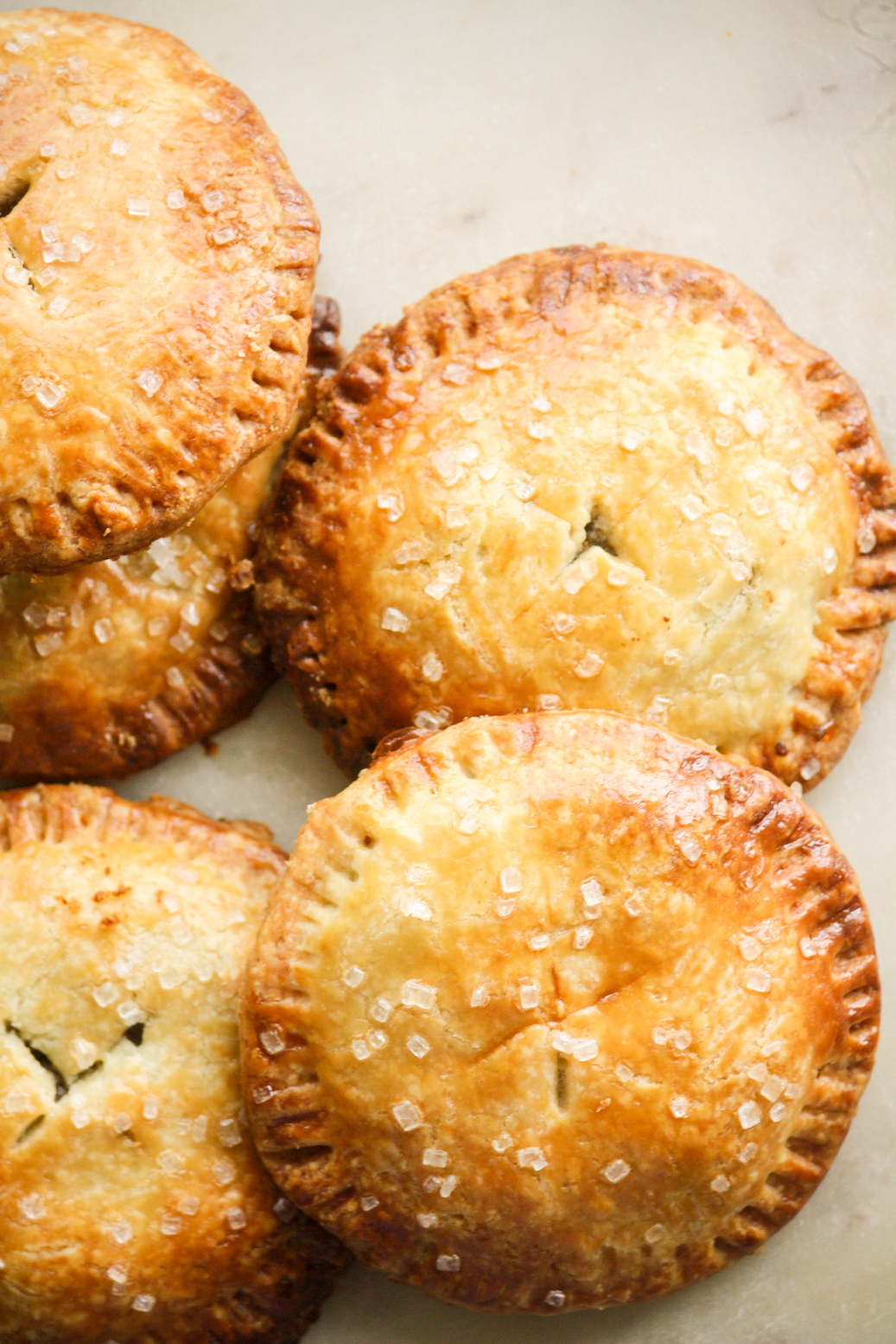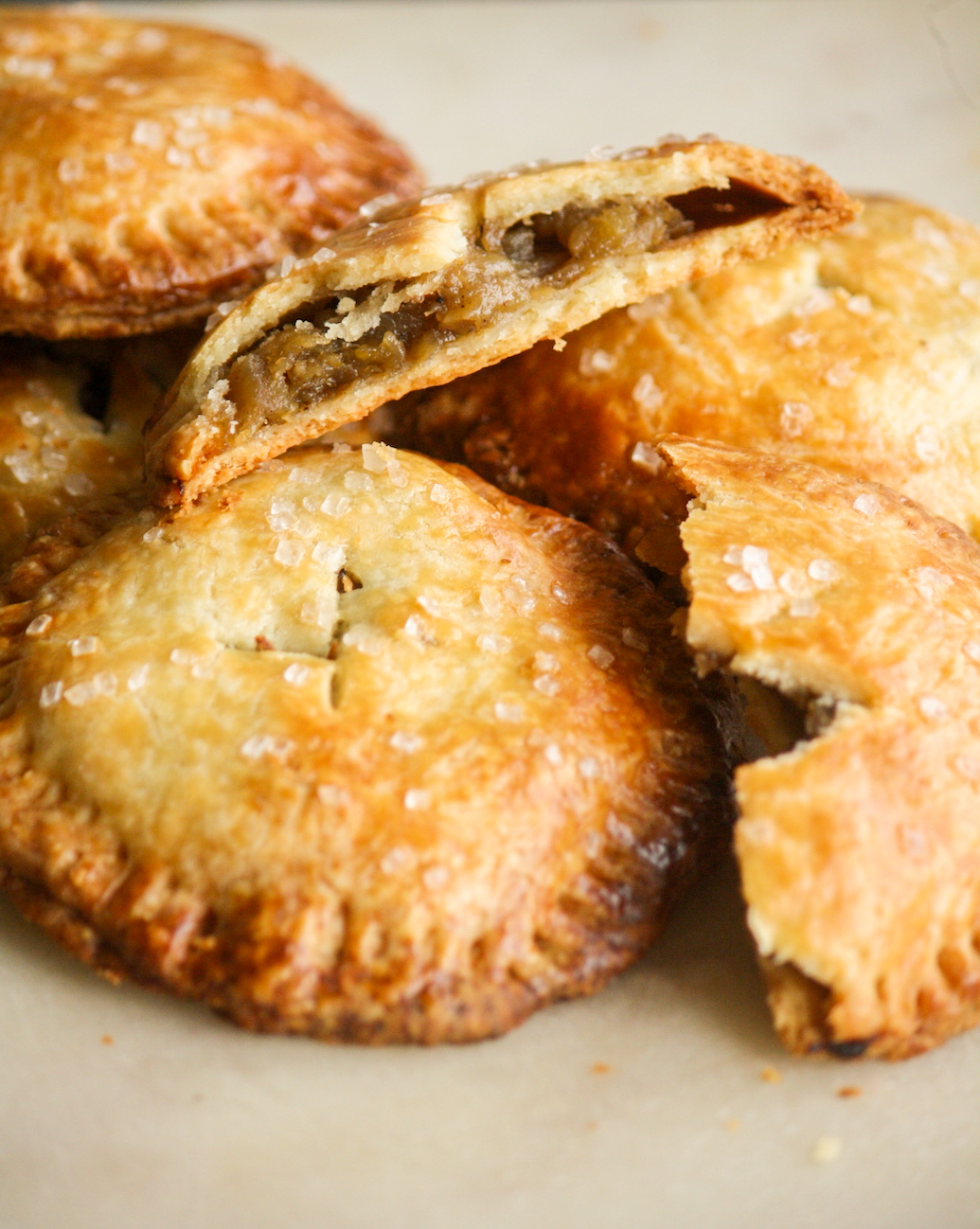 See, typically I would have left the apples raw but given that these pies are small, they cook faster and I had a hunch the apples would remain sort of uncooked inside. Soooo, the whole caramelisation thing which turns the little apple pieces into tender, spiced, buttery perfection. And when the filling is finally baked inside the pie crust, it releases just enough juices to be sort of jammy, completely amazing. And that orange zest. OMG. It shines, really shines. The whole flavour combination is too wonderful to ignore, so you really shouldn't.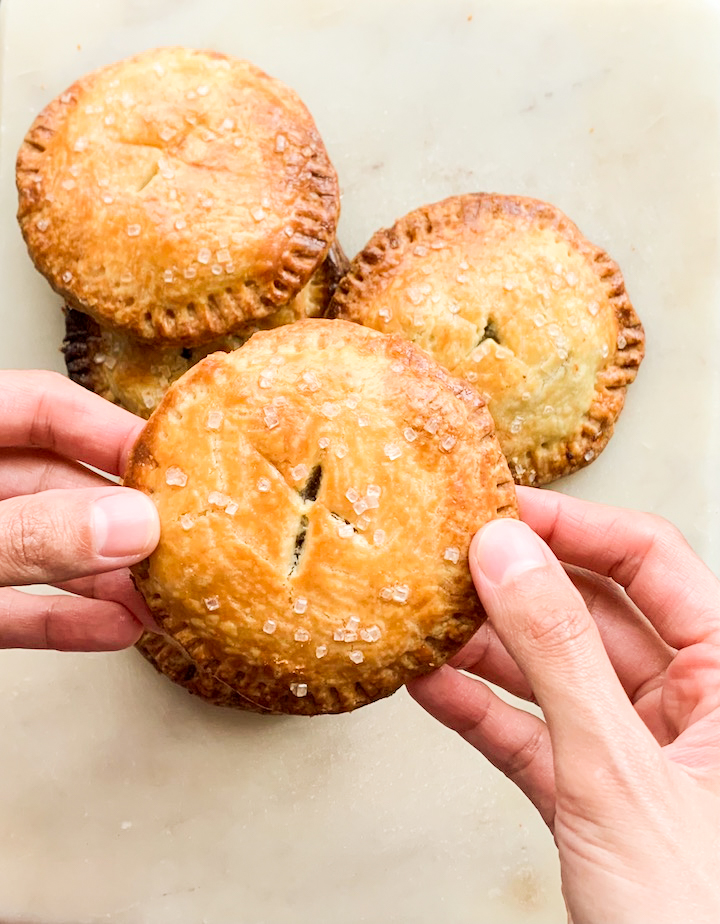 Of course, there is such a thing as too much filling, but honestly, I'd rather have a few cracks than just pie crust in my mouth. In fact, the recipe below will make about 6 pies, roughly 2 inches each. I halved it to just make 3 pies and made the filling with two apples, therefore the enthusiastic stuffing. Use only 1 apple if you're scared of the cracks, but remember that the 'steam vents' you'll cut into the tops just before baking, are going to widen a bit during baking. Which means there might anyway be some cracks, so you might as well let the stuffing contribute to them 🙂 I promise I'll be less confusing in the actual recipe below!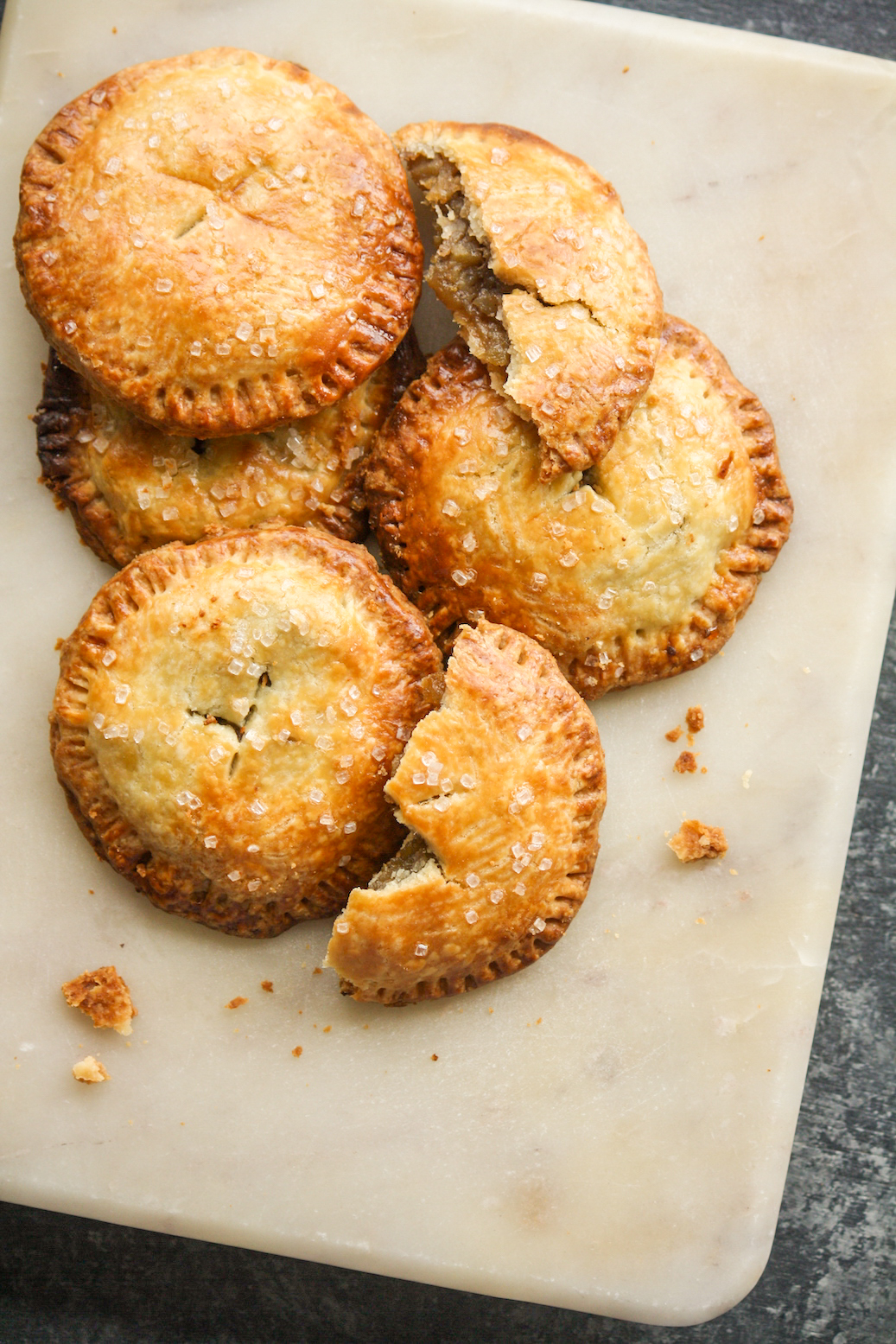 My point basically is this. You need to make this. Nothing is more delicious than small pies that fit in your hand (ergo, the name, in case you were wondering), especially when they're straight from the oven and buttery and flaky and completely miraculous.
Let's bake 🙂

Caramelised Apple Hand Pies (Eggless)
Tender, caramelised, spiced apples with orange zest, filled into small, flaky, pie crusts!
Author:
The Desserted Girl
Ingredients
For the pie crust
1 and ¼ cups all-purpose flour
2 tsps caster sugar
½ tsp salt, if using unsalted butter
½ cup cold butter, cubed (115 gms)
1 to 2 tbsps ice water
Cream and brown sugar for sprinkling, optional

For the filling
3 medium apples
Zest of 2 to 3 oranges
¼ tsp cinnamon powder
¼ tsp nutmeg powder
¼ tsp clove powder
2 to 3 tbsps brown sugar, depending on sweetness of apples
1 tbsp butter
Instructions
To make the pie crust, combine the flour, sugar and salt, if using, in a large bowl.

Using your fingertips, rub the cold butter cubes into the flour till the mixture resembles coarse breadcrumbs with a few larger bits of butter scattered through. These bits are what create a flaky dough.

Add 1 tbsp of ice water and bring the dough together. It will be soft and slightly wet, so sprinkle on a little flour if needed. Add a 2nd tablespoon of water only if absolutely needed.

Form the dough into a rough ball, place on a large piece of clingfilm and pat into a ¾th inch thick disc. Wrap tightly and refrigerate for 1 hour. This dough can be chilled or frozen longer, as long as its softened a little before rolling.

In the meantime, peel, core and dice the apples into small pieces. Combine them in a bowl with the spices, orange zest and sugar. Set aside for 5 minutes for the juices to release.

Melt the butter in a saucepan on medium heat, then add the apples, scraping out any juices left behind in the bowl. Cook the mixture for 10 to 15 minutes until caramelised, browned and tender. If the apples are browning faster than they are softening, turn the heat to low, and cook, covered for 5 minutes. Set aside to cool.

Unwrap the chilled dough and roll it on out on a lightly floured surface, or silicone mat for convenience. Cut out circles about 2 inches wide, re-rolling the scraps as needed. You should be able to get 10 to 12 circles in all, which means 5 to 6 pies.

Divide the cooled apple filling evenly among half the circles. Typically, over-filling the pies will lead to some cracks as they bake, but I found them more delicious this way. See notes for more.

Cover each of the filled circles with another circle and seal the edges with your fingers. Crimp the edges with a fork if desired. Chill the pies for 20 minutes before baking.

Preheat the oven to 175 C. Cut two small slits in the top of each pie for the steam to escape. These will widen as the pies bake, so some cracks are possible. Brush the top of each pie with a little cream mixed with a splash of water, then sprinkle on some brown sugar. This step is optional but adds more colour and flavour.

Bake for 20 to 25 minutes until golden-brown, turning the oven to the broil setting for a deeper colour. Allow to stand for a few minutes, then dive straight in!
Notes
*I halved the pie crust recipe to make 3 hand pies. The filling was made with 2 apples, but that was a little bit more than needed. If you don't mind overstuffing and a few potential cracks, I'd still recommend a little extra because the filling is delicious 🙂 If making the full pie crust recipe, you can therefore use up to 4 apples, for more 'filled' pies.

*Prep-time does not include chilling / cooling time.