Strawberries are leaving us. And I think you need to grab the last little pack of perfect pink-red-pink berries you find and make these tarts. We're making authentic vanilla infused pastry cream, buttery tart shells and topping all of it with these beauties. Before the season ends, let's do this 🙂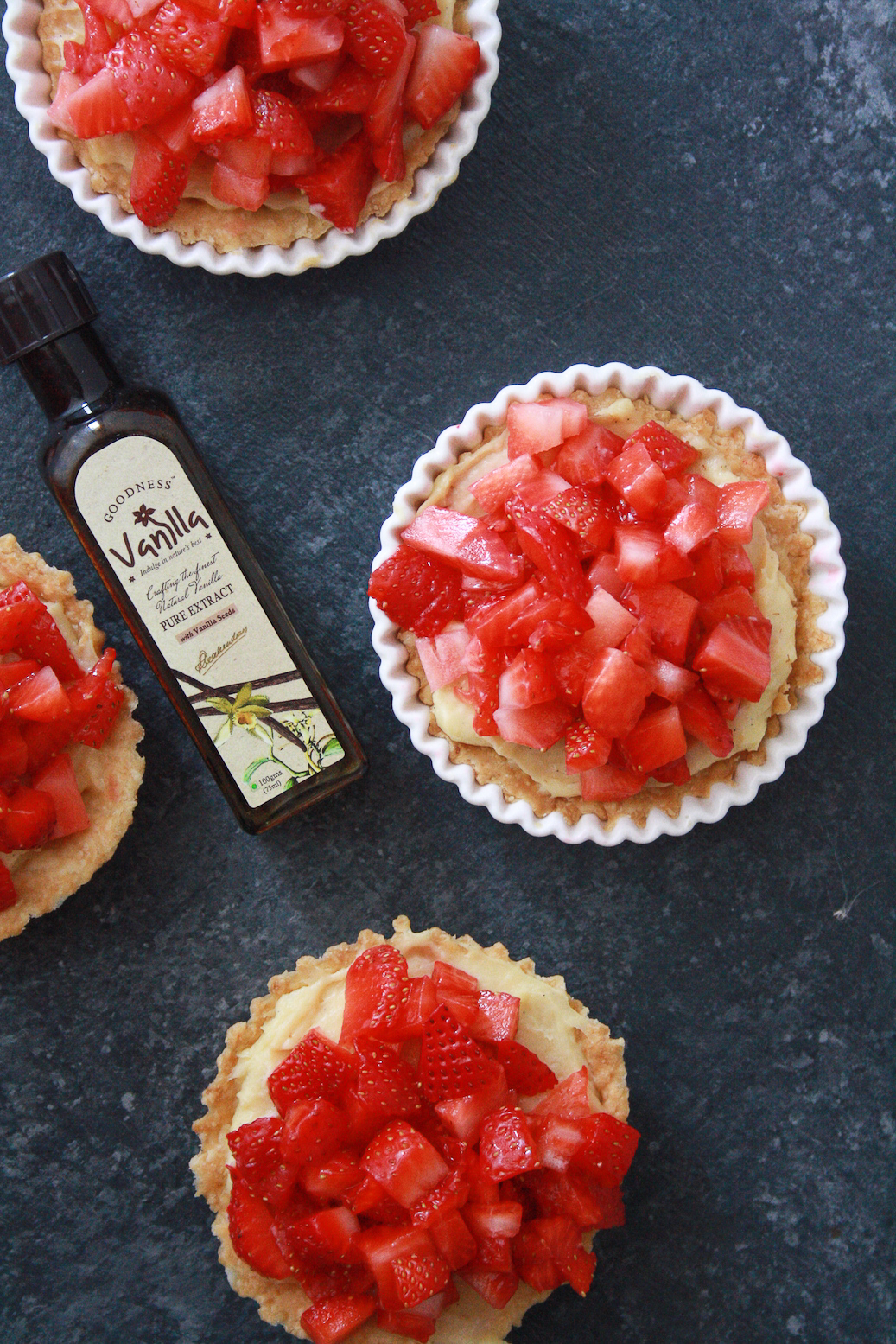 I'm so excited to be working with Goodness Vanilla on this post because my God, the smell of that vanilla is enough to drive anyone completely nuts. It fills your kitchen, your home, your life with so much fabulousness, that you really shouldn't go too long without it.
First, vanilla beans are infused in hot milk to make the pastry cream or custard. This is the traditional French way of making it, by whisking egg yolks and then tempering them with the vanilla milk, then stirring till you have a thick, smooth filling all ready to be chilled. Then, I used Goodness Vanilla's pure extract (alcohol-free) to combat any remaining eggy flavours in the pastry cream. Their extract is even more incredible because it contains vanilla seeds. When you mix this into the cold cream, you get an even more flavourful, black-speckled version, that goes so well with the strawberries.
I love that despite being exporters to some of the world's biggest vanilla brands, they continue to source their vanilla directly from farmers in lovely places like Coorg, put a lot of care into the processing aaaaand they even make vanilla powder and seeds, both of which I can't wait begin using 🙂
But first, let's make tarts.
The pastry cream can be a little tricky, there's lots and lots of resources online about troubleshooting, but in a nutshell, don't overcook the eggs. I first learned this in a class with Purple Foodie and only got around to making it at home now. Do you have any tips or tales about pastry cream? I'll go into details of the recipe below, but this is definitely worth giving a try. Plus, you feel a little fancy 🙂 I know some of you will want an eggless version and you could try a no-chocolate version of this pudding, or simply make a vegetarian custard using readymade custard powder. It won't be as rich and thick as the egg yolk version though.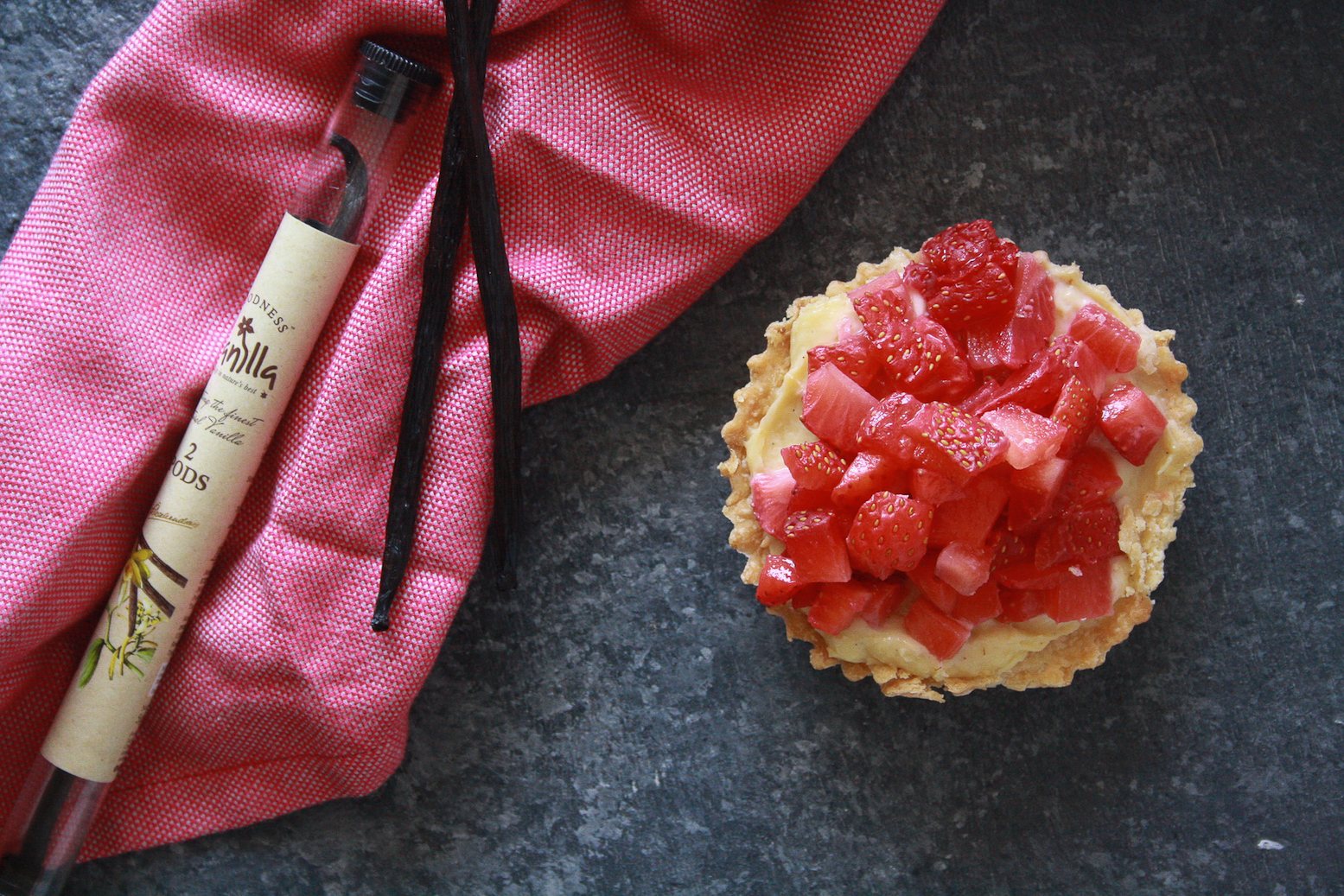 The tart shells are simply a scaled down version of my usual pie crust and both the shells and the pastry cream can be made a day in advance. When ready to assemble, simply chop or slice some fresh strawberries and you're good to go. The flavours work together beautifully, because the buttery tart with the smooth custardy texture were just waiting for juicy, tangy berries to meet them.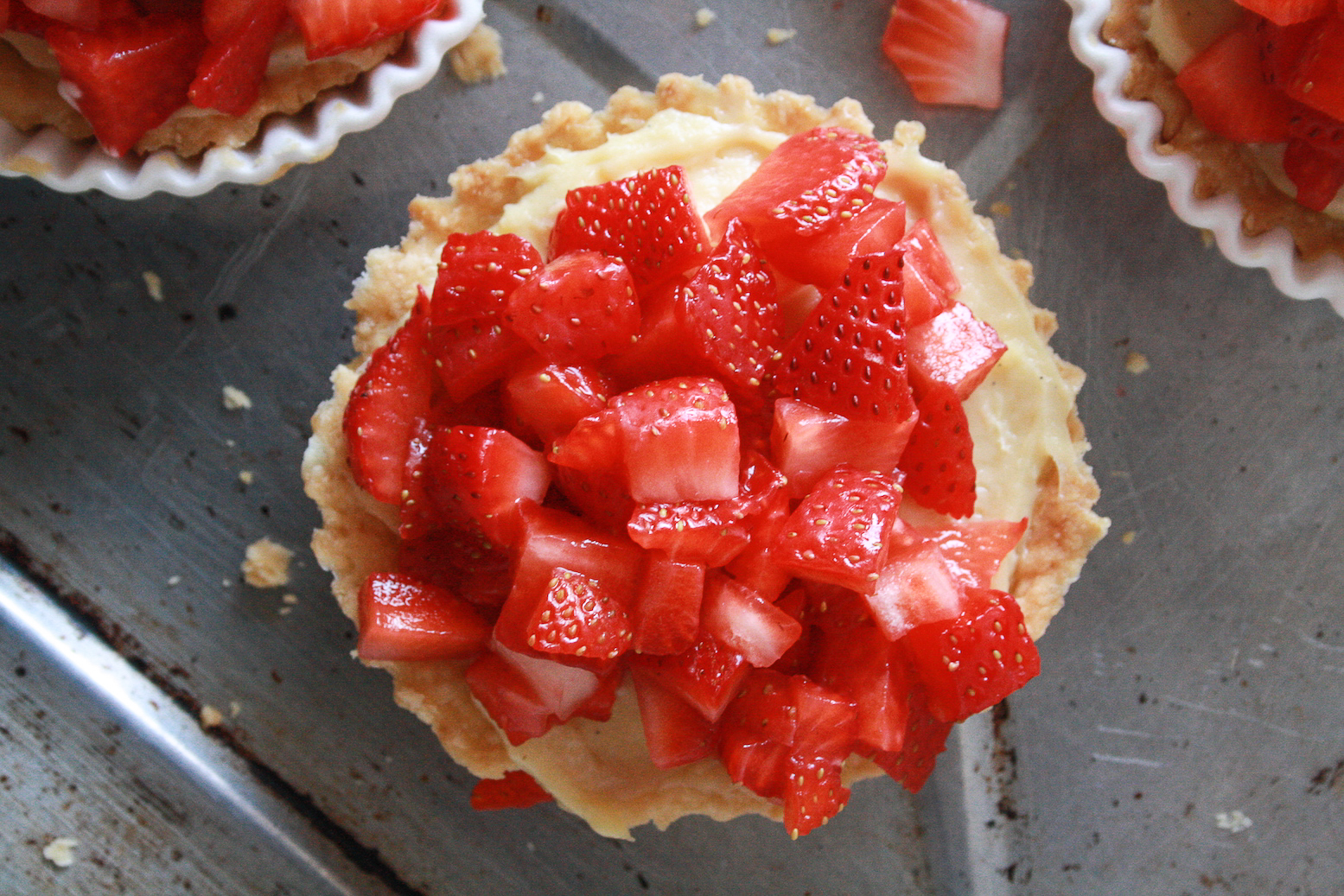 I hope you try these, they're worth the effort!

Strawberry Tarts with Vanilla Pastry Cream
Fresh strawberry tarts with a rich, vanilla bean infused pastry cream!
Author:
The Desserted Girl
Ingredients
For the tart shells
1 and ¼ cups all-purpose flour
1 tsp caster sugar
½ tsp salt, if using unsalted butter
½ cup cold butter, cubed (115 gms)
1 to 2 tbsps ice water
Extra flour for sprinkling

For the pastry cream
1 cup milk
1 vanilla bean
⅓ cup caster sugar
3 egg yolks
⅛ cup all-purpose flour
⅛ cup cornflour
1 tsp vanilla extract

400 gms fresh strawberries, chopped and chilled
Instructions
To make the tart shells, combine the flour, sugar and salt, if using, in a large bowl.

Using your fingertips, rub the cold butter cubes into the flour till the mixture resembles coarse breadcrumbs with a few larger bits of butter scattered through. These bits are what create a flaky dough.

Add 1 tbsp of ice water and bring the dough together. It will be soft and slightly wet, so sprinkle on a little flour if needed. Add a 2nd tablespoon of water only if absolutely needed.

Form the dough into a rough ball, place on a large piece of clingfilm and pat into a ¾th inch thick disc. Wrap tightly and refrigerate for 1 hour. This dough can be chilled or frozen longer, as long as its softened a little before rolling.

While the dough is chilling, make the pastry cream. Combine the milk and half the sugar in a small saucepan. Split the vanilla bean in half lengthwise, then scrape out the seeds and drop them into the pan, along with the bean itself. Heat this mixture till you start seeing wisps of steam, then turn off the heat, cover and allow it to rest for 20 to 30 minutes. This lets the vanilla really make its presence felt. If needed, whisk the milk to break up any lumps of vanilla seeds.

Now bring this milk to a complete boil.

In a mixing bowl, sift the flour and the cornflour, then mix in the remaining sugar. Now add the yolks and whisk very, very well, until pale yellow. A balloon whisk is recommended here, a spoon or spatula isn't as effective.

Pour the boiling milk, very slowly into the egg yolk mixture, whisking vigorously as you go to prevent scrambling.

Tip the mixture into a shallow pan and on medium heat, stir constantly with a silicone spatula until it begins to thicken. It will suddenly begin to look scrambled, but it becomes smooth just as suddenly so keep stirring. If the mixture sticks, do not scrape the bottom of the pan. When you begin to see bubbles, turn the heat off. It is important to let the mixture reach this stage so that the flour cooks thoroughly.

Transfer the hot pastry cream to a clean bowl and stir in the vanilla extract. The extract is optional, but I found the pastry cream to remain a little eggy without it. Place a piece of clingfilm directly on the surface of the cream to avoid a skin forming. Place the bowl in the fridge for at least two hours. I found the cream to be a little thicker than I remembered it should have been, but after substantial chilling, the texture and the flavour improved dramatically.

While the pastry cream is chilling, get your tart shells ready. I made four mini or individual-sized tarts. You can also make one large 8" tart. Take the chilled dough out of the fridge, unwrap it and cut in half, if making individual tarts. Place one half back in the fridge.

Flour your counter or preferably, flour a silicone mat. I like using a mat because it doesn't move around and prevents sticking of the dough.

Roll the dough into a ball, flatten and then roll out into a roughly 8" circle. Cut out two circles larger than your mini tart tins. Lift each one and place it in the tin, flattening it and trimming off the edges as needed. Repeat with the remaining dough. Any leftover dough can be frozen for more pie later!

Place the prepared tart tins in the fridge, while you preheat the oven to 200 C. When ready to bake, prick the bottom of each tart shell with a fork, then bake for 15 to 20 mins or until golden brown. Set aside to cool completely.

When ready to assemble the tarts, simply divide the chilled pastry cream evenly between all four tart shells, smoothen it out, the top generously with the chopped strawberries. Serve immediately! These need to be kept refrigerated at all times 🙂
Notes
*Prep-time does not including chilling time

*If you find that the pastry cream has lumps even after cooking, pass it through a sieve, stirring as you go. You can also mix in a little warm milk to thin it out if needed.