I did it. I found a way to keep a stash of chocolate in the fridge after giving away my stash of chocolate in the fridge. Basically, I reduced my guilt and then brought it right back because guilt reduction is overrated.
I present to you, barely sweetened (ergo, healthy), intensely dark, homemade peanut butter cups. They are so quick, so easy, so delicious, that all of your efforts to stop surrounding yourself with candy will go right out the window.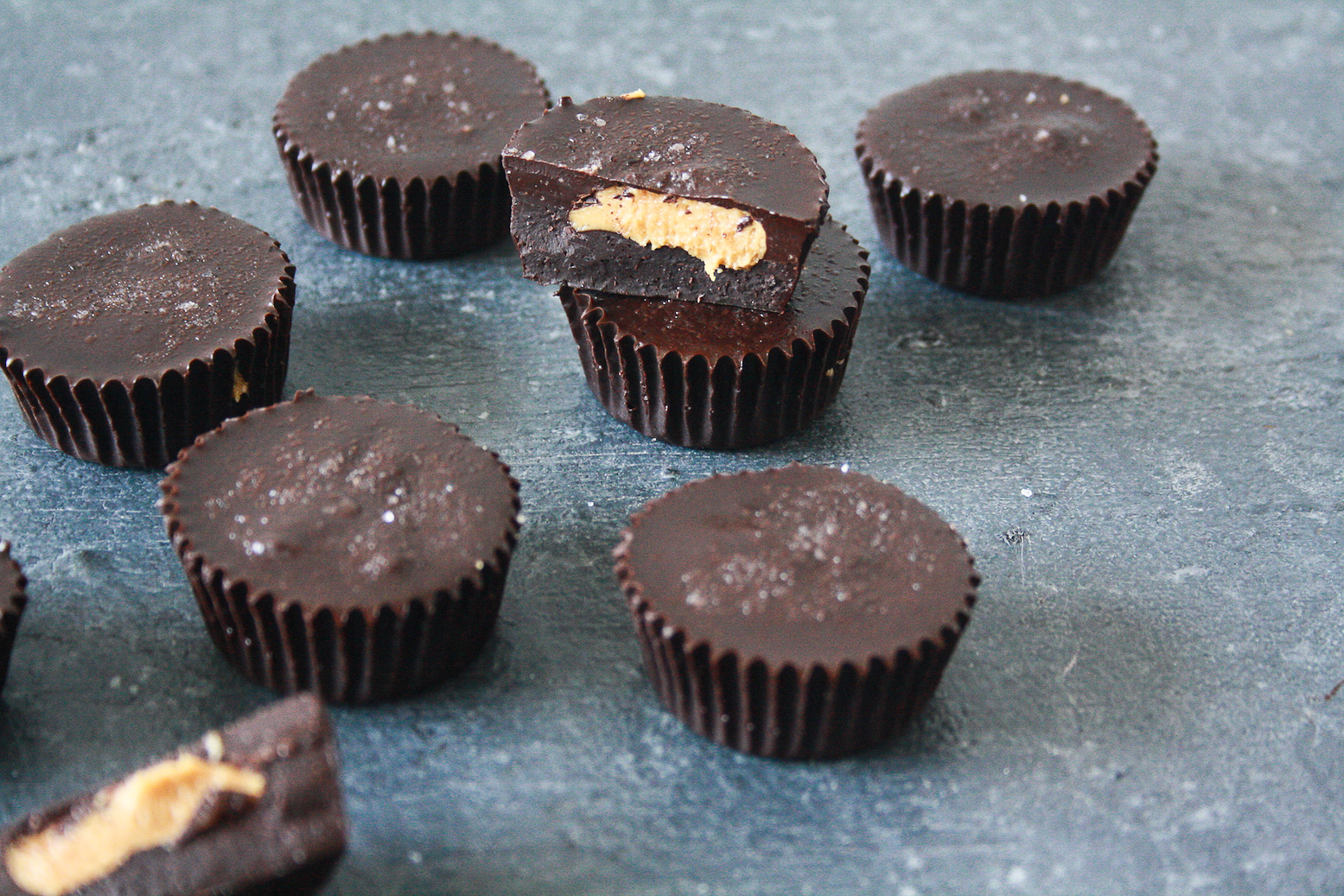 These are the kind of things you keep in the freezer and when the craving strikes, hold back from devouring the whole batch, or, tell yourself dark chocolate is good for the heart and go forth. No judgement here.
I've spent a considerable amount of time going through the Reese's version of these. Sweet and rich and completely fabulous. But somehow, when you decide to make something like this at home, you don't want to put in too much time, or sugar. These are bittersweet, probably too bittersweet for some of you, but the option of sweetening the chocolate further, or using milk chocolate always exists.
They're sprinkled with a little salt and when eaten straight from the freezer, the combination of chocolate+peanut butter+salty awesomeness hits you with the realisation that we should all be making these at home every single day.
If you have cupcake liners of any size, you can make these. I used the little mini ones and the recipe here will make 10 to 12 of them depending on how generous you are with the layers of chocolate. The peanut butter can be just left as blobs in the center after the first layer of chocolate for a more authentic look, or spread it around a bit for a tiered look. Really, it doesn't matter. It all tastes insanely good.
Please make these. Make as many or as little as you want to, but make them. Homemade candy, you guys. It does not get better!
Dark Chocolate Peanut Butter Cups
Bittersweet, completely addictive homemade peanut butter cups!
Author:
The Desserted Girl
Makes:
10 to 12 mini cups
Ingredients
180 gms dark cooking chocolate, roughly chopped and at room temp (I used 70% cocoa)
1 tbsp butter, at room temp
⅓ cup creamy peanut butter, at room temp
2 tbsps icing sugar, sifted
Instructions
In a heatproof bowl set over a saucepan of simmering water, melt the chocolate, butter and 1 tbsp sugar until smooth and combined. Set aside to cool for a few minutes.

Place 10 to 12 mini cupcake liners on a freezer-proof tray or plate. If you don't have mini cupcake liners, about 6 to 8 regular ones should do too.

Pour about 2 teaspoons of the melted chocolate mixture into the bottom of each liner. Make sure at least half the mixture remains for the topping.

Tap the tray firmly on the kitchen counter to get rid of any air bubbles and smoothen out the chocolate, then freeze for about 10 mins until firm.

Meanwhile, mix the peanut butter vigorously with the remaining 1 tbsp sugar until smooth and creamy.

Remove the tray from the freezer, and place about 1 tsp of the peanut butter in the center of each cup, straight on top of the chocolate. Press down lightly with a spoon to flatten. Avoid letting the peanut butter spread to the edges unless you're going for the layered look.

Now spoon the remaining chocolate around and on top of the peanut butter, distributing it evenly among all the cups. Take care not to let the chocolate reach the rim of the liner, or peeling it off may become difficult. Tap the tray firmly on the counter to smoothen out the top.

Freeze for another 15 to 20 minutes until firm. Sprinkle on some salt for additional flavour, then carefully peel off the liner, it should be very easy. Happy eating!
Notes
*Icing sugar is recommended as it dissolves the most easily, given that there's not a lot of cooking involved. Homemade powdered sugar is also a good option, but it needs to be sifted. I used caster sugar, because it was a bit of a mad day. It leaves a very slight crunch, but tastes just as delicious 🙂

*Prep-time does not include chilling time

*Feel free to use more sugar as needed, or even milk chocolate for a less intense peanut butter cup!