If you feel shy around carbs, I want to tell you that this particular avatar of them will make you shed absolutely every inhibition. With one bite, you will be proclaiming your love for carbs like there's no tomorrow, shouting it from the rooftops, wearing 'I love bread' t-shirts, and shooting carbs straight to the top of your food pyramid.
The number of times I just said 'carbs' = how much I love carbs.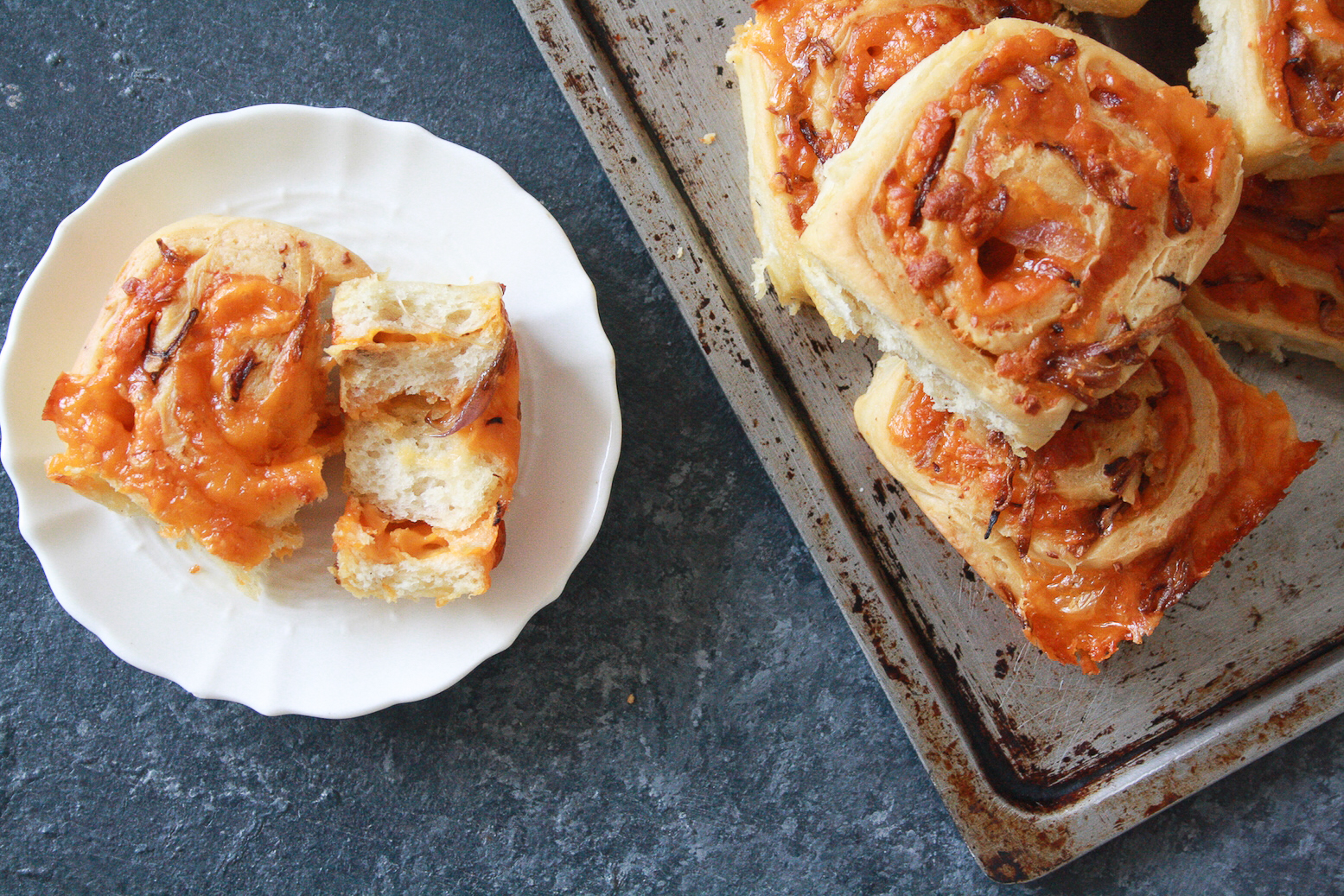 You guys, it turns out that when you fill a fabulously yeasty, doughy dough with tons of shredded cheddar, sweet, soft, caramelised onions, and then roll the whole thing up into tender, fluffy beauties, the end result can give cinnamon rolls a very, very good run for their money. And this comes to you from a dessert blog. I need to have my head examined.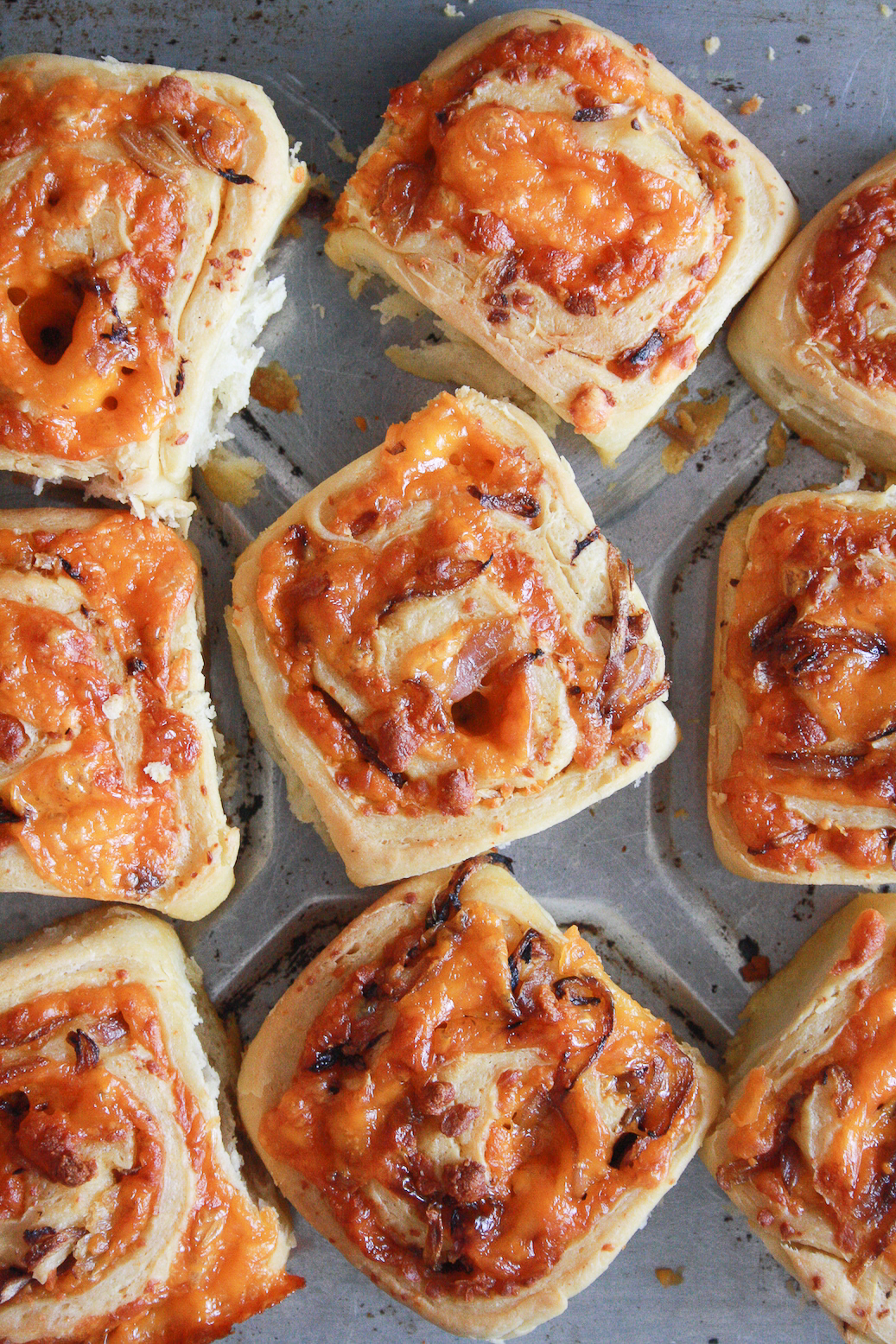 There are two reasons you need to make these: One, I insist. Two, they are based off Deb's Smitten Kitchen Cookbook which should basically be renamed to the 'No-Fail Cookbook' and be done with it. Bonus reason, they're eggless without any impossible substitutions and things. Double bonus reason, THERE'S CHEESE AND A TON OF IT.
Did I mentioned I swapped out the butter for olive oil because Deb said I could, and it worked like a charm? So they're healthy-ish too. I don't know why you're still reading. You should be mixing dough already.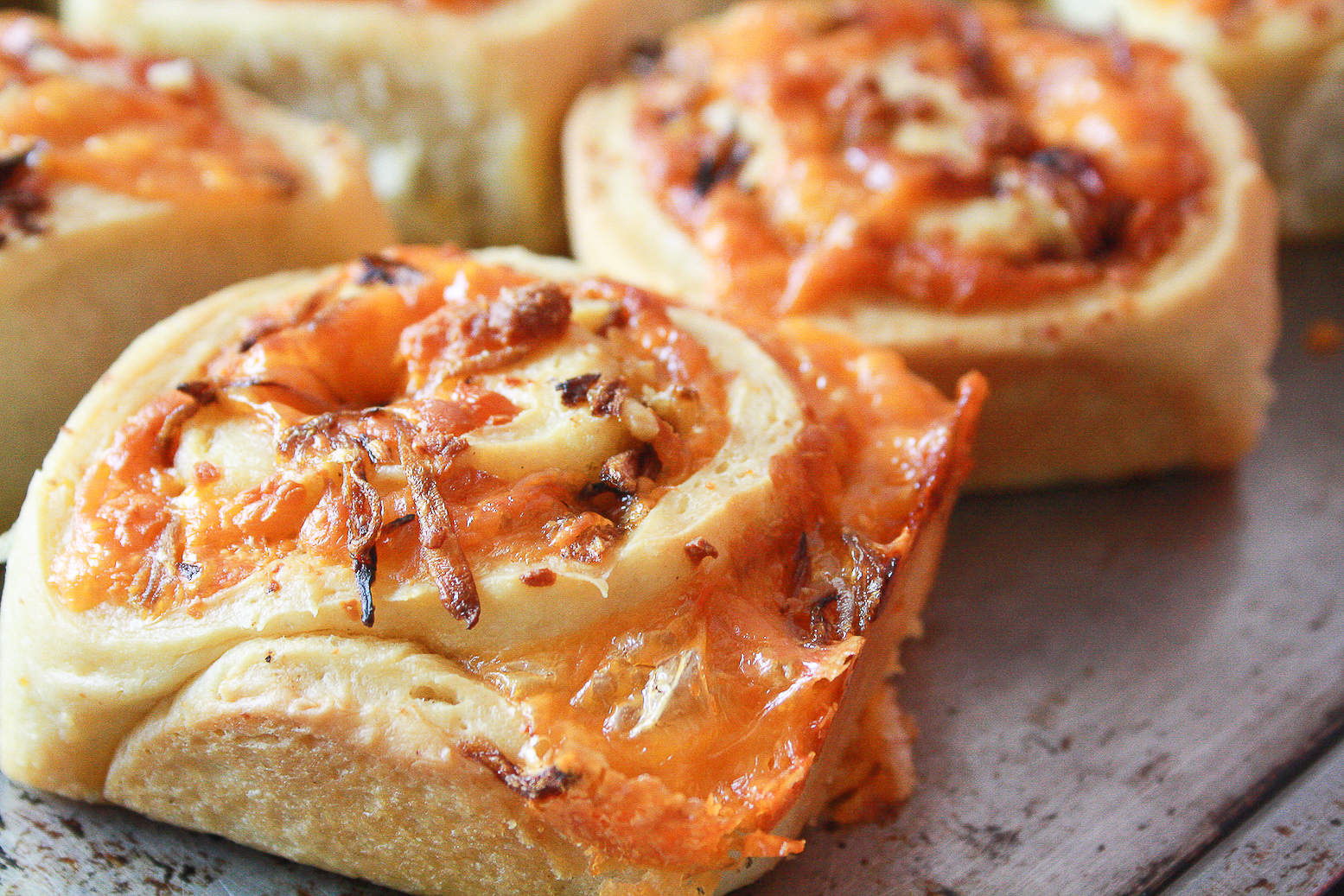 Those bits of cheese and onion that get all crispy on the edges, halfway between baked and barbequed? THAT should be the only actual reason to make these rolls. I may have enjoyed those bits more than the bread itself, just saying. Scraping the pan has never been more fun. Deb uses chopped white onions, but I have a soft spot for caramelised onions and they turned out to be just what the cheddar ordered.
The rolls are buttery without any butter, super soft, and packed with a ton of flavour for only two real ingredients in the filling and basic seasoning. These are what you eat when the munchies hit, or when the eggs need a friend, or when someone yells I NEED CARBS and you just want to be a good person and give that person company.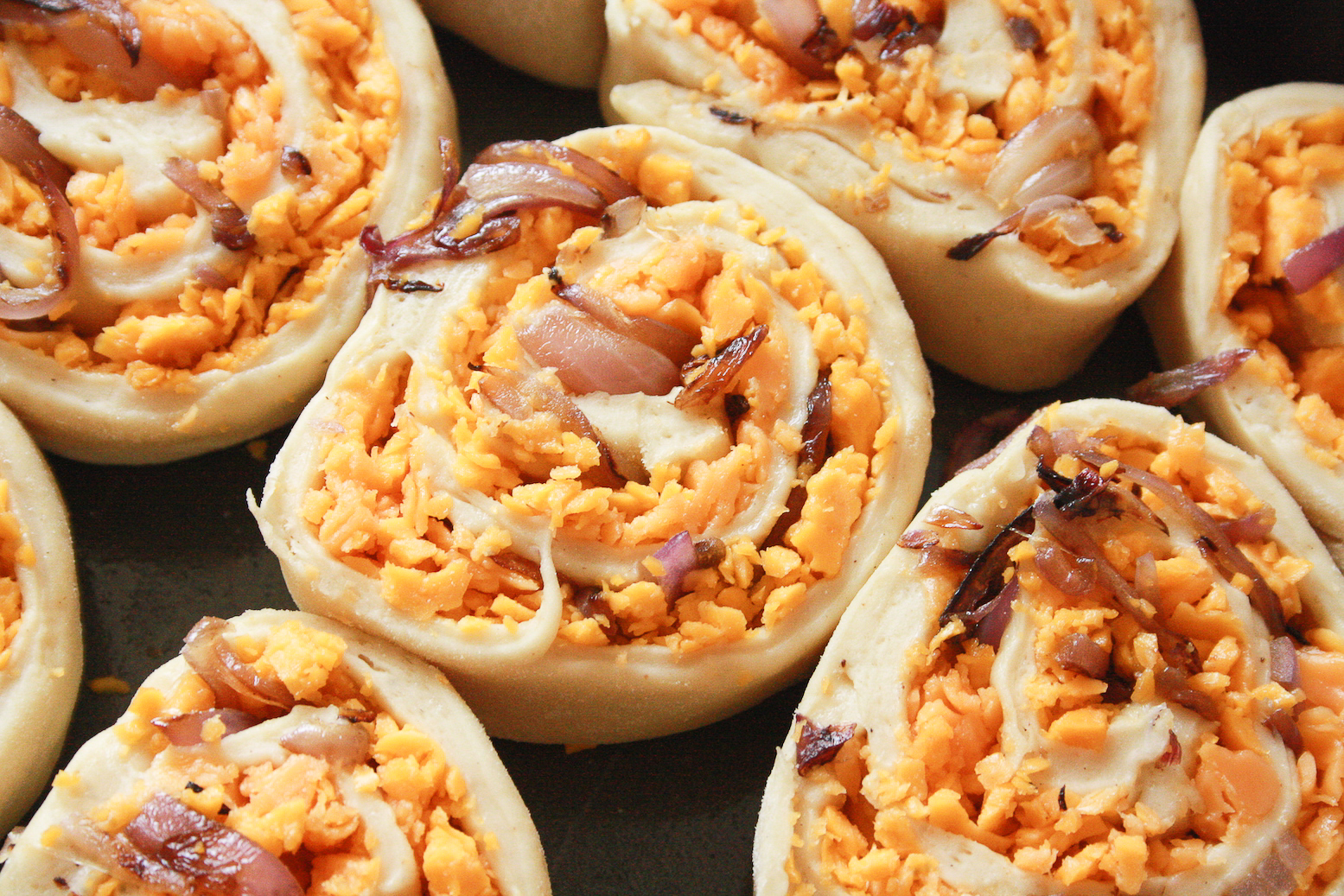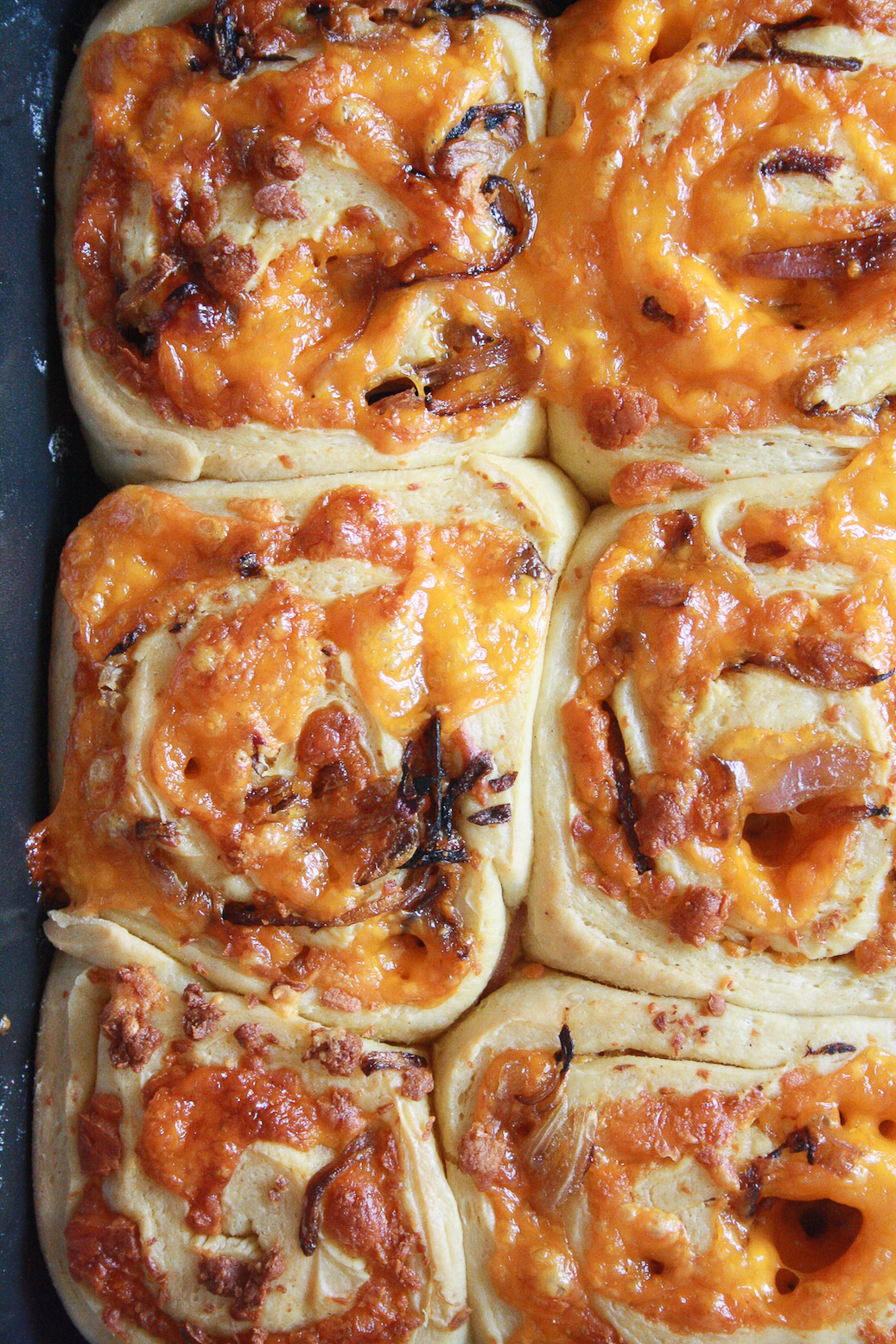 Technical stuff: The rolls need two rises so plan accordingly, although placing the pan in a warm oven helps tremendously, even in a hot kitchen. These also make a larger number of rolls because the dough is rolled out a little thinner than my cinnamon rolls from last week. So you might need two pans. I used an 8″ square pan and then a smaller oval shaped one for the remaining 3 rolls, but do what works for you. The idea is to not crowd them too much and make sure each one gets baked evenly is all.
I've also changed up the steps in the recipe so that everything is just done in one bowl and if doing this by hand, there's not a lot of extra work involved, so yay. The original recipe uses instant yeast which doesn't need to be proofed in a warm liquid. I use active dry yeast, so there's an extra 5 mins if you do too.
Other than that, this dough is foolproof, it's soooo easy to make these rolls, you'll be making them all the time, I hope.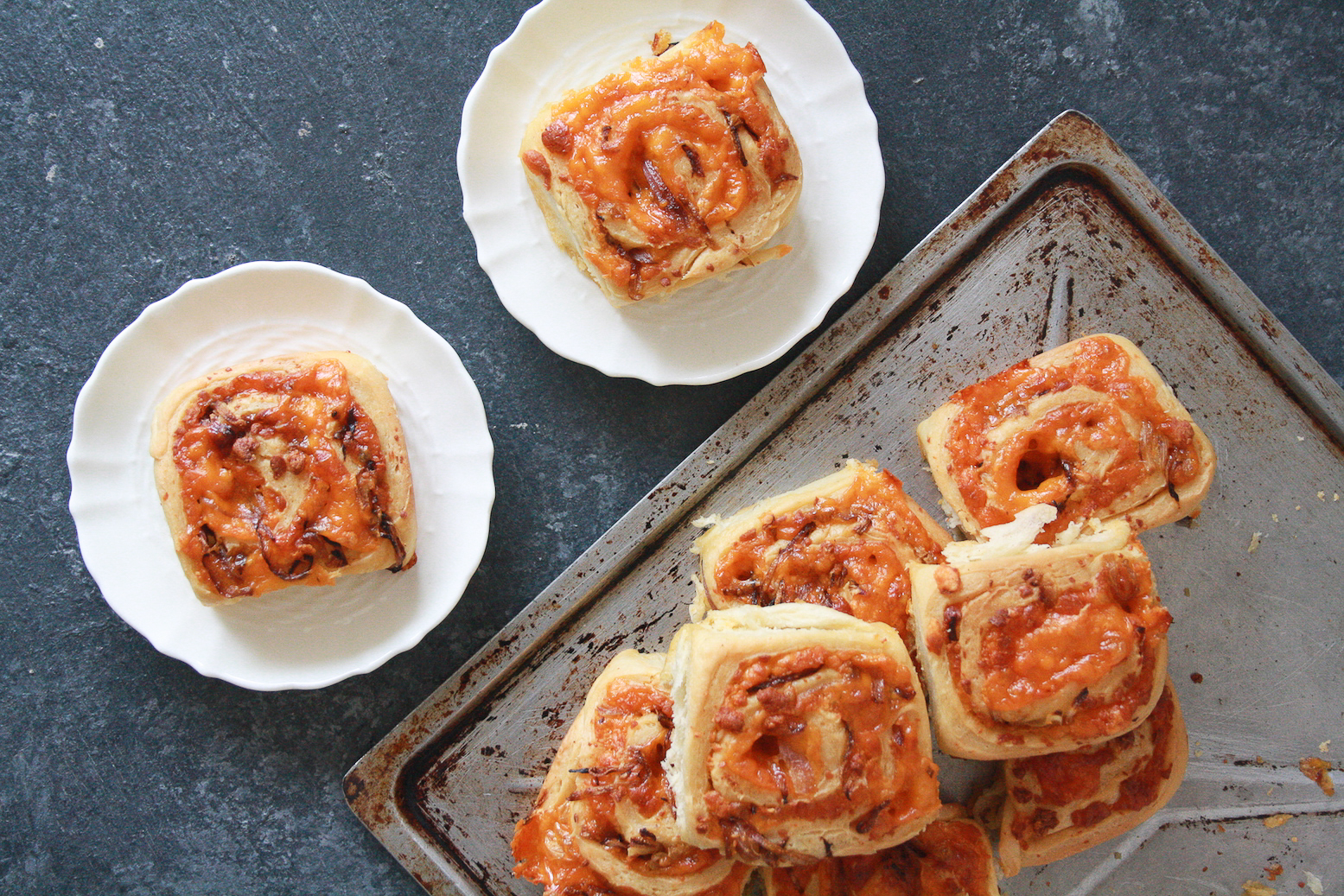 Let's roll!

Shop this recipe!
This post contains affiliate links.