If you feel shy around carbs, I want to tell you that this particular avatar of them will make you shed absolutely every inhibition. With one bite, you will be proclaiming your love for carbs like there's no tomorrow, shouting it from the rooftops, wearing 'I love bread' t-shirts, and shooting carbs straight to the top of your food pyramid.
The number of times I just said 'carbs' = how much I love carbs.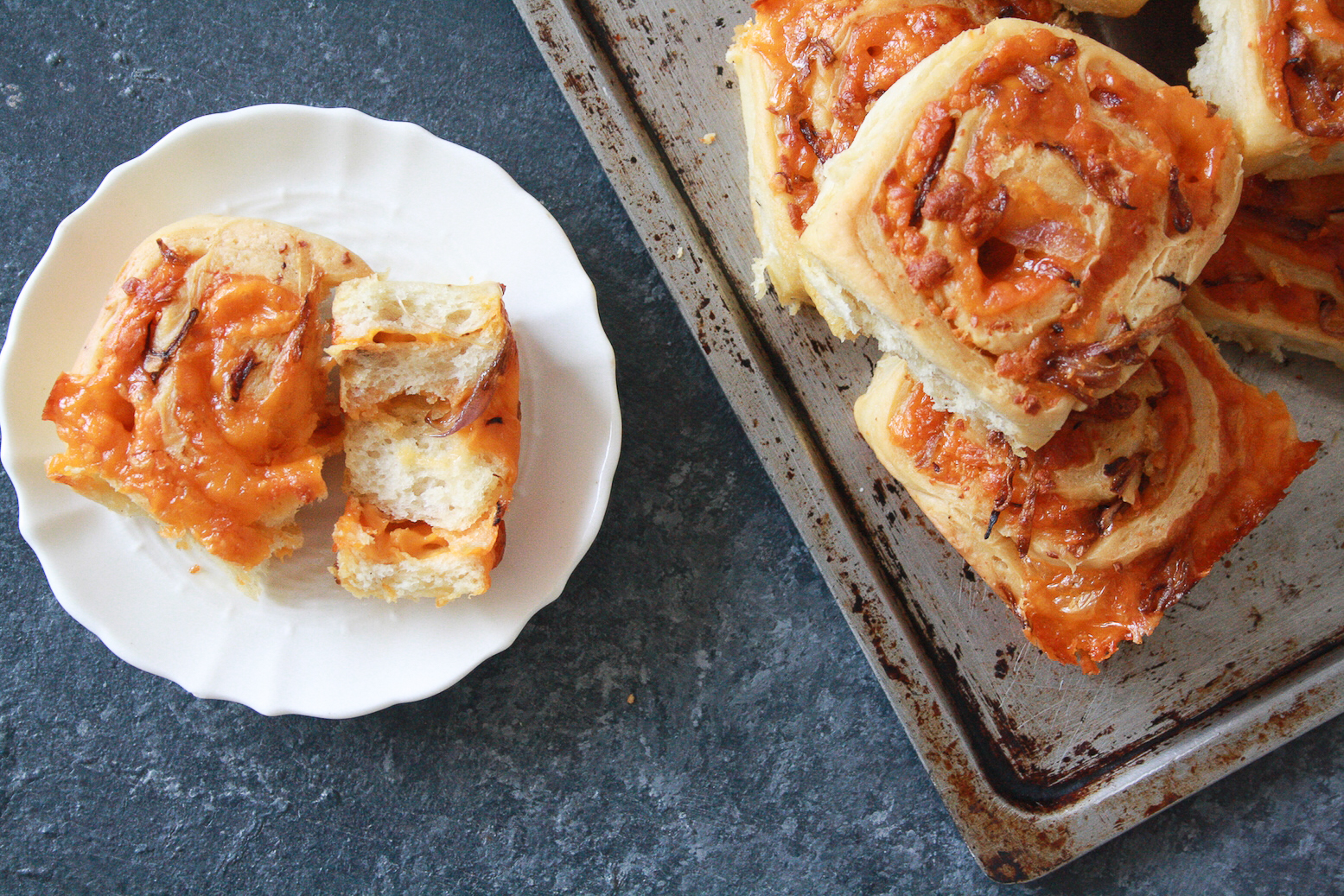 You guys, it turns out that when you fill a fabulously yeasty, doughy dough with tons of shredded cheddar, sweet, soft, caramelised onions, and then roll the whole thing up into tender, fluffy beauties, the end result can give cinnamon rolls a very, very good run for their money. And this comes to you from a dessert blog. I need to have my head examined.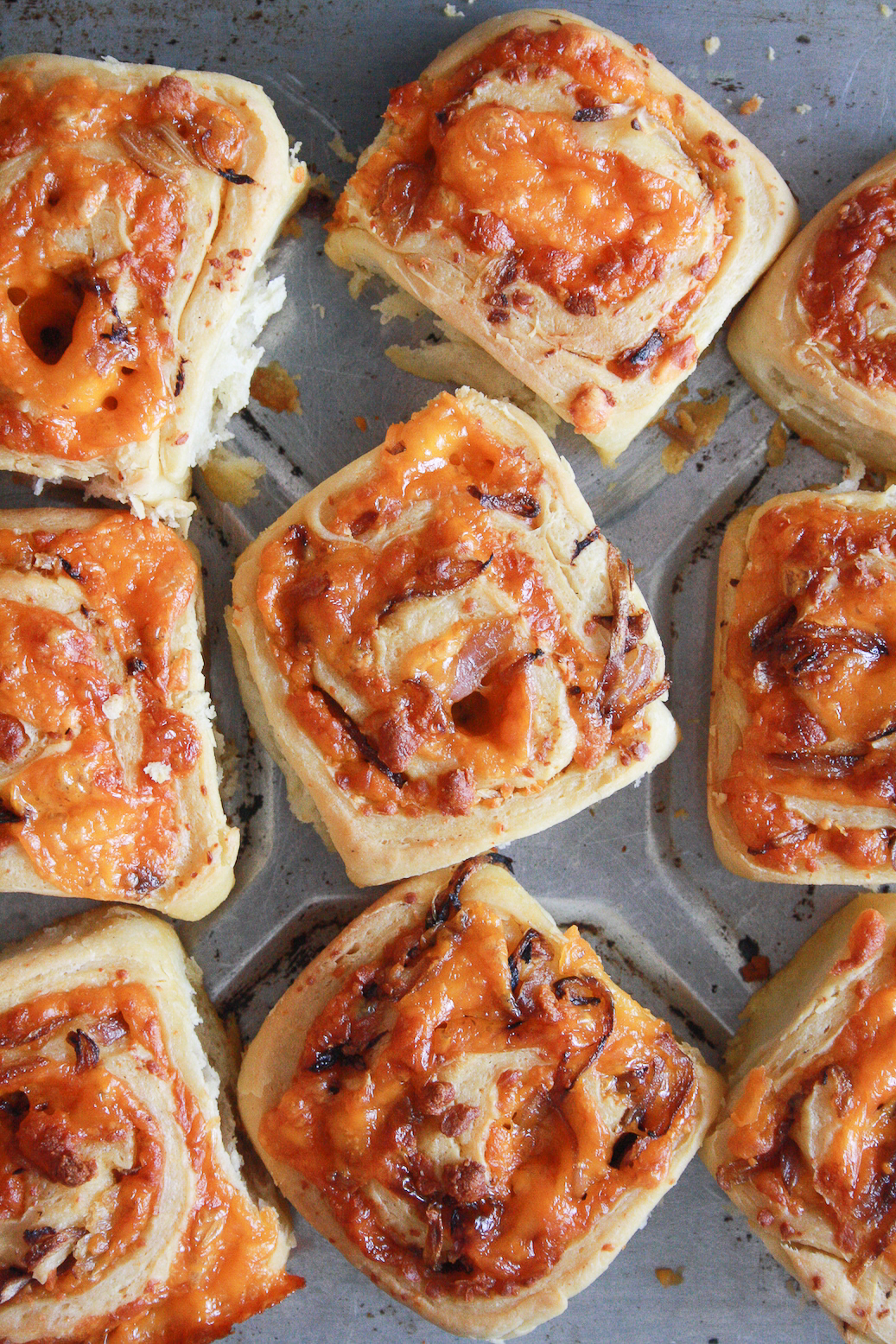 There are two reasons you need to make these: One, I insist. Two, they are based off Deb's Smitten Kitchen Cookbook which should basically be renamed to the 'No-Fail Cookbook' and be done with it. Bonus reason, they're eggless without any impossible substitutions and things. Double bonus reason, THERE'S CHEESE AND A TON OF IT.
Did I mentioned I swapped out the butter for olive oil because Deb said I could, and it worked like a charm? So they're healthy-ish too. I don't know why you're still reading. You should be mixing dough already.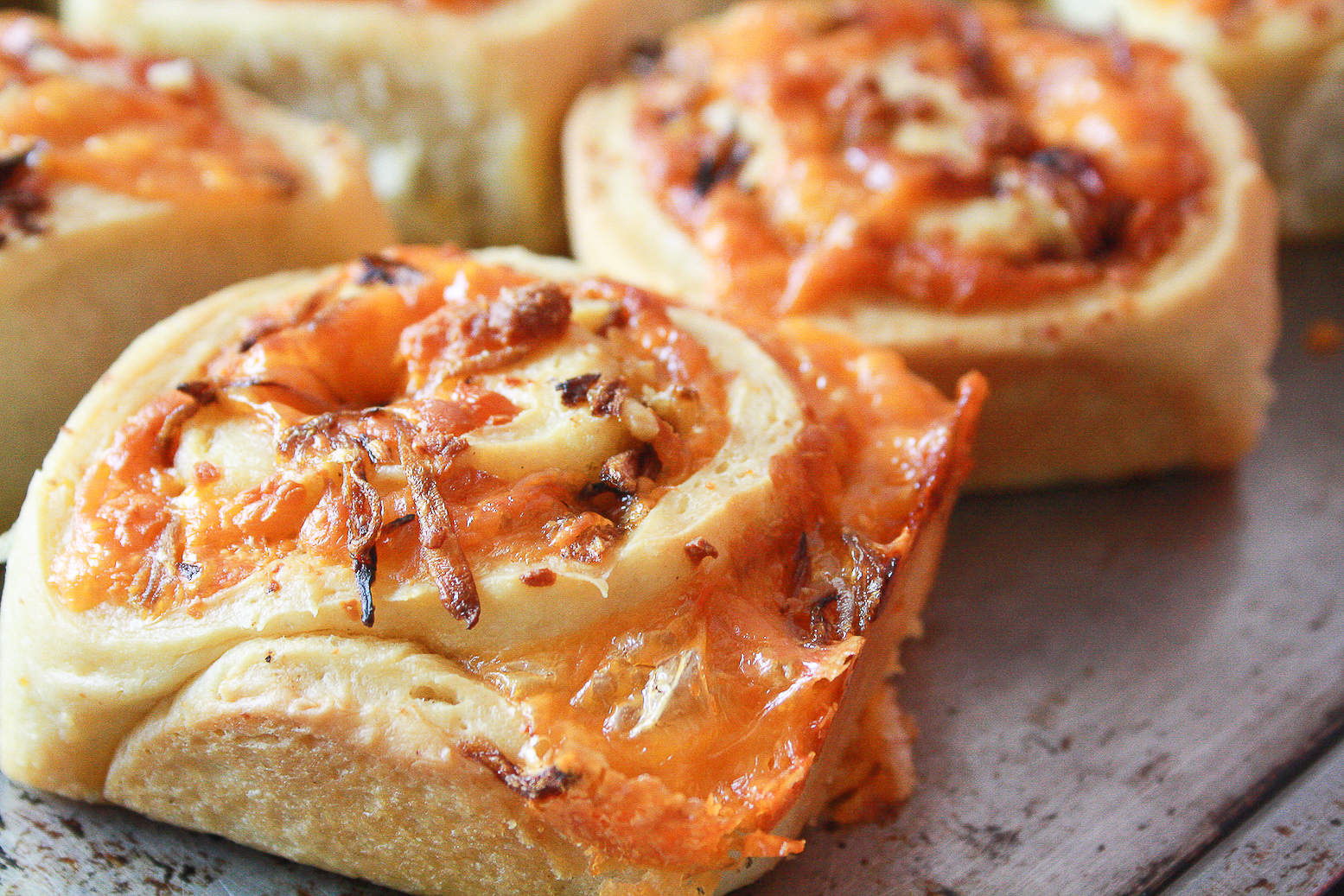 Those bits of cheese and onion that get all crispy on the edges, halfway between baked and barbequed? THAT should be the only actual reason to make these rolls. I may have enjoyed those bits more than the bread itself, just saying. Scraping the pan has never been more fun. Deb uses chopped white onions, but I have a soft spot for caramelised onions and they turned out to be just what the cheddar ordered.
The rolls are buttery without any butter, super soft, and packed with a ton of flavour for only two real ingredients in the filling and basic seasoning. These are what you eat when the munchies hit, or when the eggs need a friend, or when someone yells I NEED CARBS and you just want to be a good person and give that person company.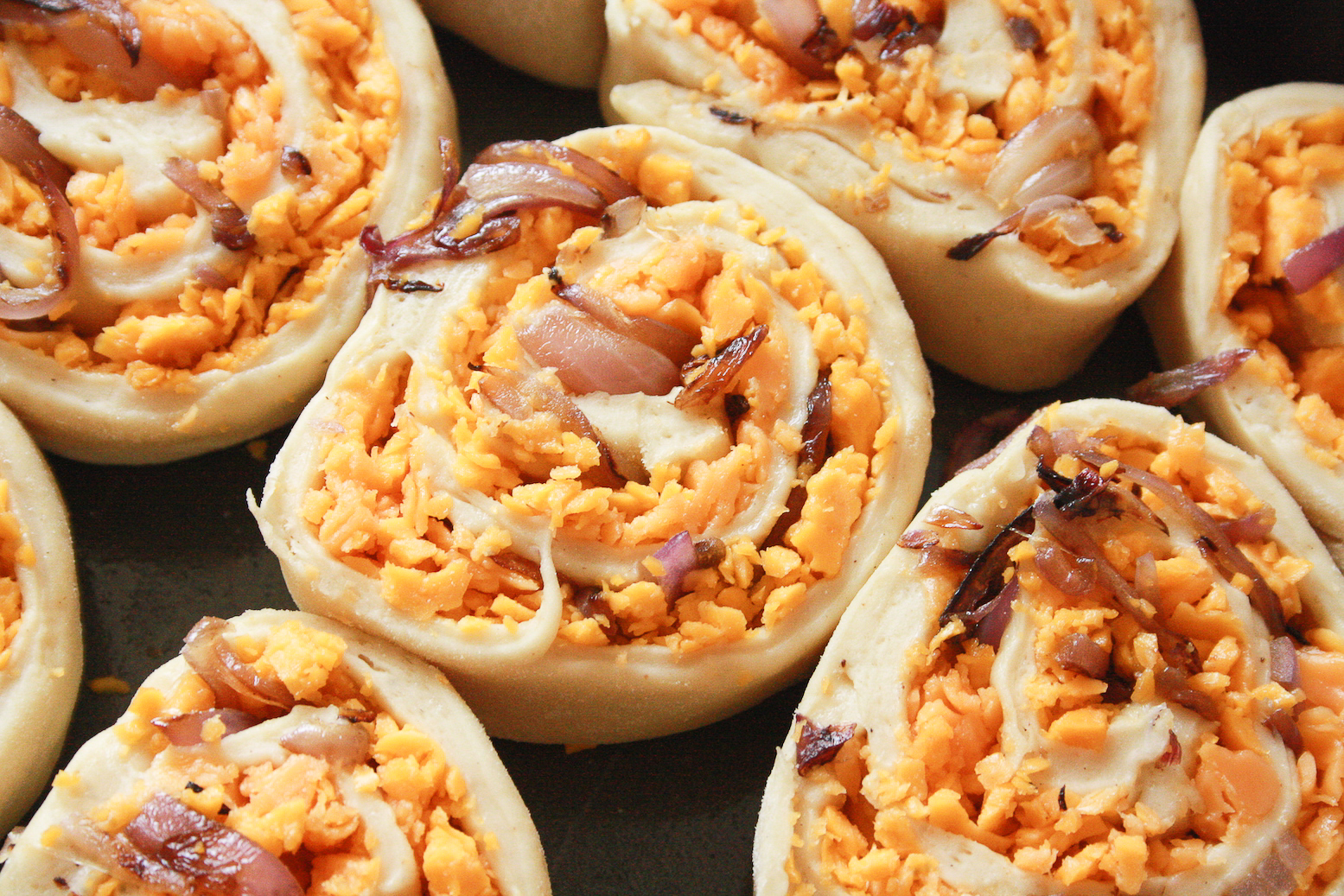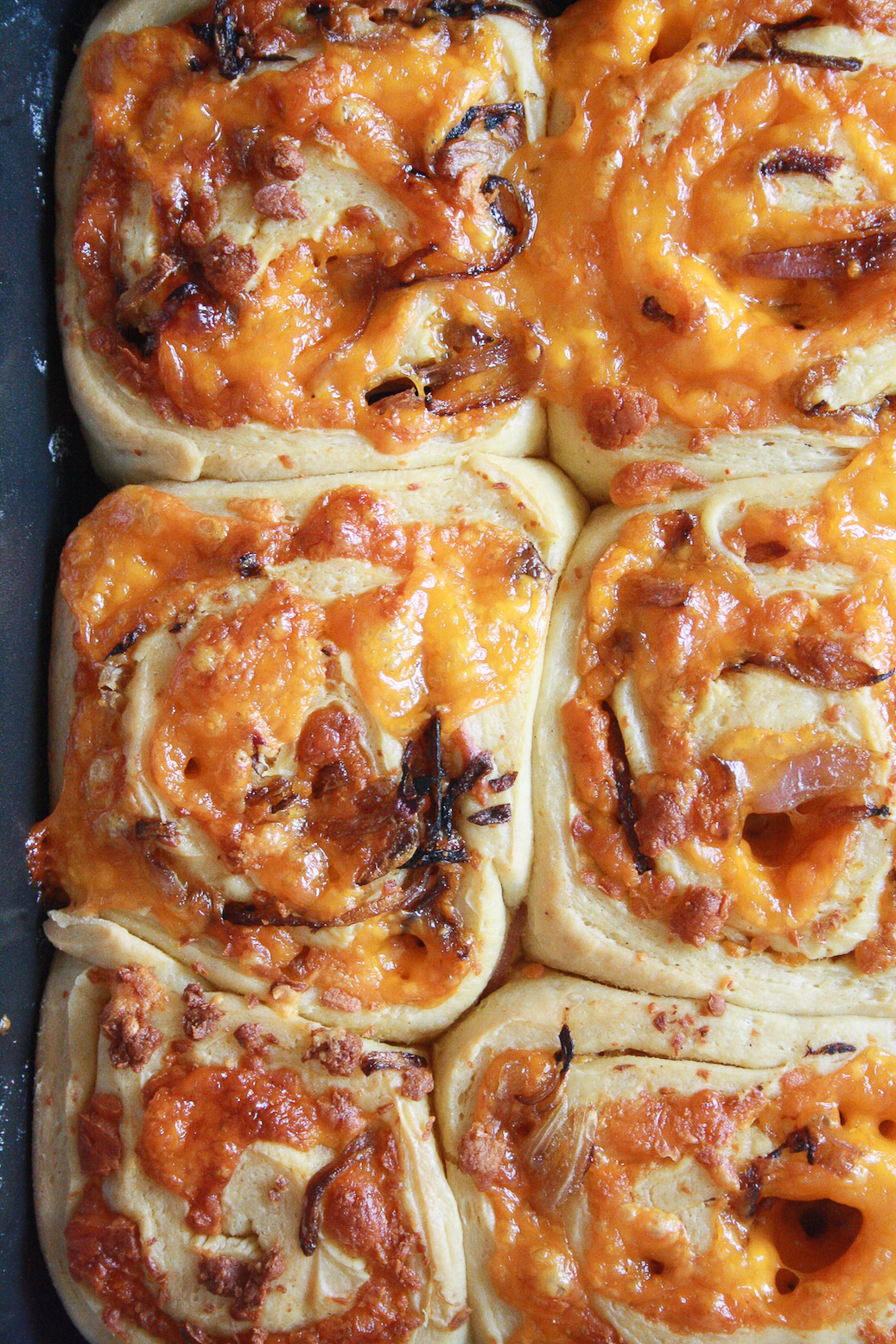 Technical stuff: The rolls need two rises so plan accordingly, although placing the pan in a warm oven helps tremendously, even in a hot kitchen. These also make a larger number of rolls because the dough is rolled out a little thinner than my cinnamon rolls from last week. So you might need two pans. I used an 8″ square pan and then a smaller oval shaped one for the remaining 3 rolls, but do what works for you. The idea is to not crowd them too much and make sure each one gets baked evenly is all.
I've also changed up the steps in the recipe so that everything is just done in one bowl and if doing this by hand, there's not a lot of extra work involved, so yay. The original recipe uses instant yeast which doesn't need to be proofed in a warm liquid. I use active dry yeast, so there's an extra 5 mins if you do too.
Other than that, this dough is foolproof, it's soooo easy to make these rolls, you'll be making them all the time, I hope.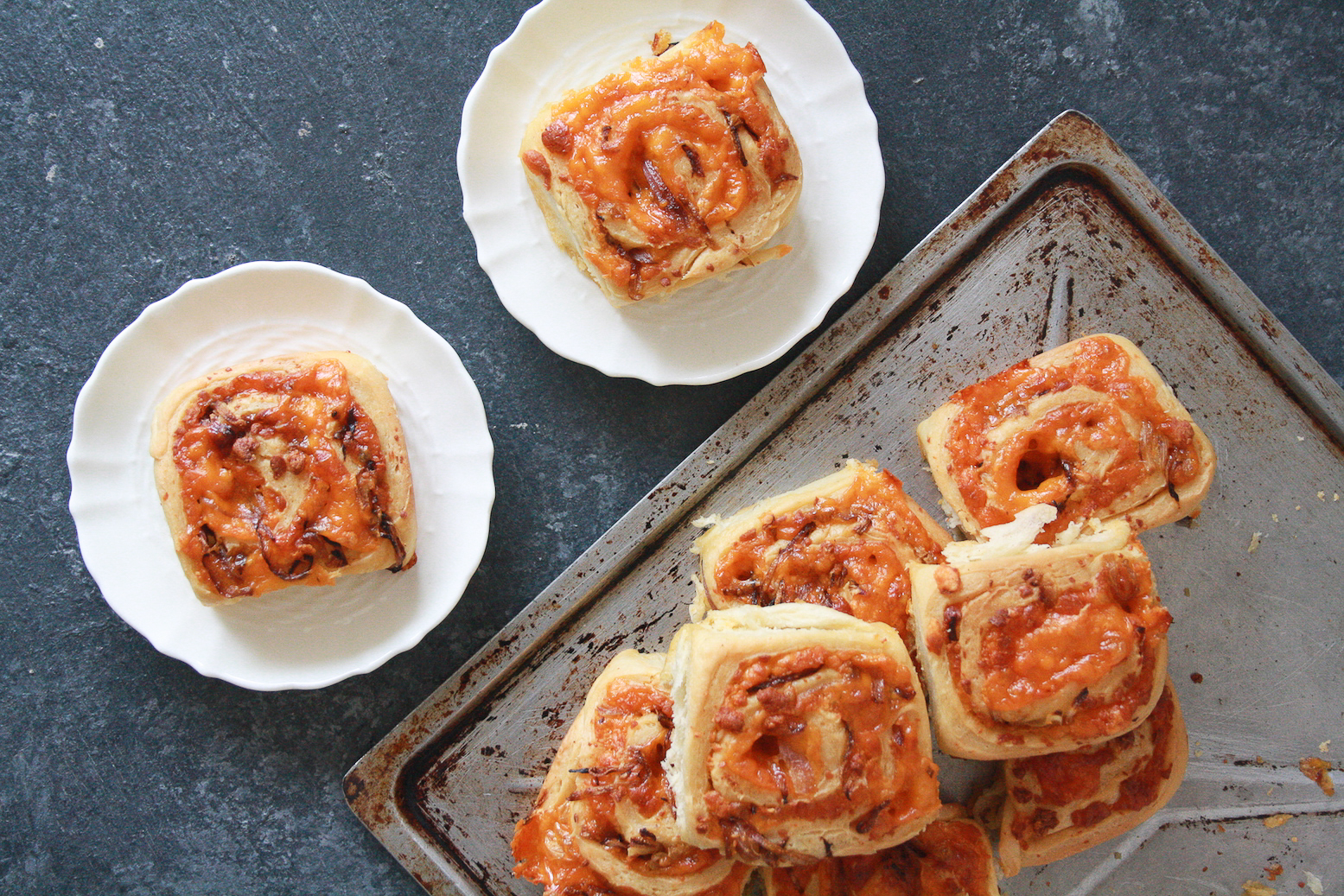 Let's roll!

Caramelised Onion and Cheddar Rolls (Eggless)
Soft and fluffy savoury rolls filled with orange cheddar and caramelised onions!
Author:
The Desserted Girl
Ingredients
For the dough
1 cup milk
2 and ¼ tsp active dry yeast
1 tbsp sugar
4 tbsps olive oil
3 cups all-purpose flour
1 tsp salt
1 tsp freshly ground pepper
Paprika powder, optional


For the filling
2 cups grated cheddar cheese
1 medium onion, thinly sliced
2 tsps olive oil
Salt and pepper, to taste
Instructions
Heat the milk till it's warm, but not hot and you can comfortably dip a finger in. Add the yeast, stir it around, cover and set aside for 5 to 10 mins. I found that yeast doesn't dissolve as well in milk as it does in water, but the job gets done.

In the bowl of a stand mixer fitted with the dough hook, or in a large mixing bowl, combine the yeast mixture, sugar and olive oil. Mix for a few seconds till combined, even if it not fully.

Add the flour, salt and pepper, plus paprika (if using) and mix till a shaggy dough comes together. If using a mixer, let it run on low speed for 5 to 6 minutes until you have a smooth, very slightly sticky dough. If doing it by hand, mix and knead the dough on a lightly floured counter for about 8 minutes, until smooth.

Lightly oil the bowl you just used, then place the dough in it. Cover tightly with clingfilm and set aside to rise in a warm place for 1 to 2 hours, until doubled. I like to keep my oven on for a couple of minutes at its lowest temperature (100 C, but preheated all the way), then turn it off and place the bowl inside it. It speeds up the process and makes life easier.

While the dough is rising, fry the sliced onions in the olive oil until browned and softened. Set aside to cool a bit. Grate the cheese at this stage too, if you haven't already.

Lightly grease a 9 x 13 pan or an 8" square pan and another smaller dish, roughly 6" long. You could also use a 9" round pan.

When the dough has doubled, punch it down to release the air, then turn it out onto a lightly floured counter or large silicone mat. Roll it out into a roughly 12 x 16 rectangle, sprinkling flour as needed.

Spread the cheese all around the dough, till the edges, then sprinkle the cooked onions all over it. Sprinkle on salt and pepper. I actually forgot to season at this stage, and topped the baked rolls with salt 🙂

Slowly begin rolling the dough up tightly and place it seam side down. Slice using a sharp knife into 12 equal sized rolls. Place each one in the prepared pan(s), leaving about an inch gap between each for the second rise. Cover tightly with clingfilm and leave to rise again for about 1 hour until puffed and doubled.

Preheat the oven to 175 C. Remove the clingfilm from the pan, brush the rolls liberally with more olive oil and sprinkle on a little more cheese if you like. Bake for 20 to 25 minutes until lightly browned, and the cheese is bubbling. I turned the oven to the broil setting for a couple of minutes for some additional colour, but this is optional.

Allow the rolls to stand for a minute or two, then using a sharp knife, cut each one out and eat immediately!
Notes
*Prep-time does not include rise time

*I used an orange cheddar because it has a sharper flavour and nicer colour, but feel free to use any kind, even mozzarella!
Shop this recipe!
This post contains affiliate links.