I give up. Drama-free pies are not written in my destiny. Something is always going to go wrong. Always. I'm just going to accept this and move on. Because guess what, drama or not, there's usually a buttery, flaky, perfectly delicious pie at the other end. Some would say it's worth the hair pulling and hysterics. I'm going to become one of them.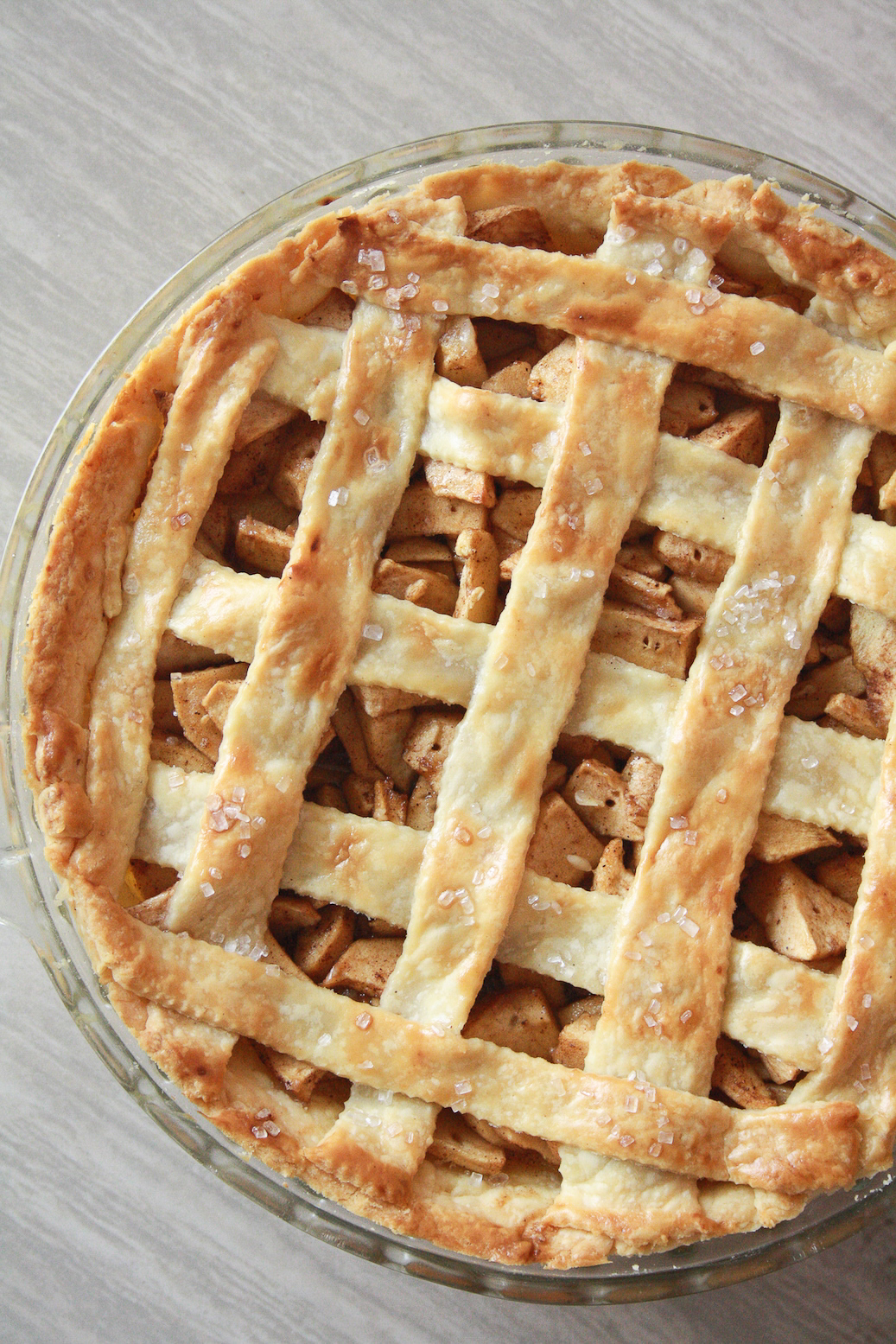 Because somehow, a classic apple pie can never really go wrong. There's sugar and spice and literally everything nice. So even though my fridge wasn't doing the one job it has, this pie crust saved itself by the sheer miracle of…butter? There is a Pie God after all.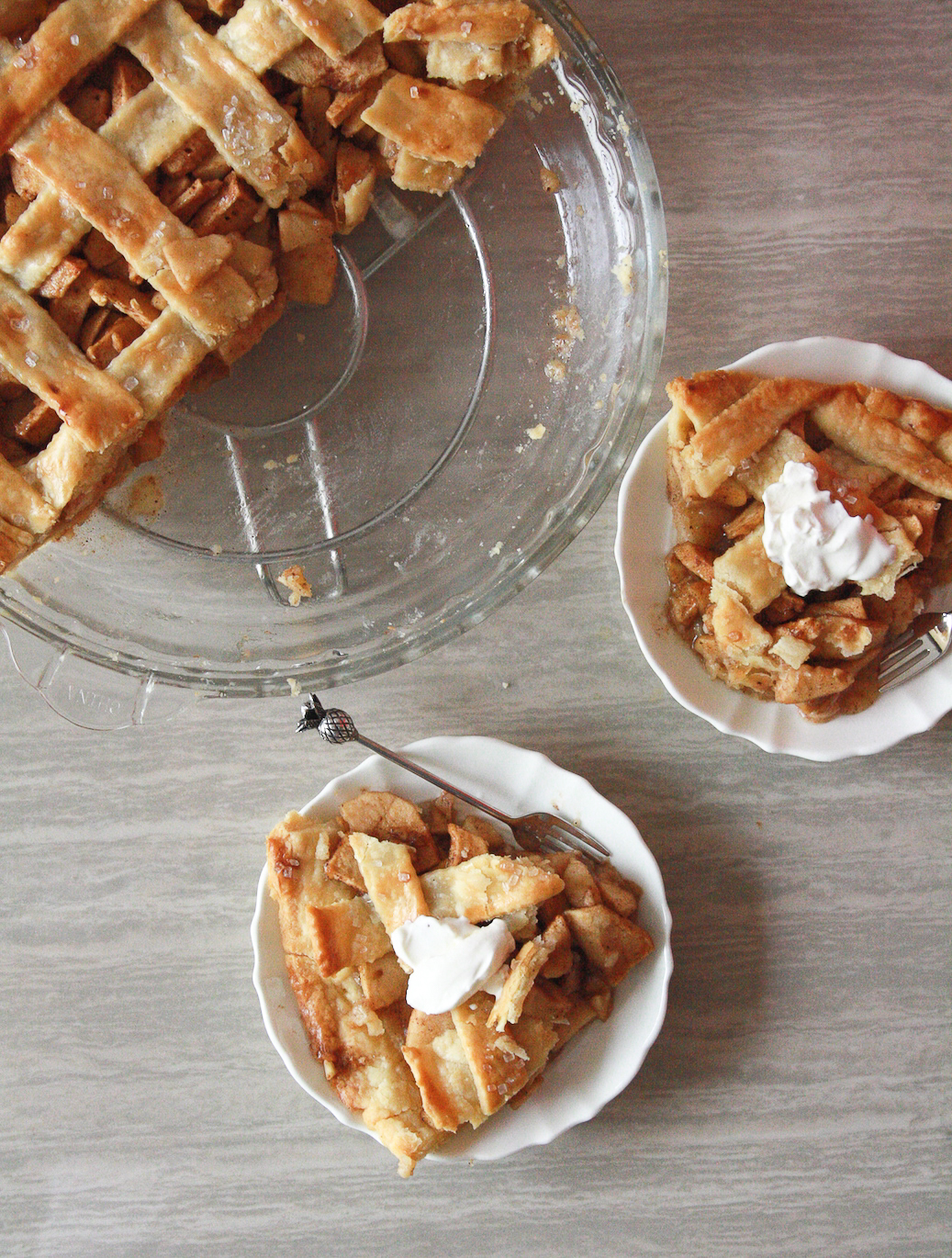 So, here's what all went down. First, our fridge has been acting up for a couple of days now and I decided it would be a good time to make a pie crust which needs to have cold butter and be kept cold at all times. COLD COLD COLD. I love how I continue to make my own life difficult. Second, the dough was obviously harder to roll out since it wasn't completely chilled so sadly, I couldn't do a weaved lattice, the strips kept breaking 🙁 I pulled them off the apples, re-rolled them and decided to just make a simple criss-cross lattice pattern. I promise the weaving will happen some day. Third, I forgot to add sugar to the crust and it turns out, it doesn't need it any way. I swear. Fourth, two of the apples I was planning to use were spoilt so I had to make do with a slightly smaller filling. And finally, I adjusted the proportions to my usual pie crust because I had 200 gms and not 230 gms of butter. I've done weirder things with my time, believe me.
And still, still, still. The crust was puuurrrfect. And I don't say this about my pies very often. The kitchen smelt like a dream, the crust was flaky and crackled when I cut into it and the apples were somewhere in between crunchy and completely jammy and just amazing. I'm going to go out on a limb here and say, don't panic too much about how cold your dough is. It works out in the end 😀
(There's more blabbering after the next four photos).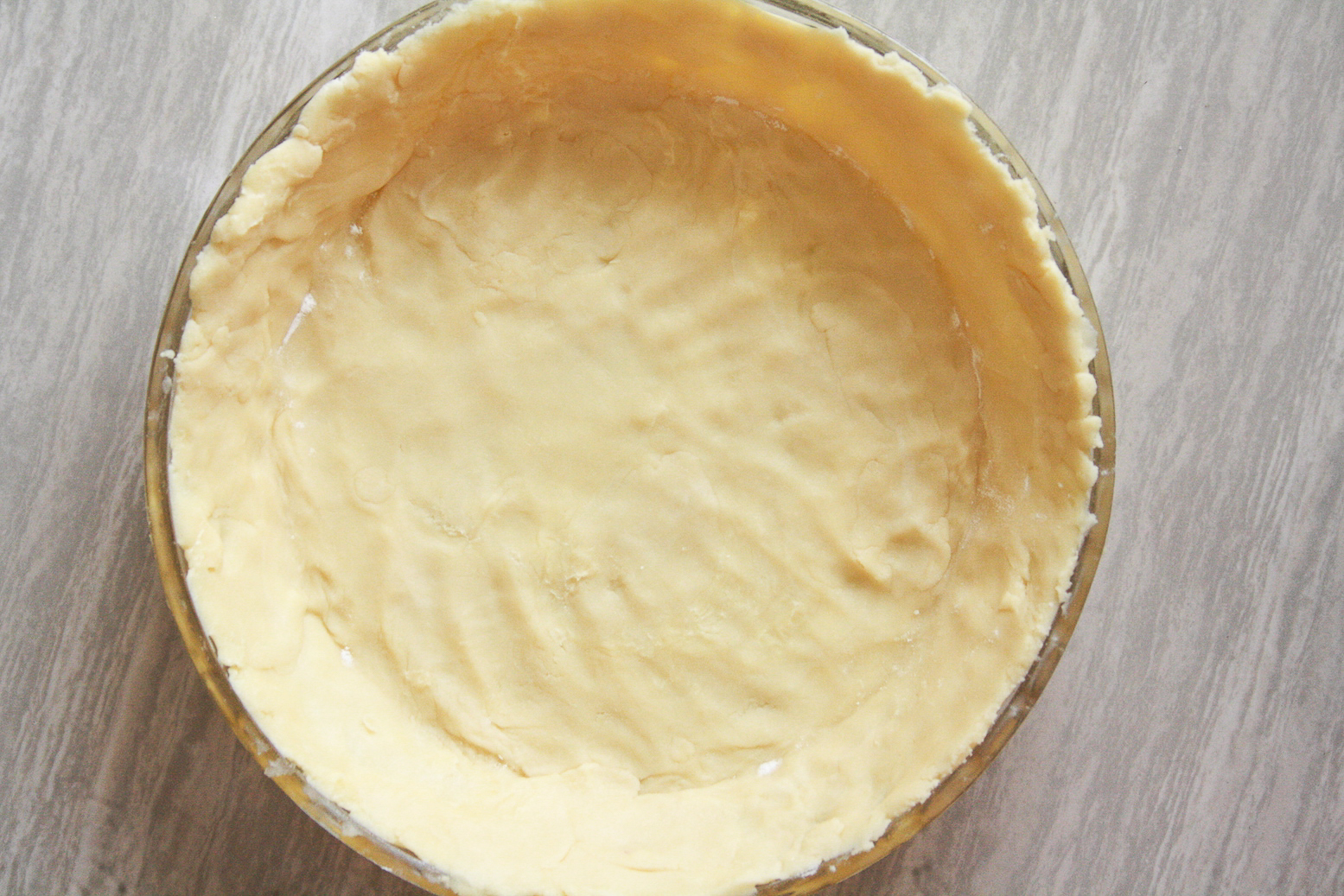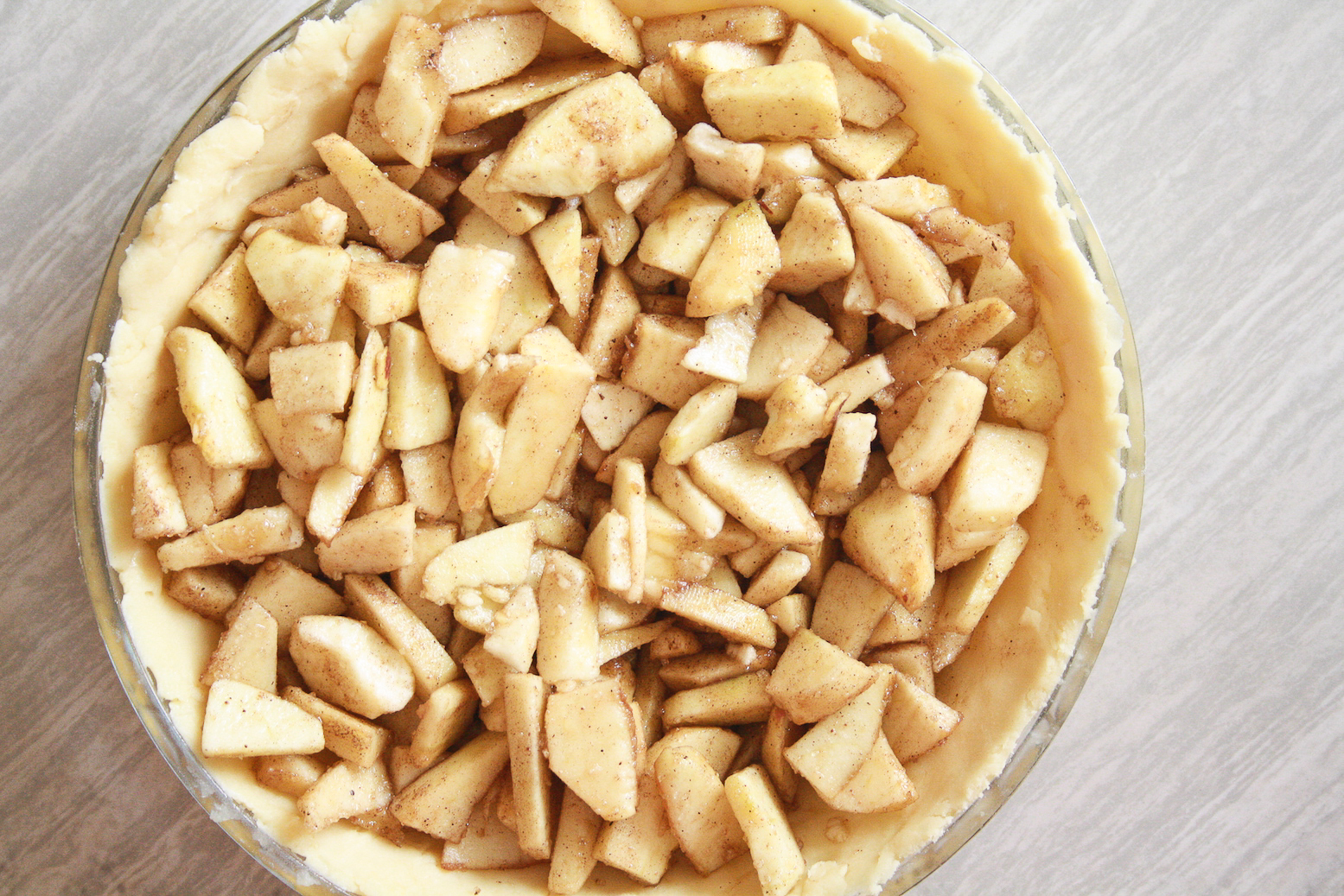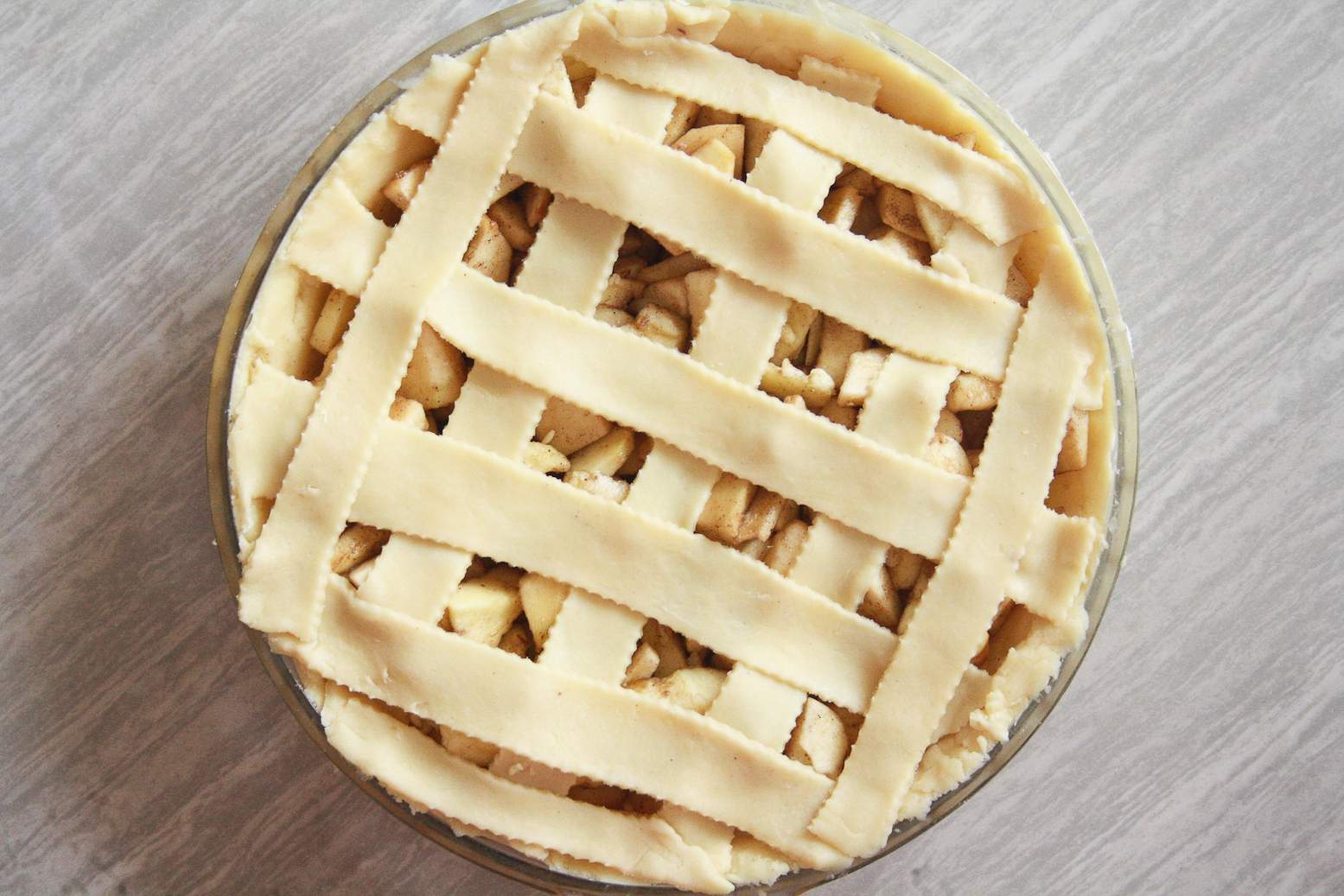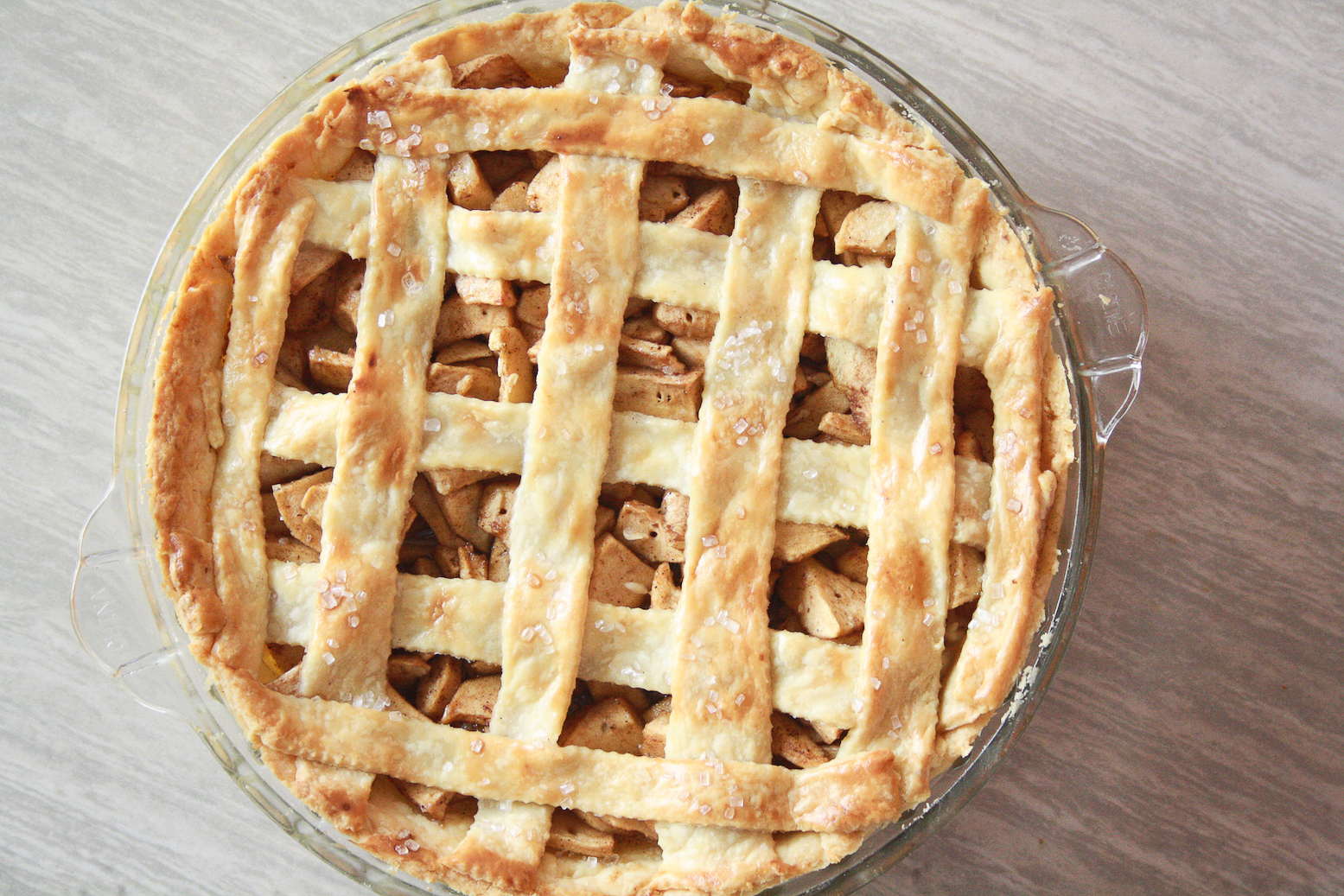 I chose to tip the apples in and let them release some juices into the pie crust itself. I like it this way because the apples don't dry out as much in the oven. The pieces on top still do, and tend to remain crunchier than the ones below. You could also bake the pie longer to get all the pieces super soft. Do what feels right 🙂
(Check out the flaky flaky flaky crust! In yo face, cold butter.)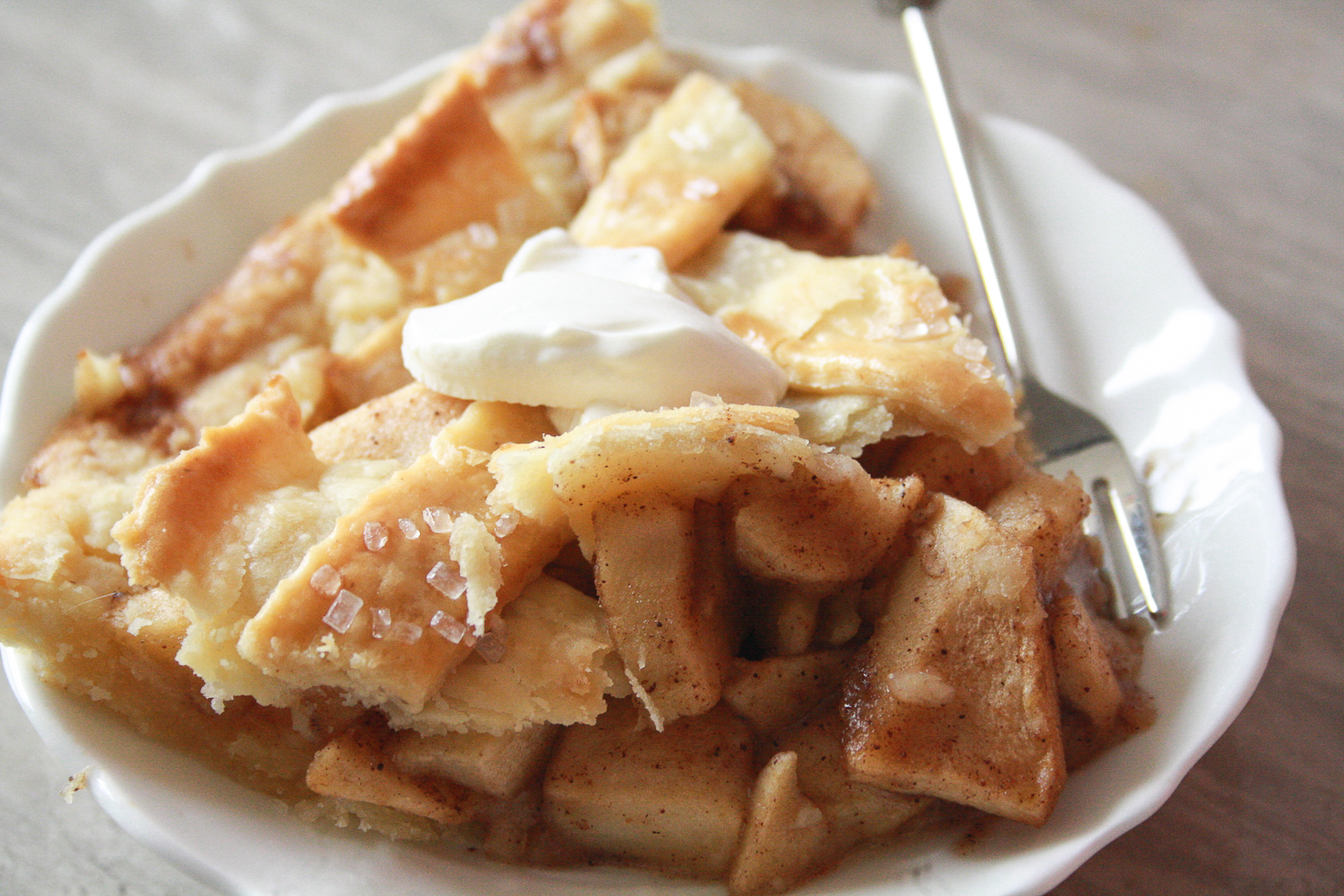 The recipe here makes enough for the base and a lattice crust or a very thin upper crust to cover the whole pie. Whichever way you feel like going is fine, though I think the lattice is funner and less messy than covering the whole thing with a fragile piece of dough. More about rolling, slicing and panicking in the recipe below!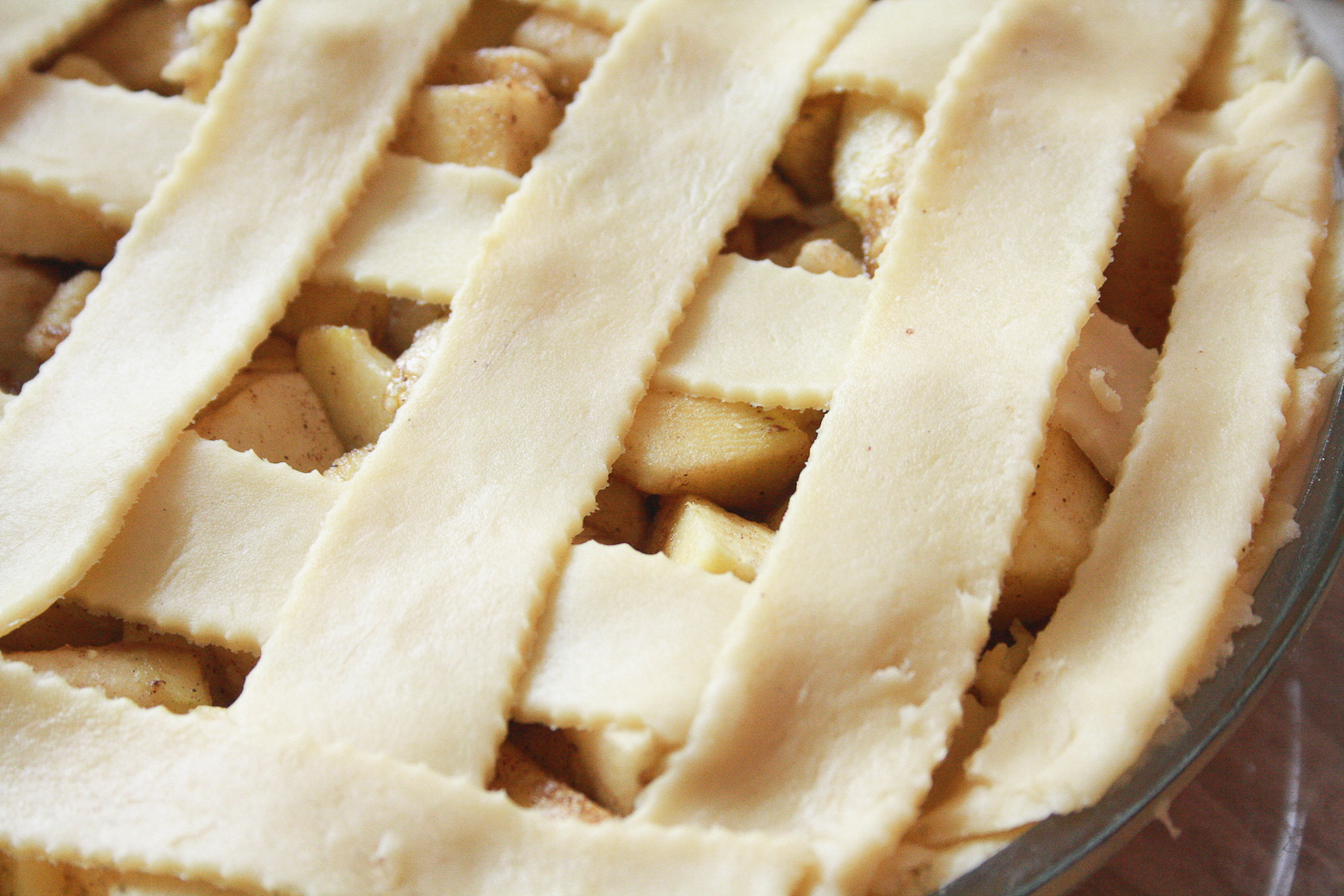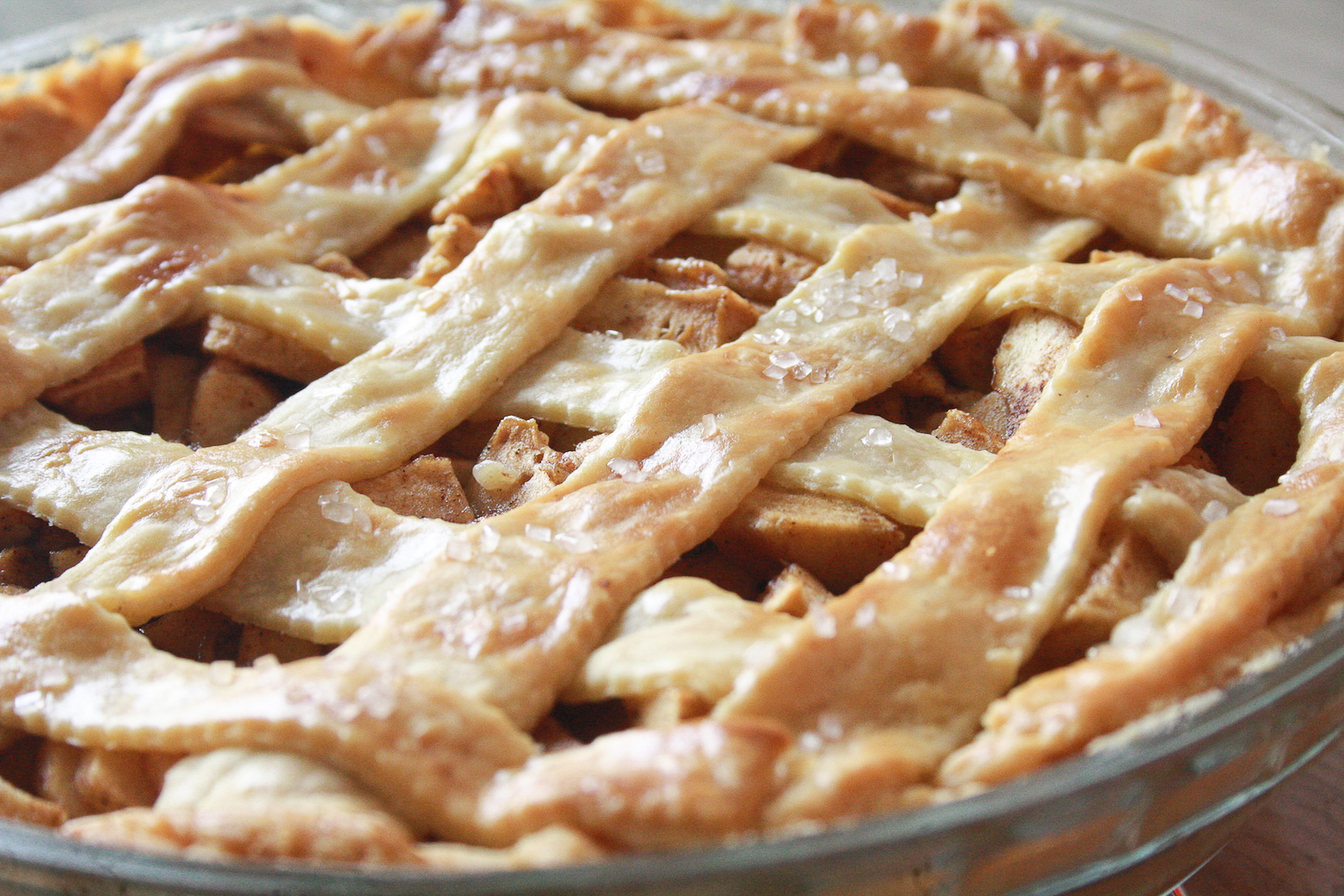 Don't let homemade pie crusts scare you, they're actually quite easy. Just a little bit of care and patience, and you're good to go. If the crust tears a bit, or is too thin or too thick in parts, you can fix it, I promise. It's super fun to make a pie from scratch, almost as good as bagels.
Cream, vanilla ice cream, or even salted caramel sauce are all perfectly acceptable and recommended ways to top a large piece of this pie, preferably warm. Let's bake!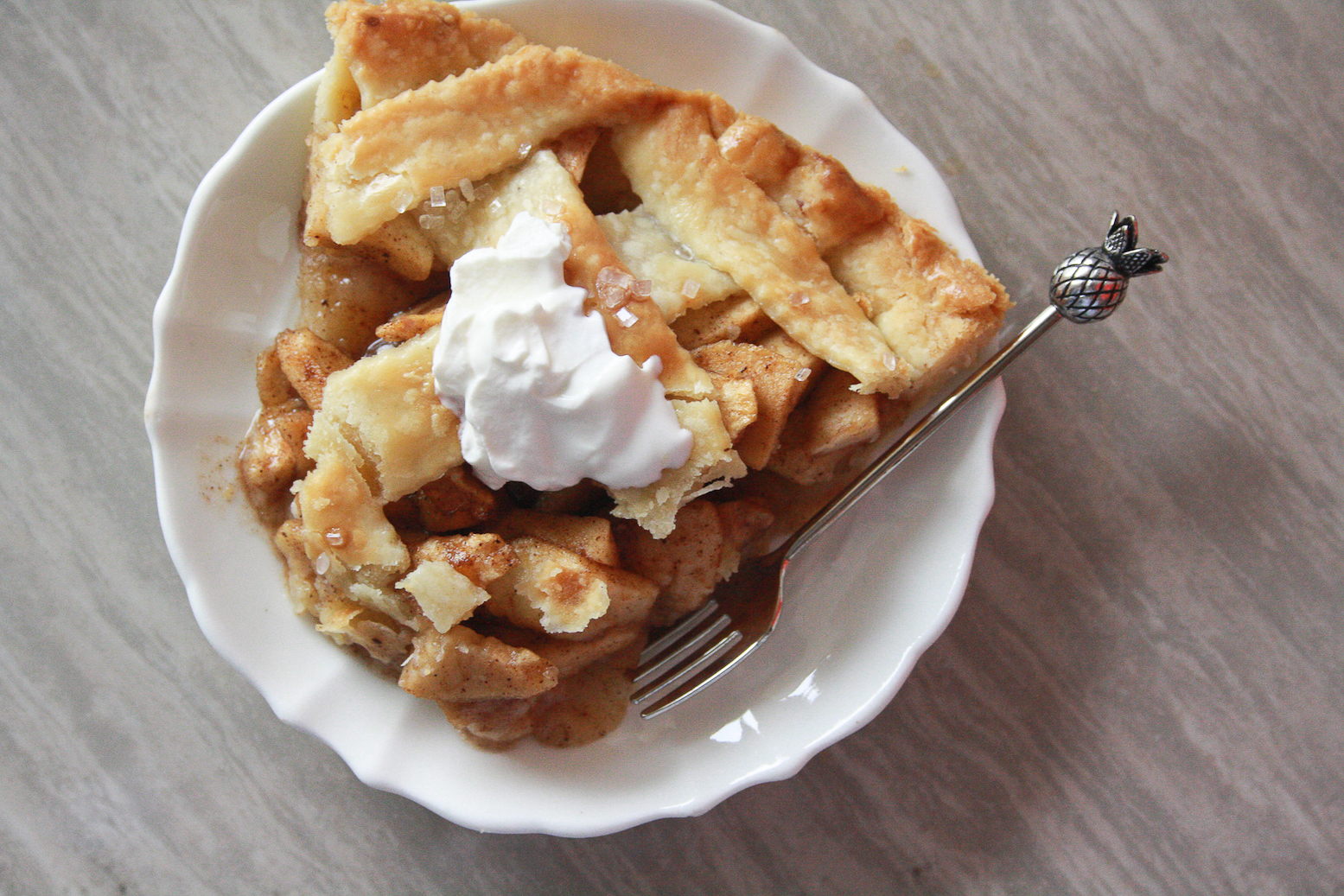 Apple Lattice Pie
Classic apple pie made with a from-scratch, all-butter flaky crust!
Author:
The Desserted Girl
Ingredients
For the pie crust
2 cups all-purpose flour*
1 tsp caster sugar, optional (I found the pie perfectly sweet even without sugar in the crust)
½ tsp salt, if using unsalted butter
¾ cup cold butter, cubed (200 gms)
3 to 4 tbsps ice water
Extra flour for sprinkling
Cream and granulated sugar to top the crust, optional

For the filling
7 to 8 apples
¼ cup brown sugar
1 tsp cinnamon powder
½ tsp nutmeg powder
Instructions
To make the crust, combine the flour, sugar and salt, if using, in a large bowl.

Using your fingertips, rub the cold butter cubes into the flour till the mixture resembles coarse breadcrumbs with a few larger bits of butter scattered through. These bits are what create a flaky dough.

Add 3 tbsps of ice water and bring the dough together. It will be soft and slightly wet, so sprinkle on a little flour if needed. Add a 4th tablespoon of water only if absolutely needed.

Form the dough into a rough ball, place on a large piece of clingfilm and pat into a ¾th inch thick disc. Wrap tightly and refrigerate for 1 hour. This dough can be chilled or frozen longer, as long as its softened a little before rolling.

When ready to roll, flour your counter or preferably, flour a silicone mat. I like using a mat because it doesn't move around and prevents sticking of the dough.

Unwrap the chilled dough, cut off two-thirds of it, and put the remaining back in the fridge to make the top crust in a bit.

Sprinkle a bit of flour on the bigger portion of the dough, pat it into a disc again, and roll it out into a roughly 10" circle, slightly bigger than the pan you're going to use. Some bits of butter might stick to things and annoy you, but power through. As much as possible, lift and turn the dough to prevent sticking and to make sure its rolled out evenly.

Now fold the rolled dough in half, then in half over itself, so you have a quarter shape. Lift this up, place it in a 9" pie dish and unfold it to cover the base and sides. Move it around gently as needed to cover the whole dish. Trim off the excess and use it to patch up any torn bits or thinner parts. Remember that the apples and their juices will be held together by the base, so that's the most important portion to patch up. Don't stress too much about perfection, it's going to get covered anyway 🙂

Transfer the pie dish back to the fridge. Doing this keeps the crust as cold as possible while you make the filling.

Peel, core and slice the apples. Place in a large bowl then top with the sugar and spices. Mix well, then tip into the chilled pie crust and spread out evenly. Continue to refrigerate it while you make the lattice.

Preheat the oven to 200 C.

To make the lattice, form the remaining dough into a ball, pat into a disc, sprinkle with flour and roll out into a roughly 9" circle. I preferred to trim off the edges to form a rough rectangle, so it was easier to cut straight strips, but this is optional.

Use a sharp knife to cut out even strips, as thick or thin as you like. Place them one at a time on top of the apples, pressing the ends into the rim of the crust to seal it. Form a criss-cross pattern, or if the strips aren't warming up too fast, a weaving pattern.

Brush the lattice and edges of the pie with a little cream mixed in a splash of water, or an egg-wash if you prefer. Sprinkle with granulated sugar for crunch and sweetness. Both these things are optional.

Bake for 20 to 25 minutes until the crust is golden brown (this is why cream or eggwash is recommended) and your kitchen smells like the world's best bakery.

Cover the top loosely with foil, lower the temperature to 180 C and continue to bake for 10 to 20 mins until the apples are as soft as you'd like them to be. Poke a toothpick into the pieces to check for doneness.

Allow the baked pie to stand for a few minutes before slicing. The apples might spill out a little or ooze their juices, that's ok, pies should be a little messy 🙂

Serve warm with vanilla ice cream, fresh cream or salted caramel sauce!
Notes
*If you'd like a thicker base, or want to cover the pie entirely with crust, not a lattice: use 2 and ½ cups of flour and 1 cup or 230 gms of butter. If covering the top entirely, cut small slits in the center to release steam.

*Make sure you're always measuring your flour with the 'spoon and level' method: fluff up the flour with a spoon in the container itself, then scoop and lightly fill the measuring cup up to the top without shaking or tapping the cup, then using the back of a knife, scrape the top of the cup to remove any excess flour. Repeat for as many cups as the recipe calls for.

*I used a mix of Indian apples and the 'Washington' variety. I found the first to be very soft, and the second one held up better while peeling and after baking as well. A mix of apples for texture and flavour is recommended.