Today in Munchies That Society Approves Of, we have crackers. Crispy, homemade, baked crackers with not one terrible ingredient or unpronounceable preservative. It's all healthy and crunchy and fabulous, and there's some cheese because YOLO.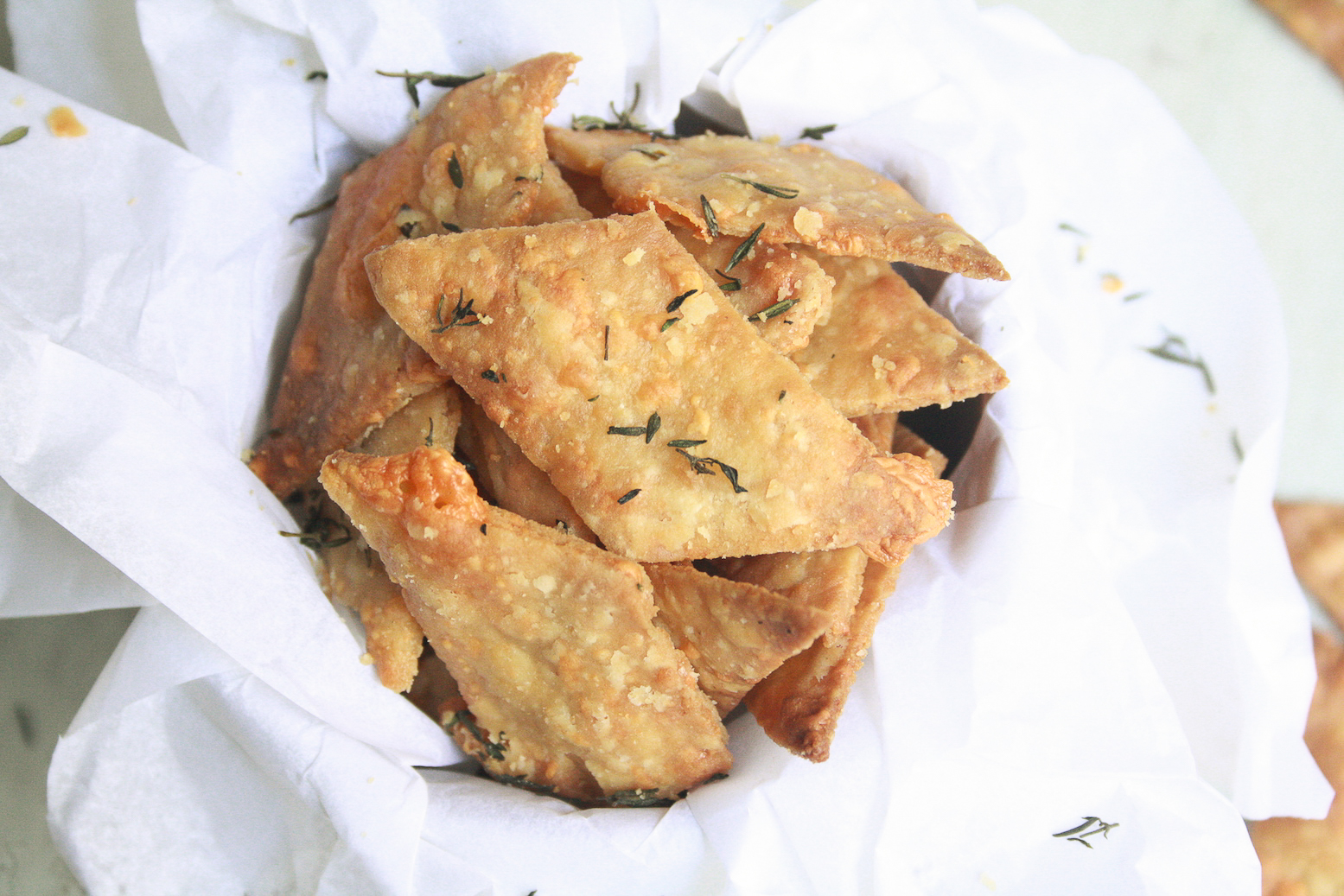 They stay perfectly crispy in an airtight tin for days and you'll be popping them in your mouth every waking minute. They're mysteriously buttery, slightly salty, a little more than slightly cheesy and pretty herby. Make tons of them and munch forever.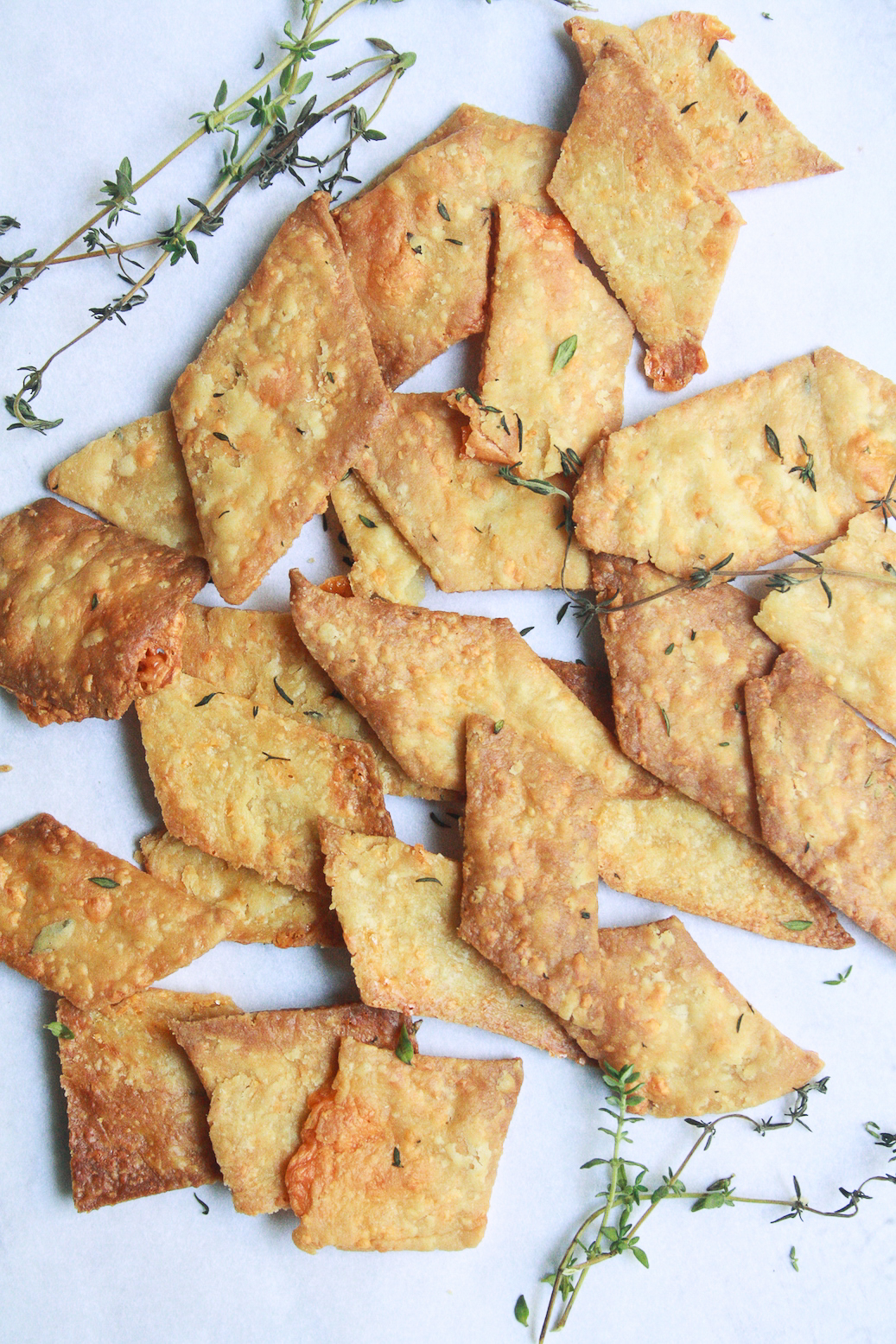 I adapted these crackers from a New York Times recipe and the only fiddly part is rolling the dough out super, super thin and then making sure they're all equally thin so there's no sad, burnt crackers. Honestly, the ones that got a bit overdone may have been my favourite 😀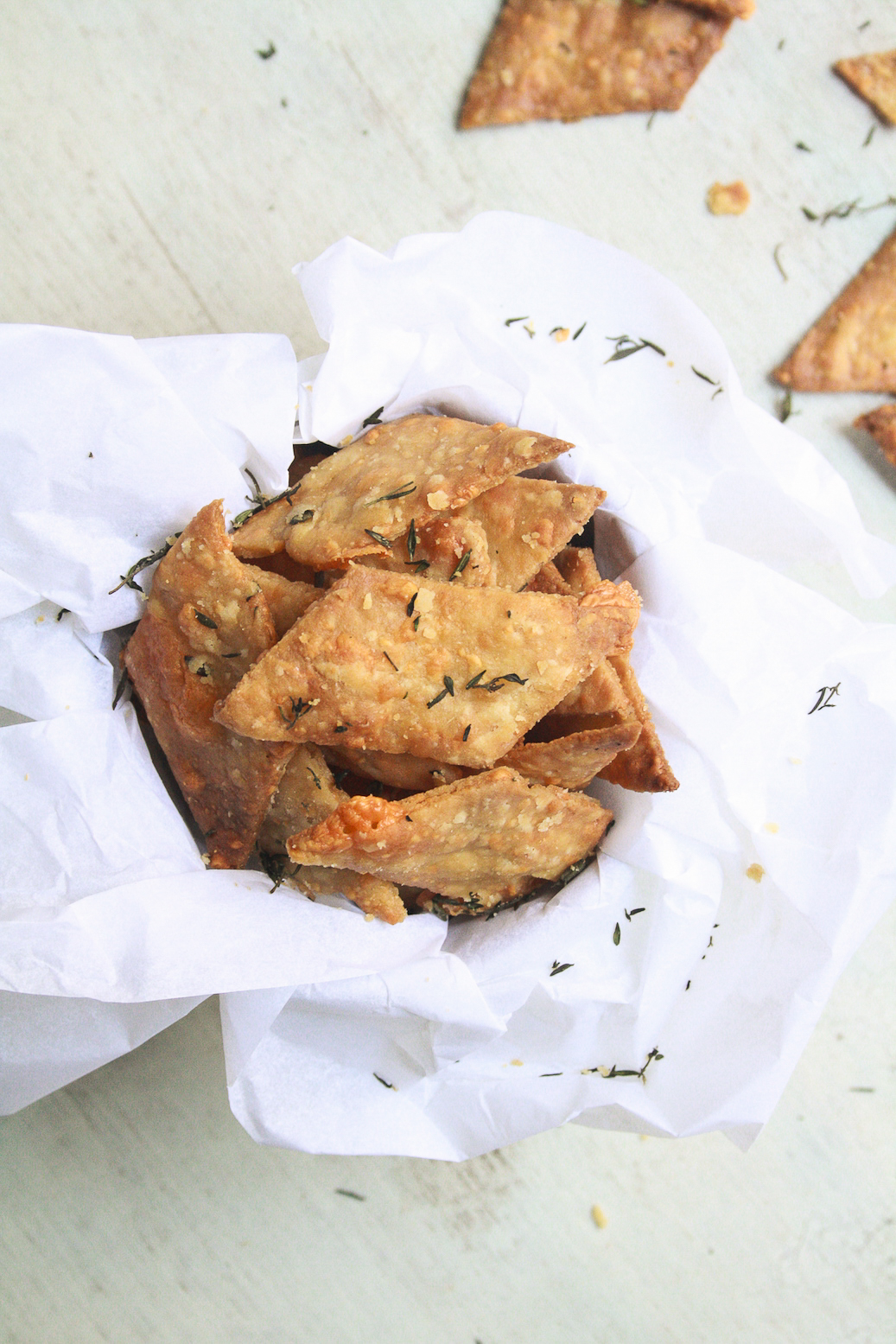 The grated cheddar and fresh thyme mixed into the dough is optional, but they add a ton of flavour, as does the olive oil. Use vegan cheese if you prefer, or leave it out. Swap the thyme for your favourite herb and mix in any other seasonings your heart desires. It's not a high-maintenance dough so go crazy!
Look how skinny but flaky *heart eyed emoji*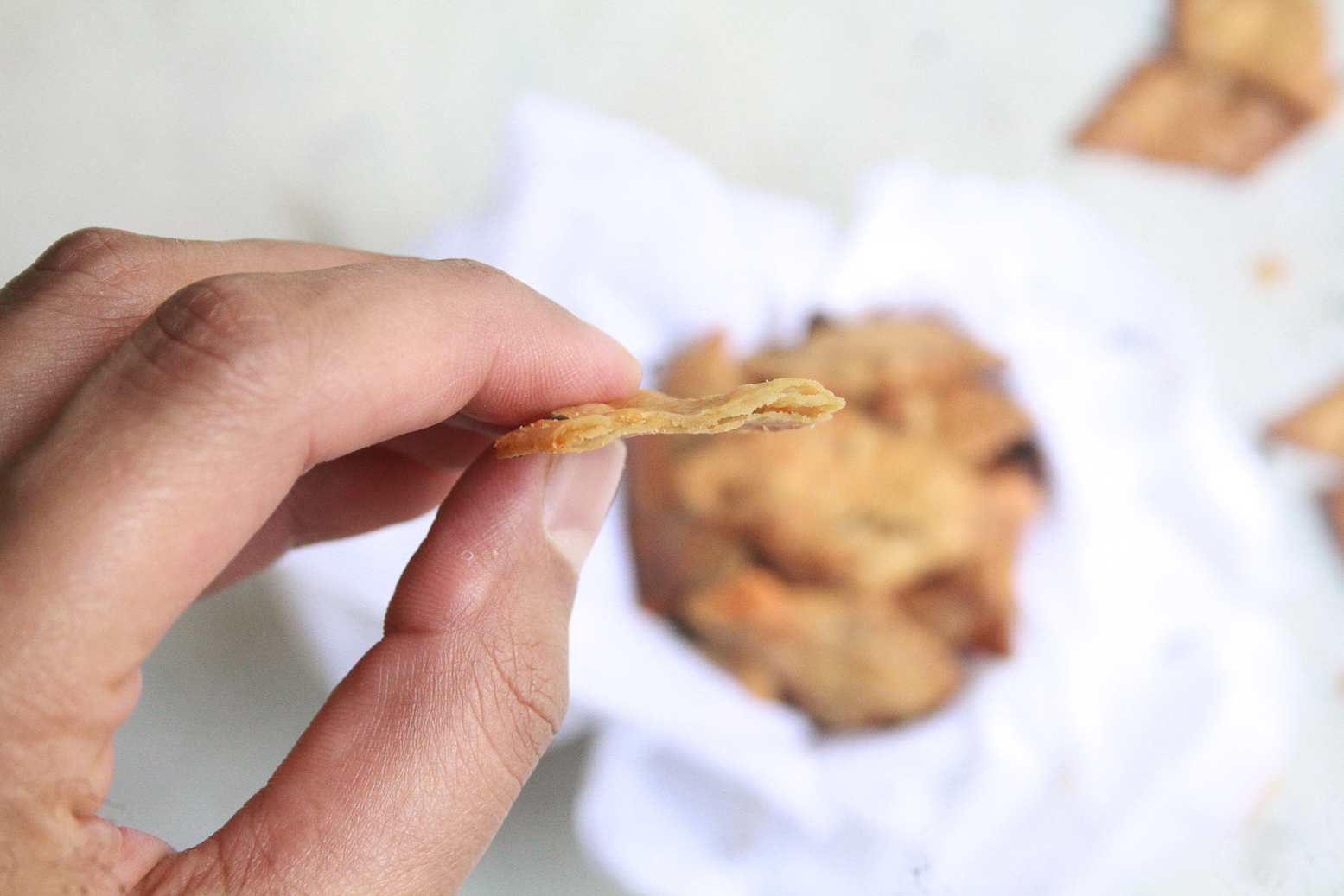 The dough is super, super easy and as long as you have a little patience and parchment while rolling, you should be just fine. Let's get cracking! Hee.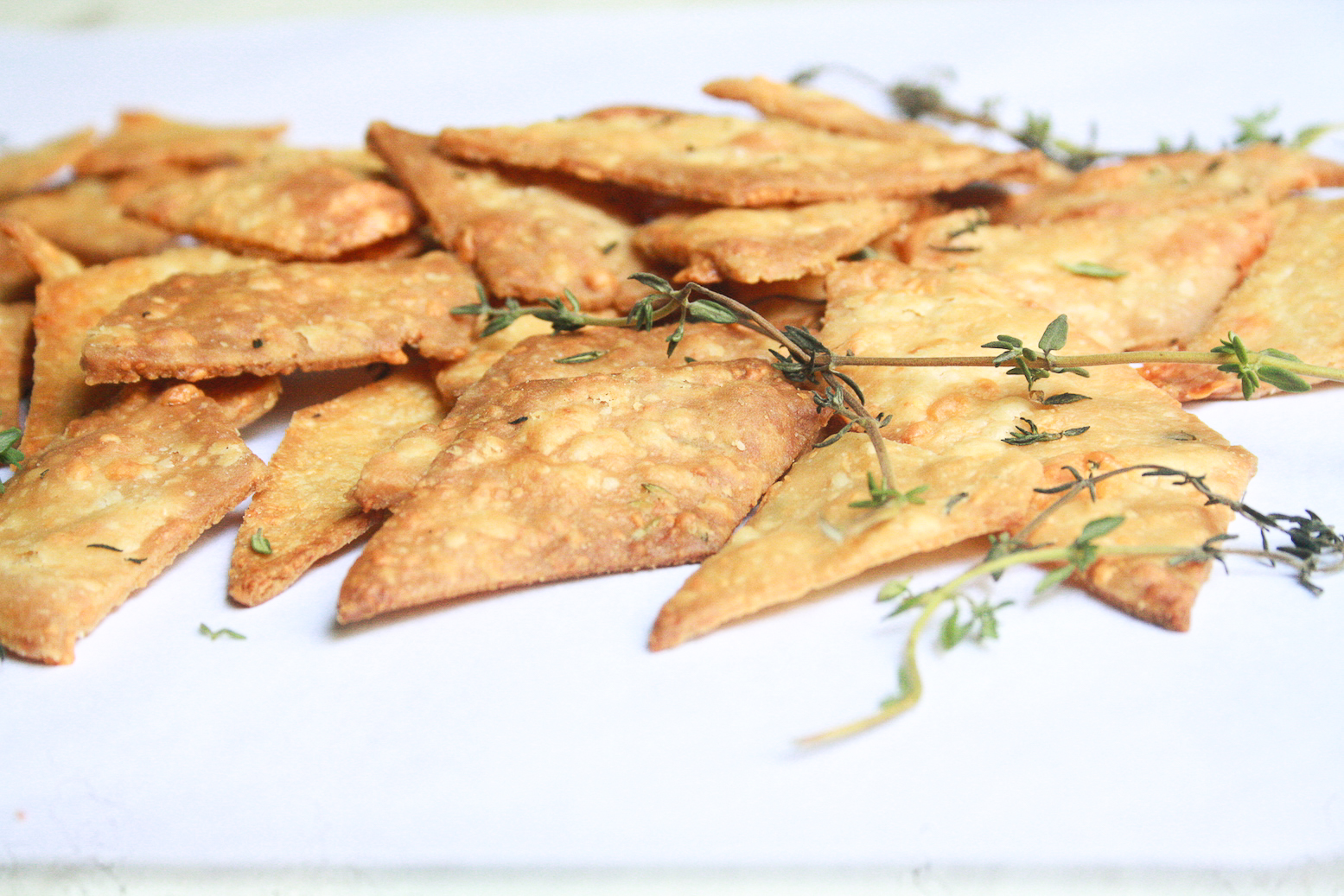 Wholewheat Cheddar Crackers
Crispy, baked crackers made with olive oil, wholewheat flour and filled with cheddar cheese and fresh thyme!
Author:
The Desserted Girl
Ingredients
1 and ¼ cups wholewheat flour
1 tsp salt
½ cup grated cheddar cheese
1 tsp fresh thyme leaves
5 tbsps olive oil
4 to 5 tbsps water
Instructions
This dough can be made by hand or in a mixer, which is less messy, but it's easy either way. Mix the flour and salt, then add the cheese and thyme and mix again.

Add the oil and mix till the flour is moistened. Then add the water, between 4 to 5 tbsps, as needed to bring the dough together. It should be wet but not unmanageable.

Preheat the oven to 175 C and line a baking tray with a silicone mat so that the crackers don't stick.

To roll the dough out, here's what I found easiest to do. Stretch a large piece of clingfilm out on the kitchen counter. Divide the dough into three equal parts.

Place one part on the clingfilm, pat it into a disc, then cover with a large sheet of baking paper or parchment paper so that the rolling pin doesn't stick to the dough.

Now, roll the dough out (between the clingfllm and baking paper) as thin as possible, making sure its even but not so thin that the crackers will tear or burn while baking.

Peel the baking paper off, trim the edges of the rolled out dough, then slice diagonally to form diamond shaped crackers. Gently lift up each one with a flat metal spatula and place on the baking tray. The crackers can be placed close together as long as they're not touching.

Bake for 10 to 15 minutes, rotating the tray halfway until the crackers are golden brown. Allow to cool for a few minutes before transferring to a wire rack to cool completely. Repeat with the remaining dough. It's hard to say how many crackers you will get, it depends on how thin you rolled them and how big each one is, but I'd say 30 to 40 easily.

Store in an airtight tin for about a week and munch away!