Happy Friday! This is the last new post of 2016 but I have a little recipe round-up coming tomorrow to set the tone for what I hope to do more of in the new year. In the mean time, let's all grab a scone. A buttery, tender scone filled with apples, orange cheddar and fresh thyme. It's fun, it's different and it's sort of somewhere in the middle of sweet and savoury because 2017 should be about experiments.
Either way, these are really, really good scones.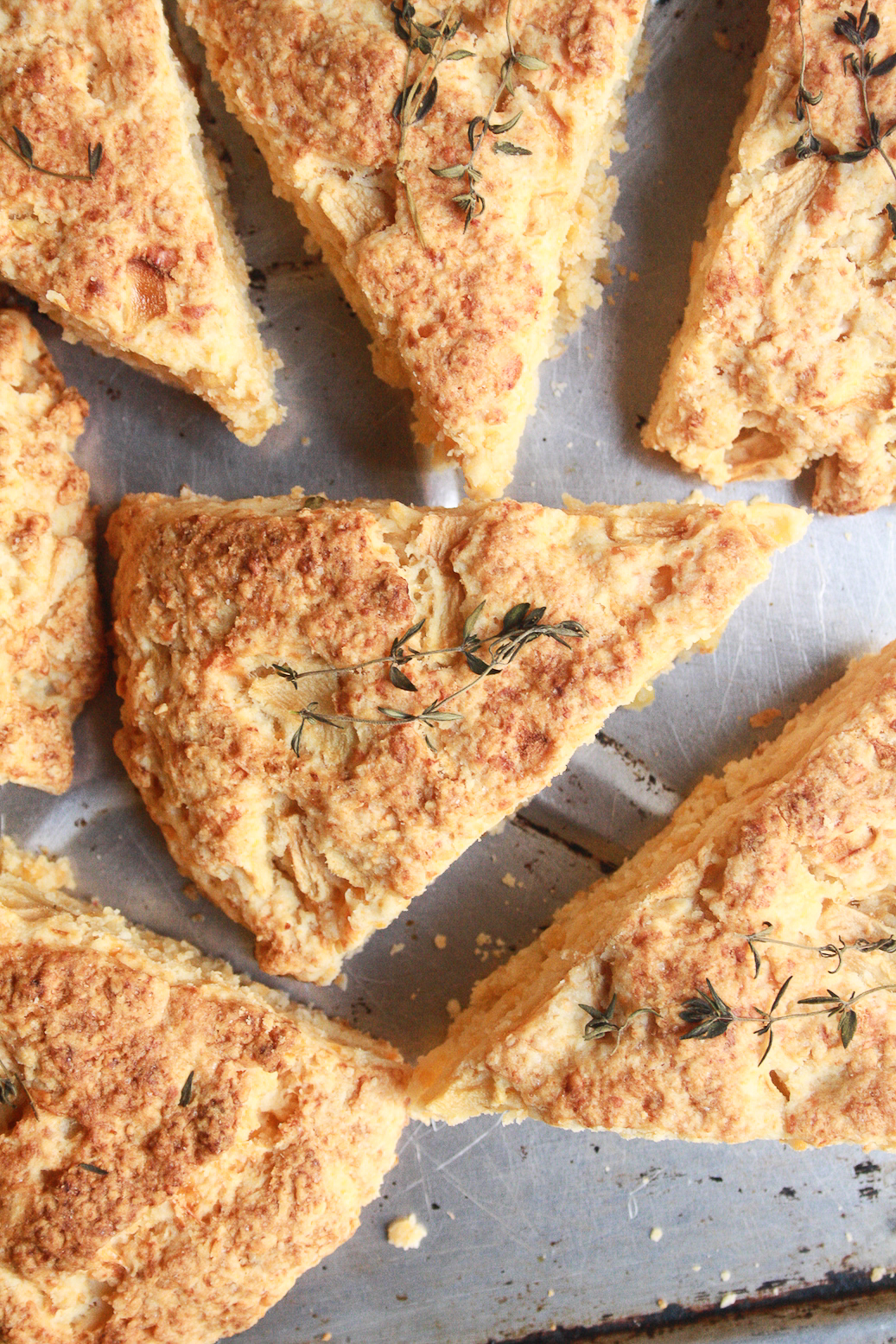 I've been wanting to try this famous apple-cheddar combination for a while and somehow, throwing an herb in there seemed only natural. I went with thyme, but you could try rosemary or even sage. Thyme adds a slightly salty, savoury kick that I can't quite explain, you had to be there. And you can be there if you get baking right now 🙂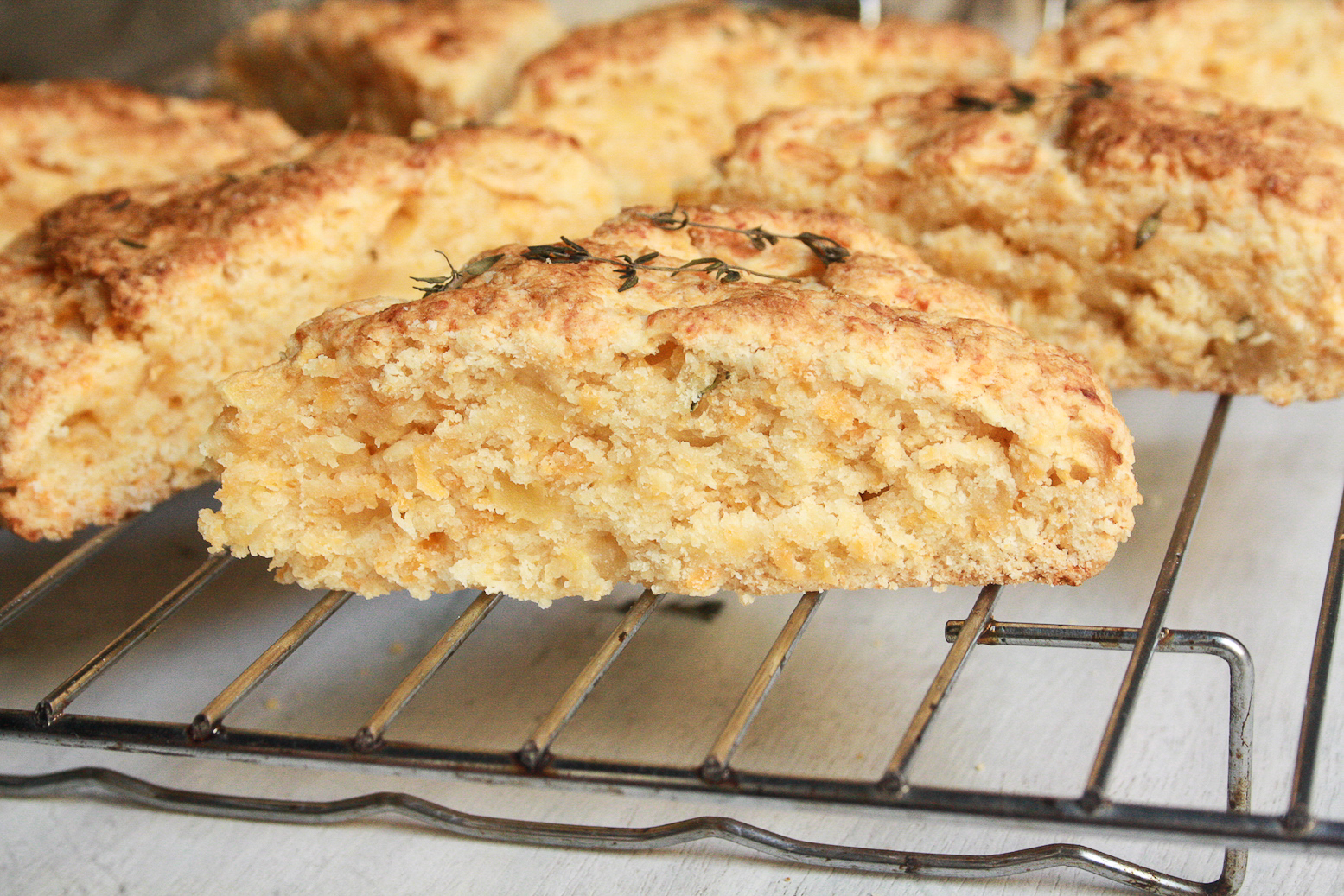 These scones are based off my earlier strawberry and cream ones. except without the cream simply because I didn't have any on hand. Cream adds a lot of moisture and richness so I wasn't sure if skipping it was the best idea, but it turns out, that using whole milk and just a bit more butter works as well, if not better. The scones have the same texture and manage to save you a few calories, so this is pretty much the the way I'm doing it from here on 🙂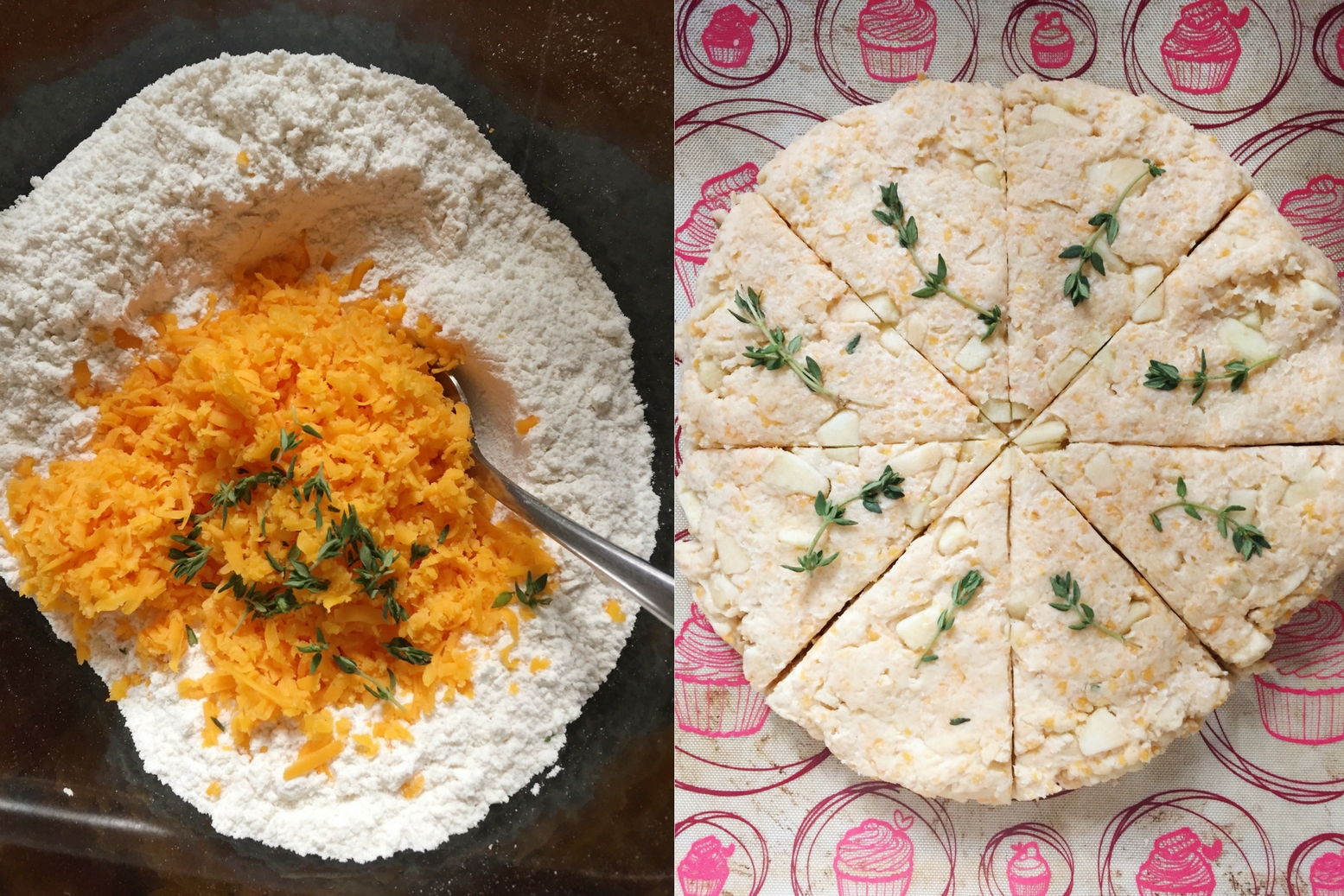 Use any apples you like, but I do recommend orange cheddar (I used Go cheese, affordable and delicious) for some colour and the best flavour because it's stronger and sharper and stands out really well here. If you absolutely can't get your hands on it, regular cheddar cheese is fine too. Some of the thyme is mixed right into the dough, and some sprinkled on top but play around here depending on how much herby flavour you're looking for.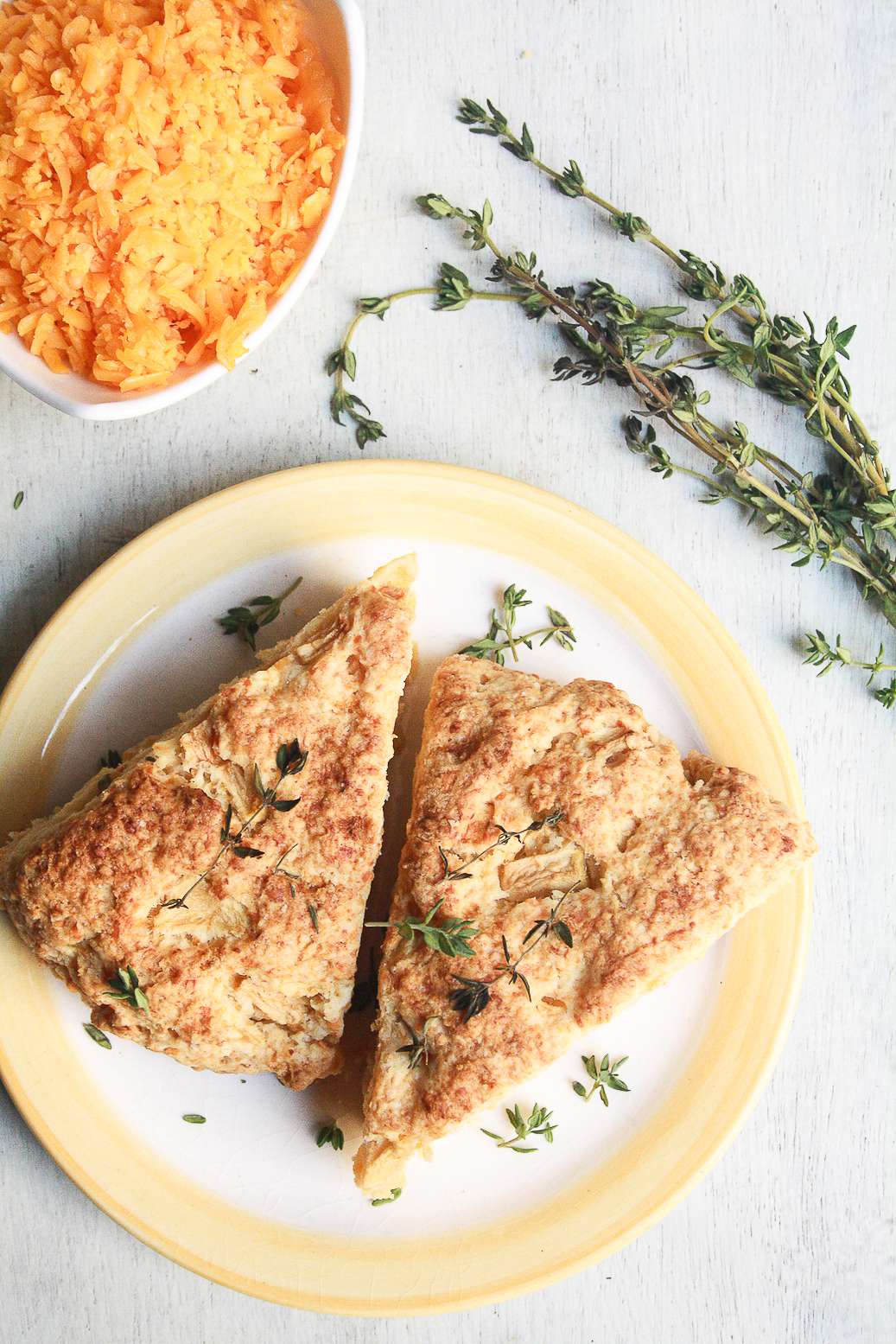 Keep the dough as cold as possible by making sure your butter and milk are both chilled. If the dough starts to warm up or feel sticky, shape it and then stick it in the fridge for a few minutes while your oven preheats. Cold = awesome. There is no need for cream or an egg wash to brush on top, because the cheese helps everything turn a beautiful golden-brown and gives a little crustiness which is always a win win.
These are definitely more sweet than savoury, mainly because the apples in there will cook down and release their juices and sugars so both the cheese and thyme balance that out fabulously. I was quite stunned by how great the flavour was, honestly. Probably making these every second day 🙂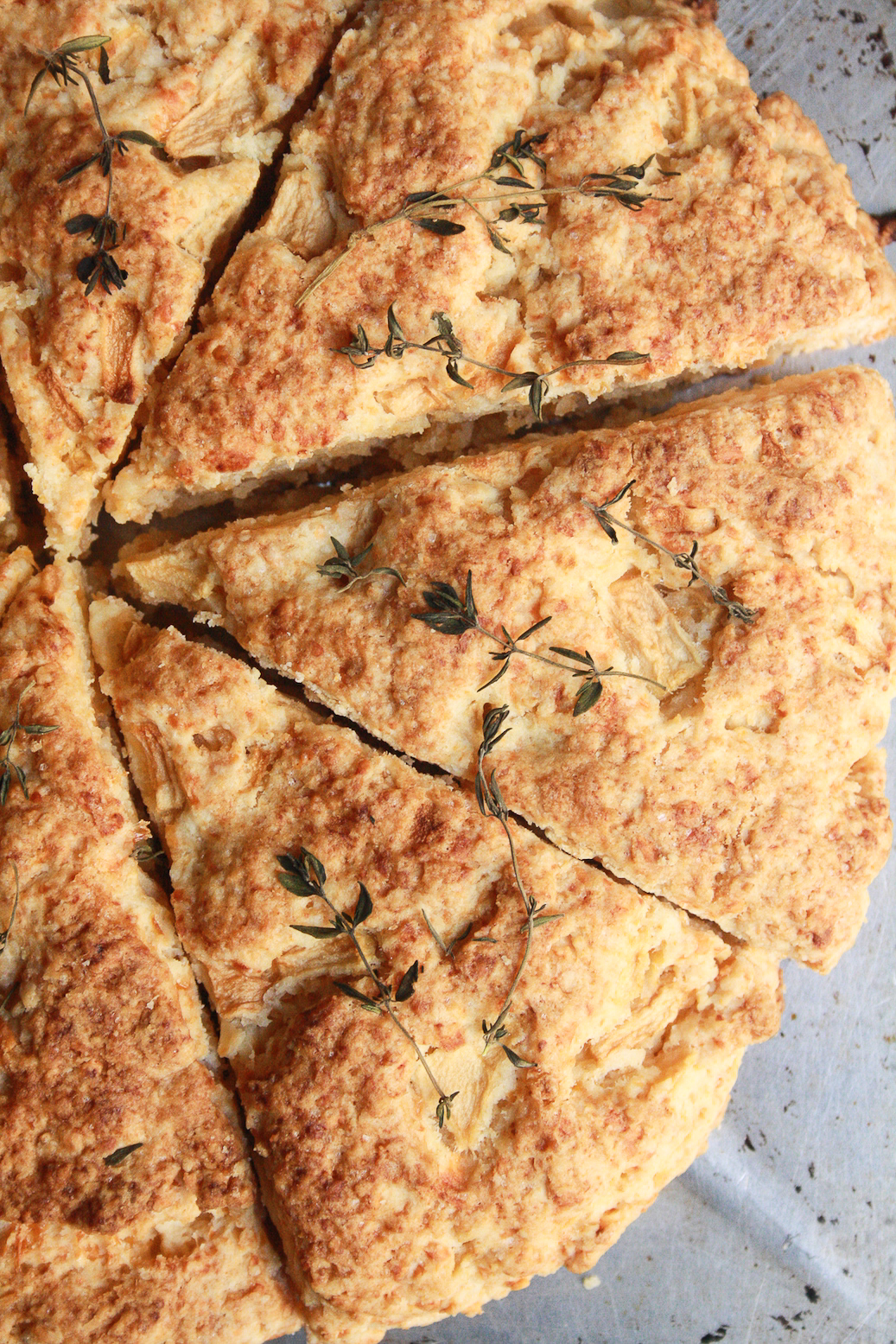 The scones are best eaten warm, but can be reheated in the microwave for a few seconds if needed. I would suggest storing them in the fridge if you live in a warm country since there's cheese and butter and all of that in them. I'm done babbling now. Go bake!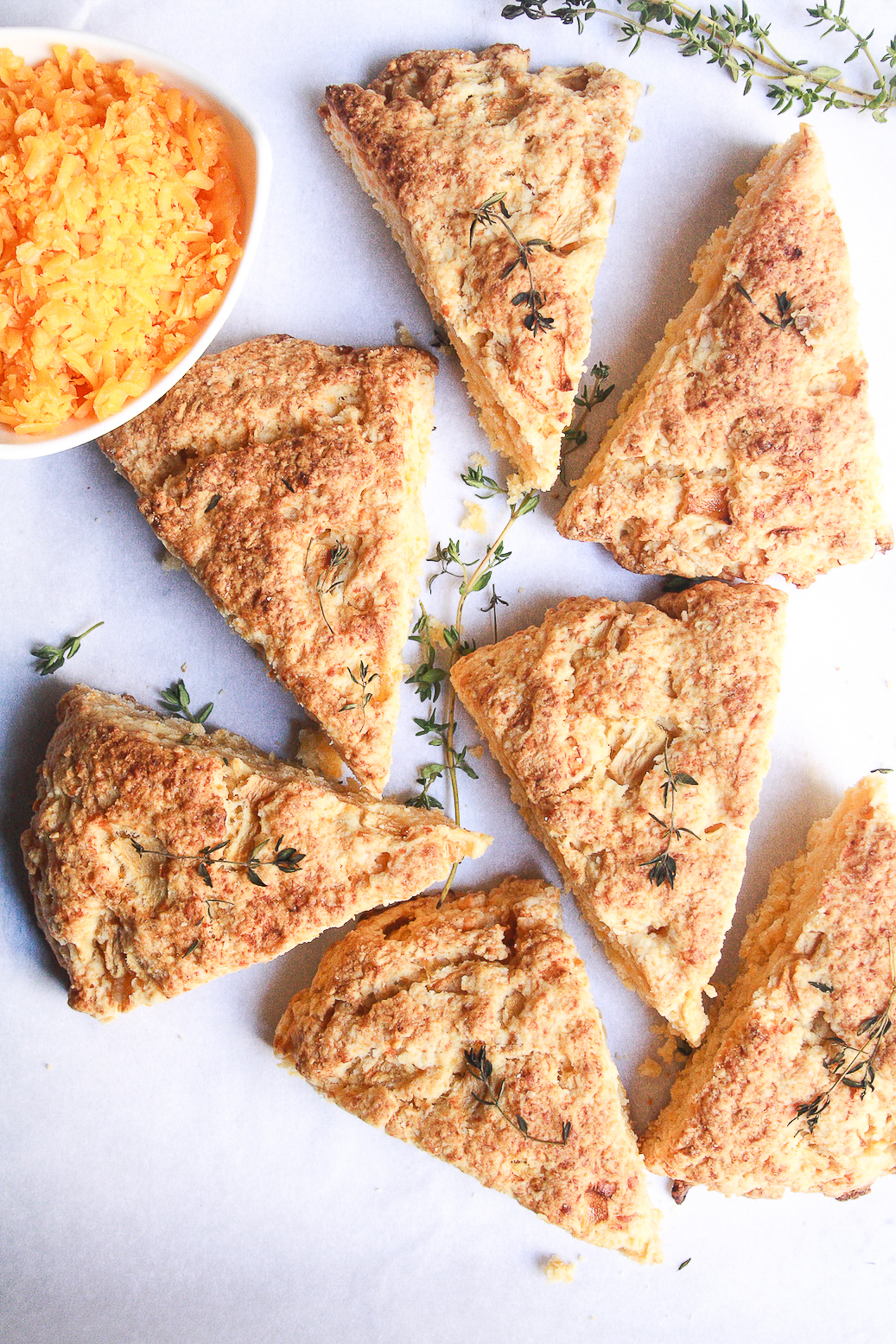 Apple Cheddar & Thyme Scones (Eggless)
Soft, buttery scones filled with apple chunks, sharp cheddar and a hint of thyme for a savoury kick!
Author:
The Desserted Girl
Ingredients
2 and ¼ cups flour
1 tbsp baking powder
⅓ cup caster sugar
½ tsp salt, if using unsalted butter
1 cup grated orange cheddar
1 tsp fresh thyme leaves
100 gms cold butter, cut into cubes (just shy of ½ cup)
2 medium apples, peeled, cored and chopped small
½ cup cold whole milk
Instructions
Preheat the oven to 220 C and line a baking tray with a silicone mat.

In a large bowl, sift the flour, baking powder and salt, if using. Stir in the sugar, cheese and thyme.

Next, add the cold butter cubes and rub them in with your fingers for about 5 minutes till you have a coarse, breadcrumb-like mixture.

Mix in the apple pieces till they are all coated in the flour mixture.

Add the milk and if the dough feels too dry, add up to 2 tablespoons more. Slowly bring the dough together with your fingers into one roughly-shaped mass, taking care not to over-mix.

Tip the dough out onto the silicone lined baking mat, and pat it into a roughly ¾ inch thick circle. Slice into 8 pieces. If the dough has warmed up, stick it in the fridge for a few minutes at this stage.

Bake for 25 to 30 mins until golden-brown on top. Allow to cool for at least 15 minutes, before transferring each piece to a wire wrack to cool further. Eat while still warm 🙂