I don't know what exactly to call these little guys. They're cookie-croissants. Cookie-like croissants. Croissant-shaped cookies. Croissants that are easier than croissants. Buttery, rich, cheesy bites that are filled with the most delectable fruit mince which is basically what you need to make your house smell like one big Christmas movie. If Christmas movies have a smell, that is.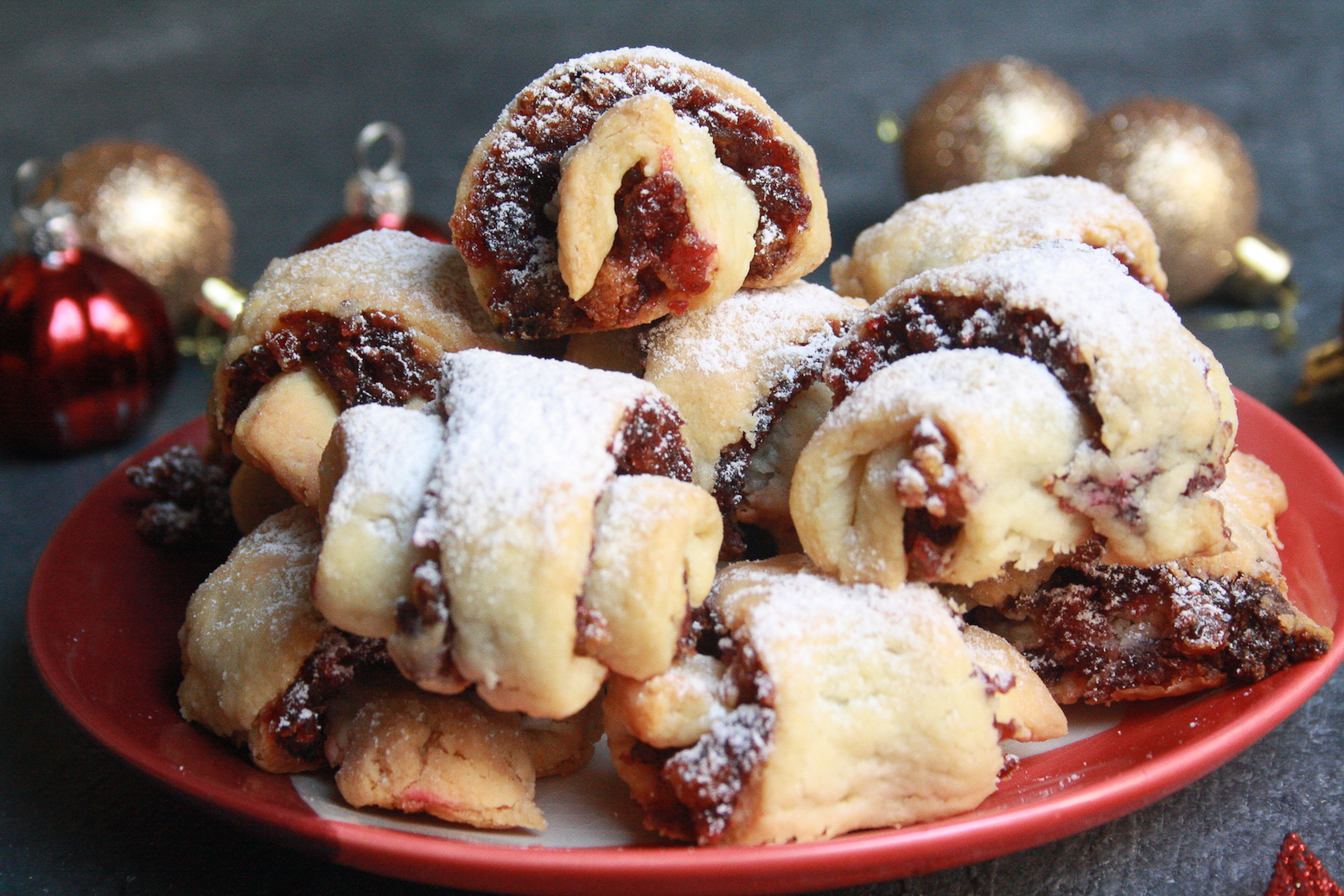 The reason I stopped at 'rugelach' is because that itself is such a fun word, I didn't want to ruin it by adding more terms to this fabulous dessert. Rugelach is a Jewish pastry made with all sorts of wonderfully buttery things and filled with pretty much anything under the sun.
There's cream cheese, sour cream, butter in the dough. Then candied peel, cherries, cranberries and raisins in the filling. And brown sugar and spices. This is the only kind of Christmas party we should all be going to.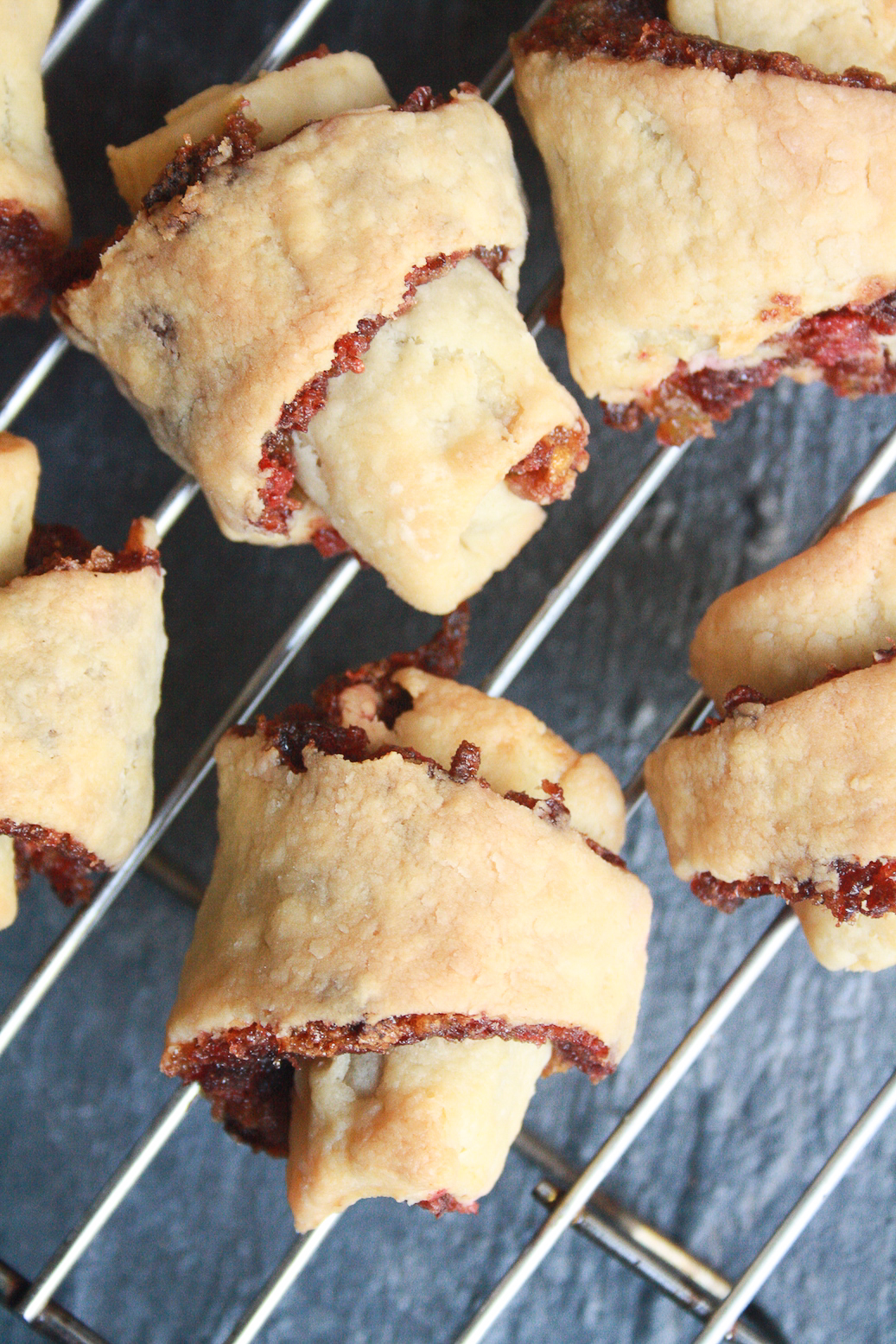 They're a little nerve-wracking to make if you work in a hot kitchen (did you see my 'Christmess' Instagram stories from last Friday!) but oh-so-rewarding. The super tender, super flaky dough contrasts so beautifully with the sweet filling, that I've decided rugelach is the New Christmas Cake. That's what I'm going to call it. Glad we cleared that up.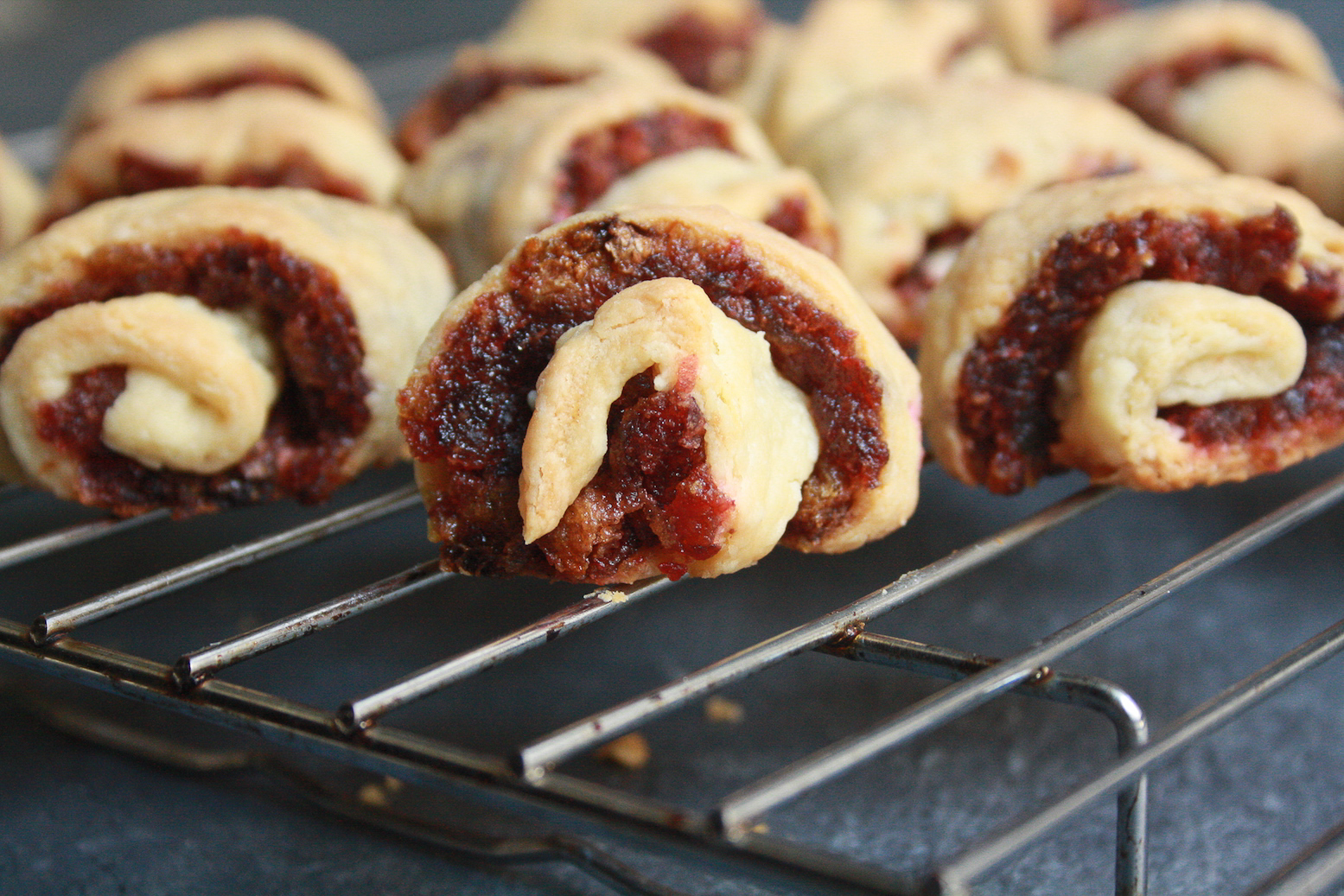 When I first saw this pastry on Sally's Baking Addiction, I was amazed. It just sounded so insanely good and it's all made in a food processor! Eeeee!! No risk of overworking the dough and all of that, because it's supposed to be super buttery anyway and a nice overnight chill in the fridge works its magic. The filling is inspired from the fruit mince pies I made a couple of years ago, except minus the rum-soak because that would make the pastry soggy. What instead happens, is that its just chopped up in the processor as well, becomes sort of soft and jammy inside the dough as it bakes and fills your brain with every festive flavour you could ever think of.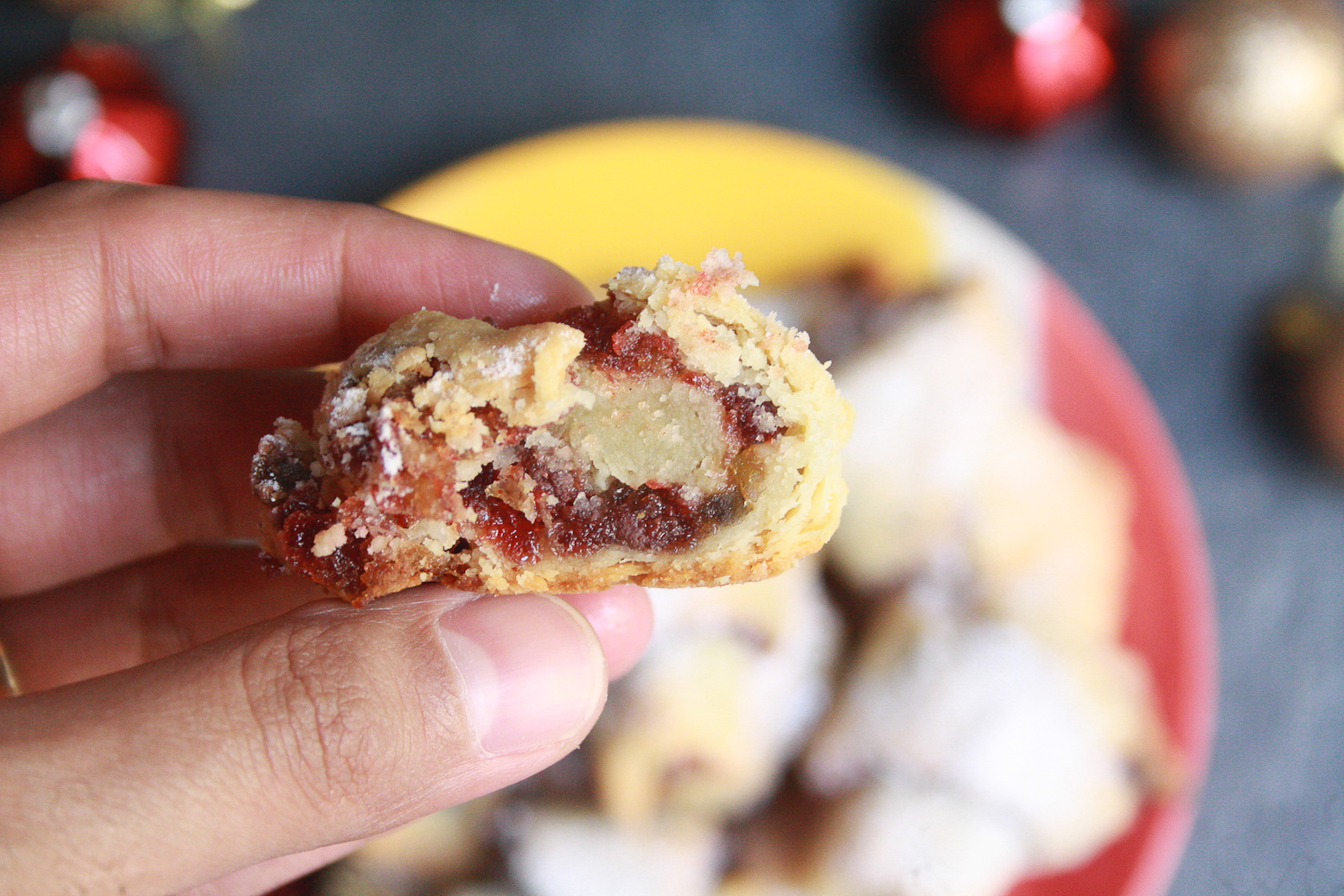 The top is light and flaky, the inside is tender, and the bottom is crispy because of all that butter that oozes out while baking and browns the pastry. Yummo. It looks like Christmas, it tastes like Christmas and it's basically impossible that you'd have an excuse not to make rugelach. Go crazy!
I didn't have enough butter for a full batch, but it turns out half the batch makes 16 good-sized rugelach too. 
The ingredients for the filling are all available at various shops at Crawford Market in Mumbai. I usually go to Lobos and it staff is super duper efficient 🙂

Fruit Mince Rugelach
A super Christmasy fruit mince rolled inside buttery, flaky rugelach pastry!
Author:
The Desserted Girl
Ingredients
For the rugelach dough
1 cup regular/all-purpose flour
¼ tsp salt if using unsalted butter
½ cup cold butter, cubed (115 gms)
⅓ cup cream cheese, cold (85 gms)
2 tbsps sour cream, cold*

For the filling
50 gms raisins (about ⅓ cup)
50 gms glace cherries (about ½ cup)
100 gms cranberries (about 1 cup)
100 gms mixed peel (about ½ cup)
1 tsp cinnamon powder
½ tsp nutmeg powder
2 tbsps brown sugar
Instructions
In a food processor, combine the flour and salt if using and pulse for a few seconds. Add the butter, cream cheese and sour cream and pulse till the mixture begins to clump together. Turn off the machine when this happens, do not work the dough into a ball.

Turn the dough out onto a large piece of clingfilm, bring together and pat into a disc. If the dough is sticky, place another piece of clingfilm on top to help shape it. Wrap tightly and chill overnight.

When ready to make the rugelach, leave the dough out at room temperature for about 15 minutes. While it is warming up a little, place all the filling ingredients in a food processor and pulse till the peel is chopped up, the raisins and cranberries do not have to be chopped small. Transfer to a bowl and set aside.

Preheat the oven to 180 C and line a baking tray with a silicone mat.

Now on a silicone sheet or a very well-floured surface, roll or pat the dough out into a 12 inch circle, making sure it's even. Sprinkle flour as needed.

Spread the mixture out onto the dough, it might have started to warm up which will make this step tough, but push gently with your fingers to make sure the mixture spreads out as much as possible. Leave about ½ inch border to make rolling easier.

Now either slice evenly into 16 pieces and roll up each one, or roll the entire 12 inch circle in one go and slice. Whatever is easier for you.

Place the prepared rugelach about an inch apart (tip-side down if you rolled them individually) on the tray and bake for 30 to 35 minutes until golden-brown and flaky on the top. Set aside to cool a little bit, then dust with powdered sugar and dig in!
Notes
*Prep-time does not include chilling time.

*Impero and Mooz both make affordable sour cream in India. I do not recommend substituting it with yoghurt as the dough might become too wet.

*The cup measures for the filling are approximate since you will usually buy them by weight and it's easiest and most accurate to therefore use the weight measures.