I've made a lot of apple crumble in my life. A LOT. And I never tire of it. It's quick, it's buttery, it's cinnamony and it's got a ton of amazing winter apples in it, so I'm not getting bored of it any time soon.
This recipe is one I created for the December issue of Better Homes and Gardens. They had a cool feature for desserts with herbs and you should really go get a copy now because there are some amazing bloggers in there with amazing dishes. I decided to amp up the much loved apple crumble, with fresh sage leaves. I'd never tried this before, but it was love at first bite.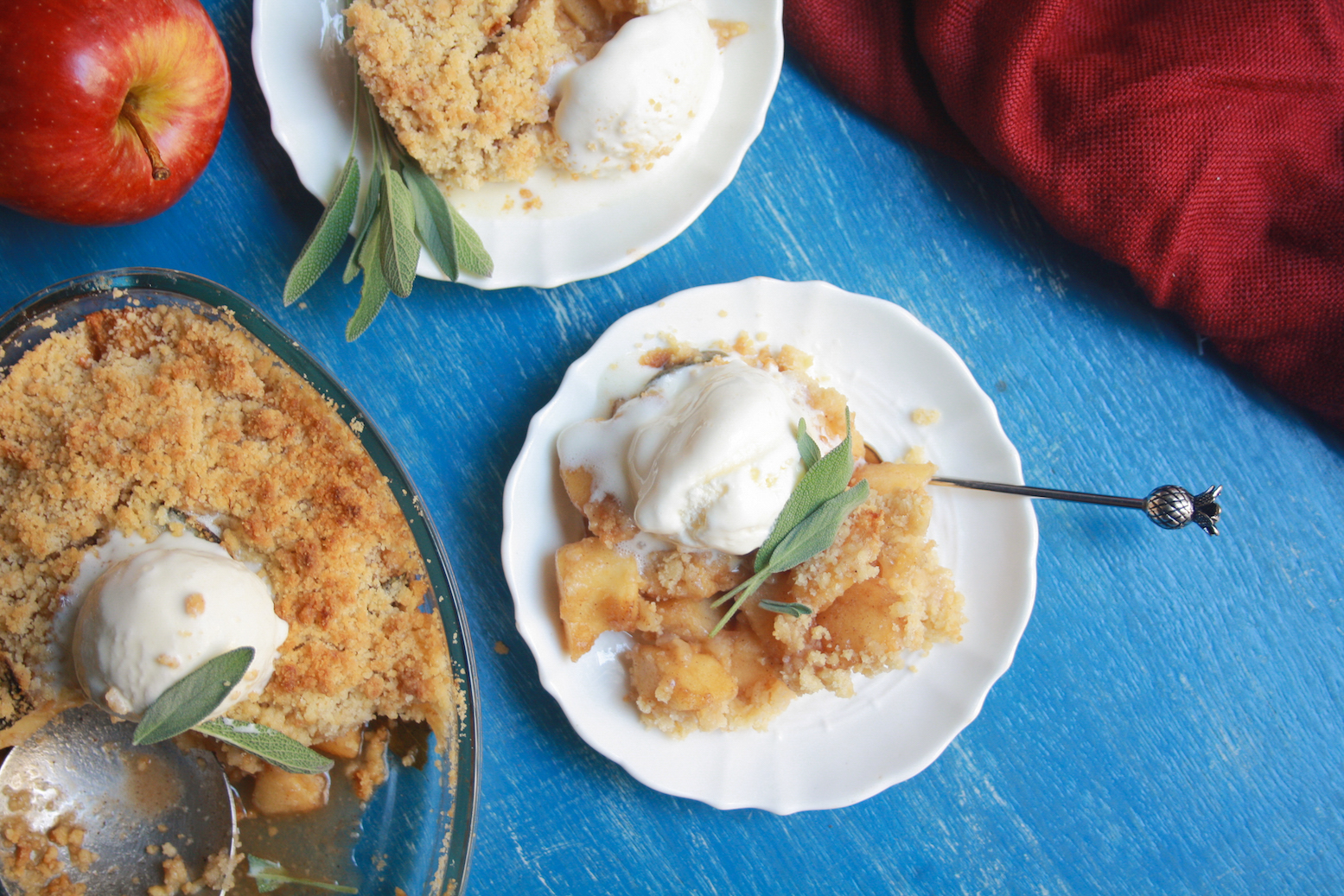 I didn't really think the word 'floral' would feature in anything I ever put in my mouth, but sage is…floral. It's light, it's pleasant, it's floral. Like a summer dress. Yes, this dessert is a summer dress. With winter fruit. Go figure.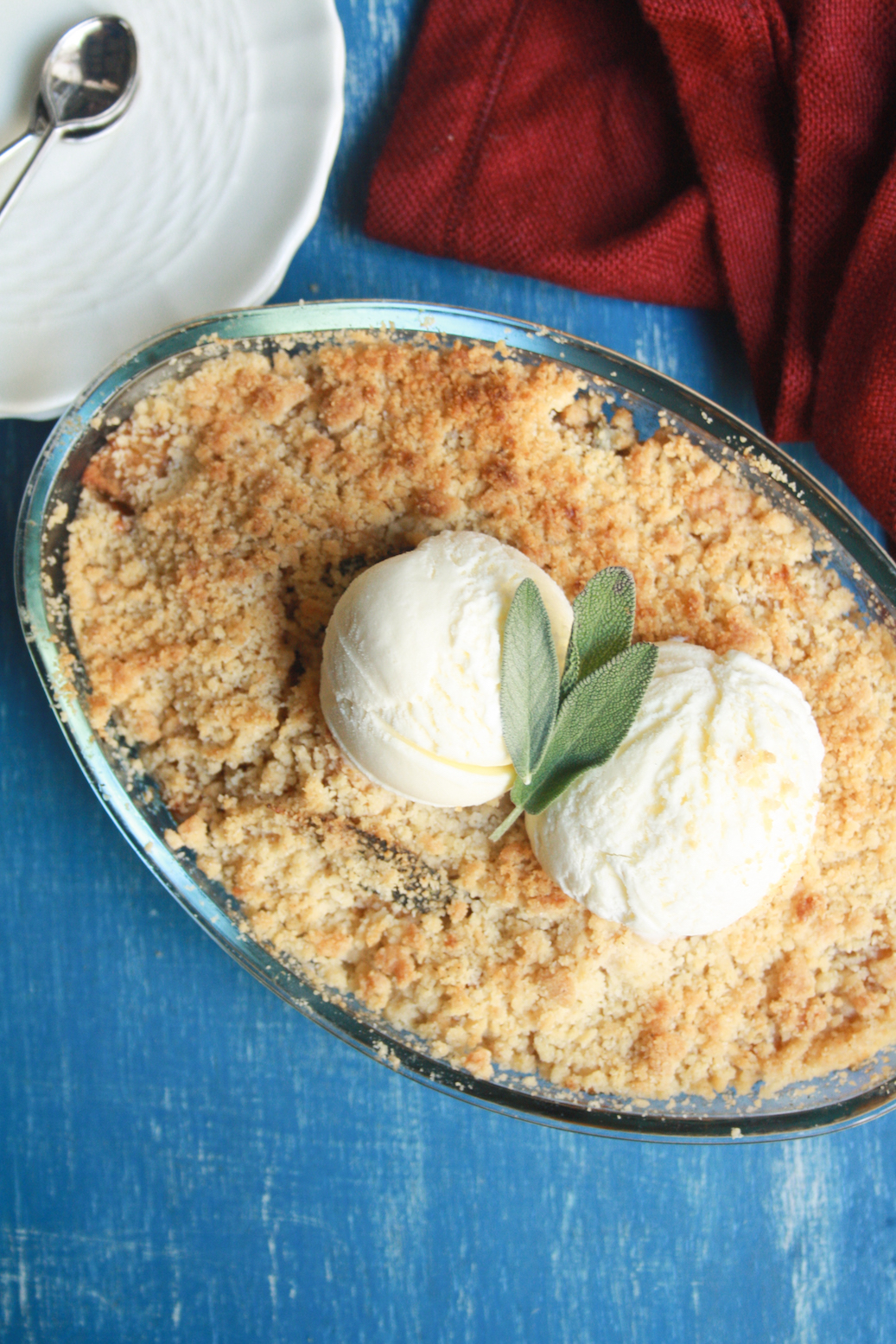 The herb sort of blends into the buttery crumble, the sweet cinnamony apples and creates its own, very subtle, flavour bombs. It surprised me, in a good way, I promise. Depending on how much sage you've eaten in your life, you can definitely increase the amount of sage leaves for a stronger herb note. Plus, they're kind of fun to bite into.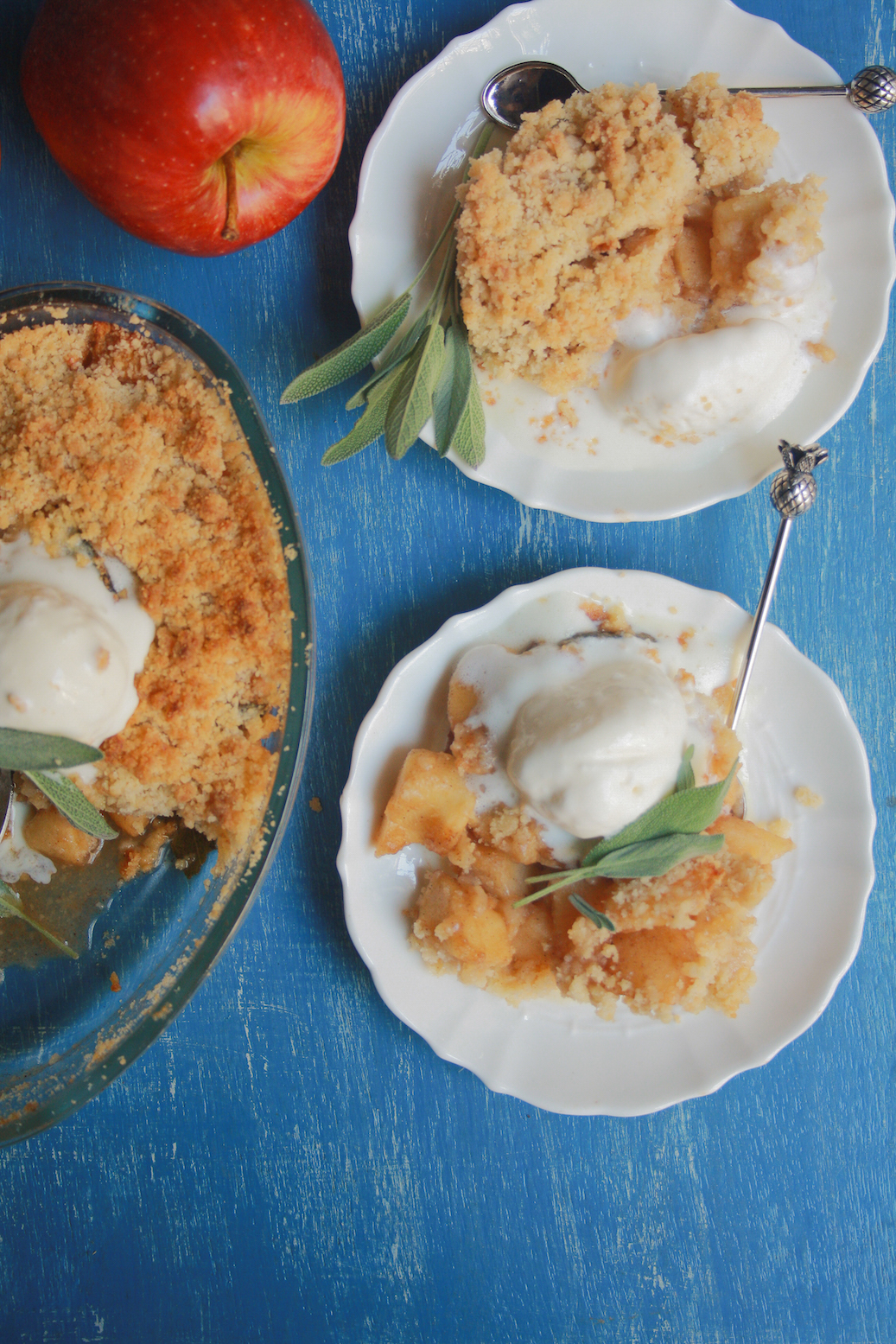 Add a big scoop of vanilla ice cream and you've got the dessert you didn't know you needed, but will want forever and ever. Warm, softened apples, crunchy, buttery crumble, all that lovely herby flavour, and vanilla ice cream melting its way into your heart. Get crumbling!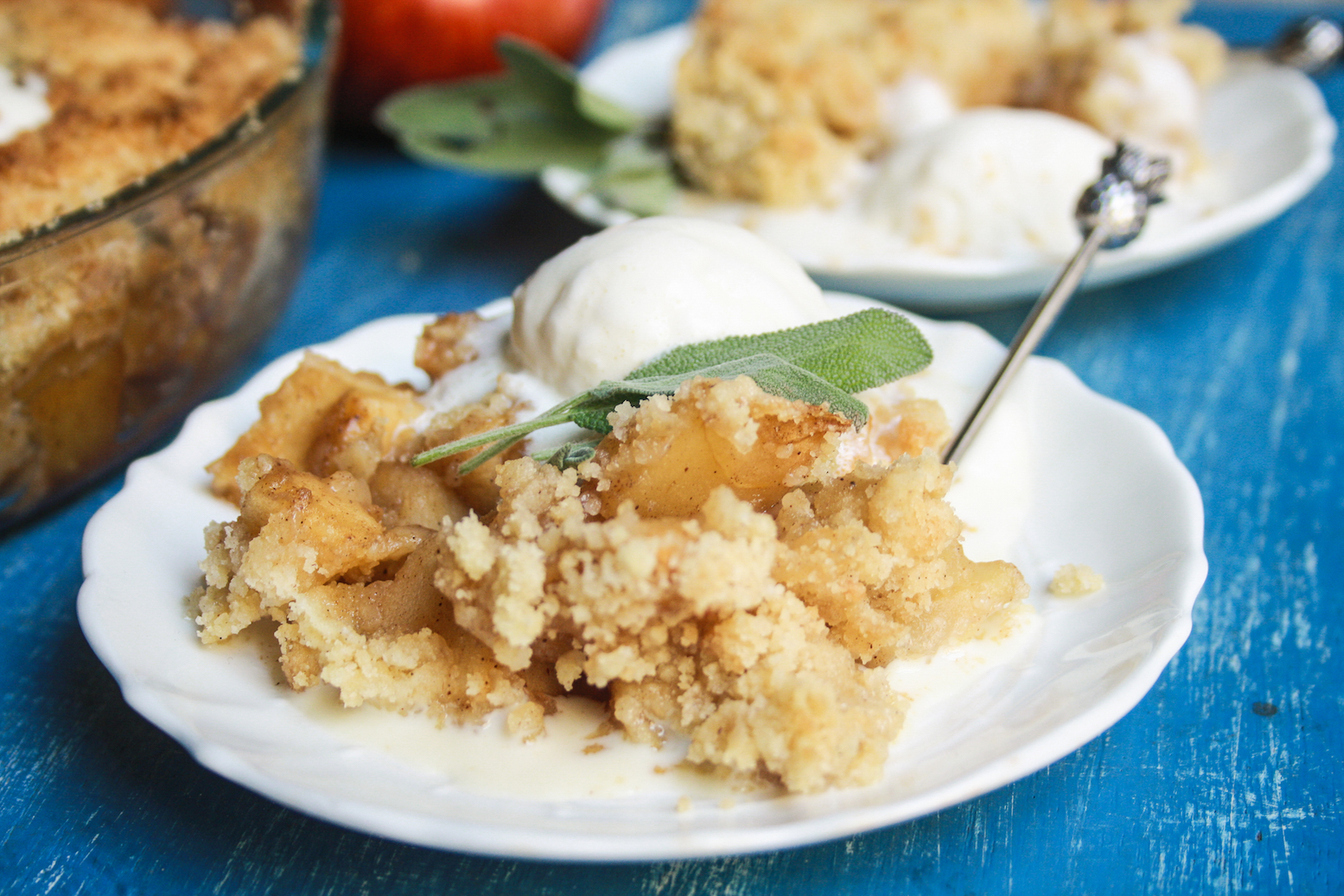 Apple Crumble with Sage
My favourite apple crumble taken up a notch with the subtle, floral aroma of fresh sage leaves!
Author:
The Desserted Girl
Ingredients
For the filling
3 apples
1 tbsp brown sugar
Squeeze of lemon juice
¼ tsp cinnamon
7 to 8 fresh sage leaves*, rinsed

For the topping
½ cup flour
¼ tsp cinnamon
Pinch of salt if using unsalted butter
2 tbsp caster sugar
¼ cup cold butter, cut into cubes
Vanilla ice cream, to serve
Instructions
First make the filling. Peel, core and dice the apples and transfer them to a 6" baking dish. Top the pieces with the sugar, lemon juice, cinnamon and sage leaves, then mix well. Cover and set aside so that the juice from the apples and the flavour of the sage are released.

Preheat the oven to 180 C.

Make the topping by combining the flour, cinnamon, salt and sugar in a bowl. Mix well. Add the cold butter cubes and using your fingertips, rub the butter into the flour till the mixture forms a coarse meal with some bigger bits of butter.

Spread this crumble topping evenly over the apples, pushing some of it in with a fork so that it mixes with the fruit.

Bake for 25 to 30 minutes until the apples have softened and the topping has browned. Turn the oven to the broil setting for an additional 2 minutes for further browning and crisping.

Allow the dish to stand for a few minutes, then serve warm with a generous scoop of vanilla ice cream. Enjoy!
Notes
*The amount of sage leaves can be increased or decreased to suit your tastes. You can also chop them up so that they release more flavour while baking.