I have the spice tolerance of a potato. Really. A vaguely fiery meal in front of me will mean I fill up more on water than on actual food. But even I couldn't stop eating these poppers. They are the sinus-clearing, mild-fire-breathing snacks that you need in your life right now.
(Beer not included).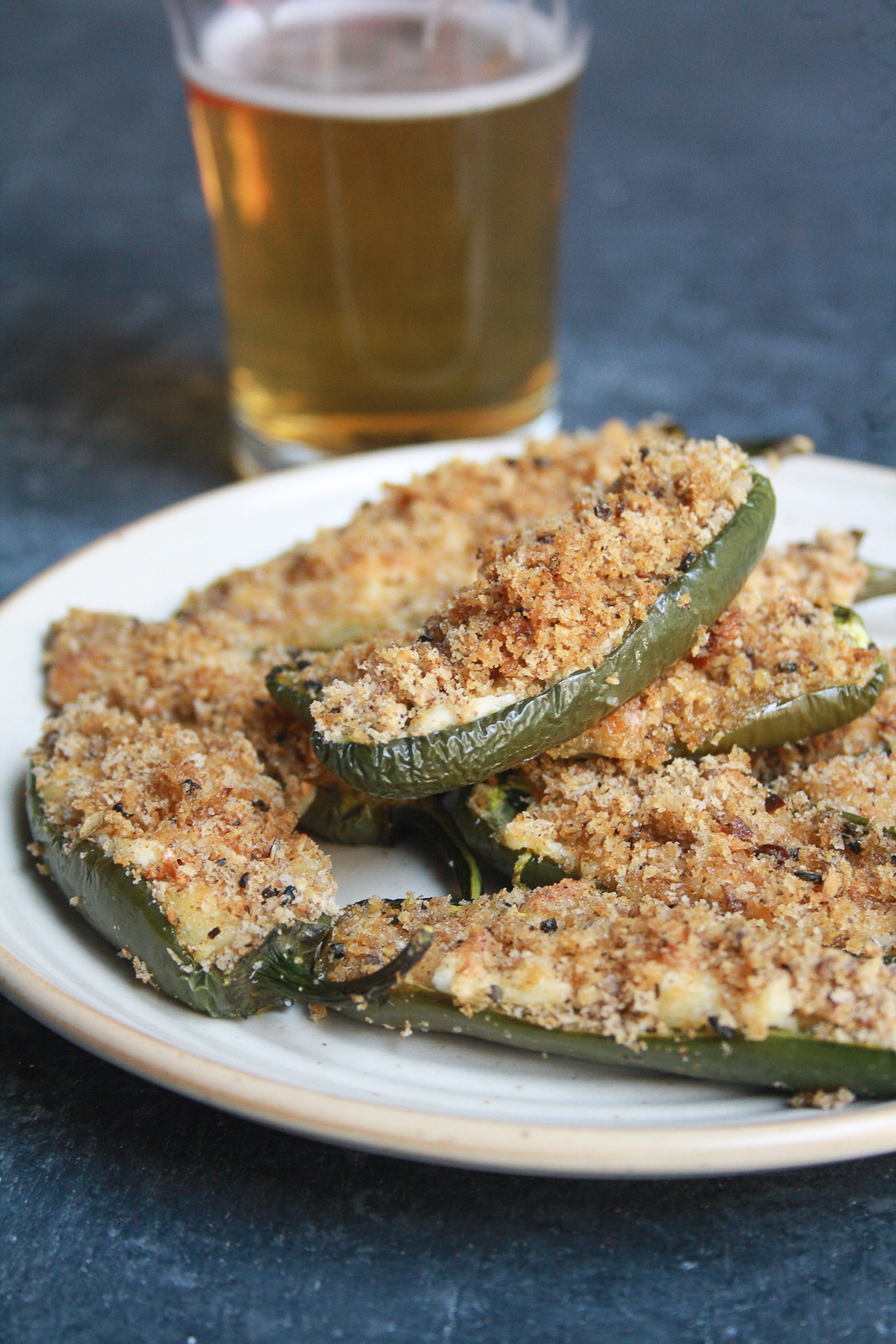 Slice jalapeños, remove all seeds and scary stuff, stuff with mozzarella and a bit of cream cheese, top with a well-seasoned breadcrumb mixture, bake. They taste as good as the deep fried versions, if not better, because you can actually taste more than batter. Batter is not better.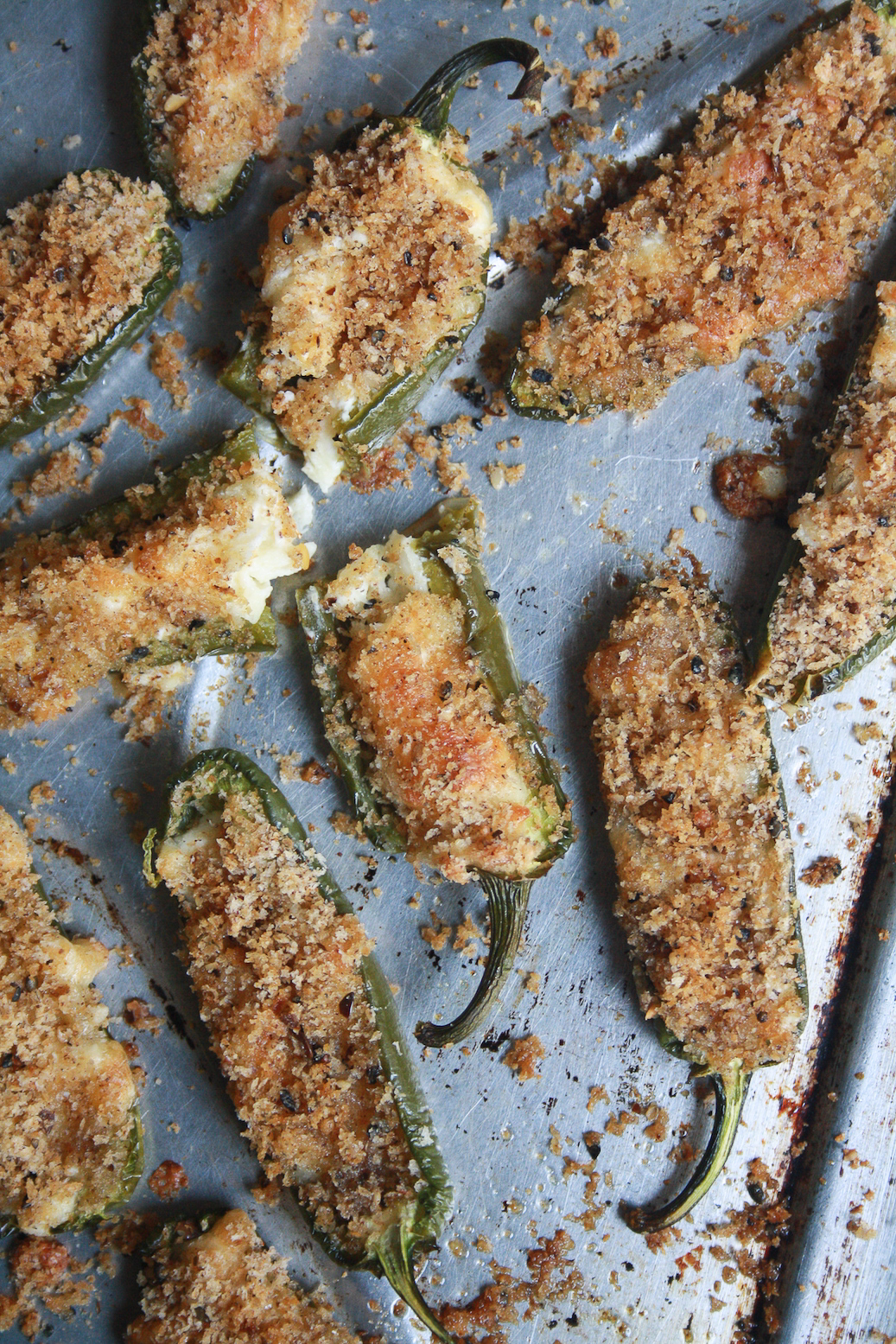 The topping is crunchy, full of flavour, perfectly in contrast with the creamy filling, and the whole thing is enveloped by the spicy green chilli. Near the stem is where it gets fiery, so make sure you've deseeded really well, if your tolerance levels are like mine.
These poppers are so easy to make, I don't know why this is the only the first time I've tried them. They are also insanely customisable which means there's no real recipe. Play around with the seasoning, even the filling. Depending on the size of the jalapeños, feel free to add mix-ins to the cheese as well, whatever you like. The filling might ooze a little while baking, that's all right, just push it back in with a fork. We're not going for dainty, we're going for bold 😀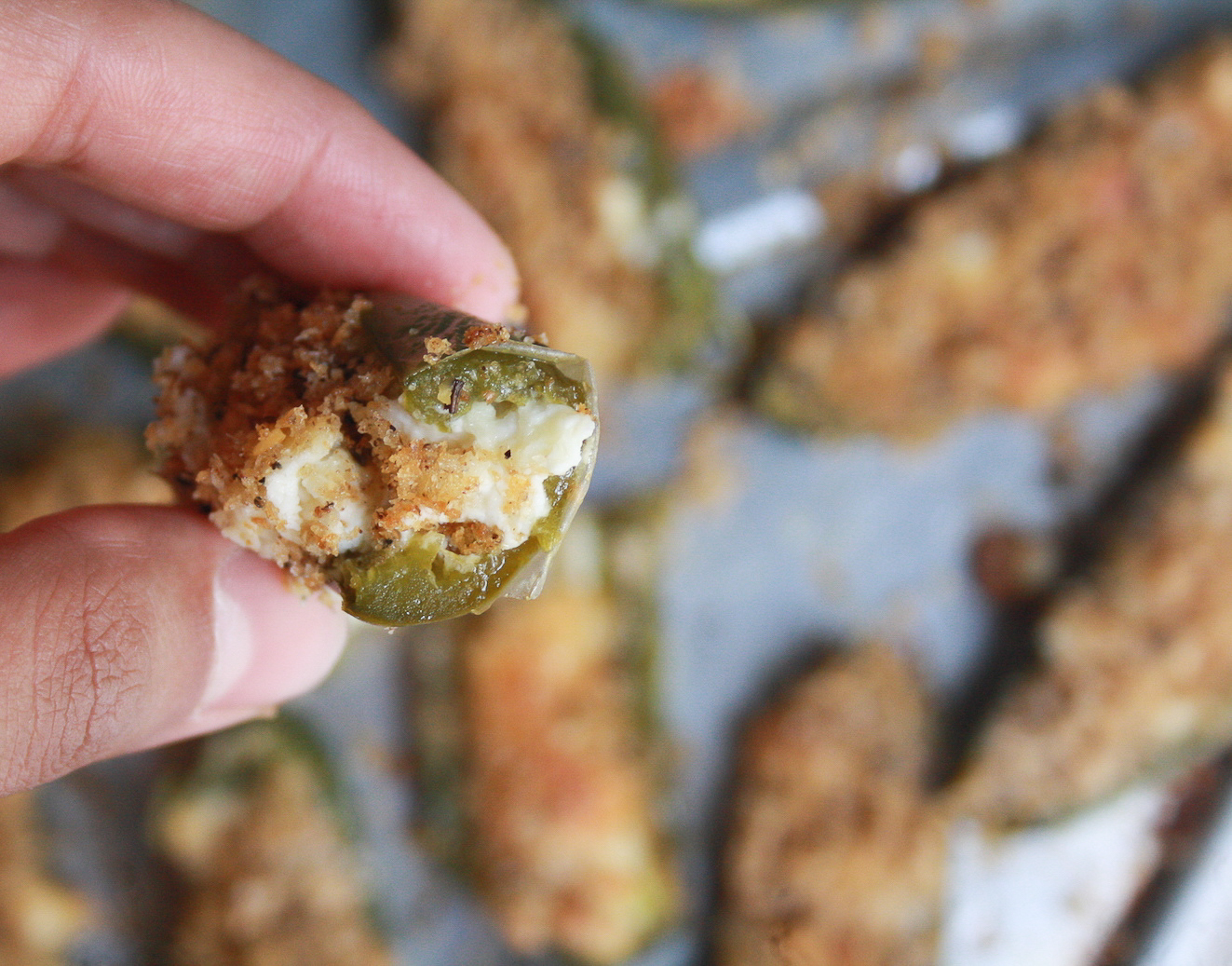 You can also play around with baking times, depending on whether you like the chilli slightly crunchy or cooked through. Bake long enough that the topping becomes crunchy, and then go with your tastebuds. The cheese may not be as gooey as in the deep-fried version because there's lesser heat inside the actual popper, but whether super gooey or not, cheese is cheese.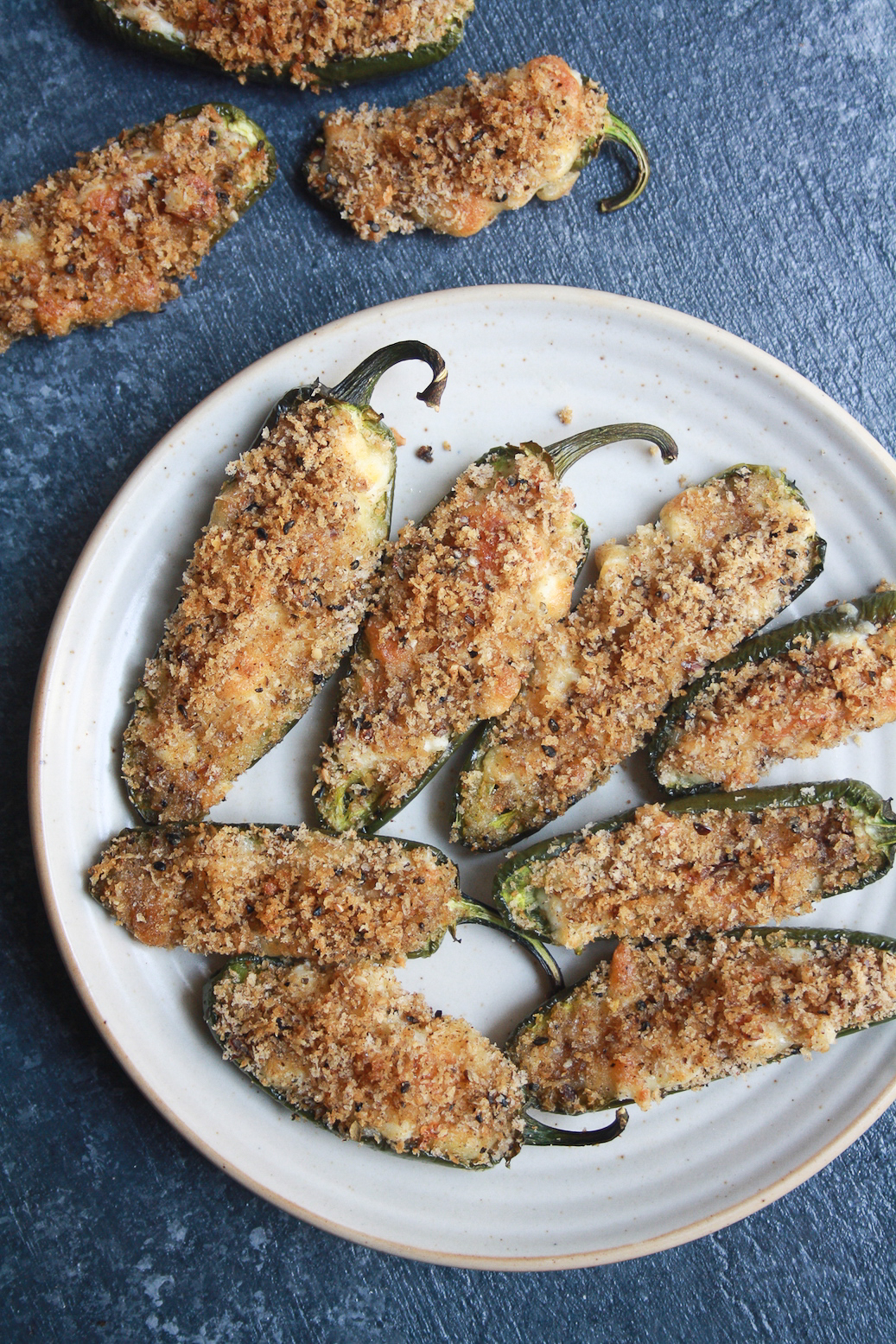 Let's do this!

Baked Jalapeno Cheese Poppers
Spicy baked jalapeño poppers with mozzarella cheese topped with crunchy breadcrumbs for a healthier snack!
Author:
The Desserted Girl
Ingredients
8 whole jalapeños
2 slices day-old bread (I used a wholegrain seeded variety for more crunch)
1 tsp smoked paprika
1 tsp oregano seasoning
Salt and pepper, to taste
½ cup mozzarella cheese
2 tbsps cream cheese
Olive oil for drizzling
Instructions
Slice each jalapeño in half lengthwise, leaving the stem on as far as possible for easy handling. Using a sharp knife or small spoon, scoop out all the seeds and membranes. Avoid directly touching them or your hands are going to burn for hours afterwards. Believe me. Lay each scooped out half on a baking tray about an inch apart.

Preheat the oven to 180 C.

Place the bread in a blender and pulse till finely crumbed. Transfer to a small bowl, mix with the spices, salt and pepper and set aside.

In another small bowl, mix the cheese and cream cheese. Fill each jalapeño half with the cheese mixture, making sure it's packed in well. Top with the breadcrumbs, covering each generously.

Drizzle the prepared poppers with olive oil and bake for 20 to 25 minutes, until the topping has browned, the cheese is oozing a little and the jalapeños look a little shrivelled which means they're cooked. Turn the oven to the broil setting for a few minutes if you'd like more browning.

Serve hot!