You guys. I tried making jalebis today. I didn't have the time and was missing key ingredients which left me with even lesser time. But I tried anyway, because my brain's on vacation apparently, and it turns out, jalebis are not kind on the ego. Two lots of sugar syrup went down the drain (not literally, I disposed of them like a grown up in plastic bottles), I lost track of how long I prayed to the dough Gods because I needed the batter to ferment in an hour (?!), a gallon of oil basically remained hot in the pan, but unused and I accidentally dropped a gigantic blob of saffron into the afore mentioned sugar syrup and probably drowned literally thousands of rupees.
Safe to say, jalebis and I are not becoming friends any time soon. But these two-ingredient, 20-minute, stupendously delicious burfees are all I need for the Diwali feels without popping a vein in the process. We shouldn't be stressed on Diwali, right? Desserts should be stress-free, right? Right.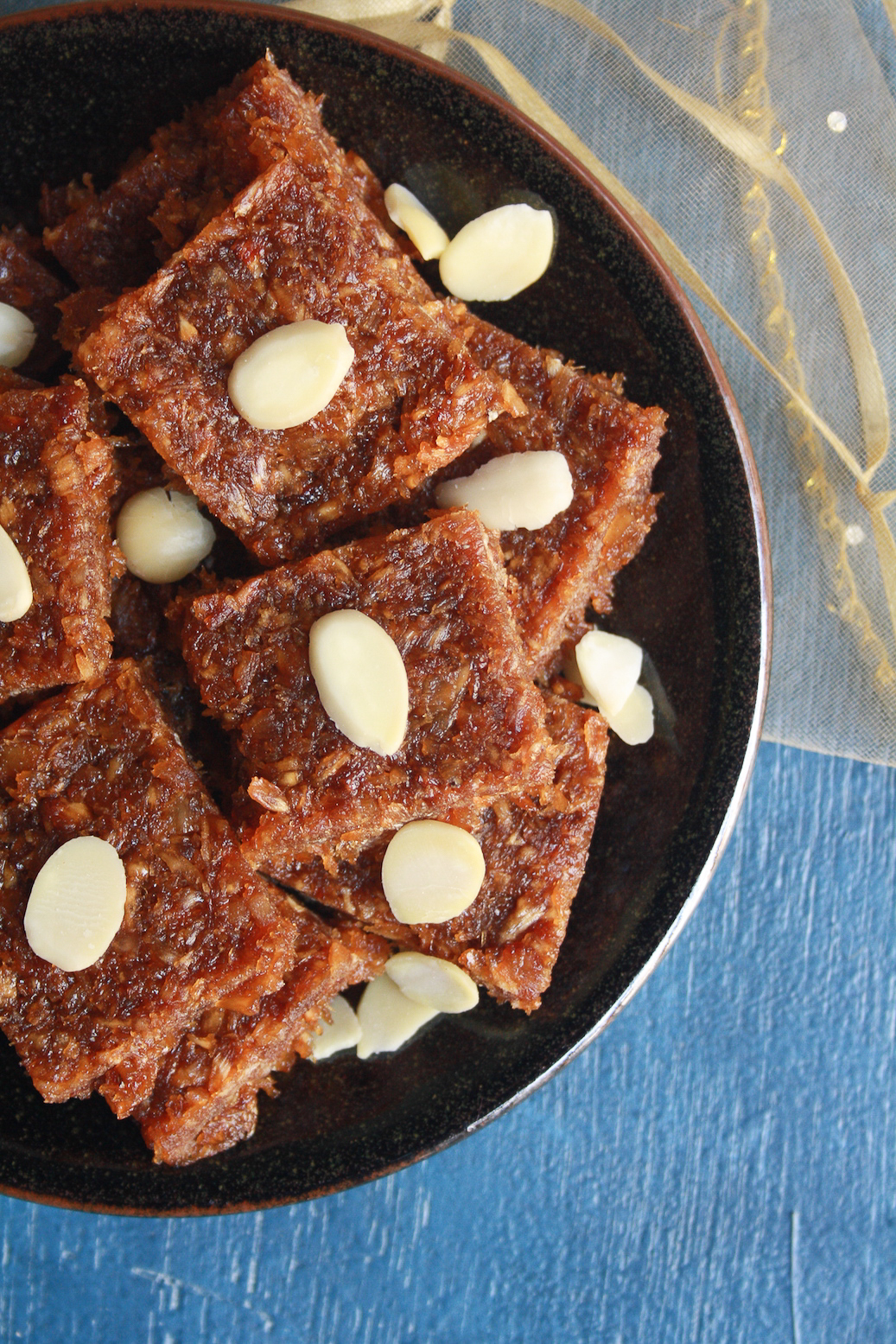 These burfees (can you plural-ify 'burfee'?) incidentally, are the second version I tried. The first version had ghee and milk and took a lot longer to come together and in fact remained more like the filling inside these modaks than firm, chewy burfees. Delicious but not what I was going for. Then I saw this recipe which had literally two ingredients, if you don't count cardamom and it seemed so obvious why. Jaggery oozes its own moisture and coconut releases its own oils, which means technically, the mixture needs nothing more to come together. About 20 minutes of stirring and mild bicep workouts later, the mixture was patted down into a plate, chilled for an hour and cut.
I was worried at how straightforward it seemed, but the burfees turned out just the way I wanted. Chewy, slightly crunchy from bits of coconut that crisp up while cooking and firm enough that they hold their shape. The jaggery is the superstar here in all its molasses-y glory and we all know coconut is awesome.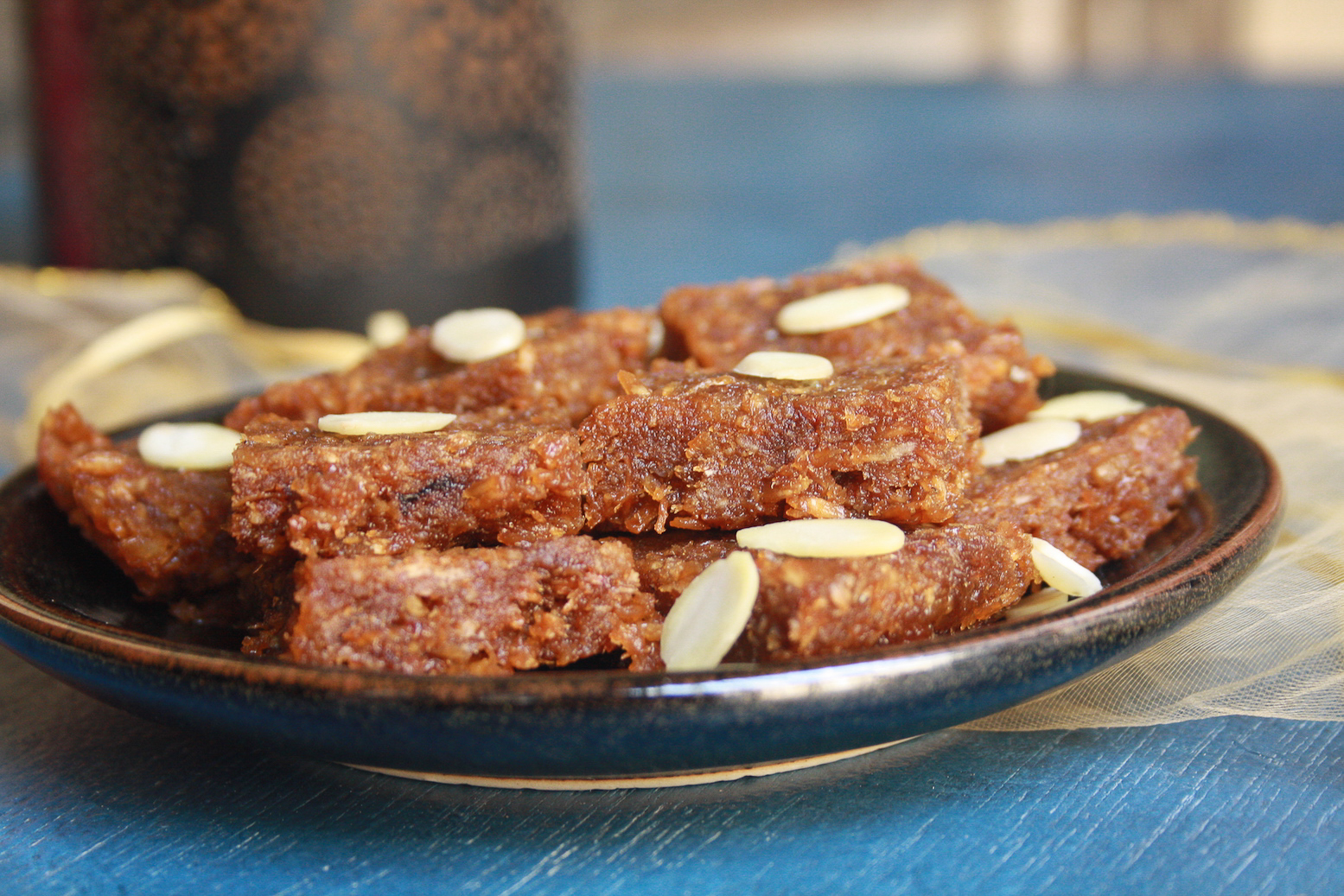 Because there are so quick and so fuss-free, they are exactly what you need in some sort of festive food emergency, or honestly, on any old day. The coconut can be fresh or frozen as long as its finely shredded and I recommend powdered jaggery to make your life easier. Feel free to work your favourite nuts into the mixture, or just sprinkle them on top or leave them out entirely.
I wasn't intent on creating a healthier Diwali sweet, but if you can reduce guilt, stress and time without any flavour setbacks, I don't think there's anything to oppose here 🙂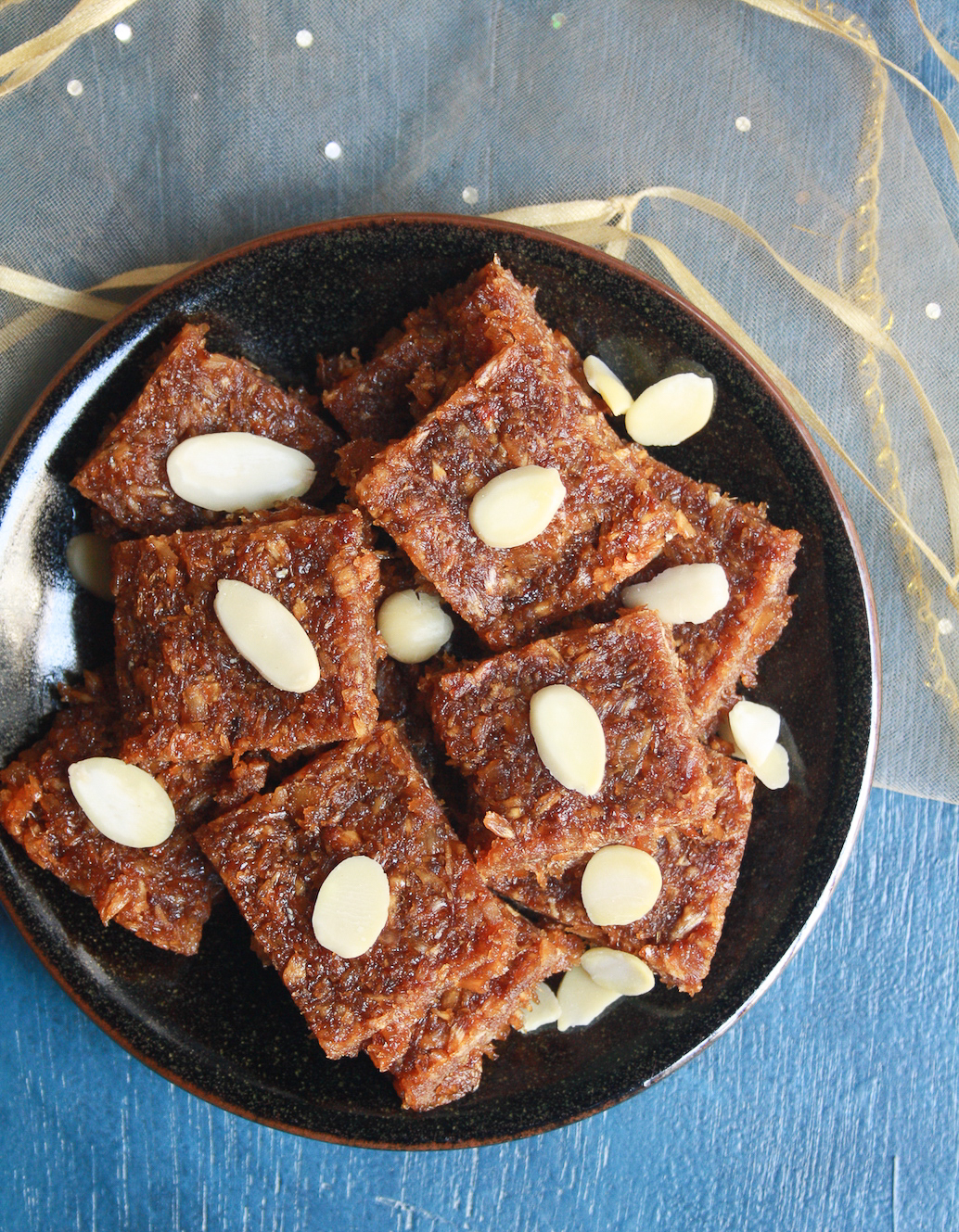 I hope you all have a fabulous Diwali and that you come back next week to break bread! Eat lots, play safe and be kind to the animals!

Coconut Jaggery Burfee
Two-ingredient, super quick, healthy burfee that's perfect for an impromptu festive treat this Diwali!
Author:
The Desserted Girl
Ingredients
2 cups shredded coconut (thaw if frozen)
¾ cup powdered jaggery*
4 green cardamom pods, peeled and powdered
Instructions
In a sturdy aluminium wok, combine the coconut and jaggery. On low heat, stir the two together till the jaggery melts and the mixture begins to look cohesive. There will be some oil and moisture that's released.

Stir frequently until the mixture starts to clump together and looks drier than it did in the beginning. Take care not to let the coconut burn, though a few crispy bits add a lot of flavour. I recommend cooking the mixture for at least 20 minutes to a maximum of 25 if it's taking longer to clump.

Lightly grease a 6" rimmed metal plate with oil or ghee, and spread the hot mixture out on to it. Let it cool for a few minutes, then use your fingertips to pack it tightly onto the plate. Press flaked almonds in at this stage if you like. If you are using a larger plate, contain the mixture to only half of it, otherwise your burfees will wind up too thin.

Allow to sit at room temperature for 10 minutes, then cover with foil and chill in the fridge for at least 1 hour. Cut into squares and serve. That's it!
Notes
*The original recipe calls for 1 cup jaggery but I thought that might be too sweet for my liking, so I reduced it, but feel free to go by your taste 🙂

*This is not a very large recipe, so double or triple the proportions for a crowd