I made this lasagna as a birthday lunch on my own birthday, which could mean two things: either this is so ridiculously easy to make that I didn't feel like getting someone else to pamper me that day of all days, or I truly am getting old and have now become one of those people that says things like "but eating out is so bad for the stomach AND the wallet".
(I've always been one of those people.)
I'm not going to say it's super quick, because prepping a gazillion vegetables does take more than three seconds, but it's easy in the sense that it's not intimidating, is endlessly customisable and requires no fancy ingredients, equipments or techniques. Hallelujah for meals you want to make for yourself without feeling sorry for yourself.
This is just a strange, make-it-up-as-you-go kind of recipe, but what I love about savoury dishes is that there doesn't have to be too much precision. A whole bunch of tomatoes for a chunky sauce, whatever veggies floats your boat, and as many lasagna sheets as your pan needs. The layering is up to you, either split it according to vegetable (I never thought I'd say that) or mix them all up and show no partiality to any one layer.
It's fresh, flavourful and is as spicy or not as you want it to be. The tomatoes are dominant and will release some water, especially if they're fresh, not canned. The vegetables require slicing, chopping and caramelising because they won't soften very much in the oven and a bit of browning in a pan never hurt anyone. The cheese must be melty, stretchy and plenty. There is therefore rhyme AND reason.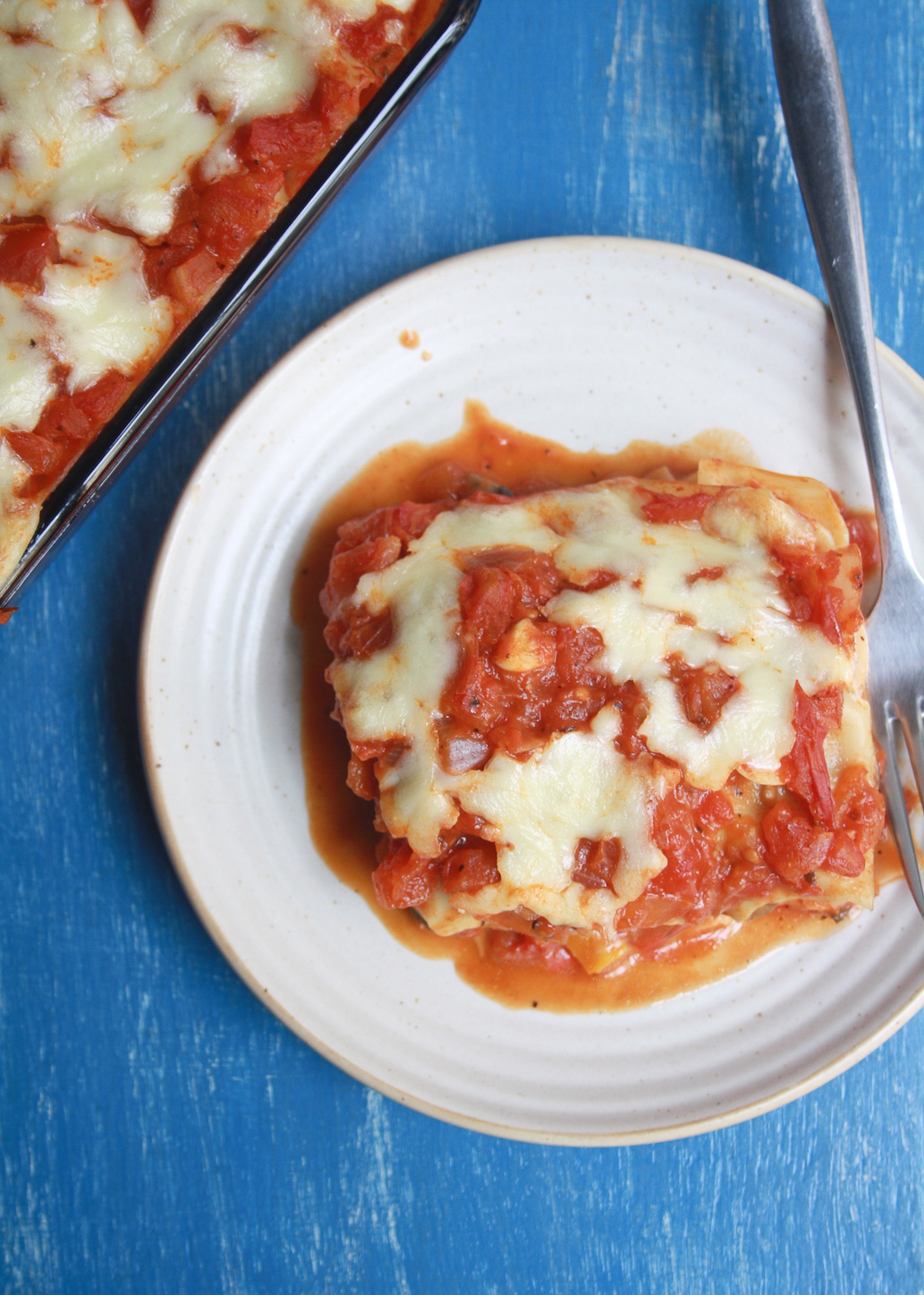 Get cooking!

Vegetable Lasagna
A hearty tomato based lasagna packed with bell peppers, zucchini, spinach and mushrooms.
Author:
The Desserted Girl
Cuisine:
Italian, Vegetarian
Ingredients
For the sauce
2 medium onions, diced
4 to 5 garlic cloves, minced
7 to 8 large tomatoes, diced
200 ml tomato puree (about ¾ cup)
Paprika or chilli flakes, to taste
Oregano or pizza seasoning, to taste
Salt and pepper, to taste

For the filling
2 bell peppers, diced
½ medium zucchini, sliced
200 gms spinach, roughly chopped
8 to 10 button mushrooms, sliced

For assembly
9 lasagna sheets, or as needed to fill the dish
Freshly boiled water
1 cup shredded mozzarella cheese
Instructions
First, make the sauce. In a sturdy, deep-bottomed pan or wok, pour in 3 tbsps of olive oil. Add the minced garlic and fry till golden, then add the onions and fry on medium-heat till translucent. Add the chopped tomatoes, salt, pepper, oregano and whatever other spices your heart desires.

Turn the heat up and allow the tomatoes to cook down, stirring frequently. Add the puree and cook for a few minutes till the sauce begins to thicken and the tomatoes mostly break down. Cover and simmer on low for a few more minutes until you have a chunky but cohesive sauce. Taste and adjust seasoning. Allow the sauce to cool a bit before running an immersion blender through it to make it just a bit 'saucier'. Set aside.

In a saucepan, heat a tbsp of olive oil and sauté the bell peppers until lightly browned and softened. Transfer to a bowl. Heat another tbsp of oil and repeat with the zucchini, then the mushrooms. Finally, sauté the spinach till it wilts and begins to stick to the pan. Season all the veggies with salt and pepper.

Fill a large bowl with boiling water and dip the lasagna sheets in for a couple of minutes, till they soften a bit. This ensures that they cook completely in the oven, though many brands will not instruct you to do this. Transfer the sheets to a wire wrack. I used 9 sheets in total and made two layers. Cut your sheets before dipping them in the water to ensure they fit the pan correctly.

Preheat the oven to 180 C. To assemble the lasagna, spread ⅓ cup of the sauce on the bottom of your baking dish. Place three of the softened lasagna sheets side-by-side on the sauce. Spread another ½ cup of sauce on the sheets and top with the spinach and mushroom. Sprinkle ¼ cup cheese over the veggies, then place three more lasagna sheets on the cheese. Spread ½ cup sauce on them, then top with the zucchini and bell pepper. Cover with the remaining sauce, then sprinkle liberally with the rest of the cheese.

Bake for 20 to 25 mins until the cheese has melted and turned a light golden, and the lasagna sheets have softened enough that you can prick them easily with a fork. Allow to stand for a few minutes, before slicing into large pieces and eating hot!