I was supposed to post this on Wednesday. But I was um, busy. Does celebrating your own birthday count as being 'busy'? There was a lot of cake to eat, you guys. I was swamped ok?
(Thank you all so, so, so much for all your fabulous wishes *insert hearts here*)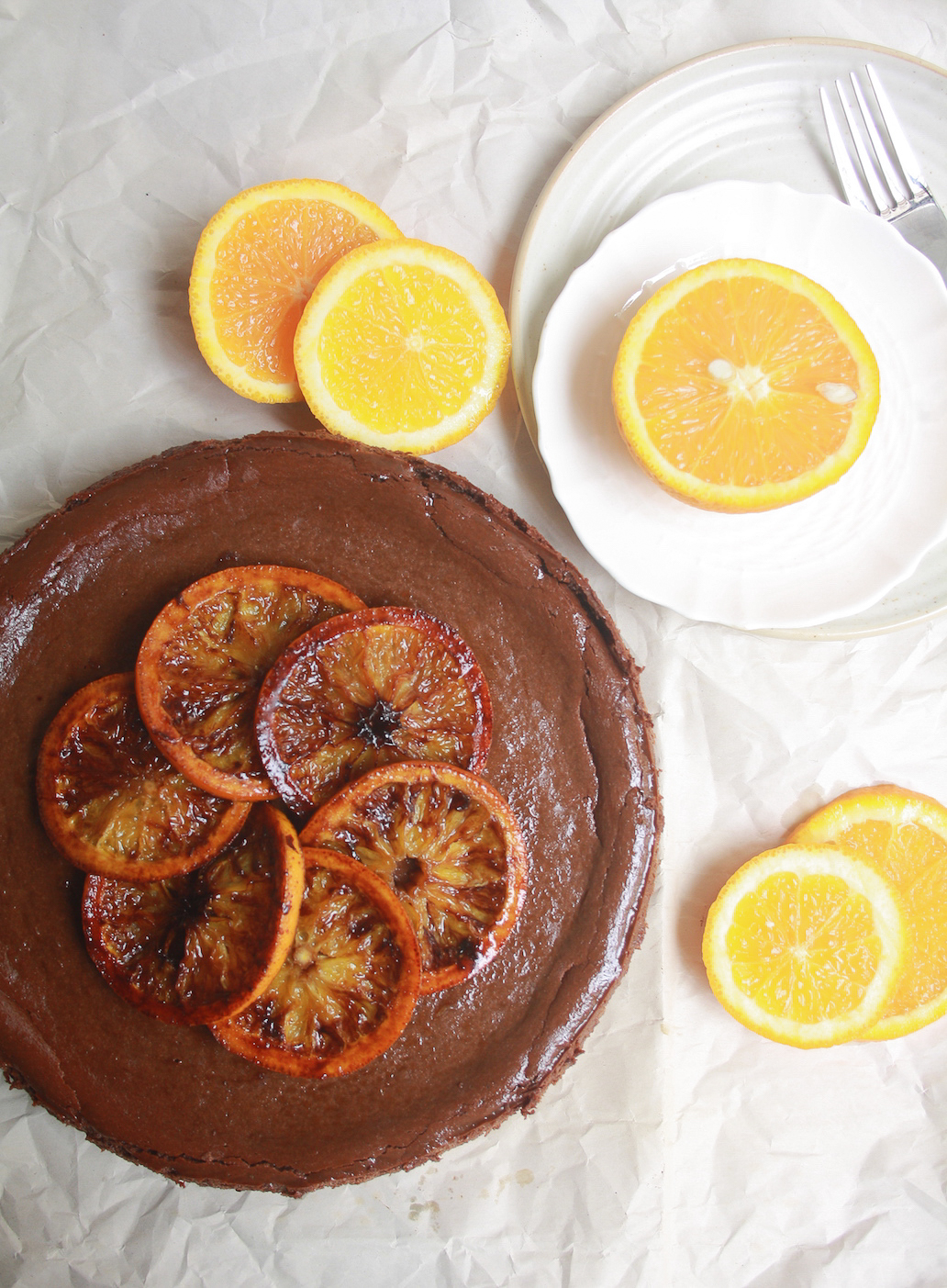 So basically, because I had so much to do, and was struggling to lift my sparkling new stand mixer (thank you, husband!) without dropping it on my feet and breaking all ten toes, this post got a bit sidelined.
And that was a huge mistake because this cake deserves aaaaallll the limelight and more. So good. Just so good.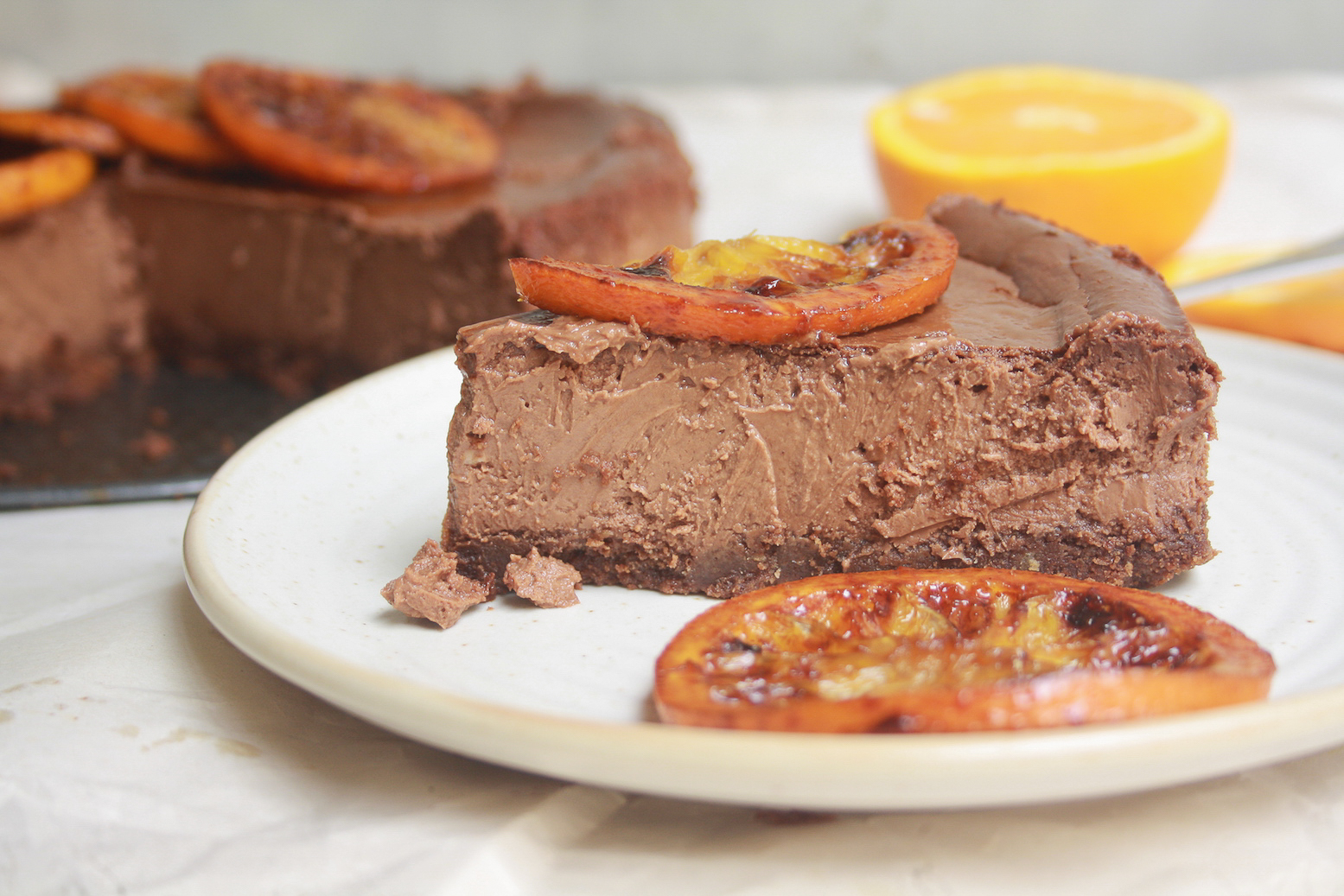 I hadn't intended this to be a birthday cheesecake, it feels a bit strange to bake my own. But since it had to be chilled overnight, we did end up cutting it close to midnight and then cut my actual birthday cake (thank you, sister!). Basically, just one cake does not a birthday make.
Dark chocolate and orange and a ton of cream cheese. And then, because I'm slightly nuts, sliced oranges caramelised in butter and brown sugar to decorate the cake and intensify it's orange-ness. These miraculous slices oozed juice and caramel and of course, if orange rind isn't your thing, simply pick the peels off but I certainly hope that a sweet-sour-sugary-bitter flavour IS your thing. It is ridiculously good. This is a ridiculously good cheesecake.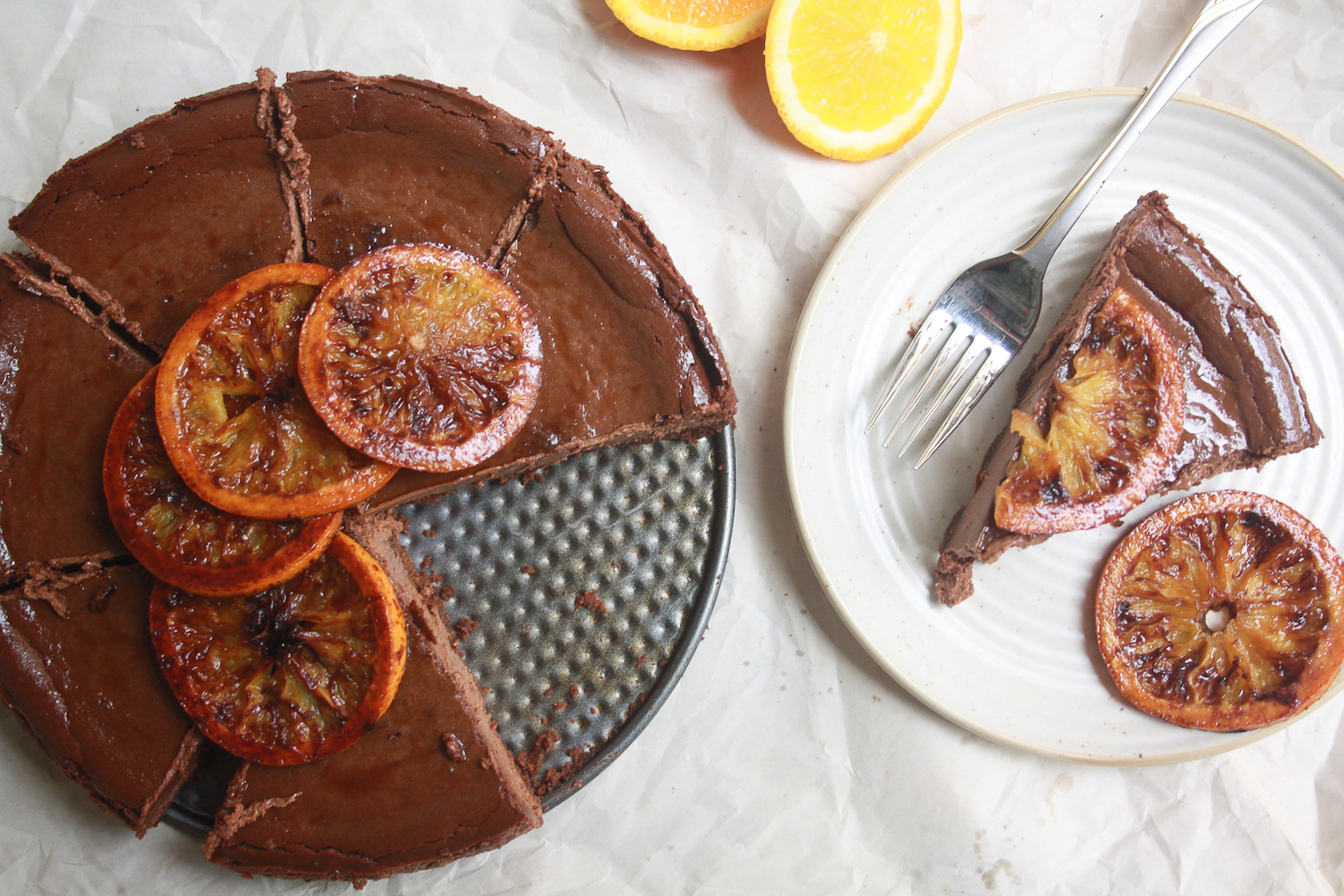 This is a mash-up of a delicious coffee cheesecake I made a while ago, and I liked that there was yoghurt in it, which makes it creamy and tangy, and sort of light, plus this decadent chocolate cheesecake by Passionate About Baking because the sheer amount of chocolate in there had me salivating.
Oranges are just entering our lives again, and I added a nice solid dose of fresh juice to the cheesecake batter because chocolate+orange = the meaning of life. Of course, for a stronger citrus flavour, you can always reduce the chocolate, but I mean, it's chocolate, so don't.
This cake is one of those creamy, rich monsters that you only make when you're SURE you have people to share it with, because if you and this cake are left alone in a room together, I'm not responsible for the outcome.

Chocolate Orange Cheesecake
Dark, creamy, chocolate cheesecake spiked with fresh orange juice topped with caramelised orange slices. Rich and perfect!
Author:
The Desserted Girl
Ingredients
For the base
150 gms digestive biscuits (about 20 biscuits)
¼ cup cocoa powder
2 tbsps caster sugar
¼ cup butter, melted (approx 50 gms)

For the cheesecake filling
200 gms dark cooking chocolate (I used 55%)
2 medium oranges
400 gms cream cheese (approx 1 and ¾ cups)
¾ cup plain yoghurt
⅓ cup cocoa powder
3 eggs
2 tsps vanilla extract
¾ cup caster sugar

For the topping
Two medium oranges, thinly sliced
1 tbsp brown sugar
1 tbsp butter
Instructions
First make the crust. In a food processor, blitz the biscuits to form fine crumbs. Add the cocoa and caster sugar and blitz for a few seconds to combine, then add the melted butter. Blitz again till the mixture begins to clump together. It should feel slightly moist and buttery. If it's too dry, add more butter.

Tip the mixture out into an 8" or 9" springform pan and press down with your fingertips or with the bottom of a smooth bowl, to even it out, making sure the entire base of the pan is covered. Chill for at least 30 mins.

While the base is chilling, melt the chocolate in a double boiler until smooth and set aside to cool slightly. Squeeze out the juice from both oranges and set aside.

Wipe the bowl of the food processor out and make the filling. Blitz the cream cheese for a few seconds to soften and smoothen it, then add the yoghurt, cocoa, eggs, vanilla, sugar, chocolate and orange juice. Blitz till completely combined and smooth. Taste and add more vanilla if you can taste an eggy flavour.

Preheat the oven to 170 C.

Pour the filling out onto the chilled base and bake for 40 to 45 minutes until the center is set, and the edges have a few possible cracks. Allow to cool to room temperature, then chill overnight.

When ready to serve, melt the butter and brown sugar in a pan. Add the orange slices and cook on both sides till caramelised and slightly soft. Allow to cool before arranging on the cheesecake. Alternatively, you could first slice the cheesecake, then place the orange slices on top. Whatever's easier! Happy eating 🙂
Notes
*I find the imported variety of oranges make for better slices than the Indian ones and they're not too expensive.
*For a stronger orange flavour, you could reduce the chocolate to 150 gms.
*If you do not have a food processor, you can make the biscuit crumbs using a rolling pin and make the filling with a hand mixer and large bowl.