The thing with being at home and working on the blog three days a week is that temptation in the form of sugar and butter is EVERYWHERE. So as soon as stuff comes out of the oven, it's distributed and I look the other way. The fridge is usually devoid of anything I would want to consume at random. Which means, hardly any temptation on either side, so that my jeans and I remain friends.
Which unfortunately means, that sometimes, when I really, really want to munch, there's nothing there but cooking chocolate. You see the danger?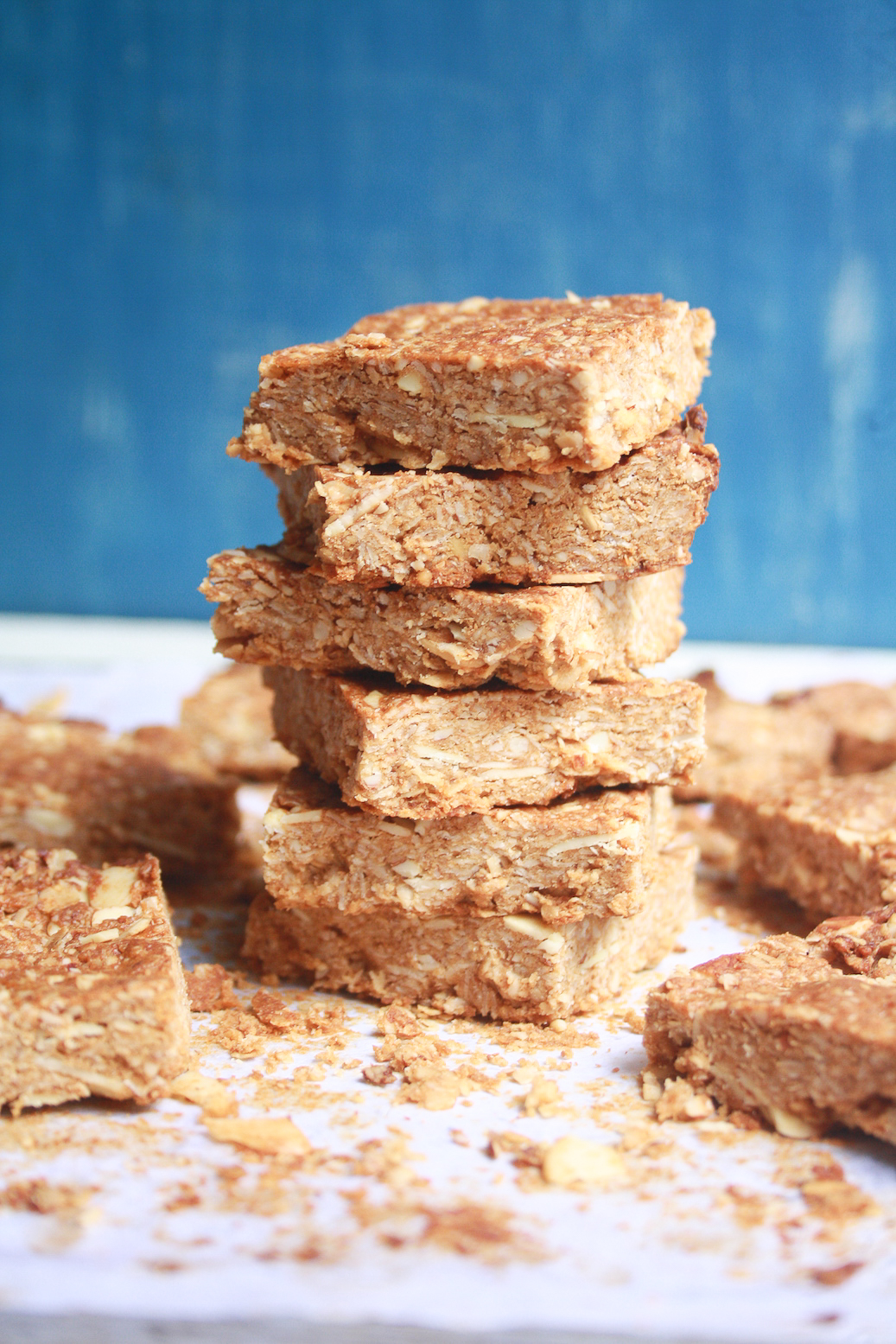 I decided I wanted to make a snack myself, so I knew what I was putting into it. Something that could be made and stored away without fear of it going bad, and something that wasn't oozing chocolate so that I wouldn't feel the need to eat it all day.
You guys. I've always eaten granola and granola bars fairly willingly, even though yes, they're dry and not very fun. But it turns out, when you make them at home, they're infinitely better (no, they're not replacing Snickers anytime soon).
Oats, peanut butter, honey, almonds both ground and flaked aaaand nothing else. There's no additional fat or sugar and I gobbled up two squares for a snack and knew these bars were keepers.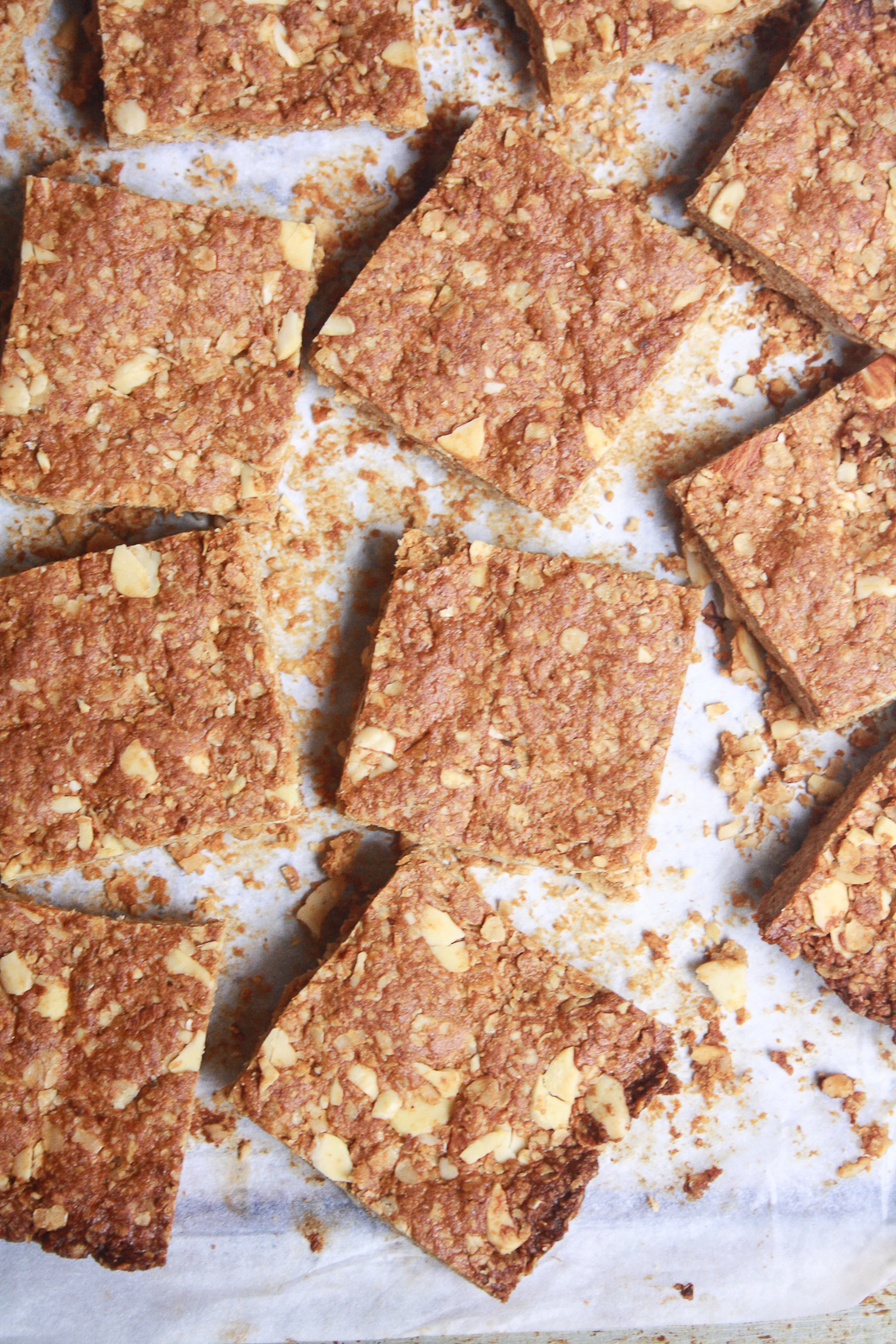 These bars are loosely based on a recipe from Cookie and Kate. I made a few significant changes, the biggest being to not leave these as no-bake bars, because baked oats are crunchy and awesome. Then I realised I didn't actually have sliced almonds or the time to sit and slice whole almonds, so a handful of flaked almonds that needed finishing, plus a cup of ground almonds worked fabulously. Honey-roasted peanut butter meant I needed to add less honey for sweetening and I left out the chocolate chips because well, I was feeling virtuous. True, store-bought peanut butter does come with preservatives, so if you're really particular, you can even make your own by grinding peanuts in a blender 🙂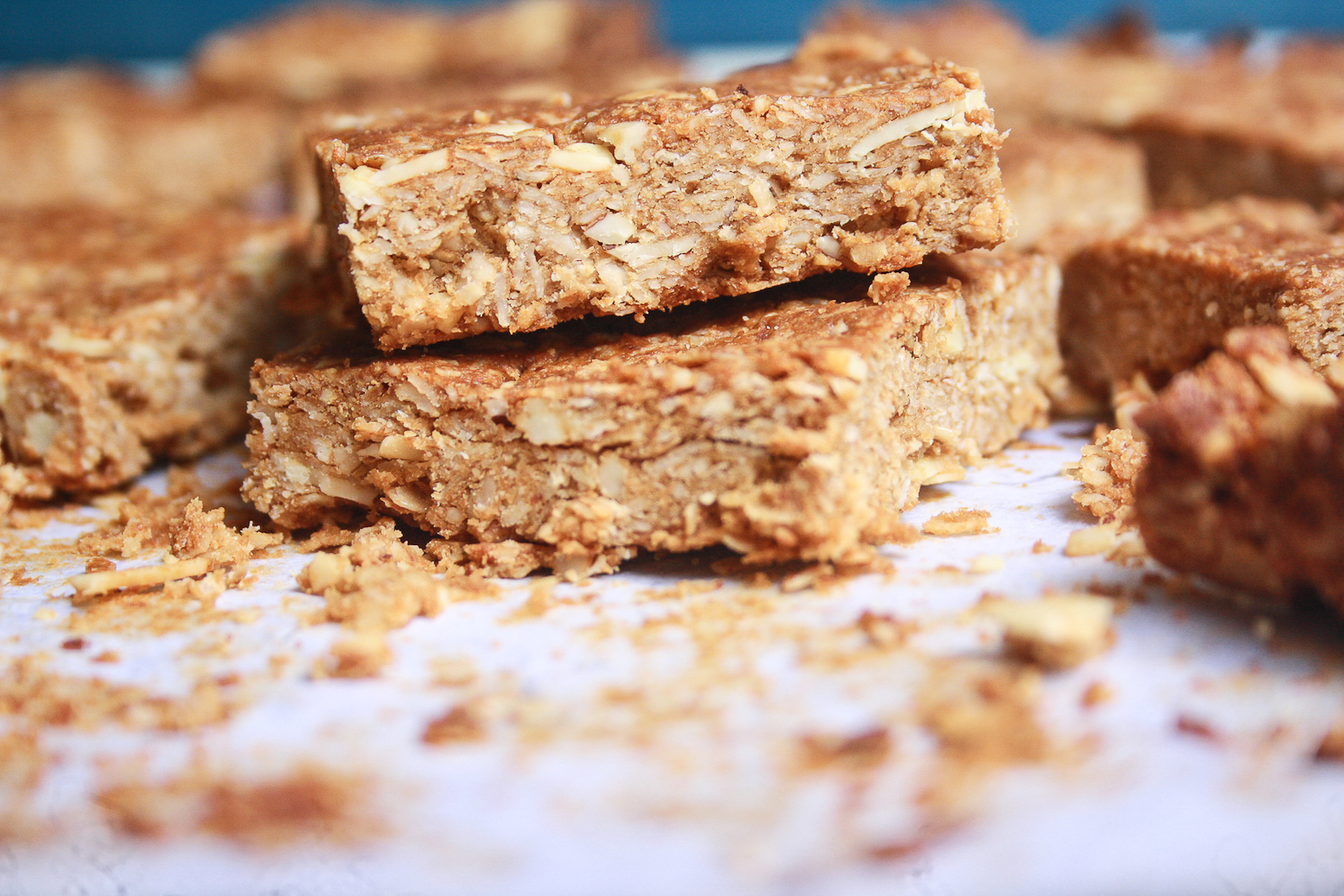 These bars are so, so customisable. Flaked almonds could just as easily be peanuts or any other nut. Dried fruits like raisins or cranberries would taste great and I'm thinking of a dried fig version as we speak. I would recommend the ground almonds though, because even being a spur-of-the-moment decision, they added a fabulous chewiness to the bars.
Filled with peanut flavour, crunchy around the edges, but soft enough on the insides. They are satisfying, tasty and just what we need to save us from chocolate cake.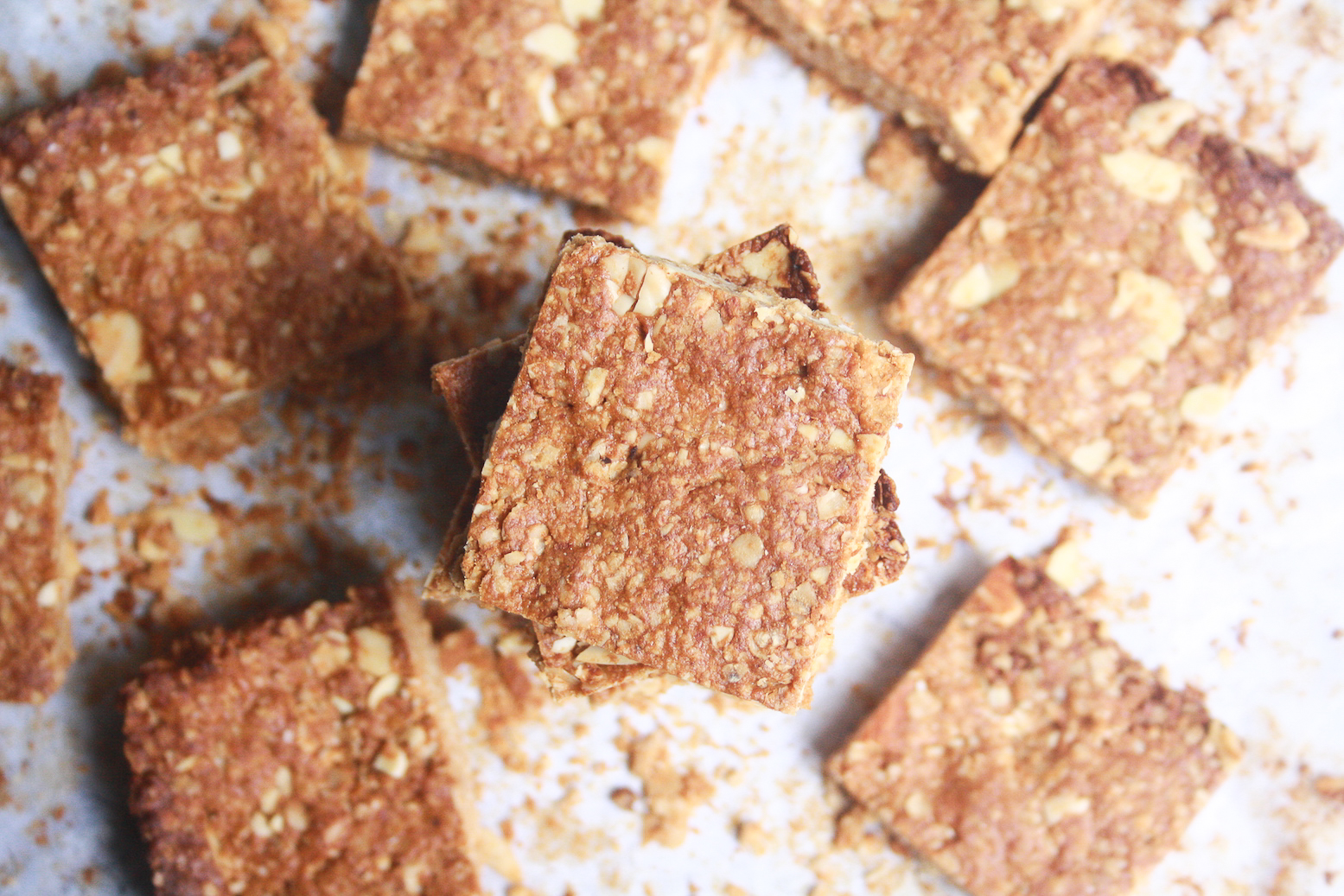 Peanut Butter & Almond Granola Bars
Chewy granola bars filled with oats, ground almonds, peanut butter. No fat or refined sugar!
Author:
The Desserted Girl
Ingredients
1 and ½ cups instant oats
⅓ cup flaked almonds
1 cup whole almonds
½ heaped cup peanut butter
⅓ cup honey
1 tsp vanilla extract
Instructions
Grease an 8" or 9" square baking pan, then line with baking paper, leaving an overhang so that you can lift the bars out when they're done. Preheat the oven to 170 C.

In a mixing bowl, combine the oats and flaked almonds.

Pulse the whole almonds in the blender a few seconds at a time till they are almost entirely ground but not exactly like almond meal. Stop when there are still a few larger pieces of almond left. Add to the oats and mix.

Melt the peanut butter till it is just soft enough to be stirred easily, then add the honey and vanilla. Stir this mixture well, then pour over the oats mixture.

Fold with a rubber spatula till the mixture begins to clump together, use your hands if necessary.

Press the mixture firmly into the prepared pan, making sure it's even. The bottom of a measuring cup can help to pack it in properly.

Bake for 20 mins then an additional 5 to 10 mins depending on how brown you want the top.

Lift using the edges of the baking paper and set on a wire wrack to cool completely. Peel the paper off the edges, then slice into 16 square or 8 rectangular bars.

Store in an airtight tin at room temperature for 2 to 3 days, then refrigerate. Happy snacking!