Hello from Udaipur! I'm still reeling from one of the most beautiful destination weddings I've ever seen and realising for the hundredth time, how lucky I am to be able to call this city home. I hope to do a travel post about Udaipur soon, but till that happens, here are some cupcakes 🙂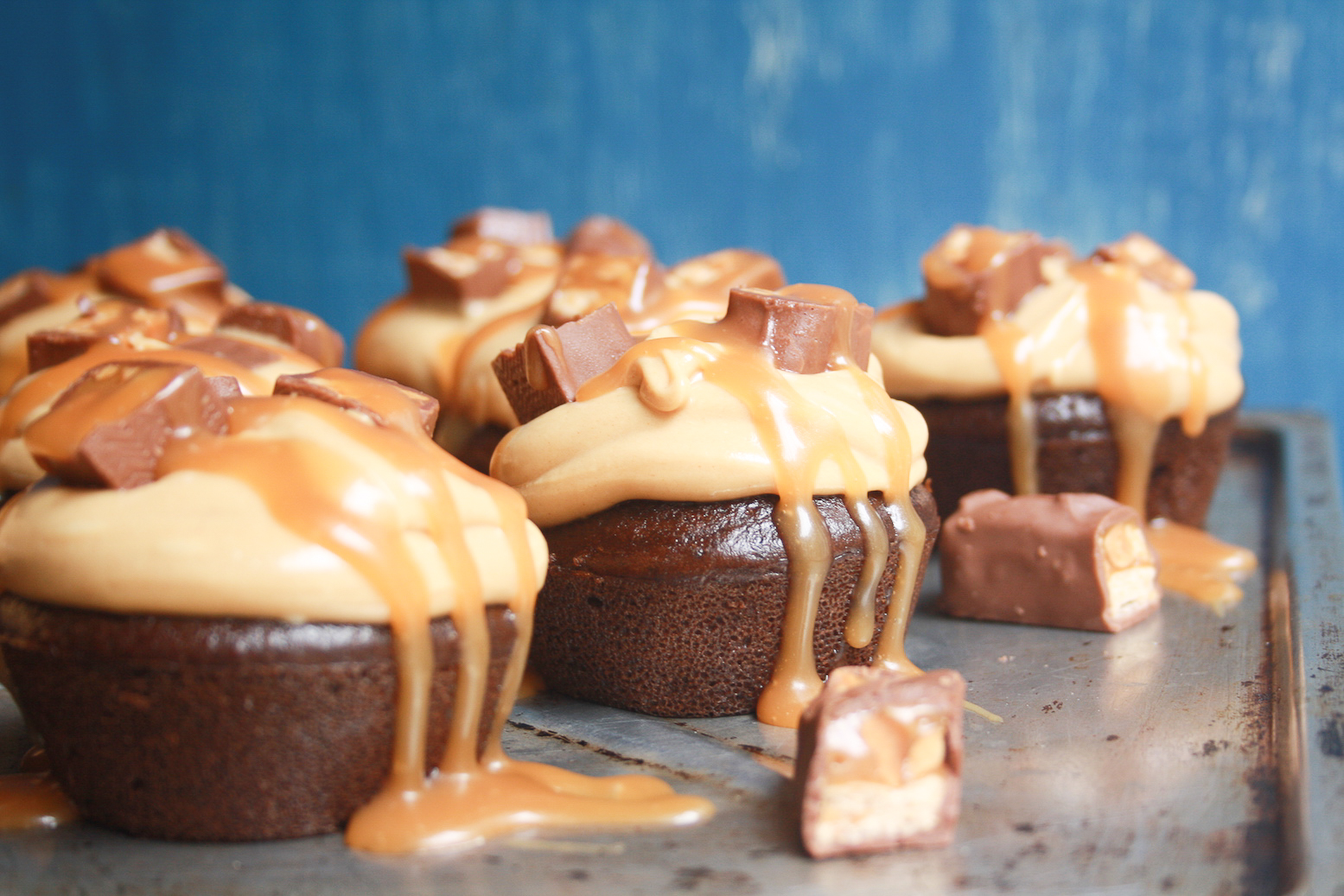 Because Snickers is one of the only candy bars I can swallow in seconds and because this idea of Snickers cupcakes has been floating all over the Internet for a while now, this was an indulgence just waiting to happen.
There's all the best parts of a Snickers bar: chocolate in the form of a moist, rich (eggless) cake, peanut butter in the form of a creamy, lightened-up frosting, caramel in the form of a homemade caramel sauce and then, we rain down chopped up Snickers bars just to drive the point home.
Literally, one of the best and worst decisions of my life. Because how many Snickers cupcakes is too many cupcakes?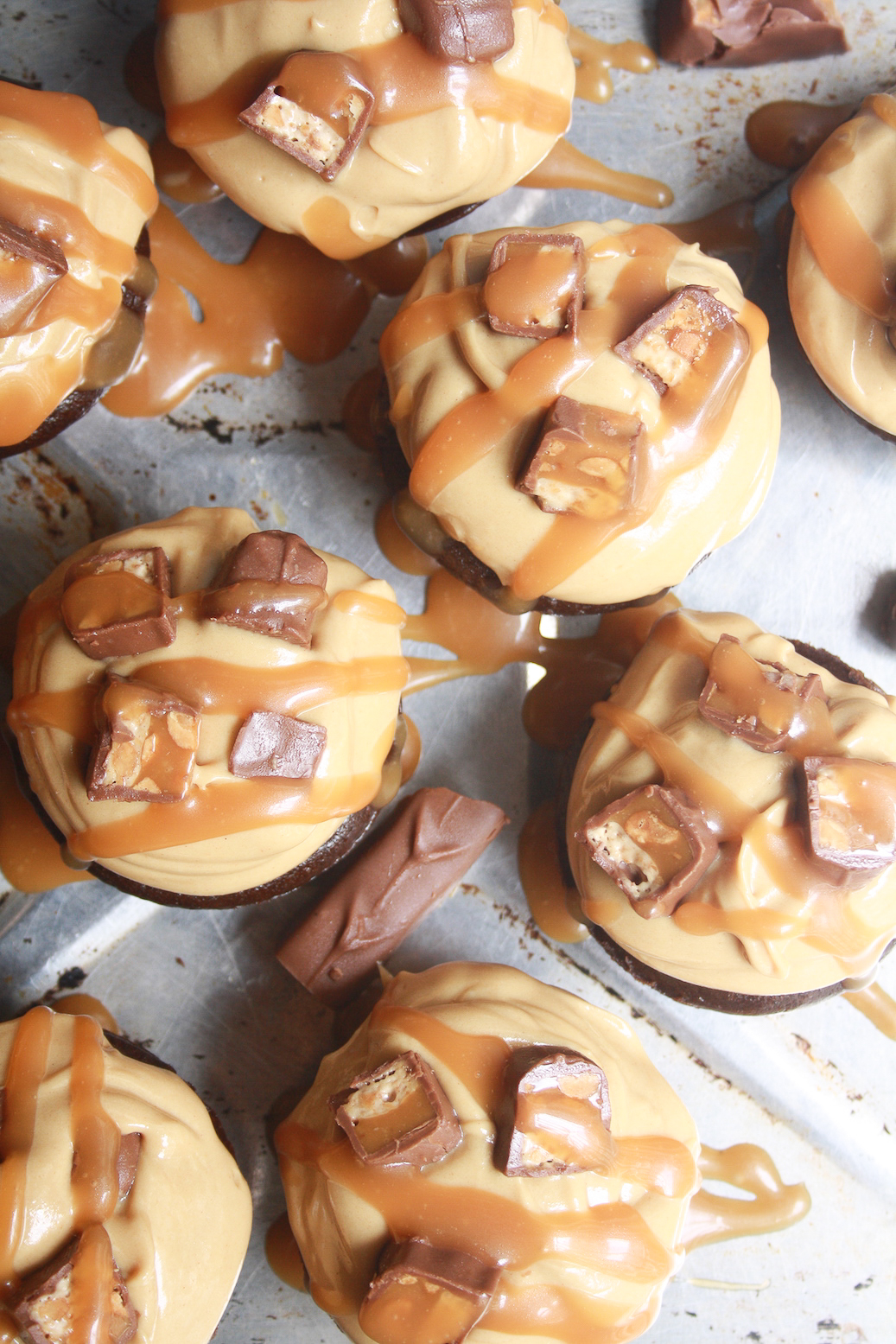 Let's break this whole thing up. I was out of eggs, and I wanted a dark, moist cake to stand up to all that frosting. This cake has been one of my favourites for a long time, and it turned out that baking the same batter in muffin tins was a piece of cake. Tee hee. Half of this salted caramel recipe and then a slightly improvised peanut butter frosting, that's heavier on the peanut butter than on the butter. Plus, no sugar, because I used a honey-roasted variant of peanut butter. So good. This does mean that the frosting isn't very thick or pipeable. You will need to chill it for 10 minutes after it's ready, then simply spoon it on to the cakes. Which means less drama, and more frosting. Yay.
And that's it, we're done!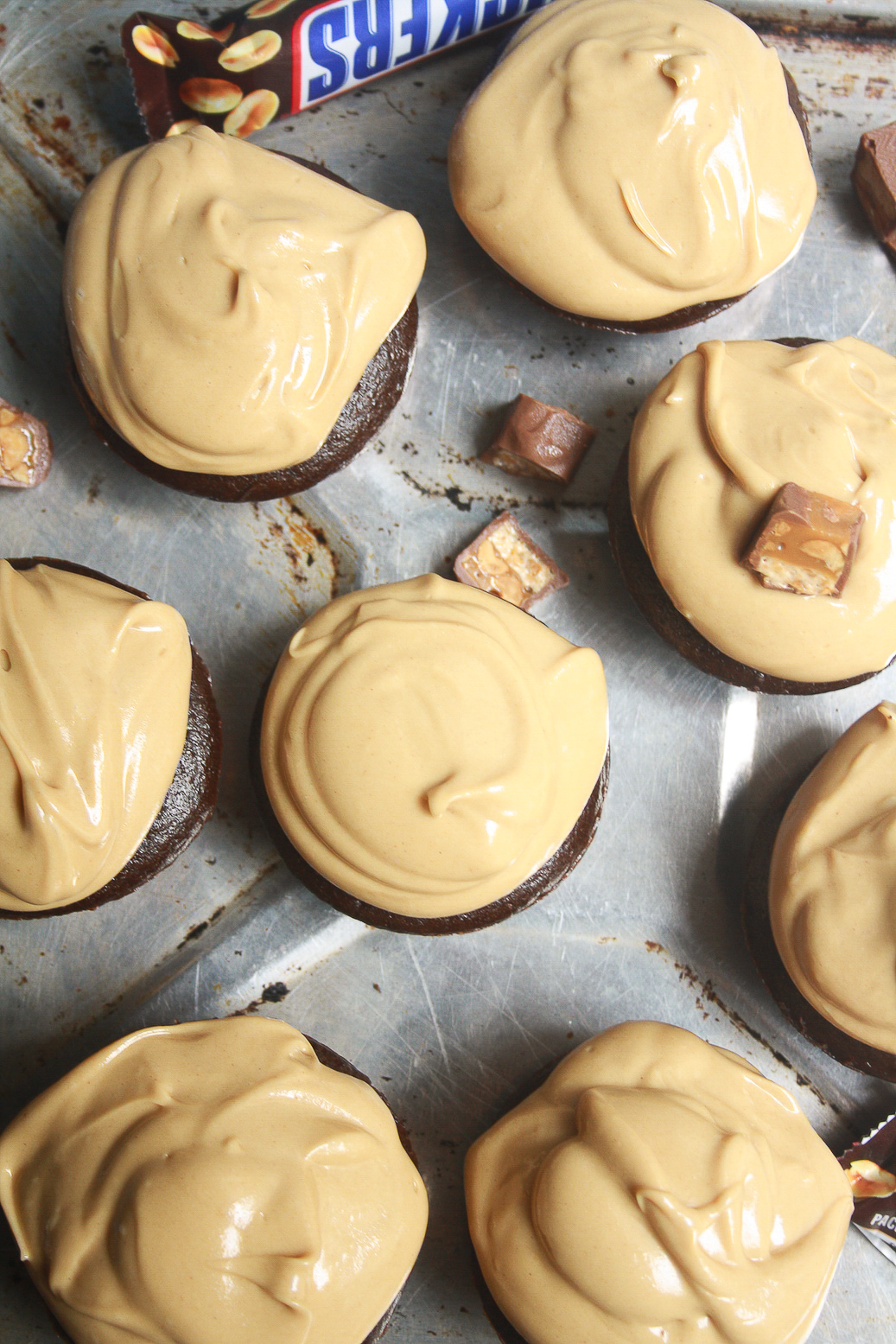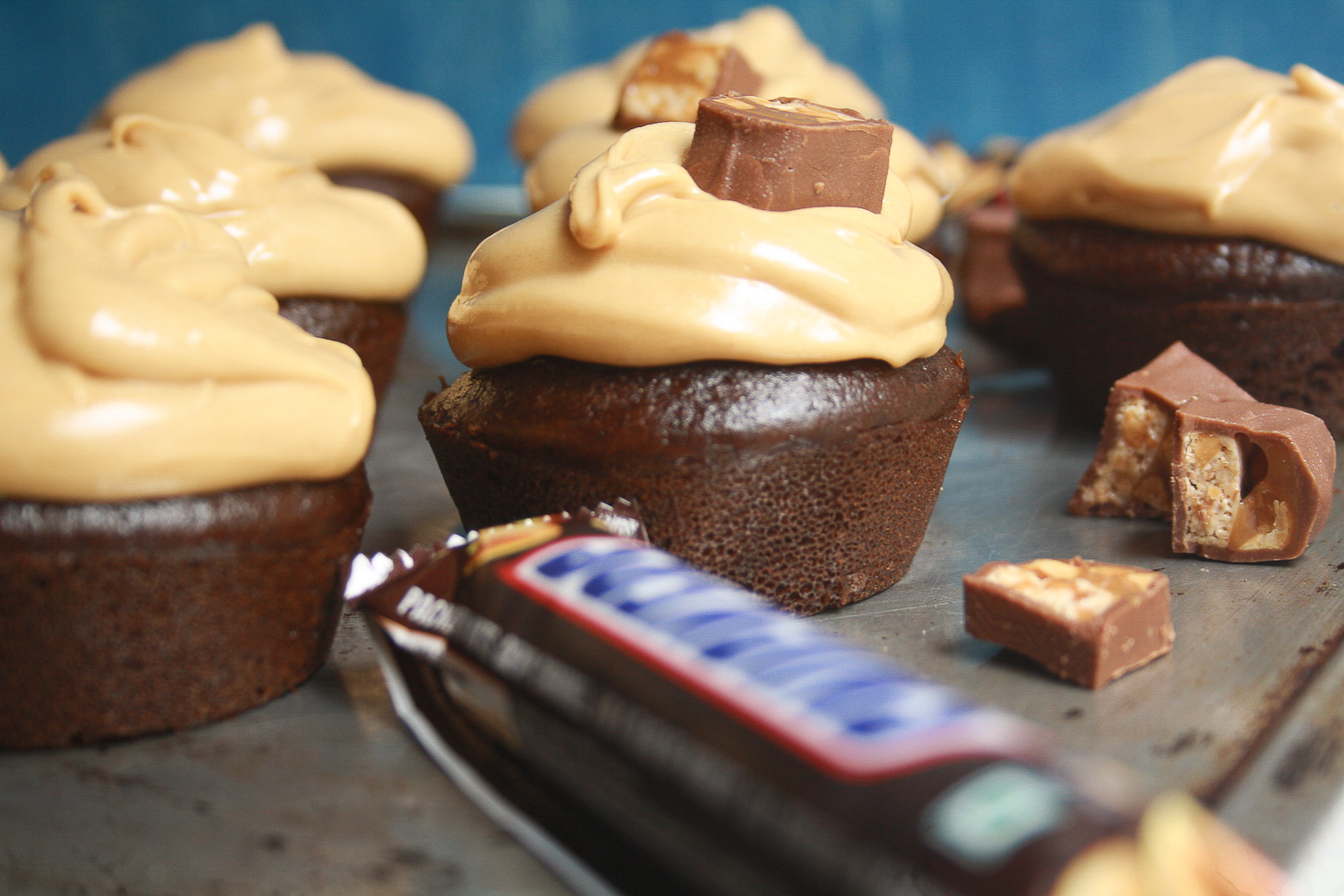 Together, there is an explosion of Snickers in every form. The cake is soft, not overly sweet, and the frosting, oh my god, the frosting. Peanut-y, creamy and sweet without being cloyingly sugary or overwhelmingly buttery, which is really the only kind of frosting that I can tolerate. The caramel sauce is the icing on the cake in every which way. It adds all the sweetness you need, and blends into the frosting, so that this will become your new favourite way to eat Snickers.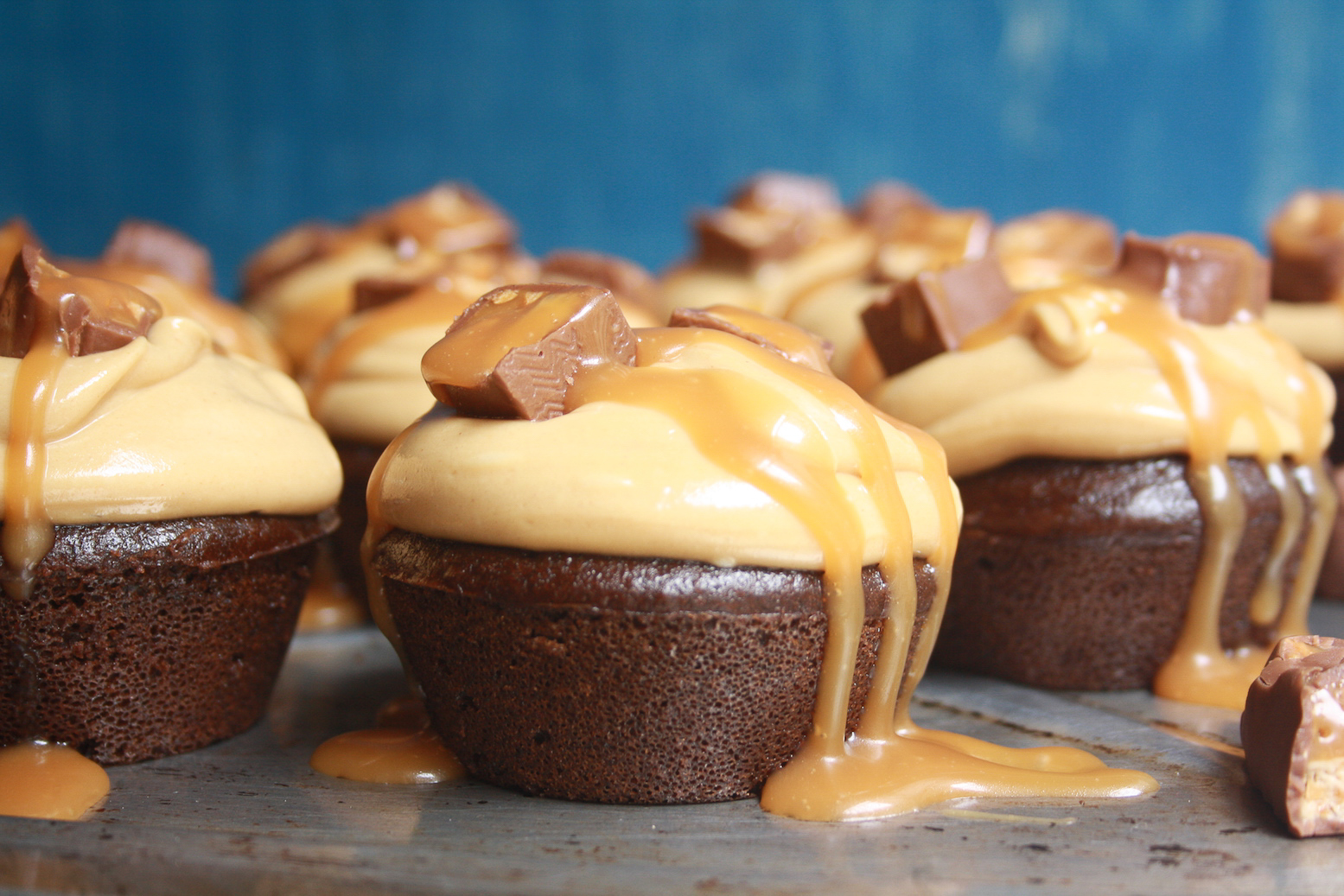 This recipe does have a few different elements before it can all be put together, but it's nothing that you need to lose sleep over. The caramel sauce can actually be made a few days in advance and the frosting can be made the night before. The cakes do need to be cooled completely before they can be frosted which means there is an agonizing wait before you can put the finished cupcake in your mouth, but it's more than worth it.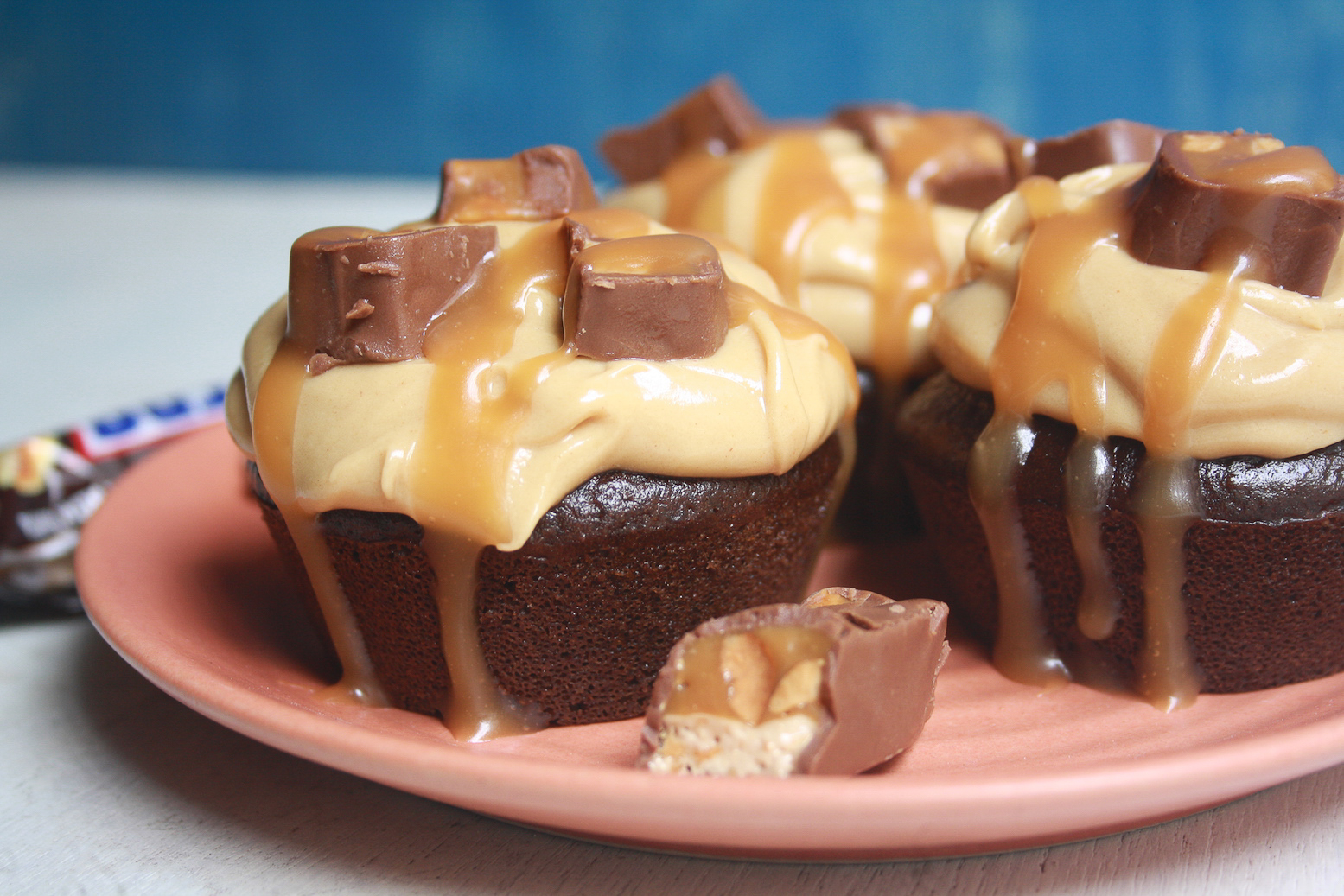 Time to stop gaping. Start baking.

Snickers Cupcakes (Eggless)
Moist chocolate cupcakes topped with a lightened-up peanut butter frosting and homemade caramel sauce! All the delicious flavours of Snickers in one heavenly cupcake!
Author:
The Desserted Girl
Ingredients
For the cupcakes
1 cup regular/all-purpose flour
⅓ cup cocoa powder
¾ tsp baking soda
½ tsp baking powder
Pinch of salt
½ cup brown sugar
⅓ cup vegetable oil
1 cup buttermilk (or 1 cup milk soured with 1 tsp lemon juice or yoghurt)
1 tsp vanilla

For the caramel
½ cup caster sugar
3 tbsps salted butter (40 gms)
¼ cup cream

For the frosting
½ cup room temperature butter (I used salted Amul and it worked fine)
1 cup peanut butter (I used a sweetened, honey-roasted variety)
¼ cup powdered sugar, if using unsweetened peanut butter

Instructions
For the cakes, preheat the oven to 175 C and grease 9 muffin moulds.

Sift the flour, cocoa, baking powder, baking soda and salt in a bowl and set asidel.

In a large mixing bowl, combine the brown sugar and oil and mix well. Add the soured milk and vanilla, and mix again.

Gently fold the flour mixture into the liquid mixture till you have a smooth batter. Run a hand mixer through it to remove any lumps if needed. Divide the batter equally among the muffin moulds, filling them about ¾th of the way. Bake for 20 to 25 mins or until a toothpick poked into each comes out clean. Set aside to cool completely.

For the caramel, choose a saucepan that doesn't burn easily, copper-bottomed is great. On low heat, melt the sugar, stirring constantly. Do not do ANYTHING else during this step. Watch the sugar like a hawk. It will begin to form lumps and look gritty after about a minute. Slowly you'll see it melting down, going from clear to amber pretty quick. Stir till it melts down completely.

Add the butter and stand back because it will splutter and bubble up a bit devilishly. Stir again till the butter melts into the sugar.

Now add the cream gradually and watch out for more spluttering and bubbling. I stood back and kept stirring, so try and use a spoon with a long-handle.

Once the cream has blended in, allow the sauce to boil for 1 minute. It will rise and froth some more. Turn off the heat and let it cool at room temperature.

For the frosting, simply beat the butter and peanut butter (and sugar, if using) till smooth. Chill for 10 mins before assembling the cupcakes.

To assemble, spread the frosting over the top of each cupcake, taking care not to pile it on too high since it's soft and might drip. Reheat the caramel sauce for a few seconds if needed, till it's reached a 'drizzleable' consistency. I used an empty squeeze bottle to drizzle the caramel over the frosting, but you could use a small spoon as well.

Top the cupcakes with chopped Snickers bars and maybe even chopped roasted peanuts! Dig in or if you can resist it, refrigerate the cupcakes for about half an hour for the frosting to firm up just a bit. Happy eating!
Notes
*Prep-time does not include cooling or chilling time
*The caramel can be made 3 to 4 days in advance
*The frosting can be made the night before you plan to assemble the cupcakes, but keep it out at room temperature for 10 mins before frosting
*The cakes can be made with a mix of wholewheat and all-purpose flour