The thing about comfort food is that most of the time, it makes me feel pretty uncomfortable after the binge. Don't get me wrong, I will eat a pint of ice cream with no regrets but there is a certain kind of guilt that goes only with dessert, not so much with my meals. I'd rather eat a comforting lunch that is halfway healthy than be filled with more guilt than my stomach can handle.
This is usually my complaint with mac and cheese outside the home. Does it have to be aaaaall cheese? Or loaded to the top with cream? Or filled with gluggy, goopy pasta and basically no other flavour? No, no and no. I usually end up pushing such a dish away in a couple of bites thinking to myself that if comforting indulgence is what I'm after, a whole cake would do the job far better, no?
So what I've been making for years now, is a basic 'white sauce' (alfredo, bechamel, call it what you may), but lightened up. Mostly milk, a bit of shredded cheese for 'comfort' and usually finished with sautéed mushrooms and peppers before being tossed with pasta and wolfed down. But when my Mom told me one day that she amped up her impromptu one-person pasta by baking it with a layer of breadcrumbs, I sat around thinking about it for a while. Why hadn't this struck me yet?
Because when a creamy (but not cream-y) herb-y, garlic-y sauce is mixed up with filling (but not goopy) wholewheat pasta, topped with smoked mozzarella or really, any kind of cheese, then finished with breadcrumbs and bits of garlic, the result is truly magical. You will cut into a crusty, toasty layer on top, before you meet the soft, flavourful mac and cheese of your dreams. And the best part, it hasn't actually put you to sleep.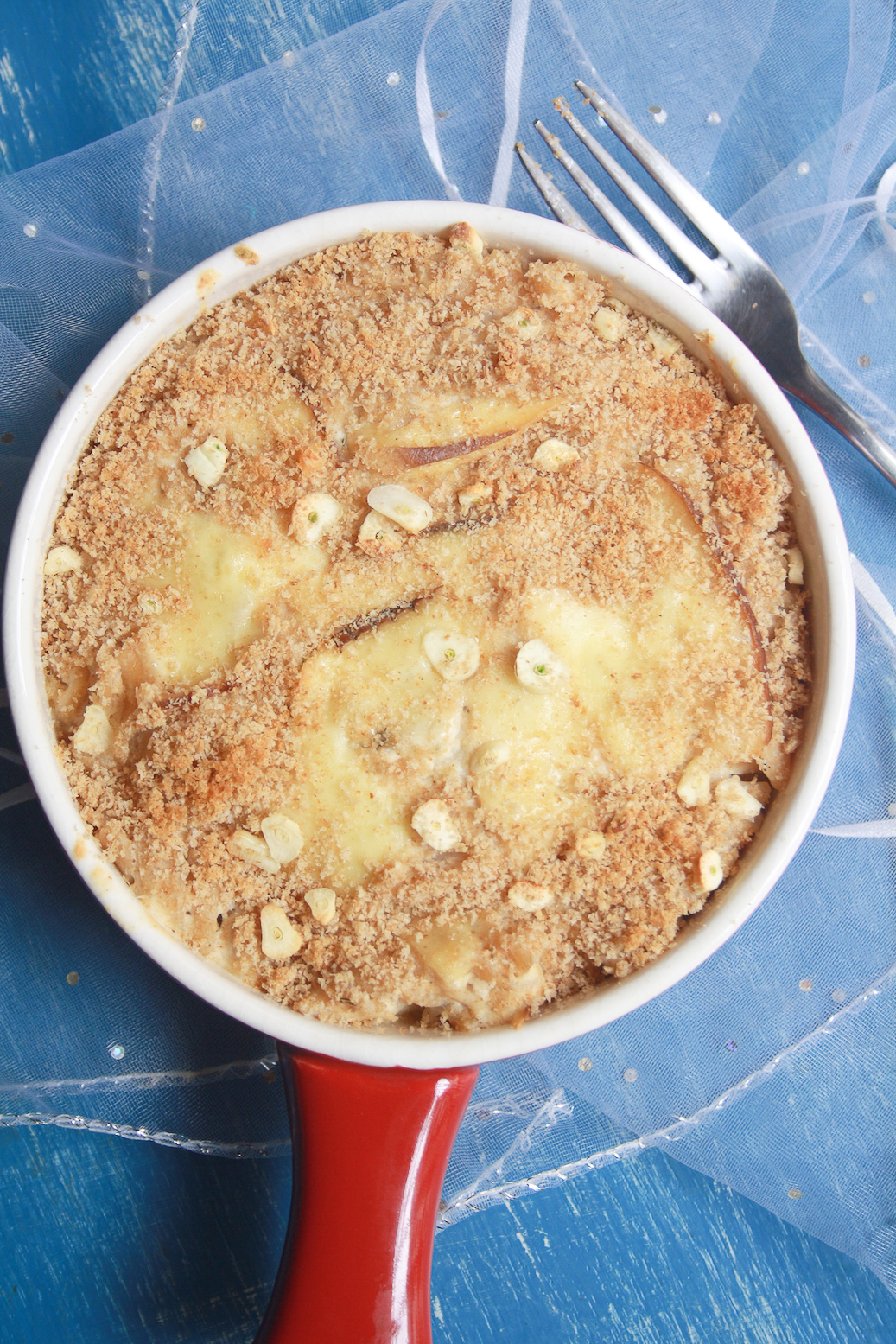 The reason I'm so pleased with this 'made-for-one' dish is it saves you that weird situation where cooking for just yourself seems like far too much trouble. In just about an hour, you will have a terrific meal ready with very few ingredients, ones that you probably already have in the kitchen.
While this mac and cheese isn't strictly 'macaroni', I always use only wholewheat pasta at home and have grown to love it so much, it's now my go-to for anything pasta related. Most supermarkets and online stores now stock affordable wholewheat varieties so go nuts 🙂
To give the sauce a bit of richness without overdoing it, I usually add a little shredded cheddar but since I had run out, I used sour cream instead. Cream cheese would be great too! The idea is to add just a little bit of luxury to the sauce. The sauce also has plenty of seasoning and dried herbs but the star of it all is the garlic that's lightly fried in butter just before you pour the milk in, and then sprinkled on top as well. This means that your first bite isn't going to be just a bland milky flavour, but one that will have you licking the bowl clean. If that isn't comforting, I don't know what is 🙂

Mac and Cheese For One
An easy, flavourful mac and cheese with wholewheat pasta, garlic, herbs and toasty breadcrumbs!
Author:
The Desserted Girl
Ingredients
For the 'mac'
1 cup heaped wholewheat pasta, uncooked
3 cups water
Pinch of salt

For the sauce
2 tbsps butter
3 cloves garlic, chopped fine
1 tbsp flour
1 and ½ cups whole milk
2 tbsps shredded cheddar cheese, sour cream or cream cheese
Salt and pepper to taste
1 tsp dried oregano
1 tsp paprika or chill flakes
1 tsp pizza seasoning, optional

To finish
Cheddar or mozzarella cheese, as needed
2 tbsps breadcrumbs
Chopped garlic for sprinkling on top

Instructions
In a large pot, add the water and salt, stir and bring to a boil. Add the pasta, cover and leave to cook for about 15 to 20 minutes, or till the pasta has softened but still has a little bite.

Meanwhile, make the sauce. Melt the butter in a pan and add the garlic, stirring for a few seconds. Add the flour and mix till the flour absorbs the butter, begins to smell nutty and browns very lightly. Add the milk and stir slowly but constantly, breaking up the lumps of flour as you go.

The flour may not dissolve immediately, but it will eventually. After a few minutes of stirring, add the shredded cheese/sour cream/cream cheese and mix it in. Add the salt and pepper, oregano, paprika and pizza seasoning. Stir well. The sauce will look grainy and suddenly begin to thicken so watch it carefully. Once it begins bubbling, taste and adjust seasoning. Turn off the heat.

Preheat the oven to 180 C.

Drain the cooked pasta, rinse well with drinking water and drain again. Add it to the sauce and stir well.

Tip the whole thing into a small baking dish, about 5" wide. Top with a few thin slices of mozzarella, then the breadcrumbs and garlic. Bake for 10 to 15 minutes until the cheese has melted and the breadcrumbs look toasty. Turn the oven to the broil setting at 150 C if you'd like further browning. Eat hot!