Here we go. This monsoon has been so generous with incredible fruit and overflowing lakes, but when the most used emoji on my phone is the bar of chocolate, I had to come back to the dark side at some point. And what a comeback it is.
Hands-down, the easiest, quickest, most insane chocolate cake there is. I don't know why I waited so long to make it, but now that I have, I will hound you till you make it too. (I'm a little scary about chocolate.)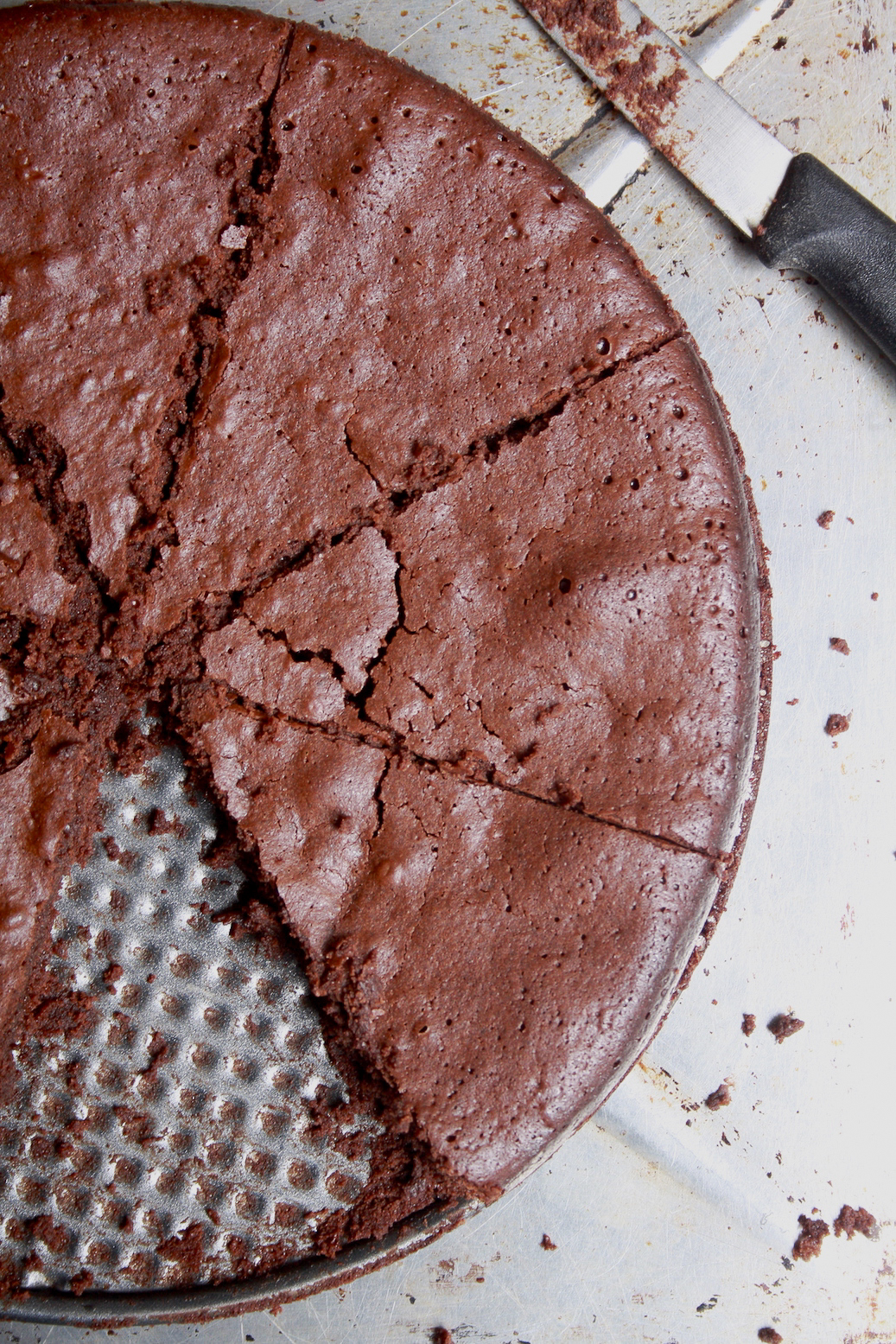 This cake is nothing out of the ordinary, not flavoured with anything unusual, but is one that should be part of every baker's arsenal. Rich, gooey, somewhere between fudge and a brownie with its crackly, flaky crust, intensely chocolatey and so quick, it's a little dangerous. It needs no accompaniments, not even ice cream honestly, because all it needs is to be slightly warmed up, then devoured with complete abandon.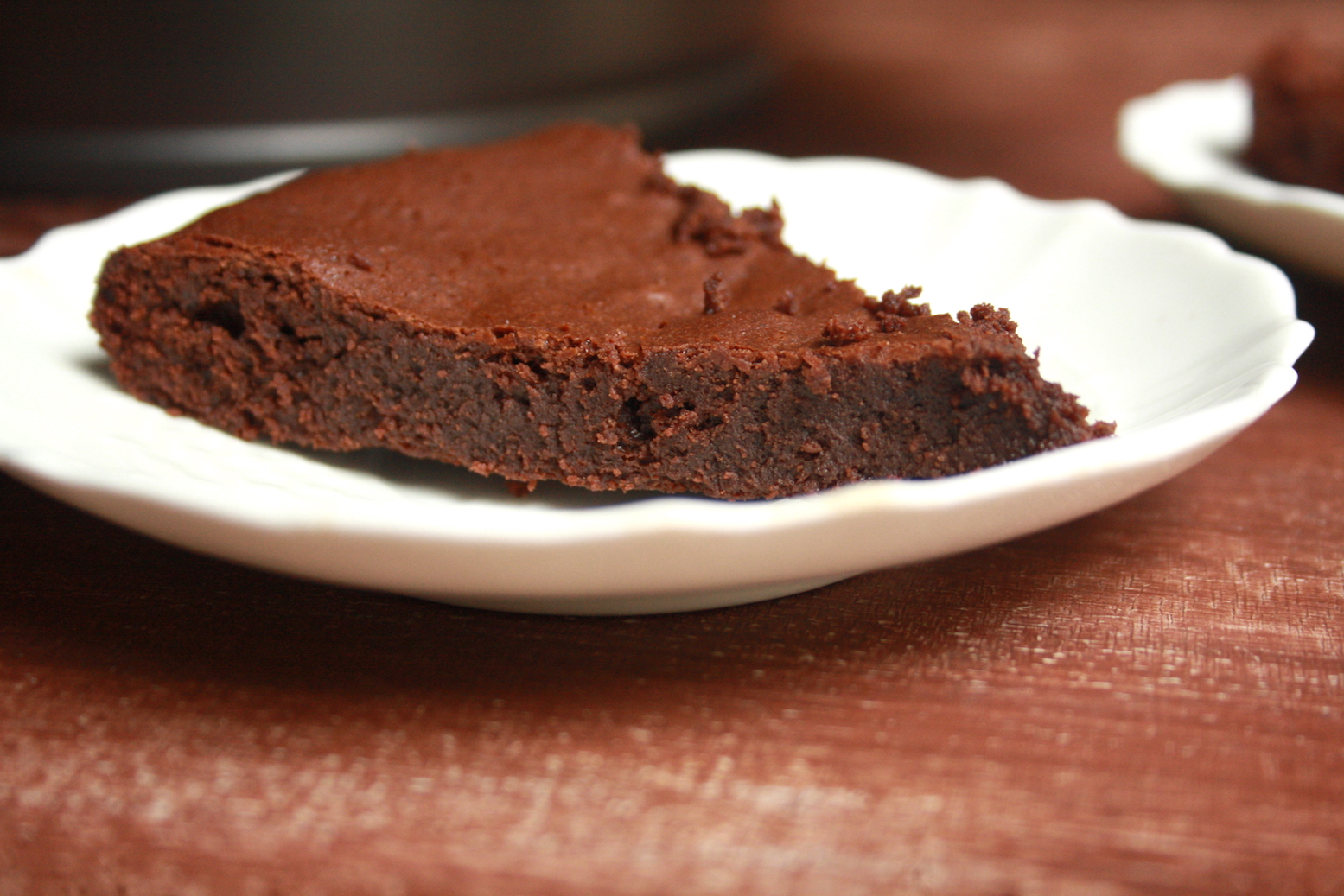 The recipe is from Epicurious, entirely unchanged but for the addition of vanilla, and extremely easy. Really, the only work involved is making sure your chocolate is at room temperature so that it melts quicker. The quicker it melts, the quicker you get cake. It's for a good cause.
I will say though, use the best possible cooking chocolate you can find. Avoid Morde for this one, though I know it's the easiest and most affordable option. But with such few ingredients, the flavour of the chocolate is imperative. I used Mii Spezial (55%), available on Big Basket and if I'm not wrong, at Food Hall too.
The batter comes together in 10 mins, in just one bowl. If it's heatproof, the same bowl can be used to melt the chocolate in too. Less dishes, more cake. It's all for the best.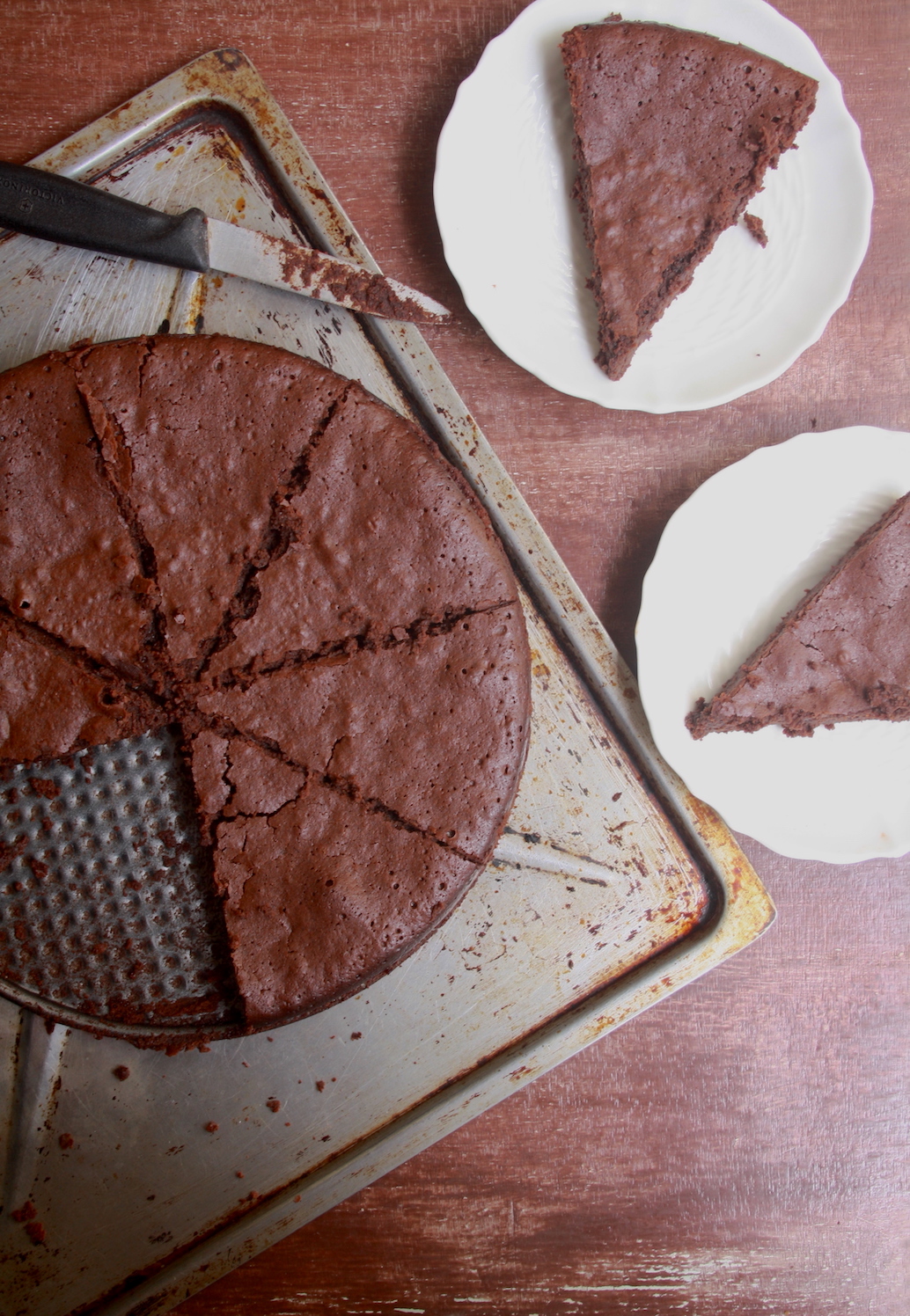 The crust cracks a little bit while slicing, it's all part of the fun. The eggs and butter together form that flakiness which is super delicate so make sure your knife is sharp, and clean it between slices, so you can keep the cracks to a minimum. Inside, it's decadent and unapologetically chocolatey and basically, everything it should be.
Preferably, let this cake sit overnight after baking because it'll be fairly soft and gooey. Once it firms up at room temperature, you can reheat individual slices before digging in for that fabulous gooeyness. An 8″ pan was recommended, but apparently mine is 8.5″ so the batter had more room to spread. I think a 6″ pan would be fine too, for thicker slices, although you can also double the recipe for a really tall cake. Honestly though, because it's so rich with all that butter, these slices are quite perfect in their thickness. I'm not sure it's humanly possible to finish off more than one slice in one sitting without having to be rolled home.
But where there's chocolate, there's a way.
I don't think you should wait any longer. Get yourself some dark chocolate and a bowl, and you could be eating this cake in under an hour. Go!

Flourless Chocolate Cake
A classic dark, moist, gooey flourless chocolate cake that is easy enough to make every single day!
Author:
The Desserted Girl
Ingredients
100 gms roughly chopped, room temp dark cooking chocolate*
115 gms room temp butter (1/2 cup, salted is fine)
¾ cup caster sugar
3 eggs
1 tsp vanilla extract
½ cup cocoa powder
Instructions
Melt the chocolate and butter in a heatproof bowl set over a saucepan of simmering water, or a double boiler. If you have a heatproof mixing bowl, you can use that for this step and minimize dishes. Stir the mixture frequently till smooth.

Preheat the oven to 190 C and grease an 8" springform pan. Set aside.

Into the hot chocolate-butter mixture, add the sugar and stir well till dissolved. This also helps cool the chocolate just a bit.

Add the eggs and vanilla and beat well, making sure the eggs are fully incorporated. A hand mixer helps here.

Sift the cocoa powder over the batter and fold it in, stirring to get rid of any lumps. Use a hand mixer if necessary though some air bubbles are inevitable.

Pour the batter into the prepared dish and bake for 20 to 25 mins and until a toothpick poked in the middle comes out clean and a thin, crackly crust has formed. If using a 6" pan, you might need to bake it for a little longer.

Allow to cool completely, preferably overnight, before slicing. Reheat individual slices for the most explosive flavour!
Notes
*I used Mii Spezial Coverture, 55%. If using a darker variety, you might need to increase the sugar.