Happy Monday, you guys! I wouldn't normally start you off on the week with a salad. I would apologise, but the fact is, we all need to look at something bright and happy on a Monday, and this salad goes beyond the call of duty.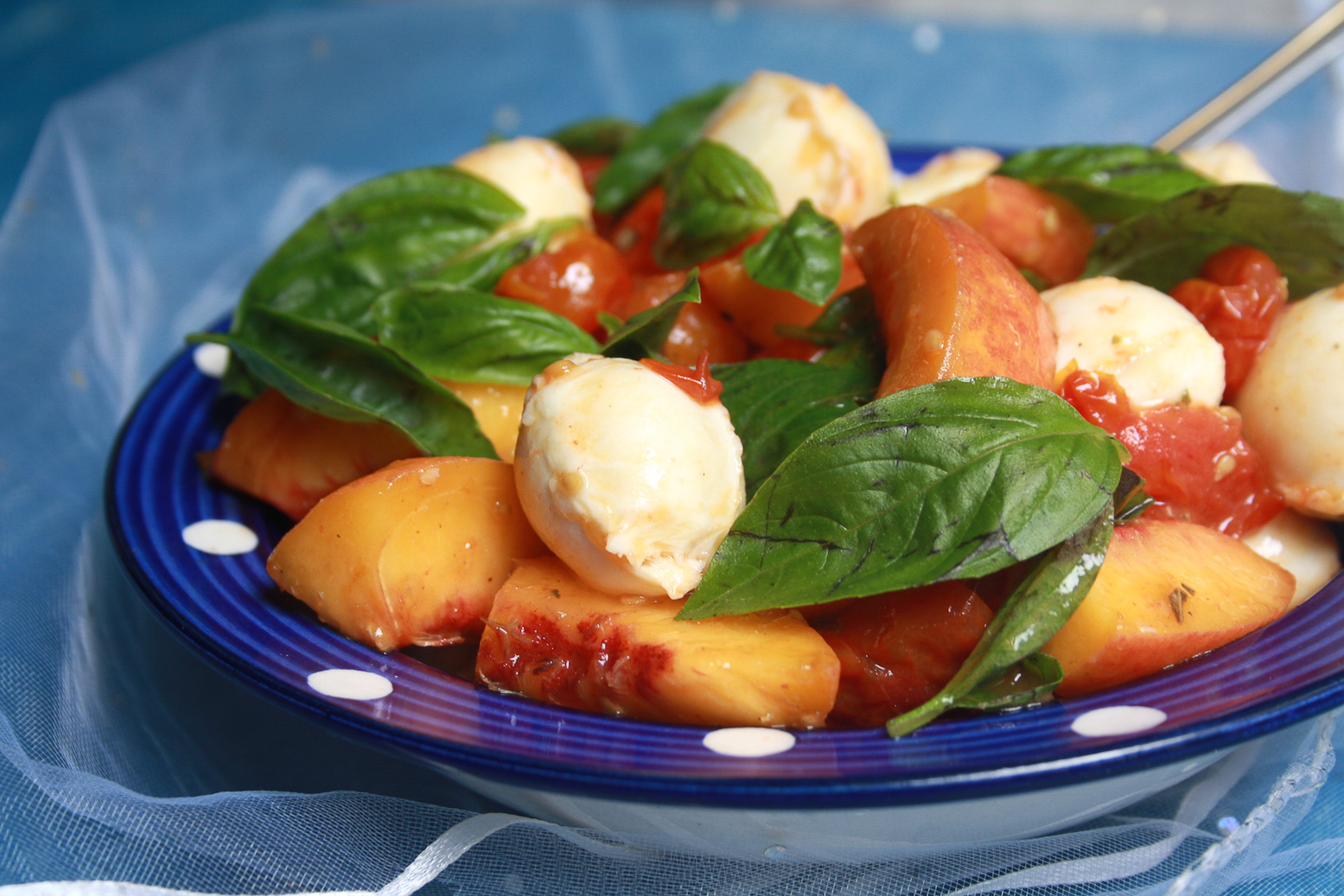 This is my take on a caprese, minus the balsamic vinegar (only because I didn't have any and didn't want to buy an expensive bottle), with cherry tomatoes that are first roasted because roasting is awesome, and peaches because we all need something sweet, fresh basil aaaaand fresh, soft, creamy bocconcini because what is cuter than baby mozzarella 🙂
This one's a keeper, you guys 🙂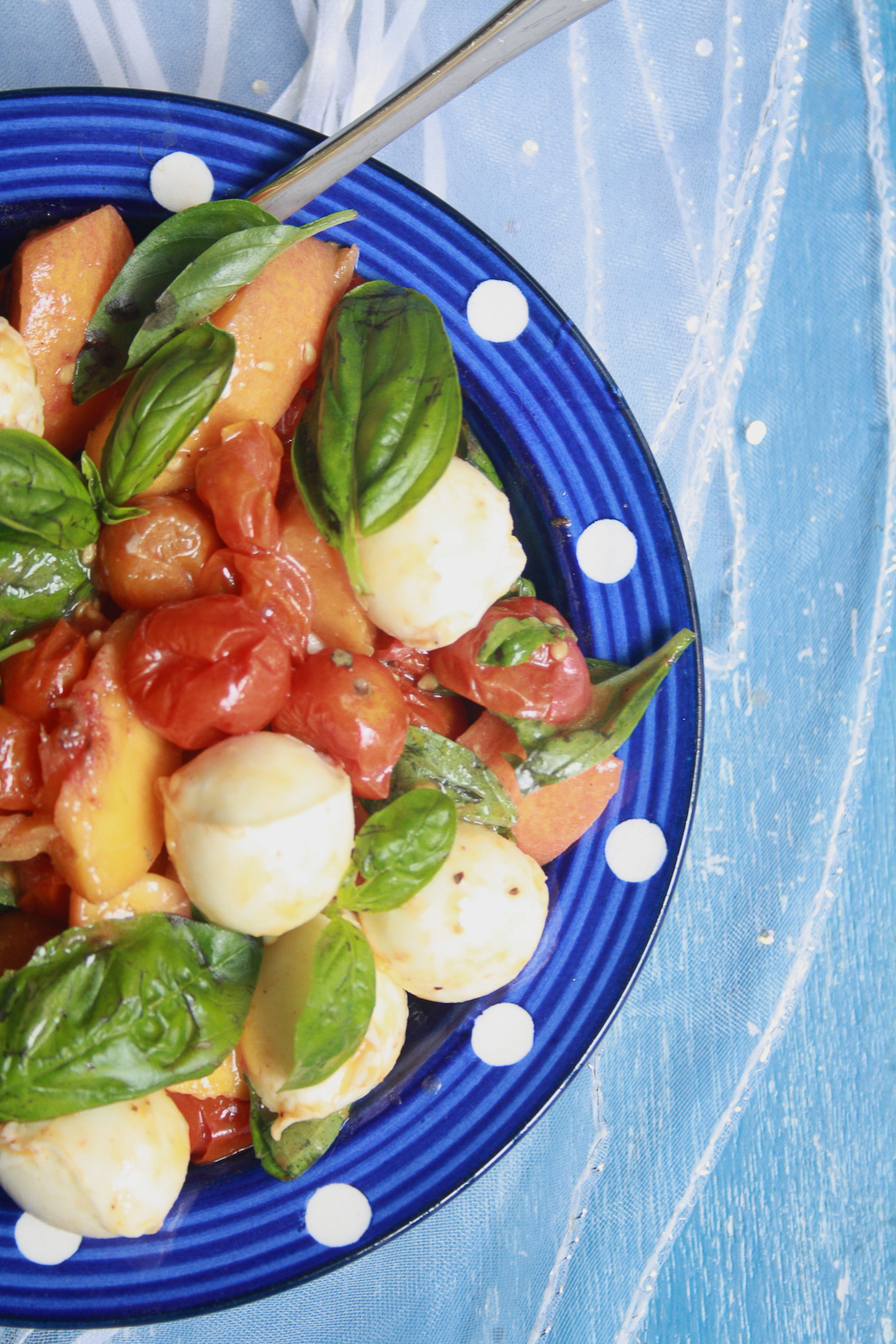 This is a zero-effort salad, really. And far more filling than you would ever image. Maybe because it's 99.97% cheese? I won't tell if you won't.
All it needs you to do is put the tomatoes in the oven, remove the stems off a few basil leaves and peel the peaches if you want to, especially if they're a bit bruised like the ones I had.
The dressing is the quickest mix of olive oil, lemon juice, dried oregano and as much salt and pepper as your heart desires. In fact, if you were to leave the dressing out entirely, this salad would still ooze juices and flavour. But, since my recipe couldn't just be 'mix stuff in a bowl and eat', I included the dressing too 🙂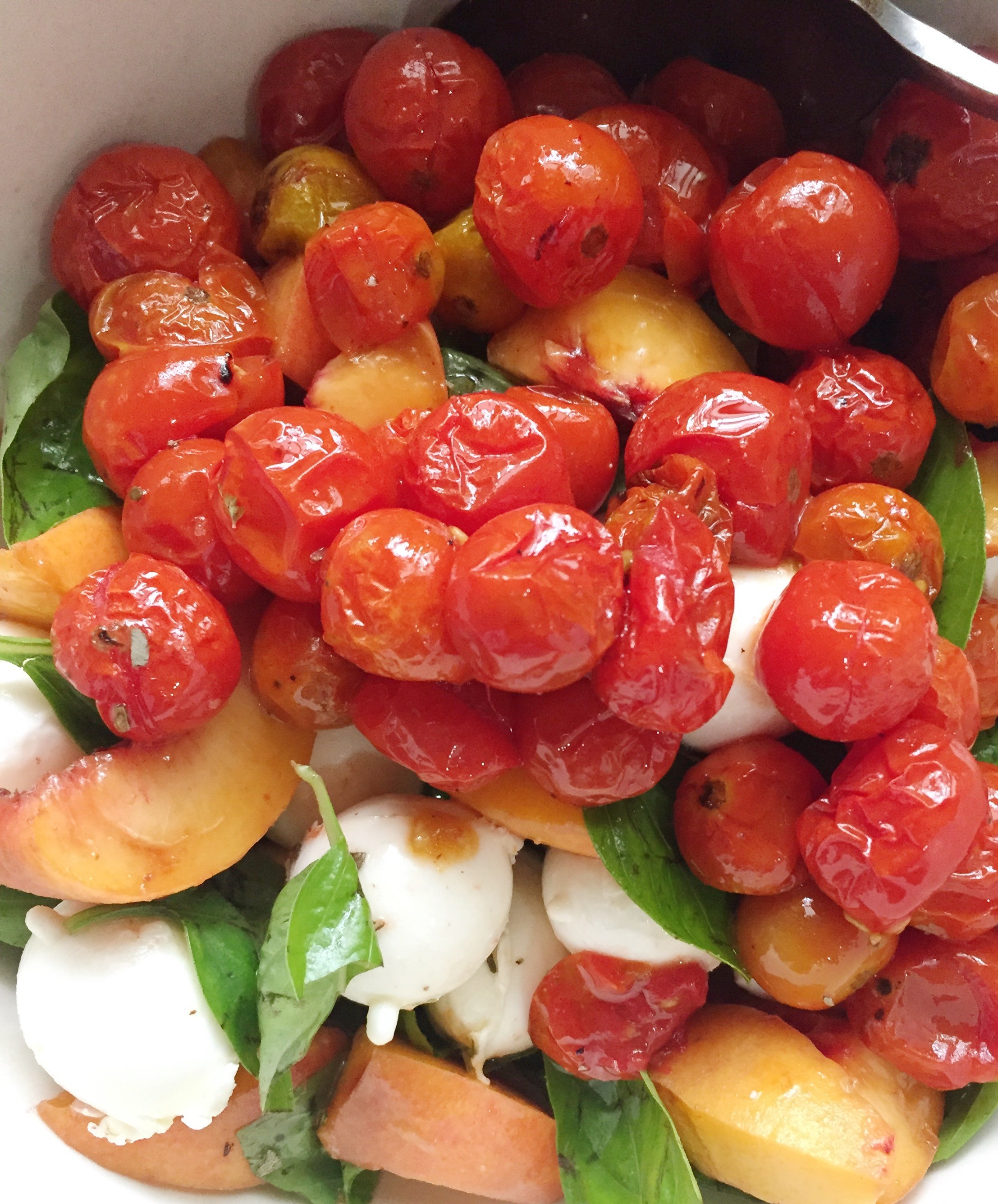 On a related note, are you following me on Snapchat? Find dessertedgirl or the Snapcode on the right side of this page 🙂 I put up all sorts of behind the scenes stuff while baking and cooking and it's solved the problem of the light in my kitchen being so bad, I can't actually take in-process photographs. Plus, all those stickers!
Ok, let's talk cheese. I used La Cremella bocconcini, available at Nature's Basket and many online grocers. It's an Indian brand, cheap and so, so delicious. Regular sized mozzarella is fine too, simply chop it up into smaller bits. Any other soft cheese would work, depending on what you love. But any which way, cheese is recommended 😀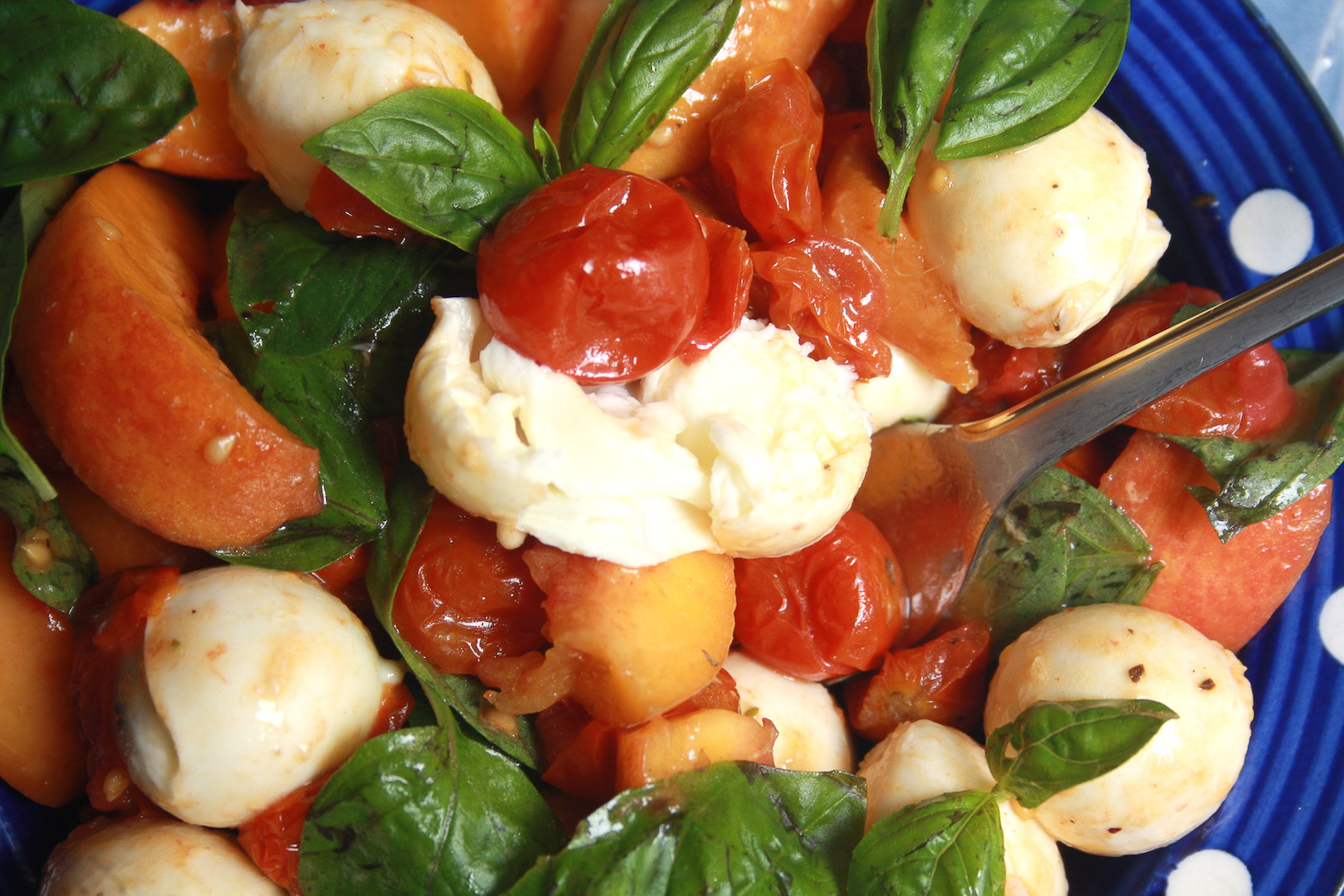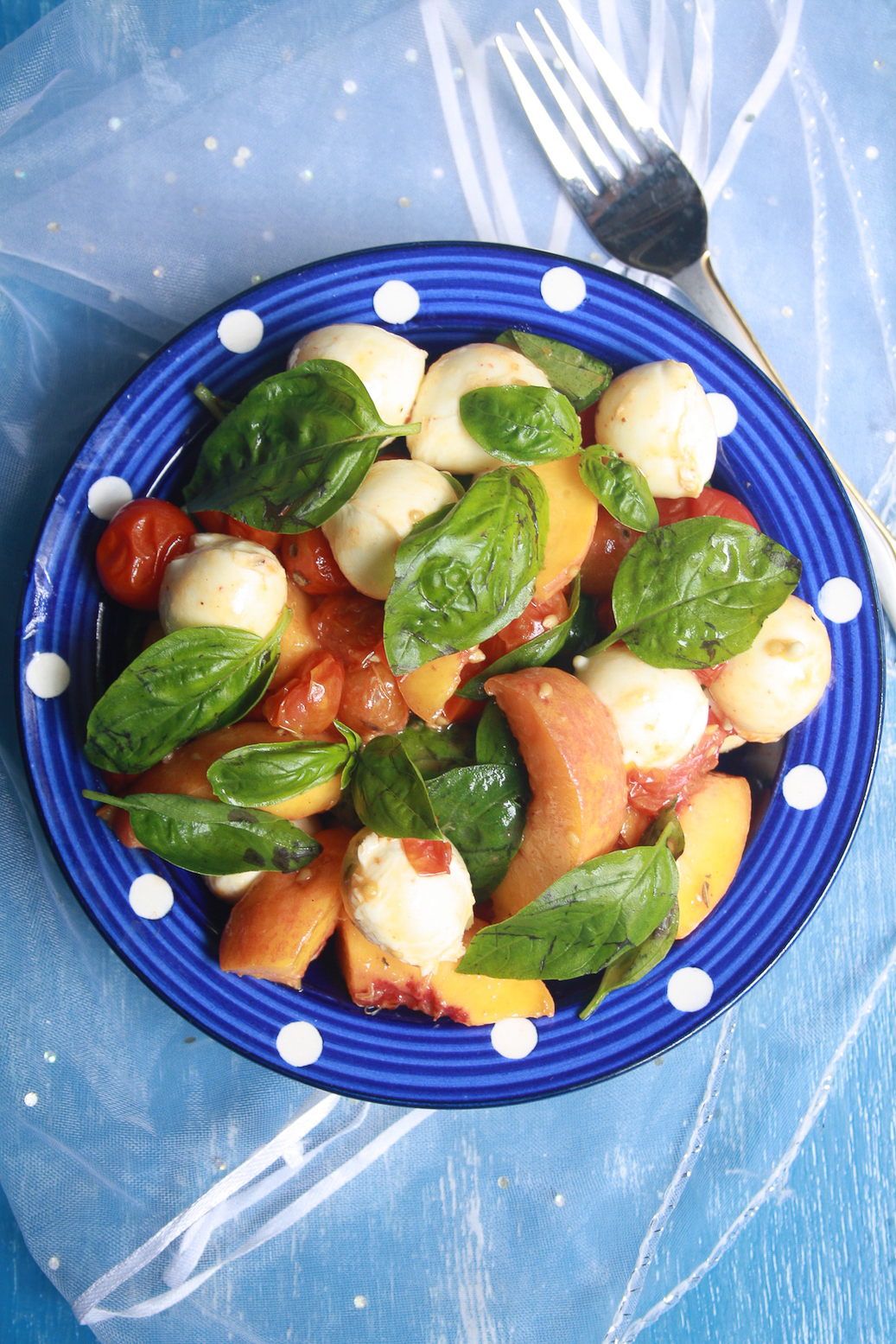 Needless to say, the salad is bursting with flavour and colour, the peaches are indispensable because the sweetness works so, so well with all the tangyness of the tomatoes and I think that #peachesandcheese should be a thing. This whole juicy, sour, sweet, salty salad is so fresh, you'll wonder why you aren't making it every day. All it needs is some crusty bread to mop up the bowl with and you have the best part of summer right in your hands.
Dooooo it!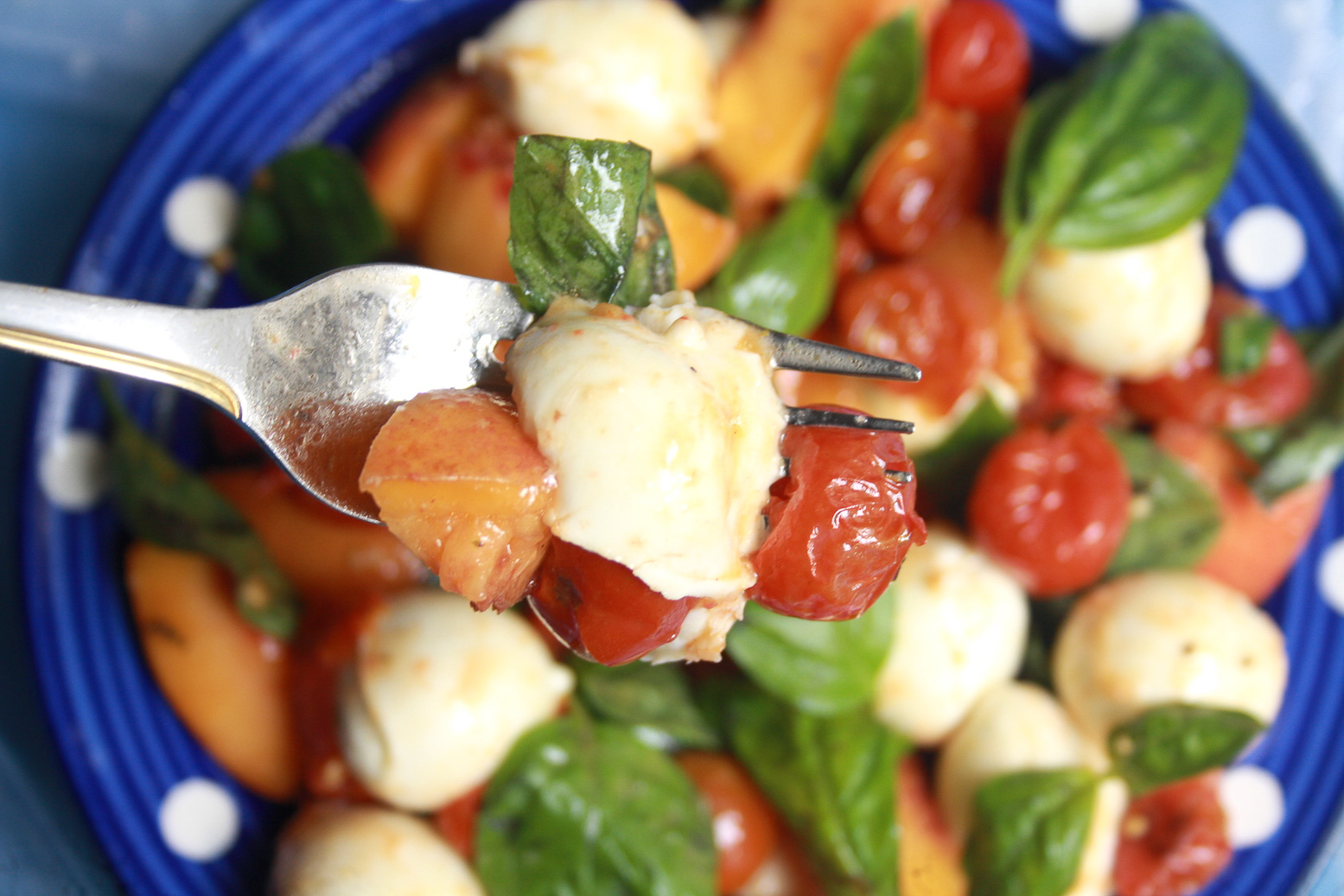 Roasted Tomato & Peach Caprese Salad
A fresh, flavourful take on caprese with sweet peaches and roasted cherry tomatoes. Perfect for summer!
Author:
The Desserted Girl
Ingredients
250 gms cherry tomatoes
2 peaches
Handful of fresh basil leaves, stems removed
200 gms bocconcini cheese
3 tbsps olive oil
¼ tsp dried oregano
Lemon juice, to taste
Salt and pepper, to taste
Instructions
Preheat the oven to 200 C and wash and pat dry the tomatoes. Spread in a single layer on a baking sheet (avoid lining with paper or a silicone sheet to get the maximum 'roasted' flavour) and drizzle with 1 tbsp olive oil and plenty of salt and pepper.

Roast the tomatoes (on the 'bake' setting if your oven has one) for 15 to 20 minutes, until wrinkled and lightly bruised, and the juices are oozing. Remove from the oven and allow them to cool for a few minutes.

While the tomatoes are roasting, peel and slice the peaches. Add them to a mixing bowl and top with the basil leaves.

Drain the bocconcini (it is stored in salt water), and add to the bowl.

In another small bowl, make the salad dressing by mixing the remaining 2 tbsps of olive oil, oregano, lemon juice and salt and pepper.

Add the cooled, roasted tomatoes to the bowl with the remaining ingredients, then add the dressing and mix well. Taste and adjust seasoning. Serve immediately with crusty bread. This salad also tastes great chilled and as leftovers!