Hello! I'm The Girl Who Almost Ate Six Enchiladas Because No One Was Watching. I say 'almost' because luckily, I didn't want my husband to starve. I'm considerate like that.
But if you don't feel like being considerate, by all means, have at it. Ain't no judgement here.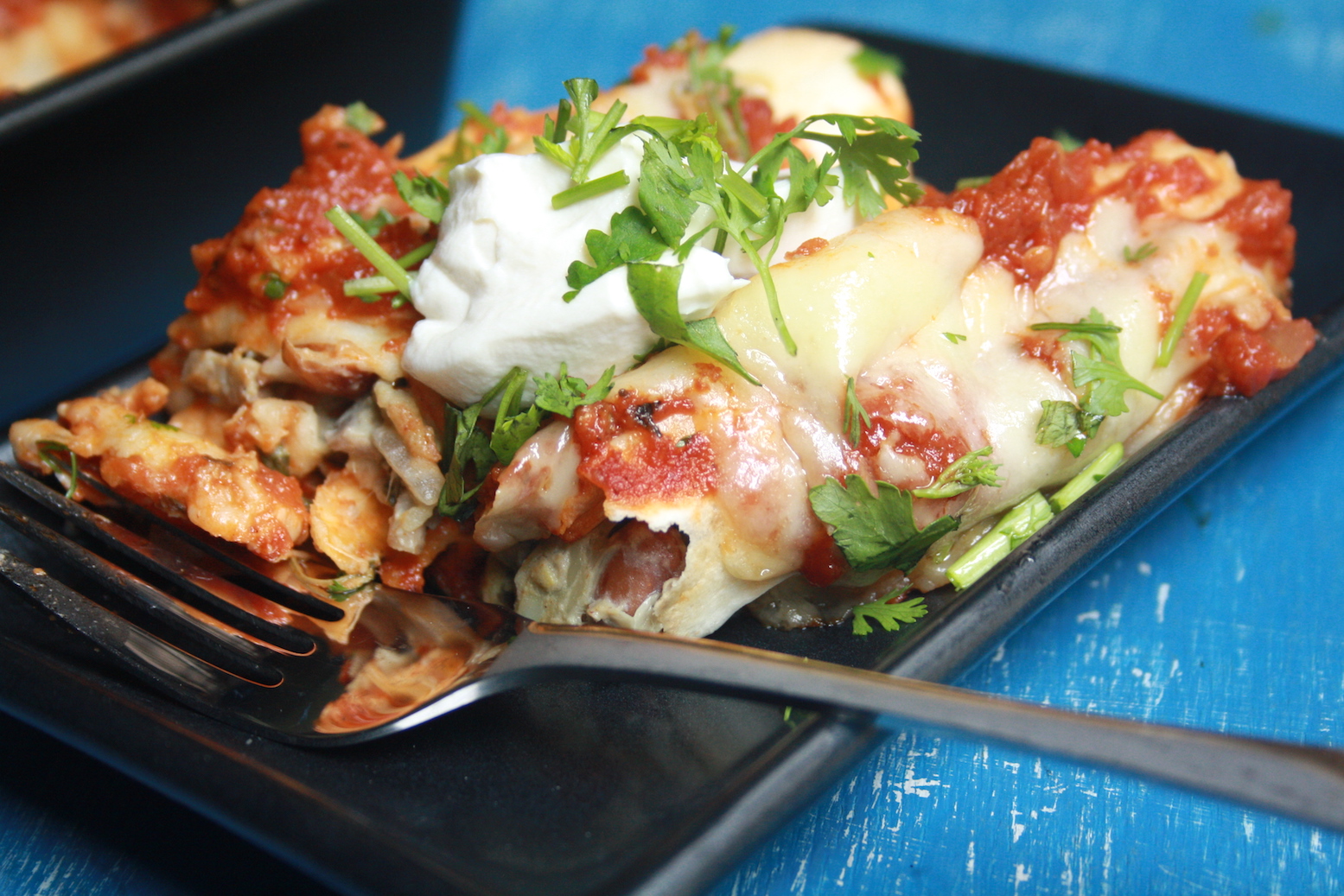 I never really doubted the power of spinach and mushrooms topped with cheese. That would be stupidity. But I hadn't expected an explosion of this degree when artichokes and a tomato sauce (that came out of nowhere) were thrown into the mix. Really, you guys, these enchiladas are insanely good.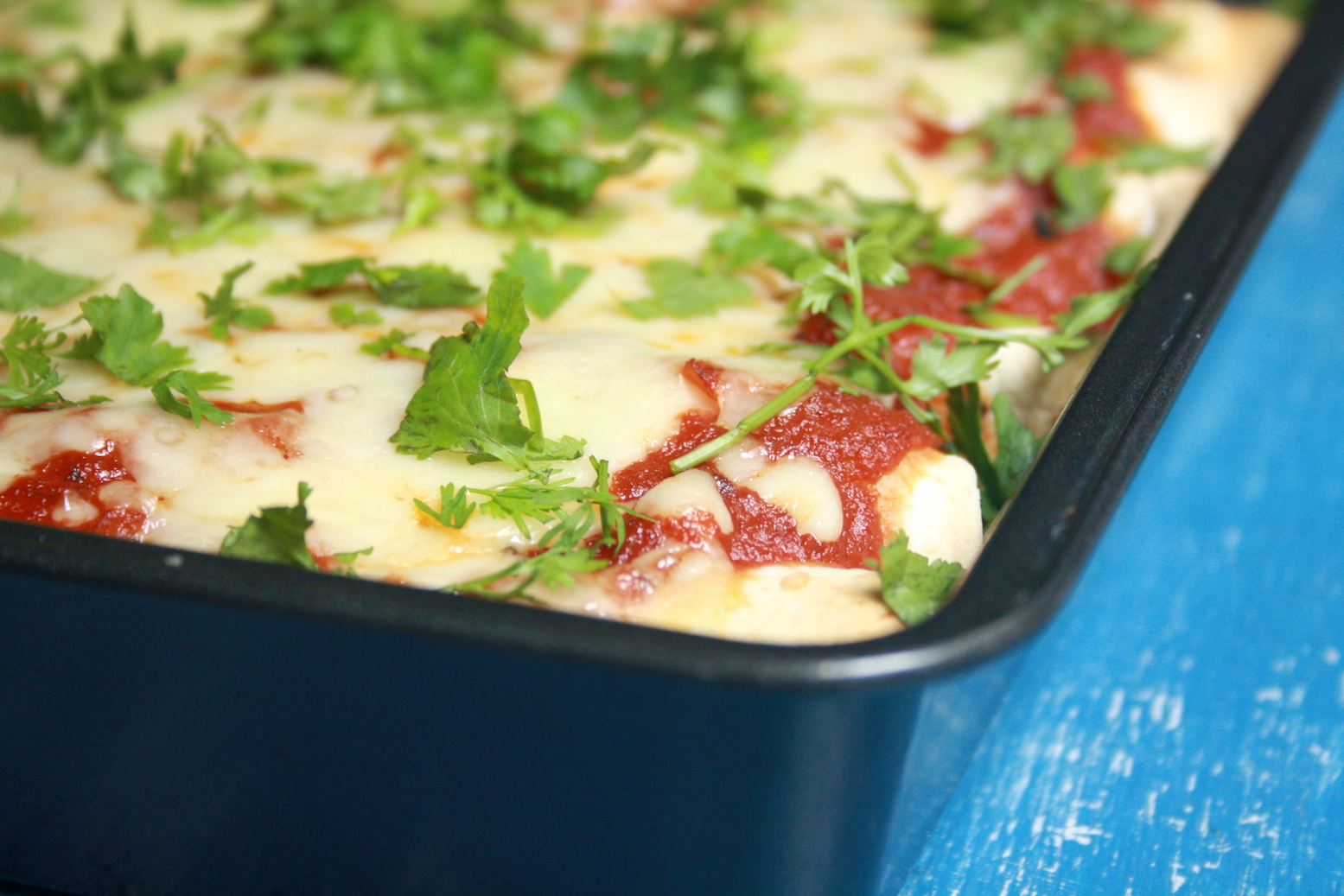 When soft tortillas are stuffed with a creamy but healthy mixture of kidney beans (yay, protein!), sautéed mushrooms, wilted spinach (yay, leaves!), squishy artichokes aaaaand sour cream, then laid on a bed of sweet-spicy-tangy tomato sauce and topped with even more of said sauce, then finished off with a generous sprinkling of Monterey Jack and a ton of fresh coriander (yay, more leaves!), it justifies this terribly long sentence, because that's how you will eat this dish. No pauses, no regrets.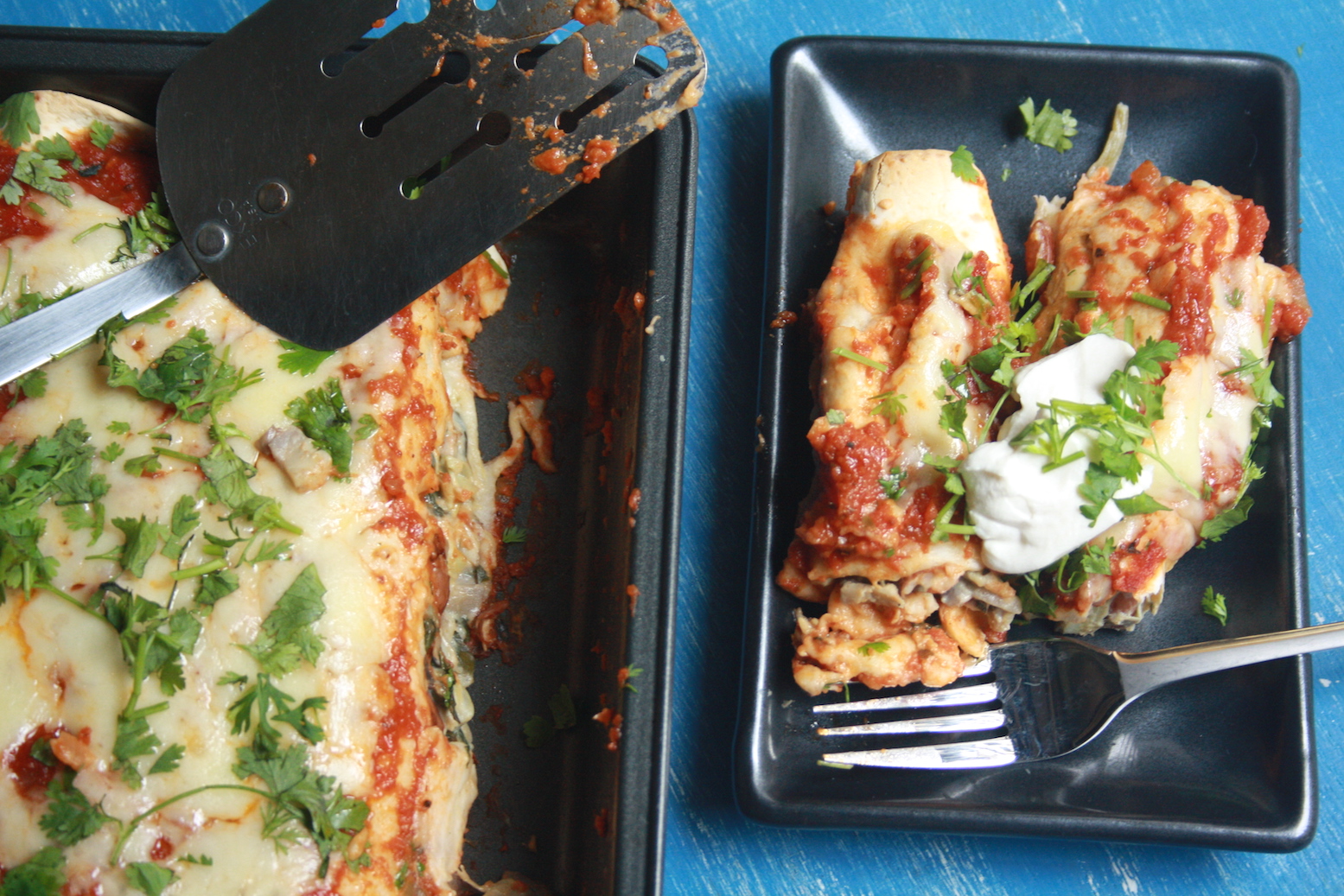 I'm actually terribly excited to be back with a savoury dish after quite a while and these enchiladas seemed like the best one to make a comeback with. The filling was inspired by Cookie and Kate and I decided to add mushrooms and swap the black beans for kidney beans because when in India, that's what Mexican is. The tomato sauce is where I was a bit stumped because I didn't feel like making vegetable broth and adding hours to the prep time and I've never really seen it anywhere in stores. But a bit of research said the sauce itself isn't too different from a basic pasta sauce, except for the addition of cumin and chilli powder which all Indian kitchens have. A bit of cinnamon, oregano and basic seasoning later, it's done. I used freshly puréed tomatoes and some readymade tomato paste as well to bump up the flavour. In lieu of the vegetable stock, bay leaves, chopped onion and garlic added some fun. Basically, this is one of those sauces that you make as you go, which are kind of the best.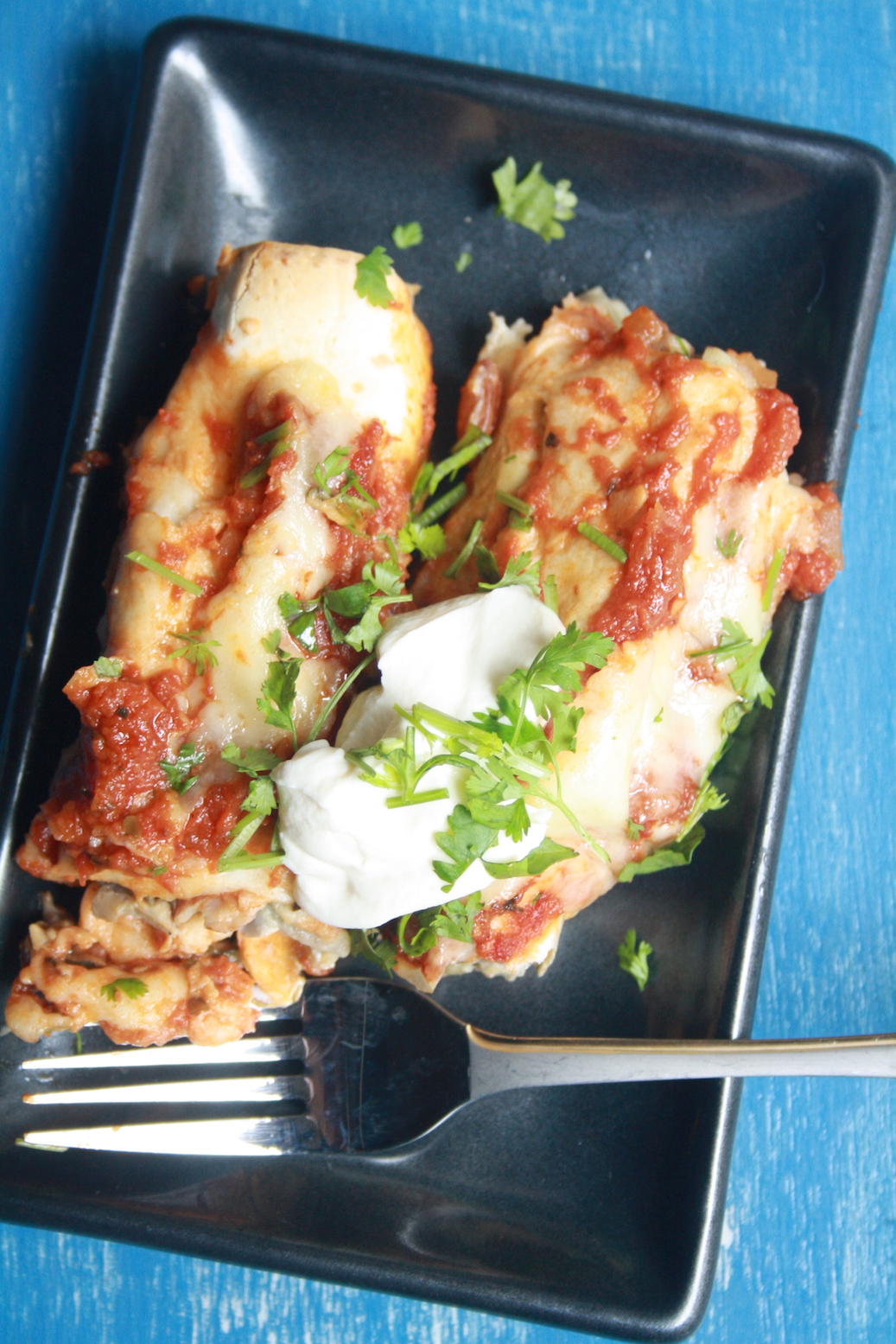 The cheese doesn't have to be Monterey Jack, although I chanced upon a variety by Go, both affordable and delicious. At INR 150 for 200 gms, who knew?! It's like cheddar cheese, but melts better and has a sharper flavour. It's used a lot in Mexican dishes, so if you can get hold of it, don't let go. If you can't, feel free to use your regular brand of cheddar cheese.
The tortillas are Salsalito brand and you'll find 6 large tortillas in a pack. If your dish isn't wide enough, you could cut the tortillas in half. It's easiest to use an 8×8 square baking pan.
You will find canned artichokes by Epicure at Food Hall and Nature's Basket, fresh artichokes are scarce. The canned variety isn't cheap, but worth a splurge just this once because their meaty texture makes these enchiladas super duper filling and plus, if you like them, you'll be using them on pizza because that is another match made in heaven. If you decide to leave them out, double the amount of mushrooms to retain the satisfying-ness of this dish.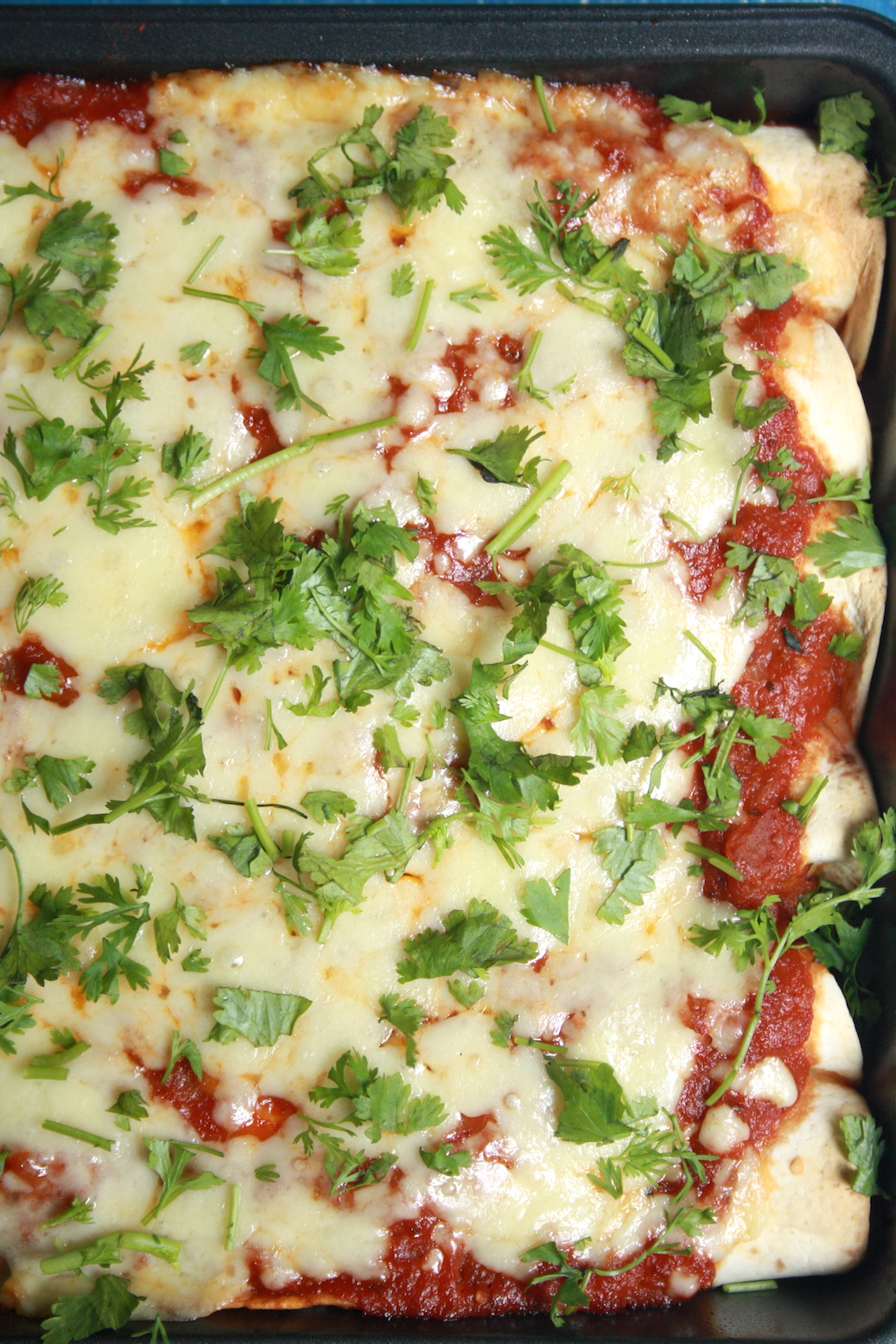 It might seem like there are a lot of steps and elements to making these. There are, but they're not difficult. Two pans going simultaneously (one with sauce, one with veggies) save on time and none of it really takes too long. The end result is such a perfect blend of flavours and a dish that is so comforting, you'll be making this every second day.

Spinach Artichoke Mushroom Enchiladas
Hearty, satisfying veggie enchiladas in an easy tomato sauce for a fabulous weeknight dinner!
Author:
The Desserted Girl
Makes:
6 large enchiladas
Ingredients
For the tomato sauce
2 tbsps olive oil
1 onion, finely chopped
4 to 5 cloves garlic, finely chopped
7 to 8 small tomatoes, puréed
2 tsps cumin powder
¼ tsp cinnamon powder
1 tsp chilli powder
1 tsp smoked paprika, optional but recommended
1 tsp dried oregano
1 200 gm carton tomato purée (I prefer Dabur)
Water as needed
Salt, to taste

For the filling
2 tbsps olive oil
8 to 10 button mushrooms, chopped small
250 gms spinach, rinsed and stems removed
1 400 gm tin of artichokes, drained
½ cup kidney beans, cooked and cooled (see notes for quick cooking option)
2 tbsps sour cream or hung yoghurt
1 tsp paprika or chilli powder
Salt and pepper to taste
(If you prefer your enchiladas spicy, add chopped jalapeños to the filling)

For the assembly
6 large tortillas
½ cup shredded Monterey Jack cheese
Handful of fresh coriander, finely chopped

See post for details about specialty ingredients and substitutions
Instructions
To make the sauce, heat the olive oil in a large, sturdy pot, then add the onion and garlic. I saved about a tablespoon of the onion and garlic to give the filling some extra flavour.

Fry the onion and garlic till golden and fragrant. Add the freshly puréed tomatoes and cook for a few minutes till the mixture darkens. Add the spices and then the readymade puree. Finally add salt and about half a cup of water depending on the desired thickness of the sauce. It shouldn't be too runny or the enchiladas will get soggy. It should also not be so thick that it dries up during baking.

Bring the sauce to a boil, taste and adjust seasoning. Cover and set aside.

To make the filling, add 1 tbsp olive oil to a frying pan, then add the reserved onion and garlic from step 1 and fry till golden. Add the mushrooms. Stir and allow them to brown a little bit. The mushrooms will release some water and when it has dried up, transfer them to a mixing bowl.

In the same pan, add 1 tbsp olive oil and roughly tear the spinach and toss it in. Stir till it begins to wilt, then add the drained artichokes, breaking them into smaller bits with your fingers as you add them. Stir the mixture for a few minutes till the spinach begins to stick to the pan. Transfer to the bowl with the mushrooms.

In the same bowl, add the cooked kidney beans, sour cream, paprika and salt and pepper. Mix well and adjust seasoning.

Preheat the oven to 200 C and lightly grease an 8x8 pan or 9x13 pan. I preferred the square pan because the tortillas were large. Pour about half a cup of the sauce onto the bottom of the pan and spread it all around. This ensures that the bottom of the tortillas have enough flavour and do not dry out during baking.

To assemble the tortillas, lay one flat on a large plate or tray. Spoon about two-third cup of the filling in the center and spread it out a little, making sure to stick to the center. If you like, divide the filling into 6 equal parts before beginning. Roll the tortilla, tucking in the filling as you go. Gently lift and place it in the pan, on top of the sauce, making the sure the seams are facing down. Repeat with the rest of the tortillas. Pour the remaining sauce over the prepared tortillas, spreading it out evenly and leaving the edges bare. Sprinkle with the cheese and bake for 20 minutes until the sauce is bubbling, the edges of the tortillas have browned and the cheese has melted and turned a light golden.

Allow the prepared enchiladas to cool for 10 minutes, then serve with fresh, chopped coriander and dollops of sour cream. Enjoy! Reheat in the oven for 15 to 20 mins at 100 C, covering the top if the cheese browns too much
Notes
*I forgot to soak the kidney beans and since they can't be cooked without soaking first, I didn't know what to do. The Kitchn had a useful tip in such a situation. Instead of soaking the beans overnight, add them to a saucepan about an hour before you're ready to start making the enchiladas. Cover the beans with enough water, bring to a boil and turn the heat off after a few minutes. Cover and let the beans soak in the hot water for 1 hour. Then cook them as you normally would. I used the pressure cooker on high for 1 whistle and then low for another 20 minutes. Allow them to cool before adding to the enchilada filling.