As anyone who lives in Mumbai knows, it rained all kinds of animals this weekend. The streets are gross and muddy, traffic is backed up everywhere and laundry won't dry. But, but, but. Those thick, gloomy clouds have finally driven the cruel sun into hiding, temperatures have dropped significantly, there is a generous breeze, and multiple baths a day are no longer mandatory unless you went dancing in the rain, in which case, I applaud you for not being lazy like me and deciding to roast plums instead.
Because when it cools down, it's time to crank up the oven. And where there are poppy seeds, there are more than lemons. This revelation I found in the Smitten Kitchen cookbook, because Deb is never wrong.
When you slice up juicy, slightly tart plums, toss them in sugar, roast them till oozy and sort of scary looking, mix them up into a muffin batter made of browned butter, some wholewheat flour and a touch of cinnamon, you land up with a batch of muffins so flavourful, so moist and so over the top delicious, that you'll be making these again and again, come rain, wind or snow.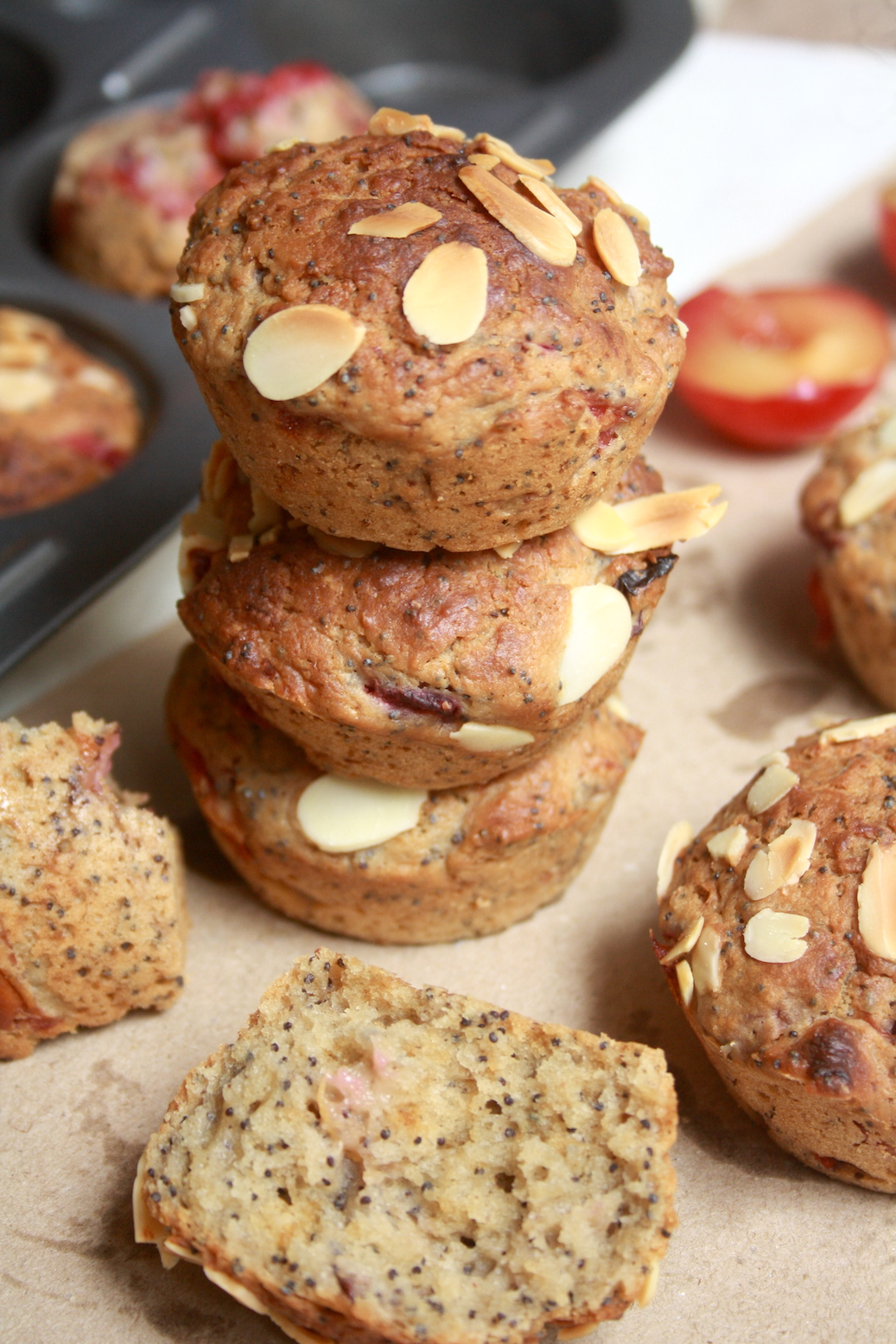 Deb's original recipe does not ask you to roast the plums, but I did anyway, because after the success of roasted cherries, I'm pretty much tossing any and every fruit in the oven. More squishiness but more flavour. Yes, the halved plums are harder to chop up after they've cooked and softened, but they also release sweet, sweet juices that give the muffin batter that much more heft.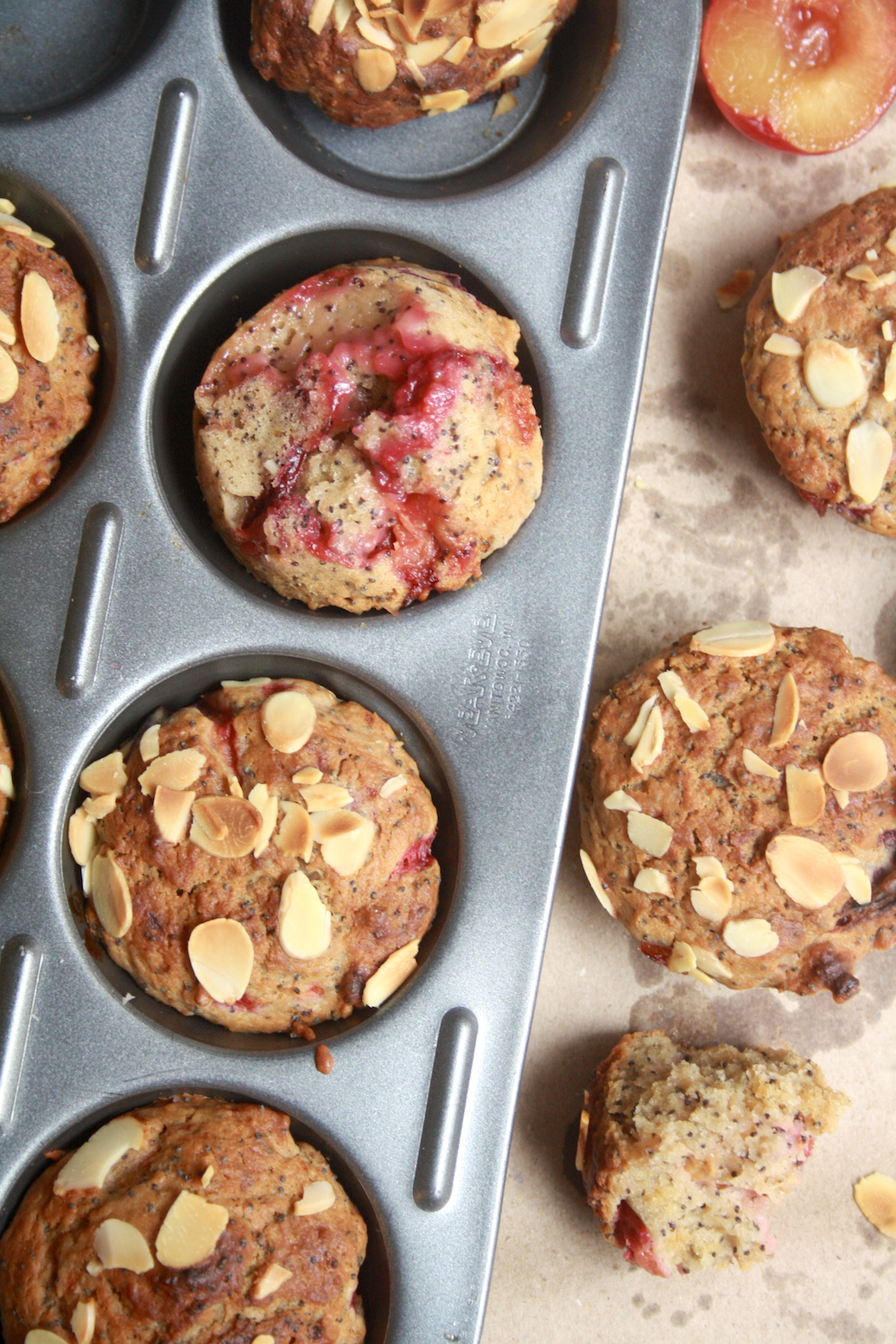 The poppy seeds add enough crunch, but flaked almonds are my new obsession and so those went on right at the end. If you're following me on Snapchat (username: dessertedgirl), you know I also forgot to add the yoghurt to the batter and was wondering why there seemed to be SO MUCH flour and panicking about how this would ever look like a muffin. Basically, don't get distracted by the torrential rain outside.
Oh, and browned butter. Let's talk about that. It's not quite the same as making ghee, easily a few stages before, but with that same nutty aroma that is somehow magnified in this batter. Must start browning butter as often as possible! It adds depth and so, so much flavour that I don't think you should ignore Deb on this one.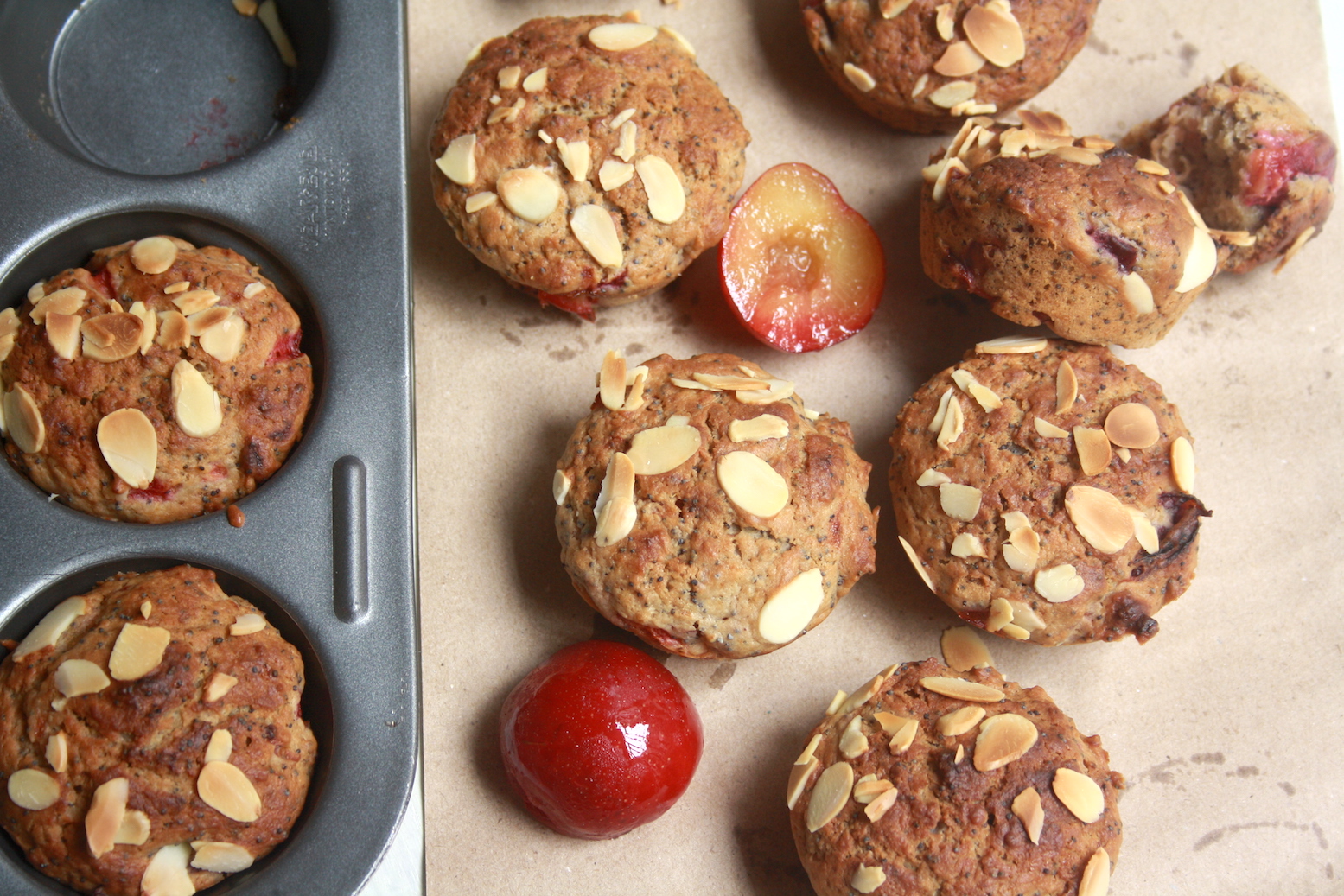 The muffins are soft, moist, fluffy and all the other good things. The plums add more moisture and might stick to either the pan or the cupcake liner, embrace it. It happens with fruity batters and there is no reason to run from the truth. Scrape off the bits of caramelised fruit, brew yourself the strongest coffee there is, and go watch the rain 🙂
Let's eat some muffins!

Roasted Plum and Poppy Seed Muffins
Moist poppy seed muffins made with wholewheat flour and filled with juicy roasted plums!
Author:
The Desserted Girl
Ingredients
For the plums
8 to 10 ripe plums
1 to 2 tsps caster sugar, depending on sweetness of plums

For the muffin batter
85 gms butter (About ¾ cup; I used salted, though unsalted is best for browning)
½ cup wholewheat flour
1 cup regular flour
¾ tsp baking powder
¾ tsp baking soda
¼ tsp salt, if using unsalted butter
⅛ tsp cinnamon powder
2 tbsps poppy seeds
1 egg
¼ cup brown sugar
¼ cup caster sugar
¾ cup plain yoghurt
Instructions
First, roast the plums. Preheat the oven to 200 C. Run a sharp knife along the center of each plum, till the knife touches the stone. Twist the plum gently and pull apart the two halves. Prise the stone out and place the halves, cut side up, on a baking tray. Repeat with the rest of the plums, then sprinkle on the sugar. Bake for 10 minutes until the plums are soft and have released some of their juices. Set aside to cool.

While the plums are roasting and then cooling, brown the butter. Place the butter in a small saucepan over low to medium heat. Watch it constantly as it melts, then foams a bit, then begins to turn clear and golden-brown colour with a few browned bits at the bottom. Scrape as you stir.
If it is still foaming, stir gently till you can see the liquid and smell a nutty aroma. The whole process shouldn't take more than 3 to 4 minutes. Turn off the heat and set aside to cool.

Meanwhile, chop the roasted plums into smaller pieces. If they are too soft, don't worry about perfect pieces, just make sure there are no huge chunks which could cause the muffins to break.

Preheat the oven to 190 C, grease 12 muffin moulds or line with cupcake liners.

In a large bowl, sift the flours, baking powder, baking soda, cinnamon and salt, if using. Add the poppy seeds and stir. Set aside.

In another bowl, lightly beat the egg, then add the sugars and mix well. Add the browned butter and yoghurt, and mix again.

Fold in the flour mixture, and finally, gently fold in the plums. If they release some juices, it's ok. The muffins will be that much more delicious!

Divide the batter equally among the muffin moulds, and bake for 15 to 20 minutes, until golden-brown on the top and a toothpick poked in the center comes out clean. I wanted the tops to be nice and brown, so turned on my oven's broil setting in the last minute.

Allow to cool before digging in, because the plums make the muffins pretty fragile.

Notes
*If you do not want to brown the butter or want to save a few minutes, simply use regular melted butter, but the flavour won't be quite as fun 🙂
Shop this recipe!
This post contains affiliate links.