I don't normally talk much about my life outside of this blog. But this weekend, my family and I went through something terrible and it was impossible to carry on like nothing happened.
Today I'm going to tell you about our irresistibly cute, completely nutty, not yet 6-year-old Golden Retriever, Lassie. On Saturday, we put her to sleep after a five-month long ordeal of vets, scans, medicines, terror, relief, more medicines and then terror again. Vicious, sudden bone cancer that went to her lungs and turned her into a completely different dog left us with no choice but to end her pain. The decision had to be quick, heartbreaking and gave us a day and a half with her to tell her how much we loved her and that she could eat all the vanilla ice cream she wanted. In hindsight, it was probably more traumatic to wait for the end, than to deal with the aftermath.
Losing Lassie made this blog, cakes and cookies seem completely irrelevant. Foolish, almost. Stifling my pain and continuing to write about desserts without first honouring this beautiful creature was not an option.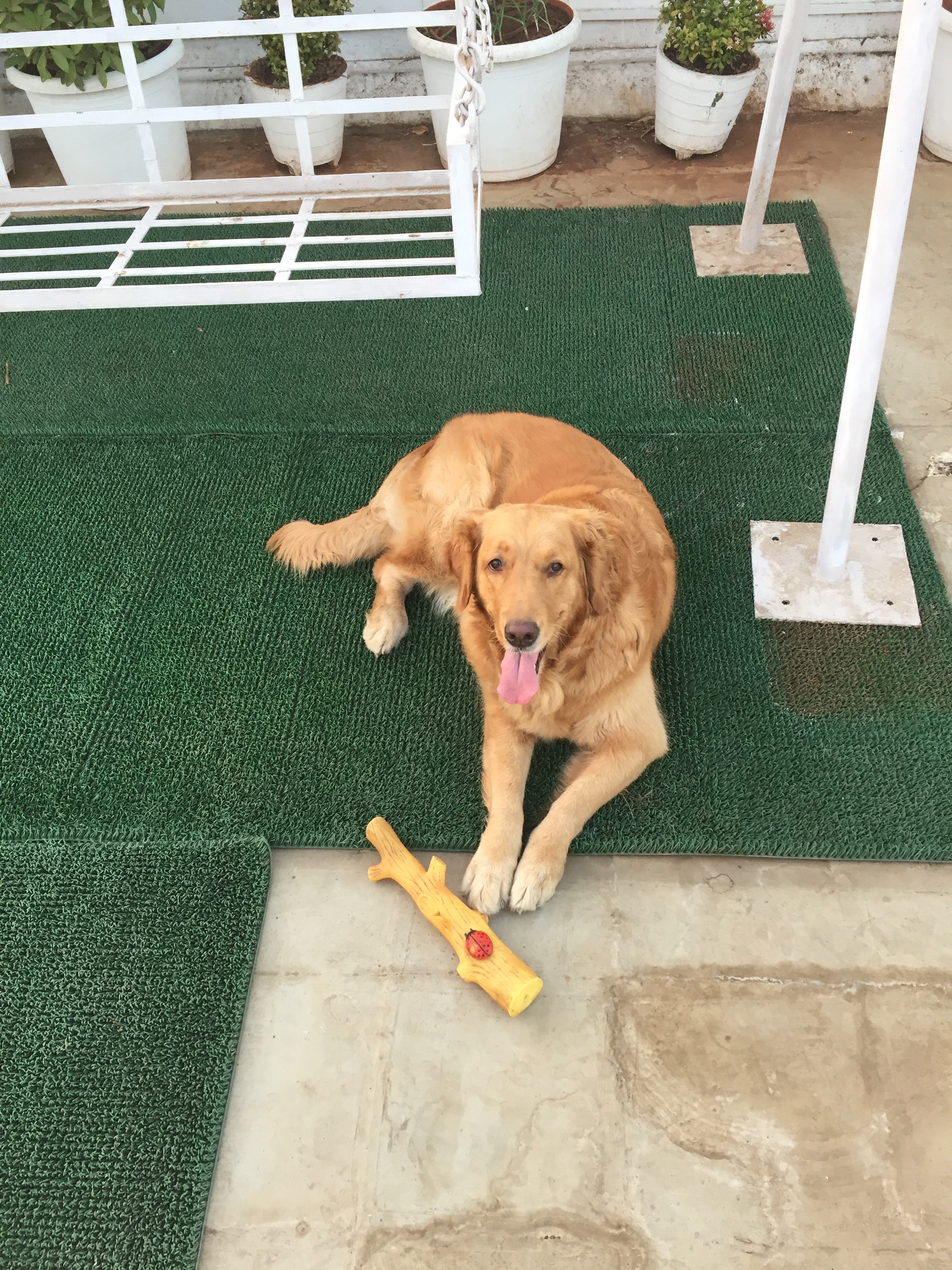 The loss is still too raw and too fresh to imagine a day when we will remember Lassie and only smile instead of also breaking down. If you have had, or do have a pet, you know that he or she is actually not a pet at all. This is the most important family member, the baby of the house that never grows up.
Lassie was my parents' third daughter, our third sister. When Ashoo and I got married, my Dad said he finally has a boy to keep him company amongst all these women in his life 🙂 He couldn't ever deny however, that Lassie was his favourite girl, and we accepted defeat, fairly willingly.
She had the power to win over almost everyone she met. The concept of a person not being comfortable around dogs was lost on her. She'd walk up to them, wag her tail furiously, preen a bit to show them how cute she was, and somehow, sit at their feet and hypnotize them into petting her.
(She did not like being photographed by the way. Almost always, she would turn her head away. Probably knew no camera could do justice to that face).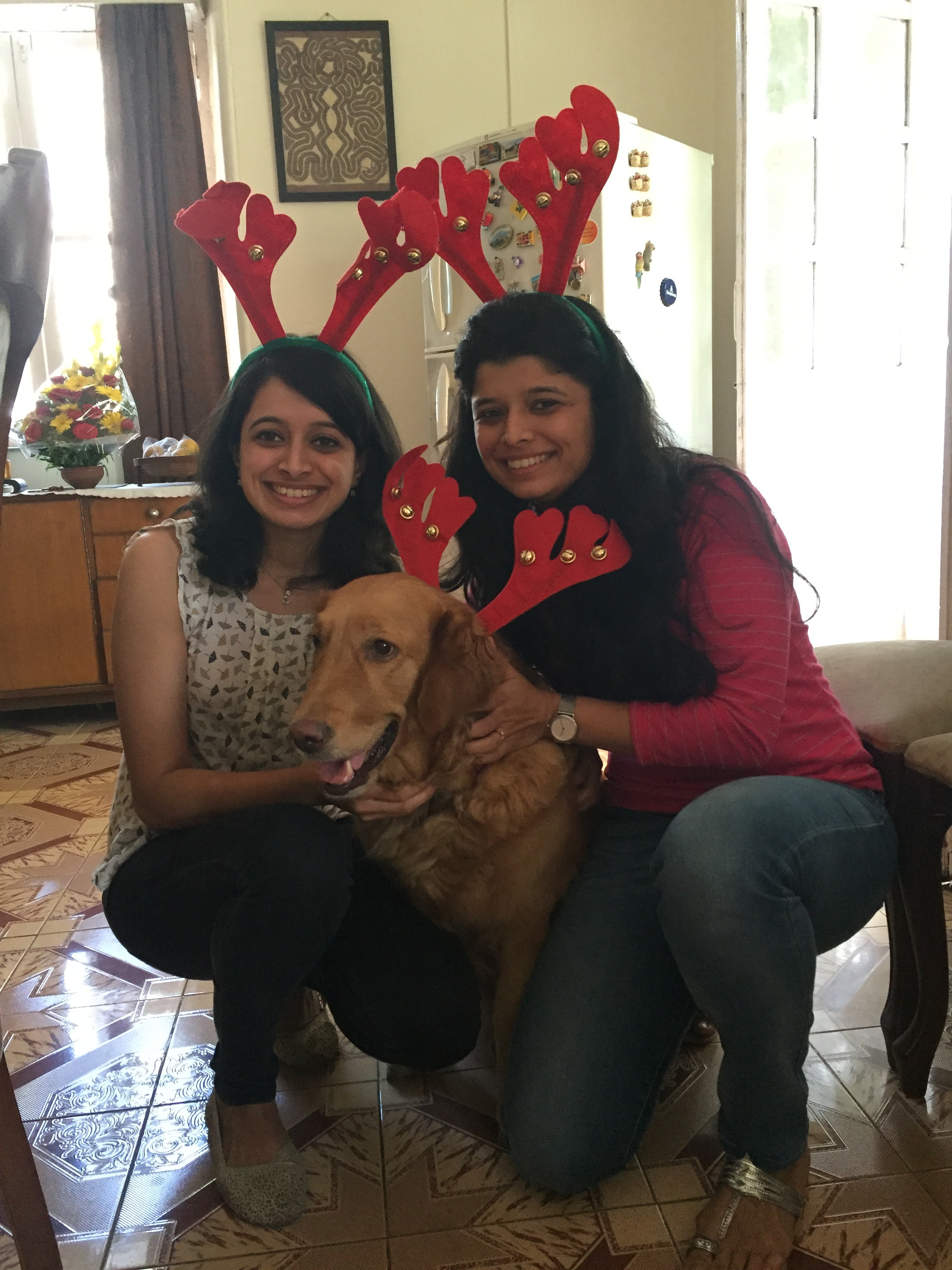 When my parents got Lassie, I had already moved out of home so I missed her puppy days. I told them that to make up for it, I get to name her. And when they saw her, they said no other name worked better.
She was a frisky, mischievous, handful of a puppy and as delightful as the photo below is, it took a while to get the banana leaf out of her mouth 🙂
When she was still little, she developed a comical habit of waking us up by picking up our footwear from the side of the bed and placing it on our tummies. I've woken up on multiple mornings wondering what the heaviness on my stomach was. Once she outgrew it, she took to simply waving the footwear in our faces and making weird snuffling sounds till we gave up, greeted her and jumped out of bed.
Lassie was a big furry bundle of contradictions. She had a loud, intimidating bark for strangers, but was scared of kittens. She probably sat silently judging us for all the ridiculous nicknames we gave her, but responded to all them of anyway. She was nowhere near as resourceful as the Lassie that inspired her name, but when a packet of anything was opened, she'd hear the rustle and dart in from three rooms away, showing us truly where her skills lay.
I could fill pages with her antics. My favourite is the way she poked her nose into my bag every time I came home for the holidays, thinking there was a gift in there for her. There usually was a squeaky burger toy that she loved or treats of some kind. And she always knew when I had walked in with it 🙂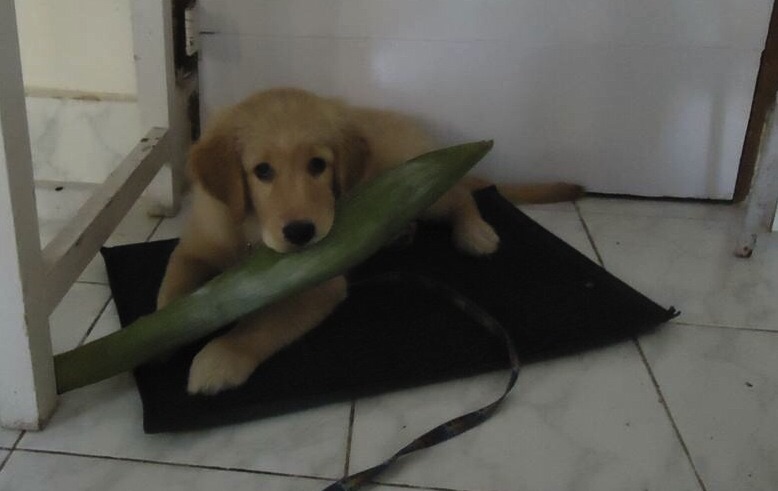 It hurts unbearably to talk about Lassie in the past tense. We had begun doing it even on her last day, as if she was already gone. And in a way she was. From being a happy, bouncy, jumpy, silly little dog, she became one in tremendous pain, who wouldn't come running for her food, or to greet whoever rang the doorbell. In all of that, her unconditional love for each of us never wavered. She smiled through her heartbreaking limp and unbearable pain. Every wag thrilled us, every good day raised our hopes. In the end though, she fought as hard as we did, but it was time. Deciding to let her go, and then watching her go was more traumatic than I'll ever be able to put into words.
Writing this post has therefore taken more effort than I have the energy for right now, but Lassie deserves a tribute. For all the joy she brought into our lives, for the amount she made us laugh, for the sweet, sweet things she would do for us. She went too soon, far too soon. But we all know that we would have chosen just this much time with her over never knowing her at all.
She changed our lives forever, and we hope she was as happy with us as we were with her. She was always a diva about making friends, but wherever she is, we would like to imagine her bounding along with other happy doggies, finally jumping and prancing like she was meant to do, her silky ears flying in the wind, while she chews on all the slippers she finds, eats all the weird roadside flowers she wants and all the while, is happier than we ever thought she could be.
My sweet, ridiculous Lass, wherever you are, know that we love you with every fibre of our being. We will miss you every single minute of every single day and with time, it will hurt less, but we hope the great memories never fade. Never change, puppy <3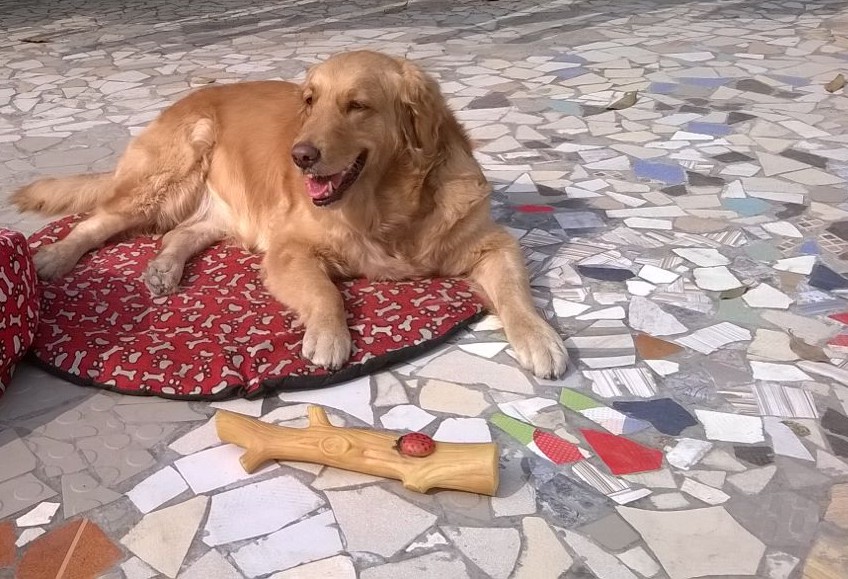 It would make me so happy to hear about your memories with Lassie, if you and her were lucky enough to have met. Please leave a comment below and help us create this tribute for her. I would also love to hear about a pet you had, or have right now 🙂
On a related note, if you're in Mumbai and are looking for a good hospital for your pet, please stop by Crown Vet Clinic at Mahalaxmi. After searching high and low for a satisfactory clinic and doctors, we couldn't have found a better, more respectful vet for our baby or a better place to say our goodbyes. The clinic has a warm, friendly staff and will take the best care of you and your pet, though I hope you never find yourself facing the toughest decision of your life.