I think cheesecakes are amazing, I really do. It's just that I can rarely eat a whole slice without wanting to take a nap in between. Plus, all the guilt.
So when I tried a raw, vegan, frozen cake at Cafe Zest, I decided a dessert of this sort had to be made at home. A sort of lightened up cheesecake. Fruity, refreshing, and so, so healthy. Minus all the sleep-inducing goodness of milk, cream cheese, eggs and sugar, and still phenomenal enough to take seconds, maybe thirds of.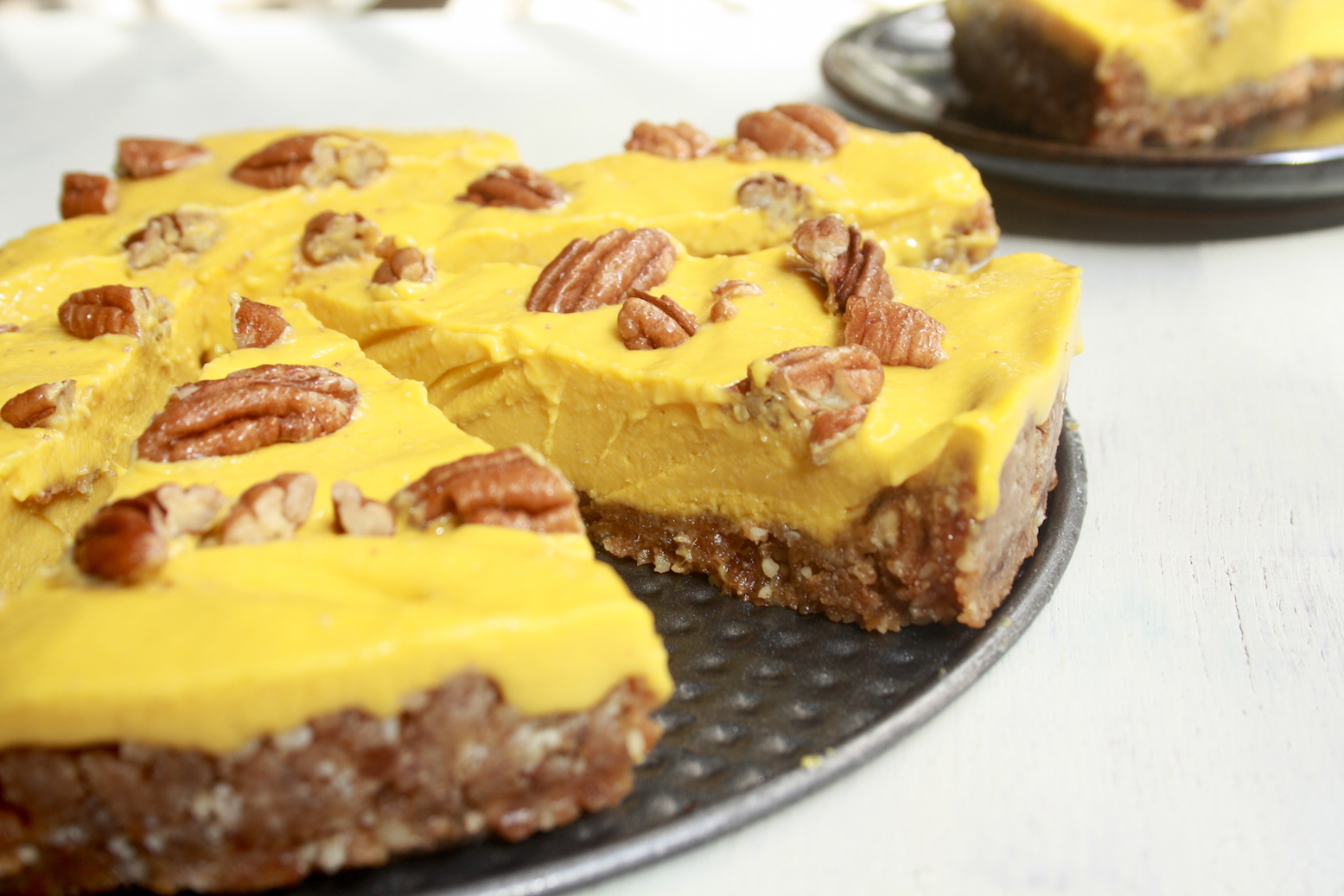 Of course, mangoes had to be involved somehow. Inspired by this pumpkin cheesecake by Minimalist Baker, I tinkered around with the filling till I found what I wanted.
I approached it sceptically because I'm not a vegan and attempting a vegan cheesecake of all things made me jittery. I mean, this is the cheesecake I'm a fan of. How could cashews and almond milk create that same magic?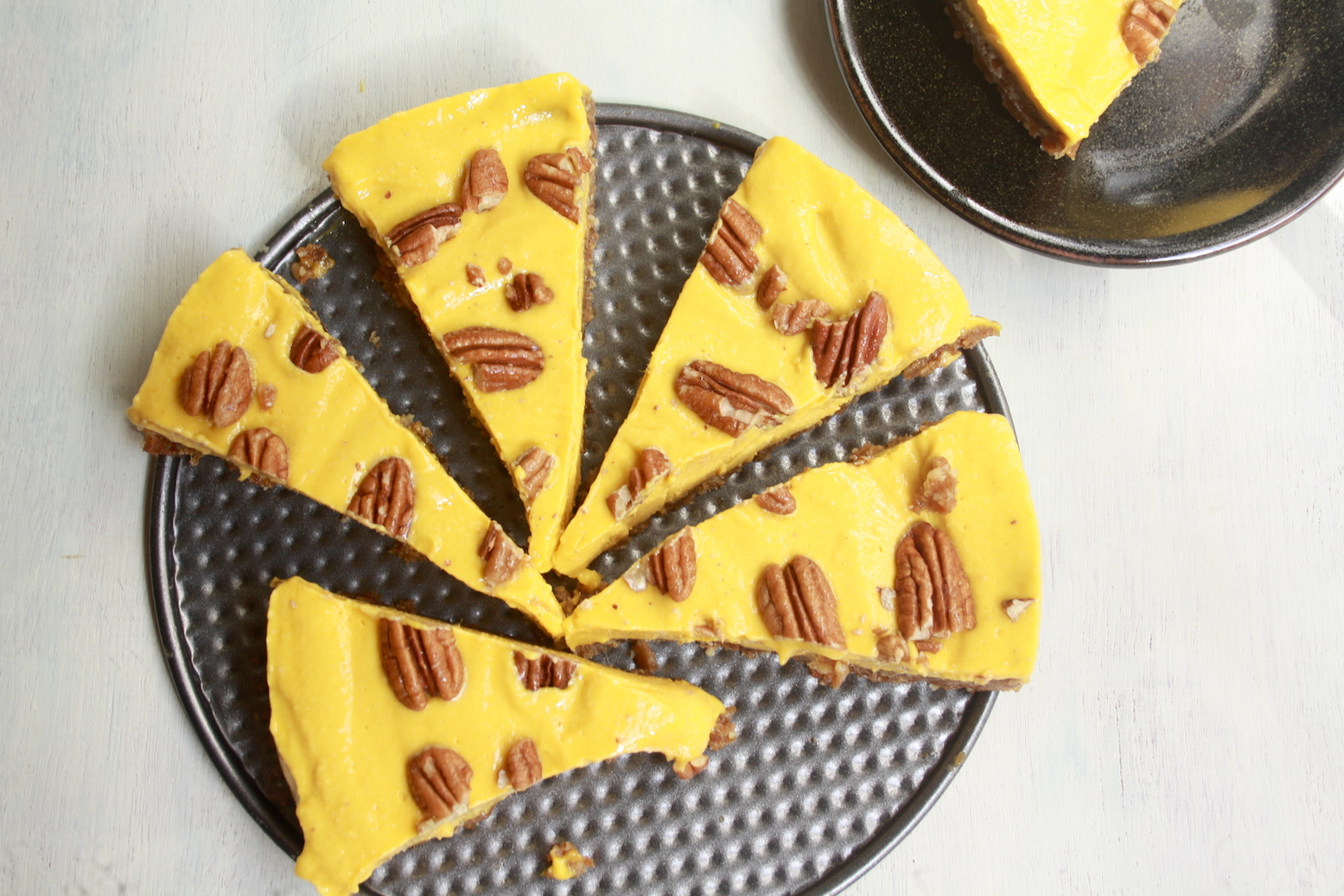 They did, they really, really did. And I'm not even a fan of nuts and dried fruits and things of that sort.
Rich, creamy, not too sweet, filled with delicious mangoes, on a responsible crust of date and walnuts. Of course, in India, a no-bake cheesecake won't last 3 seconds before melting into oblivion, but my guess is, it'll be gone before that.
I have to point out, making a vegan cheesecake can be a bit expensive, what with all the nuts involved. But being able to eat slice after slice without any guilt is very worth it 🙂
Word of warning, make sure your dates are very, very soft before you put them in to the blender or food processor. Mine were cold from the fridge and um, I think I might have broken the poor machine, it switched off on its own and refused to move after that. Soaking the dates in warm water before blending will help.
Second, I found that olive oil gave the filling a strong flavour and I ended up adding two mangoes to make sure the fruit flavour stood out the most. If you're not too fond of olive oil, use a regular, neutral cooking oil. And bonus, by adding more mangoes, I wound up with a much fruitier cake than planned, so yay!
Finally, since maple syrup is expensive and not produced locally in india, I used honey, which means this particular cheesecake is not entirely vegan (therefore the obnoxiously long title to this post), but can easily be made so. The flavour will be unaffected no matter which you use, because the star of the show is the mango!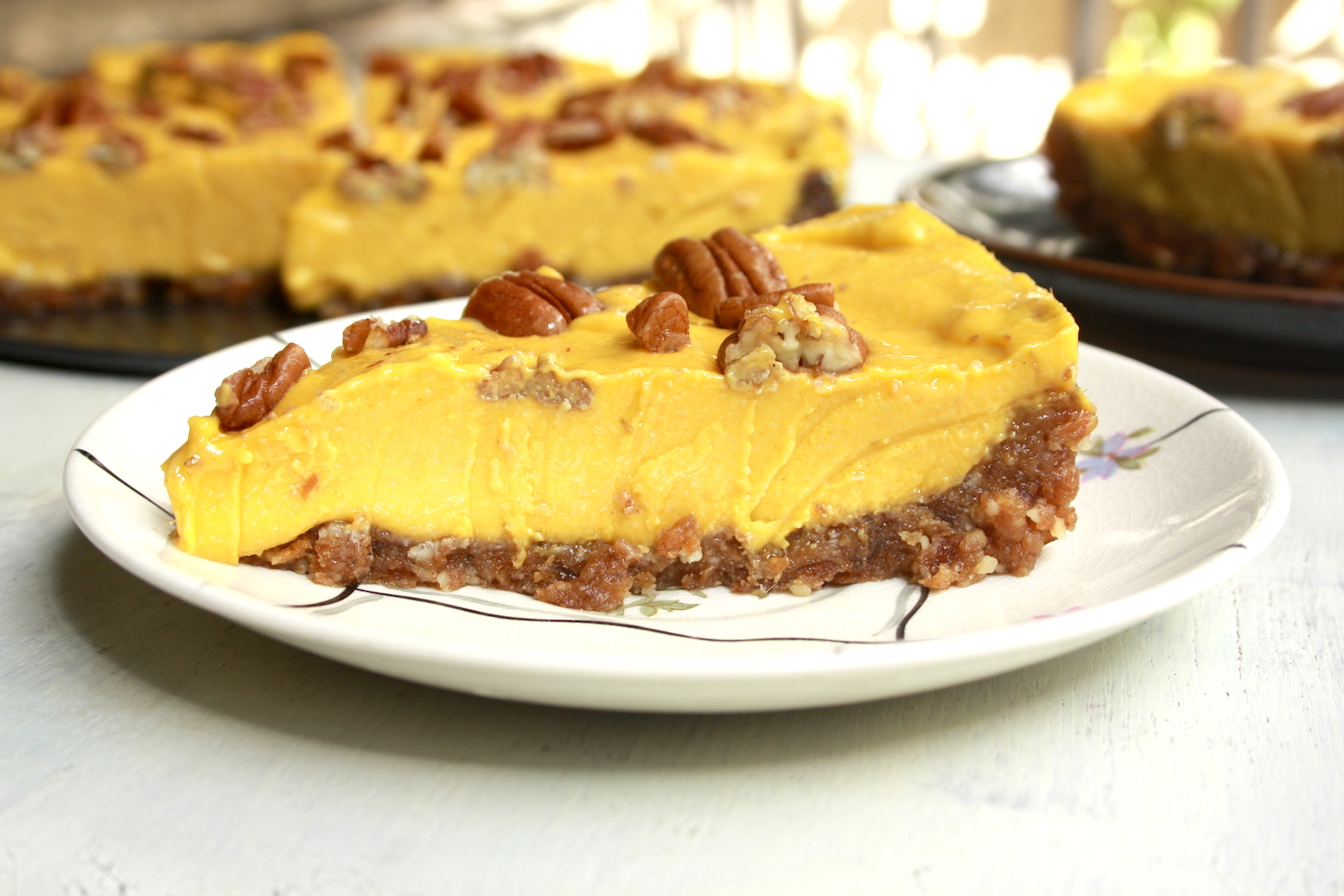 I baked this cake in an 8″ springform pan, but you could use muffin tins or ramekins. I just found it less fiddly to do this in one large dish since the 'crust' is sticky and easier to spread in one go. Definitely freeze the cake overnight if it's hot where you live. Since the quantity of fruit is much higher than in the original recipe, the cashews have to work that much harder to keep the cake together. If you would like the cake to remain firm long enough to impress the world with, reduce the amount of mango.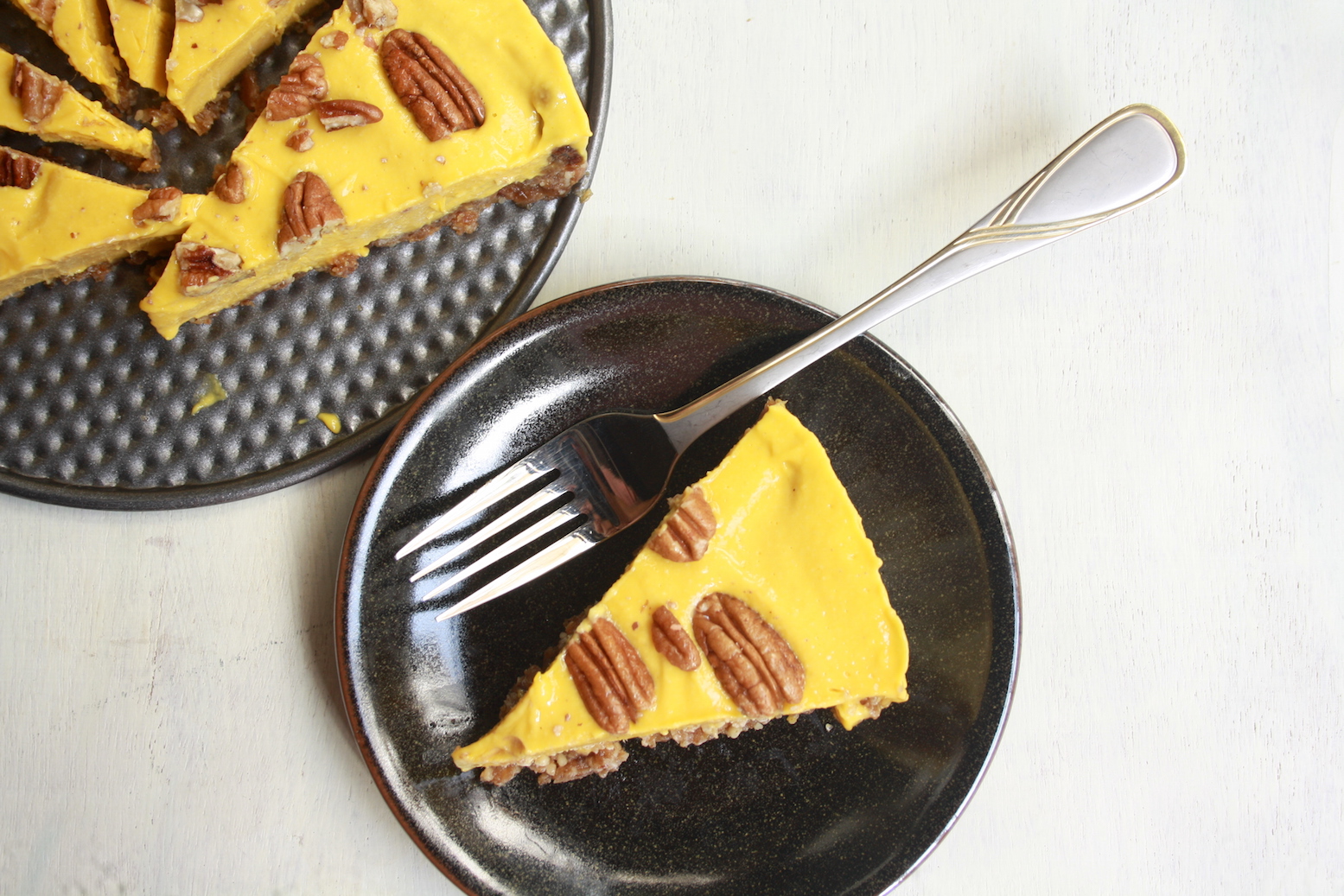 Once you've embraced the idea of experimenting with ingredients and a healthier way of eating, this is a fabulous change from the guilt-inducing cheesecakes we normally see and eat, easy enough to make often and the best part is, no standing around a hot oven! There isn't any option apart from eating it absolutely cold, which makes it perfect for a sweltering summer day and I guarantee it will give even these mango cheesecake bars a run for their money 🙂
No-Bake Mango Cheesecakes (Eggless, Dairy-Free, Sugar-Free)
Rich, creamy mango cheesecake filled with dates, almonds and cashews. Super healthy!
Author:
The Desserted Girl
Cuisine:
Dairy-Free, Gluten-Free, Eggless, Vegan
Ingredients
For the crust
180 gms walnut kernels (1 and ½ cups)
275 gms seedless dates, roughly chopped (About 20 dates, or 1 cup, packed. I found it easiest to weigh them.)
Pinch of salt

For the filling
2 medium mangoes, peeled and roughly chopped
¼ cup + 1 tbsp almond milk (coconut milk will be good too, or regular milk if you're not going dairy-free)
3 tbsps olive oil or a neutral cooking oil of your choice
½ cup honey or maple syrup for vegans
180 gms cashews (1 and ½ cups)
2 tsps vanilla extract
Pinch of salt
Instructions
Add the cashews to a bowl and cover completely with just boiled water. Set aside for 1 hour.

While the cashews are soaking, get started on the crust. In a food processor or blender, add the walnuts and salt, pulse till finely ground. Transfer to a small bowl. Add the dates to the blender and pulse till they form a sticky ball. Add the walnuts back in and blend till a 'dough' forms. It should stick together between your fingers. Tip this mixture into an 8" springform pan (no greasing needed), and spread it out evenly with your fingertips, pressing it up against the side. Transfer to the freezer for about 20 minutes.

When the crust is cold and the cashews have soaked for 1 hour, get started on the filling.

In the same blender, add the mango pieces and blend to a puree. Add the almond milk, oil, honey, salt and vanilla. Drain the cashews and add to the blender. Blend the whole mixture until smooth and creamy. The cashews will at first create a curdled appearance but the mixture will come together.

Pour on top of the cold crust, spread out evenly with a spatula and top with pecans, walnuts or almonds if you like. Freeze overnight, especially if you live in a warm country.

When ready to serve, gently loosen the sides with a blunt knife and pop open the springform pan. Cut into slices and serve cold. The great thing about using walnuts in the crust is they release natural oils that make it easy to lift the slices off the pan, even without greasing. Keep the remaining cake frozen at all times.
Notes
*Prep time includes soaking the cashews and freezing the cake overnight
*If your dates are cold or hard, soak them in warm water for about 10 minutes before adding them to the blender.
*If using muffin moulds or ramekins, simply divide the crust mixture evenly among them and freeze as individual cheesecakes.
*I used Staeta brand almond milk, from Nature's Basket
*The higher amount of fruit compared to the cashew base means it melts faster. You could reduce it to just one mango if you want a firmer cake at room temperature.