Meet Galette. She's the less cranky, less fussy sibling of Pie. She has many layers, but embraces imperfections. She goes easy on the people that give her life and demands nothing but a fruity, juicy mess of a filling.
And she's the best gal to spend a Saturday with.
For all the gross things about this summer, we have some insanely good fruit. And they aren't with us for very long, so introduce them to Galette pretty much right now.
This 'rustic' tart lets you get away with not having the patience to roll out oodles of pastry dough, precariously lift it into a baking dish, then somehow stop it from tearing, fill it up, and create a neat little covering that (my) clumsy fingers won't allow.
This is just a mix-roll-chill-pat-fill kinda affair and I'm thankful for that, because of all the months of the year that you can spend ages fussing around in the kitchen, May is not that month.
This peach-cherry-almond combination has been on my mind for a while now because I've been seeing it everywhere and India needed just a few more weeks till the domestic varieties of these fruit became available in markets. If you have the darker cherries, they will likely be sweeter than the ones we get in Mumbai, which are bright red and just a little sour, but add great zing to the filling.
The tart dough is adapted from Sally's Baking Addiction with a little less sugar and a longer chilling time. Can I just say though, that no matter how cold your butter is, and how icy your water is and how amazing your fridge is, struggling with a rapidly softening dough is probably in your destiny if you live in India right now. Power through. (By the way, I feature a lot of in-process steps on Snapchat, it's fun! Find me @dessertedgirl)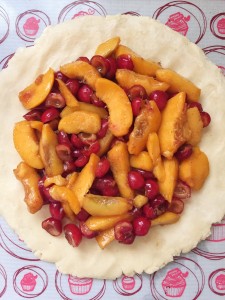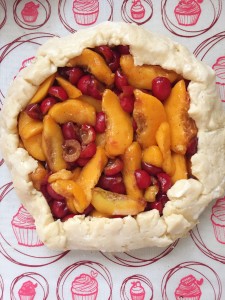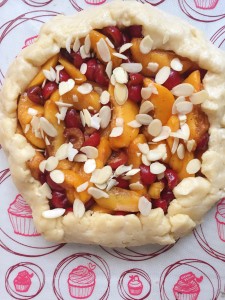 Cinnamon lifts the fruit up to another dimension, even though it's a winter spice and reminded me to try this with apples this December! The tart itself is buttery, flaky and so flavourful, it almost doesn't need the fruit. Almost. Sweet and sour, juicy and so, so fresh. This is the filling of my dreams.
(That is a strange sentence.)
I did want to add vanilla ice cream or whipped cream or some form of glaze on top. But honestly, there is so much deliciousness as in, I didn't miss it and saved you some additional calories 😀 What I did do at the last minute, was reduce the fruit juices left behind after macerating the fruit and create a thick, syrupy sauce out of it. Highly recommended!
This galette is a fresh, seriously pretty dessert to serve and I think you should take my advice and make two at a time 😀 Use strawberries or other berries if you like, play around with your favourite spices and I think this would also be amazing with pears. Whatever you do, don't sit there for too long. Get going!

Peach and Cherry Galette
A no-fuss tart filled with juicy peaches and cherries for the ultimate summer dessert.
Author:
The Desserted Girl
Ingredients
For the tart
1 and ½ cups flour (measured correctly with the 'spoon and level' method*)
2 tbsps sugar
Pinch of salt if using unsalted butter
115 gms cold butter, cubed (I like to chop the butter, and put it back in the fridge for a few minutes)
¼ cup ice cold water plus 2 tbsps more, if needed (add ice cubes to cold water for best results)
2 tbsps cream or beaten egg to brush on top, optional

For the filling
4 ripe peaches
200 gms ripe cherries
½ tsp cinnamon powder
3 tbsps caster sugar, add more or less depending on the sweetness of your fruit
Handful of flaked almonds, optional
Instructions
To make the tart, combine the flour, sugar and salt (if using) in a large mixing bowl. Add the cold butter cubes and using your fingers, rub it into the flour till the mixture resembles coarse breadcrumbs with a few bigger pieces of butter in it.

Add the ice water and quickly bring the mixture together with your fingers, It should form a smooth ball without sticking to the bowl. If it feels wet, sprinkle on just a little more flour, if it feels dry add up to 2 tbsps more ice water. Turn the dough out onto a sheet of clingfilm and chill for 1.5 to 2 hours at least. You can also chill this overnight as a make-ahead galette. Just keep the dough out at room temp for about 5 minutes before filling it with fruit.

While the dough is chilling, prepare the fruit. Peel the peaches, slice them down the center along the stone, twist gently to pull apart, and slice into wedges. The riper the peaches, the easier they will be to peel. Use a sharp knife if you have trouble peeling. Add the wedges to a large bowl.

Remove the stem from each cherry, slice around the stone with a sharp knife and again, gently twist and pull apart. Prise out the stone and add both halves to the peaches. Repeat with the remaining cherries. This is painful, but builds character.

Top the fruit with the cinnamon and sugar, and mix well to coat. Cover and set aside to macerate at room temperature for as long the as dough chills. If chilling the dough overnight, prepare the fruit about an hour before you're ready to bake.

Once the dough is chilled, preheat the oven to 190 C.

Unwrap the dough and place on a lightly greased baking tray or a silicone sheet (highly recommended). Pat it down using both hands to form a roughly 12" disc. Leave at least 2 inches of a border, spoon the fruit into the center of the dough, leaving behind the juices to avoid sogginess. Fold the edges over the fruit, overlapping and pinching as needed. You're not aiming for perfection, it should look 'rustic'! If the dough is softening fast, stick the unbaked tart back in the fridge for a few minutes.

Sprinkle over the flaked almond and brush either cream or egg wash on the edges of the galette. Bake for 30 to 35 minutes, until the fruit looks cooked, has released some juices that are bubbling, and the crust is golden-brown. At this stage, I turned the temperature down to 150 C and turned my oven to its broil setting for a nice colour on the tart since I didn't use egg wash or cream.

Remove from the oven and allow to cool for about 10 minutes before slicing and serving warm with whipped cream or vanilla ice cream. I loved it as is 🙂
Notes
* I don't mention this often enough, but using measuring cups for flour needs to be done carefully to avoid getting more than intended: fluff up the flour with a spoon in the container itself, then scoop and lightly fill the measuring cup up to the top without shaking or tapping the cup, then using the back of a knife, scrape the top of the cup to remove any excess flour, then use in your recipe.

+I tried using milk instead of egg wash or cream, but it doesn't give the same 'shine'.