While I was melting into a puddle trying to shoot these brownies in my sweltering window-balcony-studio thing, they looked delicately sun-kissed and all that. Anything but delicate though, these brownies are intensely chocolatey and made with oat flour because we're growing up and because oat flour can fool regular flour into thinking it'll be missed.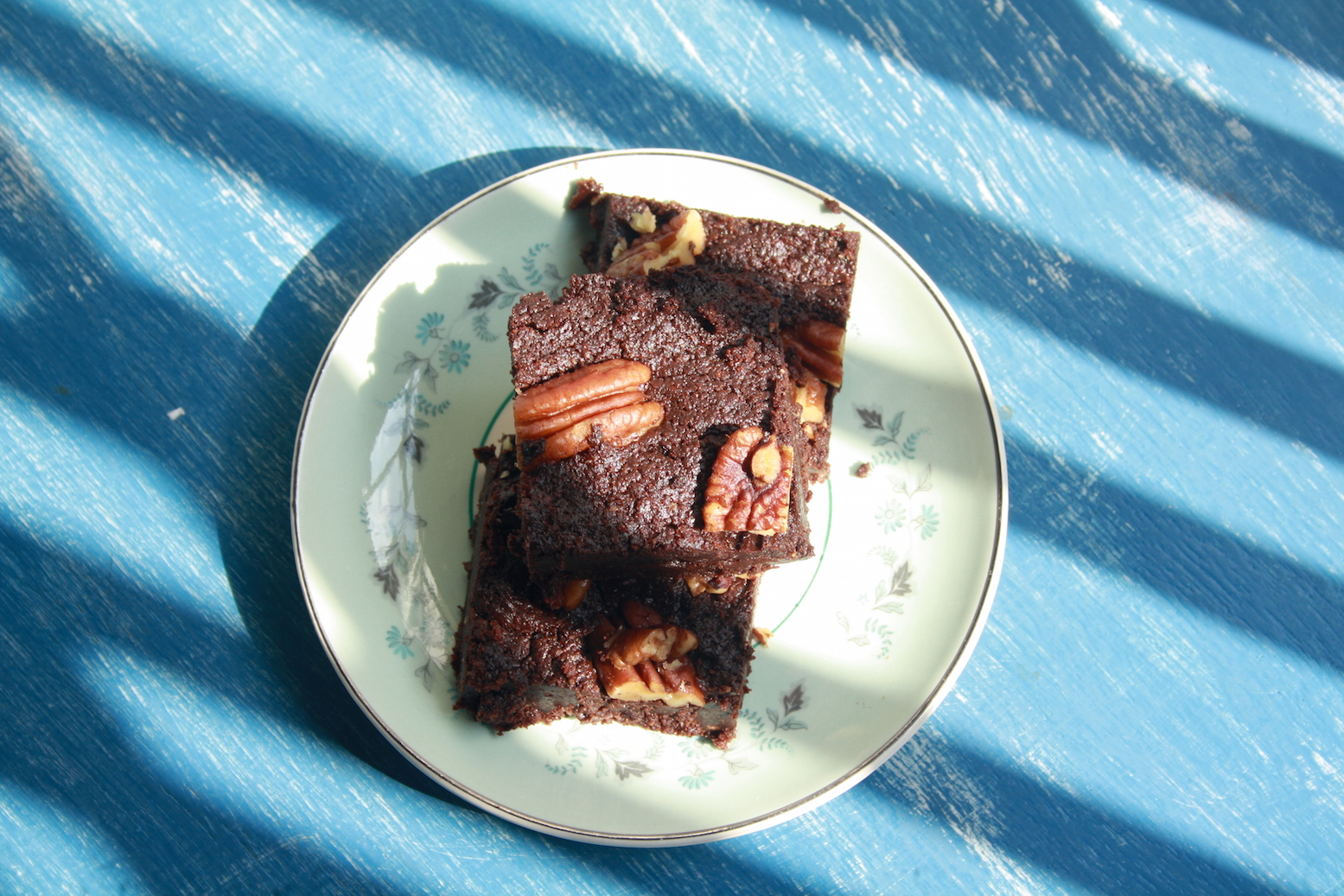 Also insert butter, sugar, dark chocolate and a fair amount of guilt, to remind ourselves that these are still brownies. Cacao nibs and pecans to make us feel better again.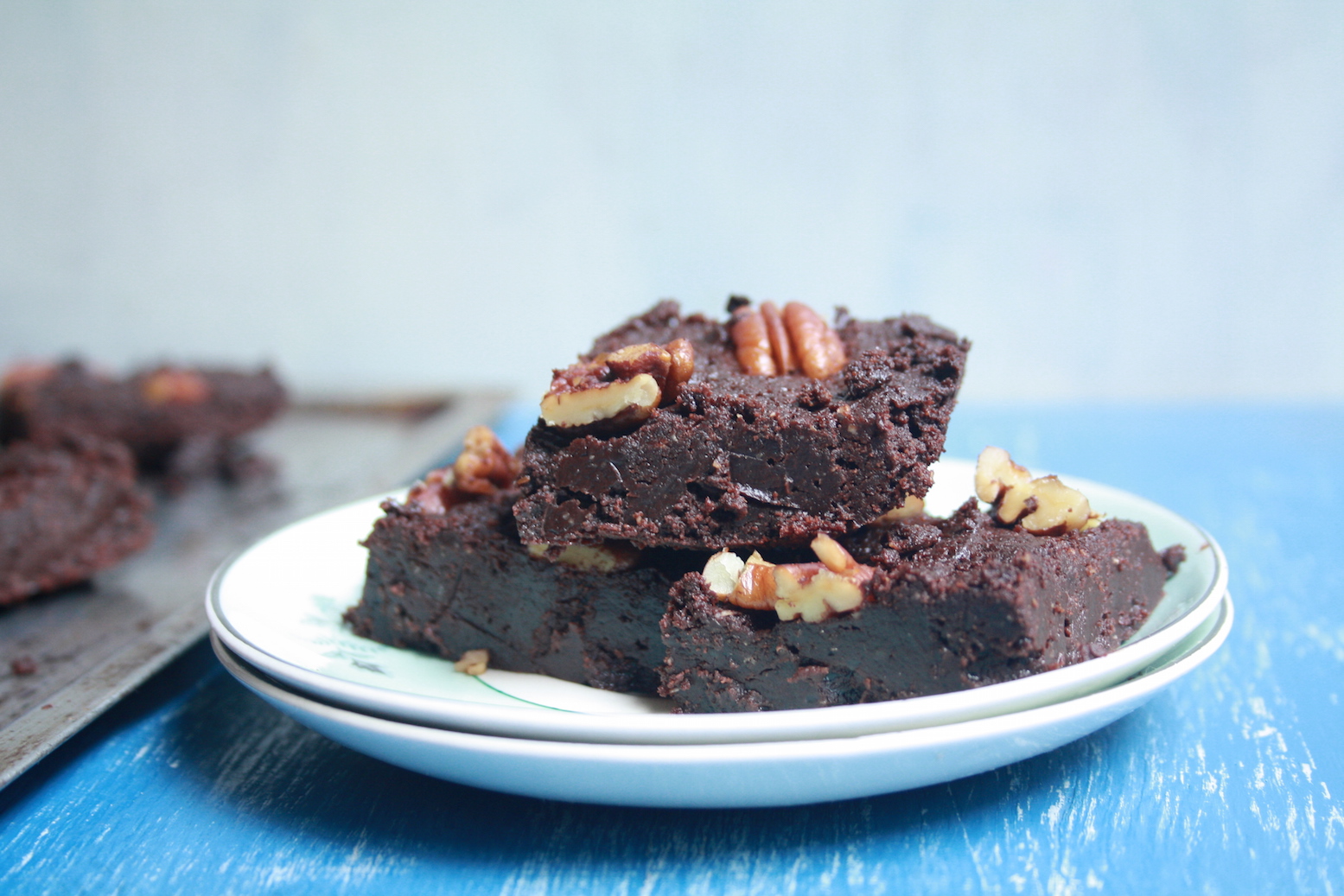 Because I didn't want them to disintegrate and melt into a puddle themselves overnight, I chilled them, and then discovered that they were firmer, but cutting took some effort and they became fudge-like. Fudgy brownies? No, thank you. Said no one ever.
(They sorted themselves out and became nice and soft within a matter of minutes.)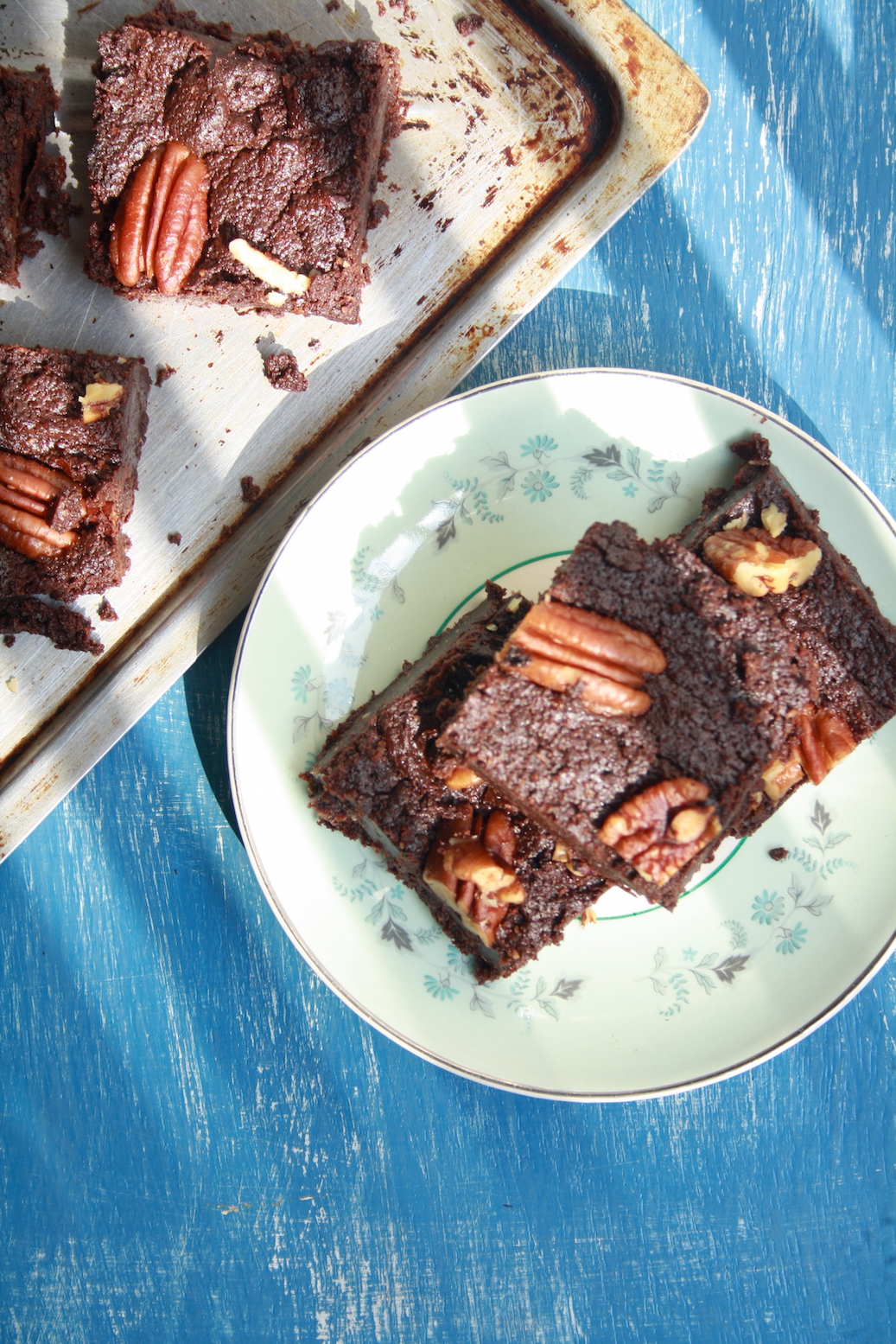 This is a David Lebovitz recipe that I saw on Sprouted Kitchen and it looked perfect. The batter comes together quickly and though the oat flour makes the brownies more delicate than regular flour would, it's nothing that can't be handled. Chilling the brownies for maybe an hour is better than overnight.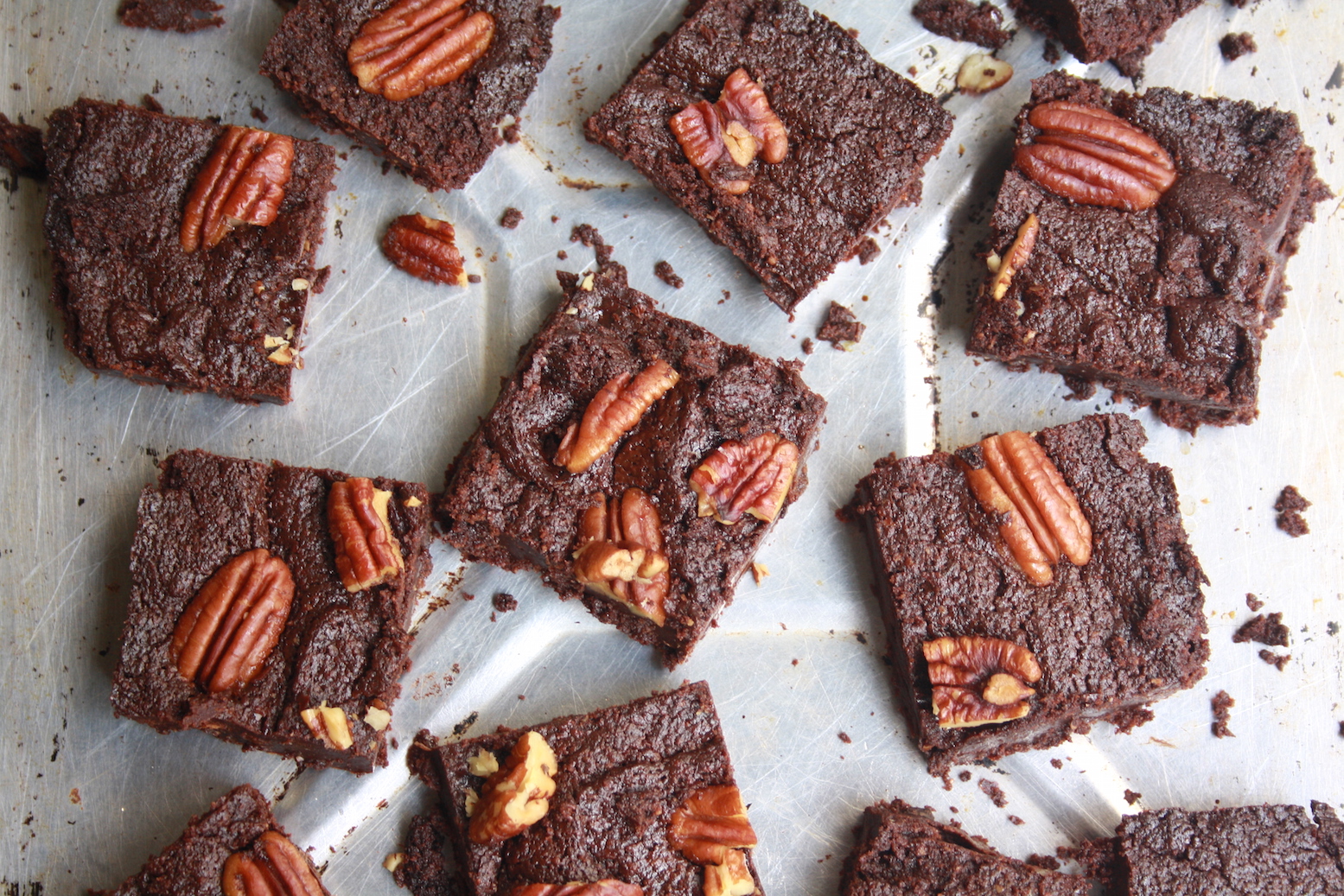 Soft and moist and chewy and rich. The pecans on top get all toasty and crunchy and they're yum.
Oat flour for now and forever! Let's make some brownies 🙂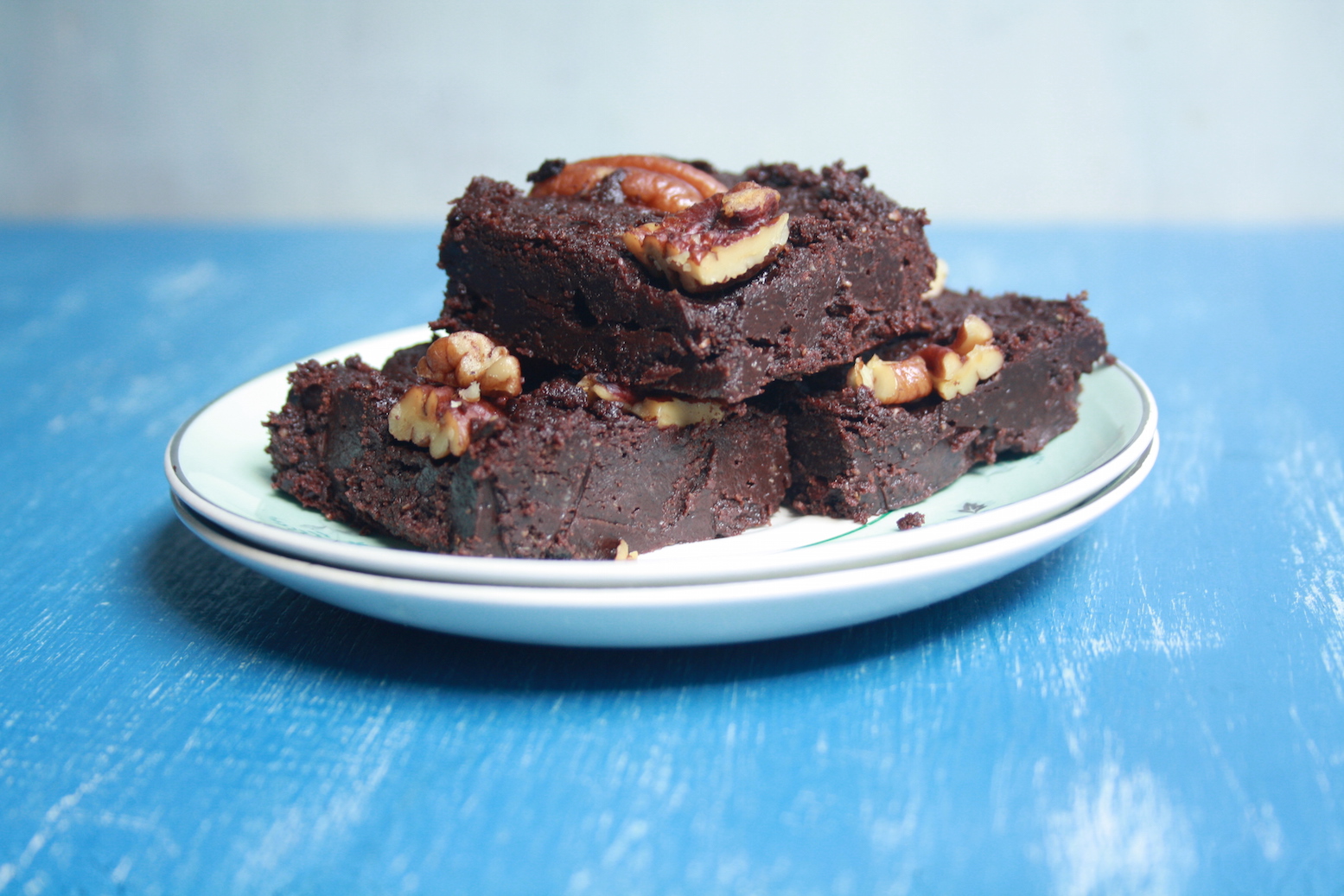 Chocolate Oat Brownies
Chocolate brownies made with oat flour and topped with pecans. Super chocolatey!
Author:
The Desserted Girl
Ingredients
70 gms butter, cut into pieces (5 tbsps)
225 gms dark cooking chocolate, roughly chopped
⅓ cup caster sugar
1 tsp vanilla extract
2 eggs
⅓ cup oat flour, lightly heaped (Grind about ¼ cup instant oats to get oat flour)
Pinch of salt if using unsalted butter
1 tbsp cacao nibs, optional
Handful of chopped pecans, walnuts, almonds, hazelnuts, optional
Instructions
Lightly grease a 8" x 5" rectangular baking dish and set aside.
In a double boiler, melt the butter and chocolate until smooth. I like to do this in my heatproof mixing bowl itself to minimize dishes.
Allow to cool for a couple of minutes, then stir in the sugar and vanilla. Preheat the oven to 175 C.
One at a time, lightly beat the eggs and add to the batter. (I prefer beating the eggs separately to make it easier to mix them in and to make sure the eggs aren't bad, which could destroy the entire batter.)
Fold in the oat flour (and salt, if using) and cacao nibs. Pour the batter into the prepared dish, smoothen the top and sprinkle with the chopped nuts.
Bake for 30 to 35 minutes, until the top is no longer shiny and a toothpick poked in comes out clean.
Allow to cool completely and then chill for at least 1 hour before cutting and serving.
Notes
*Cook time includes chilling time