It is ironic that just when I thought I'd reached a new high in facing first world problems, I realise that the last time I felt this way also had to do with a post about donuts.
Because when a weekend reserved for extensive donut baking and eating is rudely interrupted by THIRTEEN HUNDRED broken links that are basically killing this blog, if that doesn't qualify as a new high in first world problems, I don't know what does.
The good news. As of this moment, about 700 of the links have been painstakingly fixed over the last two days with the husband and I taking shifts. You know what they say, a couple that fixes broken links together, stays together.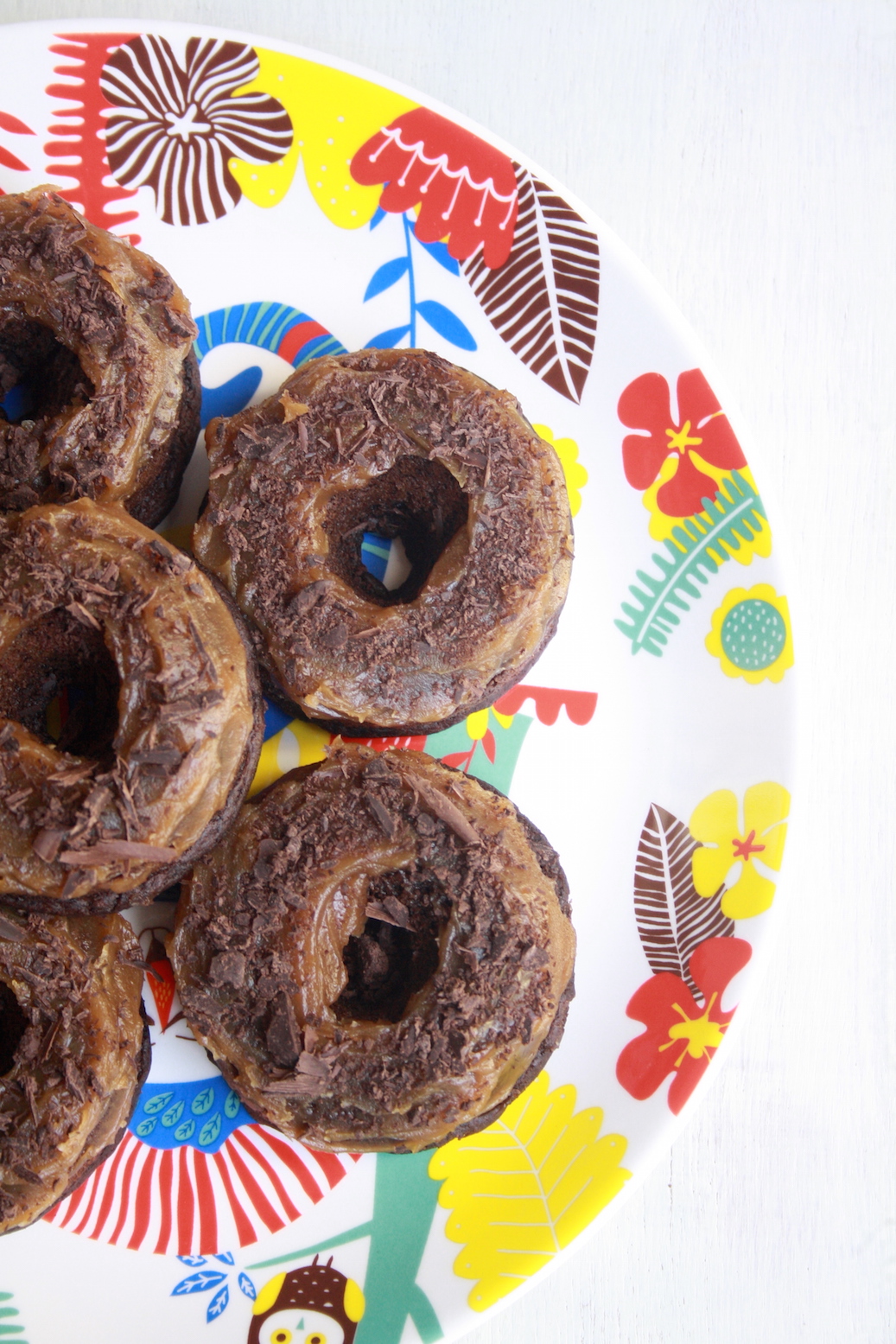 The point is that I unknowingly made a few idiotic errors while doing this self-hosting thing, and not while making these donuts. While we fix the rest of this blog, please accept my apologies in the form of sort-of-healthy, completely insanely delicious chocolate donuts and as an added bonus, sweet-salty peanut butter frosting that is the solution to everything.
If you remember my crazy Speculoos phase, it produced a moist, terribly decadent eggless chocolate cake that in no way compromised on fluffiness or tenderness. So when I recently came across baked chocolate donuts online, it was fate that made me try that very same eggless recipe as donuts. Fate and this peanut butter frosting. Which is lower on sugar and higher on peanut butter than your average Joe frosting.
That recipe used buttermilk but I was out of lemons for a homemade version, so I used an equal amount of yoghurt with a bit of milk to thin the whole thing out. Also olive oil instead of regular oil, entirely wholewheat instead of just half. Could not tell the difference. Ergo, these donuts deserve to be applauded and you deserve to eat them as soon as you possibly can.
Deeply chocolatey, with a texture to be reckoned with, all offset by an apologetically thick layer of frosting, because that's how the first world does it.

Wholewheat Chocolate Cake Donuts with Peanut Butter Frosting (Eggless)
Baked, eggless, wholewheat chocolate cake donuts with a sweet and salty peanut buttery frosting.
Author:
The Desserted Girl
Ingredients
For the donuts
1 cup whole wheat flour
⅓ cup cocoa powder
1 tsp coffee powder (filter or instant), optional
¾ tsp baking soda
½ tsp baking powder
Pinch of salt
⅓ cup caster sugar
⅓ cup olive or vegetable oil
1 cup yoghurt
1 tsp vanilla
¼ cup milk


For the frosting
½ cup melted creamy peanut butter
2 tsps caster sugar
½ tsp salt
¼ cup milk
Instructions
Sift the flour, cocoa powder, coffee powder, baking soda, baking powder and salt in a large bowl. Set aside.
Preheat the oven to 175 C and lightly grease a donut pan. This recipe will make 8 donuts, but I have a tray of 6 moulds, so I baked one extra tiny cake in a ramekin.
Mix the sugar and oil in a separate bowl till combined.
Add the yoghurt, vanilla and milk. Mix till combined.
Slowly fold in the dry ingredients, avoid over-mixing.
Spoon the batter into the prepared donut moulds and bake for 15 to 20 minutes until a toothpick poked in each comes out clean. The top might not have puffed much, don't panic.
Allow to cool for about 10 minutes, then remove the donuts from the moulds either by inserting a knife around each one, or simply flipping the tray over on to a wire-rack. The bottom of the donut will be nice and puffed.
Make the frosting by combining the ingredients in a small bowl and microwaving for a few seconds to let it come together after adding the milk.
Frost each donut and top with sprinkles or chocolate shavings.
Enjoy!